This "Perfect" Sell Setup Marked Bitcoin's $10,000 High. It Just Returned
Early this week, analysts were expecting for Bitcoin to start to reverse lower. The cryptocurrency, after rallying for five weeks straight, was seemingly starting to top out, falling to $6,800 in a move that liquidated dozens of millions.
But just days later, BTC pumped higher, liquidating $70 million worth of short positions on BitMEX due to cascading stop losses. This move brought Bitcoin to $7,800 and convinced analysts across the board that more upside is imminent.
Bears, however, may win in the end, with a crypto analyst noting that the cryptocurrency has just registered a "perfect" sell setup on a medium-term chart, suggesting an imminent reversal to the downside.
According to crypto trader "Moe," the four-day chart of Bitcoin and Ethereum have just printed a harrowing sign as of April 26th: the Tom Demark Sequential — a time-based indicator that prints "9" candles near or at trend reversals — is forming a "9" candle on the current candle.
This means that should the two cryptocurrencies close anywhere around the low to high-$7,000s, a "9" candle will be confirmed on the current four-day candle for BTC and ETH.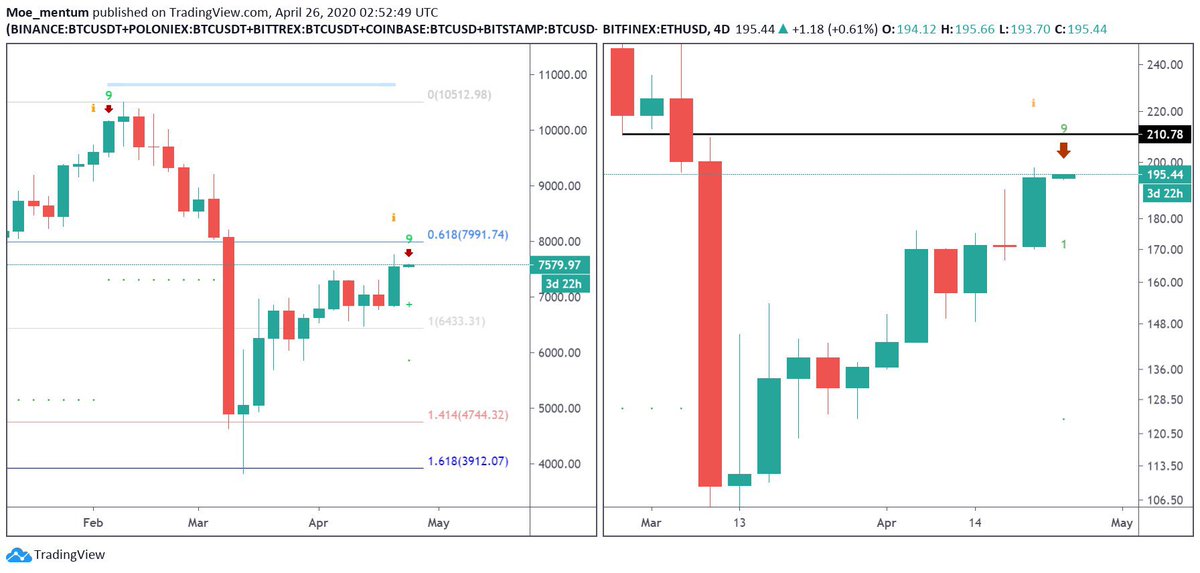 Not only would this be a textbook sell signal, but a four-day "9" candle is also what predicted Bitcoin's previous medium-term high in February at $1o,500. As Moe fittingly put it, it's a "perfect sell setup."
Adding to this, another crypto trader identified that there exists a massive confluence of resistance above Bitcoin's current price. He specifically pointed to the $7,900-8,100 zone as "very interesting," drawing attention to the cluster of key technical levels in this region, suggesting it is a place at which bulls are likely to struggle.
Key levels at that zone include but are not limited to: the 200-day exponential moving average and simple moving average, the 21-week exponential moving average, an order book resistance, the 61.8% Fibonacci Retracement, the top of a descending triangle, and the volume-weighted average price.
It's a confluence that adds to the "perfect sell setup" Moe mentioned.
Bulls seem to have a rapidly building case for upside though.
For one, an analyst found that whenever Bitcoin posts six weekly candles of gains in a row as it is about to do, the candle that follows has been green 75% of the time. This would suggest that bulls still have momentum to take the cryptocurrency higher.
Furthermore, as reported by NewsBTC previously, Nunya Bizniz, a Bitcoin chartist, observed that BTC's recent price action has printed a textbook "BARR bottom." It's the same formation that marked the bottom in late-2018.
Photo by Marc-Olivier Jodoin on Unsplash
Source: www.newsbtc.com
Author: Nick Chong
Is Liquid Sidechain a Path for Better Bitcoin Privacy?
Although Bitcoin (BTC) first hit the mainstream as a sort of anonymous Internet currency that allowed people to order drugs via darknet markets like Silk Road, the reality is transactions made on the network are completely public. Indeed, the current level of privacy offered by Bitcoin and many other cryptocurrency networks is far from ideal, although there have been a number of improvements, such as CoinJoin, implemented over the years.
While the nature of Bitcoin makes it difficult to implement changes quickly, some developers think the Liquid sidechain built on the Bitcoin network by Canada-based major blockchain company Blockstream has the potential to improve privacy for BTC users. However, others see the sidechain, which runs on a model of "federated custody," as mostly uninteresting from a cypherpunk perspective.
Though the Lightning Network has received much more attention as an additional protocol layer for Bitcoin over the past few years, the data shows that Liquid is now leading in terms of BTC held on this sidechain.
BTC held on Liquid
For a number of years, the Holy Grail for Bitcoin privacy has been theorized as a combination of two privacy features:
Confidential Transactions (also by Blockstream), which hides the amounts involved in transactions;
and CoinJoin (first described by Blockstream co-founder Gregory Maxwell), which makes it more difficult for a blockchain observer to connect the sender and recipient of a transaction.
Confidential Transactions is not currently available on Bitcoin's main chain, so the most productive CoinJoin implementations force users to use equal amounts when mixing their transactions. After all, if users were mixing transactions involving varying amounts of BTC, it would be trivial for an adversary to construct a transaction graph by matching the inputs with the outputs of a particular CoinJoin transaction.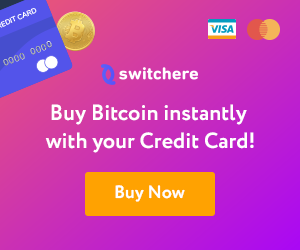 "It's very difficult to do a CoinJoin in a way that improves privacy, and it's also very difficult to measure how much privacy we get," Andrew Poelstra, Director of Research at Blockstream, explained back in 2016. "By hiding amounts, we allow combining transactions in a way that we no longer have this clear correlation."
Liquid is a federated sidechain, meaning that a group of trusted, known functionaries process transactions, rather than proof-of-work miners. It's mostly focused on enabling faster transactions between exchanges and improving privacy for traders. The sidechain already offers a form of Confidential Transactions, known as Confidential Assets. In addition to masking the amounts involved in transactions, Confidential Assets also hides the type of asset that is being transferred. For example, when looking at the data available on the blockchain, an observer cannot tell if a user is sending BTC or the tether (USDT) stablecoin to another address.
However, a CoinJoin implementation is not yet available for Liquid, which means it's still easy to see that address A sent some kind of payment to address B.
The lack of CoinJoin availability for Liquid could have something to do with how privacy-focused developers view the federated sidechain. While developers for Samourai Wallet and Wasabi Wallet haven't always seen eye to eye, both parties have similar feelings regarding the use of Liquid to gain better privacy.
"Samourai is bitcoin only and resolutely on-chain with a focus on on-chain privacy," said the pseudonymous Samourai Wallet developer known as TDevD. "As BTC on Liquid is an IOU and subject to federation review on peg-out, it is not a sovereign instrument that we would be interested in handling. Samourai has always refused to develop anything less than non-custodial."
TDevD added that this sort of reasoning is also behind Samourai Wallet's lack of exchange integration, which would require users to turn over personal data due to various "Know Your Customer" regulations. To TDevD's point, the introduction of any form of custody over user assets gives regulators a centralized point of failure to target with onerous regulations, licensing requirements, or complete shutdown.
Wasabi Wallet's Adam Fiscor shared a similar lack of interest in dealing with the Liquid sidechain.
"I'm not interested in Liquid as it isn't a replacement for Bitcoin, but rather, it is a good alternative to on-chain payments for a small subset of Bitcoin users," said Fiscor. "[However], adding privacy to Liquid is obviously better than not."
TDevD took their criticism of Liquid further, stating that the current privacy benefits of the sidechain are overblown.
"Confidential Transactions, as implemented within Liquid, hides amounts and asset types but not addresses," explained TDevD. "For peg-ins and peg-outs to and from the main chain, nothing is hidden: amounts, asset types, and addresses are all visible. Even without the use of the transaction graph, anyone using Liquid as a CoinJoin tool will be subject to amount and timing analysis. Monero, with RingCT, Ring signatures, and Stealth addresses, offers better privacy and is non-custodial."
A paper exploring this sort of amount and timing analysis problem in the Zcash privacy coin was published back in 2017 (PDF).
Meanwhile, Liquid supporters think CoinJoin on Liquid is worth trying.
"I see Liquid as another tool to use together with Bitcoin but without having its own native shitcoin token," said Wiz, a longtime cypherpunk and early Bitcoin adopter who recently joined the Liquid federation.
"I mean I don't know why it's so controversial, we're not shitcoining or scamming people like 9000 shitcoiners do every day with their pump and dump scams."
Additionally, in terms of someone testing out CoinJoin on Liquid, Blockstream CEO Adam Back said, "I think that would be pretty cool."
Back and Wiz both pointed out that, in terms of censorship resistance, improved privacy is extremely helpful because it makes it impossible for individual transactions to be censored, as those in charge of processing transactions cannot differentiate between different payments. The regulatory scenario then becomes all or nothing. Either regulators allow the federated sidechain to exist or they attempt to shut it down completely.
"Liquid is federated, but it's a bit further along the spectrum from Bitcoin towards centralization," said Back.
That said, targeting a sufficient number of Liquid functionaries to shut down the network wouldn't be the simplest of tasks for regulators in different jurisdictions around the world.
"The exchanges that are operating Liquid nodes – the hardware security module is inside a server, which is called a functionary, so they don't actually have any means to interfere with transactions," added Back. "Although, to be clear, Liquid is less censorship-resistant and seizure resistant than the main chain."
According to Back, Blockstream recommends that those who are interested in long term cold storage and censorship-resistant payments should use Bitcoin's main chain, while those who are traders or seeking better privacy may want to take advantage of the features offered by Liquid.
There have been discussions around more cypherpunks, such as Wiz, starting their own separate sidechain or creating an alternative peg-in mechanism for Liquid. However, this development might introduce new challenges, according to Back.
"One problem is seizability combined with the pseudonymity of individuals operating the network, and then another is operational security," he said. "It could be that the cypherpunks have worse operational security compared to an exchange."
Still, Back says Blockstream is interested in making it easier for people to run their own federations if they wish, though he cautioned that it takes a lot of work to operate and properly maintain federations.
"Think about it, if everyone made their own Bitcoin sidechains they wouldn't be able to shut down all of them," said Wiz. "It's a power in numbers thing. Vires in numeris. That's the motto of Bitcoin."
Source: cryptonews.com
Author: By Kyle Torpey
Bitcoin Hits April High; Crypto Portfolios Get Stimulus Injection
Get Forbes' top crypto and blockchain stories delivered to your inbox every week for the latest news on bitcoin, other major cryptocurrencies and enterprise blockchain adoption.
Getty Images
Bitcoin surged to its highest level in more than a month Thursday morning, with market analysts optimistic that its bull run will continue. Futures contracts are trading at a premium compared with spot prices, generally a sign of near-term upside, and prices have doubled since their low point in early March. Other cryptocurrencies enjoyed slight gains late in the week as well.
Source: Messari. Prices as of 4:00 p.m. on April 24, 2020
Nigeria-based app Bundle launched this Thursday, aiming to get more people in Africa to exchange money using cryptocurrencies. Funded by Binance, the payments app is similar to Venmo and will allow users to send, receive and spend bitcoin, ether and the Nigerian naira with little more than the recipient's phone number. Founder Yele Bademosi dropped out of medical school to try to make global finance more accessible in Africa, where he estimates only 1.4 million of the 1.2 billion people living there already use crypto.
If stimulus check recipients had invested their $250 stipend during the last recession in 2009 in bitcoin when the cryptocurrency was still in its infancy and almost worthless, that investment would be worth hundreds of millions now. They can only hope that this investment is a fraction as successful.
Markets crashed in March as individuals and institutions scrambled to liquidate their assets, and that often included their cryptocurrency portfolios as prices sharply tumbled. Now, with the Federal Reserve taking drastic measures to revive the economy, stablecoins like Tether the dollar-backed USDC have seen an uptick in volume.
The next few weeks will be pivotal for bitcoin leading up to its halving scheduled for May 12. Bitcoin's price rose significantly in the 12 months following its previous halvings, which occur once every four years, though its counterpart litecoin is down 70% since its halving last year after a frenzied run-up leading up to the event.
How a Crypto Guru Shaped Harvard's Roadmap for Reopening the US Economy [CoinDesk]
The pandemic was bitcoin's chance to shine. It hasn't… yet [Wired]
Bitcoin maven Toni Lane Casserly, 'Joan of Arc of blockchain,' dead at 29 [New York Post]
Source: www.forbes.com
Author: Crypto Confidential
Bitcoin's Bull Case Gets Massive Boost as Calls for Negative Rates Mount
One of the most prominent Bitcoin narratives is that it is an asset not correlated with the going-ons of Wall Street, of the traditional world. Although this was seemingly the case for much of its earliest years, the past few years have seen macroeconomic and geopolitical trends affect the cryptocurrency market.
This was accentuated in March when there was a global liquidity event that saw investors in all markets rush to sell their assets for U.S. dollars.
On March 12th, stocks, commodities, Bitcoin, and even precious metals all fell in tandem, experiencing their worst trading days in years. That day has since been dubbed "Black Thursday."
But, the effect that traditional finance has on Bitcoin could be a good thing, with the asset's bull case recently getting a massive boost as calls for negative interest rates in the U.S. have mounted.
Over the past few weeks, the economic situation around the world has trended worse and worse, despite the 35% rally in the S&P 500 and similar gains in other assets like Bitcoin and gold.
To combat these trends, the central banks and governments of the world have gone into overdrive, embarking on more fiscal and monetary stimulus than ever before in an attempt to save companies, save people, and ultimately save society. It's a move that has had Bitcoin bulls buzzing.
In the past two months alone, the U.S. Federal Reserve has added over $2.3 trillion to its balance sheet, which is a 50% increase from its year-end balance for 2019. But it isn't enough, analysts are saying.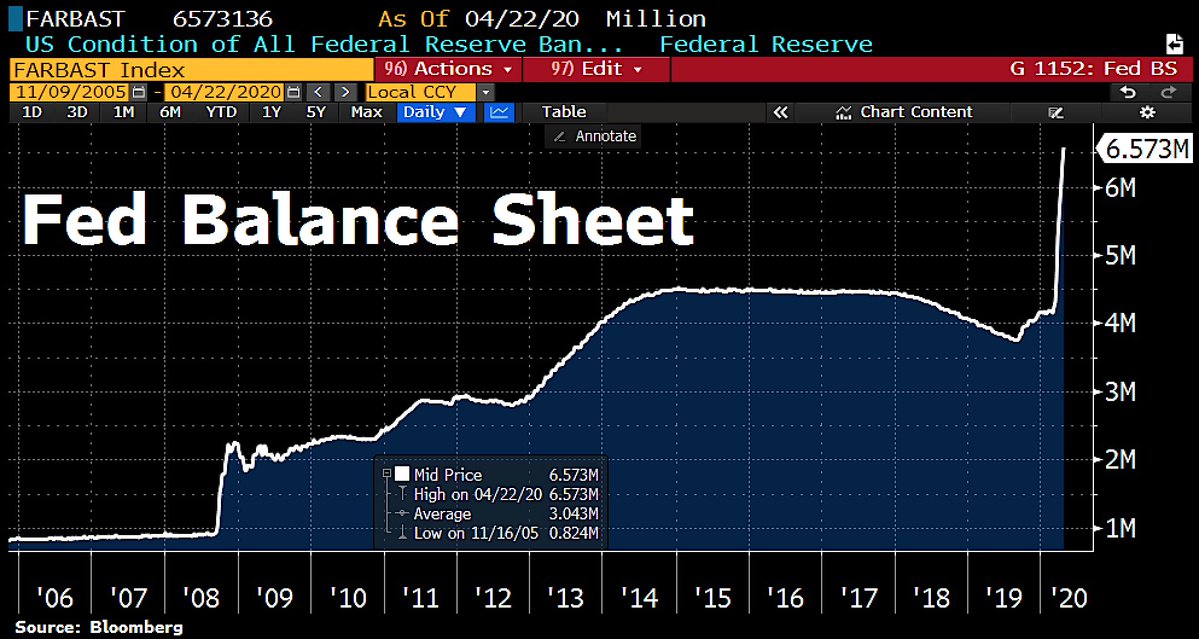 Chart from Holger Zschaepitz (Twitter)
Narayana Kocherlakota, an economist who served as president of the Federal Reserve Bank of Minneapolis in the six years after 2008, recently penned a Bloomberg article titled "The Fed Should Go Negative Next Week" outlining a case for the U.S. central bank to bring rates to the negative. This was echoed by Alan Greenspan, a former Fed chairman, late last year.
Tyler Winklevoss, the co-founder of Gemini and a prominent Bitcoin bull, commented on Kocherlakota's article with the tweet seen below, accentuating how he thinks this move would be unprecedented and potentially dangerous.
Negative interest rates…what could go wrong?
— Tyler Winklevoss (@tylerwinklevoss) April 25, 2020
The idea goes that Bitcoin stands to benefit from this trend.
Unlike cash, which soon may require soon be expensive to hold due to negative interest rates, Bitcoin offers 0% yield and is a relatively deflationary currency due to the existence of halvings.
Furthermore, the idea goes that with negative interest rates, with increasingly bizarre monetary policy, comes the slow (but increasingly rapid) debasement of fiat currency, which should prove to be a benefit for a scarce and decentralized form of money like Bitcoin or gold.
Photo by Armando Arauz on Unsplash
Source: bitcoinist.com
Bitcoin after halving: How would crypto fare, bullish? YTubers opinions
Said to be the most important crypto event, Bitcoin halving is set to hold in 17 days. Enthusiasts alongside crypto gurus are beginning to speculate the impact the event will generally have on Bitcoin value providing answers to Bitcoin after halving, how would it fare?
Another occurrence speculated these analysts are considering is the $484 billion stimulus fund President Trump approve as a reliever to cushion the effects of novel coronavirus for hospitals and businesses.
Considering these two factors (Bitcoin after halving and $484 billion stimulus fund), crypto YouTuber's are making their predictions as regards Bitcoin's future price on these two events.
Christopher Jaszczynski foresees hyperinflation happening soon. The crypto blog host on YouTube explains that the US money supply is going parabolic right now, allowing the dollar to climb to an all-time high. He explains, however, that monetary velocity is at an all-time low as deflation of the USD is imminent.
Jaszczynski explains that as soon as the public begins spending the stimulus money, inflation will set in. Fueled by rising velocity, Jaszczynski says it will only lead to hyperinflation.
WARNING!!! IT IS WORSE THAN I THOUGHT!!! (MUST WATCH!)
USD Money Supply = All Time High!!
Money Velocity = All Tome Low!!
This is a looming CRAZY HYPERINFLATION COCKTAIL!!!
Get ready with #Bitcoin & #Gold RIGHT NOW!!!! pic.twitter.com/c4mqBa68kG
— MMCrypto (@MMcrypto) April 24, 2020
He also shares a table to explain BTC performance as compared to dollars, gold, S&P 500 since eight years ago. The table reveals that gold, dollars, and the S&P 500 have been plunging almost 100,000%.
Another crypto YouTuber, 'The Moon,' has been reminding his audience about the approaching Bitcoin halving. Analyzing Bitcoin's value with the Halving (Bitcoin after halving) event and the looming inflation, he explains that after the Quantitative Easing (QE), Bitcoin's price would surge.
17 days until the #Bitcoin halving!
▓▓▓▓▓▓▓▓▓▓▓▓▓░ 98%
LIKE if you think the price will be above $8,000 in 17 days!
— The Moon (@TheMoonCarl) April 25, 2020
He also predicts that in a few years, the crypto would trade between $300,000-$400,000 in line with Tom Draper and Max Keiser's predictions. After the halving event, 'The Moon' foresees BTC trading at $8,000.
Robert Art, crypto YouTuber, BTC investor, and XRP posits that the crypto will begin a bull run and get to a point when it would plunge. He is of the school of thought that BTC is an asset correlated with the traditional financial markets.
How high will Bitcoin rise before crashing in the coming bull market?#Bitcoin
— 🇨🇭Robert Art 🇨🇭 The Wolf of Rekt Street (@RobertArtRobArt) April 25, 2020
Source: www.cryptopolitan.com
Author: Muhaimin Olowoporoku
Previous
Next