Tesla's bulging Bitcoin buy could be the spark that derails the stock market
After Tesla announced it has invested US$1.5 billion in bitcoin BTC and expects to start accepting the cryptocurrency as a payment for its electric vehicles in the near future, the bitcoin price went soaring. It went from around US$39,400 to an all-time high of over US$48,000 in less than 24 hours.
The price is now up by over 50% in the first six weeks of 2021. Led by Elon Musk, Tesla's investment is obviously in profit already: depending on the exact day of the purchase, it is likely to be worth over US$2 billion, pointing to a paper profit of over US$500 million. To put that in context, when the electric car-maker made its first-ever annual net profit in 2020, it was just over US$700 million.
Tesla's move into bitcoin comes on the back of a wave of institutional money invested in the leading cryptocurrency in recent months, plus numerous other companies putting it into their treasury reserves. With the world's sixth most valuable company also saying it might buy and hold other digital assets "from time to time or long term", it must be tempting for other major companies to do likewise. Since the Tesla announcement, Twitter finance director Ned Segal has already signaled that his company is considering such a move, while a research note from the Royal Bank of Canada has made a case for why it would benefit Apple.
The prospect of a bluechip invasion into bitcoin has caused much excitement among cryptocurrency investors. But if Tesla does trigger such a gold rush, there will also be some unsettling consequences.
Tesla justified this material change in the way it manages its treasury reserves by stating that investing in bitcoin will "provide us with more flexibility to further diversify and maximize returns on our cash". Corporate treasurers have always used the money markets to invest surplus cash to eke out small yields, and it is harder than it used to be in the current long-term low-interest rate environment.
All the same, this is very different to standard money management. Bitcoin is a highly volatile asset that you would not typically associate with the cash reserves on the balance sheet of a listed company worth close to a trillion US dollars. As recently as March 2020, the price dipped below US$4,000. Even in 2021, the price fell more than 30% before its most recent surge.
Tesla has put almost 8% of its reserves into the cryptocurrency. If Apple, Microsoft, Facebook, Twitter, and Google were to do the same, this would translate into almost another US$7 billion investment. This is less than 1% of the total current worth of the bitcoin market, but the signal that it would send to other companies and retail investors would likely trigger a bull run that would make the current market look comparably stable. Some crypto analysts are already predicting that the price will rise to US$100,000 or even US$200,000 before 2021 is out.
Such a rise would drive up the value of the bitcoin on corporate balance sheets to multiples of what it was at the time of investment. Tesla's 8% allocation may already have gone up to 12% of the value of its reserves, for instance. And if it follows through on a potential plan to keep any bitcoins it receives for electric cars instead of converting them into dollars, that percentage could rise all the faster.
The problem is the potential effect on company share prices. Tesla's share price rose 2% on the news of the bitcoin investment, though it has since fallen by 5%. But a longer-term example is Canadian tech company Microstrategy. Its share price has ballooned tenfold in value in the past year on the back of a heavy investment into bitcoin, but is also down by almost a quarter in the days since the Tesla announcement.
Writ large, this could make stock markets far choppier in future – and vulnerable to a nosedive when the bitcoin bull market ends. It would be easy to imagine that this could prompt a wider wave of selling as investors sought to cover their loss-making positions, which could be very dangerous for financial stability.
Global regulators will no doubt be concerned about a potential volatility spillover from digital asset prices into traditional capital markets. They may not permit what could quickly amount to effective proxy approval by the back door for companies holding large proportions of a volatile asset on their balance sheets.
We have already seen the likes of European Central Bank president Christine Lagarde and new US Treasury secretary Janet Yellen calling for more bitcoin regulation in recent weeks.
The view from US regulator the SEC will be extremely important, and it is difficult to predict the response of newly appointed head Gary Gensler, who is himself a crypto expert. We may see anything from a wait-and-see approach through to a ban on listed companies holding any bitcoin-like assets.
But I would expect that if the price of bitcoin continues towards US$100,000, there may be a regulatory restriction on the reserve percentage that listed companies can hold in digital assets. This would be similar to the US rule that companies cannot buy back more than 25% of the average daily volume of their own stock. Such a rule would force companies to sell bitcoin if a price increase meant their holdings broke the maximum level, creating a form of sell pressure that the crypto market has not seen before.
For now, however, bitcoin continues to look like a "buy" asset on the back of the Tesla announcement. The crypto community will be watching to see whether other major companies follow suit, and whether Tesla has the conviction to stay invested when its next quarterly announcement comes around. But if this trend continues, make no mistake that a reckoning will be coming over the prospect of the heady volatility of the crypto market going mainstream. Watch this space.

This article by Gavin Brown, Associate Professor in Financial Technology, University of Liverpool, is republished from The Conversation under a Creative Commons license. Read the original article.
Source: thenextweb.com
Author: The Conversation
Bitcoin Payments for Private Flights Soar, 20% of Privatefly's Revenue Stems from Crypto – Bitcoin News
Cryptocurrency users are leveraging their new-found wealth to fly more often with private jets. This week the directional aviation company Privatefly revealed that close to 20% of the firm's sales were paid in cryptocurrencies last month, and 13% out of that aggregate used bitcoin.
According to data from the company Privatefly, purchasing flights with digital assets has soared in recent times. For instance, the directional aviation company said a few years ago, the company pulled in 1-2% from crypto payments for flights. The numbers jumped significantly in December 2020 to 12%, and subsequently spiked to 13% during the first month of 2021. Out of the 13% in BTC payments, cryptocurrency settlement, in general, makes up 19% of Privatefly's revenue.
The flight company says that Privatefly started accepting bitcoin early in 2014 and since then, it has expanded its cryptocurrency support. The company uses Bitpay for one-off flights or memberships, and this week it has started a new bitcoin program. Privatefly has launched the "Bitcoin Jet Account," which allows customers to hold their BTC and open a membership at the same time, but keep the funds held in crypto.
"While we have accepted bitcoin payments for many years now," Adam Twidell, Privatefly's CEO said. "Cryptocurrency transactions have really taken off in recent months. These are in line with Bitcoin's climb in value – to the extent that 13% of our flights were paid for in this way last month. We have previously seen just 1-2% each month," the CEO added.
Twidell continued:
Some of these are clients who are looking to realise their gains, while others want to hold onto their cryptocurrency, in expectation of future increases. So, in addition to taking out a membership with us in bitcoin and converting the account funds into traditional currency (as we have offered for a while), we now offer a membership program that allows the account funds to stay in bitcoin.
Privatefly explained that years ago, that the Belgian tech entrepreneur, Olivier Janssens, was the firm's first customer to pay in bitcoin. Janssens took a flight to Nice Cote D'Azur from Brussels and booked and paid for the trip on the same day.
"The flight was the biggest Bitcoin payment transaction I have made," Janssens said at the time. "But it was very easy and efficient, particularly as I wanted to fly at very short notice. It was the perfect way to pay."
Recently, Credit Suisse Group AG, BNP Paribas SA, and a number of other financial institutions said demand for private jets has increased massively and should continue throughout 2021. "Looking back we had a very good year and much, much better than expected," the chief of aviation for the equipment-finance unit of Societe Generale SA, Werner Slavik, noted during a Jet Investor event.
The aviation company Privatefly offers one-off 'on-demand' private flights, but regular patrons can also create a membership account and deposit funds regularly. "Privatefly has always sought to make private jet travel easier to book, combining innovative technology with deep industry expertise and the secure backing of one of the world's largest private aviation groups, with annual revenues of over $2 billion," Twidell noted during the announcement.
"Many of our clients are tech-savvy and entrepreneurial people, which is why we started accepting bitcoin payments for one-off flights in 2014, a world-first at the time," Twidell concluded. "We are now the first to offer a private jet membership program based on bitcoin funds."
Privatefly also supports payments in bitcoin cash (BCH), ethereum (ETH), and four USD-pegged stablecoins (GUSD, USDC, PAX, and BUSD).
What do you think about Privatefly's recent crypto revenue uptick and the "Bitcoin Jet Account?" Let us know what you think about this subject in the comments section below.
2014, 2021, Adam Twidell, Bitcoin, Bitcoin (BTC), bitcoin cash BCH, BitPay, BTC, BUSD, crypto revenue, Ethereum (ETH), Flights, GUSD, Olivier Janssens, Pax, private flights, Privatefly, Privatefly flights, Privatefly jets, revenue, USDC
Disclaimer: This article is for informational purposes only. It is not a direct offer or solicitation of an offer to buy or sell, or a recommendation or endorsement of any products, services, or companies. Bitcoin.com does not provide investment, tax, legal, or accounting advice. Neither the company nor the author is responsible, directly or indirectly, for any damage or loss caused or alleged to be caused by or in connection with the use of or reliance on any content, goods or services mentioned in this article.
Source: www.americancryptoassociation.com
At These Valuations, You're Better off Buying Bitcoin Than MARA Stock
With a name like Marathon Patent Group (NASDAQ:MARA), you would think that the company was focused on intellectual property, but this was its old business. Buying MARA stock today gets you into the cryptocurrency market.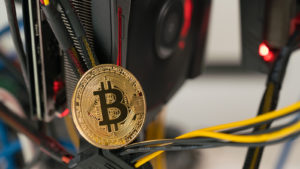 Marathon now is a cryptocurrency miner, with an emphasis on Bitcoin (CCC:BTC). This has absolutely supercharged MARA stock during the past four months. Note that the price has gone from $2 to around $38. The market capitalization is now at $3.5 billion.
But of course, the Bitcoin market has seemingly hit an inflection point. This cryptocurrency is no longer at the fringes of finance. For example, you can now easily make transactions using a mobile app from operators like PayPal (NASDAQ:PYPL), Square (NYSE:SQ) and Robinhood.
Then there is Elon Musk's Tesla (NASDAQ:TSLA), which recently acquired $1.5 billion in bitcoin. This was a big spur to this week's rally in the digital asset.
However, it's not just next-generation platforms that have adopted Bitcoin. This week there was an announcement from Mastercard (NYSE:MA) that it was preparing to support cryptocurrencies on its global network. The main reason is that the company has seen an uptick in activity from customers.
Next, the Bank of New York Mellon (NYSE:BK) has announced plans to hold, transfer and issue Bitcoin and other cryptocurrencies for clients. The firm is the oldest financial institution in the U.S.
So in light of all this, it is no surprise that MARA stock has been on a tear. But then again, is this the best way to play the crypto wave?
Well, let's take a look.
What future awaits cryptocurrencies?
Marathon has been a miner for about five years or so. This was the result of a merger with Global Bit Venture.
But until recently, it has been a struggle. There are heavy capital costs in running a mining operation because of the need to buy sophisticated computer systems. Energy expenses are also an issue. Of course, with bitcoin soaring, this certainly makes things much easier.
The operations of the business are still fairly small. During the latest quarter, the revenues came to only $835,184. There was also an operating loss of $2 million.
Now Marathon was smart to pull off a secondary offering of securities in MARA stock when it was on the upswing. The company was able to raise $250 million. In other words, the balance sheet is in much better shape now.
Interestingly enough, Marathon would go on to purchase $150 million in Bitcoin.
"[W]e have accelerated the process of building Marathon into what we believe to be the de facto investment choice for individuals and institutions who are seeking exposure to this new asset class," said the company's CEO, Merrick Okamoto. "We also believe that holding part of our Treasury reserves in Bitcoin will be a better long-term strategy than holding U.S. Dollars, similar to other forward-thinking companies like MicroStrategy."
Going all-in on Bitcoin looks to be the right strategy. This digital asset has become the standard in the industry. It should also have less risk in terms of regulatory pushback.
But again, the core mining business is quite small, at least in terms of the out-sized valuation of the business. Even though the growth has been strong, it is probably limited. There is also intense competition in the category.
Moreover, by making a big purchase of Bitcoin, MARA stock really does not gain much of the benefit from the leverage of the mining business. For the most part, the value of the company will be a proxy for Bitcoin. So if you are an investor, why not just buy the digital asset instead?
That is, it could be tough to maintain this valuation.
On the date of publication, Tom Taulli did not have (either directly or indirectly) any positions in any of the securities mentioned in this article.
Tom Taulli (@ttaulli) is the author of various books on investing and technology, including Artificial Intelligence Basics, High-Profit IPO Strategies and All About Short Selling.  He is also the author of courses on topics like the Python language and COBOL.
Source: investorplace.com
Author: By
Tom Taulli, InvestorPlace Writer & IPO Playbook Editor
Previous
Next