TA: Bitcoin Rejected $10,800, And It's Vulnerable to a Drop Below $10,500
Bitcoin price failed to clear the $10,800 resistance and started a fresh decline against the US Dollar. BTC could continue to move down below $10,500 as long as it is below the 100 hourly SMA.
Bitcoin failed to hold gains and started a fresh decline from the $10,800 resistance level.
The price broke the $10,650 support and settled below the 100 hourly simple moving average.
This week's important ascending channel was breached with support near $10,700 on the hourly chart of the BTC/USD pair (data feed from Kraken).
The pair is currently holding the $10,550 support, but it remains at a risk of more losses.
Bitcoin price failed to clear the key $10,800 resistance and started a fresh decline against the US Dollar. BTC traded as high as $10,803 before the bulls lost control.
As a result, there was a bearish reaction below the $10,750 and $10,700 levels. The decline gained pace after this week's important ascending channel was breached with support near $10,700 on the hourly chart of the BTC/USD pair.
Bitcoin traded below the 50% Fib retracement level of the upward move from the $10,387 swing low to $10,803 swing high. The price is now trading well below the $10,650 support and the 100 hourly simple moving average.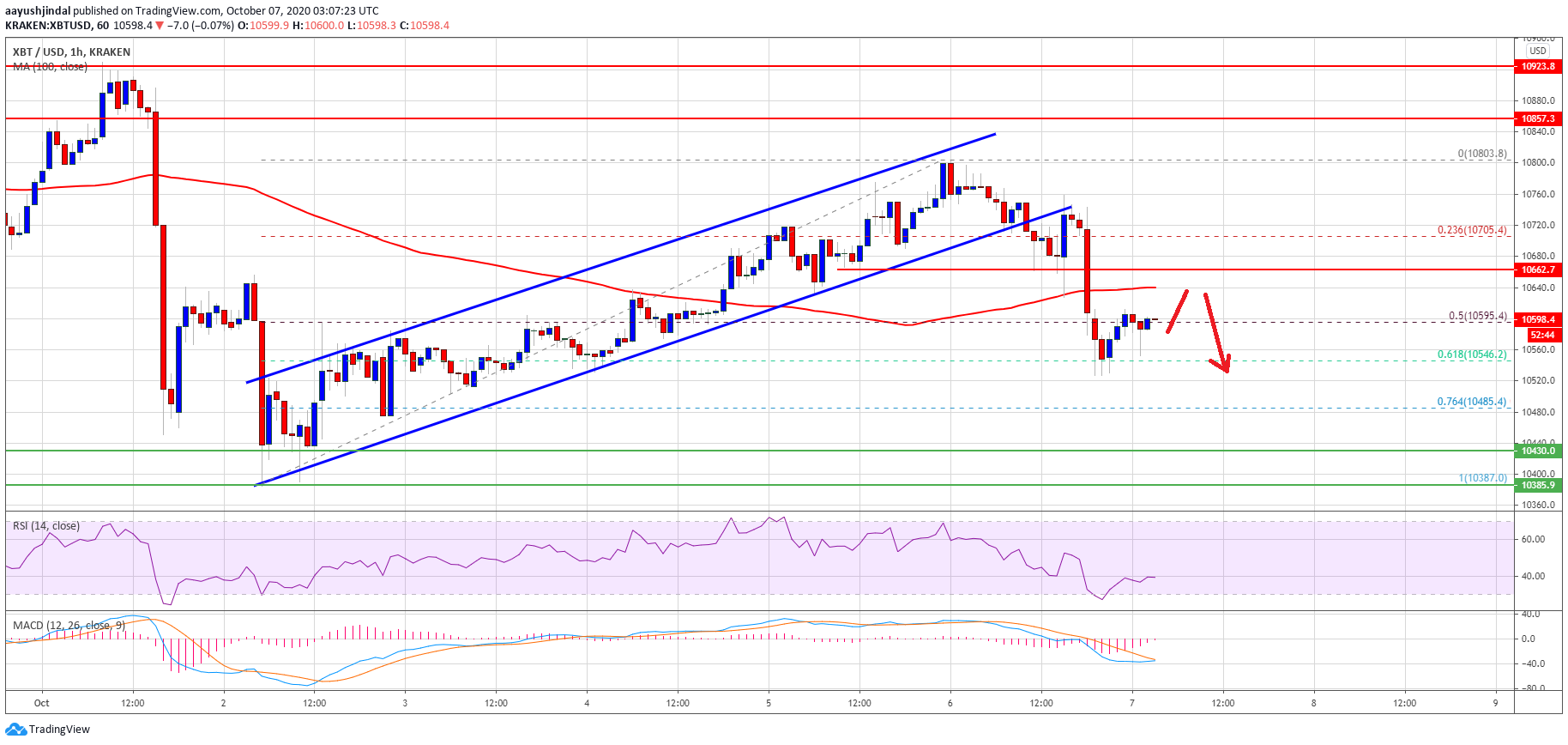 Bitcoin price dives below $10,650. Source: TradingView.com
It is currently holding the $10,550 support, but it remains at a risk of more losses. The $10,550 support is close to the 61.8% Fib retracement level of the upward move from the $10,387 swing low to $10,803 swing high.
If there is a downside break below the $10,550 support level, the bears are likely to aim a test of the $10,387 swing low. Any further losses might lead the price towards the $10,250 support or even $10,000 in the near term.
If bitcoin starts an upside correction, it could face resistance near the $10,650 level and the 100 hourly simple moving average.
A proper close above the $10,650 and $10,680 levels might start a fresh increase. The next major resistance is near the $10,800 level, above which the bulls might aim a break above $10,950.
Technical indicators:
Hourly MACD – The MACD is slowly losing momentum in the bearish zone.
Hourly RSI (Relative Strength Index) – The RSI for BTC/USD is currently well below the 50 level.
Major Support Levels – $10,550, followed by $10,380.
Major Resistance Levels – $10,650, $10,800 and $10,950.
Source: www.newsbtc.com
Author: Aayush Jindal
Metamask Rides DeFi Wave to Surpass a Million Month-to-month Customers
The rising decentralized finance (DeFi) house has been among the best issues to occur to Ethereum this 12 months, because it has propped each the community and its foreign money, Ether. Nonetheless, a number of different Ethereum-affiliated merchandise are actually getting a lift from this surge. Metamask, the highest pockets supplier, has crossed a major milestone.
Earlier this week, Metamask, an Ethereum-based browser pockets utility, introduced that it had recorded 1,000,000 month-to-month customers for the primary time. In its announcement, the pockets utility name-dropped a number of DeFi protocols, together with Curve, Aave, Yearn Finance, and Uniswap, as a number of the main drivers of its development.
The pockets utility's builders reaffirmed their dedication to making sure that they assist DeFi tasks as a lot as they will. It has been few months for each Metamask and DeFi, with the pockets's person base tripling since February and the entire worth locked in DeFi rising by 1,000 p.c in that point.
At present, DeFi and Ethereum are having fun with a blissful relationship. Ether as a foreign money thrives on adoption from builders, and a surge in DeFi adoption has solely served to stabilize the asset's value over time. Save for the same old swings and market reactions, Ether has been a viable crypto funding for any potential investor in 2020.
Nonetheless, this relationship has additionally come at a fairly steep value. Notably, the growth within the DeFi sector has made Ethereum much less scalable.
Early final month, data from Glassnode confirmed that gasoline charges on the Ethereum community reached $500,000 in an hour – a brand new all-time excessive. On the identical time, Ether had consolidated 10 p.c in 24 hours, sitting at a value of $486.
Many believed that this improve in community exercise got here from Sushiswap, a fork of high decentralized trade Uniswap, which crossed the billion-dollar mark in whole property locked in lower than a day.
Though the elevated community exercise meant excellent news for miners, it additionally pointed to the ever-present situation of scalability and sustainability on the community. DeFi has been the driving power behind an Ether bull run, but it surely has introduced technical difficulties.
As exercise within the decentralized sector continues to surge, the Ethereum community is shifting near capability. Congestion on the community might improve transactions going unconfirmed, inflicting longer wait occasions, and elevating transaction charges.
Left unchecked, this downside might have an effect on the usability of sensible contracts. Such an final result can be a major downside, as Ethereum's complete operation rests on sensible contracts' skill to function.
Talking on the implications, Kosala Hemachandra, founder and chief government of pockets supplier MyEtherWallet, defined to Cointelegraph that it might be unattainable for a single blockchain to carry so many transactions.
Hemachandra highlighted that Ethereum's recognition amongst DeFi tasks is the rationale for such excessive gasoline charges. Nonetheless, it gained't be potential for DeFi to ditch Ethereum and go elsewhere. His posited resolution is for them emigrate to another excessive transaction-per-network resolution, akin to delegated proof-of-stake. Nonetheless, he additionally famous that such a transfer might jeopardize DeFi tasks' decentralization.
Source: bitcoinflashnews.com
Author: By admin
Brad Kam: How the Decentralized Web Transfers Wealth From Corporations to People
The internet of today is broken. We can use the internet, but we don't own anything we do. Companies control our domain names, the content we host on web servers and our access to the internet. Now that so much of our information is on social media, this problem is even worse. Our social media IDs, our chat messages, our videos and anything else we publish online is controlled by giant companies. They can seize your assets, spy on you, ban you and sell your most intimate details to the highest bidder.
In the case of the domain name system (DNS), companies control domains, not users. Domains are frequently taken from users at the request of governments and other parties. France.com was seized from a man who had owned it since 1994 because the country of France believed it should be the owner. Owners of .com domains around the world are often surprised to discover that the U.S. government polices websites from all over the world by asking Verisign (owner of .com) to take away domains. The Libyan government seized vb.ly for violating Islamic law even though the website and its owner were not based in Libya. Anyone in the world with a .ly domain is subject to takedowns at the request of the Libyan government.
Hosting services suffer from a similar fate as DNS does. Companies and countries decide what can be published, not users. In Turkey, a law was passed that bans 150 words from being mentioned on any website in the country. One of these words is "gay and another one is "naked." Hosting services are being used to censor content that disagrees with the religious beliefs of the government in power. In China, the problem is even more extreme. Anyone who wants to publish online must first obtain a license.
And hosting providers are central points of failure. Not long ago, AWS had an outage, which effectively turned off large portions of the internet. These problems all come back to this issue of companies owning user data versus users owning their own data.
All of this would change if users, not companies, controlled their digital assets and data. This is now possible for the first time in history with the creation of blockchain networks like Ethereum, Filecoin and others. By 2030, assuming decentralized networks succeed, the internet will undergo massive changes that are better for users and for freedom on the internet. We can have a user controlled internet that promotes freedom across the world.
So what will 2030 look like?
What future awaits cryptocurrencies?
Websites are controlled by communities, not by any one person or company. The community votes on what articles are posted and what content is covered. I visit a popular news website that isn't controlled by any particular person or group. The top news headlines are voted on by users. Even determining whether an article is truthful or overly biased is determined by the crowd.
After reading the news of the day, I decided to check on my favorite investment fund. This is also a community-owned project, where investment decisions are voted on and members can opt to participate in deals. I'm intrigued by the latest underwater robot tech and decide to put in a little bit of money. I click two buttons and the funds are sent.
Instead of tech companies individually determining what information is okay to share online and what isn't, users decide.
I open my browser and check out some of the latest content. I navigate to one in particular, but my browser offers a warning – this content is potentially violent and disturbing. Do I want to see it anyway? Something else I click on is blocked entirely because I've set my browser to filter out such content. I've chosen to use the American Civil Liberties Union's list of filtered websites because I like its view on where the line is between free speech and hate speech.
Of course, if I disagree with ACLU's view, I simply set my browser to resolve all websites or I use an open-source browser that resolves every website available. Companies are now competing in an open market to deliver the best user protection from harmful content while still giving me the ultimate choice over what I view online.
Instead of social media companies owning user data, users store information on decentralized hosting networks and carry their data around with them on the internet. If an application wants access to a particular piece of data, users give that app permission. Often, that permission is to use a piece of data without the app's creators being able to see the data or identify who I am.
I jump onto a social network that has a slick search function for finding info about my friends. I'm looking for friends who have traveled to a particular city in the past few months so I can get travel advice. Next, I want to read about the latest political discussions my friends are having. I jump onto another social network and my contacts, messages, comments and the rest of my info follow me as I move across these networks.
Each friend has just one username, not one per social media app. I am trying out a new social network I've never tried before. I don't need to rebuild my social graph because my contacts and data come along with me. I just log in the first time and it works. I share some data with the app and I get paid. I then choose to watch an ad and get paid again.
As a superuser, I get a steady stream of revenue from one of my most important assets, my online data. New apps are popping up all of the time and companies are constantly competing to provide me the best user experience, which includes paying the highest price possible for my data and my attention.
By 2030, the transition from a corporate-controlled to a user-controlled internet has made everyone on the planet wealthier. Access to new services has reduced the costs for literally billions of people to borrow money, start businesses or invest in their education. Users and their data will be set free. Just as physical property rights ended indentured servitude and launched the industrial revolution, digital property rights have brought about a digital industrial revolution.
I have tens of thousands of dollars in digital value just from monetizing social media accounts. As much as 50% of my wealth is digital now instead of physical. The digital economy is booming and consumers are the primary beneficiaries.
If this is our future, we will all be better off because of it.
Source: www.bit-cointalk.com
'High Risk' Warning: A Major Bitcoin Exchange Is In Even Worse Trouble Than Thought
The bitcoin and cryptocurrency world was rocked last week by news U.S. authorities had levied charges against major bitcoin and crypto exchange BitMEX and its leadership team.
BitMEX executives Arthur Hayes, Benjamin Delo and Samuel Reed were indicted by the U.S. government on October 1, accused of flouting U.S. banking laws while serving American customers.
Now, in a further blow to the controversial Seychelles-based bitcoin and cryptocurrency exchange, the influential blockchain data company Chainalysis has branded BitMEX a "high-risk" exchange—with external data showing investors have removed almost 50,000 bitcoin tokens from BitMEX since last week.
MORE FROM FORBESCoronavirus Has Made Akon's $6 Billion Crypto-Powered, 'Real-Life Wakanda' In Senegal 'More Necessary'By Billy Bambrough
The chief executive of bitcoin and cryptocurrency exchange BitMEX, Arthur Hayes, was accused of … [+] violating anti-money laundering rules by the U.S. Department of Justice and the Commodity Futures Trading Commission last week.
On Monday this week, Chainalysis warned its clients that BitMEX, which rose to prominence throughout bitcoin's massive 2017 bull run and was up until recently the largest bitcoin-derivatives exchange, would be considered a "high risk exchange" from October 13.
"Any transfers from October 1 and later should be considered high risk," Chainalysis told clients in an email that was first reported by bitcoin and cryptocurrency news and analysis outlet The Block, adding BitMEX transfers will trigger alerts for those using the Chainalysis monitoring tool.
The Chainalysis warning compounds data from blockchain analytics firm Glassnode that shows around 45,000 bitcoin tokens have been withdrawn from BitMEX since the start of the month, representing a 27% drop in the total bitcoin on the exchange.
"On Friday 2 October, the day after the announcement, BitMEX saw its largest ever day of net outflows as investors rushed to remove their funds from the now-risky platform," Glassnode analysts wrote in a market update.
MORE FROM FORBESA Major Tesla Investor Has Predicted Bitcoin Will Be Worth More Than $1 Trillion In Under 10 YearsBy Billy Bambrough
BitMEX saw its largest-ever day of net outflows last week as investors rushed to remove their … [+] bitcoin and crypto from the now-risky platform, according to data from bitcoin and crypto analytics platform Glassnode.
Elsewhere, open interest on BitMEX's bitcoin derivatives market dropped off 16% the day after charges were brought against the company, data from Arcane Research showed.
"The BitMEX case has shown that crypto businesses must work according to the rules of the existing financial system, as far as the U.S. is concerned," Anatoliy Knyazev, co-founder of investment firm Exante, said via email, adding he thinks other bitcoin and crypto exchanges around the world that don't require identification documents from all users will likely fall into line.
"The U.S. authorities have made it clear that the crypto sector, including its 'gray' alleys, is now under control and will have to play by the rules."
Source: www.forbes.com
Author: Billy Bambrough
BitMEX Case Would possibly Immediate a Nearer Regulatory Look into DeFi
The most recent crackdown on the world's first crypto derivatives trade, BitMEX, would possibly flip the regulatory eye in the direction of the decentralized finance (DeFi) house, mentioned monetary companies platform BitOoda.
"In our view, we is not going to be shocked if/when regulators take a better take a look at DeFi platforms and members, as they acknowledge the potential for these networks for use for nefarious exercise that violates the BSA (Financial institution Secrecy Act, aka Journey rule) or different guidelines, even when the community incorporates KYC [know your customer]," the corporate mentioned of their newest regulatory evaluation.
A query that regulators will "grapple with" is when precisely they need to take enforcement motion towards "a DeFi effort" – this might be:
"throughout preliminary improvement when there are identifiable actors to focus on (e.g., homeowners/builders),
when there's fundraising/funding exercise which may be inconsistent with securities legal guidelines,
or after a community has launched and is sufficiently decentralized, when there could also be no regulatory targets aside from the platform/expertise itself."
BitOoda discovered each the explanations for and towards DeFi being topic to regulatory oversight.
What the corporate recommended is that DeFi would possibly function "the prepared reply" to regulators' cash laundering issues, due to the options the house is essentially the most happy with, so to say: open protocols, clear blockchain-based exercise, and transactions ruled and executed by sensible contracts as an alternative of particular people or entities. So, "with a very decentralized, peer-to-peer, community-managed platform, DeFi networks signify open markets that may and will function with out regulatory oversight," BitOoda mentioned.
Nevertheless, they continued, all that's DeFi, its networks, protocols, infrastructure, governance constructions, and many others., are created by builders. "These people, in addition to the platform itself (i.e., the entrance finish) are subsequently topic to regulatory scrutiny."
What's extra, there already exists a precedent per which the US Securities and Trade Fee (SEC) "doesn't (or didn't, at the moment) imagine decentralized platforms that conduct peer-to-peer transactions are exempt from regulation." This was established in 2018 within the case towards Zachary Coburn, the founding father of EtherDelta, charged with working an unregistered nationwide securities trade.
The least regulatory consideration will doubtless be drawn by these platforms and protocols that proceed to depend on self-custody, mentioned BitOoda.
Nonetheless, the platform discovered that, although "decentralized platforms might dispel many regulatory issues that exist right now concerning market danger, manipulation, and unfair commerce practices, we anticipate regulators to make a concerted effort within the coming months to higher perceive DeFi, with an eye fixed towards figuring out potential dangers to traders or use of the expertise by dangerous actors."
As reported, already in July 2019, the US Commodity Futures Buying and selling Fee was investigating whether or not BitMEX broke guidelines by permitting People to commerce on the platform, which isn't registered with the company. And simply final week, three homeowners of BitMEX and 5 associated firms have been charged by the regulator with working an unregistered buying and selling platform and violating a number of laws. BitMEX mentioned they intend to "defend the allegations vigorously," including that they've "all the time sought to adjust to relevant US legal guidelines, as these legal guidelines had been understood on the time and based mostly on obtainable steerage."
Nevertheless, a number of trade insiders argued that this case has proven that decentralization is the way in which to maneuver ahead for these providing crypto-related companies.
____
Study extra:
Regulators Might 'Disallow Buying and selling on DEXs Completely,' Investor Warns
Prime four Dangers DeFi Buyers Face
European Police Forces Need Harder KYC Measures for Crypto Trade
Europe Has The Most Of Cash Laundering-Pleasant Crypto Exchanges
Russian Coverage Chief: Crypto Inconceivable To Regulate, Let's Block It
Source: bitcoinflashnews.com
Author: By admin
Trump Stimulus Tweet Sends Bitcoin Price Plummeting $200 In 20 Minutes
Bitcoin price just tanked just as US President Donald Trump crushed hopes of the stimulus round two. In just 20 minutes from the time the President tweeted, the price of the leading cryptocurrency plunged $200.
Here's what's at risk if Bitcoin drops lower.
BTCUSD $200 Drop in 20 Minutes | Source: TradingView
Bitcoin price has been holding strong above $10,000, and more recently, $10,500. It even showed strong resiliency in the face of the recent BitMEX fiasco, the KuCoin hack, and even President Donald Trump contracting COVID.
But the US President canning any chance of a recent stimulus bill proposed by Nancy Pelosi and House democrats has sent markets crashing.
Nancy Pelosi is asking for $2.4 Trillion Dollars to bailout poorly run, high crime, Democrat States, money that is in no way related to COVID-19. We made a very generous offer of $1.6 Trillion Dollars and, as usual, she is not negotiating in good faith. I am rejecting their…
— Donald J. Trump (@realDonaldTrump) October 6, 2020
The Dow Jones dropped 300 points almost instantly at the news, and Bitcoin price plunged by $200 in under 20 minutes.
Thus far, support at $10,500 continues to hold, but losing the level could result in a revisit to past lows.
Near-term, if Bitcoin breaks down though $10,000 support that's held strong so far, it could send the cryptocurrency back to the $9,000 range. A gap left on CME Futures charts near $9,200 could act as the most logical target.
Risk of the election and a second wave of the pandemic have had markets on edge, and Bitcoin price may have just fallen off it finally thanks to Trump's tweet,
The President effectively killed two birds with one stone via his tweet, crushing the crypto asset's recent bullish momentum, and ongoing talks of the second round of stimulus checks.
Trump only recently returned to office following a stint at a medical facility where he was being treated for COVID. Trump squares off against Biden this November but may have just sealed the win for his opponent with the controversial move. And it also put Bitcoin on the ropes and at risk of more downside.
Source: www.newsbtc.com
Author: Tony Spilotro
Previous
Next