Reddit Launches Community Points As Tokens On The Ethereum Blockchain
The popular social media platform, Reddit, is launching Community Points as tokens built on the Ethereum blockchain. Users can earn them every month by commenting or posting new threats. They will be able to spend the Points on various services, such as purchasing memberships and voting on weighted polls.
According to a recent blog post, Reddit is introducing a new feature – Community Points. They are built and stored as standard ERC-20 tokens on the Ethereum blockchain, making them interoperable with existing blockchain tools.
The Points will be a measure of reputation and contribution within the community. They will be displayed next to each username on posts and comments in the subreddit.
The distribution will occur monthly based on the contributions each user has made within the past four weeks. Reddit will publish a list of Points earned once per month. The community will have a week to review it and propose any alternatives.
Upon clarifying all changes, Reddit will announce the final version. Users will have six months to claim their Points from the time the final list is generated; otherwise, they will expire.
Users also need to establish wallets on the Ethereum blockchain. Thus, they will receive a public address and a private key required to access and manage the Points on the wallet.
According to some community members, the new ERC-20 tokens will be DeFi-compatible. This could boost the DeFi adoption significantly as Reddit has over 300m monthly active users.
The post also indicated that the number of Points allocated amongst users will decrease over time, converging towards a maximum cap. The initial distribution will consist of 50 million Points, based on earnings in the subreddit to date. Over the first year, another 50 million will be distributed.
In time, however, the total amount in every cycle will keep decreasing when the number of Points approaches 250 million.
Interestingly, users can purchase Special Memberships with the Points. When that happens, though, those Points will be burned (destroyed), making the other shares of tokens go up. "This ensures that buying membership rewards the community as a whole," the blog explained.
Reddit will also burn some of its own Points when people are buying memberships with dollars.
Those who have Community Points will also get another view of poll results.
"In addition to the normal headcount view (1 vote per person), there is also a weighted view by Points (~one per Point). This allows the community to see how its core contributors feel."
Aside from regular users receiving Points, some will be distributed amongst other contributors. Moderators will get 10% for their administrative duties, Reddit will receive 20%, and another 20% "will be reserved for the broader community."
Binance Futures Limited Offer: Use this link to register & get 10% discount on fees (Exclusive to CryptoPotato).
Click here to start trading on BitMEX and receive 10% discount on fees for 6 months.
Source: cryptopotato.com
Ethereum course before important hurdle – do we see the $ 280 before the halving for ETH? – CryptoMonday | Bitcoin & Blockchain News | Community & Meetups
Source: krypto.international
KRYPTO
Ethereum Blockchain Centralization Vs. Decentralization By Vitalik Expectations Are Brewing About a Second Wave Up
There was an epic weekly surge, and ETH is struggling to break beyond the resistance level. There are expectations that ETH will reclaim its $200 level as a second wave up. However, several traders are expected to opt-out as nearly 2 million ETH addresses are in the money, and the breakeven point has reached.
Sydney Ifergan, the Crypto expert, tweeted: "Ethereum (ETH) or any other cryptocurrency of any kind should be usable, failing which it makes no sense. The value factor is derived from cryptographic scarcity."
Vitalik recently spoke about the benefits of "deliberately engineered and bounded centralization."
Vitalik tried to compare situations and stated that when a single person has a large stake + influence in an outcome, then they will take the time to learn and to optimize and make use of the economics of scale to make and execute good decisions.
Centralization is considered risky because of the risk of abuse of power, fragility, low bus factor etc.
However, when a million people have a small stake in an outcome and are able to influence it in a small way, they are not going to care and are led astray by side incentives.
When the two are combined like in a blockchain Vitalik opines that will be the most resilient of all architectures. For instance, he reflected on how miners and transaction processing sometimes take place in private deals; however, the benefits of such are very less.
The bounded downside he stated is about one block producer waiting 15 seconds for the next one. When there are complex challenges with complex apps, on-chain optimal transaction inclusion becomes necessary, which includes capturing of miner extractable value, this introducing an edge for sophisticated block producers, risking centralization. The solution here, Vitalik states, is deliberately engineered bounded centralization where the consensus is split into two tasks. First, being deciding which transactions goes to blocks. The next is about verifying other blocks with transactions.
A complete ban of fiat currency will never happen. A complete ban of government will also never happen. These expectations will not materialize in a meaningful way. There are increasing numbers of contributors in the in the open-source development space, which is healthier than it has ever been before.
The impact of the coronavirus on the economy and the financial markets is set to bring in a significant change in the economic regime. Whether about change in monetary policy or the fiscal expansion of the Central Bank, inflation is going to hit the economy hard. This is not going to be easy to tolerate. However, cryptocurrency can be the answer to inflation.
Money is a representation of the value of labor and the efficient use of capital. Without both of these integrated to create value, there will be nothing we can called economy. This is one reason for why usability is one of the scales to gauge the application of cryptocurrency.
Source: thecurrencyanalytics.com
Author: By dan saada
Ethereum Investor Optimism Builds, Setup for a Long Squeeze
Long Ether positions hit a new all-time high despite the risk of a dead cat bounce as a consequence of the global financial meltdown.
Retail investors seem overwhelmingly positive about Ethereum, which may create the perfect conditions for a sudden decline through a long squeeze.
Over the past few hours, Ethereum took a 10% nosedive that saw its price drop from $170 to $152. Despite the significance of this bearish impulse, data shows that retail investors remain optimistic.
Indeed, long Ether positions in Bitfinex are going parabolic since the Mar. 12 crash. Today alone, over 330,000 new positions were added representing a 30% increase.
The substantial rise pushed the number of ETH long positions in the Hong Kong-based cryptocurrency exchange to a new all-time high of over 1.39 million.
The number of investors betting to the upside is quite surprising when considering the global economic conditions stemming from coronavirus. If the financial turmoil deepens, this could set the stage for a long squeeze that pressures traders to panic sell their holdings to prevent bigger losses.
Although those who are going long may be trying to profit from the opportunities that are presented when fear reigns the market, Ether could have another couple of legs down before it resumes its historic uptrend.
In fact, the TD sequential indicator recently presented a sell signal in the form of a green nine candlestick on ETH's 1-day chart. The bearish formation indicates that the smart contracts giant could suffer a one to four daily candlesticks correction.
Now that Ethereum dropped to the 23.6% Fibonacci retracement level, it appears that the pessimistic outlook presented by the TD sequential index getting validated. A candlestick close below this critical area of support could be followed by a downswing to the 38.2% or 50% Fib.
These demand barriers sit at $143 and $133, respectively.
Adding credence to the bearish view, data from Santiment reveals that Ethereum's network growth is declining. The number of addresses with zero balance has outpaced the number of new addresses being created on a daily basis. Declining network growth usually leads to price slumps, according to Brian Quinlivan, Market and Social Media Director at Santiment.
It is worth highlighting that only a daily candlestick close below the 23.6% Fib will increase the odds for a long squeeze.
Otherwise, Ether may be able to bounce off this support area and break through the $176 resistance level. Such a bullish impulse would likely trigger FOMO (fear-of-missing-out) among investors. A spike in demand might be able to push Ether towards $200.
It remains uncertain why long Ether positions in Bitfinex are surging. However, the different technical and fundamental metrics previously explained indicate that investors need to be aware of the probability of a further downturn.
As the Federal Reserve continues to print money to lessen the impact of the global pandemic, only a marginal amount of that cash could flow into the crypto market. There is a lot of risk that doesn't look like it's being accounted for by traders.
For now, it would be better to wait for confirmation before entering any trade to avoid potential risks. A daily candlestick close below $155.6 for ETH will likely validate the bearish outlook while breaking though the $176 resistance may invalidate it.
Source: cryptobriefing.com
Author: Ali Martinez
Key Data Shows Ethereum Sellers Are Poised to Pounce: Is a Dump Imminent?
Sell-side pressure over the past two days has seen the price of Ethereum dip below key support at the $160 level. Currently, the second-largest cryptocurrency by market cap is priced at $159. But has fallen 8% from its recent high just two days ago.
This move reversed an uptrend that peaked at $173 following the so-called "Black Thursday" crash. What's more, the rejection has also seen Ethereum fall back below the ever-important 200-day simple moving average on the daily chart, seen below.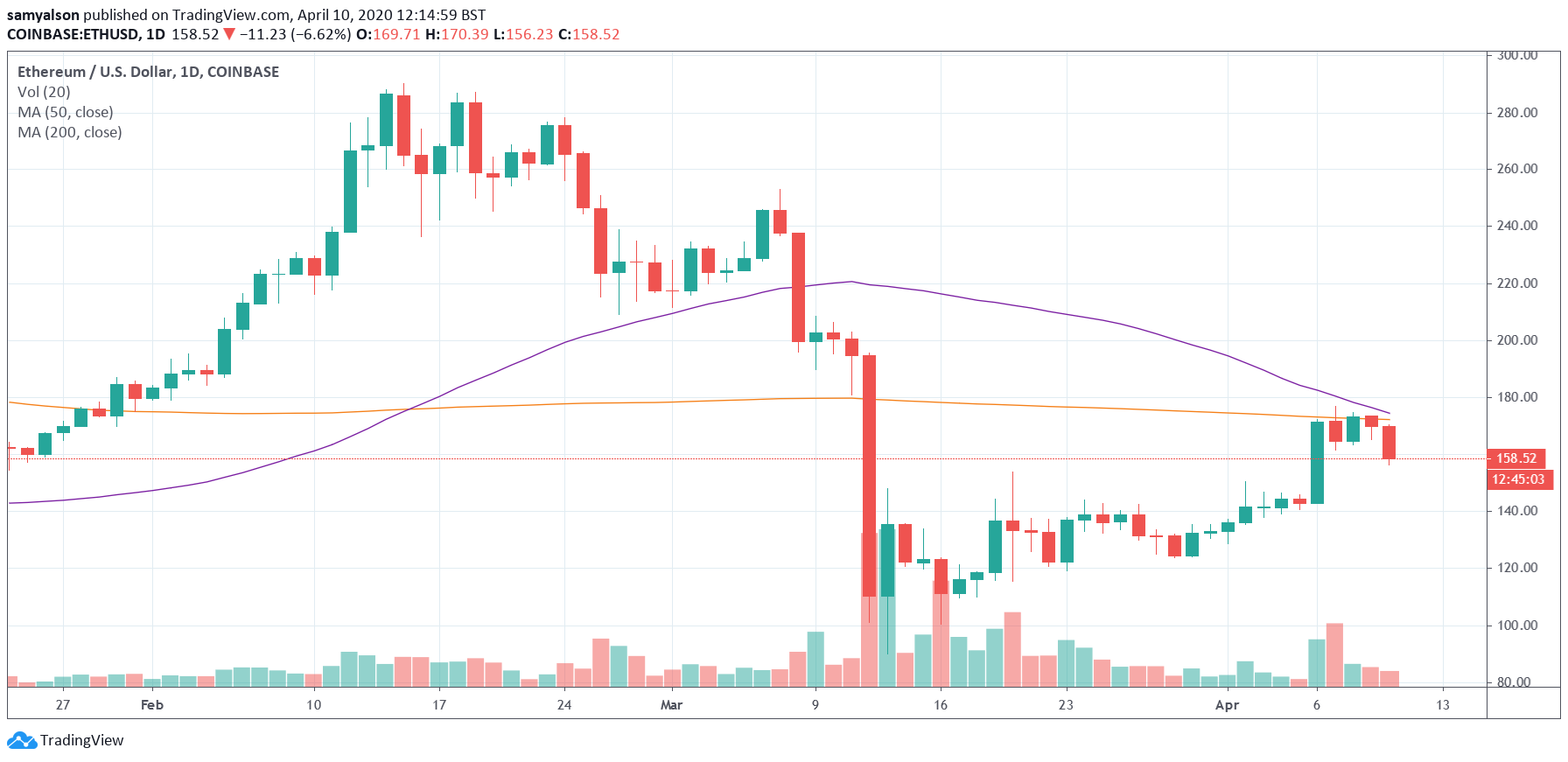 Indeed, in line with this bearishness, crypto-asset trader @cyrii_MM noted unusual activity on Bitfinex's ETH/USD market. Data shows a huge 145% increase in the 24-hour price versus the 30-day price.
Back on March 10th, Ethereum was trading significantly higher having closed at just under $200. As such, a positive price percentage change on falling price points to the possibility of sell pressure building.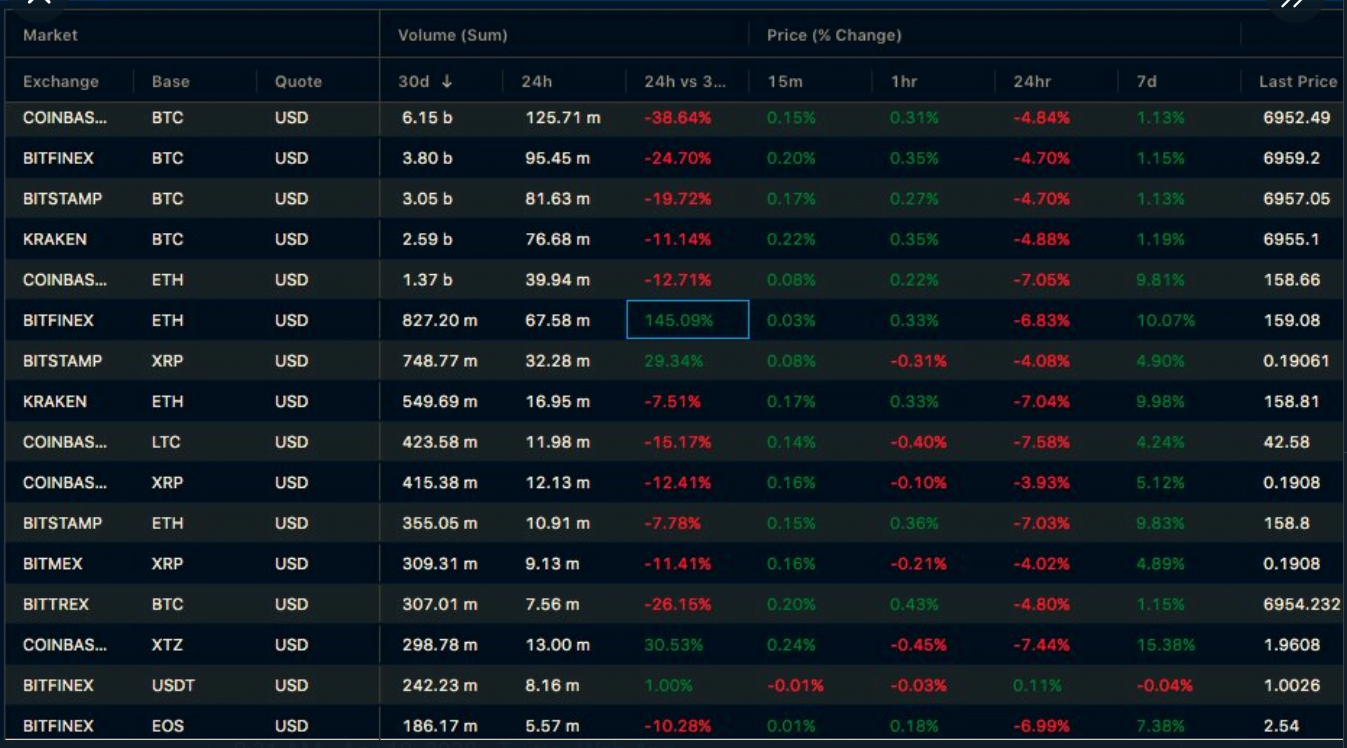 On that note, the CEO of Three Arrows Capital, Su Zhu also noticed an unusually large ETHUSD buy wall on Bitfinex. To which he also drew attention to the ETHUSD volume ratio, at $72 million, closing in on BTCUSD, at $102 million. Which Zhu remarked as a further peculiarity, in that BTCUSD volume ratio normally significantly dominates that of any other alt pairing.
Large $ETH buy wall on bfx here, 200k ether filled and another 50k remaining in the order book pic.twitter.com/gK701gg6ws
— Su Zhu (@zhusu) April 10, 2020
Given the pattern of these events, some traders remain cautious of an Ethereum price dump in the near term.
Having said that, Ethereum's fundamentals remain as strong as ever. For example, as previously reported, Glassnode, the analytics group, recently reported that Ethereum's current market value to realized value (MVRV) ratio is presently undervalued.
Their latest research put the MVRV ratio at 0.8. Any score below 1 indicates undervaluation. Therefore, according to Glassnode, there is scope for the price to extend beyond the current market valuation.
"Ethereum's MVRV Ratio, a metric used to assess if price is above or below 'fair value', currently sits at 0.8 – indicating that it is currently undervalued. ETH's realized price is currently $202 while current market value is $164."
In line with short term bearish sentiment, Bitcoin also failed to crack key resistance at the next level up. Since its rejection at $7.4k yesterday, the market leader has been on a downward trend taking the rest of the market along it in fiat terms.
Also, in a further blow for Ethereum, an examination of the ETH/BTC daily chart shows Bitcoin dominance in force.
Despite an uptick on April 6th, which saw the price spike significantly above the 200-day moving average, Ethereum continues to struggle to maintain the upward trend. It closed down yesterday at 0.023, with a further decline today.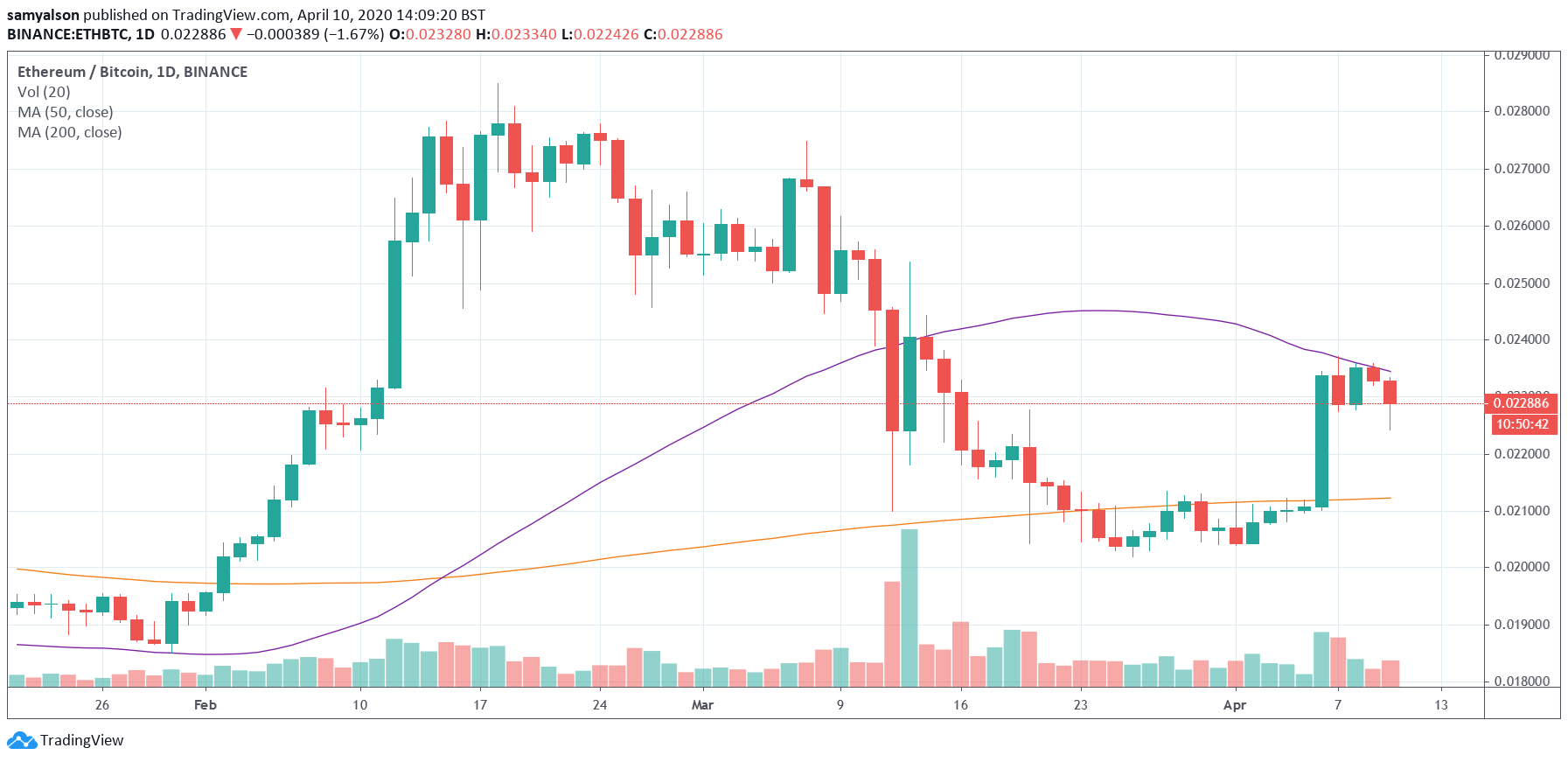 All the same, the latest move is part of a larger downward trend, which sees Ethereum failing to regain its form prior to mid-February's rally higher.
Featured Image from Unsplash
Source: www.newsbtc.com
Author: Samuel Wan
Next