Polkadot Lays Out Its Plans for Parachain Rollout as the Token's Price Climbs – Altcoins Bitcoin News
The price of Polkadot's native token hit an all-time high (ATH) this week, soaring above $30, as the company laid out the next steps of its plans and the systems to finalize the network launch.
Polkadot released a roadmap highlighting that it is currently in its Rococo phase, the first of three major phases until the network goes live.
Here is a breakdown of the roadmap.
Polkadot (DOT) plans to continue with its launch of parachains, also referred to as application-specific data structures. These parachains, just like with parathreads, are what will allow Polkadot to pair with other more established networks, such as Ethereum and Bitcoin, through a mechanism called Cross-Chain Message Passing-lite.
Polkadot is still in the Rococo phase of testing its parachains. Once the code is evaluated and approved, we can expect to see Polkadot submit its vote via onchain governance to power the parachains and slot auctions on Kusama.
The scalable multi-chain network, Kusama, is what Polkadot says will serve as an "additional proving ground" for parachains. It's effectively a sandbox designed to support further testing and network effects before launching on Polkadot. Its looser parameters allow developers to test new ideas while also helping gain visibility amongst community members.
Enabling parachain functionality will ultimately fall down to a vote by Kusama governance. Should the rollout be approved, non-permissioned candle auctions will be used to allocate 100 parachain slot leases. Polkadot emphasizes that users can expect a new auction "roughly every two weeks," with more set to come available as each lease expires.
The slot bidding involved in parachain offerings plays a significant role. Rather than using the initial coin offering (ICO) model, which can be (and was) easily exploited due to the limited terms of proof needed, its parachain offerings incorporate candle auctions alongside a heavy focus on governance.
But these aren't traditional candle auctions. Rather than taking the typical route of using a random number to determine the duration of its opening phase in bids, Polkadot's will be retroactively determined, meaning that the bids that have been placed earliest stand the highest probability of success.
Once an auction has ended, Polkadot will deploy the winning parachain to the network at the beginning of its lease period. Parachain slots can be leased in six-month increments for a maximum of two years, after which they'll go back up for auction.
Although difficult to estimate the costs of running these parachains, given the price, is "purely a function of market supply and demand," as Polkadot is aiming for a safer and more secure way of bidding with its parachain auctions.
Once auctions have ended and these parachains are live, Polkadot says the network's launch will be fully complete. While it's possible to see future upgrades to the network, this scalability will ultimately be in the hands of its community.
What do you think about the Polkadot network and the project's roadmap? Let us know what you think in the comments section below.
Disclaimer: This article is for informational purposes only. It is not a direct offer or solicitation of an offer to buy or sell, or a recommendation or endorsement of any products, services, or companies. Bitcoin.com does not provide investment, tax, legal, or accounting advice. Neither the company nor the author is responsible, directly or indirectly, for any damage or loss caused or alleged to be caused by or in connection with the use of or reliance on any content, goods or services mentioned in this article.
Source: news.bitcoin.com
Author: Altcoins
by
Reuben Jackson
Peter Schiff After Bitcoin Hit $50K: I Got it Wrong
Peter Schiff, a well-known economist, gold proponent, and one of the most vocal opponents of Bitcoin, admitted that he was wrong about Bitcoin not hitting $50,000.
For the absolute first time since its inception, Bitcoin has hit the coveted $50,000 mark. The price has since retraced a bit but is still charting an increase shy of 3% on the daily. This has also brought the 7-day gains of BTC to about 7%.
As CryptoPotato reported earlier today, the historic milestone also means that BTC investors saw a return of 72% in 2021 alone. If we stretch the period back to the 2020 lows during the mid-March crash, this number grows to 1200%.
While the community is celebrating the milestone, it's also worth noting that the road to $50K was paved with dips and traps all the way up. Just a month ago, Bitcoin's price went from a high of $41,450 to a low of $30,261 in less than 48 hours, liquidating billions of leveraged positions and shaking out many traders.
Those who held on were rewarded, as 30 days later, the cryptocurrency finally touched the $50K mark. Of course, there are those who continue to call it a bubbly asset with no intrinsic value.
Back in 2019, Schiff got in a Twitter argument with Thomas Lee – the chief analyst at Fundstrat Global Advisors and a well-known Bitcoin permabull.
Lee had commented on an article where Schiff made a bold gold prediction about gold in 2021. Back then, he said that the precious metal would hit $5K in two years. Fast forward 9-years later, this hasn't even come close to being true. Defending himself, Schiff attacked Lee for his failed 2018 BTC prediction, outlying that "gold will eventually hit 5K. Bitcoin will never hit 50k."
Today, the economist said that he was wrong.
Ok, I got that one wrong. Now let's see how long it stays above $50K or how many are smart enough to sell it up here.
Of course, it wouldn't entirely be Peter Schiff if he didn't take time to remind everyone that Bitcoin is a bubble.
A financial asset is in a bubble when its price has no relationship to its underlying present value or a reasonable expectation of its future value, and investor conviction in price appreciation is high and fear of loss is low. At $50K #Bitcoin is the biggest bubble of them all.
— Peter Schiff (@PeterSchiff) February 16, 2021
Featured image courtesy of Salt
Binance Futures 50 USDT FREE Voucher: Use this link to register & get 10% off fees and 50 USDT when trading 500 USDT (limited offer).
PrimeXBT Special Offer: Use this link to register & enter CRYPTOPOTATO35 code to get 35% free bonus on any deposit up to 1 BTC.
Source: cryptopotato.com
Don't Get Distracted by the Bitcoin Narrative for Square Stock
Despite concerns about an investment market that is getting perhaps out of touch with the fundamentals, fintech specialist Square (NYSE:SQ) continues to defy gravity. But is this meteoric acceleration of Square stock sustainable amid some not-so-stellar news, such as the disappointing January jobs report?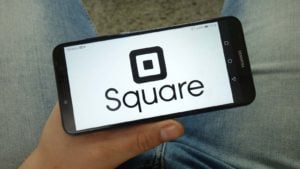 Don't misread this because I'm a big fan of SQ. Primarily, I appreciate that Square stock is a disruptive investment in the same vein as Amazon (NASDAQ:AMZN). But for me, Square is much more of a feel-good narrative. Rather than disrupting the brick-and-mortar business model – which also includes mom and pops – SQ allows small businesses to level the playing field with larger competitors.
Further, Square stock is well positioned to advantage of the burgeoning gig economy. Prior to the novel coronavirus pandemic, the shift toward decoupling professional ambitions away from the office was in full swing. In the new normal, many worker bees have had a taste of the gig life – and several of them will undoubtedly explore this concept full time.
Thanks to Square's payment processing products and services, along with business/accounting applications that help streamline administrative duties, entrepreneurs can focus on what really matters – growing their companies and brands.
But then again, that's the problem – the pandemic has had a detrimental impact on small businesses. Near the midway point last year, 80% of them had stated that the Covid-19 crisis had hurt their bottom line.
9 Meme Stocks That Social Media Won't Shut Up About
What cryptocurrency will become the main one in a year?
To be fair, most of the surveyed businesses were optimistic about reopening and getting back on track. However, the January jobs report gave a stark reminder that we may have a longer road to that recovery. With only 49,000 jobs added against some forecasts calling for nominal growth up to a quarter of a million jobs, the news wasn't particularly helpful for Square stock.
So does SQ have justification for its market bullishness? Apparently, Bitcoin (CCC:BTC-USD) may save the day.
Recently, Square CEO Jack Dorsey made waves when he and rapper Jay Z created an endowment to help fund Bitcoin development. Initially, the fund will serve the Africa and India markets and could progress to other regions.
It's an interesting concept. In Nigeria, for instance, cryptocurrency transactions have soared in volume. A major reason for the adoption of Bitcoin and other blockchain reward tokens is that they provide protection against currency devaluation. Also, cross-border transactions are more efficient and cost-effective.
Therefore, Dorsey and Jay Z wish to feed this momentum, making Bitcoin the currency of the internet. But will this be the catalyst to help Square stock consistently stay above the fundamental muck?
I'm a big fan of both SQ and cryptocurrencies so this is a tricky topic for me. On one hand, I appreciate that virtual currencies are finally going mainstream. At the same time, the narrative may be getting stretched.
Primarily, I don't believe that Bitcoin is useful as the currency of the internet. For one thing, BTC is clunky relative to the cryptocurrencies that came after it. While I won't get into the technical granularity, the main point is that BTC is not the most scalable crypto coin.
Indeed, if you wish to have a currency of the internet, Bitcoin's hardforked token Bitcoin Cash (CCC:BCH-USD) is much more appropriate. Handling higher transaction volume at lower costs, BCH is the platform you should be targeting. Because of this, I'd say that Bitcoin Cash is criminally undervalued.
But that's also the counterargument. At time of writing, I'm watching Bitcoin Cash charge dramatically higher. Against the prior day, BCH is up 23% and over the trailing week, it's up 56%.
Honestly, who'd want to have such value fluctuations in their currency? Most cryptocurrencies, when they become popular, cease to be currencies but rather stores of (sometimes extreme) value.
It should be noted that Square isn't directly involved with the aforementioned Bitcoin fund. However, the company does support Bitcoin transactions and has BTC in its corporate treasury. Therefore, this latest news item could inspire more positive sentiment toward Square stock.
Nevertheless, you may want to be careful with SQ – as in stay on the sidelines and wait for a better entry point. I'm practicing what I'm preaching, at least for Bitcoin. Several days ago, I took profits from BTC because you just don't know where this high-flying assets will end up.
I'm still a believer in cryptocurrencies and so I maintain a position. Still, my argument is that belief in a particular asset shouldn't cloud your judgment. Square stock is a brilliant investment but I believe there is a better price coming up for prospective buyers.
On the date of publication, Josh Enomoto held a long position in BTC and BCH.
A former senior business analyst for Sony Electronics, Josh Enomoto has helped broker major contracts with Fortune Global 500 companies. Over the past several years, he has delivered unique, critical insights for the investment markets, as well as various other industries including legal, construction management, and healthcare.
Source: investorplace.com
Author: By
Josh Enomoto, InvestorPlace Contributor
Cost of a single Bitcoin exceeds $50,000 for first time
SILVER SPRING, Md. >> The seemingly unstoppable rise of Bitcoin continued today with the cost of a single unit of the digital currency rising above $50,000 for the first time.
The same Bitcoin just one year ago would have cost you $10,000. The price is up almost 200% in the last three months alone.
Bitcoin is rallying as more companies signal the volatile digital currency could eventually gain widespread acceptance as a means of payment. The vast majority of those who have acquired Bitcoin have treated it as a commodity, like gold, with few places accepting it in exchange for goods or services.
Companies have been leery because of Bitcoin's volatility and its use by parties who want to avoid the traditional banking system for a myriad of reasons. Today, the price crossed and recrossed the $50,000 barrier at least a half dozen times before 10 a.m.
Last Monday, however, the electric car company Tesla sent a tremor through the digital currency markets, saying that it was buying $1.5 billion in Bitcoin as part of a new investment strategy, and that it would soon be accepting Bitcoin in exchange for its cars.
Then Blue Ridge Bank of Charlottesville, Virginia, said that it would become the first commercial bank to provide access to Bitcoin at its branches. The regional bank said Wednesday that cardholders can purchase and redeem Bitcoin at 19 of its ATMs.
BNY Mellon, the oldest bank in the U.S., followed a day later, saying it would include digital currencies in the services it provides to clients. Mastercard said it would start supporting "select crypto currencies" on its network.
While most expect a slow evolution toward widespread usage of bitcoins as currency, Richard Lyons, a finance professor at the University of California at Berkeley, says it's inevitable. Lyons predicts Bitcoin and other digital currencies "will become transactional currencies increasingly over the next five years. It's not going to happen overnight," he said.
Lee Reiners, who teaches fintech and cryptocurrency courses at Duke University School of Law, said BNY Mellon's move makes sense because "there are now numerous high-net-worth individuals and investment funds embracing crypto as an asset class to be added to their portfolio."
But Reiners believes companies will remain hesitant to accept Bitcoin for payment because of its volatility.
"If you were a merchant, why would you accept payment in an asset that could be worth 20% less a day after you receive it?," Reiners said in an email.
Investors will have to grapple with that volatility as well. The price of Bitcoin has soared and dipped since its debut on the futures market in 2017. A year ago, Bitcoin sold for below $10,000. Those fluctuations, analysts warn, could wreak havoc on a company's bottom line and deter investors.
Assuming Tesla bought Bitcoin at the volume-weighted average price of $34,445 in January, the company is sitting on a gain of about 38% with its investment. But in the regulatory announcement unveiling the investment, Tesla warned about the volatility of Bitcoin, its reliance on technology for use and lack of a centralized issuer, such as a government.
"While we intend to take all reasonable measures to secure any digital assets, if such threats are realized or the measures or controls we create or implement to secure our digital assets fail, it could result in a partial or total misappropriation or loss of our digital assets, and our financial condition and operating results may be harmed," Tesla said in the filing.
"Tesla is going to have to be very careful and comprehensive in accounting for its Bitcoin investment on its books," said Anthony Michael Sabino, a professor of law, at St. John's University. "Like any other financial asset other than actual cash, it might fluctuate."
There appears to be some reluctance among traditional companies regarding Bitcoin, at least as an investment vehicle.
During a recent conference call with investors, General Motors CEO Mary Barra said her company had no plans to invest in Bitcoin, but would continue to "monitor and evaluate" potential use of digital currency.
"If there's strong customer demand for it in the future, there's nothing that precludes us from doing that," Barra said.
Source: www.staradvertiser.com
Author: By Associated Press
Bitcoin hits new record above $50,000
Bitcoin (BTC-USD) has topped $50,000 (£35,924), breaking through the symbolic milestone or the first time in its 12-year history.
Bitcoin climbed above $50,000 at around 12.30pm in London on Tuesday. The cryptocurrency had come close to breaking through the historic level in the early hours of the morning but pulled back. Bitcoin was trading at $50,311.63 at 12.38pm in London.
The new high extends a bull run for bitcoin that began last October. The world's biggest cryptocurrency has risen over 350% since then.
The rally has coincided with increased institutional adoption. PayPal (PYPL) said last year it would allow customers to handle the token through its platform and Mastercard (MA) followed suite last week. BNY Mellon, America's oldest bank, said it too would handle bitcoin on behalf of clients, paving the way for more money to flow into the market.
Institutions have already been putting money into the cryptocurrency. Square (SQ) invested $50m into the cryptocurrency in October and wealth manager Ruffer put some of its £21bn ($29bn) in assets into bitcoin last November. The biggest jolt came when Tesla (TSLA) announced at the start of this month that it had invested $1.5bn into the cryptocurrency.
"Bitcoin's ascent from $40k to $50k took 6 weeks, a relative snail's pace given its move from $20k to $40k happened in 3 weeks," said Antoni Trenchev, chief executive of cryptocurrency company Nexo.
He said the next big price milestone would be $100,000.
Watch: What is bitcoin?
"Growing corporate support for the crypto makes this a very different market to what it was in 2017," said Neil Wilson, chief market analyst at Markets.com. "Money printing and dollar debasement is also a factor."
Naeem Aslam, chief market analyst at Avatrade, said: "A decent amount of bitcoin supply is under institutional clients and US corporates' control. Given the fact that billionaire, US corporate, and institutional clients are supporting the current rally, the bitcoin volatility has tamed to a larger extent."
Mati Greenspan, founder of Quantum Economics, said bitcoin could soon see a price pullback.
"This is the stuff dreams are made of, but I'm not so sure how sustainable these gains are," he said. "I think it is very unlikely that the corresponding projects have grown in usage by that much during this short period of time."
Watch: What are the risks of investing in cryptocurrency?
Source: news.yahoo.com
Author: Oscar Williams-Grut·Senior City Correspondent, Yahoo Finance UKFebruary 16, 2021, 2:30 AM
NYDIG Registers for a Bitcoin ETF, Morgan Stanley Named a Participant in SEC Filing – Bitcoin News
Just recently, during Microstrategy's "Bitcoin for Corporations" event, Stone Ridge Asset Management and New York Digital Investment Group (NYDIG) founder, Ross Stevens, explained that he sees a "wall of money" entering the bitcoin space. A week later after that statement, NYDIG has revealed that the company has filed for a bitcoin exchange-traded fund (ETF) and is hoping for regulatory approval.
Last week, when Ross Stevens told the Microstrategy CEO and bitcoin bull, Michael Saylor that he believes a lot of money was coming into bitcoin he probably had a pretty good inclination. Not too long afterward, Stevens' firm NYDIG a subsidiary of Stone Ridge Asset Management revealed the company is aiming to launch an exchange-traded fund (ETF). The news follows the recent Purpose Bitcoin ETF approval, which will trade on the Toronto Stock Exchange.
NYDIG also falls behind the bitcoin-based ETF filings registered by the firms Valkyrie Digital Assets and Vaneck. The "NYDIG Bitcoin ETF" filing was filed with the U.S. Securities and Exchange Commission on February 16, 2021. The registration is a Form S-1 statement, which aims to distribute common shares trade on NYSE Arca.
"The [NYDIG Bitcoin Trust's] investment objective is to reflect the performance of the price of bitcoin less the expenses of the Trust's operations. The Trust will not seek to reflect the performance of any benchmark or index," the registration filing notes.
"In seeking to achieve its investment objective, the Trust will hold bitcoin," the filing continues. "The Trust will value its assets daily in accordance with Generally Accepted Accounting Principles, which generally value bitcoin by reference to orderly transactions in the principal active market for bitcoin."
There are around ten companies shooting for a bitcoin ETF in the U.S., according to Jeff Kilburg, founder and CEO of KKM Financial and a partner at Valkyrie. Kilburg thinks that 2021 will be the year the SEC approves a U.S.-based exchange-traded fund that leverages the leading digital asset.
Kilburg jokingly said that it was similar to constantly asking someone to get married.
"It's a similar approach to the way I strategically asked my wife to marry me. Around the 15th or 20th time I asked, she finally said yes," Kilburg told CNBC.
NYDIG's SEC filing for a bitcoin exchange-traded fund coincidentally was registered the day BTC jumped to a new all-time high. BTC temporarily touched an average price of around $50,603 during the early morning trading sessions (EST) on Tuesday.
NYDIG's filing also notes that the firm will be working with Morgan Stanley as an initially authorized participant. Of course, the NYDIG Bitcoin ETF filing also has a whole page (pg. 9) dedicated to explaining the "risks" involved with a bitcoin-based investment vehicle.
"Investment in the trust involves significant risks and may not be suitable for shareholders that are not in a position to accept risks related to bitcoin," the registration warning says. "The shares are speculative securities. their purchase involves a high degree of risk, and you could lose your entire investment. you should consider all risk factors before investing in the trust."
What do you think about the latest bitcoin ETF filing by New York Digital Investment Group (NYDIG)?
Disclaimer: This article is for informational purposes only. It is not a direct offer or solicitation of an offer to buy or sell, or a recommendation or endorsement of any products, services, or companies. Bitcoin.com does not provide investment, tax, legal, or accounting advice. Neither the company nor the author is responsible, directly or indirectly, for any damage or loss caused or alleged to be caused by or in connection with the use of or reliance on any content, goods or services mentioned in this article.
Source: cryptoliveinsider.com
Previous
Next