Money and finance news live updates: IRS letter 6475, claim $1,400, Child Tax Credit, tax returns…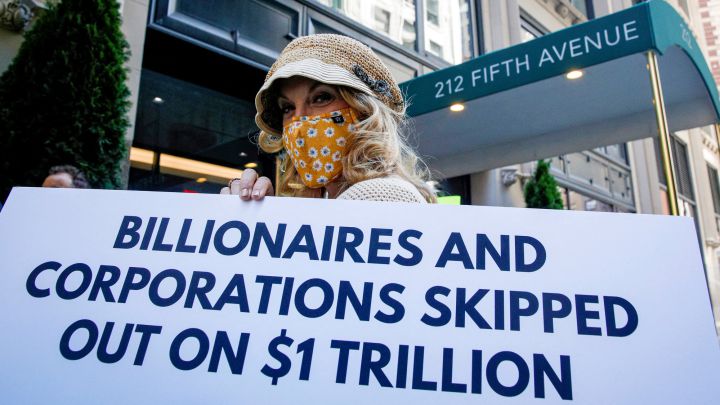 Bumpy road ahead as Fed tightens the financial spiget
The Federal Reserve announced that it will begin to tighten fiscal policies put in place to prop up the economy at the start of the covid-19 pandemic. The decision comes as inflation has been more persistent than policy makers had anticipated, eating into wage gains made by workers and valuations of shareholder portfolios.
The move will have consequences far beyond the borders of the US. The Fed functions like a central bank for the world economy and financial markets have begun to respond to with stocks plummeting after already losing ground over the past four weeks.
The task ahead will be a difficult balancing act of judging the combined effects of quantitative easing with planned interest rate increases which have been near zero since March 2020. If the Fed reverses its stimulus policies too fast it could lead to another recession and a jump in unemployment. Move too slow and expectations of high inflation could become embedded, punching an even bigger hole in pocketbooks.
Will Build Back Better fade into the backdrop of politcal noise?
When President Biden came into office he brought with him an ambitious plan to rebuild America in the wake of the damage caused by the coivd-19 pandemic and years of underinvestment. His Build Back Better Plan was split into three sets of sweeping proposals to make a more equitable and stronger America.
The first portion, the American Rescue Plan moved quickly through Congress along partylines passing in March just under two months after his inaguration. The second part was cutdown as he sought to find bipartisan consensus resulting in the largest infrastructure investment bill in 70 years.
Much of the remainder of his policy agenda that he had laid out was cobbled together in the Build Back Better Act that passed the House in November. The sweeping nearly $2 trillion social and climate policy bill has languished in the Senate ever since.
A near death blow was delivered to the legislation just before Christmas when Senator Joe Manchin, key final vote needed to advance the bill, said he just couldn't "get there." Democrats are still working on trying to salvage the legislation but Manchin has indicated that no new talks have taken place.
So what will the fate of the remainder of President Biden's agenda be? Will Democratic lawmakers be able to revive the measures included in the legislation or will the endeavour go out with a slow whimper? Paul Kane takes a look back at past presidential agendas that have crashed and burned and others that faded into the backdrop of political noise.

How much has Bitcoin devalued since its all-time high?
Despite making some sort of comeback on Monday, Bitcoin investors have had some of the worst weeks in their investment journey. From a high of $69,000 in November, the cryptocurrency crashed to $32,951 last week, its lowest value since last summer.
Many who hold the crypto as an investment are worried that this set back could mean the downturn of the Bitcoin market. Additionally, reports have circulated the the White House will be releasing an executive order aimed at regulating the digital asset out of risks related to national security.
Where are cash assistance programs most prevalent?
The Center on Budget Policy Priorities releases new report showing that the South has historically low rates of cash assistance programs.
A new study from the organization found that low-income mothers who "received just over $300 in monthly cash assistance during the first year of their children's lives, their infants' brains displayed more high-frequency brain waves when they reached 12 months old."
What are the most common errors that cause delays for the IRS?
The IRS has started to release tips to tax payers so that they are able to get their refunds in a timely manner. While, some of the delays come from staffing shortages and massive backlogs, small mistake can also create set backs. For example, the agency is reporting that one of the most common mistakes is selecting the wrong filing status when submiting a return.
Is the bitcoin bubble about to burst?
Many people have noticed the historic increase in value, Bitcoin, one of the most common cryptocurrencies made over the last year… and this week the digital currency lost half of its value. World markets also took a downward turn as covid-19 continues to disrupt global supply chains.
Many have invested personally in Bitcoin after major players in the business and financial world have touted its possibilities. However, for the super rich they have much less to lose. Smaller investors, hoping to get in on the trend, have much more on the line should the currency continue in its downward trend.
Inital unenmployment benefit claims begin to decrease once again
For the week ending on 22 January, the US Department of Labor reported initial benefit claims dropped by 30,000 to 260,000. This 4-week moving average is up by 15,000 to 247,000, compared to the previous weeks 232,000.
Which states and territories continue to see major increases in initial claims?
1. California (+805)
2. Kentucky (+527)
3. Puerto Rico (+473)
4. Rhode Island (+464)
5. Virginia (+406)
Wages are up 4 percent since Decemebr 2020
The Bureau of Labor Statstics reported that over the last twelve months (December 2020 to December 2021), wages across sectors increased by an average of four percent. This almost double compared to the increase seen from 2019 to 2020.
Which sectors saw the greatest increases?
The highest increase, 6.1 percent was found in the services industry which includes child care workers, fitness trainers and instructors, hair dressers and others in the beauty service industry.
Staff in nursing homes also saw an increase of around 5.7 percent in their salaries.
MSNBC asks the question on the minds of many: Can the Build Back Better bill be saved?
The Build Back Better bill passed by the House of Representatives in November is still awaiting Senate approval. The bill which inlcudes access to universal pre-K, an extension of the child tax credit, and funds to reduce carbon emissions, has been rejected by two Democratic Senators and their positions, so far, have not changed.
President Biden makes speech on infrastructure in Pittsburgh after sudden bridge collapse
I often hear about how — who built the country. Guess what? The middle class built this country, and unions built the middle class. (Applause.)
And, folks, making it in America with American manufacturing and easing the financial burdens on millions of families — that's the same vision I laid out once again when I was here in Pittsburgh when — after — the first stop I made after I was sworn in as President.
Now after my first year, I wanted to come back to Pittsburgh — this is my third time here in this facility — to take stock of what we've accomplished together and look forward to the extraordinary opportunities that lie ahead for Pittsburgh and America if we continue to do our job.
From day one, every action I've taken to rebuild the economy has been guided by one principle: Make it in America, like we used to.
No one knows that better than all of the folks here in Pittsburgh, and that's why it matters so much.
Making it in America is what built this city: the Steel City.
Build Back Better is essential but 1 March deadline is "an aspiration"
House Speaker Nancy Pelosi won't commit to a date to pass the Build Back Better Act that is awaiting Senate approval. The legislation passed the lower chamber in November but has languished in the Senate since then.
The Progressive Caucus renewed calls for its passage by the upper chamber urging Democratic senators to get it to President Biden's desk by 1 March. They see it as an opportunity for Biden to tout the benefits of the bill to the nation when he gives his State of the Union address scheduled for the same date.
Speaking in San Francisco, Pelosi said that there is no deadline set for pass the sweeping social and climate policy bill. She did say though that the House has several other pressing pieces of legislation that need to voted on including the Omnibus bill for 2022 spending. Failure to get an agreement by early next month would require another stopgap spending bill.

Taxes 2022: can the refund per child be higher than last year?
The American Rescue Plan, besides approving a third round of stimulus checks to every eligible American for up to $1,400, enhanced and expanded several tax credits for the 2021 fiscal year. Households with children could especially benefit from these changes resulting in a larger tax refund when they file this year.
A few of the tax credits the legislation enhanced include the Child and Dependent Care Credit, the Earned Income Tax Credit and the Child Tax Credit, which also came with an advance payment scheme in 2021. Households that welcomed a new member to the family last year could potentially see another $1,400 stimulus check. But you will need to file a 2021 tax return in order to take advantage of the changes.
Read more on what on these benefits and how much you can expect in return.
Nonfarm payroll employment up in 2021 in all but two states
Unemployment drop to record lows in 2021 as people were able to go back to work. At the end of the year 48 states and the District of Columbia saw nonfarm payroll employment gains and was essentially unchanged in 2 states with South Dakota and Wyoming reporting less than a one percent increase.
California, Florida and Texas saw the highest increase in absolute numbers. While Hawaii, Massachusetts and Nevada saw the highest increase by percentage.
Good morning! Welcome to the AS USA personal finance live feed, giving you all the latest news on direct payments and other forms of financial relief available in the United States. We will also keep you up to date on the ongoing tax season 2022 with tips on how to complete your filing.
.
The task ahead will be a difficult balancing act of judging the combined effects of quantitative easing with planned interest rate increases which have been near zero since March 2020. If the Fed reverses its stimulus policies too fast it could lead to another recession and a jump in unemployment. Move too slow and expectations of high inflation could become embedded, punching an even bigger hole in pocketbooks.
Source: https://en.as.com/en/2022/01/29/latest_news/1643449620_390048.html
Previous
Next