Michael Flynn claims Dems plotting financial collapse to stop midterms, control society
Michael Flynn claimed that Democrats are plotting to "gain greater control over society" by manipulating inflation and attempting to stop the 2022 midterm elections from taking place.
Flynn, a former advisor to Donald Trump, said he's "not convinced" that next year's elections will take place and alleged that Democrats are orchestrating a "financial collapse" of the economy to seize control of the government.
"I believe that our 2022 national elections are at risk, meaning that, you know…I am not convinced that we are going to have national elections in 2022. The reason why I believe that is because the Left does not want to risk losing to the conservative movement that has clearly grown in the country," Flynn said during a recent interview as part of the Reawaken America tour.
Flynn then went on to say that he believes Democrats are attempting to manipulate inflation to higher levels in order to create a "controlled financial depression" to collapse the economy.
"What we're going to see, and this is the plan of the Left, is to basically take over control of the United States of America. Get us to a place where we have just staggering financial problems, and so more control by the federal government must be put into place. More controls by the Federal Reserve, more control by the federal government, meaning that we're going to see more emergency orders from the White House to do certain things—to take dramatic and drastic steps—to put people around the country under control of the federal government more and more and more over the coming year," he added, according to a video shared Saturday by attorney Ron Filipkowski.
Michael Flynn says Democrats are plotting to cancel the 2022 elections to seize control of the national govt. He says they are intentionally orchestrating a controlled financial collapse of the American economy so they can enact strict govt control of every aspect society. pic.twitter.com/zJYFfenMN9
— Ron Filipkowski (@RonFilipkowski) November 20, 2021
Flynn, a retired U.S. Army lieutenant general and briefly a national security adviser to Trump, has long been a leading voice in supporting conspiracies against Democrats and the outcome of the 2020 presidential election.
Earlier this month, Flynn was one of several Trump allies who was issued a subpoena by the House panel investigating the January 6 riot at the U.S. Capitol. The committee alleges that Flynn and others "drove a campaign of misinformation about the election and planned ways to stop the count of Electoral College votes," which led a mob of Trump's supporters to violently storm the Capitol building and attempt to stop the certification of President Joe Biden's win.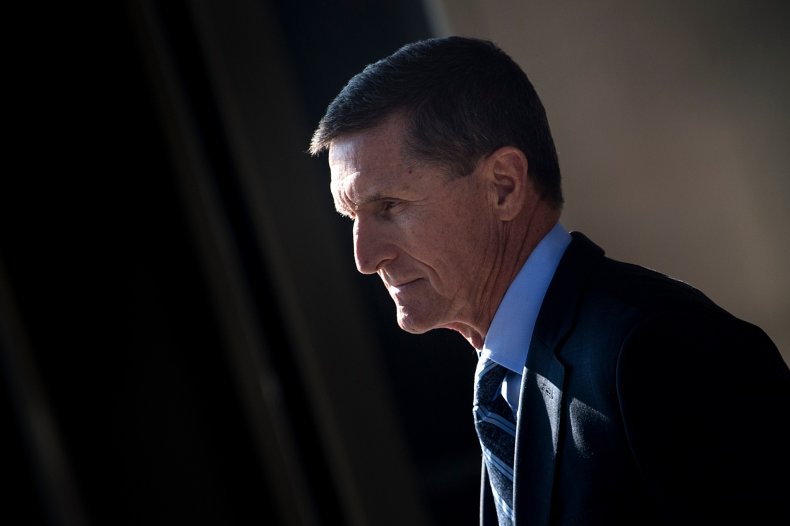 Michael Flynn, who served as national security adviser to former President Donald Trump, said in a recent interview he believes Democrats are trying to manipulate inflation and stop the 2022 midterm elections from taking place. Here, Flynn is seen leaving a federal court on December 1, 2017 in Washington, D.C.BRENDAN SMIALOWSKI/Getty Images
Flynn has since branded the investigation an "insurrection crucifixion" and compared House Speaker Nancy Pelosi to Pontius Pilate, who ordered the crucifixion of Jesus in the Bible. The former Trump aide also came under fire for recently stating that there should only be "one religion under God" in the U.S.
Flynn was ousted from his role as national security advisor just weeks into the job due to reports that he misled then-Vice President Mike Pence and others about communications he had with the Russian ambassador to the U.S.
Flynn later admitted to lying to the FBI about his conversations with Sergei Kislyak and reached a plea deal with special counsel Robert Mueller. Trump pardoned Flynn before leaving office last year.
Michael Flynn says Democrats are plotting to cancel the 2022 elections to seize control of the national govt. He says they are intentionally orchestrating a controlled financial collapse of the American economy so they can enact strict govt control of every aspect society. pic.twitter.com/zJYFfenMN9
Source: https://www.newsweek.com/michael-flynn-claims-dems-plotting-financial-collapse-stop-midterms-control-society-1651646
Previous
Next