Majority of Ethereum miners support EIP-1559 while Chinese miners discuss a fork
EIP-1559 is expected to be implemented on Ethereum in July with the "London" hard fork.
Opposition to the EIP remains strong, with Chinese miners apparently discussing a fork, as reported by Wu Blockchain.
The deploying of EIP-1559 to change the fee model on Ethereum seems inevitable. However, the proposal is still heavily debated among miners, while the deployment is tentatively scheduled for a rollout with the "London" hard fork in July. Just yesterday, EIP-1559 was again the subject of a community call.
The controversy comes despite the fact that Ryan Berckmans, an Ethereum consultant, noted that the proposal will only reduce Ethereum miner revenue by 20% to 35% – a much lower percentage than the 50% previously estimated. On a recent Ethereum core developer call, Tim Beiko compiled some feedback that some miners have given on EIP-1559.
Among those supporting the proposal is mining giant f2pool, one of Ethereum's largest mining pools. During the call, the group claimed that the Ethereum network roots its value in its users and applications, and therefore urged other miners to adopt the proposal.
Representatives from the Flexpool mining pool recently conducted a survey to gauge miners' opinions. 441 of the 797 miners surveyed voted in favor of implementing the proposal, while 142 were opposed. However, Flexpool and other participants in the call still show concerns about the "burning" mechanism, a possible reduction in transactions, and the creation of an "imbalance," miner BitsBeTrippin added:
(…) if you have an exponential amount of hashpower joining at that time, a lot of hashpower could become available to rent, increasing the odds of 51% attacks on Ethereum.
Deribit Insights researcher Hasu believes that the Bitcoin and Ethereum mining sector has already seen "stronger" declines than EIP-1559 and will be "fine."
Meanwhile, developer Abdelhamid Bakhta has revealed the results of the latest test performed for EIP-1559 which ran for 22 hours uninterrupted with 6,426 blocks processed. The results were positive and only one item – the risk of a DoS attack – remains which will have to be addressed before deployment in July.
🔥 EIP-1559 Performance Test Update 🔥https://t.co/kcTuzq7sLS
TL;DR
– 22 hours non-stop test
– 6426 blocks processed
– 41 M gas/block average
– 12 M transactions executed
– 2139 average transactions per block
– 95% of blocks were at least 15M worth of gas#supportEIP1559
— Abdelhamid Bakhta (@dimahledba) February 25, 2021
The consensus among the call participants is that EIP-1559 will greatly enhance the user experience and be a benefit to the community. As a result, miners should be able to continue to grow their revenues.
@gakonst: main takeaway for miners should be that MEV drastically changes the landscape, and that the fee loss from 1559 is lower than what is being calculated now. Miners are long the Ethereum economy, as that grows, so does their revenue.
— Tim Beiko | timbeiko.eth (@TimBeiko) February 26, 2021
Meanwhile, a recent report by the journalist Chinese Colin Wu examines the actions that could be taken by miners who completely disagree, particularly Xinghuo Mining Pool. Xinghuo's argument is that after the proposal is implemented, "there will be no more ecology for fees."
Although these miners have considered a fork of the network, they know that much of the revenue comes from the DeFi sector, which cannot be easily migrated to a new blockchain. As a result, Wu believes the miners will stay on Eth1's blockchain, but may fork Ethereum when the Proof of Stake is activated:
(…) if PoS is realized, the Chinese miners will unite and fork to maintain an ETH before the PoS status, otherwise their large number of graphics cards and ASIC mining machines will become scrap iron.
As reported by CNF, EIP-1559 will introduce a fixed-per-block network fee that is burned and dynamically expands/contracts block sizes to deal with transient congestion. Proponents of the proposal not only argue that it will alleviate pressure from high fees, but will give ETH "more certainty over its supply."
Source
Source: e-bitco.in
Author: adminhttps://e-bitco.in
Ethereum Hits Market Capitalization of $170.59 Billion (ETH)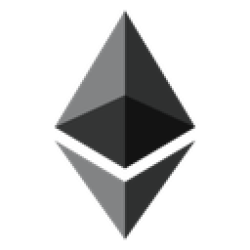 Ethereum (CURRENCY:ETH) traded 3.9% lower against the U.S. dollar during the 1-day period ending at 13:00 PM ET on February 27th. Over the last week, Ethereum has traded 25.8% lower against the U.S. dollar. Ethereum has a total market capitalization of $170.59 billion and approximately $21.94 billion worth of Ethereum was traded on exchanges in the last 24 hours. One Ethereum coin can currently be purchased for approximately $1,485.39 or 0.03155602 BTC on major cryptocurrency exchanges.
Here is how other cryptocurrencies have performed over the last 24 hours:
Ethereum Classic (ETC) traded 1.5% higher against the dollar and now trades at $11.34 or 0.00024102 BTC.
Super Zero Protocol (SERO) traded 1.3% higher against the dollar and now trades at $0.10 or 0.00000216 BTC.
Callisto Network (CLO) traded up 7.7% against the dollar and now trades at $0.0048 or 0.00000010 BTC.
Ether Zero (ETZ) traded 1.9% lower against the dollar and now trades at $0.0056 or 0.00000012 BTC.
Ellaism (ELLA) traded down 2% against the dollar and now trades at $0.0085 or 0.00000018 BTC.
Elementrem (ELE) traded up 1.4% against the dollar and now trades at $0.0010 or 0.00000006 BTC.
Bitcoiin (B2G) traded down 1.9% against the dollar and now trades at $0.0005 or 0.00000001 BTC.
Akroma (AKA) traded 2% lower against the dollar and now trades at $0.0005 or 0.00000001 BTC.
Money Plant Token (MPT) traded 1.5% lower against the dollar and now trades at $0.0005 or 0.00000001 BTC.
Exchange Payment Coin (EXP) traded down 1.3% against the dollar and now trades at $0.0006 or 0.00000001 BTC.
About Ethereum
Ethereum (ETH) is a proof-of-work (PoW) coin that uses the Ethash hashing algorithm. Its genesis date was July 30th, 2015. Ethereum's total supply is 114,845,254 coins. Ethereum's official Twitter account is @ethereumproject and its Facebook page is accessible here. The Reddit community for Ethereum is /r/ethereum and the currency's Github account can be viewed here. The official message board for Ethereum is forum.ethereum.org. The official website for Ethereum is www.ethereum.org.
According to CryptoCompare, "Sandwich complexity model: the bottom level architecture of Ethereum should be as simple as possible, and the interfaces to Ethereum (including high level programming languages for developers and the user interface for users) should be as easy to understand as possible. Where complexity is inevitable, it should be pushed into the "middle layers" of the protocol, that are not part of the core consensus but are also not seen by end users – high-level-language compilers, argument serialization and deserialization scripts, storage data structure models, the leveldb storage interface and the wire protocol, etc. However, this preference is not absolute. Freedom: users should not be restricted in what they use the Ethereum protocol for, and we should not attempt to preferentially favor or disfavor certain kinds of Ethereum contracts or transactions based on the nature of their purpose. This is similar to the guiding principle behind the concept of "net neutrality". One example of this principle not being followed is the situation in the Bitcoin transaction protocol where use of the blockchain for "off-label" purposes (eg. data storage, meta-protocols) is discouraged, and in some cases explicit quasi-protocol changes (eg. OP_RETURN restriction to 40 bytes) are made to attempt to attack applications using the blockchain in "unauthorized" ways. In Ethereum, we instead strongly favor the approach of setting up transaction fees in such a way as to be roughly incentive-compatible, such that users that use the blockchain in bloat-producing ways internalize the cost of their activities (ie. Pigovian taxation). Generalization: protocol features and opcodes in Ethereum should embody maximally low-level concepts, so that they can be combined in arbitrary ways including ways that may not seem useful today but which may become useful later, and so that a bundle of low-level concepts can be made more efficient by stripping out some of its functionality when it is not necessary. An example of this principle being followed is our choice of a LOG opcode as a way of feeding information to (particularly light client) dapps, as opposed to simply logging all transactions and messages as was internally suggested earlier – the concept of "message" is really the agglomeration of multiple concepts, including "function call" and "event interesting to outside watchers", and it is worth separating the two. Have No Features: as a corollary to generalization, the dev team often refuses to build in even very common high-level use cases as intrinsic parts of the protocol, with the understanding that if people really want to do it they can always create a sub-protocol (eg. ether-backed subcurrency, bitcoin/litecoin/dogecoin sidechain, etc) inside of a contract. An example of this is the lack of a Bitcoin-like "locktime" feature in Ethereum, as such a feature can be simulated via a protocol where users send "signed data packets" and those data packets can be fed into a specialized contract that processes them and performs some corresponding function if the data packet is in some contract-specific sense valid. Non-risk-aversion: the dev team is okay with higher degrees of risk if a risk-increasing change provides very substantial benefits (eg. generalized state transitions, 50x faster block times, consensus efficiency, etc) "
Ethereum Coin Trading
Investors seeking to trade Ethereum using US dollars directly can do so using GDAX, Gemini or Coinbase.
Receive News & Updates for Ethereum Daily – Enter your email address below to receive a concise daily summary of the latest news and updates for Ethereum and related cryptocurrencies with MarketBeat.com's FREE CryptoBeat newsletter.
Source: slatersentinel.com
Author: Floyd Graber
Ethereum's biggest mining pools take opposing stances on EIP-1559 plan
Two of the three largest Ethereum mining pools are the latest to take a public stance on Ethereum Improvement Proposal (EIP)-1559, a proposed protocol update that could reduce miners' transactional revenues.
F2Pool, currently the third-largest Ethereum pool with about 11% of the network's hashrate, has said it supports the EIP-1559 proposal in a post on February 26 entitled "Staying on the (b)right side of history."
"Today, the general community along with core developers are siding with evolving Ethereum to include EIP-1559. It is important to side with the users and core contributors," F2Pool wrote in the post.
F2Pool's stance comes a day after Sparkpool, the largest mining pool with about 24% of the hashrate, said in a Tweet that it opposes the proposal, highlighting the degree of division within the Ethereum mining community.
First proposed by Vitalik Buterin in 2018, EIP-1559 is perhaps the most anticipated upgrade in Ethereum's history after its launch, apart from the Eth2 switch from proof-of-work to proof-of-stake.
Under the upgrade, the network would burn part of the transaction fees as profits to ETH holders instead of miners. The overall goal is to improve network's security and ensure the network's transaction fees won't be as highly variable as they are now.
As such, miners would lose out on one of their major revenue sources, as The Block Research detailed in a roadmap piece here. Ethereum miners have earned more than $600 million in mining fee revenue since the start of February, according to data collected by The Block Research.
Per the roadmap, the upgrade is scheduled for three to six months after Ethereum's Berlin hard fork, which is likely to happen by the end of 2021's second quarter at the latest.
What future awaits cryptocurrencies?
Sparkpool already expressed concerns with EIP-1559 earlier this month, having promoted arguments against EIP-1559's fee burning mechanism in January.
"It is a tyranny of the majority in the name of better UX (in fact not). It is robbery. Why we love ether and btc? Because it gives us perfect property right," Sparkpool said in a Twitter thread on February 5. "EIP 1559 will break this. We are sad to see many people only care about price now."
In January, Bitfly, the operator behind Ethereum's second-largest mining pool Ethermine (which possesses about 20% of the hashrate), said in a Twitter post that it is "against adopting EIP-1559 in its current state," arguing that "Ethereum's future may be at risk."
Those remarks joined those from a group of smaller Ethereum mining pools that have called to stop EIP-1559.
Now with Sparkpool onboard, the side that opposes the plan has above 50% of the network's total hashrate at the current moment. That said, the upgrade's development is at an early stage, during which time pool participants have the option to shift their hashing power to different sides depending on their own preferences.
Yet F2Pool argued in its post that it believes there's "a high likelihood that EIP-1559's inclusion has been priced in today's ETH price."
"If the proposal fails to be implemented, the likely effect on short-term ETH prices will not be favorable as ETH holders account the new no-action on EIP-1559 into their thesis for ETH. The unfavorable price action might set off a sequence of events leading to further deleveraging both on centralized and decentralized financial markets. Eventually, the miners will also be impacted as their revenues are dependent on ETH prices," F2Pool argued in its post.
© 2021 The Block Crypto, Inc. All Rights Reserved. This article is provided for informational purposes only. It is not offered or intended to be used as legal, tax, investment, financial, or other advice.
Source: coingraph.uno
Canadian Public Company Dumps Ethereum and Monero for Bitcoin – News Bitcoin News
A Canadian publicly held company has liquidated all of its ethereum and monero holdings and put all of the proceeds into bitcoin. The company is led by a well-known poker player and former member of the European Parliament.
Cypherpunk Holdings, a Toronto-headquartered company listed on the Canadian Securities Exchange (CSE), announced Thursday that it has increased its bitcoin holdings to 276.479 bitcoins. At the current price, the company now holds about $5 million USD in bitcoin. Cypherpunk Holdings added that this is a net increase since June 30 of 72.979 bitcoins, elaborating:
The increase in bitcoin holdings is a result of the full liquidation of positions in monero (XMR) and ethereum (ETH), as well as the partial use of proceeds from a private placement of $505,000 CAD that closed on August 27th, 2020.
Founded in 1995, Cypherpunk Holdings was formerly known as Khan Resources Inc. but the company changed its name in November 2018. Cypherpunk invests in cryptocurrencies and privacy technologies and is listed on the CSE under the ticker HODL. CEO Antanas Guoga, or Tony G, is a well known high stakes poker player and former member of the European Parliament. He founded the Blockchain Centre in Vilnius, Lithuania, in 2018.
Cypherpunk Holdings joins a growing list of major companies with a treasury position in bitcoin such as the Nasdaq-listed Microstrategy and Jack Dorsey's Square Inc.
What do you think about this Canadian public company dumping ether and monero for bitcoin? Let us know in the comments section below.
Disclaimer: This article is for informational purposes only. It is not a direct offer or solicitation of an offer to buy or sell, or a recommendation or endorsement of any products, services, or companies. Bitcoin.com does not provide investment, tax, legal, or accounting advice. Neither the company nor the author is responsible, directly or indirectly, for any damage or loss caused or alleged to be caused by or in connection with the use of or reliance on any content, goods or services mentioned in this article.
Source: cnots.com
Ethereum is For The Rich Guys, But Soon They'll Be Poor
This is Binance Smart Chain's time to shine, and the Binance CEO CZ knows it and is ready to take advantage of it.
The increasing use of DeFi protocols, dApps, and applications built on top of Ethereum, has overloaded the network to the point where its fees are almost unsustainable. Several blockchains are vying to emerge as the new Ethereum killer, and CZ is rooting for BSC as the best option.
CZ has been known to be a funny yet respectful guy when it comes to measuring his words. Still, his latest tweets have shown that the boundaries are more flexible when it comes to promoting Binance's services.
In a recent tweet, CZ attacked Ethereum, pointing out its Achilles heel: fees. For the man in front of Binance, only the wealthy can afford the fees to trade Ethereum:
ETH is a network for the rich guys now, but soon those guys will be poor. 😂
— CZ 🔶 Binance (@cz_binance) February 27, 2021
And he is somewhat right. Over the course of 2021, the average transaction cost on Ethereum has catapulted just as fast as the price of ETH (its native token), going from less than $5 on average last year to about $15 today. Just 4 days ago, the network fees reached an ATH of nearly $40 on average, according to ycharts data.
However, this is the price per transaction. Traders operating on DeFi or yield farming platforms have to deal with the possibility of paying $100+ for each trade they make on a daily basis.
CZ didn't stop there. A later tweet said he was no longer using Ethereum. Binance is developing two projects to compete directly with the two largest blockchains in the ecosystem.
I like ETH, I just don't use it anymore.
— CZ 🔶 Binance (@cz_binance) February 27, 2021
Binance Chain was designed to enable extremely fast payments with minimum fees. It would be a direct competitor to Bitcoin because of its narrow focus on sending and receiving funds.
The Binance Smart Chain, on the other hand, is a bit slower but allows for the execution of smart contracts more efficiently and cost-effectively than Ethereum.
The rise of projects such as Polkadot, Binance Smart Chain, and Cardano is a sign of the increasing interest in finding a blockchain capable of replacing Ethereum. Yesterday, Cardano ranked third among cryptocurrencies with the largest market capitalization, dethroning BNB from its recently taken position.
Like Binance Smart Chain, Cardano seeks to execute smart contracts quickly, cheaply, and securely. Still, as a difference, Cardano has a somewhat more complex design and a much longer roadmap.
However, Ethereum developers are working on the second version of the blockchain. Ethereum 2.0 will have several layer 2 implementations. According to some enthusiasts, the new blockchain will process thousands of transactions per second —even a hundreds of thousands once fully deployed, according to Vitalik Buterin.
ETH2 scaling for data will be available *before* ETH2 scaling for general computation. This implies that rollups will be the dominant scaling paradigm for at least a couple of years: first ~2-3k TPS with eth1 as data layer, then ~100k TPS with eth2 (phase 1). Adjust accordingly.
— vitalik.eth (@VitalikButerin) June 30, 2020
Perhaps, once Ethereum 2.0 is complete, it will go back to being a blockchain for the poor guys, and the crypto billionaire CZ will like it again.
Binance Futures 50 USDT FREE Voucher: Use this link to register & get 10% off fees and 50 USDT when trading 500 USDT (limited offer).
PrimeXBT Special Offer: Use this link to register & enter CRYPTOPOTATO35 code to get 35% free bonus on any deposit up to 1 BTC.
Source: polishmedia.eu
Previous
Next