Korean Police Seize Crypto Exchange Coinbit Over Allegations of $84 Million in Wash Trades
Police in South Korea on Wednesday raided and seized the offices of Coinbit, the country's third largest crypto exchange, over allegations it faked 99% of its trading volume.
According to a report from Seoul News, local police took control of Coinbit's headquarters in Gangnam as well as other sites elsewhere.
Police accuse the exchange's owner Choi Mo and other managers of "wash trading". For about a year until May 2020, the process earned Coinbit 100 billion won ($84 million) in profit fraudulently, it said.
A wash trade is a form of market manipulation in which an investor simultaneously sells and buys the same financial asset to create misleading, artificial activity in the marketplace. It is illegal in most jurisdictions.
In the case of Coinbit, the exchange was functionally split into two operational accounts containing all user funds, say police. Fraud within the first account involved major cryptocurrencies bitcoin (BTC), ethereum (ETH), ripple (XRP), and tether (USDT), which Coinbit staff moved internally between "ghost accounts".
The other account exclusively traded dubious altcoins and initial exchange offerings. The firm prevented transactions with outside exchanges so that the owner and management were able to control the supply of coins. Choi and his team manipulated this structure by trading large quantities of the listed crypto and then dumping them on unsuspecting retail traders.
According to the newspaper report, authorities are also questioning the possibility of additional malpractice and embezzlement. The paper said it examined Coinbit's books before alerting the police. It held off its report at the police's request, but its investigations found discrepancies in the deposits and withdrawals of 99% of the trading volumes.
An accounting firm refused to work with Coinbit after reviewing its accounts, the paper said. In April, South Korea's Financial Supervisory Service also refused to sign-off the exchange's financial statements, which had not been externally audited.
Coinbit had 252,000 visitors in the last three months and is only surpassed by Bithumb and Upbit in South Korea. Police investigations are ongoing. As South Korea drafts crypto laws, there is concern that more such seizures could follow.
What do you think about the Coinbit seizure? Let us know in the comments section below?
The post Korean Police Seize Crypto Exchange Coinbit Over Allegations of $84 Million in Wash Trades appeared first on Bitcoin News.
https://news.bitcoin.com/korean-police-seize-crypto-exchange-coinbit-over-allegations-of-84-million-in-wash-trades/
The post Korean Police Seize Crypto Exchange Coinbit Over Allegations of $84 Million in Wash Trades appeared first on BTC Ethereum Crypto Currency Blog.
Source: cryptomoneyteam.co
Author: By TeamMMG
Report: Russia Remains a 'Key Market for Crypto,' Commands the 3rd Largest Bitcoin Hashrate in the World
The fervor for cryptocurrency assets in Russia has grown wild over the last few years. This week Xangle Research published a comprehensive report about digital currencies and the Russian environment in 2020. The study's findings show that Russia is one of the world's key players when it comes to the crypto economy, but finding reliable information about the subject is "not very easy to find," researchers stress.
It's safe to say that Russia is one of the regions in the world where cryptocurrency adoption is booming, but it's hard to verify the regulatory climate in the area.
A recently published study from Xangle Research explains that the country is a hotbed for crypto in 2020. The research also quotes Binance CEO, Changpeng Zhao (CZ) who has said: "Russia is our key market, one of the most active markets in the global blockchain space."
The Xangle Research report is a comprehensive look at the crypto economy's relationship with Russia this year, and the author also highlights that the region is a "key market for crypto."
Two of the biggest sectors in Russia that currently fuels the crypto environment is mining and trading. Demand for crypto trading is high," Xangle's report notes.
"Russia [also] owns the [third] biggest BTC mining power (hashrate) in the world: 6.9% comes from Russia as of April 2020, according to Cbeci.org," the study highlights.
Additionally, the 2020 crypto report covering the country says a "large portion of the traffic to major crypto exchanges come from Russia." Xangle's stats show that Binance captures most of the Russian traffic and the trading platform is followed by Coinbase, Bithumb, and Kraken respectively.
"Crypto derivatives exchanges are also very popular in Russia," the study reveals, disclosing the two most popular platforms include Bitmex, and Bybit.
Digital currency exchanges that offer ruble fiat on-ramps have some of the highest Russian internet traffic.
Trading platforms such as Binance, Okex, and P2pb2b have RUB as a fiat-on-ramp, and some of the top sources of traffic as well. Despite the large internet traffic, the ruble is "not actively used in trading" as it only represents a market share of "less than 0.3%."
The Xangle Research report also mentions some of the regulatory climate in Russia concerning digital currencies. The study discusses the recent law that will come into force on January 1, 2021 signed by Vladimir Putin, which gives legal status to cryptocurrency.
Further, the report also mentions how the largest bank in Russia, Sberbank, is considering the creation of a stablecoin.
"We probably may issue a stablecoin on the basis of the law that has been adopted recently. As we can peg this stablecoin to the ruble, this token could become a basis or an instrument for settlements involving other digital financial assets," Sergey Popov, the director of transaction business at Sberbank told the media this year.
Despite the law's crypto recognition, Xangle researchers highlight that the cryptocurrency law Putin signed still prohibits the use of crypto as a means of payment in Russia.
Among a number of luminaries, experts, and politicians quoted in Xangle's 17-page study, the authors also quote Putin's recent statements.
"The Central Bank of the Russian Federation considers cryptocurrency neither a means of payment nor a store of value," the Russian President's statement says at the end of Xangle's Russian crypto study. "Cryptocurrency is not backed by anything. One should treat it cautiously, carefully," Putin stressed.
What do you think about the Xangle Research report called "Crypto Asset Market: Russia in 2020?" Let us know what you think in the comments section below.
The post Report: Russia Remains a 'Key Market for Crypto,' Commands the 3rd Largest Bitcoin Hashrate in the World appeared first on Bitcoin News.
Source: cryptomoneyteam.co
Author: By TeamMMG
5 Great Crypto Exchange Platforms that Don't Require KYC Verification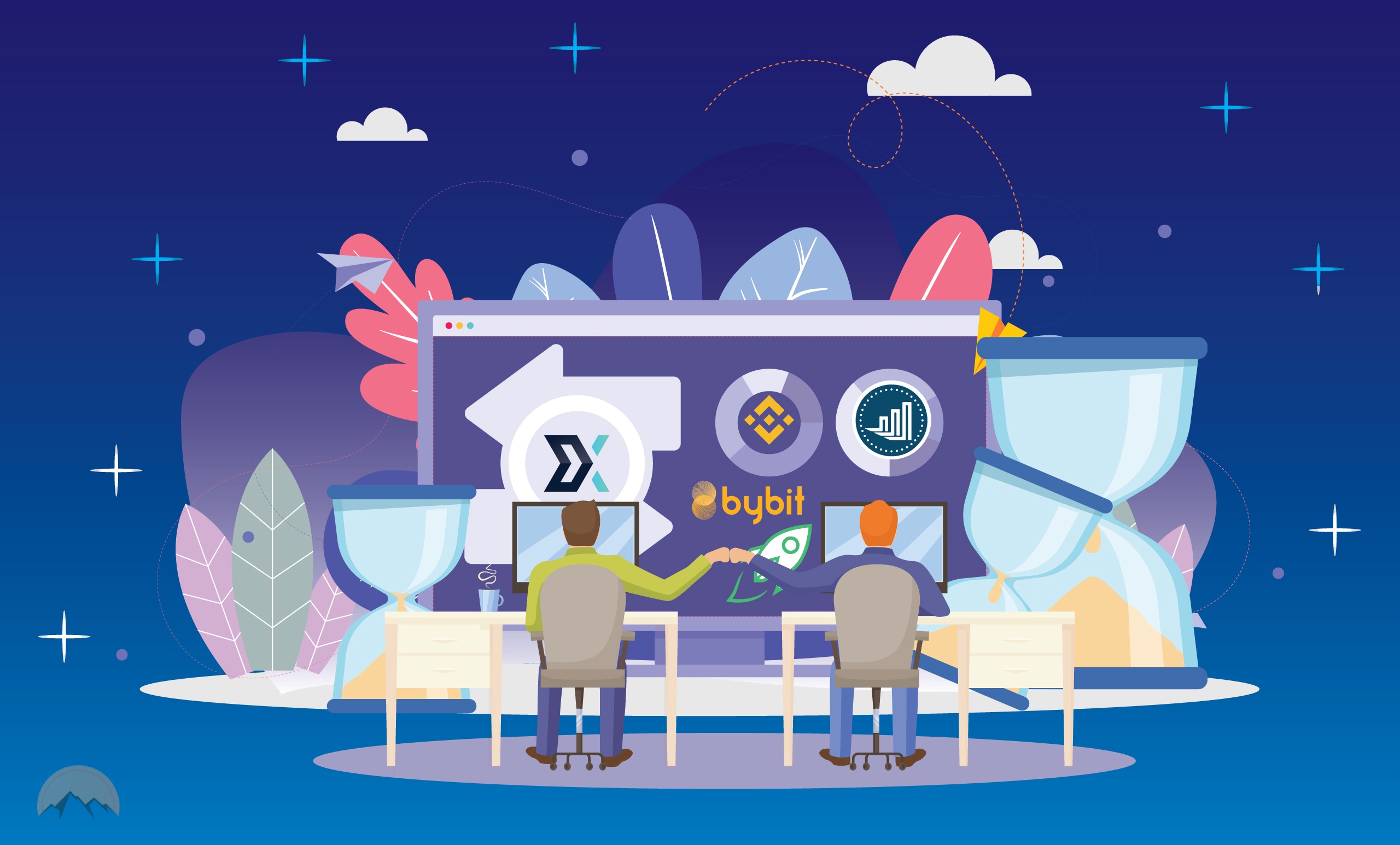 The best spot for an intriguing adventure to everything crypto.
KYC (Know Your Customer) guidelines are a prominent feature in financial systems. KYC is part of the wider Anti-Money Laundering (AML) policies that reduce the risks in financial transactions. KYC refers to the process of verifying the identities of the individuals using a service, and in most countries, it involves providing some identification documents.
Following the numerous risks in the crypto world, many exchanges nowadays require KYC checks. The procedures are especially standard in centralized exchanges. KYC procedures help reduce the cases of illegal activities in crypto exchanges, which have been rampant in recent years. However, they also interfere with anonymity in crypto exchanges, which is crucial for many investors.
Investors who would rather not give their personal information to trading platforms may have a harder time finding an exchange that accommodates them. Luckily, several crypto trading platforms allow people to trade without KYC verifications. Here are the top 5 exchanges that you should be on the lookout for if you'd rather remain anonymous when crypto trading.
Block DX is a decentralized exchange (DEX) powered by Blocknet Protocol. The Blocknet, which is a blockchain interoperability protocol, allows private and public blockchains to communicate, interact, and for users to exchange crypto across the platforms. Additionally, the protocol allows the connection to external off-chain APIs and services.
Unlike other decentralized exchanges, Block DX decentralizes all components of the platform. Although it mimics a centralized exchange experience, users can transact directly from their wallets without an intermediary. Some of the features that make Block DX stand out include no accounts, greater flexibility thanks to no withdrawal and trade limits, and trading pair freedom. To take an existing order, users only need a small amount of BLOCK, the platform's native token. However, creating an order doesn't require any BLOCK tokens.
ByBit is a Singaporean exchange founded in 2018. Crypto enthusiasts believe the platform could grow exponentially with the introduction of KYC procedures, but the derivatives futures exchange platform is yet to put these measures in place.
What cryptocurrency will become the main one in a year?
ByBit offers a variety of features, especially for traders who would love to venture into margins trading. The BTC-USD perpetual swap is the most popular product, and users can also trade XRP, ETH, and EOS. Besides, the platform provides a variety of crypto margin trading guides that contain useful tips and tricks for swapping crypto derivatives.
Users from most parts of the globe can use ByBit without KYC verification. The platform provides a neat user interface that is available 24/7 and in different languages. The platform also offers an iOS and Android mobile app for easier access to the exchange. However, it is worth pointing out that ByBit bars US users from trading on the platform.
If you need to swap your cryptocurrencies for some other without KYC verification, Changelly should be your go-to exchange. The platform has been around since 2013 and currently supports more than 150 cryptocurrencies. If you would like to exchange for BTC, you would need supporting cryptos such as ethereum and Dash. Despite it being a centralized platform, you don't require ID verification registration to use the swapping services.
One of the best features of Changelly is the vast array of payment services acceptable on the platform. In addition to crypto deposits, traders can use bank transfers, credit card payments, and even Apple Pay to make deposits. Besides, Changelly features a trading algorithm that finds the best trading prices by scanning other platforms.
The only instance where you would need to complete KYC verification is if suspicious activity is detected. If you require additional security when swapping your coins, a VPN would be an excellent choice.
Ethereum holders will particularly love this decentralized cryptocurrency exchange. IDEX is specially designed for trading ethereum and ethereum-based tokens (ERC-20). By combining the security of blockchain technology with the speed of centralized platforms, IDEX provides one of the best exchanges for ethereum users who would like to transact anonymously.
Traders on IDEX are identified using their wallet addresses. Therefore, there's no need for further verifications. To get started on the platform, users only need to unlock their Ethereum wallets, deposit tokens on the exchange, and start trading. Following a rebranding of the parent company, IDEX swapped its native token from AURA to IDEX in a 1:1 conversion. Users who previously held AURA tokens swap them at their leisure, with no deadline in place. IDEX coin holders receive a percentage of the fees generated from the transactions on the platform.
Some of the crypto exchanges feature partial KYC verification, and the world's largest exchange is one of them. The Hong Kong-based exchange boasts of more than 10 million active users and supports over 150 cryptocurrencies.
To open an account on Binance, you only need an email address. You can also deposit, withdraw, and trade up to 2 BTC per day without requiring KYC verification. Spot trading on Binance doesn't also need verification. However, users who transact large volumes of BTC will need to complete the KYC procedures so that they can transact on the platform. Additionally, US traders must use Binance US, which features KYC verification during registration.
To deposit funds on Binance, users can either use bank transfers, credit cards, or crypto deposits. The platform's native token is Binance Coin (BNB). Holders of the coin enjoy a discounted rate when trading any of the over 500 trading pairs available.
Undoubtedly, KYC verification on cryptocurrency exchanges helps to keep the platforms safe from users who would be engaging in malicious activities. However, these procedures strip the crypto world of anonymity, which was one of the significant features that drew people into the world of digital currencies.
Despite the security offered, KYC procedures could also pose a potential threat to investors in case of data breaches. Therefore, it is no surprise that many crypto enthusiasts love to maintain their privacy when transacting on public ledgers. Sure, there are other options, such as bitcoin mixers. However, a good exchange without KYC verification is enough for most investors. So, why don't you check out our list above and find one that works for you? Keep in mind that there are several other options available, and you only need to do your research to find a platform that works for you!
Source: otcpm24.com
Author: News Bureau
Binance and Oasis Labs Launch Alliance to Combat Crypto Fraud and Hacks
Leading crypto exchange Binance is launching the CryptoSafe Alliance platform in partnership with Oasis Labs, a data privacy company, to prevent and analyze cryptocurrency fraud.
See also: Researchers Find Flaws in Security Protocols Developed by Major Crypto Exchanges
Binance and Oasis Labs Launch Alliance to Combat Crypto Fraud and Hacks
Binance and Oasis Labs Launch Alliance to Combat Crypto Fraud and Hacks
Binance and Oasis Labs Launch Alliance to Combat Crypto Fraud and Hacks
Binance and Oasis Labs Launch Alliance to Combat Crypto Fraud and Hacks
Source: finance.yahoo.com
Author: Benjamin Powers
Previous
Next