'It can be super, super easy, or it can be insanely complicated': Need to report bitcoin trades to the IRS? Read this first
Now that it's income tax filing season, people holding bitcoin and other cryptocurrencies will see the IRS is actually very curious about a taxpayer's cryptocurrency transactions.
So much so, they've tweaked the first page of the Form 1040 — the main piece of income tax paperwork taxpayers file yearly — to ask taxpayers if they've received, sold, sent, exchanged "or otherwise acquire[d] any financial interest in any virtual currency?"
A 'yes' could mean more taxes, but not necessarily so, tax experts told MarketWatch.
Cryptocurrencies keep getting a higher profile. Last week, bitcoin hit a market value above $1 trillion. As more people eye cryptocurrency, more people have to face up to the tax rules at play.
"It can be super, super easy, or it can be insanely complicated," said Matt Metras of MDM Financial Services in Rochester, N.Y. Some transactions can spur multiple tax events at once, but tax professionals have scant IRS guidance to work off, he said.
Here's a primer on some tax time issues when it comes to cryptocurrency.
The IRS treats cryptocurrency as property. It's helpful to remember tax rules that also apply on stocks. If value goes up and the owner sells at a profit, they'll likely pay capital gains tax.
If the sale for profit occurs within a year, the proceeds count as a short-term capital gain. That is taxed as ordinary income, which means it is lumped with other things like wages and taxed at whichever bracket the taxpayer falls into.
If the sale happens at least one year after the acquisition, then that's a long-term capital gain. A single filer making under $40,400 and a married couple making under $80,800 get a 0% rate. Pretty much everyone else gets a 15% rate, with the rate applying to incomes up to $445,850 for individuals and $501,600 for married couples filing jointly.
That's still a lower rate than five of the seven income tax brackets.
But cryptocurrency is volatile stuff. For example, shortly after bitcoin market value hit the $1 trillion mark, it neared a bear market.
So it's important to remember the tax treatment for losses, said Ben Weiss, chief operating officer and co-founder of CoinFlip, which has bitcoin ATMs in 1,800 locations allowing people to buy and sell cryptocurrency.
If the value goes down and the investor sells at a loss, they get a capital loss deduction. When yearly annual loses exceed yearly annual gains, the taxpayer gets to also deduct up to $3,000/year. Excess losses beyond that can be carried forward to future tax years.
Cryptocurrency that an independent contractor receives for work counts as self-employment income, the IRS noted. In both cases, the value of the cryptocurrency is measured by its U.S. dollar value on the date of receipt.
Near the top of the 1040, the IRS wants a 'yes' or 'no' to this question: "At any time during 2020, did you receive, sell, send, exchange, or otherwise acquire any financial interest in any virtual currency?"
Remember, a 'yes' doesn't necessarily mean more taxes, experts said. For example, if someone just buys and holds crypto, there's no tax event because there's no ensuing sale for a profit or loss, Metras said. Someone like that could check 'yes' to the answer and not have to report the purchase in their return, he added.
Laura Walter, owner of Crypto Tax Girl just outside of Salt Lake City, Utah, says you need to say 'yes' if, for example, you sold cryptocurrency, traded it, spent it on goods and services, received it as compensation or received an airdrop or fork. (A hard fork can happen when a digital coin splits and an airdrop is a way to for a company to hype up a coin with a giveaway and airdrop it into ledger addresses. )
Parsing the language on the 1040 instructions, Walter says you can check 'no' if you merely held it, transferred it between your own digital wallets and also if you only bought it but did nothing else.
"You don't have to report anywhere how much you're holding or where. All you report is when you have a taxable event," she said.
Metras, however, thinks a person should answer 'yes' if they merely bought cryptocurrency.
"There's mixed messages coming out of [the IRS] on who should be checking the box," Metras said. "I think the IRS and Treasury aren't sure what data they are trying to get out of the question. … I think the potential repercussions of checking 'yes' unnecessarily are much lower than not checking 'yes' when the IRS decided you should have."
Brokerage firms will automatically generate the necessary tax paperwork, but that's not necessarily the case in cryptocurrency exchanges.
The task of tallying up gains and losses can fall on the cryptocurrency holder, Walter said. "My biggest advice to taxpayers is keep track of your records." Tax software can track transactions, she said. Another way is a simple spreadsheet, Weiss said.
People who have not been keeping close tabs through the year — "basically everyone I work with, Walter said — can go back and gather up transaction information from their wallets and the exchanges they've used. But that takes time.
For the first-timers who got into crypto and are sorting out their trades, buys and sells, Walter has another bit of advice: "Just file an extension. You can't just do this overnight" ahead of an appointment with a tax preparer.
Exchanges like Gemini, Coinbase and Kraken all have to maintain transaction records for five years, Weiss said. Don't be afraid to contact them if there are questions, he said. "It's better to talk to customer support and be embarrassed that you don't know your password than to not have those records," he said.
They could be getting more serious.
IRS officials could soon be "shifting from education to compliance and enforcement," according to Metras. Still, he added later, "we don't know exactly what the enforcement phase is going to look like."
Giving the virtual currency question such prominent play on the 1040 is a good indicator IRS officials "are keeping their eye on" cryptocurrency, Walter added.
Others also think the IRS is getting serious. "Regulators are poised to commence a flurry of enforcement actions related to virtual currency tax fraud," attorneys at BakerHostetler, a national law firm, wrote.
In summer 2019, the IRS sent out more than 10,000 letters to virtual currency holders who possibly failed to report all income and tax obligations. The "educational letters" were part of the IRS' expanding focus on cryptocurrency, IRS Commissioner Charles Rettig said at the time.
The IRS likely didn't have its sights on taxpayers with smaller holdings, MarketWatch tax columnist Bill Bischoff said around that time. "The agency is more interested in tracking down individuals and businesses that engage in significant virtual currency transactions while failing to comply with the tax rules," he said.
A little tax common sense can go a long way. "If you sell $50,000 of bitcoin and a wire transfer shows for that amount, they are going to see it," Weiss said. "You're basically rolling the dice if you put $50,000 in the bank and are not reporting anything."
Source: www.marketwatch.com
Author: Andrew Keshner
Bitcoin (BTC/USD) Outlook: Bitcoin Bulls Back Down- 50K back in Play
Bitcoinupdated technical trade level– Daily & Intraday Charts
BTC/USD breakout falters at uptrend resistance- constructive while above 39430
What is Bitcoin? Understand Bitcoin as a Cryptocurrency
Bitcoin prices are poised to snap a four-week winning streak with the cryptocurrency down more than 12% after reversing off confluence uptrend resistance into the start of the week. The move leaves BTC/USD vulnerable to further losses near-term with the broader outlook still constructive while within this technical formation. These are the updated targets and invalidation levels that matter on the BTC/USD price charts heading into the monthly open. Review my latest Strategy Webinar for an in-depth breakdown of this Bitcoin technical setupsand more.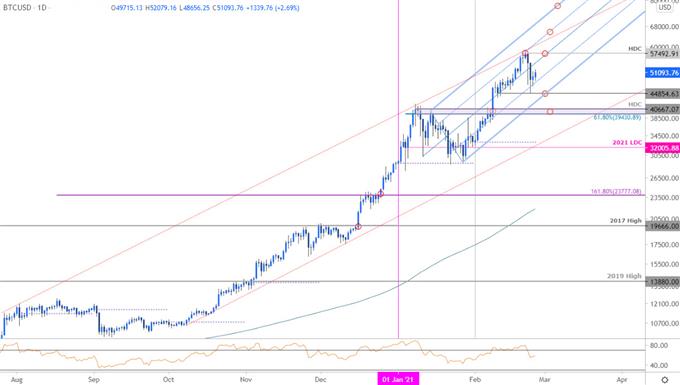 Chart Prepared by Michael Boutros (log scale), Technical Strategist; Bitcoin on Tradingview
Technical Outlook: Bitcoin prices surged more than 110% off the January lows before faltering with the rally turning at confluent trendline resistance (high registered at 58354). The subsequent breakdown fell more than 23% off the highs with daily momentum closing below overbought territory for the first time since February 8th.
Initial support rests with the lower parallel / 2/10 reversal close near 44854 with broader bullish invalidation now raise raised to the 61.8% Fibonacci retracement of the year-to-date 2021 range / January high-day close at 39430-40667. Ultimately a breach / close above the record high-day close at 57492 is needed to mark resumption with such a scenario eyeing the upper parallels, currently around ~65000.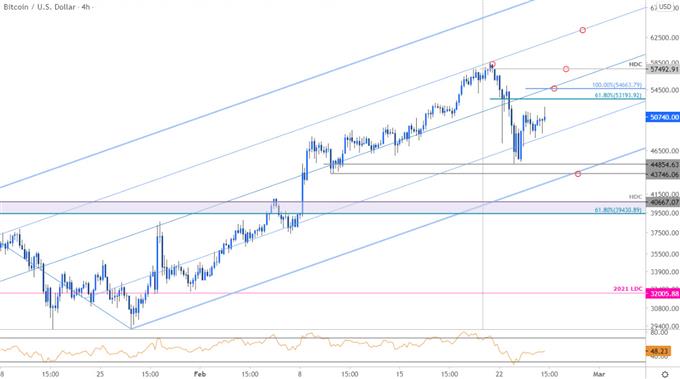 Notes: A closer look at Bitcoin price action shows BTC/USD trading within the confines of an ascending pitchfork formation extending off the late-January lows with price failing at the 75% parallel into the start of the week. Initial resistance eyed at the 61.8% retracement at 53193 backed closely by the 100% extension at 54663- look for topside exhaustion ahead of this zone IF price is going to correct lower.
Bottom line: A pullback off confluence uptrend support threatens a larger pullback here but keeps the broader trade constructive while within this formation. The RSI signature suggests we may be in for a period of chop here in the days ahead – stay nimble into the monthly close here. From a trading standpoint, a good zone to raise protective stops – be o the lookout for topside exhaustion ahead of the high-day close IF price is head lower. Ultimately a larger pullback may offer more favorable entries closer to uptrend support.
For a complete breakdown of Michael's trading strategy, review his Foundations of Technical Analysis series on Building a Trading Strategy
—
Gold Price Outlook: Gold Recovery First Test at Trend Resistance
Canadian Dollar Outlook: USD/CAD Threatens Major Breakdown
Sterling Outlook: GBP/USD Breakout Extends to First Resistance Hurdle
Australian Dollar Outlook: Aussie Rally Rips to Resistance
Euro Outlook: EUR/USD Plummets Past 1.20- 2021 Breakdown Intensifies
– Written by Michael Boutros, Currency Strategist with DailyFX
Follow Michael on Twitter @MBForex
DailyFX provides forex news and technical analysis on the trends that influence the global currency markets.
Source: www.dailyfx.com
Author: Michael Boutros
Bitcoin Futures Open Interest Hits $19 Billion, Harsh Intraday Swings, Analyst Says 'Fresh Rally' Expected – Market Updates Bitcoin News
The start of the week saw digital currency markets drop significantly in value, as billions of dollars were shaved off the entire crypto economy's capitalization. A weekly report from Luno and Arcane Research shows February 23 captured the third-largest bitcoin daily trade volume in crypto history, as spot market volume saw $18 billion change hands. Moreover, crypto derivatives are surging as bitcoin futures open interest commandeered $19.1 billion on Tuesday.
After bitcoin (BTC) touched an all-time price high on Sunday, hitting $58,354 per unit, bitcoin's value slipped below the $50k handle touching bottom at $44,846 per coin. The loss between these two price ranges saw over 23% shaved off BTC's market valuation.
While heavy losses were seen across the board throughout the entire crypto-economy, a report from Luno and Arcane Research shows that Tuesday's trade volume was the third-largest ever seen. The digital asset's intraday moves had shown the crypto asset's price fluctuations have been more erratic. In fact, Luno's report shows intraday moves of close to 20% happened two days in a row.
"The beginning of the week has been more volatile than usual, with both Monday and Tuesday seeing intraday moves of 18%," the study notes. "Bitcoin dropped from $57k to $46k yesterday before recovering to $54k. This volatility continued this morning, as BTC dropped from the opening around $54k and all the way down to $45k. This is not reflected in the daily volatility metrics yet, as they're based on daily close prices," the report adds.
What cryptocurrency will become the main one in a year?
Luno's report says that traders should be "very careful with leveraged positions, both longs and shorts." It also said that bitcoin derivatives have been "snowballing in the bitcoin market" and had "peaked at $19.1 billion this Sunday." "Yesterday's sell-off pulled out some steam from the leveraged futures market, but the climate is still hot," Luno's study emphasizes.
Pankaj Balani, CEO of Delta Exchange, a digital asset derivatives trading platform says the recent bitcoin (BTC) correction was healthy.
"Despite the correction," Balani said in a note to investors. "The bull market and the case for a stronger rally in bitcoin remains intact. This is only the second correction in BTC prices since November, when bitcoin broke above its previous ATH and started a fresh rally. The 2017 bull market saw bitcoin correct 25%-35% multiple times before reaching its peak in January of 2018," the Delta Exchange added. Balani expects a "short-term consolidation" in BTC's prices for now.
#bitcoin futures volume all-time-high yesterday pic.twitter.com/steg99xA58
— skew (@skewdotcom) February 24, 2021
The findings in Luno and Arcane Research show that between February 1 to Feb. 22nd, bitcoin futures open interest (OI) climbed by 63% outpacing BTC's price rise which was only 57%.
"The open interest outpacing the bitcoin performance should be a concerning sign as it shows that the leverage $10 [billion] is picking up," Luno said. "While the OI is a result of both longs and shorts, the huge premiums in the futures market lately indicate that leveraged upside exposure has $5b been the main contributor to the rising OI. It would be a healthy sign going forward if the futures market's growth takes a breather," the report added.
The dramatic BTC derivatives fever has seemingly cooled down as Luno and Arcane's findings show some of the futures OI had dissipated following the sell-off.
"The funding rates have returned to neutral territory, and the market seems healthier," Arcane Research's weekly note to investors said this week. For now, bitcoin traders are changing positions and strategies after the dump, and focusing on BTC's next big move.
What do you think about bitcoin spot market volumes rising and the feverish bitcoin derivatives markets? Let us know what you think about this subject in the comments section below.
Disclaimer: This article is for informational purposes only. It is not a direct offer or solicitation of an offer to buy or sell, or a recommendation or endorsement of any products, services, or companies. Bitcoin.com does not provide investment, tax, legal, or accounting advice. Neither the company nor the author is responsible, directly or indirectly, for any damage or loss caused or alleged to be caused by or in connection with the use of or reliance on any content, goods or services mentioned in this article.
Source: bitcoin-core-news.com
Author: by admin
Previous
Next