Indian Cryptocurrency Exchanges Seek Regulatory Clarity from RBI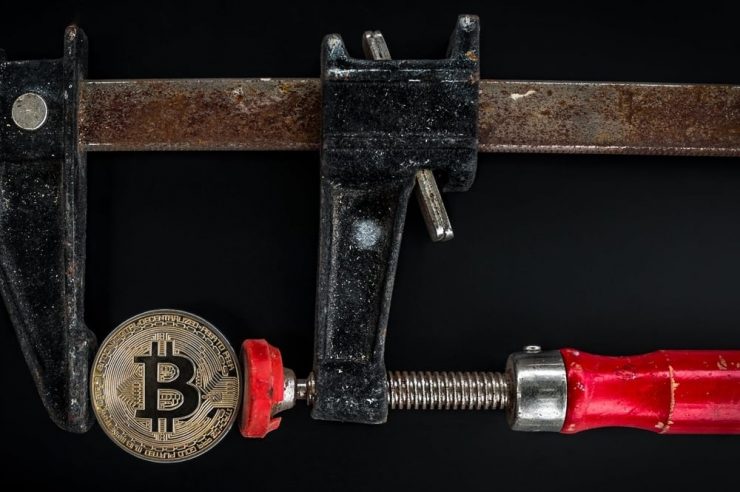 Cryptocurrency exchanges in India have approached the Reserve Bank of India (RBI) to verify their status, as financial institutions have refused to provide them with the necessary financial services, due to lack of clarity from regulators.
According to a report by Economic Times today, Indian crypto exchanges have written to the country's apex bank to be cleared on whether they are being classified as a commodity, currency, goods, or as a service.
The exchanges are seeking to know how they are being classified so that it would provide an understanding of whether they fall under the Goods and Services Tax (GST) framework, in order to prevent any future misunderstanding with the tax body.
"If the digital assets are not exempted from GST, the digital currency exchanges in India are going to have a standoff with the tax authority," Praveenkumar Vijayakumar, Chairman and CEO of Belfrics Global said.
Before this time, there has been a misunderstanding on whether cryptocurrencies should be classified as goods or services, which would automatically place cryptocurrencies, including Bitcoin, Ether, among others under the GST's jurisdiction.
Several investigations, especially from the Indirect Tax Department and the VAT authorities, have been conducted in the past to ascertain the amount of levy cryptocurrency-related businesses should pay for every transaction involving cryptocurrencies.
This has brought issues between both parties, as exchanges believe that if they are taxed based on their overall transaction, they will not break even.
These back and forth issues have prompted cryptocurrency exchanges to acquire legal backing, to stop these authorities from continually prying into their affairs.
As per the report, despite the March 4 ruling by the Supreme Court in favor of digital currencies trading in the country, banks have refused to provide financial services to cryptocurrency exchanges.
The banks, when approached by exchanges, stated that they had not gotten the necessary approval from the RBI to date, to work with cryptocurrency-related businesses.
However, since the Supreme court ruling, crypto-related activities in the country have triggered remarkable initiatives in the country, including Binance's launch of a $50 million investment fund in blockchain projects.
Never miss out on our daily crypto news, stories, tips, and price analysis. Join us on Twitter | Telegram | Facebook or subscribe to our weekly Newsletter.
Source: coinfomania.com
Author: By Lele Jima
Indian Cryptocurrency Exchanges Approach RBI for Regulatory Clarification
In April 2018, the Reserve Bank of India(RBI) had placed a ban on cryptocurrency trading that restricted banks and other financial institutions from enabling cryptocurrency-related services. In March of this year, the Indian Supreme Court lifted Reserve Bank's two-year ban on cryptocurrency trading in India for what many said was a historic verdict.
After the Supreme Court verdict, many statistics showed that a growing number of Indians were interested in cryptocurrency trading, and many exchanges saw an increase in trading volume.
Cryptocurrency exchanges have now approached the Reserve Bank of India (RBI) as stated by The Economic Times, and sought clarification on their status and domestic tax within the country. Crypto exchanges wrote to the Reserve Bank of India (RBI) seeking clarification as financial institutions refused to provide the financial services they wanted because of a lack of clarity on the part of the regulators, The Exchanges have requested clarity on the platform's categorization as commodity, currency, goods, or service that defines whether they are paid under the Good and Services Tax (GST).
Praveenkumar Vijayakumar, Chairman & CEO of Belfrics Global, was reported as saying:
"If the digital assets are not exempted from GST, the digital currency exchanges in India are going to have a standoff with the tax authority. In early 2019, the tax department had reached out to several cryptocurrency platforms in this regard. In the wake of the recent Supreme Court ruling, we have also approached the RBI for clarity on this, as if we pay GST on the whole transaction, then most platforms would not be able to survive,"
In the background, it is claimed that the indirect tax department which collects GST has initiated preliminary discussions on how cryptocurrencies could be brought within the scope of the GST. A few years earlier, the sales tax department and VAT authorities had also launched an investigation into Bitcoins' taxability. The indirect tax department also launched an investigation into Bitcoin exchanges operating in India to assess the rate of GST that could be imposed on them.
"After the supreme court judgment, the RBI was supposed to issue a new circular directing the banks to start banking relationships again with cryptocurrency exchanges and businesses. When the Crypto exchanges approached banks to start operations the banks simply denied as they had not received any notification from the RBI till date," said Sidharth Sogani, CEO, CREBACO Global. "Banks cannot deny the service after the Supreme Court judgment, they are just playing safe as banks will always be anti-Bitcoin, but because of this huge potential is getting sacrificed."
Source: www.tronweekly.com
Author: Vaigha Varghese
Cryptocurrency exchanges write to RBI to seek clarity on status, GST
Cryptocurrency exchanges have asked the Reserve Bank of India (RBI) for clarity on their legal status and taxability.
The platforms wrote to the central bank after lenders had refused services to them amid unclear instructions, according to a report by The Economic Times.
The Supreme Court, in March, quashed the RBI's order that prohibited entities under its purview from dealing in cryptocurrencies or providing related services.
Also read: Cryptocurrencies open up new investment opportunity amid COVID-19 crisis
Cryptocurrency exchanges have also asked about their classification – commodity, currency, goods or a service – which will determine their taxability under the goods and services tax (GST) system, ET reported.
Praveenkumar Vijayakumar, the chairman of cryptocurrency platform – Belfrics Global, told the paper that there would be a stand-off with tax authorities if digital assets were not exempt from GST.
"In the wake of the recent Supreme Court ruling, we have also approached the RBI for clarity on this, as if we pay GST on the whole transaction, then most platforms would not be able to survive," Vijayakumar said.
The indirect tax department previously conducted an investigation into whether Bitcoin and other digital currencies can be brought under the GST system.
Moneycontrol Ready Reckoner
Now that payment deadlines have been relaxed due to COVID-19, the Moneycontrol Ready Reckoner will help keep your date with insurance premiums, tax-saving investments and EMIs, among others.
What cryptocurrency will become the main one in a year?
First Anniversary Offer: Subscribe to Moneycontrol PRO's annual plan for ₹1/- per day for the first year and claim exclusive benefits worth ₹20,000. Coupon code: PRO365
First Published on May 4, 2020 12:45 pm
Source: www.moneycontrol.com
Crypto Exchanges In India Demand New Tax Guidelines
The world regulators are not making any progress with the new regulations for tax on crypto. As of recently, the crypto exchanges in India have started demanding new tax guidelines to the central bank authorities regarding taxation.
After the Supreme Court's reversal of the Reserve Bank of India's ban on financial institutions providing banking services to crypto firms. In the regulation news now, Indian cryptocurrency exchanges are asking for clarity on their taxation obligations.
On May 4, we saw that India times reported that several crypto exchanges in India penned an official letter to the RBI claiming that the current absence of regulatory clarity – which led to banks continuing to deny services to exchanges dealing with crypto assets. In the report, we can also see that exchanges have also reached out to India's high court regarding the matter.
The exchanges now want to know if their operations will be classified as dealing with goods, currencies, commodities or services in order to see whether they are subject to the country's Goods and Services Tax (GST).
According to one CEO of the crypto exchange Belfrics Global:
"If the digital assets are not exempted from GST, the digital currency exchanges in India are going to have a standoff with the tax authority. In the wake of the recent Supreme Court ruling, we have also approached the RBI for clarity on this, as if we pay GST on the whole transaction, then most platforms would not be able to survive."
A recent interview with Inc42 featured the co-founder and CEO of the top Indian crypto exchange Unocoin, Sathvik Vishwanath, who said that the population is significantly underrepresented in the crypto asset markets.
Vishwanath estimates that the Indian crypto trade comprises just 1% of the total trade activity, with which he predicts that it will take 12 to 24 months for India to catch up with the rest of the world with regards to digital asset adoption.
Now, the Bitcoin news are showing stability as the BTC price is nearing $8,900 and may be attempting a new increase to $9,000 in the coming hours. Meanwhile, there are some losers in the market too – Bitcoin Cash (BCH) is one of them with a 2.67% decline on the day.
DC Forecasts is a leader in many crypto news categories, striving for the highest journalistic standards and abiding by a strict set of editorial policies. If you are interested to offer your expertise or contribute to our news website, feel free to contact us at editor@dcforecasts.com
Stefan is a full-time member and has been a Bitcoin Specialist for over 6 years. Providing daily news and updates for DC Forecasts.
Published
3 days ago
on
May 1, 2020
We are living in times when the cryptocurrency industry is blossoming but along with that, the attitudes towards tax are maturing. As we can see from latest reports, even two thirds of users support taxation of crypto assets and would be in favor of this if a decision comes. The latest cryptocurrencies news present us a survey conducted by the South Korean wallet provider Childly, which found that 66% of the respondents are in favor of crypto assets being taxed. The poll had more than 5,750 crypto users worldwide who revealed that only one in five crypto users are against digital asset taxation. The Bitcoin news also show that 48% of the respondents strongly agreed that cryptocurrencies should be taxed, describing these taxes as "a must." Opposite to that, even 18% of the participants expressed support for crypto taxes only if they were "set at an acceptable level."
Moreover, the survey shows that two thirds of people want crypto taxes – but also that 20% of the polled crypto users disagree with taxing crypto assets right now. Even 9% of the respondents asserted that it is "too early" and more time is needed to consider appropriate obligations for the sector. Around 11% of them expressed strong disagreement with taxation at all, and noted that "an entirely new approach" is needed with regards to digital assets.
At the end of this month, the altcoin news showed a crypto accounting platform Blox and the tax software provider Sovos which published the findings from a survey which encompassed a third of known, US-based Certified Public Accountants which operate in a variety of capacities with cryptocurrency. The report highlighted that there are significant issues pertaining to crypto taxation from the perspective of tax professionals. Anyways, the real takeaway from this survey by Childly is that two thirds of people are in for taxation of their cryptocurrency assets. In reality, this number is way lower than the respondents in the survey.
`
Published
7 days ago
on
April 27, 2020
The SEC filed a lawsuit against Enigma as well which claims to provide privacy under Dapps. Enigma allegedly lied to the investors about their ICO in 2017. Enigma agreed to pay back the funds to the investors and paid-up about 500,000 dollars as a fine. The SEC also uncovered another fraud with the Shopin CEO who gained 42 million USD for misinformation and they will continue to clamp down on other investment companies that engage fraudulent ICOs.
`
Published
3 weeks ago
on
April 15, 2020
FBI Warns against the increasing number of crypto scams amid the COVID-19 pandemic. The crypto scammers are continuously preying on vulnerable victims during their weakest moments and the coronavirus pandemic is the latest green pass for the scammers. The crypto scams have progressed over the years and fraudsters are using updated and improved methods that evade the radar of law enforcement. In order to reduce the number of victims that fall for fake crypto schemes, the regulatory bodies such as the FBI warns investors to beware of these scams because some of the cams can see too good but turn out to be a major problem for the victims. According to a press release, the FBI warns against crypto scams since there will be an increase in the number of cases during the COVID-19 pandemic. The virtual currency fraudsters usually target people of different ages that hold digital currencies:
The scammers are also taking advantage of the current fear because of the virus and this way they are able to steal from the funds of the victims. The FBI acknowledged that there are real investment schemes and platforms that accept crypto payments, there are some that pressure the users use crypto which is a major red flag. These scams could come in a few different ways such as crypto investment schemes with huge returns on investments and remote work scams where ''employers'' request people to start accepting donations that are likely stolen from other people. There are other methods that involve crypto scammers that use traditional blackmail methods in order to get their victims to succumb. The scammers use newer blackmail techniques during the COVID19 pandemic and in addition to releasing sensitive information, the scammers threaten to infect victims and their families with the virus unless they make a payment to a specified BTC wallet. Crypto scams are on the rise and scammers are using sophisticated methods to fleece the victims. FAcebook even sued one of its users to use a cloaking method that promotes fake bitcoin investment schemes.
`
Published
3 weeks ago
on
April 15, 2020
The latest cryptocurrencies news show us that according to screenshots of a purported pilot version of a wallet app for China's forthcoming digital yuan, we can see that the digital currency will apparently start testing in four cities. Ling Zhang, who is the executive director of M&A, Global Fiat (at the crypto exchange Binance) shared images showing that China's digital yuan is underway. The images were later retweeted by the CEO of Binance, Changpeng Zhao (CZ). https://twitter.com/cz_binance/status/1250234759076147200?s=20 According to Zhang, the app is available for download in four cities which are selected for the initial trial. These include Shenzhen, Chengdu, Suzhou and Xiongan. She also highlighted the inclusion of Xiongan, which is a new metropolis located on the outskirts of Beijing, known as a site of a so-dubbed "smart city brain project." The Xiongan New Area will also have enhanced intelligent infrastructure which spans satellite information services, sensor recognition, a 5G network, supercomputing and big data facilities. China's digital yuan will therefore be in a good environment as the city has already attracted major tech giants such as Tencent, Alibaba, JD.com and Baidu. The president of the country Xi Jinping visited it on more than one occasion. CZ also commented on the screenshots. The Binance CEO remarked on the apparent "execution speed" of China's digital yuan rollout – and said that this is a good trial for the central bank digital currency (CBDC). As we reported before in our regulation news, China appears to have been accelerating the development of the digital yuan – even with the coronavirus (COVID-19) being present in the country. With all of the crisis that COVID-19 has created, China managed to cover everything well and be ready for the start of a new era with this currency. On March 24, reports showed that the Bank of China was alleged to have completed the development of the currency and its basic functions – and to have already moved on to drafting laws for its implementation. All of this shows that China's digital yuan may stir the Asian economy in a good way, providing plenty of opportunities for people interested in the cryptocurrency sphere. For more information about the latest news from China and the digital yuan CBDC, keep following our website!
`
Newsletter
NEWS CATEGORIES
ADVERTISEMENT
ADVERTISEMENT
ADVERTISEMENT
ADVERTISEMENT
ADVERTISEMENT
Source: www.dcforecasts.com
Author: Published 53 mins agoon May 4, 2020By Stefan
Previous
Next