How Litecoin's Halving Could Provide Clues to Bitcoin's (BTC) Future
Quick take:
Litecoin's halving in August 2019, was uneventful with LTC's price failing to meet the expectations of fans and traders.
LTC is frequently considered as Bitcoin's little brother.
Some analysts believe that first doing technical analysis on LTC could provide insights into Bitcoin's future.
It is Easter Monday and the King of Crypto followed our previous analysis of holding the $6,600 support level. To note is that we did not expect that there might be a slight pump before the dump. It was self-evident through the 6-Hour MFI, that Bitcoin could attempt a retest of $7,200. However, as with all Technical Analysis, you cannot always 'see everything'. In the meantime, and with the Bitcoin halving less than a month away, it might be time to consult Litecoin in determining the future of BTC in the coming days and weeks.
Popular Bitcoin analyst, Willy Woo, has on numerous occasions put forth the theory that LTC leads Bitcoin in price action. Numerous keen crypto trader's, have in turn proved this theory to be valuable as a guide in determining Bitcoin's next move in the crypto markets. One of Mr. Woo's statements highlighting the theory can be found below.
LTC has a habit of leading BTC.
Shorters gonna be rekt (not from just this chart but from other fundamentals too). pic.twitter.com/v1JeeVyd1Q
— Willy Woo (@woonomic) April 7, 2020
LTC underwent its own halving event on the 5th of August 2019. As a result, the price of Litecoin peaked around 22nd June 2019, at a value of $146. Immediately after that, Litecoin underwent a 6-month correction that saw the value of LTC drop to $35 before a relief rally early this year to a value of $84 around mid-February. The screenshot below provides a better visual cue of the situation then.
In our few analyses of Bitcoin this month, we have continually cautioned regarding a death cross on the daily chart. Further using the Litcoin model before the LTC halving, we can conclude that BTC experienced its own local top before halving around $10,500 in mid-February this year.
If we follow the Litecoin pattern from last year, Bitcoin might experience a 6-month bearish environment until mid-August. Further using the LTC top of $146 and bottom of $35 in December 2019 to create a crude predictive ratio (146/35), we can estimate that BTC should find a bottom around the $2,500 area using the top of $10,500. This is in line with an earlier analysis by @MagicPoopCannon who has also predicted a Bitcoin bottom between $2,500 and $1,200.
(Feature image courtesy of Tomasz Frankowski on Unsplash.)
Disclaimer: This article is not meant to give financial advice. Any additional opinion herein is purely the author's and does not represent the opinion of Ethereum World News or any of its other writers. Please carry out your own research before investing in any of the numerous cryptocurrencies available. Thank you.
Source: ethereumworldnews.com
Author: John P. Njui·OpinionAltcoin NewsBitcoin NewsNEWS·April 13, 2020·2 min read·211 views
Bitcoin, Ethereum, Litecoin & Co. on Saturday – finanzen.net
Source: krypto.international
KRYPTO
Ethereum Price Analysis: ETH/USD testing critical $150 support
Ethereum price is trading in the red by 3.35% in the session on Monday.
ETH/USD is back under pressure by the bears, with the critical $150 at risk of a breach.
The next major area of interest to the upside for the bulls will be eyed at $200.
Price action has formed a potential bearish flag via the weekly chart view, at risk of a breakout to the downside.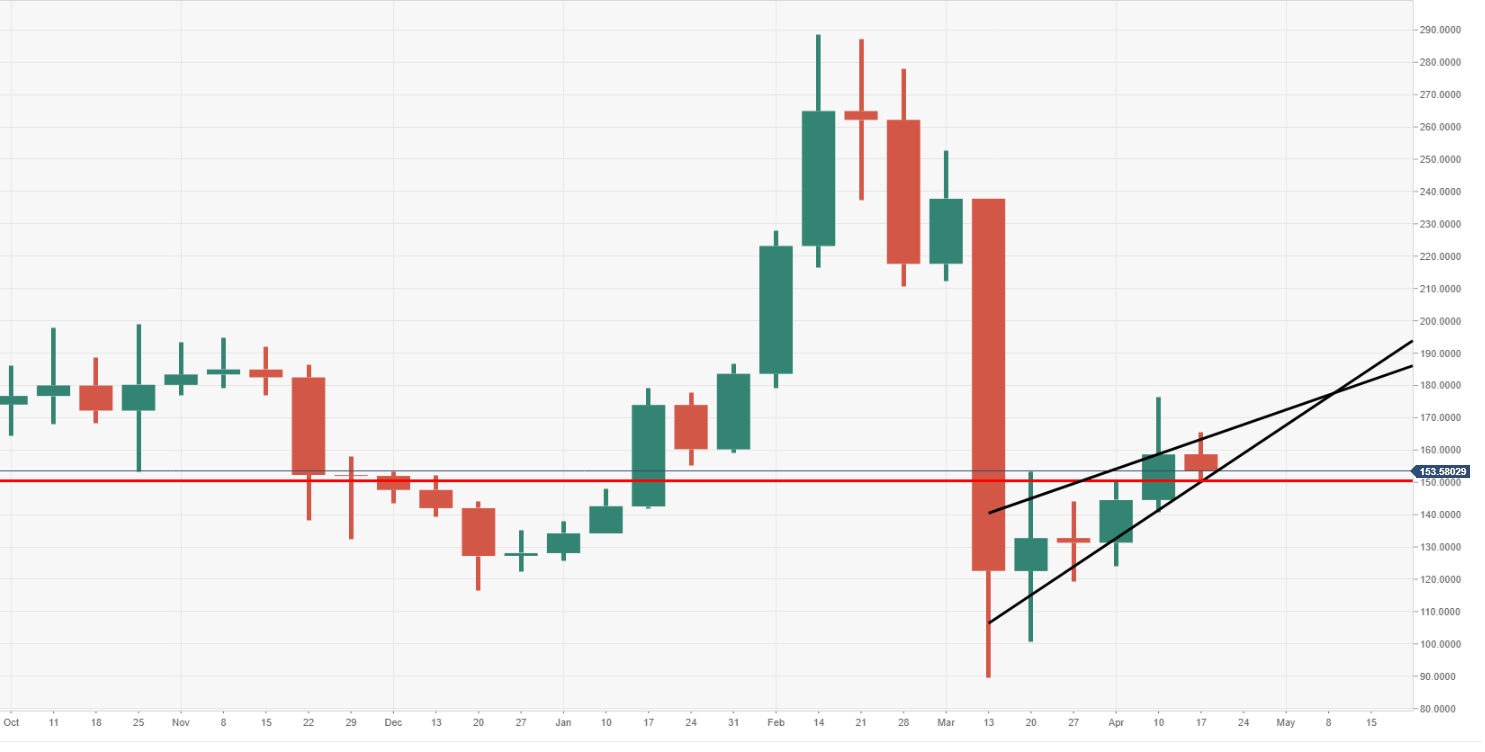 Daily support should be noted at $150, failure to hold could be punishing for the price.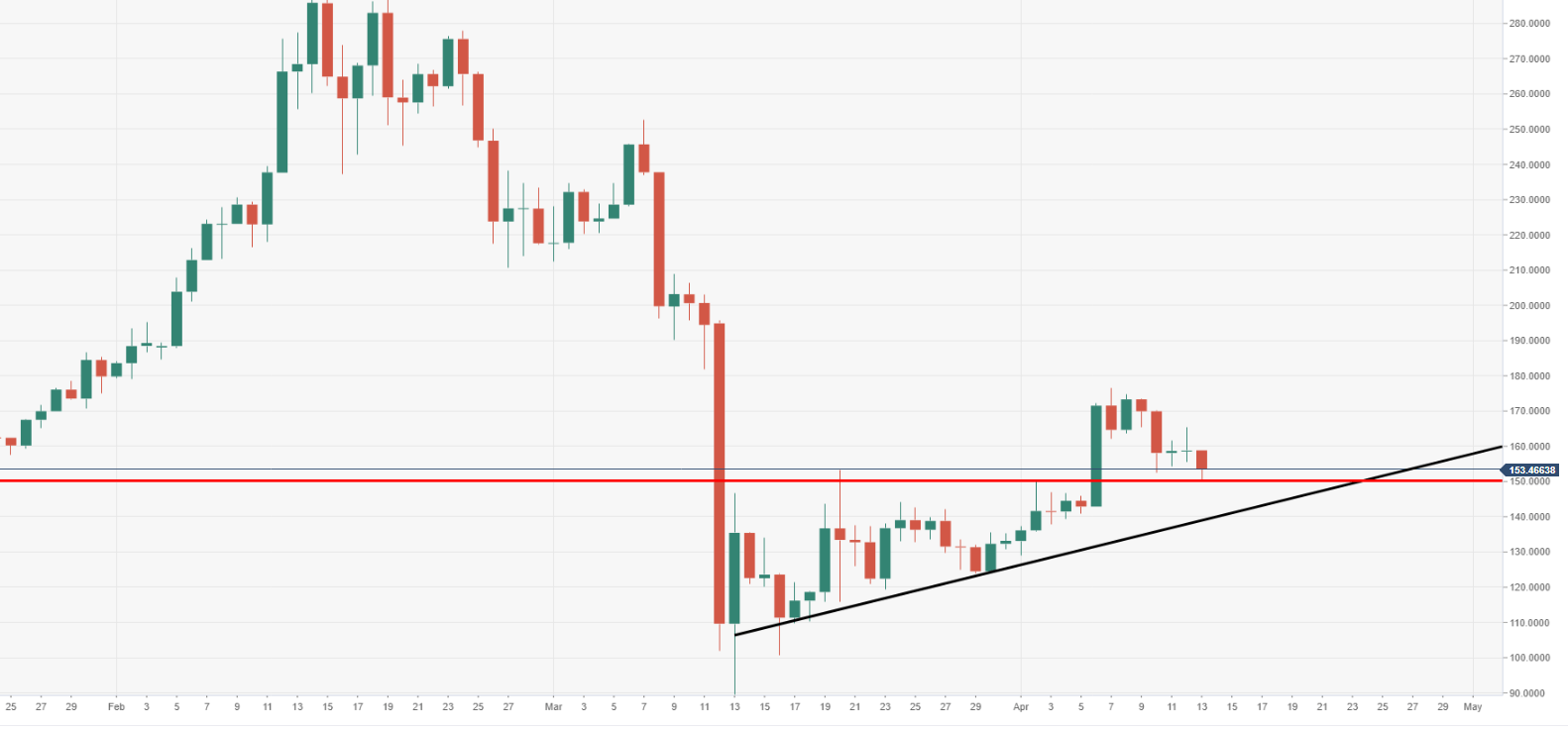 Spot rate: 153.38
Relative change: -3.35%
High: 158.81
Low: 149.86
Source: www.forexcrunch.com
Author: FX Street
Website
Cryptocurrencies Price Prediction: Bitcoin, Ripple & Ethereum – Asian Wrap April 13
Bitcoin is trading in the negative on Easter Monday following a weekend full of action. The price stepped above $7,500 but the lost steam before approaching the resistance at $7,600. Buyers and other investors were looking forward to pulling above $8,000.

Ripple price recently stepped above $0.20 for the first time since the massive selloff on March 12. Unfortunately, minor progress was made towards $0.30 as a monthly high was formed at $0.2068. XRP/USD slipped under the 38.2% Fibonacci retracement level of the last swing high at $0.3467 to swing low of $0.108.
Ethereum price is trading at $153 on Easter Monday. The Asian session has been characterized by increased selling pressure. ETH/USD has thinned by 3.3% on the day from an opening value of $158.81. The strengthening bearish grip has ensured that no progress has been made to the north with $158.81 staying put as the intraday high.

Source: www.fxstreet.com
Reddit Set To Roll Out Reward System Based On Ethereum
Reddit stands as a content aggregator website, much like Facebook. While the "cultures" of the two platforms are different, both parties seem to be interested in expanding into crypto. With Reddit, it's in the process of developing a blockchain-based reward point system for its communities to use.
This was revealed through a user going by the handle of "MagoCrypto," who went into detail concerning this new feature. These so-called "community points" will be used within a subreddit system, allowing users extra benefits within the platform.
According to this post, which was posted on the "Cryptocurrency" subreddit, the rewards system will be developed through the use of the Ethereum blockchain. A go-to blockchain network when it comes to innovations such as these.
This was, of course, just hear-say until a spokesperson from Reddit itself confirmed it. The spokesperson explained that the platform was always experimenting with various methods to support its communities on the platform.
In this particular case, the spokesperson stated that Reddit was working with one community in particular to test the feature, which will represent the involvement of a user within a set community. After that, it was the mandatory public statement of how Reddit valued its community, ever-seeking its feedback as it explored these new features, citing further engagement with communities and users as motivation.
Reddit can be classified as a "fringe" social media platform, consisting of users that shun conventional social media platforms, for the most part. With its niche style, it's attracted many groups of people, with the crypto industry having a consistent presence within it. Rather ironically, the platform is rather popular, while simultaneously viewed as "unpopular" by the community as a whole.
It should be noted that a superficial rewards system is already in place within the social media platform, and the platform has been keen on giving this an upgrade for some time now.
The critical form of this system already existing is in the form of Karma. It's a basic points system that represents the reputation of a user on the platform, but doesn't do much else. Furthermore, there is a "badge" system, as well, where users can award certain posts on the platform with a badge to show their appreciation. However, with the new rewards system planned, these things will be associated with real value.
Source: insidebitcoins.com
Previous
Next