Ethereum's Ongoing Breakout Suggests a Move to $500 Is Possible – news.kuaidiantou.vip
The price of Ethereum currently trades for $420.
This price is $100 higher than the September lows and around 15% higher than the coin was trading last week.
ETH is expected to push higher in the weeks ahead as it surmounts pivotal technical levels on a short-term basis.
Analysts are eyeing a move to $500 as $420 holds as support.
Ethereum has undergone a strong rally over the past few days as Bitcoin has gained steam. The price of ETH currently trades for $420, $100 higher than the September lows and around 15% higher than the coin was trading at last week.
ETH is expected to push higher in the weeks ahead as it surmounts pivotal technical levels on a short-term basis.
One crypto-asset trader shared the chart below on October 22nd. It shows that because ETH is moving past the "major resistance" of $420, it could be cleared for a move to $500.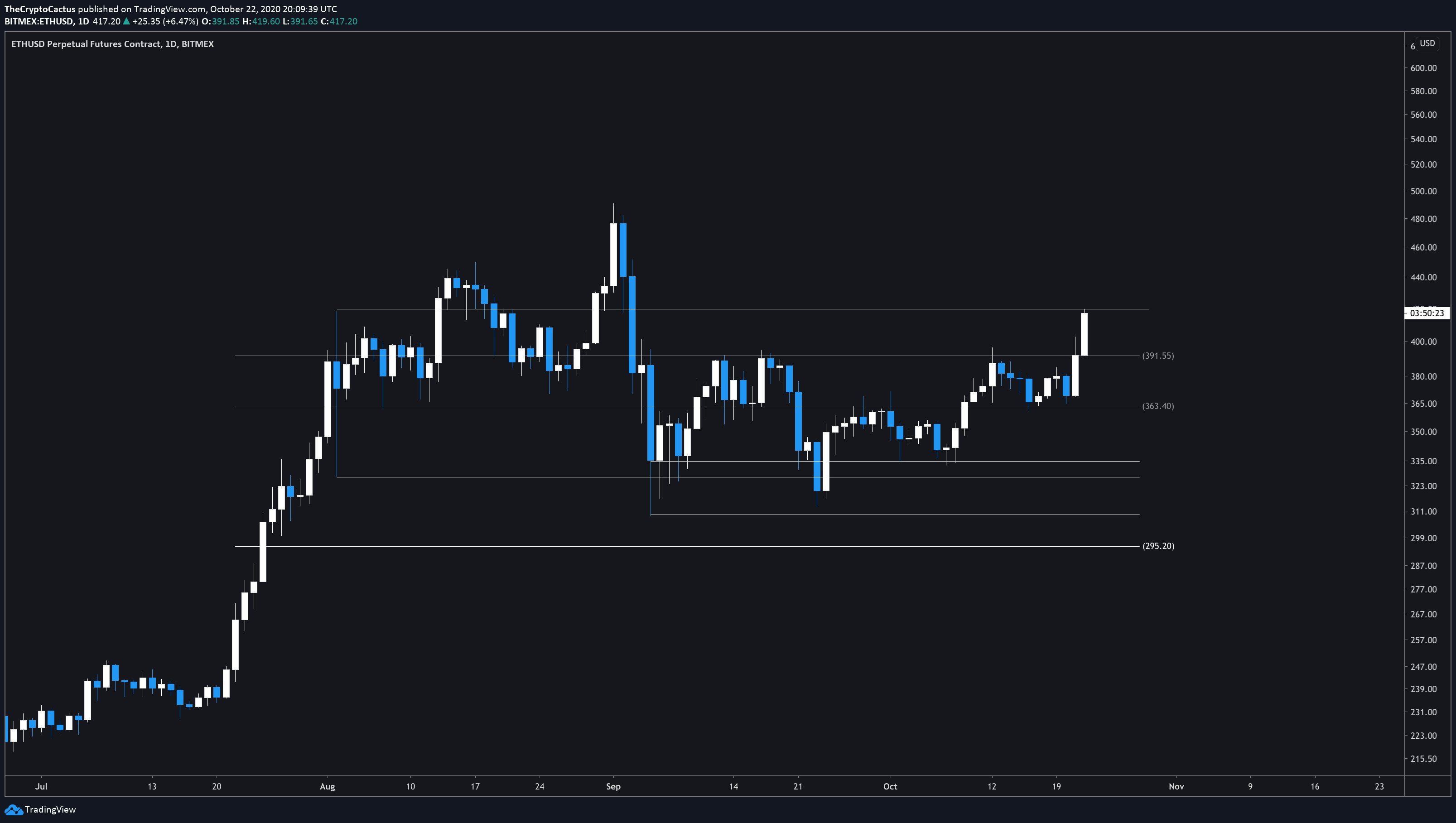 The expectations of a move to retest the year-to-date highs near $490 have been echoed by other market participants.
Jonny Moe, a crypto swing trader, shared the chart below after the move higher. Like the aforementioned chart, it shows that ETH's recent move to the upside is technically important due to the resistance levels the coin is crossing
Ethereum's strong price performance comes as the ETH2 upgrade, also known as Serenity, has drawn closer.
In a blog post, ConsenSys developer Ben Edgington said that the ETH2 Deposit Contract is expected to be published this week. The publishing of this contract will confirm that the Beacon Chain Genesis, which will launch ETH2 officially, will launch in the next few days.
"Basically, as I understand it, we are good to go: deposit contract in the next few days; beacon chain genesis 6-8 weeks later. (This is not an official statement!). Meanwhile, be careful out there. Many fake deposit contracts and Launchpad front-ends will erupt in the coming days. Look out for the official anouncements: do not send Eth to random contracts; this is not DeFi."
This upgrade is expected to boost Ethereum's value proposition as it will give the coin the ability to be staked, restricting supply. On a long-term basis, ETH2 is expected to result in long-term bull trend as the upgrade increases the network's usability.
Source: news.staging.app.kuaidiantou.vip
Ethereum Ready to Become the First Blockchain which Will Settle $1 Trillion in a Year – Cryptocurrency News
Ethereum can reach to $1 Trillion transactions by the year end.
Bitcoin has 50% less transactional volume compared to Ethereum.
The DeFi boom is setting new records and has been the talk of the show since its launch. The crypto market maintained its volatility, but the surge in DeFi kept increasing. This has led Ethereum to reach $1 trillion in volume transactions by the year.
Ryan Watkins of Messari, a crypto research and news company, published a report that stated the market has peaked since the ICO boom of 2017. In his report, Ryan Watkins said that stablecoins and DeFi are the primary factors for the Ethereum increased volume transactions.
The report shows the comparison between the two most famous and debated cryptocurrencies; Bitcoin and Ethereum. It can be clearly seen that the ETH at present is transacting twice the volume of the BTC. Watkins commenting on the situation tweeted that when a product (DeFi) finds a market fit (Ethereum), the crypto-economy always booms.
🤯 Ethereum now transacts two times more value than Bitcoin daily.
This is what a cryptoeconomy looks like when it starts to find product-market fit.
1/ pic.twitter.com/mjXJkZTddU
Not long back in August 2020, Chris Burniske of Placeholder, a venture capital partnership that invests in open blockchain networks in his tweet, predicted a similar scenario. In his tweet, he showed that if the $BTC will cross the $50,000 mark and $ETHBTC returns to former ATH, then a $1 trillion of transactional volume can be witnessed over either platform.
The past 30 days have witnessed Ethereum transacting volume of $7 billion while Bitcoin stands at less than $3 billion processing.
It won't be fair to comment that Ethereum grows large in volume on its own. When in reality, the DeFi boom, Stablecoin growth, the rise of the smart dollar, and completion of the stablecoin protocol, all of which occurred over the Ethereum network, were the reasons. The majority of Ethereum's transactional volume is based on ERC-20 tokens. When comparing to the similar lines, Tether is transacting more volume than Bitcoin, but based on ERC-20 Tether.
Yield farming is pushing the demand-supply for growth percent greater than 600% for MakerDAO's DAI stabelcoin. Decentralized Exchanges (DEXs) at present constitute 13.6% of total volumes from all exchanges, both centralized and decentralized. At the same time, Uniswap and Curve contributed more than $20 billion in the total volume for September.
Vitalik Buterin, on the same, tweeted that the times are changing, and Ethereum is no more just an altcoin. And people should stop seeing the crypto world only through the lens of Bitcoins and widen their perspective.
In plain language everyone can hopefully understand:
In 2020, continuing to refer to ethereum as an "alt" is as outdated as referring to a lambo as a "horseless carriage". https://t.co/CMmP6MEXlU
Source: themarketperiodical.com
Author: Abhijeet
Ethereum Q3 Volume Dwarfs Bitcoin's, Fueled by DeFi
New Messari analysis discovered that stablecoins together with DeFi pushed Ethereum transaction volumes to greater than double that of Bitcoin in Q3.
Tether was probably the most traded crypto asset within the third quarter.
DAI was the quickest rising stablecoin, including greater than 600% to its provide in three months.
The Ethereum blockchain is now processing greater than twice the every day transaction quantity of the Bitcoin blockchain, driving a large wave of progress in stablecoins and the DeFi apps that use them.
A new report from crypto research firm Messari on Q3 exercise in DeFi and stablecoins has revealed that the present rolling 30-day common for Ethereum is round $7 billion; Bitcoin's is below $3 billion.
If present charges maintain, Ethereum is on monitor to see greater than $1 trillion in annual transaction quantity, a significant reversal from 2019, when Bitcoin transaction quantity was greater than double that of Ethereum.
Although Bitcoin's worth has climbed over the past three months from the mid-$9,000s to above $13,000, Bitcoin quantity has remained largely regular since October 2019, indicating that focus has shifted towards Ethereum's "unstoppable" decentralized utility platform, and away from the extra easy retailer of worth utility supplied by Bitcoin as "digital gold."
What cryptocurrency will become the main one in a year?
The Messari report pegs the spectacular progress in Ethereum's transaction quantity on the accelerated use of stablecoins, mostly utilized in interactions with DeFi purposes. DeFi stands for decentralized finance, a gaggle of blockchain-based purposes operating totally on the Ethereum chain. DeFi apps use mechanically executed blocks of code referred to as smart contracts to carry out monetary operations like issuing loans or producing curiosity on person deposits.
Many DeFi loans are issued in stablecoins, or crypto tokens pegged to an asset such because the US greenback; doing so makes monetary reckoning extra suitable with current calculations on facets like rates of interest or liquidity ratios.
Most stablecoin loans are issued with cryptocurrency holdings put up inside DeFi apps as collateral, requiring the worth of the underlying crypto belongings to stay above a sure threshold to keep away from a margin name, through which a part of the crypto collateral is offered to repay a portion of the excellent mortgage.
Of all stablecoins, by far probably the most quite a few is Tether, a centralized, at times controversial, dollar-pegged token with more than $16 billion at the moment in circulation. It's no shock, then, that Messari analysis discovered Tether to be the most-transacted stablecoin within the crypto panorama. Tether, nevertheless, isn't simply probably the most traded stablecoin—Messari discovered that over the summer time, it grew to surpass even Bitcoin with a rolling 30-day common transaction quantity of practically $3.5 billion.
DAI, a product of DeFi lending service MakerDAO, additionally had a powerful Q3, rising its provide greater than 600% from the beginning of July by way of September based on the Messari report.
In contrast to Tether, which issues new Tether stablecoins in partnership with large-scale customers like crypto exchanges, DAI is generated through MakerDAO users taking loans against their crypto holdings in a decentralized system. DAI is thus extra proof against censorship or management by its issuing entity, nevertheless it additionally requires totally different incentives to maintain the tokens secure at $1, like community-controlled rates of interest.
Whereas totally different stablecoins take totally different approaches to ship safety and utility to their customers, it's clear the rising asset class will play a key function within the ongoing improvement of the crypto financial system. Stablecoins may have the potential to crowd out money as the easiest way to transact on a day-to-day foundation, offered related tokens distributed and controlled by national central banks don't finally make them redundant.
As Ethereum transaction quantity takes off, Bitcoin's easy design may maintain the unique cryptocurrency again—or it may simply as doubtless observe the DeFi herd, as cross-cross chain transfers that allow access to Bitcoin value in DeFi apps turn out to be more and more frequent.
Source: www.worldnewsreport1.com
Author: Editor
Previous
Next