Donald Trump's Election Loss, Coronavirus, Aliens, And Bitcoin – 2020 News Year In Review — FULCRUM NEWS
What a year 2020 has been. Let's review: Donald Trump lost the popular and electoral vote, and yesterday the electoral college finalized Joe Biden's win, making him the next President of the United States. On the same day, William Barr announced he will be departing from his role as US Attorney General, effective December 23rd.
In large part, the election was a referendum on the Trump administration's handling of the COVID19 pandemic, which has claimed more than 300,000 American lives so far. Yet it was also a referendum on Washington "outsider" Donald Trump's handling of power, and of his attacks on his critics and enemies, none of which ended up going to prison under either of Trump's two Attorney General picks – Jeff Sessions, and his replacement, William Barr.
While it is true that Joe Biden's son Hunter is now under investigation for some of his prior financial dealings, that was an investigation with years' old origins, and to say that Hunter Biden was one of Trump's main targets would be to re-write history.
No, it appears Sessions and then his replacement Barr both completely ignored Trump's attempts to instigate a thorough investigation into the Clintons and their Foundation, and Barr neglected to make the public aware before the November election that Hunter Biden had become the subject or target of an investigation.
The coronavirus pandemic was a devastating black swan event, not only for Donald Trump's populist political ambitions, but for the nation's economy as well.
Somewhere between 30 to 40 million Americans remain underemployed or unemployed as a result of the pandemic, many college campuses have come to a standstill, air travel is down more than 90 percent from pre-pandemic volume, close to 20 percent of small business owned restaurants have permanently closed, and a looming utility bill and rent payment delinquency threaten to make millions of Americans homeless in the weeks ahead.
Branded "sleepy" and overly afraid of the coronavirus by Trump's campaign, Joe Biden's careful, succinct, serious messaging around COVID19 turned out to be exactly what the public wanted, while Trump's bravado and frequent departures from orthodox science… at one point even drawing on inspiration from the My Pillow Guy, a former drug addict and TV infomercial entrepreneur with no known medical background, for possible COVID cures…
At the time, to many conservatives Trump's approach to the coronavirus seemed efficient: by treating each state differently based on its case trajectory, states with few infections could continue to do business without as many restrictions imposed on their residents. Yet, with the benefit of hindsight, that approach now seems to have been disastrous: a strong unified federal push to contain the virus, back in the Spring when policymakers wanted to "slow the spread," could have altered the nation's fate.
Instead, a piecemeal approach that was at times chaotic essentially pitted the states against each other for access to PPE and high-cost medical supplies including ventilators. And the simple fact is that citizens travel between states frequently, rendering the varied policy approach disastrous. In one instance, for example, it is believed more than 300,000 infections came from a single biotech conference held in the Boston area earlier this year. The conference attendees went home to their respective states, taking COVID with them.
A second round of stimulus which is nearing approval in Congress has no individual payment component, instead focusing on the paycheck protection program and relief at the business level, which is precisely the opposite of what many policymakers say is needed right now. Direct payments to Americans, as Canada has been giving to their citizens for months now, will be required in order to bolster the economy, according to some experts.
Some estimate it could take up to $4.5 trillion in additional relief to fully protect the economy against a continued pandemic slide.
Aliens
In the midst of Trump's surprise election loss and the national disaster instantiated by COVID19, many were distracted from one of the most intriguing news stories of the year, if not all time.
Israel's former space security chief gave a major magazine interview, in which he revealed that the US government, as well as Israel's government, had begun to collaborate with an advanced alien race. This race has some kind of presence beneath the surface on Mars, according to the Israeli bureaucrat.
Simultaneous to that announcement, scientists disclosed they had discovered evidence of a "cosmic superhighway" of sorts winding throughout the solar system, which would appear to allow objects including spacecraft to move to the outer edges of the solar system in a fraction of the time previously believed possible. These "space manifolds," as the scientists call them, leverage the immense gravitational fields of Jupiter and other large planetary bodies. https://www.fulcrumnews.com/blog/2020/12/12/space-manifolds-discovered-throughout-solar-system
Bitcoin & Cryptocurrency
Another overlooked story of 2020 was the mainstreaming of Bitcoin and some other cryptocurrencies. PayPal just weeks ago turned on the ability for their millions of users to buy/sell Bitcoin, Ether, and Litecoin on their platform.
As of writing this post, one Bitcoin trades for around US $19,400.
Pandemic uncertainty, as well as more people at home using the Internet for commerce, could be responsible for the jump in public interest.
Trust FULCRUM In 2021
Whatever the new year brings, FULCRUM will be there. 2021 will be our fifth year as a news organization and we thank all of you who have been along for the adventure thus far. In Star Trek, the missions were meant to last five years, and it does feel in a way like we've traveled the galaxy together – from Pizzagate and Epstein Island, to the rise of Bitcoin, to the election of Trump and subsequent loss of Trump to Joe Biden – we've covered the big stories that matter, decisively and early, when others were afraid or uncertain.
Follow us on Facebook (https://facebook.com/FulcrumNews) and get our newsletter (https://fulcrumnews.com/subscribe) so you miss nothing ahead!
Nearly a million unique readers over the last year to FULCRUM's web site, which we consider quite the achievement given the ongoing attempts to censor some of our research content. Thank you, and keep spreading the word that a Real News Alternative exists – FULCRUM!
Source: www.fulcrumnews.com
Author: David Seaman
Mad Money's Jim Cramer Buys Bitcoin, Reveals Strategy to Increase Holdings | Featured Bitcoin News
Jim Cramer, the host of Mad Money and co-founder of The Street, has bought some bitcoin with the intention to keep increasing his holdings. He explained his purchase strategy and said there's no reason not to wait for bitcoin's price to come down again.
Jim Cramer is the host of Mad Money on CNBC, a former hedge fund manager, and a co-founder of Thestreet.com, a financial news and literacy website. He tweeted on Friday in response to a comment about a dip in bitcoin's price. "I think I will buy some," he wrote.
Cramer confirmed a few hours later on Thestreet that he had purchased bitcoin. He then explained that he bought the cryptocurrency at the time because the price of bitcoin had just fallen back down to the $17K level. "It was simply a decent level," the Mad Money host said, adding:
I will buy like I usually do. As something comes down, I'll get bigger and bigger and bigger. I just think that you want to diversify into all sorts of asset classes.
"I have gold," he continued. "I want to diversify into some bitcoin, not a big position for me but it's certainly important to be diversified and bitcoin is an asset and I want to have a balance of assets."
While responding to a question about how an investor would start investing in bitcoin, Cramer opined:
You just have to recognize the history of it that it ran up and then ran down. It got too much money, got too hot so there's no reason not to wait for it to come down again.
When he bought bitcoin on Friday morning, he said that the price of the cryptocurrency was "off nicely from the top, and I like to buy something that's off nicely from the top."
In September, Cramer said that he was considering buying bitcoin because he feared a "massive amount of inflation." He was also concerned about leaving an inheritance to his children, emphasizing that they would not feel comfortable with gold but would feel comfortable with crypto.
What do you think about Jim Cramer's bitcoin buy strategy? Let us know in the comments section below.
Purchase Bitcoin without visiting a cryptocurrency exchange. Buy BTC and BCH here.
Disclaimer: This article is for informational purposes only. It is not a direct offer or solicitation of an offer to buy or sell, or a recommendation or endorsement of any products, services, or companies. Bitcoin.com does not provide investment, tax, legal, or accounting advice. Neither the company nor the author is responsible, directly or indirectly, for any damage or loss caused or alleged to be caused by or in connection with the use of or reliance on any content, goods or services mentioned in this article.
Source: news.bitcoin.com
Author: Featured
by
Kevin Helms
Bitcoin Price Analysis: BTC is on the verge of an explosive movement
Going by previous occurrences, Bitcoin price may be in for another period of parabolic advance if the $19,500 level is surpassed.
Failure to front-run the newly created CME gap on the Futures market may spell trouble for Bitcoin in the short term.
Bitcoin appears to be replicating momentum akin to what it has done a couple of times from previous months. Based on these price actions, the most likely outcome may take the flagship cryptocurrency to new highs if history repeats itself.
The market has been going sideways for a while now as most altcoins are yet to experience any major volatility. Even Bitcoin is yet to break the hurdle of its previous highs as it trades at $18,955 at the time of writing.
This year's halving led to the beginning of a bullish wave that pushed Bitcoin's price to way past March's correction to a new all-time high of $19,915.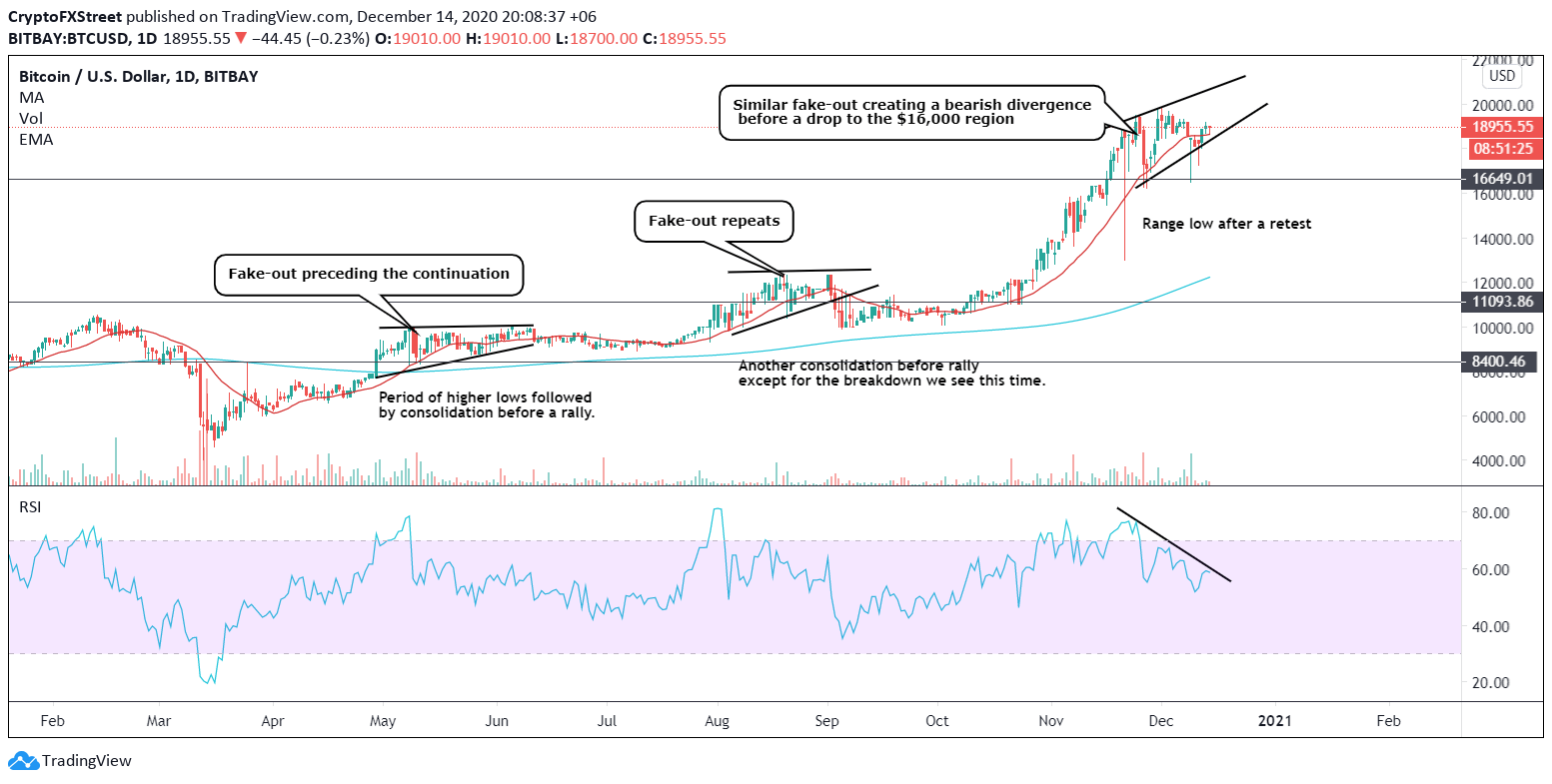 What cryptocurrency will become the main one in a year?
BTC/USD daily chart
Interestingly enough, ever since the uptrend began in mid-March, Bitcoin price action has been characterized by a series of higher lows with bullish divergences against the RSI along the way, followed by fake-outs. Such market behavior can also be spotted in more recent times.
The hidden bullish divergence recorded between November 26 and November 30 resulted in the construction of higher lows. Meanwhile, the tapering volume seen on the recent moves increases the odds of repetition.
The development of a rising wedge pattern may lead to a breach of the $19,500 target. Then, Bitcoin price could consolidate for a while before the next major movement. Holding above this hurdle for a prolonged period could ease the uncertainty in the cryptocurrency that results in another leg up to $21,200.
The bullish outlook may be invalidated by a break of the wedge's lower boundary. In this scenario, the next support level to look out for will be the $16,000 zone.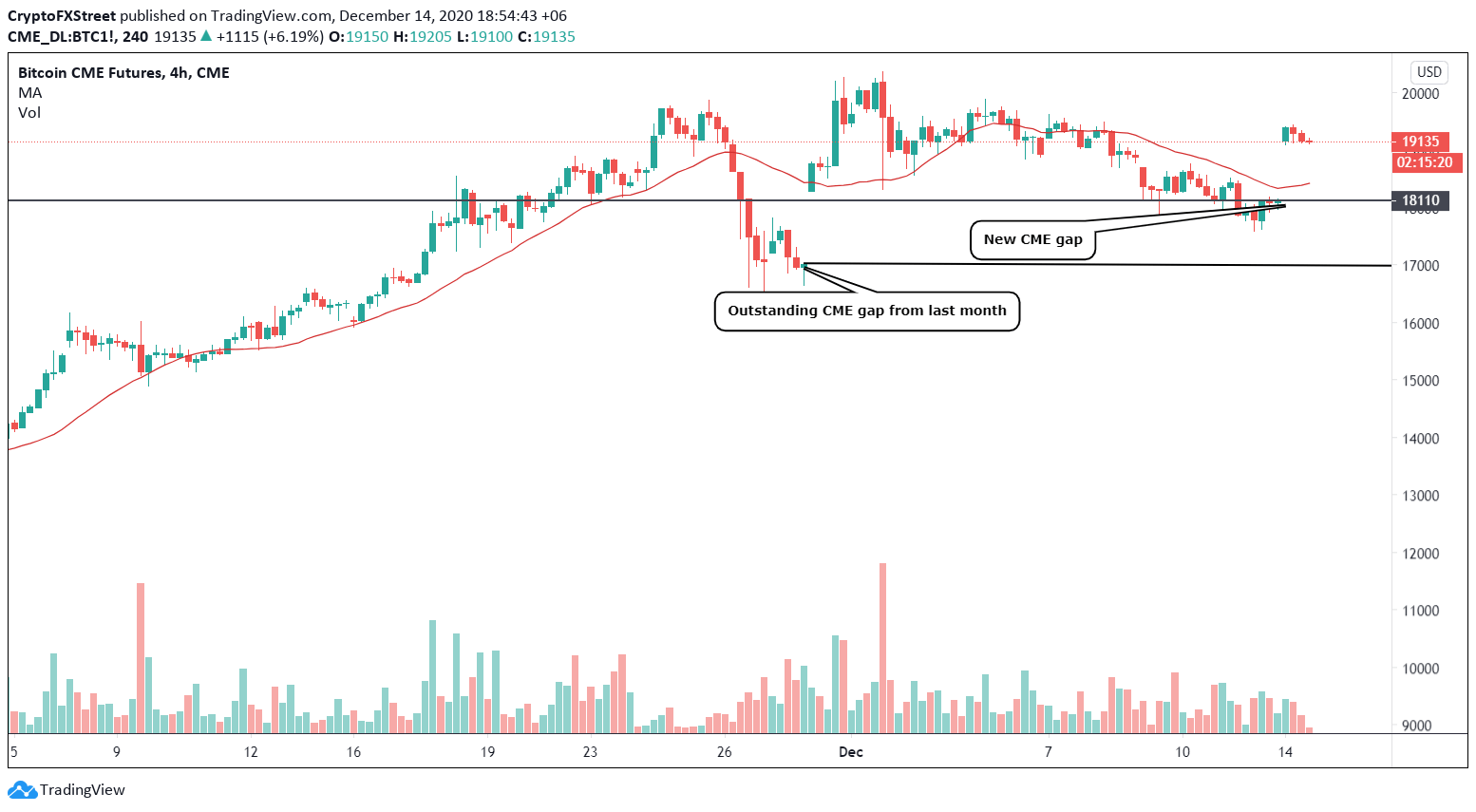 Bitcoin CME Futures
Another factor that could reinforce Bitcoin's bearish thesis in the short term is the setup of a new $1,000 CME gap between $18,100 and $19,100. If buying pressure does not increase, Bitcoin will make a move to refill the gap, as it has happened in the past. The drawback could further extend into filling another outstanding opening on the CME chart created back in November.
Source: www.forexcrunch.com
Author: FX Street
Website
【速報】仮想通貨はリップルが大きく下落する ビットコイン(BTC)・リップル(XRP)・イーサリアム(ETH)
15日の仮想通貨市場はビットコインが微増、リップルとイーサリアムは下落となっている。
特にリップルはサポートラインを割り込んで推移しているため、今後の動きに注意したい。
では、それぞれの通貨を見ていこう。
15日5時現在のビットコインの価格は1,995,614円、前日同時刻比で+0.2%の上昇となっている。
レッドライン(200万円)から下落したビットコインは、このラインを突破できずに苦戦が続いている。
14日2時台から下落が始まると、下落傾向が続いて9時台まで価格を落とした。
9時台からは上昇に転じて10時台にはレッドラインに到達したが、11時台から下落となって突破には至らなかった。
そこから15時台に持ち直したが、16時台からは下落傾向が強まって19時台まで価格を落とした。
その後は20時台から上昇が始まると、15日3時台には199.8万円まで価格を伸ばしているため、ここからレッドラインを突破することに期待したい。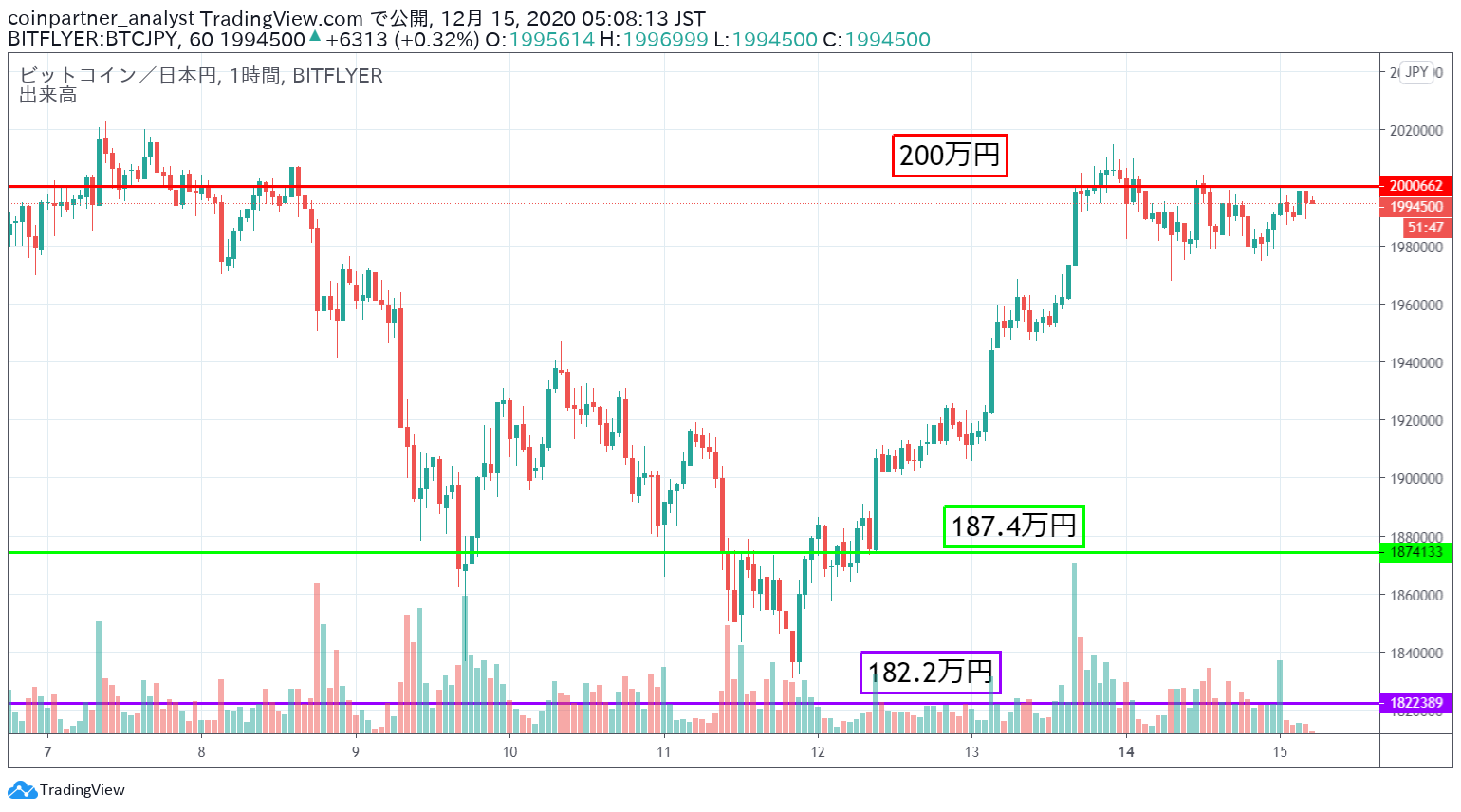 (参考 TradingViewのBTCJPYチャート 1時間足)
この記事を読んだあなたへのおすすめ↓↓↓
仮想通貨・ビットコイン取引所おすすめ比較【2020年12月最新ランキング】
仮想通貨・ビットコインの購入方法・買い方|初心者におすすめの取引所や投資方法を紹介
ビットコインは今後どうなる?2020年の価格予想や将来性を徹底解説
\無料アプリを使って/
仮想通貨のニュースを逃さずチェック
ビットコインのチャート・価格予想はこちらから↓↓↓
ビットコインチャート/AI価格予想【リアルタイム更新】 | CoinPartner(コインパートナー)
15日5時現在のリップルの価格は0.4933ドル(51.15円)、前日同時刻比で-4.8%の下落となっている。
レッドライン(0.500ドル:51.87円)を抜け出す動きを見せて価格を伸ばしたリップルであったが、再び下落傾向となってこのラインを割り込んでいる。
14日2時台から下落が始まると、10時台まで下落が続いた。
11時台には一旦持ち直す動きを見せたが、12時台には下落に転じると、19時台にはレッドラインを割り込むこととなった。
20時台から緩やかに上昇して15日0時台には一時レッドラインを突破したが、その後は再びこのラインを割り込んで推移が続いている。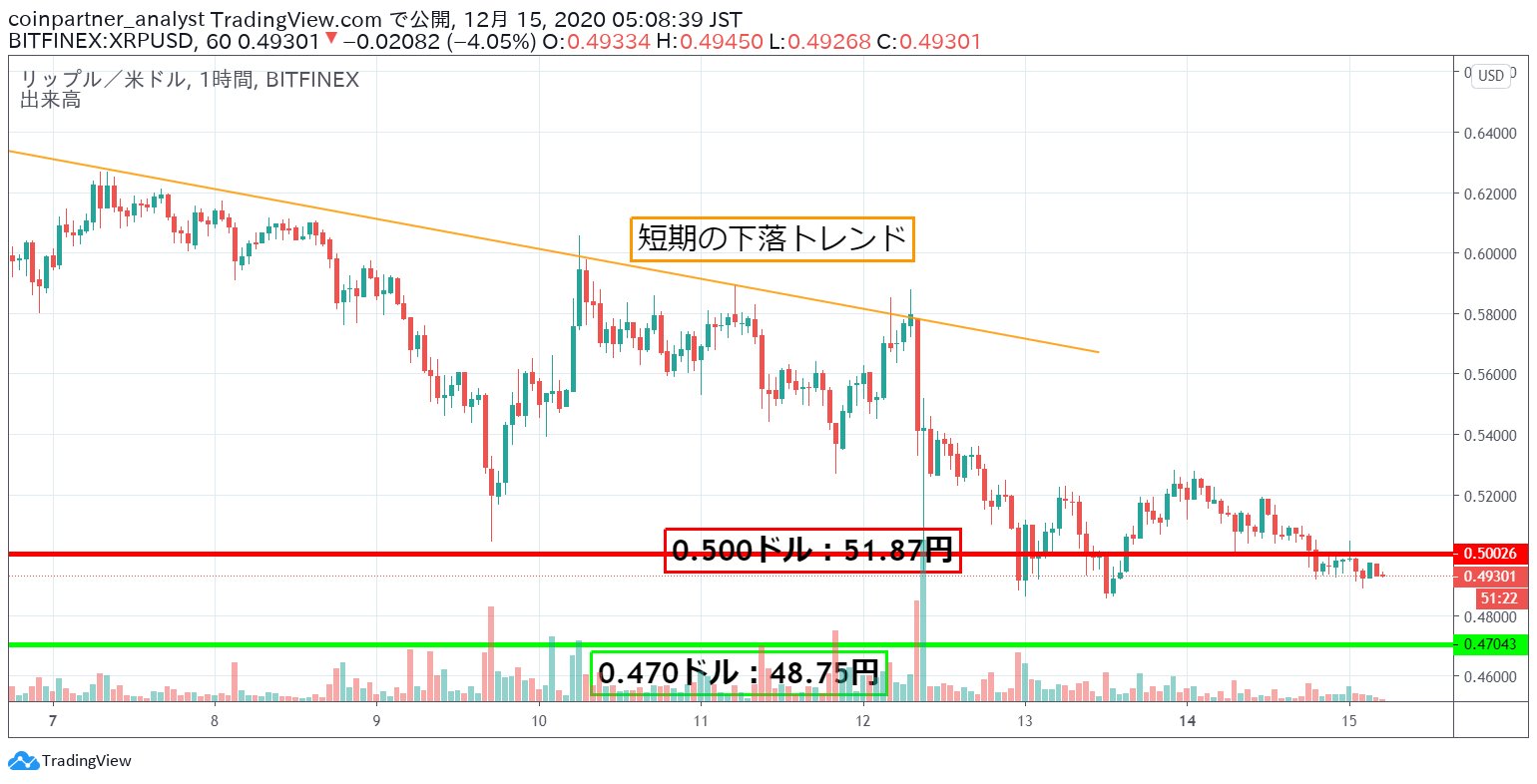 (参考 TradingViewのXRPUSDチャート 1時間足)
この記事を読んだあなたへのおすすめ↓↓↓
仮想通貨・ビットコイン取引所おすすめ比較【2020年12月最新ランキング】
【リップル(XRP)買い方】どこが一番安い?状況別の購入方法3つを紹介
リップル(XRP)の今後と将来性|買い時はいつ?著名人による価格予想も紹介
\無料アプリを使って/
暗号資産(仮想通貨)のニュースを逃さずチェック
リップルのチャート・価格予想はこちらから↓↓↓
リップルチャート/AI価格予想【リアルタイム更新】 | CoinPartner(コインパートナー)
15日5時現在のイーサリアムの価格は585.69ドル(61,223円)、前日同時刻比で-1.1%の下落となっている。
黄緑ライン(574ドル:59,705円)を突破して堅調な推移を見せていたイーサリアムであったが、下落が続いて苦戦している。
14日3時台に594.61ドル(62,156円)から下落が始まると、9時台まで下落傾向が続いた。
10時台と11時台には上昇したものの、12時台から再び下落傾向になると、19時台には579.08ドル(60,532円)まで価格を落とした。
その後は20時台から上昇傾向となっているが、時折下落を見せているため、今後の推移に注意したい。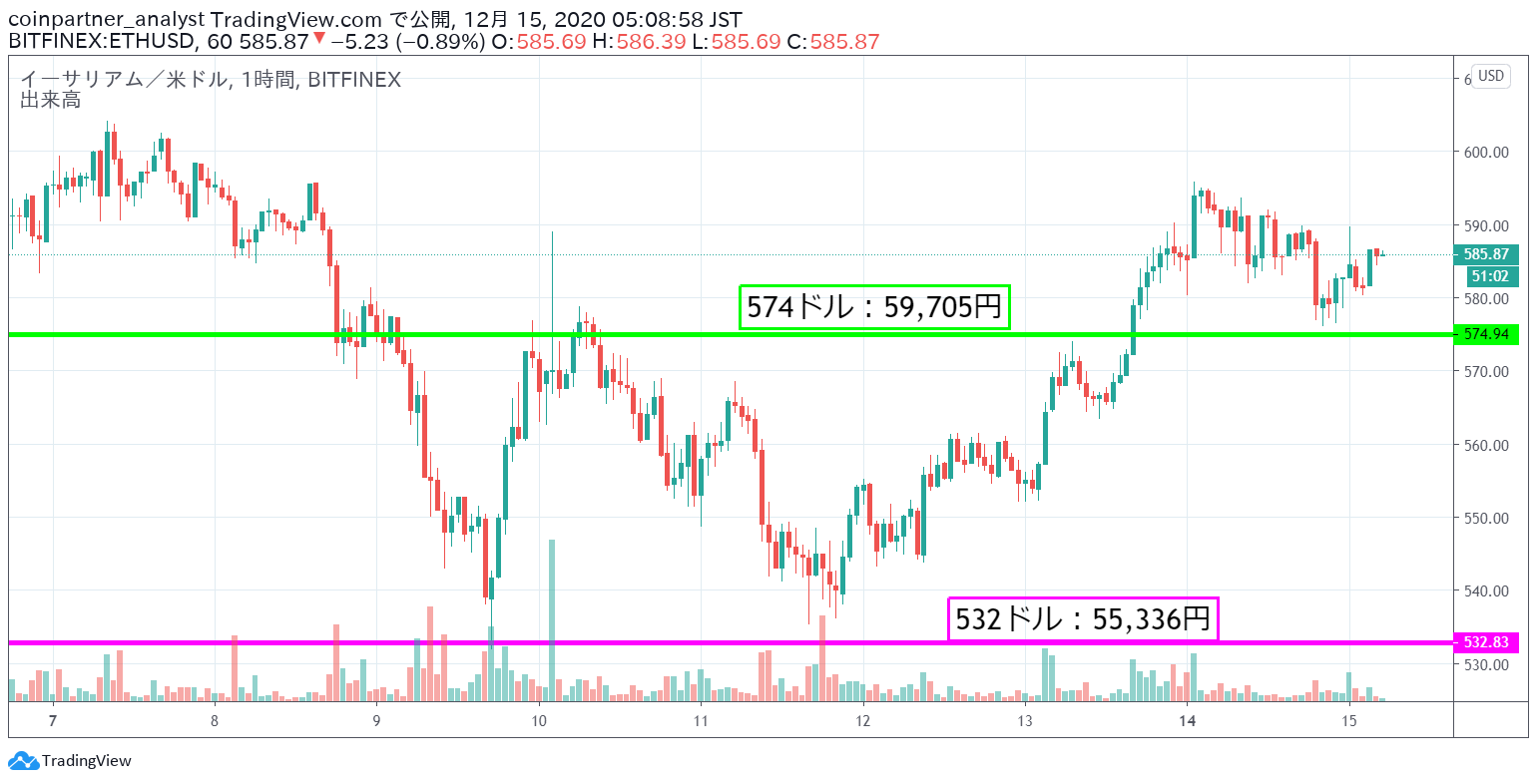 (参考 TradingViewのETHUSDチャート 1時間足)
この記事を読んだあなたへのおすすめ↓↓↓
仮想通貨・ビットコイン取引所おすすめ比較【2020年12月最新ランキング】
イーサリアムの購入方法・買い方|おトクな購入手順を詳しく解説!
イーサリアムの今後はどうなる?2020年の価格予想・将来性・特徴・アップデート
\無料アプリを使って/
価格の変動を素早くチェック!
イーサリアムのチャート・価格予想はこちらから↓↓↓
イーサリアムチャート/AI価格予想【リアルタイム更新】 | CoinPartner(コインパートナー)
Source: coinotaku.com
Author: 投稿日時: 2020/12/15 05:33 著者:
CoinPartner
編集部 atsusi
Previous
Next