Cryptocurrency News Roundup for April 9, 2020
Even though the price is now just barely below the $7,000 mark as of press time, it was the lowest that BTC has dipped since April 6. Some analysts are of the view that Bitcoin is not out of the woods yet and could head lower into its third halving next month before eventually hitting all-time highs sometime around September.
On that note, let's quickly skim through some of the major new developments that have transpired in the cryptocurrency space on Thursday.
So, the 'halving season' for the now-separated Bitcoin family finally kicked off on April 8 with Bitcoin Cash (BCH) undergoing its first-ever post-fork halving. And now, it's the turn of the younger sibling, Bitcoin SV (BSV), also set to undergo its own halving on Friday.
As you may know, both these coins forked off from the original Bitcoin blockchain in 2017 and 2018 respectively. Bitcoin (BTC), will also undergo its own halving — the third so far — on May 13, 2020 (tentatively).
Things are not looking all that bright for BCH with grim on-chain metrics and little-to-no hope for any major price movement. The BSV chart, on the other hand, looks slightly more bullish.
Read the Full Analysis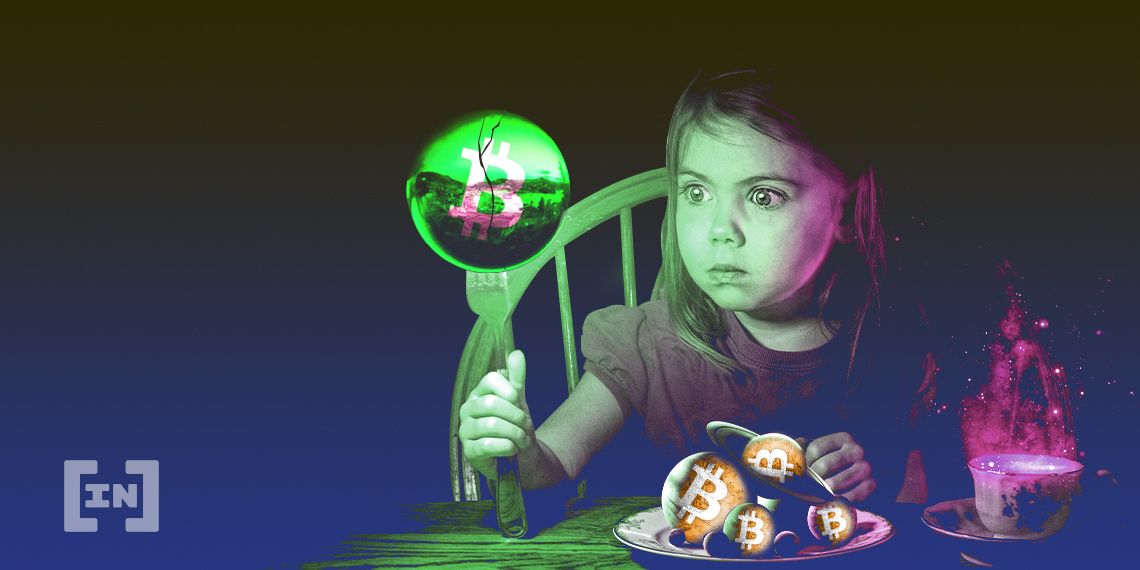 The Bitcoin network difficulty, a mechanism often cited as one of the many masterstrokes by Satoshi Nakamoto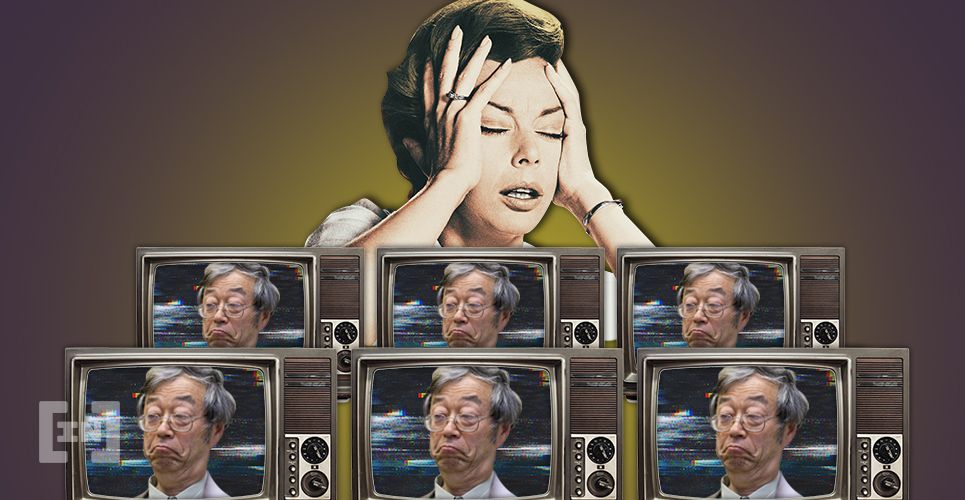 We don't know much about the founder (or founders) of Bitcoin — Satoshi Nakamoto — as he pretty much disappeared… More, is rising again in the wake of increasing competition among miners. In fact, the difficulty is again at the level it was when the price was above $8,000. Does that signal an imminent increase in price?
Whale Alert (@whale_alert) has reported another massive BTC transfer. Turns out 49,342 BTC was recently moved for a fee of just $0.50. While such low fees are rightly hailed as one of the perks of the Bitcoin ecosystem, the transaction itself is raising some eyebrows given that identical amounts have been circulating around various wallets recently.
It looks like somebody is shuffling huge stashes of Bitcoin around multiple wallets. Although, nobody really knows for what reason.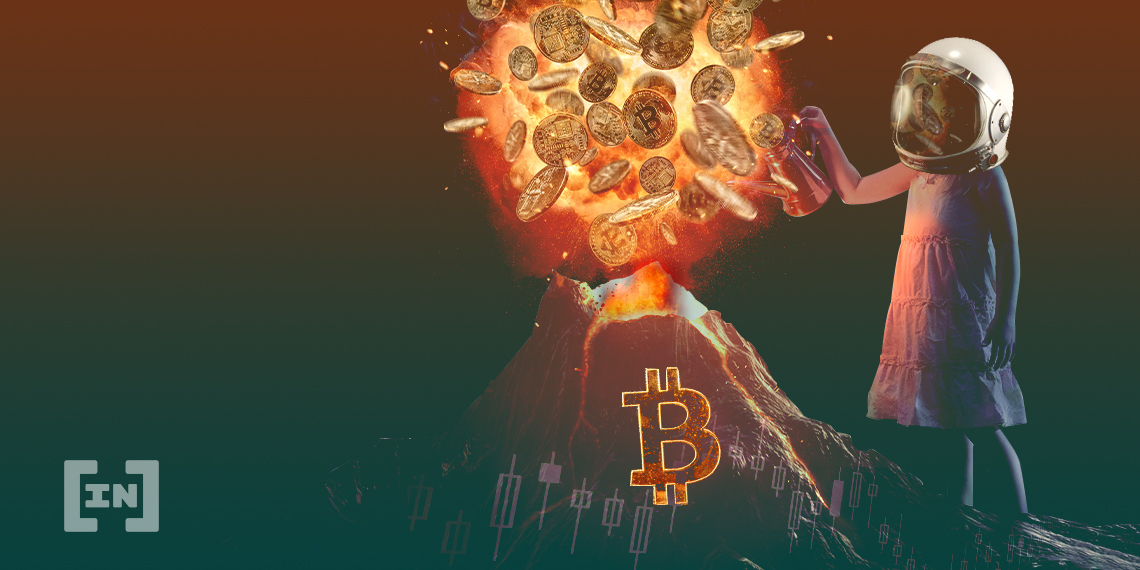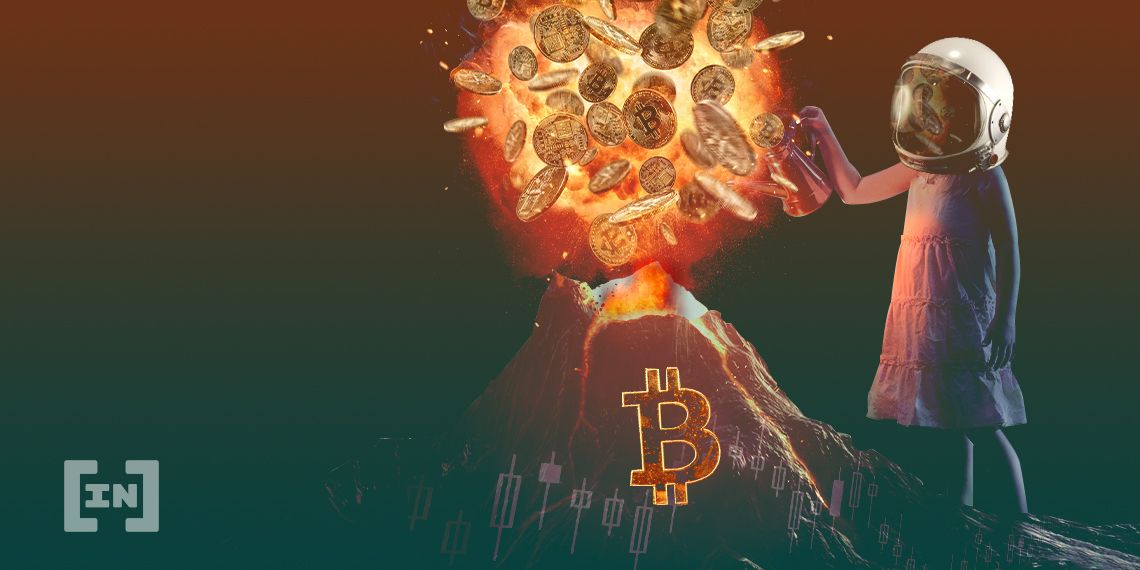 Former UFC fighter and Olympic wrestler, Ben Askren (a.k.a. Funky) has been a self-proclaimed Bitcoin fan for a while now. However, he has now taken his commitment to the asset class to a whole new level by changing his name on Twitter to prove it.
BeInCrypto recently had the opportunity to engage Josh Goodbody, Director for Growth and Institutional Business at Binance, in a one-on-one conversation. We discussed various issues concerning Binance, Bitcoin, and of course, the current state of the global cryptocurrency market.
Among other things, Goodbody also explained why he is on the same page with the growing perception that Bitcoin is increasingly behaving like a safe-haven asset.
Read the Full Interview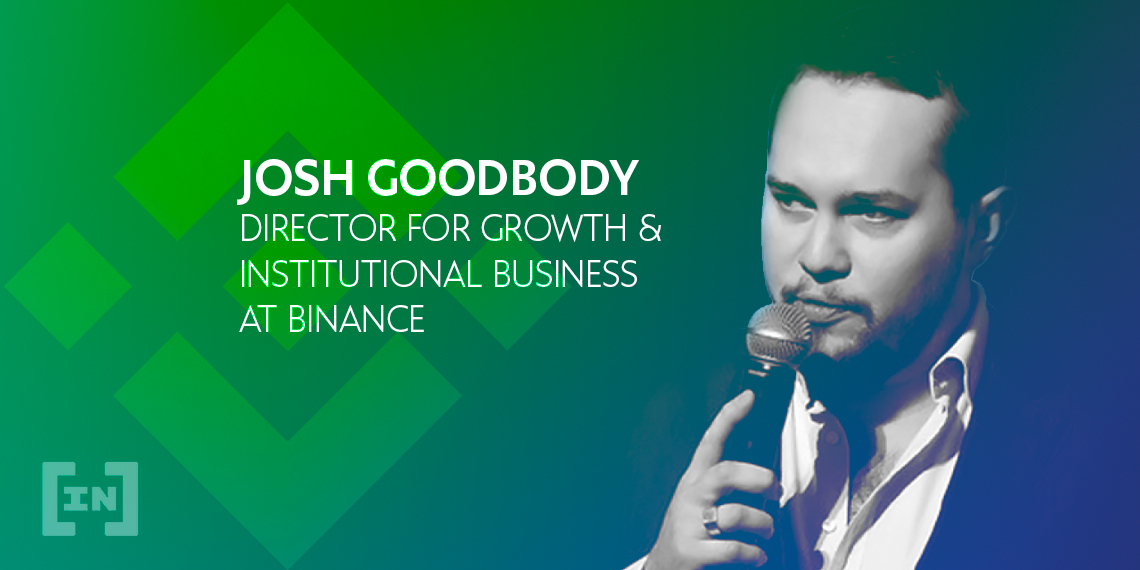 The BTC price is trading inside a short-term symmetrical triangle and a longer-term ascending wedge. A breakout from the triangle would likely take the price to the resistance line of the ascending wedge.
The Bitcoin price is facing strong resistance from its 50-day moving average.
The price is trading inside a short-term symmetrical triangle and a longer-term ascending wedge.
A breakout from the triangle would likely take the price to the resistance line of the ascending wedge.
Read the Full Analysis
Source: beincrypto.com
Author: Illustrations by A. Gnetova and G. Phan
Charities are turning to Bitcoin in the global fight against the corona virus
In the war against new corona viruses, cryptocurrencies are becoming an urgently needed tool for charity and donation projects. There are already many large nonprofits that accept Bitcoin donations. In addition, some blockchain and cryptocurrency companies provide medical care to hospitals to contain the virus, while others have set up fundraisers and charities to help their victims.
As many nonprofits continue to accept donations from cryptocurrencies, they found that cryptocurrency transactions have significantly reduced the cost of fees. Here are some charities and fundraisers that accept donations from cryptocurrencies.
Red Cross
Coronavirus infection rates in Italy are very high. As a result, the Italian Red Cross began accepting Bitcoin [BTC] and other cryptocurrency donations on March 12 to use the proceeds of the campaign to establish secondary senior medical positions. The medical station is used for pre-classification of coronavirus patients.
The project was a great success and raised a donation goal of $ 10,710 on the third day of the event. Since then, the nonprofit has raised more money by donating Bitcoin and other cryptocurrencies, with a goal of $ 26,000. The second round of funding will be used to purchase emergency equipment. So far, the organization has achieved around 85% of its goals.
Water project
In addition to social alienation, health professionals often demand hand washing. There is no doubt that hand washing is one of the most important ways to resist the spread of the coronavirus. Charities like the "Water Project" have worked hard to install and maintain water points in poor areas of Africa.
They also taught the community how to wash their hands, how to free the water source from bacteria and other pathogens, and how to start and maintain other good health habits. As the corona virus spreads to various countries in Africa, non-profit organizations such as the "Water Project" are essential to combat the virus.
The organization started the WaSH donation project for the first time. WaSH is the abbreviation for water and sanitation. The aim is to collect donations for clean water and sanitation. In addition to the usual donation methods, the water project also accepts donations of cryptocurrencies in Bitcoin, Bitcoin Cash [BCH], Ethereum [ETH] and Litecoin [LTC].
Binance Charity Foundation
Binance, one of the largest cryptocurrency exchanges, recently launched the Cryptocurrency Again COVID program through the Binance Charity Foundation, a non-profit organization founded within the monetary community Set up a united front to fight the pandemic. So far, the foundation has raised $ 1 million, and the overall goal is to raise $ 4 million before the event ends.
Binance Charity not only accepts donations from cryptocurrencies, but also records all transactions in the blockchain to increase transparency. All cryptocurrency donations are then converted to fiat currencies and displayed on the organization's website. Binance's exchange department also promised to provide $ 1.4 million to fight the virus.
Back wall charity
Houbi, a major cryptocurrency exchange based in Singapore, also announced the creation of a nonprofit that has committed to donating up to $ 1.4 million. The company said in a tweet that the money will be used to "buy protective equipment and donate it to frontline medical personnel".
According to a tweet from the Hubei Charity Federation, the first round of fundraisers has been completed and medical protective equipment has been delivered to the hospital.
Chris Pital Group
In the early days of the coronavirus pandemic, Wuhan, China was the most affected area. The large number of people infected with the virus in the region have overloaded the province's medical resources, leading to a lack of protective equipment for medical personnel.
As a result, blockchain marketing company Krypital established a non-profit foundation to provide medical care for coronavirus victims. The company's nonprofit activities are based on the blockchain donation system, which improves efficiency and transparency. In an interview, Marry Wu, CEO and co-founder of Krypital, when asked about the company's motivation to start a charity, said the move was aimed at protecting health care workers.
Save the child
Although communities around the world are encouraged to wash their hands, have a strong health system, and maintain social isolation, refugee communities crowded in camps cannot enjoy this luxury. In areas such as the Rohingya refugee camps in Bangladesh, children are the most vulnerable group.
Save the Children is one of the nonprofits that takes the lead in protecting children from coronavirus infections. The organization operates in more than 100 countries / regions and is committed to the safe and healthy growth of children.
Working with The Giving Block, Save the Children can receive donations from Bitcoin and other cryptocurrencies while continuing to work on creating future goals for children.
The path to global unity
In order to make it easier for donors to support important things for them, United Road Global started accepting Bitcoin in 2014. This is accomplished through collaboration with Coinbase, one of the largest platforms for cryptocurrency exchanges.
United Way Worldwide is a nonprofit organization dedicated to solving the most critical issues in the global community. During the global coronavirus pandemic, the charity was part of a lobby group campaigning for a law to alleviate the suffering of coronavirus victims. Now, the U.S. Congress has signed a bill that outlines some key successes of nonprofits in fighting epidemic spread.
Give block
Because the US Internal Revenue Service treats cryptocurrencies as property, people who donate cryptocurrencies to charitable foundations in the country can enjoy tremendous tax benefits. In this sense, the "donation block" has become a solution that can help nonprofits accept donations from Bitcoin and other cryptocurrencies, thereby benefiting both donors and organizations.
In addition to helping nonprofit organizations accept cryptocurrency donations, Giving Block also started its own activity called # cryptoCOVID19. By working with Gitcoin, an open source work platform for cryptocurrency enthusiasts, Giving Block is committed to bringing key cryptocurrency players together and fighting the coronavirus pandemic. One of the goals of the event is to raise $ 100,000 in cryptocurrency donations.
No kids hungry
No Kid Hungry is a movement organized by the non-profit organization "Share Our Power". As the name suggests, this nonprofit is aimed at eradicating child hunger and poverty in the United States. In response to the coronavirus pandemic, the organization has started accepting legal and cryptocurrency donations. Because children cannot go to school and cannot benefit from the school meals they depend on, the Childless Hunger Foundation uses donations to provide 1.7 million healthy meals to children in need.
Charity activities by Waves
On April 3, Waves cryptocurrency exchange launched a controversial campaign to relieve coronavirus victims by betting on a pool speculating on the number of confirmed coronavirus cases.
Via the betting platform, users can buy tokens on exchanges that are specifically intended for speculation. For example, if the user believes that the number of coronavirus cases is increasing, he buys a "COVID-UP" token.
In addition to winning, users also have the option to share earnings with nonprofits. According to the platform, all proceeds from this event will be used to fund nonprofit projects.
Site preparation
Site Prepare manufactures safety equipment by disseminating the skills and knowledge to provide people with the most important survival tools in a crisis, including the provision of appropriate medical tools to help people stay healthy during the coronavirus crisis.
In the current global pandemic, this charity will soon accept donations of cryptocurrencies, and these donations will be used to spread knowledge about possible solutions to prevent the virus from spreading. Examples of open source products to be designed by the organization include unique protective equipment, masks, repairs of locally made medical devices and oxygen dispensers.
Cryptocurrency donations help fund nonprofit projects
As the cryptocurrency and blockchain industry continues to grow, there will be more innovators, creators, and millionaires. This means that registered nonprofits that accept donations of cryptocurrencies have a competitive advantage in the market.
In addition to cryptocurrency donations that open up new project finance opportunities, they also reduce the costs that nonprofits can incur during the transaction process. This makes it easier for non-profit organizations to transfer funds and fund projects, especially in remote areas without financial infrastructure. In the long run, nonprofits can free up more funds for more projects. When the whole world is in crisis, there is an urgent need for a solution such as that provided by donating cryptocurrencies.
Information source: COINTELEGRAPH, compiled from 0x information, original text: https://cointelegraph.com/news/charities-are-turning-to-bitcoin-amid-the-global-fight-against-coronavirus. The copyright lies with the author and may not be reproduced without permission
Click here to read on
Source: de.0xzx.com
Bitcoin News, Recent Updates, Price and Analysis – Bitcoinist
News teaser
BitMEX founder Arthur Hayes put out a thought-provoking piece on the company blog today. He talks about the effect of the COVID-19 crisis on the global economy and states that nothing…
Christina Comben | 44 mins ago
News
Reports have emerged that participants in a Korean-based sexual exploitation ring used Monero for criminal acts. As a result, Bithumb is considering delisting the cryptocurrency. Huobi…
Trevor Smith | 2 hours ago
Altcoin News
Just in case you wanted to catch a glimpse of Bitcoin SV's roadmap, you'll need to be part of the inner circle first. Head over to the page where it resides and…
Christina Comben | 2 hours ago
Bitcoin Cash
According to a site called Crypto 51, the cost for staging a 51% attack on PoW coins is a lot lower than you think. In fact, right now, the cost per hour for wiping out Bitcoin Cash is…
Christina Comben | 4 hours ago
Bitcoin
Bitcoin has tumbled below $7,000 on Friday, which has surprised many investors. If the current support level at $6,900 doesn't hold, the chances are that the bearish mood will…
Anatol Antonovici | 5 hours ago
News
Binance reacted to recent allegations that it had embezzled hundreds of thousands of US dollars in cryptocurrency from a user, referring to recent reports covering the situation as…
Anatol Antonovici | 23 hours ago
News
The French Financial Markets Authority (AMF) has provided its position on crypto-assets and regulation in a response to the European Commission's consultation. While the country…
Christina Comben | 1 day ago
Bitcoin Regulation
The Texas State Securities Board has issued a cease and desist order against what it alleges is a fraudulent bitcoin mining company. The state regulator asserts that Ultra BTC Mining…
Trevor Smith | 1 day ago
Altcoins
The BCH halving hasn't gone well for Bitcoin Cash so far. Massive miner capitulation has seen it give up hash power to BTC. Adamant Capital Founder Tuur Demeester says it's…
Christina Comben | 1 day ago
News
Cryptocurrency is successfully used as means of payment more often than generally believed. A study carried out by Visual Objects found out that crypto owners use Bitcoin and other…
Anatol Antonovici | 1 day ago
News
We've seen YouTube clamp down on crypto channels before. Some have fallen victim to an algorithm update and been reinstated, others permanently purged as fake accounts and…
Christina Comben | 1 day ago
Bitcoin Price
More data is flowing in suggesting that May's block reward halving will initiate notable gains in Bitcoin's value. This latest analysis suggests that the flagship cryptocurrency…
Trevor Smith | 2 days ago

Forex
For updates and exclusive offers enter your email below.
I consent to my submitted data being collected and stored
Submit an article
Sponsored
Economic data released last week was worrying, to say the least. Midweek figures revealing a drop in exports from big Asian economies, such as Japan and South Korea, hit equity markets…
Bitcoinist | 2 days ago
Sponsored
Northern Data AG is one of the leading players in the high-performance computing (HPC) market and is building the world's largest HPC facility in Texas. Based on contracts already…
Bitcoinist | 1 week ago
Sponsored
German investment bank Hauck & Aufhaeuser, one of the largest German mid-market investment banks, has initiated research coverage for stock-market-listed data center operator…
Bitcoinist | 1 week ago
Sensorium's Senso Token Gets Listed on HitBTC… 4 days ago
BitWin24 takes the first step in reinventing blockchain… 1 week ago
CZ Joins Virtual Conference BlockDown 2020 as All-Star… 1 week ago
Remitano: the First Crypto Exchange to Offer Refund on Slow… 3 weeks ago
Sensorium (SENSO) Gets Listed on KuCoin to Drive Global… 3 weeks ago

Submit
Source: bitcoinist.com
Author: Christina Comben
Crypto Today: Bitcoin bulls sitting just below breakthrough level of $7500
BTC/USD is currently trading at $7280 (-0.15%), price action is comfortably consolidating above the $7000 price mark, next barrier eyed at $7500.
ETH/USD is currently trading at $170 (-0.45%), resistance remains strong at the $170 mark.
XRP/USD is currently trading at $0.19 (-0.20%), the bulls struggled to break and close above $0.2000.
Among the 100 most important cryptocurrencies, the best of the day are BTG $9.88 (+16.80%), LINK $3.25 (+13.35%) SEELE $0.074959 (+13.15%) The day's losers are CVT $0.034228 (-11.92%), SXP $0.682112 (-4.55%), SNX $0.737875 (-4.70%).
Bitcoin Cash has experienced a halving event earlier on Thursday. The network reduced the rewards from 12.5 BCH to 6.25 BCH, something that could have a negative impact on the entire BCH blockchain. As rewards fell after reaching block height 630,000, miners took almost two hours before they mined another block. This shows that many of the miners could have left the network due to the reduced rewards.
The Cardano Foundation announced a partnership with the South African National Blockchain Alliance (SANBA). The partnership endeavors to explore further ways to strengthen technology's adoption throughout South Africa. Cardano will use blockchain technology to boost socio-economic growth in South Africa. The Foundation believes such a partnership will help them to achieve their goal of increasing blockchain adoption across the region.
ANSA, the leading news agency in Italy, wants to explore something new entirely. Their goal is to use a news tracking system based on the blockchain to ensure sources are reliable. This new solution, dubbed ANSAcheck, is built with the help of EY Advisory S.p.A. By leveraging the blockchain, readers can check the sources of news appearing on ANSA platforms.
Binance has fired back at claims that it 'embezzled' hundreds of thousands of dollars in funds that were frozen from a user's account in November 2018. In a statement the exchange said the funds were frozen at the request of South Korean law enforcement agencies because the account holder had allegedly received 3,995 Ethereum (ETH) through a listing fee scam. Binance provided screenshots of correspondence with the Korean authorities to back up its claims.
South Korea's largest public blockchain project, ICON (ICX), announced its new Loop Fault Tolerance 2.0 (LFT 2.0) consensus algorithm. The new algorithm claims to make performance improvements in scalability and network bandwidth over the popular Practical Byzantine Fault Tolerance (PBFT) consensus types, without compromising security.
Bitcoin permabulls are always shilling because they actually have defensible fundamental arguments for why holding some #bitcoin is reasonable.
The permabears, on the other hand, only come out when the bitcoin price is crashing, because their arguments are just emotional drivel.
@pierre_rochard
Source: www.fxstreet.com
Bitcoin's Upcoming Halving and What It Means
Bitcoin's halving is happening in the next 33 days
The halving increases Bitcoin's scarcity and stock-to-flow ratio which has the potential to increase demand
The halving could send Bitcoin's price higher over the next year if it follows the same trend as previous halvings
We are fast approaching a Bitcoin reward halving set to take place in 33 days on May 13th. Before we can explain what the Bitcoin Halving is we must first explain a bit about how the Bitcoin network operates. This system can seem daunting at first but is relatively simple.
Bitcoin and its blockchain are basically a collective of computers, or nodes, around the world that all have Bitcoin's code downloaded on them. Each of these computers has all of Bitcoin's blockchain stored on them. This means that each node has the entire history of Bitcoin transactions, making sure no one can cheat the system as every node would see this and not allow it. While anyone can participate in Bitcoin's network as a node, as long as they have enough storage to download the entire blockchain and its history of transactions, not all of them are miners. The more computers added to the blockchain increase its stability and power. There are currently over 10,000 nodes, or computers, running the Bitcoin code.
Bitcoin mining is the process where people use their computers to participate in Bitcoin's blockchain network as a transaction processor. Faster computers with certain types of hardware yield larger rewards and some companies have designed chips specifically built for mining. These computers are tasked with processing Bitcoin transactions and they are rewarded for doing so.
The term mining is not used in a literal sense but used in a reference to the way precious metals are gathered. Bitcoin miners solve mathematical problems and confirm transactions legitimacy and then add the transactions to the block and form chains of these blocks of transactions. Transactions of greater monetary value require more confirmations to ensure security. For doing all of this work they are rewarded Bitcoin. The name of mining has been given because the work done to get new Bitcoin out of the code is akin to the physical work done to pull gold out of the earth.
About every four years the reward given to Bitcoin miners for processing a transaction is cut in half. This cuts in half the rate at which new Bitcoin is released into circulation. This is Bitcoin's way of using a, sort of, synthetic form of inflation that slowly dissipates until all Bitcoin is released and is in circulation. At that point, miners will be rewarded with fees for processing transactions that network users will pay. These fees ensure that miners still have the incentive to mine and keep the network going. The idea is that competition for these fees will cause them to remain low after halvings are finished.
The halving is significant because it marks another step in Bitcoin's dwindling supply. There are only 21,000,000 Bitcoins in existence. At the time of writing, there are 18,301,475 Bitcoins in circulation, leaving just 2,697,213 left to be released. You will, of course, be able to obtain and purchase Bitcoin regardless, but Bitcoins low supply at 21 million has the potential to create demand and drive prices higher.
In 2009 the reward for each block in the chain mined was 50 Bitcoins. After the first halving it was 25, then 12.5, and now it will be 6.25 Bitcoins per block. To put this in another context, imagine if the amount of gold mined out of the earth was cut in half every four years.
Bitcoin's reward halvings ensure that new Bitcoin will continue to be released until around 2140. It also means that the remaining Bitcoin given out as rewards will decrease. This drops the available supply and can cause some implications for investors as other assets with low supply, like gold, can have high demand and push prices higher.
In the past, these Bitcoin halvings have correlated with massive surges in Bitcoin's price. The first halving, which occurred in November of 2012, saw an increase of nearly $1,000. The price of Bitcoin started November at around $12 and then peaked at around $950 a year later on November 25th, 2013.
The second Bitcoin halving occurred in July of 2016. The price at that halving was about $650. By December 16th, 2017 Bitcoin's price had soared to nearly $20,000. The price then fell over the course of a year from this peak down to around $3,200, a price still higher than its pre-halving price.
Of course, there have only been two halvings so far in Bitcoin's history, and one could argue that it is not enough evidence to allege that Bitcoin's price will increase following the event. That said, this is something that is on a good deal of people's radar.
Over the course of the last year, Google has seen a significant increase in the number of searches for Bitcoin halving. The topic has also been very actively referenced and debated on Twitter among the crypto community. Between April 3rd and April 9th, the hashtag #Bitcoinhalving was used well over 1600 times.
Based on the past two halvings we can speculate that Bitcoin could go up, but why should it go up? Other assets that are typically very scarce, like gold and silver, can give us a window into why Bitcoin's halving could push its price higher. As Bitcoin's inflation decreases every four years, it moves closer and closer to the scarcity of assets like gold.
Assets with little supply tend to have larger prices. The same can be said for Bitcoin, but Bitcoin has one crucial difference. While precious metals like gold and silver have limited supply, they do not have a pre-set cap on their quantity. We can assume there is only so much gold on the planet but its true quantity is unknown.
Bitcoin is completely capped at 21,000,000 coins making its supply extremely limited. The current inflation rate of Bitcoin, created by its mining reward mechanism, is higher than golds, making it less scarce than gold right now. As these halvings continue to happen this inflation rate will drop past that of gold until it is zero.
Bitcoin's inflation rate right now is at 3.65%. After the halving, this will be cut in half to 1.8%. Currently, there are about 190,040 metric tonnes of gold in existence and the average annual production of gold over the last 15 years is 2,778. This gives gold an inflation rate of nearly 1.6%. While gold does have a lower rate of inflation right now, this will not be the case for too much longer.
Related to scarcity, is an assets stock-to-flow ratio. Stock-to-flow ratio is the amount of a commodity already out in circulation divided by the amount of the commodity produced annually. Annual production In the case of gold refers to the amount mined from the earth and in the case of Bitcoin it refers to the amount released as rewards to the "miners" who process the transactions.
Stock-to-flow ratios can indicate a level of scarcity an asset has. If this number continues to grow it shows the asset becoming more rare and scarce. Each Bitcoin halving lowers Bitcoin's rate of inflation and increases its stock-to-flow ratio. Bitcoin's stock-to-flow ratio is set to fly past that of golds as halvings continue.
There is a massive amount of unhealthy speculation and volatility with Bitcoin and the cryptocurrency community as a whole. Some will hear about new internet money and simply buy or entirely denounce it with little understanding and research, but Bitcoin's basic characteristics are where the value lies.
The theory of the halving and the chain reaction that it sets off is quite interesting. You have the reward halving → smaller mining reward → less inflation → lower supply → higher demand → higher price → miners incentive still remains regardless of smaller rewards as the value of Bitcoin is increased in the process.
This theory has proven to work in the two previous halvings and if we assume that this success continues then we could be seeing a rise in Bitcoin's price in the following year. Aside from scarcity driven price moves, these halvings always seem to be surrounded by extreme amounts of hype and speculation, which in itself can cause huge price movements, both up and down. If history were to repeat after this upcoming halving then the market reaction would be a steady increase in price in the following year.
Many have speculated that Bitcoin and some other cryptocurrencies were becoming safe-haven assets as they were showing some similar correlations to them. During the coronavirus sell-off and liquidity crisis, many assets that were considered safe-haven assets were being sold. Since the lows that cryptocurrencies have hit there has been a sharp rebound. Many were showing negative returns year-to-date just weeks ago. Some, like Ethereum, are now up over 30%.
The entire cryptocurrency market has shown a tendency to follow in the direction that Bitcoin does. With Bitcoin's upcoming halving, the market's reaction will be interesting to follow.
Bitcoin (BTC) YTD: 1.43%
Bitcoin Cash (BCH) YTD: 27.17%
Ripple (XRP) YTD: 3.57%
Ethereum (ETH) YTD: 30.75%
S&P 500 YTD: -13.26%
Investing in cryptocurrencies and Initial Coin Offerings ("ICOs") can be highly risky and speculative, and this article is not a recommendation by Investopedia or the writer to invest in cryptocurrencies or ICOs. Since each individual's situation is unique, a qualified professional should always be consulted before making any financial decisions. Investopedia makes no representations or warranties as to the accuracy or timeliness of the information contained herein.
Source: www.investopedia.com
Author: By
Luke Conway
Previous
Next