Crypto Whale Says Only One Thing Will Prove Bitcoin (BTC) Is Ready for Next Bull Run
One of most public and profitable crypto whales around says he's waiting for a single Bitcoin signal to prove the leading cryptocurrency is ready to begin a new long-term bull run.
The pseudonymous trader, Joe007, earned $20 million in realized profits on Bitfinex between February and March. At this point, he says high volatility in traditional markets is likely to continue – a scenario that could push BTC lower in the short term.
With extreme uncertainty in both traditional and crypto markets, Joe says he's watching to see the return of the "Bitcoin is dead" meme.
Once the chorus of capitulators and naysayers declaring the end of BTC reaches a crescendo, he says Bitcoin will finally be free of shaky speculators and poised for a sustainable rally.
Once it's the dominant narrative you know it's time to buy for real.
— ᴹᵁᴴJoe⁰⁰⁷ 🐳 (@J0E007) April 12, 2020
Meanwhile, Joe continues to warn fellow traders against placing too much faith in the popular stock-to-flow ratio.
Some analysts say the indicator, which models Bitcoin's circulating supply divided by the number of new coins entering the market, suggests that BTC is set to begin its next massive rally after the halving in May.
Joe says traders need to do their own research.
"Selling S2F as having absolute predictive power is not only 'waste of time', it's dangerous for tens (hundreds?) of thousands of retail crypto trader who don't understand statistics and substitute DYOR by varied guru dictums…
My beef is with a cult around S2F, with thousands of muppets chanting in chorus 'S2F is highly scientific!' as if it's end-all-be-all."
Bitcoin is down 4.06% at $6,784 at time of publishing, according to CoinMarketCap.
Source: dailyhodl.com
Top 3 Price Prediction Bitcoin, Ethereum and Ripple: Is Bitcoin Halving The Cryptos Saving Grace?
Bitcoin price holds above $6,800 but battling resistance at $6,9000 in a bid to regain control after the recent dip to $6,575.
Ethereum price lags breakout as seller congestion at $160 intensifies.
The cryptocurrency market is slightly in the green after the buyers managed to defend against a possible massacre over the Easter weekend. Following the bloodbath on March 12, the crypto market has focused on correcting upwards in a bid to return to levels seen in February. There has been a substantial improvement in the market cap from lows under $150 billion in March to the current at $197 billion.
At the time of writing, Bitcoin is trading at $6,887. The recovery from a recent low at $6,575 lost steam short of $6,900. BTC/USD bulls are now working tooth and nail to contain losses above $6,800 support. Moreover, the 50-SMA in the 4-hour range is positioned to offer initial support. Bitcoin is trading is also trading within an ascending channel. If this channel support gives in to the selling pressure, Bitcoin price could plunge to test the support at $6,000.
On the upside, the 100 SMA will hinder movement at $7,063. A post-halving rally could eventually pull Bitcoin above $8,000 but growth past $9,000 is unlikely with the COVID-19 pandemic ongoing.
Ethereum is trading at $157 after bouncing off support between $150 – $152. Seller congestion at $160 is delaying a possible breakout targeting $170 and $ 180 resistance levels. Marginally above $160 the price will have to clear the 100-SMA resistance in the 4-hour range. The RSI shows that the trend is in favor of the bulls and more bullish action is anticipated in the near term.
On the other hand, XRP facing a drab action and possible consolidation between $0.18 support and the immediate resistance at $0.19. The recent fall from high above $0.20 embraced support at a rising channel added by the 50 SMA in the 4-hour range. XRP/USD is trading at $0.1882 while fighting to overcome the resistance at the 100 SMA. Technical indicators such as the RSI are in support of the bulls but missing is a catalyst to sustain gains above $0.20.
Summary
Article Name
Top 3 Price Prediction Bitcoin, Ethereum and Ripple: Is Bitcoin Halving The Cryptos Saving Grace?
Description
Author
Publisher Name
Publisher Logo
John is a talented writer with over two years of experience actively contributing to the cryptocurrency industry by providing credible, interesting and easy to read the content. His main focus is on cryptocurrency price analysis and industry news coverage. Lets follow him on Twitter at @jjisige
Source: coingape.com
Bitcoin Lacks Momentum Above 100 SMA: Here's Why Bears Are Comfortable
Bitcoin is currently correcting higher from the $6,559 swing low against the US Dollar. BTC price is now testing the 100 hourly SMA and it is likely to struggle near $6,960-$7,000.
Bitcoin is slowly recovering higher after trading as low as $6,559 against the US Dollar.
The bulls were able to push the price above the $6,750 and $6,800 level.
There is a major bearish trend line forming with resistance near $7,100 on the hourly chart of the BTC/USD pair (data feed from Kraken).
The pair is likely to struggle near the 100 hourly simple moving average and $6,960.
Yesterday, we saw a sharp decline in bitcoin price below the $6,800 level against the US Dollar. BTC price even traded below the $6,700 level and formed a new monthly low at $6,559.
It is currently correcting higher and trading above the $6,800 level. There was a break above the 23.6% Fib retracement level of the key drop from the $7,220 swing high to $6,559 low.
Bitcoin is now trading near a major resistance at $6,900 and the 100 hourly simple moving average. The 50% Fib retracement level of the key drop from the $7,220 swing high to $6,559 low is also acting as a strong resistance near the $6,888 level.
If the bulls manage to surpass the 100 hourly SMA, the price is likely to face hurdles near the $6,950 and $7,000 levels. There is also a major bearish trend line forming with resistance near $7,100 on the hourly chart of the BTC/USD pair.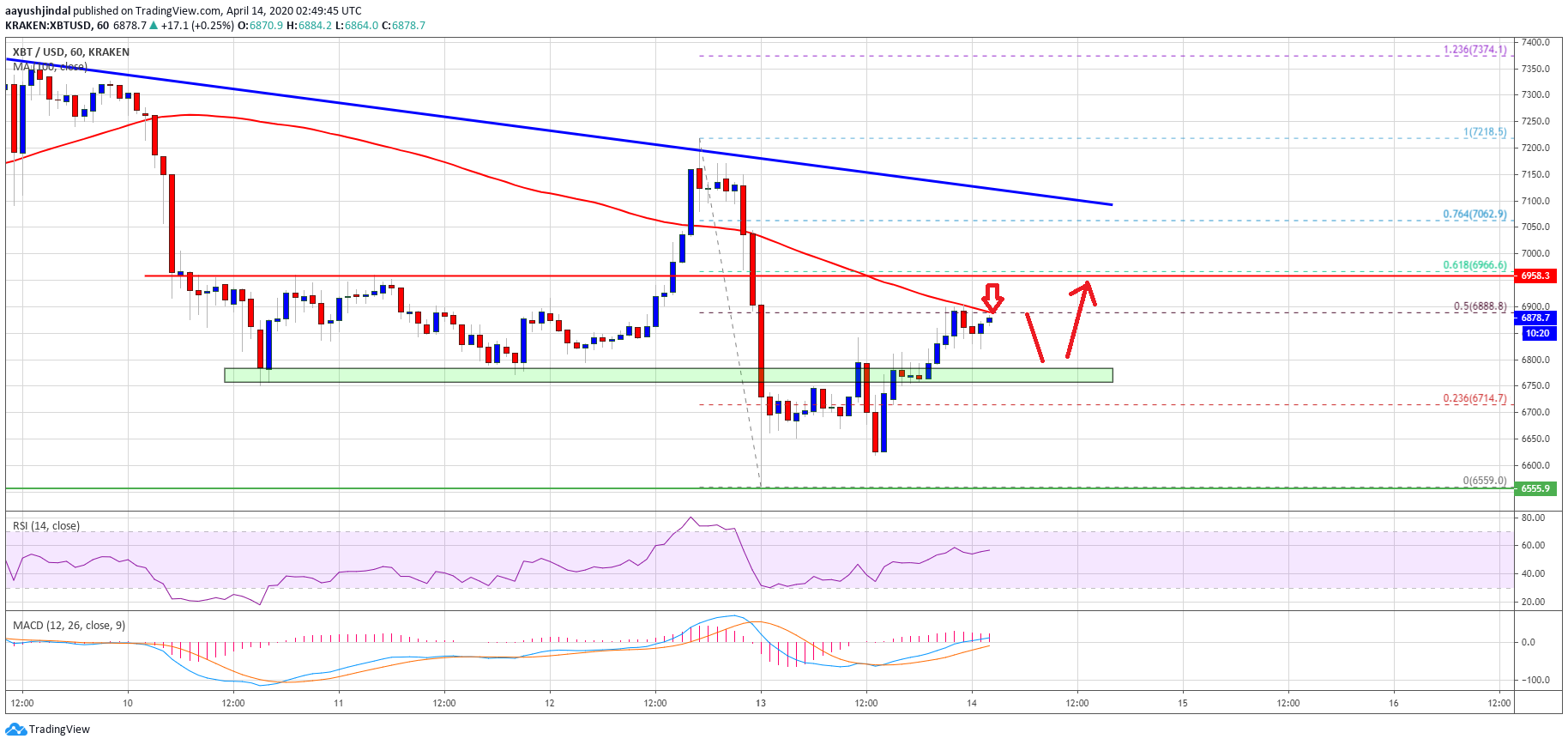 Therefore, the price is clearly facing a lot of hurdles, starting with $6,900 and up to $7,100. To move into a positive zone, the bulls need to gain momentum above the $7,000 resistance and then settle above $7,100. The next key hurdle on the upside is near the $7,500 level.
If bitcoin fails to continue above the $6,900 resistance or the 100 hourly SMA, it could start a fresh decline. On the downside, an initial support is near the $6,750 area.
A successful break below the $6,700 support area could start a major decline. The next support is near the $6,560 level, below which the bears are likely to aim a test of the $6,200 support level in the near term.
Technical indicators:
Hourly MACD – The MACD is currently struggling to gain pace in the bullish zone.
Hourly RSI (Relative Strength Index) – The RSI for BTC/USD is now just above the 50 level.
Major Support Levels – $6,750 followed by $6,560.
Major Resistance Levels – $6,900, $6,950 and $7,100.
Source: www.newsbtc.com
Author: Aayush Jindal
Bitcoin Drops as Traders See Bearish Signals in Futures Markets
Apr 13, 2020 at 21:21 UTC
Bitcoin slid Monday to its lowest point in the past seven days, with traders saying bearish signals are appearing after the cryptocurrency's 30 percent rebound from a market bottom in mid-March.
After recovering from the depths of the coronavirus-induced sell-off, bitcoin repeatedly failed to break above a price of $7,400.
Bitcoin (BTC) prices fell Monday by 1.6 percent to 20:45 UTC (4:45 p.m. EDT) while ether fell 1.8 percent.
Most major digital assets were down on the day. Bitcoin cash (BCH) was down 4.8 percent, EOS (EOS) dipped 2.6 percent and bitcoin sv (BSV) lost 1.9 percent. All price changes are from 0:00 UTC.
Bitcoin futures contracts for June on exchanges such as Kraken are trading around $6,750, which suggests traders are pricing in further downside. Such "backwardation" — where futures trade at a discount to the spot price — represents a shift from last week, when futures were trading at a premium.
"Futures and our own activity indicate that speculators expect to see lower prices in the short term," said Maxine Boonen, CEO of over-the-counter (OTC) bitcoin liquidity provider B2C2. "One particular hedge fund sold us $20 million of bitcoin today and they have usually been right."
Early losses on Monday triggered $29 million in position liquidations for futures traders on the BitMEX exchange, exacerbating the sell-off. Hourly liquidations on BitMEX had averaged just $200,000 over the past few days.
In traditional markets, the S&P 500 of large U.S. stocks fell 1 percent as the death toll from the coronavirus continued to cast a pall. New York state, now the epicenter of the pandemic, surpassed 10,000 deaths, Gov. Andrew Cuomo said Monday.
Constantine Kogan, a partner at crypto fund BitBull Capital, said the "macroeconomic trend isn't positive so it will continue to put pressure on crypto," Kogan said.
Elsewhere, gold, a classic haven asset and hedge against inflation, is currently trading up at 1.2 percent.
Although some cryptocurrency analysts and investors think bitcoin could prove to be a hedge against inflation, the yellow metal is outperforming it.
"A break below $6,500 will likely lead to another round of liquidations and send the price towards the $6,100 to $6,200 area," said Denis Vinokourov, head of research at crypto investment brokerage Bequant, said of bitcoin.
"For the bulls, a break below will be particularly painful," he said. "There really isn't much support until the $5,000 zone. This cautious tone is supported by a shift in the futures curve."
Source: www.coindesk.com
Author: Omkar Godbole
Previous
Next