Bitcoin unchanged this week amid banking uncertainty, Fed pause hopes, regulatory heat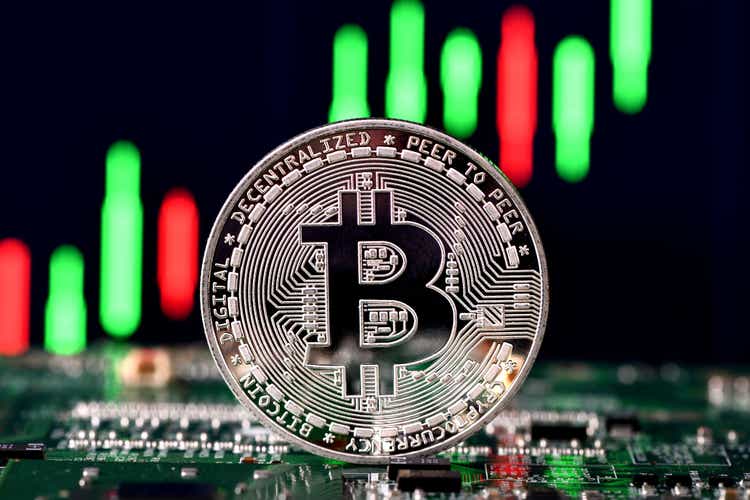 hocus-focus
Bitcoin (BTC-USD) is on track to end the week largely unchanged as confidence in traditional banking took a hit, aiding the top cryptocurrency's upswing, and hopes of the Federal Reserve pausing rate hikes grew. But gains were capped by ongoing regulatory scrutiny in the industry.
Recent regional bank failures and concerns over the stability of established lenders have dented trust in the traditional banking system. "We believe, as the banking crisis in the U.S. deepens, bitcoin is more likely to behave as a risk-off asset," said Bernstein analyst Gautam Chhugani. "Correlations (with equities) have flipped for risk-off assets in the last few days, and it could be a critical signal for investors to monitor."
Meanwhile, the Fed hiked its benchmark lending rate by 25 basis points, as expected, and ruled out rate cuts this year. However, some investors appear to be hopeful of a quarter-point rate cut in June, according to fed funds futures.
Bitcoin (BTC-USD) rose to an over nine-month high of $28.8K the day the Fed announced its decision. It traded within the $26.6K-$28.8K range this week.
The total crypto market cap currently stands at $1.15T, down 2.8% over Thursday, according to CoinMarketCap.
Bitcoin (BTC-USD) was briefly hit on Friday by Binance, the biggest crypto exchange by trading volume, temporarily suspending spot trading due to a bug.
Crackdown Continues
U.S. regulators are continuing to clamp down on crypto companies, the latest being Coinbase Global (COIN), which was warned of potential charges by the SEC.
A day after, the SEC issued an investor alert warning that the risk of loss for crypto investors "remains significant". It also voiced concerns about crypto exchanges that may not be complying with federal securities laws.
The SEC also charged Tron founder Justin Sun and three of his firms for fraud and other securities law violations. Eight celebrities, including actress Lindsay Lohan, were charged for illegal touting of Tronix (TRX-USD) and BitTorrent (BTT-USD).
Meanwhile, a person suspected of being fugitive Do Kwon, cofounder of Terraform Labs, was arrested by police in Montenegro. Terraform was behind collapsed crypto Luna (LUNA-USD) and sister token TerraUSD (UST-USD).
U.S. Senator Ted Cruz (R-TX) proposed legislation to stop the Fed from creating a central bank digital currency, to ensure that "big government doesn't attempt to centralize" crypto. His views echo Florida Governor Ron DeSantis, who proposed a law that would prohibit the use of the CBDC.
In other news, investors are awaiting a landmark court ruling on the SEC's lawsuit against Ripple Labs, which would determine whether XRP (XRP-USD) is a security or not.
Bitcoin Price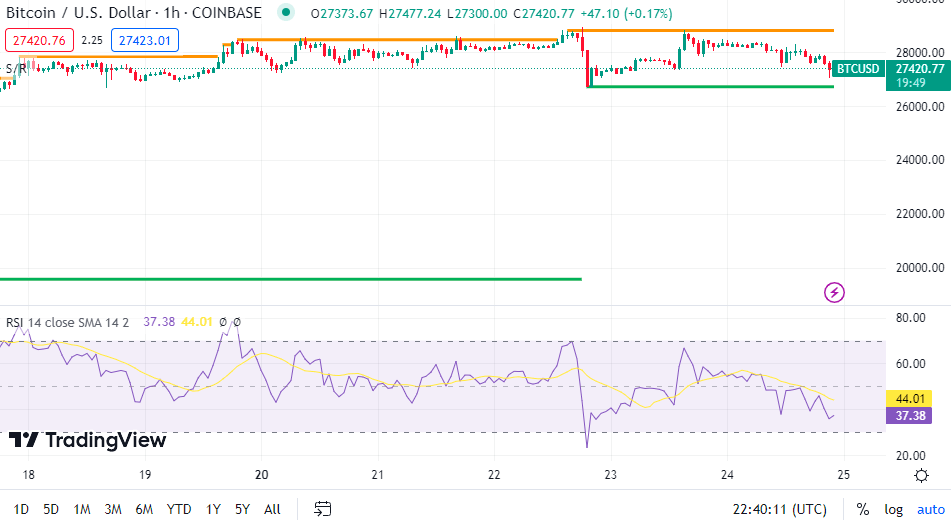 SA contributor The Freedonia Cooperative believes the recent banking turmoil appears to be aiding bitcoin's (BTC-USD) already positive 2023 momentum. "A key crypto indicator, the MVRV ratio, is signaling the next BTC bull run may already be underway."
More on Crypto Clampdown
Coinbase downgraded after Wells notice
Bitcoin Is Benefitting From Banking Sector Fallout
Bitcoin (BTC-USD) rose to an over nine-month high of $28.8K the day the Fed announced its decision. It traded within the $26.6K-$28.8K range this week.
Source: https://seekingalpha.com/news/3951170-bitcoin-unchanged-this-week-amid-banking-uncertainty-fed-pause-hopes-regulatory-heat
Previous
Next