Bitcoin Rallies 15% And It's Now And Primed To Hit $9.5k: Technicals Show
Bitcoin is up more than 15% in a pre-halving rally against the US Dollar. BTC broke the key $8,000 resistance and the 100-day simple moving average to open the doors for $9,500 or $10,000.
Bitcoin is surging and it settled nicely above the $8,000 resistance pivot level against the US Dollar.
The price is gaining momentum above the 100-day simple moving average and it could test $9,500.
There is a major bullish trend line forming with support at $7,400 on the daily chart of the BTC/USD pair (data feed from Kraken).
The pair could correct in the short term, but dips remain well bid near $8,000.
Yesterday, we discussed how bitcoin price could start a pre halving rally against the US Dollar. BTC price broke a few important resistance levels near the $8,000 zone to move into a strong uptrend.
The bulls gained strength above the $8,000 level and the 100-day simple moving average. There was a break above the 61.8% Fib retracement level of the last key decline from the $10,495 swing high to $3,931 low.
Bitcoin cleared a connecting resistance trend line with resistance near $8,020 on the daily chart. It opened the doors for sharp rise and the price rallied above the $8,500 level. It tested the 76.4% Fib retracement level of the last key decline from the $10,495 swing high to $3,931 low.
Clearly, the bulls are in control, signaling a strong rise above the $8,800 and $9,000 resistance levels. The next major resistance is near the $9,500 level (a multi-touch zone).
Any further gains above the $9,500 resistance could start a convincing upward move towards the $10,000 resistance level in the near term.
The current rise in bitcoin could face hurdles near the $9,500 resistance level. If it starts a downside correction, there are many supports waiting on the downside starting with $8,500.
The first major support is near the $8,000 level (the recent breakout zone). There is also a major bullish trend line forming with support at $7,400 on the same chart. Overall, dips remain well supported on the downside if the price corrects lower from the current levels or $9,500.
Technical indicators:
Daily MACD – The MACD is currently gaining momentum in the bullish zone.
Daily RSI (Relative Strength Index) – The RSI for BTC/USD is now in the overbought zone.
Major Support Levels – $8,500 followed by $8,000.
Major Resistance Levels – $9,000, $9,400 and $9,500.
Source: www.newsbtc.com
Author: Aayush Jindal
Bitcoin Roars Past $9,000 as Frantic FOMO on Binance & Coinbase Continues
The past 24 hours have been explosive for the Bitcoin market. Ever since breaking past $7,800 on Wednesday morning, the cryptocurrency has been in a nearly unstoppable uptrend, rallying past resistance after resistance in the $7,000s, $8,000s, then most recently, the ever-important $9,000 level.
This steep uptrend comes on the back of an influx of buying volume on retail exchanges such as Coinbase, which temporarily crashed on Wednesday due to the influx of buying activity. Binance, too, saw an influx of volume, with the exchange registering $11 billion worth of trading activity in 24 hours.
Just minutes ago as of the time of this article's writing, BTC has hit $9,200 — more than 17% higher than it was just 24 hours ago.
This is the highest the cryptocurrency has traded since the first week of March, just prior to the capitulation event that took Bitcoin to $3,700.
Chart from TradingView.com
Although few shorts were liquidated during this latest leg higher from $8,800 to $9,200, Skew.com data indicates that the past 24 hours have seen more than $90 million worth of BitMEX shorts liquidated.
It's a stunning trend that shows that few investors expected Bitcoin to rally so high and so fast.
With few investors expecting the cryptocurrency to rally so quickly, they have looked to technical analysis to try and determine what comes next for Bitcoin.
One crypto trader remarked that with Bitcoin breaking past the $7,800-8,000 resistance cluster, which he called the point at which bears will have their "last stand," the chance at upside has grown dramatically.
Bloomberg, on the other hand, is warning of an imminent correction.
The outlet warned in an article published when Bitcoin was trading in the mid-$8,000s that the GTI Global Strength Indicator — a measure tracking an asset's trend — recently printed a reading of over 70 for Bitcoin.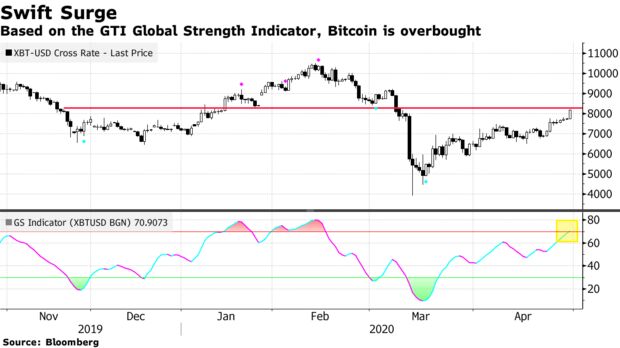 Chart from Bloomberg
With a reading of "70" coinciding with the point at which assets become technically overbought, Bloomberg warned that "it may be difficult for the token to notch additional gains in the short-run."
It's hard to tell exactly what the collective crypto diaspora is thinking, but analysts say that the recent price action can be attributed to fundamental trends.
Roch Rosenblum, the co-head of trading at GSR, remarked to Bloomberg in the aforementioned article that the ongoing BTC rally is predicated on the macroeconomic environment:
"This latest run past $8,000 is as much about positive macro sentiment as it is about the upcoming halving. We're starting to have a lot more certainty, as more countries begin to share their plans to reopen the economy in May."
This optimism was echoed by Zac Prince, a co-founder of BlockFi, who said that the "current market dynamics are driving a bolstered interest [for] digital currency." These dynamics he was referencing was the Federal Reserve's commitment to money printing and the growth in stablecoins.
Photo by vikram sundaramoorthy on Unsplash
Source: www.newsbtc.com
Author: Nick Chong
Analysts React to Massive Bitcoin (BTC) Surge, Predict What's Next for Crypto Markets
Crypto analysts are recalibrating after Bitcoin's sudden surge to around $8,800 at time of publishing.
Trader and strategist Josh Rager says he believes BTC will likely continue rallying toward $9,000 if it can close above $8,600.
However, he warns the king of crypto remains tightly correlated to the stock market and could retreat if equities suffer another significant pullback.
"Bitcoin continues to follow along the stock market S&P 500 mini-futures.
BTC will continue to go strong as long as stocks continue to push to 3,000 and above. The $8,600 level broke with ease but do want to see how the daily closes, if this area holds with $9,000 in sight."
Analyst Scott Melker says BTC has firmly flipped two strong lines of resistance to support in the past 24 hours, noting a seismic and rapid shift in sentiment among traders.
"Bitcoin has retraced the entire drop from March 12th and is now trading higher than where it started. The day crypto 'broke' is now a distant memory.
What future awaits cryptocurrencies?
Amazing how quickly sentiment goes from 'I am waiting to buy the retrace to 5K' to 'I hope I can get back in at $8,100 on a dip.'
Meanwhile, veteran trader Tone Vays believes BTC is likely near a top at its current levels. He's now taking profits after reaching his target on a long position.
"I have taken profit on the GBTC swing trade accumulated from $5,000 to $6,000. Was going to wait for the 4h TD 9 sell later tonight but stock market will be closed.
Also NOT worth risking 2 more days for the BTC Daily 9 sell. Bitcoin triangle target of $9,000 was hit so I'm good."
Source: dailyhodl.com
Bitcoin surges above $8,000 for the first time in 2 months ahead of a key halving in the crypto markets | Currency News | Financial and Business News | Markets Insider
Reuters
Bitcoin crossed the $8,000 mark for the first time on Wednesday since March ahead of "bitcoin halving" that will take place on May 12.
Some analysts expect the bitcoin halving to increase prices.
"After the two previous halvings, we've seen the price reach an all-time high within 3-9 months — which would be $20,000 in this case," one analyst said.
Track the price of bitcoin live here.
Bitcoin surged 11% on Wednesday and crossed $8,000 the first time since early March as analysts said a key deadline that will reduce the amount of units is helping boost prices.
Bitcoin is currently trading around $8,625 as of 12.55 p.m ET.
Analysts attributed the rise to "bitcoin halving" that takes place on 12 May.
Danny Scott, co-founder and chief executive of CoinCorner told Markets Insider: "Coming up in 12 days is the bitcoin halving — which in short cuts the supply of bitcoins coming into circulation in half and taking it from 12.5 bitcoins every 10 minutes to 6.25 bitcoins every 10 minutes."
"People are looking at bitcoin's history and seeing how the supply and demand vector has played out for bitcoin in the past, with the price steadily rising after a halving to new all-time highs within 18 months," he added.
Bitcoin miners are rewarded a specific amount of bitcoins whenever a block is produced.
After 210,000 blocks are mined, the block reduces by 50% and the process continues until a block becomes worth 0 bitcoins.
The current block reward is 12.5 coins per block, which will fall to 6.25 on May 12.
Dr Garrick Hileman, head of research at Blockchain.com, said: "Bitcoin's price has been climbing of late alongside other traditional hard assets like gold in part due to concerns over the size of the monetary and fiscal response to COVID-19."
Pavel Perelomov, chief executive officer and founder of blockchain platform Twigse, said he expects bitcoin prices to reach $10,000.
"Market factors include the beginning of the removal of quarantine in the EU and the most powerful emission of the Central Bank of the EU and the Fed. I think that if the price fixes more than $ 8,000, the next barrier will be $10,000 taking this peak will open the road to long-term growth of Bitcoin.
Scott said: "After the two previous halvings, we've seen the price reach an all-time high within 3-9 months — which would be $20,000 in this case."
He added: "Looking at the stock-to-flow (S2F) model which assumes scarcity drives value (supply and demand), we can hope for the $100,000 region to hit within the next 12-18 months.
Bitcoin surged in January when the world's biggest cryptocurrency has taken on the role of an unconventional safe-haven investment as fears amounted about how traditional assets would fare when coronavirus was beginning to spread.
Some analysts expect bitcoin to rise because of its "deflationary" appeal during a time where monetary and fiscal policies are difficult to predict.
Alex Mashinsky, chief executive of Celsius Network, said: "With the halvening just two weeks away, we're seeing a return to bullish sentiment among Bitcoin traders, and recent data suggest there's been an uptick in new retail investors. Plus, the unprecedented combination of fiscal and monetary stimulus is reinforcing Bitcoin's appeal as a deflationary asset."
Jon Walsh, blockchain professional at Adtech struck a more cautious note and said bitcoin has never been tested in a tough environment until date.
Walsh said: "The general outlook for Bitcoin is strong, but despite having been in existence now for 11 years, bitcoin is yet to be tested in a recession environment."
"This is however, the perfect environment that bitcoin was essentially built for. Over the next 18 months, we will surely see whether the daddy of all crypto can live up to its promises of hard money with a disinflationary economic schedule," he added.
Source: markets.businessinsider.com
Author: finanzen.net GmbH
Today in Crypto Twitter: 'Blow to Bitcoin' (2020-04-29)
Welcome to the third edition of BeInCrypto's "Today in Crypto Twitter" — a daily round-up of all the things you may or may not have missed on the Crypto community's favorite social media platform.
Those who have been following Bitcoin via traditional financial media outlets probably know Billy Bambrough, who frequently writes about the first and foremost cryptocurrency for Forbes. Those who follow his work more astutely may or may not have noticed a certain undeniable trend.
As Bitcoin maximalist @hodlornaut pointed out on Twitter earlier today, Bambrough — or, at least, his editors at Forbes — really love to start their headlines off with the same "Blow To Bitcoin" formula.
After scrolling through Bambrough's catalogue of Bitcoin-related bad-news pieces, one thing is clear: Bitcoin has weathered more blows than Floyd Mayweather's punching bag.
Shorting Bitcoin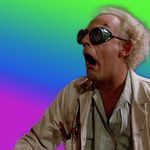 The phrase "shorting Bitcoin" gets used a lot by traders, and just from the context, it is easy to discern… More since its colossal dump earlier this year has become something of a meme lately, with Crypto Twitter's bears 'adding to their shorts' the whole way up.
Given the current global economic situation, the money printer going brrrrrrr and Bitcoin's block reward set to be halved in less than two weeks, do you really think you should be gambling to the downside?
(Something something not financial advice.)
When in doubt, however, you can always just follow @crypto_birb's approach.
If you follow CRYPTO₿IRB's simple approach, you're bound to never fail — as approximately 92 percent of your favorite Crypto Twitter 'analysts' already know.
Or you could… you know… just use Photoshop.
But we didn't even get a link…
For the record, we prefer the label "Greatest Cryptocurrency News Website and Educational Portal in the History of the Internet."
Did we miss anything on Crypto Twitter today? Let us know in the comments below — and don't forget to tune in every weekday for more nonsense from everyone's favorite corner of the Twitterverse.
Source: beincrypto.com
Author: Illustrations by A. Gnetova and G. Phan
Bitcoin Price Prediction: BTC Breaks $8,400 As Halving Approaches – How High Will It Go?
Bitcoin surged by a total of 7.8% today as the cryptocurrency breaches $8,000 to climb as high as $8,430.
The block halving for the coin is now just 12-days away.
After stalling at $7,800 yesterday, Bitcoin managed to surge by 7.8% today to break above the resistance at $7,800 and break above $8,000. The coin continued to climb further higher above $8,000 as it reached the $8,430 level before finding resistance.
This price jump is not surprising when we consider that the BTC block halving is just 12-days away now. With this event, we will see the BTC block reward being slashed in half from 12.5 BTC per block to just 6.25 BTC per block. This would put some pressure on the smaller mining operations and will force many of them to close down.
The hash rate for the entire market is starting to climb right now and we can expect it to continue to rise until the block halving event. After the event, we might see the hash rate drop significantly.
BTC/USD – Daily CHART – SHORT TERM
Taking a look at the daily chart above, we can clearly see BTC stalling yesterday at $7,800 as the bulls took a break from their 7-days of continuing price increases. In today's trading session, we can see BTC surging past $7,800, breaking above $8,000, and breaching the resistance at $8,073 provided by the bearish .786 Fib Retracement.
It continued above $8,000 to reach the resistance at $8,430 (1.618 Fib Extension). It has since dropped from here to reach $8,300.
Bitcoin remains strongly bullish in the short term and would need to drop beneath $7,600 (100-days EMA) to turn neutral. It would have to fall further beneath $6,800 to turn bearish.
If the buyers managed to break the $8,430 resistance, higher resistance is located at $8,608 (bearish .886 Fib Retracement). Above this, resistance lies at $8,800, $9,000, and $9,163.
On the other side, if the sellers push lower, support can be found at $8,000. Beneath this, added support lies at $7,877, $7,676, $7,600, and $7,400.
Support: $8,000, $7,800, $7,676, $7,600, $7,400, $7,200, $7,000.
Resistance:$8,430, $8,608, $8,800, $9,000, $9,163.
Summary
Article Name
Bitcoin Price Prediction: BTC Breaks $8,400 As Halving Approaches – How High Will It Go?
Description
Author
Publisher Name
Publisher Logo
Yaz is a cryptocurrency technical analyst and has been actively trading financial markets for over 7years, with 4 years of crypto experience. He is an Economics graduate who has taken a keen interest on the future potentials of blockchain in the financial industry. Aside from cryptocurrency and trading Yaz enjoys spending his time watching his favourite football team (Liverpool F.C.) compete as well as keeping up-to-date with the UFC. Follow him at @TcmYaz.
Source: coingape.com
Previous
Next