Bitcoin Price Prediction: Range-play extends on Easter, bearish bias still intact
Bitcoin consolidates in a rectangle on the hourly chart.
The No.1 coin awaits a fresh catalyst amid Easter lull.
Path of resistance still appears to the downside.
Bitcoin (BTC/USD), the most dominant digital asset, has failed another attempt to sustain above the 6900 levels so far this Easter Sunday. The price turned south, thereafter, no flirting with daily lows just above the 0.68 handle, losing nearly 1% on the day. Despite the latest leg down, the no.1 continues to traverse in the recent trading range, as the bulls and bears are seen in a tug-of-war, in absence of fresh catalyst amid a typical Easter trading lull. Bitcoin is poised to settle the week almost unchanged while enjoying a market capitalization of $125.14 billion.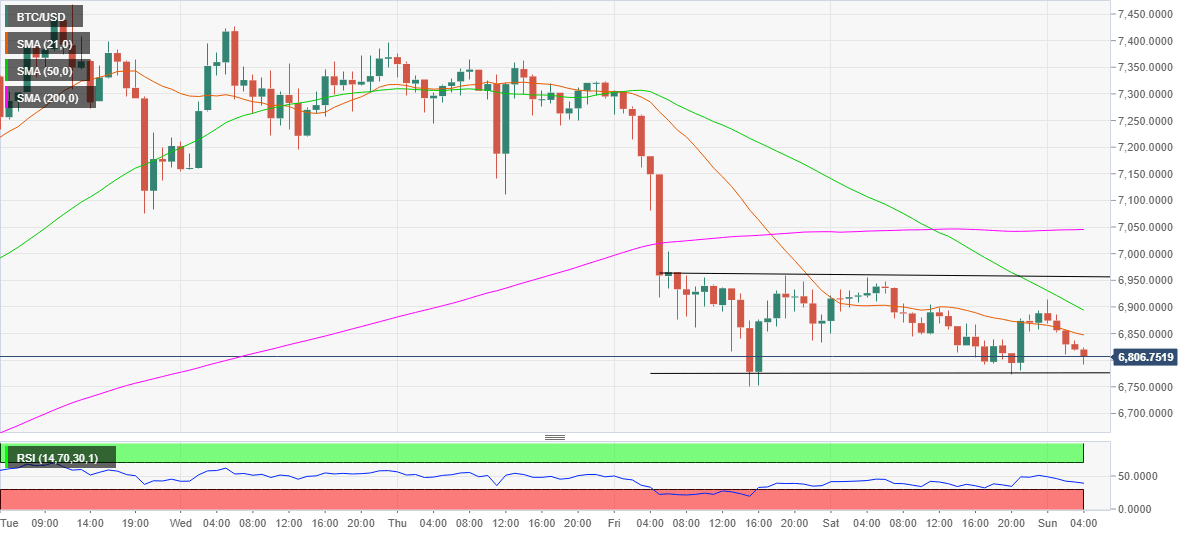 From a short-term technical perspective, the most favorite crypto coin is likely to extend its consolidative mode so long as it holds above Friday's low of 6750.92. On the hourly chart, the price is locked within a potential rectangle pattern.
Although the path of least resistance appears to the downside. To add, the hourly Relative Strength Index (RSI) has turned lower below the midline, suggesting the bears will likely remain in control going forward. Meanwhile, a bunch of resistances is stacked up that is making it a difficult task for the bulls to attempt a move higher.
The immediate resistance awaits at the downward sloping 21-hourly Simple Moving Averages (HMA) of 6851.31 above which 6900, the intersection of the round figure and bearish 50-HMA will be tested. A move through the latter will bring the horizontal trendline resistance at 6955 back in play. The rectangle pattern bullish breakout will get confirmed should the price close above 6955 on an hourly basis, opening doors for a test of the critical horizontal resistance of the 200-HMA at 7045.
Alternatively, the bears have to take out the only demand area around 6775-6750, the confluence of the horizontal trendline support and Friday's low, to resume last week's corrective slide from monthly tops of 7468.81. A test of the 6600 level is inevitable on a failure to defend the abovementioned support zone.
Source: www.fxstreet.com
Bitcoin, Cryptocurrency, Finance & Global News – April 12th 2020
Опубликовано: 12 апр. 2020 г.
Bitcoin, Cryptocurrency, Finance & Global News – April 12th 2020
In this week's market update we cover all the latest headlines from Australia, US, China, Europe & other global markets. Including coronavirus update, stocks, gold, silver, oil, bonds, real estate & currencies. The financial world & macro economic policy is now well intertwined with Bitcoin & cryptocurrency markets. We also look at all the latest cryptocurrency & blockchain news headlines for Bitcoin, Ethereum & major Altcoins. With so much debt globally & rising inequality, we are now witnessing another global financial crisis & economic collapse could be approaching. We believe central banks will unleash more fiscal spending, MMT, QE & negative interest rates to drive asset prices higher & inflate away the debt. Gold, Silver, Bitcoin, Ethereum & cryptocurrency are our best chance at a new fairer system & protecting your wealth. #Bitcoin #Finance #Economics
🎓 Free education & resources: https://nuggetsnews.com.au/
FTX
Thanks to our sponsorship partner FTX, you can double your discount on trading fees by using our link. With FTX you can access the best range of cryptocurrency trading products built by former wall street quant traders.
FTX Discount Fees: https://ftx.com/#a=Nugget
FTX Tutorial: https://youtu.be/1v5dnHJ6LL8
New Brighton Capital
Thanks to our sponsorship partner New Brighton Capital, get no fees for a month (valued at $140) when you set up a Crypto SMSF & use the code: NUGGET. New Brighton Capital is the easiest way to access gold, silver, bitcoin & cryptocurrencies in your self managed super fund. https://newbrightoncapital.com/nugget
How To Invest In Gold & Silver: https://nuggetsnews.com.au/resources/…
🔔 Did you enjoy this video? SUBSCRIBE for more: https://www.youtube.com/c/nuggetsnews…
📹 For more Resources & Content: https://nuggetsnews.com.au
🎙 Always on the go? Tune in on your favourite Podcast app: https://lnk.to/nuggetsnews
#️⃣ Connect with us:
Twitter: https://twitter.com/NuggetsNewsAU
Facebook: https://www.facebook.com/nuggetsnews
LinkedIn: https://www.linkedin.com/company/nugg…
Instagram: https://www.instagram.com/nuggetsnewsaus
Reddit: https://www.reddit.com/user/nugget_alex
_________
❗ DISCLAIMER ❗
Alex Saunders is not a Financial Adviser. All opinions expressed by Alex Saunders or his guests in this video are for informational purposes only and should not be treated as investment or financial advice of any kind.
Any information provided during the video is general in nature and does not take into account the viewers specific circumstances. Nugget's News and its individual team members are not liable to the viewer or any other party, for the viewer's use of, or reliance on, any information received, directly or indirectly, from the video in any circumstances.
The viewer should always:
1. Conduct their own research,
2. Never invest more than they are willing to lose,
3. Obtain independent legal, financial, taxation and/or other professional advice in respect of any decision made in connection with this video.
Source: www.youtube.com
BitMEX CEO: Bitcoin could fall to $3,000 before rising to $20,000
BitMEX CEO Arthur Hayes predicts a further drop in Bitcoin (BTC) price in the range of $2,100 to $3,000.
Hayes predicts that Bitcoin will rise to $20,000 by the end of the year because of growing demand due to the financial crisis.
BitMEX CEO, Arthur Hayes, discussed the current economic crisis and the changes that the COVID-19 pandemic will cause in the "monetary fiction". Hayes is known for his accurate predictions and was one of the few who claimed that Bitcoin's price would crash like it did on March 12.
At that time, BTC's price plummeted from $7,900 to $3,700. Although Bitcoin managed to recover and has been slowly moving up since then, the drop marked the beginning of a period of high volatility and uncertainty in the global economy.
At the time of publication, Bitcoin's price trades at $6,902 with a 0.54% loss in the last 24 hours. Although it has had a significant recovery during the last week, BitMEX's CEO stated that the price could fall again to the range of $2,100 to $3,000. The fall could be caused by a negative performance in traditional markets. Hayes affirms:
Bitcoin will be owned unlevered. Could the price retest $3,000? Absolutely. As the SPX rolls over and tests 2,000 expect all asset classes to puke again. As violent as the Q1 collapse in asset values was, we have almost 100 years of imbalances to unwind the ancien régime. My end of 2020 price target remains $20,000.
Hayes thinsk Bitcoin could rise due to the inefficiency that financial institutions, politicians and governments will have in solving the economic problem with their traditional methods. According to Hayes, current attempts by the Federal Reserve and other banking institutions are inflationary and in times of inflation, investors will seek to own two assets: gold and Bitcoin:
(…)I will reiterate, that is inflationary because more fiat money will chase a flat to declining supply of real goods and labour. There are only two things to own during the transition to whatever the new system is, and that is gold and bitcoin.
On the other hand, data from the research firm Skew outlines that the price of BTC has a 5% chance of reaching $20,000 in 2020. Skew's measurements and Hayes' predictions are consistent with statements by Dan Morehead of Pantera Capital. According to Morehead, standard monetary policies will be ineffective in combating the current crisis. This could allow Bitcoin to consolidate as a safe haven asset in times of crisis and reach new highs by the end of the year.
Follow us on Facebook and Twitter and don't miss any hot news anymore! Do you like our price indices?
Last Updated on 11 April, 2020
Source: www.crypto-news-flash.com
Author: Reynaldo
$1,006,057,985 Bitcoin (BTC) Transfer Triggers Whale Watchers, Crypto Giant Reveals Motive Behind Transaction
A huge Bitcoin (BTC) transaction is catching the eye of crypto whale watchers.
A pseudonymous crypto trader and analyst who goes by the name Krisma spotted the transfer of 146,500 Bitcoin, which is worth $1,006,057,985 at time of publishing.
Someone just moved 146,500 BTC ($1B) in one TXhttps://t.co/HgWzePugXN
— Krisma📈 (@KRMA_0) April 10, 2020
As traders tried to determine the reason for the transfer, Bitfinex chief technology officer Paolo Ardoino revealed that the leading Hong Kong-based exchange is behind the transaction.
According to Ardoino, Bitfinex was shifting funds between its hot and cold wallets. The exchange transferred 15,000 BTC to its hot wallet, and the rest was routed back to the Bitfinex's original cold wallet. The total cost of the billion-dollar transaction was just 69 cents.
Ardoino says he's thinking of announcing all big transfers in the future to avoid causing confusion.
This isn't the first time a crypto exchange has caused a stir due to large, unannounced movements of crypto. Last year, the Seattle-based crypto exchange Bittrex was linked to one of the biggest movements of BTC on record.
The analytics company Glassnode says Bittrex moved about $9 billion in Bitcoin between its own wallets in the span of an hour, across 21 separate transactions.
Source: dailyhodl.com
Previous
Next