Bitcoin Poised For Short Term 'Sell' as Buyers Take Last Stand at $6,550
Bitcoin is currently consolidating above the $6,760 low against the US Dollar. BTC price could correct higher, but upsides are likely to face hurdles near $6,955 or $7,030.
Bitcoin is showing signs of an upside correction from the $6,761 low against the US Dollar.
A few key hurdles are forming on the upside near the $6,955 and $7,030 levels.
There is a major bearish trend line forming with resistance near $7,030 on the hourly chart of the BTC/USD pair (data feed from Kraken).
The pair could continue lower towards the $6,550 support area, where the bulls are likely to emerge.
Yesterday, we saw a 5% decline in bitcoin price below the $7,000 support area against the US Dollar. BTC even broke the $6,800 support level and the 100 hourly simple moving average.
It traded as low as $6,761 and it is currently consolidating losses. There was a break above the 23.6% Fib retracement level of the downward move from the $7,295 high to $6,761 low.
An initial resistance on the upside is seen near the $6,955 level (the recent breakdown zone). The first major resistance is near the $7,000 and $7,030 levels. There is also a major bearish trend line forming with resistance near $7,030 on the hourly chart of the BTC/USD pair.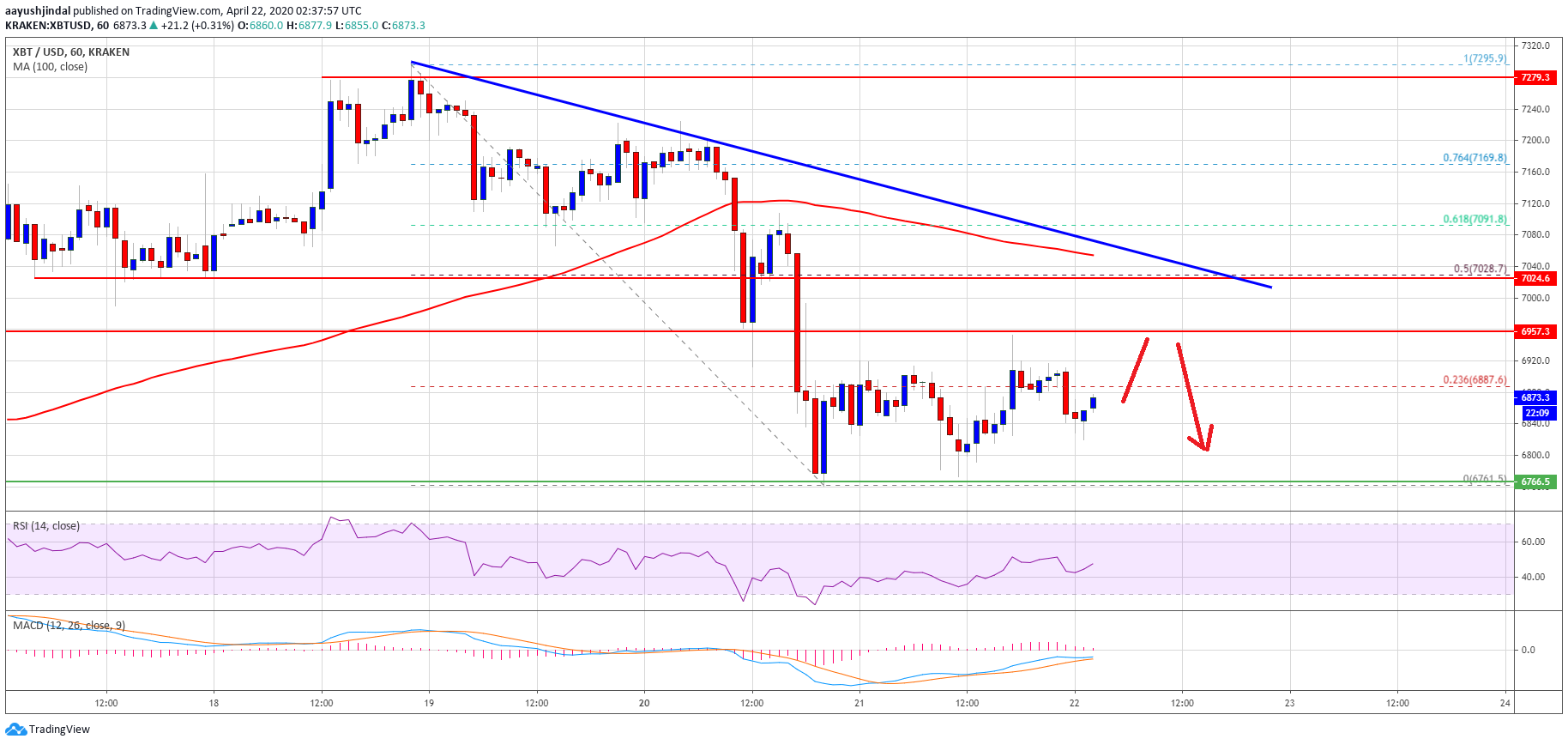 The trend line coincides with the 100 hourly simple moving average at $7,035. Besides, the 50% Fib retracement level of the downward move from the $7,295 high to $6,761 low is near the $7,028 level.
If there is an upside correction, bitcoin bulls are likely to struggle near the $7,000 and $7,030 levels. A successful close above the trend line, the 100 hourly SMA and $7,050 could open the doors for a fresh increase. The next key hurdle above $7,050 is near the $7,200 level.
If bitcoin fails to continue higher, it remains at a risk of more downsides below $6,800 and the $6,761 low. The next major support is near the $6,555 level, where the bulls are likely to take a stand.
If the bulls struggle to keep the price above the main $6,555, there is a risk of a larger decline towards the $6,200 and $6,000 support levels in the near term.
Technical indicators:
Hourly MACD – The MACD is currently losing momentum in the bullish zone.
Hourly RSI (Relative Strength Index) – The RSI for BTC/USD is now near the 50 level.
Major Support Levels – $6,750 followed by $6,555.
Major Resistance Levels – $6,960, $7,030 and $7,200.
Image from unsplash.
Source: www.newsbtc.com
Author: Aayush Jindal
Bitcoin Price Analysis: BTC finds resistance at a key level and could move lower
Bitcoin trades just above flat in a lacklustre session on Tuesday.
The market found resistance at the 50% Fibonacci zone.
Today bitcoin is trading just above flat as the bulls manage to stem the losses seen on Monday's session. Now the chart structure looks pretty bearish as the market has made a lower high but the orange support zone close to the 38.2% Fib zone would need to be broken to complete the bearish picture. If broken that would make a lower high lower low wave pattern.
Looking at the indicators now, the price is now under bother the 55 and 200 daily moving averages. The 55 exponential moving average was an important resistance zone which influenced with the 50% Fib retracement zone marked by the red circle.
The relative strength index indicator has also just moved into negative territory under the 50 mid-line. There is still plenty of room to move lower into the oversold zone, this could mean there is more bearishness on the cards.
Source: www.fxstreet.com
Bitcoin Can't Be a Safe Haven and 100x Leverage Is Why
Vishal Shah is founder of Alpha5, a new bitcoin derivatives exchange backed by Polychain Capital.
Despite some championing, it is clear bitcoin is still a risky asset on a peripheral investment frontier, and not a safe haven at all.
Bitcoin is simply not going to be a primary concern for capital swimming around in traditional markets. Remember, this is a time when assets like U.S. equities are enduring unprecedented volatility. There would need to be a return to frothy markets and the comeback of marginal greed to see more institutional players wandering inside the crypto gates.
You might think macro developments such as profligate money printing would give bitcoin a reasonable investment thesis. But that is not manifesting, and for good reason. The ecosystem around bitcoin is limiting its own long-term prosperity. Topping the list of ailments is bitcoin volatility, which is artificially created by high-leverage.
The data on volatility does not lie
With the crypto options market becoming more entrenched over the past year, it's possible to observe a pattern in bitcoin volatility. There hasn't been a sustained meaningful premium of implied volatility (the market's forecast of the likely movement of price), over realized volatility. Bitcoin's implied volatility rarely dips below 50 percent. In fact, bitcoin enjoys a rather patterned 'vol of vol,' whereby implied and realized volatility move almost rhythmically together, fluctuating between 40 percent and above a 200 percent ceiling.
An asset like bitcoin that over the course of years sustains an implied volatility of over 50 percent is truly remarkable. For comparison, stocks with a sustained volatility of even 25 are often classified as high-beta (meaning they out-perform the market when it's going up but fall precipitously when it's going down).
So, what is it that plagues bitcoin to create such outsized moves? Well, the biggest problem is the extreme amount of leverage in crypto derivative markets.
Sheer silliness on derivative platforms
As they try to increase adoption, cryptocurrency derivative trading platforms deal with a very unique situation. Bitcoin holdings are heavily concentrated, with 95 percent of physical supply owned by a relatively small number of addresses. At the same time, a great many traders on these platforms have a very strong appetite for risk. That is the short story of why 100x leverage is now commonplace in crypto markets. There is a need to cater to the demands for rapid "financialization" of concentrated holdings.
Leverage at 100x margin is attractive (at least superficially) to an investor looking to reduce capital requirements while increasing exposure. Regulated exchanges offer approximately 3.5x leverage onshore. But an apple-to-apple comparison is misleading; on- and offshore markets are different.
Firstly, many offshore crypto exchanges act not only as a trading venue, but also as clearer and custodian – a complete vertical integration orchestrated by a company registered on a small island somewhere. This is versus the siloed and "arms' length" functions in more regulated environments. Ultimately, this puts a huge amount of responsibility, and tremendous power, in the hands of offshore exchanges.
Unless and until exchanges take it upon themselves to fix this problem, bitcoin won't mature from being a gyrating toy into an asset of real interest for traditional market players.
To offer 100x leverage, typically accompanied with a .50 percent maintenance margin (the amount of equity an account must sustain to keep its current positions and orders), is antithetical to the pursuit of orderly cryptocurrency market functions. In fact, it is probably the single largest contributor to sustained volatility.
Bad Infrastructure
Adding fuel to the fire is that most of these leveraged exchanges are not built to handle concentrated volume at scale during times of high stress. Queuing and server overloads have become all too common, ironically just when markets tend to explode in trading volume.
This impedes traders from reducing their exposure, leaving them to the mercy of aggressive liquidation algorithms (when price-points trigger automatic position closures),whose successes are fingerprinted on Exchanges' Insurance Funds. The insurance funds of crypto exchanges act both as an outward image of the exchange's success, but also as a measure of how aggressive and damaging their liquidation algorithms are to their trading community. That is because on almost every exchange, the insurance fund is capitalized from liquidation of traders' positions.
On some exchanges, once an account breaches the maintenance margin threshold – the price at which the account is in violation of minimum margin requirements to sustain its open orders and positions – a limit order is placed at the bankruptcy price to liquidate the position. On other trading platforms, liquidations are done in batches, with a fee charged for each partially-completed order. In this fashion, the trading position is liquidated slowly, and there is a chance that they could be 'pumped' back to life if the market is to recover. In any instance, as a direct consequence of 100x leverage and small balances of equity, orderly executions have very tight windows within which to operate.
Unwinding the Leverage Game
Stigmatic levels of volatility associated with bitcoin are not inevitable. They are man-made. A reduction of leverage would alleviate the stress on liquidation engines. What is often lost in the fascination with high leverage is that 100x leverage creates a situation where any maintenance margin threshold – which will have to be less than 1 percent, and is often 0.50 percent – will simply not leave enough room for liquidation algorithms to be effective.
For this reason, it would be wise to reduce leverage broadly available across the ecosystem to stop this ridiculous volatility. Even 25x with a 2 percent maintenance margin supplemented with a more sophisticated liquidation engine would be more equitable to traders.
There needs to be a concerted and deliberate effort to reduce leverage and increase maintenance margin by the largest venues. Unless and until exchanges take it upon themselves to fix this problem, bitcoin won't mature from being a gyrating toy into an asset of real interest for traditional market players.
Source: www.coindesk.com
Author: Daniel Cawrey
Here's why simulations of Bitcoin's post-halving price may disappoint investors
Bitcoin's upcoming mining rewards halving has been looked upon as a potentially bullish catalyst for the cryptocurrency for years, with many investors predicting that the impact it has on its miner dynamics will help boost BTC's price. It is important to note, however, that there are some problems with this notion, and a recent report […]
To read the rest of this article, join CryptoSlate Edge. Already have an account? Sign In.
We curate what the thought leaders are saying about the crypto market.
Gain an analytical edge from our world-class team of researchers.
We hide all advertisements from CryptoSlate Edge subscribers.
We are guided by a strict editorial policy that emphasizes objectivity.
Join CryptoSlate Edge |$9.99/month
or pay annually and save 20%
Disclaimer: Our writers' opinions are solely their own and do not reflect the opinion of CryptoSlate. None of the information you read on CryptoSlate should be taken as investment advice, nor does CryptoSlate endorse any project that may be mentioned or linked to in this article. Buying and trading cryptocurrencies should be considered a high-risk activity. Please do your own due diligence before taking any action related to content within this article. Finally, CryptoSlate takes no responsibility should you lose money trading cryptocurrencies.
Source: cryptoslate.com
Bitcoin Money Flow and Futures Volume Signals Intense Volatility is Imminent
Bitcoin's futures market is seeing surging aggregated open interest as the crypto finds itself caught within a bout of lackluster trading
This coincides with the crypto seeing a decline in money flow
The confluence of these factors suggests that BTC is gearing up for a big movement
Bitcoin's price action seen in recent times hasn't been too exciting. This period of lackluster trading plagued with multiple prolonged bouts of sideways trading has come about in the weeks following its intense capitulatory decline to lows of $3,800.
This consolidation may not last for too much longer, however, as there are a few fundamental signs that suggest a big movement is imminent.
Bitcoin is currently hovering just a hair above its key near-term support at $6,800, with the cryptocurrency finding some support here in the time following its break below the $7,000 region.
This recent decline comes close on the heels of BTC's recent multi-day period of sideways trading within the lower-$7,000 region.
Although Bitcoin was able to break and hold above its previous resistance at $7,200 for an extended period of time, the eventual decline below this level seems to be a grim sign that elucidates some underlying weakness amongst the crypto's bulls.
One factor to consider in the near-term is that the flow of capital into Bitcoin has been declining as of late, leading one analyst to note that the coming few days will "be interesting."
"Bitcoin money flow dropping like a pig from a roof. Next days gonna be interesting," he said.
Data from research platform TokenAnalyst seems to confirm this notion, as exchange inflows across multiple top crypto exchanges have decline significantly over the past several days, in tandem with outflows growing slightly.
Money flow into Bitcoin isn't the only thing that suggests a big movement is brewing, as a rise in Bitcoin futures open interest also indicates that traders are anticipating heightened volatility.
According to data from blockchain analytics platform Skew, the aggregated open interest in BTC futures across all top platforms has been steadily rising throughout the past month.
This trend tends to be correlated to Bitcoin making large price movements, as the increase in open interest makes the crypto more prone to seeing explosive price action once it starts moving in one direction or another.
Featured image from Unsplash.
Source: bitcoinist.com
Previous
Next