Bitcoin Payments for Private Flights Soar, 20% of Privatefly's Revenue Stems from Crypto – Bitcoin News
Cryptocurrency users are leveraging their new-found wealth to fly more often with private jets. This week the directional aviation company Privatefly revealed that close to 20% of the firm's sales were paid in cryptocurrencies last month, and 13% out of that aggregate used bitcoin.
According to data from the company Privatefly, purchasing flights with digital assets has soared in recent times. For instance, the directional aviation company said a few years ago, the company pulled in 1-2% from crypto payments for flights. The numbers jumped significantly in December 2020 to 12%, and subsequently spiked to 13% during the first month of 2021. Out of the 13% in BTC payments, cryptocurrency settlement, in general, makes up 19% of Privatefly's revenue.
The flight company says that Privatefly started accepting bitcoin early in 2014 and since then, it has expanded its cryptocurrency support. The company uses Bitpay for one-off flights or memberships, and this week it has started a new bitcoin program. Privatefly has launched the "Bitcoin Jet Account," which allows customers to hold their BTC and open a membership at the same time, but keep the funds held in crypto.
"While we have accepted bitcoin payments for many years now," Adam Twidell, Privatefly's CEO said. "Cryptocurrency transactions have really taken off in recent months. These are in line with Bitcoin's climb in value – to the extent that 13% of our flights were paid for in this way last month. We have previously seen just 1-2% each month," the CEO added.
Twidell continued:
Some of these are clients who are looking to realise their gains, while others want to hold onto their cryptocurrency, in expectation of future increases. So, in addition to taking out a membership with us in bitcoin and converting the account funds into traditional currency (as we have offered for a while), we now offer a membership program that allows the account funds to stay in bitcoin.
Privatefly explained that years ago, that the Belgian tech entrepreneur, Olivier Janssens, was the firm's first customer to pay in bitcoin. Janssens took a flight to Nice Cote D'Azur from Brussels and booked and paid for the trip on the same day.
"The flight was the biggest Bitcoin payment transaction I have made," Janssens said at the time. "But it was very easy and efficient, particularly as I wanted to fly at very short notice. It was the perfect way to pay."
Recently, Credit Suisse Group AG, BNP Paribas SA, and a number of other financial institutions said demand for private jets has increased massively and should continue throughout 2021. "Looking back we had a very good year and much, much better than expected," the chief of aviation for the equipment-finance unit of Societe Generale SA, Werner Slavik, noted during a Jet Investor event.
The aviation company Privatefly offers one-off 'on-demand' private flights, but regular patrons can also create a membership account and deposit funds regularly. "Privatefly has always sought to make private jet travel easier to book, combining innovative technology with deep industry expertise and the secure backing of one of the world's largest private aviation groups, with annual revenues of over $2 billion," Twidell noted during the announcement.
"Many of our clients are tech-savvy and entrepreneurial people, which is why we started accepting bitcoin payments for one-off flights in 2014, a world-first at the time," Twidell concluded. "We are now the first to offer a private jet membership program based on bitcoin funds."
Privatefly also supports payments in bitcoin cash (BCH), ethereum (ETH), and four USD-pegged stablecoins (GUSD, USDC, PAX, and BUSD).
What do you think about Privatefly's recent crypto revenue uptick and the "Bitcoin Jet Account?" Let us know what you think about this subject in the comments section below.
2014, 2021, Adam Twidell, Bitcoin, Bitcoin (BTC), bitcoin cash BCH, BitPay, BTC, BUSD, crypto revenue, Ethereum (ETH), Flights, GUSD, Olivier Janssens, Pax, private flights, Privatefly, Privatefly flights, Privatefly jets, revenue, USDC
Purchase Bitcoin without visiting a cryptocurrency exchange. Buy BTC and BCH here.
Disclaimer: This article is for informational purposes only. It is not a direct offer or solicitation of an offer to buy or sell, or a recommendation or endorsement of any products, services, or companies. Bitcoin.com does not provide investment, tax, legal, or accounting advice. Neither the company nor the author is responsible, directly or indirectly, for any damage or loss caused or alleged to be caused by or in connection with the use of or reliance on any content, goods or services mentioned in this article.
Source: news.bitcoin.com
Author: News
by
Jamie Redman
Bitcoin Is Going to Crash. The Big Question Is When
The blowout rally in Bitcoin (CCC:BTC-USD) continues. As I write this, the best-known and most-valuable cryptocurrency trades above $47,000, down modestly from an all-time high set on Thursday morning.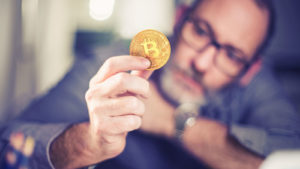 Bitcoin now has roughly tripled since November, and rallied more than 50% this year. And the optimism makes some sense.
Notably, corporations are increasingly comfortable with adopting Bitcoin. BTC saw a big catalyst this week when Tesla (NASDAQ:TSLA) said it would buy $1.5 billion of the crypto. The electric vehicle giant follows earlier adopters like MicroStrategy (NASDAQ:MSTR) and payment companies Square (NYSE:SQ) and PayPal (NASDAQ:PYPL).
The run over the last four months continues what has been an incredible rally. Bitcoin only launched in 2009. It cleared $1 (yes, one dollar) for the first time almost exactly a decade ago. Give or take, BTC has appreciated 4,700,000% in ten years. There have been few assets in the history of mankind to show that kind of appreciation. Simply put, Bitcoin has created millionaires.
But the rally hasn't been without volatility. In fact, volatility and crashes both have been a key part of the Bitcoin experience. Many of those crashes started in environments similar to this one: when all seemed well, and further upside appeared almost guaranteed.
That history suggests another reversal is almost certain to occur. That doesn't mean investors need to rush to sell their BTC immediately, but at the least they should be on their guard.
For skeptics (and I remain one of them), early 2021 looks an awful lot like late 2017.
At that time, Bitcoin similarly was soaring. Bitcoin cleared $1,000 on New Year's Day 2017. By December, it was over $18,000. $20,000 and beyond seemed guaranteed. Cryptos of all kinds were rallying. Initial coin offerings were all the rage.
But as good as 2017 was, 2018 was nearly as bad. In U.S. dollars, Bitcoin had been halved by February. By the end of 2018, it was back below $4,000.
As an article at the time noted, the 2018 decline was not the first huge drawdown the cryptocurrency had seen. Not even close. In 2012, BTC dropped 49% twice, with one of the declines a three-day, 57% punishment. Another three-day period the following year saw an incredible 83% plunge.
On Nov. 19, 2013, BTC lost half its value. Later that month, it began a stretch of over a year in which it went from $1,163 to just $152.40.
Even in 2017, a banner year, Bitcoin fell 30% or more five different times. And then there was the roughly 80% plunge that began toward the end of that year.
Admittedly, of late the volatility has eased somewhat relative to early trading. Wider adoption and a larger investor base should continue that moderation going forward.
Still, we've seen this before. Bitcoin can move north in a hurry, but it also can move, and has moved, south at roughly the same pace.
And there are a pair of catalysts that could trigger another decline in 2021.
The first is simply the parabolic gains not just in BTC, but across asset classes. We've seen a number of stocks go crazy. That doesn't just include miners like Riot Blockchain (NASDAQ:RIOT) and Marathon Patent (NASDAQ:MARA). It even goes beyond the so-called "Reddit stocks" like GameStop (NYSE:GME) and AMC Entertainment (NYSE:AMC).
Commodities have taken off. Even in cryptos, DogeCoin, which started as a joke, now has a market capitalization of $9 billion.
There are going to be crashes elsewhere, whether in cryptos, stocks, or commodities. And those crashes may well read across to Bitcoin. Surely there is cross-ownership between Bitcoin and other 'hot' assets. Those owners that see losses elsewhere are likely to de-risk by converting BTC to USD.
There's also the regulatory environment. Treasury Secretary Janet Yellen has repeatedly and publicly raised concerns about cryptocurrencies including Bitcoin.
Certainly, Yellen can't ban BTC trading and send its value to zero. But she can impact potentially bullish catalysts, like the long-awaited launch of an exchange-traded fund (which would need to be approved by the U.S. Securities and Exchange Commission).
Finally, there's the possibility that Bitcoin itself simply has run too far. It stands to reason that at least some of the incremental buyers since December are not diehard crypto adherents, who believe Bitcoin can disintermediate large financial institutions. They're just joining in the fun.
In modern trader parlance, there may be some "weak hands" that have jumped on board. They're not necessarily the type to ride out volatility longer-term.
It bears repeating: these risks don't mean an investor needs to rush to cash in their Bitcoin. In fact, for a couple of reasons, an investor can believe that both a) Bitcoin will crash again and b) Bitcoin still is worth owning right now.
First, the crash may still be a long ways off — and more upside may follow. An analyst could have correctly predicted in early 2017 that BTC was going to crash within a year. A trader who listened to that advice still would have missed out on gains of at least 200%-plus. This rally doesn't have to end immediately.
Second, there's a case that trying to time the crash (assuming it arrives) is a fool's errand. Timing the stock market is a notoriously impossible strategy. Bitcoin's history suggests it isn't any different.
Long-term bulls on Bitcoin (or any other cryptocurrency) can reasonably argue that immense volatility simply is a fact of life, at least for now. But if the long-term bull case plays out, the ability to ride out that immense volatility will pay off, even if there's some short-term pain along the way.
Neither is an unreasonable argument. But crypto holders need to at least understand that we've been here before. Short-term bursts of optimism like we're seeing now almost always are followed by a reversal. I don't believe this time will be any different, though it remains to be seen how steep that reversal is, and from what point it begins.
On the date of publication, Vince Martin did not have (either directly or indirectly) any positions in the securities mentioned in this article.
Source: investorplace.com
Author: By
Vince Martin, InvestorPlace Contributor
Prominent Mining Execs Jiang Zhuoer and Jihan Wu Bolster Bitcoin Cash – Bitcoin News
In recent days, bitcoin cash has seen significant gains, and supporters of the digital currency have been positive about specific developments, like the internet entrepreneur Kim Dotcom's current support. On February 11, the Chinese New Year, the prominent bitcoin mining executives, Jiang Zhuoer and Jihan Wu joined a Satoshi's Angels discussion channel and spoke favorably about the peer-to-peer crypto-asset bitcoin cash.
The well known mining executives, Bitmain cofounder Jihan Wu and Btc.top founder Jiang Zhuoer seem very bullish about bitcoin cash (BCH), according to a couple of members from the marketing agency and umbrella organization Satoshi's Angels. The organization Satoshi's Angels (SA) was founded by Akane Yokoo, an organizer of the Tokyo Bitcoin Cash Meetup, and the educator and author Cindy Wang.
Both of the SA founders are bitcoin cash (BCH) proponents and have educated the masses on the many benefits of the decentralized crypto asset. During the Chinese New Year, the SA founders and a number of other crypto supporters joined a Wechat channel in order to exchange red envelopes. A red packet or red envelope is a monetary gift that is popular during special occasions in China and other Asian territories. Cindy Wang said she had sent Jihan a message and said: "I want to invite you to our SA Wechat group to send a red envelope"
Wang said that Jihan Wu joined the group and distributed three really big red envelopes. One left a message that said: "Happy LNY, Angel and Angel's fans," another one stated "Be lucky in the year of OX," and the third one said: "No matter how high BCH price hits, keep building for our country." Wang told news.Bitcoin.com that she believes Jihan Wu knows that "BCH is going to rise."
"We were all so excited, and texted: 'I love Jihan.' And then a few people asked me to invite Jiang Zhuoer, I did and Jiang joined us," Wang said.
The Satoshi's Angels' cofounder detailed that Zhuoer chatted with the group and he also sent "big red envelopes." Some of the messages Zhuoer sent said: "Big block will win," "Big is beautiful, more is good," and he also said "Leverage makes you homeless. Mining makes you rich."
What future awaits cryptocurrencies?
The SA cofounders were extremely thrilled with Jiang Zhuoer and Jihan Wu's BCH optimism. "Even though Jihan has been a low key about what's happening at Bitmain, we can all tell that he has a deep feeling for bitcoin cash," Wang told news.Bitcoin.com. "Jihan told me that he reads our Bitcoin Cash weekly news, and his appearance on new year's eve really cheered up the Chinese community," she added.
The discussion with Jiang Zhuoer and Jihan Wu follows BCH's recent price run-up, as the crypto asset has seen massive gains during the weekend's trading sessions. On Saturday morning (EST), BCH was swapping for $549 per unit and then touched a high of $728 at 10:02 p.m., jumping a whopping 32.60%. At the time of publication on Sunday, BCH is exchanging hands for $688 per coin.
What do you think about Jiang Zhuoer and Jihan Wu's appearance on the Chinese New Year with the Satoshi's Angels founders? Let us know what you think about this subject in the comments section below.
Akane Yokoo, BCH, bitcoin cash, bitcoin cash BCH, Bitmain, BTC.TOP, China, Chinese Crypto Community, Chinese New Year, Cindy Wang, Jiang Zhuoer, Jihan Wu, Lunar New Year, P2P Cash, Red Envelope BCH, red envelopes, Satoshi's Angels, Satoshi's Angels (SA), WeChat, Year of the Ox
Disclaimer: This article is for informational purposes only. It is not a direct offer or solicitation of an offer to buy or sell, or a recommendation or endorsement of any products, services, or companies. Bitcoin.com does not provide investment, tax, legal, or accounting advice. Neither the company nor the author is responsible, directly or indirectly, for any damage or loss caused or alleged to be caused by or in connection with the use of or reliance on any content, goods or services mentioned in this article.
Source: otcpm24.com
Author: News Bureau
Previous
Next