Bitcoin falder til under $20.000, efterhånden som kryptosalget går hurtigere
Prisen på bitcoin er faldet til under $20.000 for første gang siden slutningen af ​​2020, som et nyt tegn på, at salget i kryptovalutaer er ved at blive dybere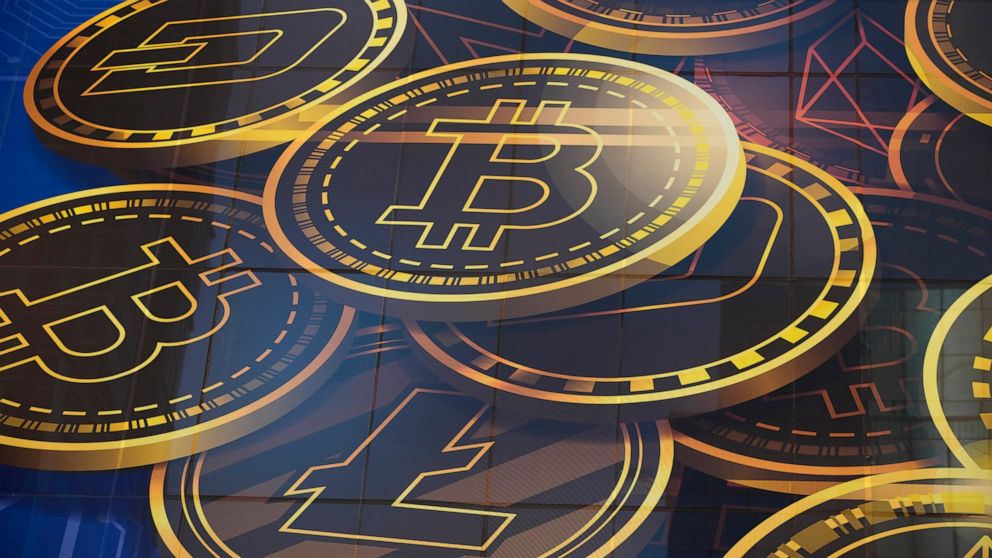 FIL – En annonce for Bitcoin, en af ​​kryptovalutaerne, vises i en bygning i Hong Kong den 18. november 2021. Bitcoin og andre kryptovalutaer kollapsede i pris mandag den 13. juni 2022, efter at den store kryptoudlåner Celsius stoppede alle tilbagetrækninger med henvisning til "ekstreme markedsforhold." Det er det andet kollaps af en del af kryptoverdenen i de sidste to måneder. (AP Photo/Kin Cheung, File)
Associated Press
NEW YORK – Prisen på bitcoin faldt lørdag til under $20.000 for første gang siden slutningen af ​​2020, som et nyt tegn på, at salget i kryptovalutaer er ved at blive dybere.
Bitcoin, the most popular cryptocurrency, fell below the psychologically important threshold, dropping by as much as 12% to less than $18,100 by late afternoon on the East Coast, according to the cryptocurrency news site CoinDesk.
The last time bitcoin was at that level was in November 2020, when it was on its way up to its all-time high of nearly $69,000, according to CoinDesk. Many in the industry had believed it would not fall under $20,000.
Bitcoin has now lost more than 70% of its value since reaching its peak.
Ethereum, another widely followed cryptocurrency that's been sliding in recent weeks, took a similar tumble on Saturday.
It's the latest sign of turmoil in the cryptocurrency industry amid wider turbulence in financial markets. Investors are selling off riskier assets because central banks are raising interest rates to combat quickening inflation.
The overall market value of cryptocurrency assets has fallen from $3 trillion to below $1 trillion, according to coinmarketcap.com, a company that tracks crypto prices. On Saturday, the company's data showed crypto's global market value stood at about $834 billion.
A spate of crypto meltdowns has erased tens of billions of dollars of value from the currencies and sparked urgent calls to regulate the freewheeling industry. Last week, bipartisan legislation was introduced in the U.S. Senate to regulate the digital assets. The crypto industry has also upped its lobbying efforts — flooding $20 million into congressional races this year for the first time, according to records and interviews.
Cesare Fracassi, a finance professor at the University of Texas at Austin who leads the school's Blockchain Initiative, believes Bitcoin's fall under the psychological threshold isn't a big deal. Instead, he said the focus should be on recent news from lending platforms.
Cryptocurrency lending platform Celsius Network said this month that it was pausing all withdrawals and transfers, with no sign of when it would give its 1.7 million customers access to their funds. Another crypto lending platform, Babel Finance, said in a notice posted on its website Friday that it will suspend redemptions and withdrawals on products due to "unusual liquidity pressures."
"There is a lot of turbulence in the market," Fracassi said. "And the reason why prices are going down is because there is a lot of concern the sector is overleveraged."
The cryptocurrency exchange platform Coinbase announced Tuesday that it laid off about 18% of its workforce, with the company's CEO and cofounder Brian Armstrong placing some of the blame on a coming "crypto winter."
Stablecoin Terra imploderede i sidste måned og mistede titusindvis af milliarder af dollars i værdi i løbet af få timer.
Crypto havde gennemsyret meget af populærkulturen før dens nylige fald, med mange Super Bowl-annoncer, der udråbte de digitale aktiver og berømtheder og YouTube-personligheder, der rutinemæssigt promoverede det på sociale medier.
David Gerard, en kryptokritiker og forfatter til "Attack of the 50 Foot Blockchain," sagde, at de seneste nedsmeltninger viser en fiasko fra regulatorer, som han mener burde have sat mere kontrol på industrien for år siden. Mange spirende investorer – især unge mennesker – investerede i krypto baseret på et falsk håb, der blev solgt til dem, sagde han.
"Der er rigtige menneskelige ofre her, som er almindelige mennesker."
———
Chan rapporterede fra London.
Source: https://abcnews.go.com/Business/wireStory/bitcoin-drops-20000-crypto-selloff-quickens-85480556
Previous
Next