Bitcoin Eyes Test of Record High as Red-Hot Demand Continues
Bitcoin climbed to near all-time highs Wednesday, on signs of rising long-term demand for the popular crypto as institutional interest continues to grow just as the currency takes aim at another record milestone.
Bitcoin rose 4.1% to $56,534, just shy of its record $58,335 set on Feb. 21.
Closely watched on-chain metrics that provide clues about support levels and user activity on the bitcoin network, or blockchain, continue to point to a healthy level of demand.
Rising outflows from bitcoin exchanges – a bullish on-chain indicator – pointed to an increasing number of traders moving their coins off exchanges to store in private wallets for a long duration. The outflows continued to increase near levels last seen since BTC made its prior peak above $58,000.
Coins began flowing out from exchanges to private wallets at a faster rate after bitcoin bottomed at about $45,200 in the wake of its recent sell off, according to data from CryptoQuant.
The underlying demand for bitcoin has been propped by a growing interest from institutional demand, with Goldman Sachs (NYSE:GS) joining its peers like JPMorgan (NYSE:JPM) to explore how it can meet growing client interest in bitcoin.
"We are regulated on what we can do. We continue to evaluate it … and engage on it," Goldman Sachs President and Chief Operating Officer John Waldron said on Wednesday, according to Reuters. "Client demand is rising."
But institutional demand has also spilled over to bitcoin mining that has helped the wider cryptocurrency ecosystem mature and reduced volatility, according to Canaan, a publicly listed provider of bitcoin mining hardware.
"Institutional investors' renewed interest in bitcoin has manifested itself not only in their purchase of the underlying asset but also in their focus on bitcoin mining," Nangeng Zhang, CEO and founder of Canaan Inc (NASDAQ:CAN) said in an email earlier this week.
"The resulting impact of greater institutional participation has been a positive one for cryptocurrencies at large — growing maturation of the industry, steady increase in prices, and reduced market volatility," Zhang added.
Source: https://www.investing.com
Source: greatcoinnews.com
Author: Hannah Perez
Selling Social Media Posts for $1.5 Million? Blockchain-Certified Tweet Sales Spark NFT Controversy – Bitcoin News
The cryptocurrency community is in a tizzy this weekend after the founder of Twitter, Jack Dorsey, tweeted about a new application that allows people to purchase tweets with ethereum. The application is called Valuables and it allows individuals to purchase a digital certificate of the tweet, which is signed and verified by the tweet's creator.
Tokenization and non-fungible token (NFT) asset industry have swelled during the last six months and a great number of artists, celebrities, and social luminaries have jumped on the bandwagon.
There have been 5,368,992 NFT sales equating to $381 million in sales to-date since nonfungible.com started tallying up the market history. Now a project called Valuables or the Web3 compatible web portal v.cent.co is attempting to make tweets valuable by tokenizing them via the Matic blockchain. But there is a lot of controversy over whether or not tweets can be valued and stored in a meaningful way on a blockchain.
https://t.co/xCnWG9EqgD
— jack (@jack) March 6, 2021
On March 5, 2021, Jack Dorsey the founder of Twitter and Square Inc., tweeted about the project with a tweet that he is selling.
At the time of publication, the founder of the Tron blockchain, Justin Sun, has bid $1 million dollars for a tweet Dorsey created back in 2006. The CEO at Bridge Oracle, Hakan Estavi, outbid Justin Sun and is now offering $1.5 million in ether for the tweet. The two have been going back and forth in a bidding war for the Dorsey tweet being sold on Valuables.
The tweet from 15 years ago is when Dorsey wrote "just setting up my twttr." With the Valuables program, Dorsey certified his tweet from 2006 and people can offer to buy the digital certificate of the tweet with ethereum (ETH).
Of course, not everyone in the crypto space is impressed with the Valuables project and many people think the application's real-world value is worthless. Meanwhile, many people said that Bitcoin maximalists were just jealous and the Valuables tokenization of tweets idea is innovative. "Welcome to Ethereum, Jack," one Ethereum proponent tweeted in response to Jack's sale. "Surely, you will fetch a good price for this tweet. However, the cope and salt from the maxis: priceless," he added.
Despite the NFT and tokenization fans, a myriad of crypto proponents seemed disillusioned by the concept of selling tweets.
"What happens if you buy someone's tweet and then they delete it?" software developer Jameson Lopp tweeted. Also, how can you audit the ecosystem to ensure that a tweet hasn't been sold multiple times? Point being, I suspect your ownership claim is quite weak. This looks like a prestige system, not an ownership system," Lopp added.
@tokenizedtweets 0x5455AbF783C90b7CFB3006d499fFC043a70Da19c
— nirbhik.eth ⟠🦉🕯️ (@NirbhikJangid) June 17, 2020
On March 5, the CEO of Kraken Jesse Powell wrote that the purchasing of tweets may open Twitter to a whole lot of security vulnerabilities. "This whole buying tweets thing is putting bounties on Twitter account takeovers," Powell insisted. "Hope you all are using U2F security keys and not SMS for account 2FA/recovery." A number of people agreed with the Kraken founder's assessment on Friday afternoon.
Meanwhile, Dorsey's 2006 status on the Valuables platform is not the first time that specific tweet has been tokenized. There's already an existing application called Tokenized Tweets (@tokenizedtweets), which has been around since 2019.
Dorsey's 15-year-old tweet was first tokenized using the Tokenized Tweets platform on June 17, 2020. The Valuables FAQ says that tweets can "only be minted once on Valuables, [but the] NFT though can be bought and sold an unlimited number of times." It begs the question: Which Jack Dorsey March 21, 2006, tokenized tweet is more valuable? Some would say, however, Dorsey's NFT mint is more valuable because he certified it using the Valuables application.
As far as the payment is concerned when a tweet is purchased using Valuables, 95% goes to the original tweet creator and 5% goes to keeping running Valuables. The project is run by an organization called Cent and for secondary sales, 87.5% goes to the seller, 10% goes to the creator, and 2.5% goes to company Cent.
What do you think about the tokenization of tweets and selling them for ethereum? Let us know what you think about this subject in the comments section below.
Bridge Oracle, CEO of Square, CEO of Twitter, ETH, Ethereum, Ethereum (ETH), Ethereum proponents, Hakan Estavi, Jack Dorsey, Jameson Lopp, Jesse Powell, justin sun, Kraken, NFTs, Selling Tweets, Square Inc., tokenization, Tokenized Tweets, tweets, Valuables
Purchase Bitcoin without visiting a cryptocurrency exchange. Buy BTC and BCH here.
Disclaimer: This article is for informational purposes only. It is not a direct offer or solicitation of an offer to buy or sell, or a recommendation or endorsement of any products, services, or companies. Bitcoin.com does not provide investment, tax, legal, or accounting advice. Neither the company nor the author is responsible, directly or indirectly, for any damage or loss caused or alleged to be caused by or in connection with the use of or reliance on any content, goods or services mentioned in this article.
Source: news.bitcoin.com
Author: News
by
Jamie Redman
Bitcoin Outlook: BTC Poised to Break to Fresh Highs or Is a Reversal Afoot?
Bitcoin has rallied significantly in March, after toppling lower at the tail end of last month.
However, short-term technical signals suggest a reversal lower could be on the cards.
As predicted in previous reports, Bitcoin's dive lower from its February high proved to be nothing more than a counter-trend correction, as the popular digital currency recovers lost ground and eyes a push to fresh record highs. However, several bearish technical signals suggest that BTC could reverse lower in the coming days, despite its fundamental outlook remaining fairly positive. Here are the key levels to watch for BTC/USD.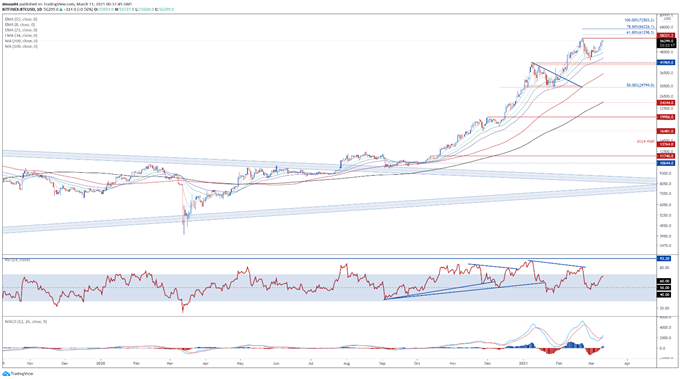 BTC/USD daily chart created using Tradingview
BTC/USD appears to be eyeing a push to fresh record highs, as buyers key in on the current all-time high set on February 21 (58321).
However, significant bearish RSI divergence hints at fading bullish momentum and may ultimately trigger a short-term reversal lower, if buyers fail to hurdle the yearly high.
That being said, a significant amount of divergence has been displayed since the start of 2021, with the price of BTC climbing as much as 101%.
Nevertheless, if psychological resistance at 60,000 holds firm, a correction back towards the monthly low (46417) could be on the cards.
Alternatively, a daily close above 60,000 would probably signal the resumption of the primary uptrend and bring the 61.8% (61298) and 78.6% Fibonaccis (66226) into play.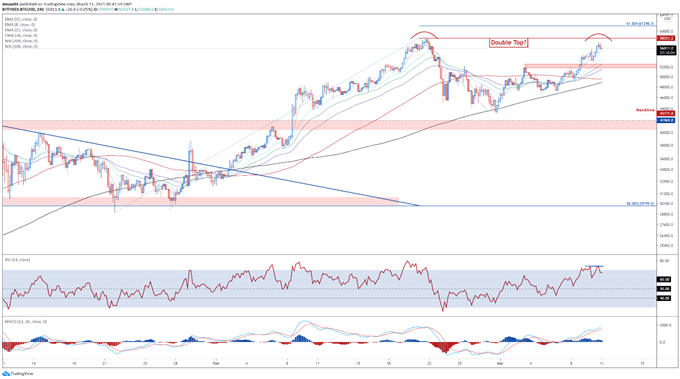 What cryptocurrency will become the main one in a year?
BTC/USD 4-hour chart created using Tradingview
Zooming into the 4-hour chart reinforces the slightly bearish outlook depicted on the daily timeframe, as price carves out a possible Double Top reversal pattern.
Bearish RSI divergence, in tandem with a potential bearish crossover on the MACD indicator, suggests that the path of least resistance may be lower.
Sliding back below the 8-EMA (55369) would probably intensify near-term selling pressure and generate a pullback towards range support at 51800 – 52500. Breaching that brings the sentiment-defining 200-MA (48864) into the crosshairs.
Ultimately, a convincing break above the February high (58321) is needed to open the door for price to challenge the landmark 60,000 mark.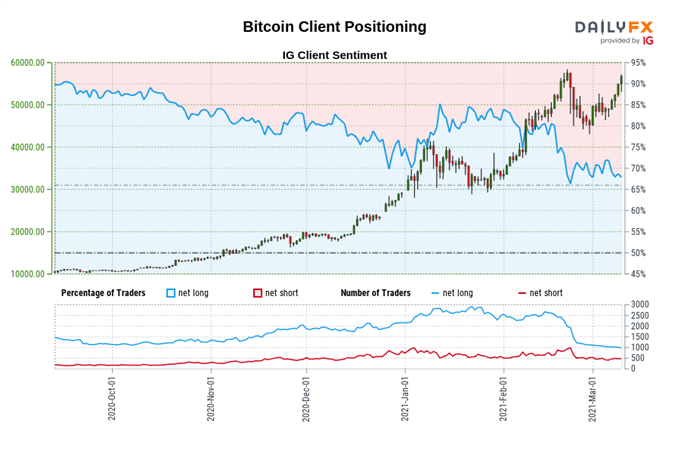 Retail trader data shows 66.00% of traders are net-long with the ratio of traders long to short at 1.94 to 1. The number of traders net-long is 1.64% lower than yesterday and 9.63% lower from last week, while the number of traders net-short is 3.35% higher than yesterday and 6.48% higher from last week.
We typically take a contrarian view to crowd sentiment, and the fact traders are net-long suggests Bitcoin prices may continue to fall.
Yet traders are less net-long than yesterday and compared with last week. Recent changes in sentiment warn that the current Bitcoin price trend may soon reverse higher despite the fact traders remain net-long.
— Written by Daniel Moss, Analyst for DailyFX
Follow me on Twitter @DanielGMoss
DailyFX provides forex news and technical analysis on the trends that influence the global currency markets.
Source: www.dailyfx.com
Author: Daniel Moss
What's all the buzz about Bitcoin?
Mauro Guillén, the Zandman Endowed Professorship in International Management at the Wharton School and former director of the Lauder Institute, talked to Penn Today about Bitcoin.
What is Bitcoin?
Bitcoin is one of the earliest and definitely the most famous cryptocurrency. It is different than fiat money issued by governments in that there is no central authority behind it. Rather, it is governed by a set of algorithmic rules regarding the amount of bitcoins in circulation, which can only increase over time very slowly, the verification of transactions, and the way in which ownership is registered.
What are its advantages over money created by central banks?
Money serves three purposes: First, as a medium of exchange to make or receive payments; second, as a unit of account to establish the value of different things in a common measure; and third, as a store of value, to keep savings or surpluses. Bitcoin right now is a very limited form of payment because relatively few individuals, companies, or governments accept it as such. It plays no role as a unit of account, but can be seen as a store of value in the sense that it is an asset that can be purchased and whose price may be maintained or even increase over time.
What is driving the price increase?
Given that it does not yield a dividend and that it has no intrinsic value, unlike gold, the price of Bitcoin is purely determined by supply and demand. The supply is constrained by design, and thus the price is determined by demand. The more demand, the higher the price, which is what has happened over the last few months.
How volatile is it?
Bitcoin is very volatile. Its price depends mostly on demand. If current owners of Bitcoin perceive or anticipate issues, then their sales can drive the price down. Government or central bank regulation can also drive its value down, if it is restrictive. The Fed, for instance, has come out strongly against unregulated cryptocurrencies several times over the last few years, triggering a sudden devaluation. The price of Bitcoin is among the most volatile.
How do you store, trade, and spend it?
One needs to open an account on a fintech platform or, increasingly, a bank or financial institution and buy bitcoins with some other currency, for example, dollars. The Bitcoin market rests on the so-called blockchain, which is a digital registry, or ledger, which records all transactions. This is a decentralized registry, in the sense that it resides on all the computers that are part of the network. Given the absence of a centralized authority, Bitcoin transactions are verified by 'miners," who get a commission in exchange for corroborating that a transaction has taken place.
One can sell bitcoins on the same platforms. It is accepted as a form of payment by a small fraction of all merchants in the world.
One huge problem intrinsic to the design of Bitcoin is that if the amount of cryptocurrency in circulation increases very slowly, it is impossible that it can become a major player in payments because the global economy is so huge. Thus, the goal of achieving stability through a limitation of the supply interferes with the putative goal of becoming a currency that rivals the dollar or the euro. Unless more bitcoins are issued, this cryptocurrency cannot possibly serve as a form of payment used by billions of people.
What does the future hold?
I don't think cryptocurrencies like Bitcoin will ever succeed as mere substitutes for money simply because governments or central banks will not tolerate them. They don't want to lose control over monetary policy and the amount of money in circulation. In any case, governments will issue their own digital currencies, like China is about to do.
Source: techxplore.com
Author: University of Pennsylvania
American Conservative Pundit Ben Shapiro Endorses Bitcoin Hinting at Libertarian Holy Grail – Op-Ed Bitcoin News
The highly popular right-wing commentator devoted a 15-minute Youtube video to inform his followers of the merits and potential that bitcoin, and cryptocurrencies, in general, as an anti-government monetary system. The grassroots embracement of bitcoin is the first of its kind in the alt-right American universe.
On March 7, 2021, Ben Shapiro, a prominent American conservative political pundit, released to his Youtube channel a video titled "Bitcoin: The Future of Finance or Fool's Gold?". In three days the video accumulated more than 800,000 views, suppressing Aatonop's flagship video, "Introduction to Bitcoin: what is bitcoin and why does it matter?" that took four years to get to his current 733,000 views.
This is the first time Shapiro discusses bitcoin, cryptocurrencies, or finance in general.
The 15 minute Shapiro video is vastly different from Andreas Antonopoulos's. While Antonopoulos speaks to the tech crowd and focuses on the blockchain innovation that enables bitcoin, Shapiro explains the crypto world in the most basic terms, as if he knows that his viewers are encountering the concept of fiat-vs-crypto for the first time.
The fact that Shapiro chose to introduce cryptocurrencies and bitcoin to his 2.87 million subscribers is an eye-widening moment in crypto acceptance and adoption in the U.S. in its most folksy form. Shapiro isn't perceived like Elon Musk or Mark Cuban, billionaire public figures in the tech arena that are followed by the in-crypto crowd. Shapiro is considered a man of the people, a political pundit that is followed by the alt-right crowd – republican, conservative, middle-of-America working-class people.
For readers of news.Bitcoin.com, it might be hard to imagine a world devoid of crypto. But this world does exist, and it's far larger than the crypto world. Shapiro's attempt to break the barrier between these two worlds is indicative of the massive inroads bitcoin has made in 2020 and the first quarter of 2021, on its path to be fully embraced by the mainstream.
After explaining the monetary concept that fiat currencies are predicated on, Shapiro, as an intro to explaining what actually bitcoin is, says this:
What if you could do transactions with pretty much everyone, and you could do it without having to refer to the dollar? You wouldn't have to worry about central banks. You wouldn't have to worry about governments blowing up the value of the currency.
This is a direct reference to Libertarian thinking in the U.S., and it's not hard to see where Shapiro is heading here. Cryptocurrencies, in essence, are a Libertarian dream come true – a monetary system with zero governmental oversight, which collides perfectly with the Libertarian dogma that the government should "stay out" of people's lives altogether.
If until now Libertarian talking points revolved around the size of government, taxes, gun ownership, and even cannabis, now the holy grail of libertarianism is becoming a reality – a non-governmental economical system. Shapiro doesn't utter the word "libertarian" throughout the entire video, but he keeps hammering over and over again the point of people losing faith in the governmental monetary system, the dollar, and turning to bitcoin for rescue.
It would be interesting to see if other prominent libertarian figures in the U.S., like republican senator Rand Paul, or former governor and Libertarian Party 2016 presidential nominee Gary Johnson, 2020 presidential nominee Jo Jorgensen would soon jump on the crypto wagon as well, shilling bitcoin as the 'People's Money.'
This is how Shapiro concluded his video:
Remember – bitcoin goes up when faith in the system goes down. If you have full faith and credit in the United States, you're buying bonds. If you don't have faith that the United States isn't going to inflate the currency, you're buying bitcoin.
And then, finally, gives his seal of approval:
My feeling is, that over time, cryptocurrencies, particularly ones that find their place in the market as bitcoin has, I think that those are going to rise. I think as we have less and less faith in centralized governments, and it seems to me that we are right now…
An anecdotal proof that Shapiro isn't a crypto-head comes at about the five-minute mark when he dives into what bitcoin is. This is what Shapiro says about bitcoin's creator:
So who created the bitcoin? Supposedly he's name is Satoshi Nakamoto. Now the reason I say supposedly is because nobody really knows who created bitcoin. It's supposedly this guy, who is supposed to be 40? And from Japan?
Do you see cryptocurrencies getting "politicized" in the future? Let us know what you think in the comments section below.
Ben Shapiro, Ben Shapiro bitcoin, Ben Shapiro crypto, Bitcoin, Bitcoin adoption, crypto Ben Shapiro, Crypto Politics, Cryptocurrencies, Government, Libertarian, Satoshi Nakamoto, USA
Disclaimer: This article is for informational purposes only. It is not a direct offer or solicitation of an offer to buy or sell, or a recommendation or endorsement of any products, services, or companies. Bitcoin.com does not provide investment, tax, legal, or accounting advice. Neither the company nor the author is responsible, directly or indirectly, for any damage or loss caused or alleged to be caused by or in connection with the use of or reliance on any content, goods or services mentioned in this article.
Source: bitcoin-core-news.com
Author: by admin
Previous
Next