Bitcoin Ends Four-Week Winning Run With Drop Into Bear Territory
View
Bitcoin's (BTC) short-term trend has turned bearish following a drop to $6,600. Further losses could be in the offing, say chart analysts.
The recent liquidity-driven bounce in equities could falter, too, adding to the bearish pressures for bitcoin.
A UTC close above the 50-day average is needed to neutralize the bearish case.
Bitcoin is reporting losses on Monday, having ended last week with its longest weekly winning streak in nearly a year.
A near 2 percent price rally seen in the seven days to April 12 had marked bitcoin's fourth straight weekly gain. Prices rose 15.4, 1.0, and 8.8 percent in the previous three weeks, respectively. A four-week winning trend was last seen in May 2019, as seen below.
Market woes to return?
The latest four-week price rise from $5,300 to $6,900 pales in comparison to the uptick seen 11 months ago. Back then, bitcoin jumped from $5,150 to $8,730 in the four weeks to May 26, 2019.
Further, the follow-up to the latest four weeks of gains has been negative so far. The cryptocurrency is flashing red, as noted above, and may continue to lose altitude in the near term, with some observers suggesting the recent equity market rally is liquidity-driven and has potential to unravel.
As of Thursday, the S&P 500, Wall Street's benchmark index, was up 27 percent from multi-year lows near 2,200 observed on March 23. The Federal Reserve has announced multiple easing programs worth trillions of dollars over the past few weeks to help contain the impact of the coronavirus and cushion the markets.
However, the rally could soon begin to unwind, pushing bitcoin lower. That's because the first-quarter corporate earnings season is set to begin this week and looks likely to bring a reality check to investors with disclosures over the extent of the economic damage wrought by the coronavirus restrictions.
"It would be unprecedented" if the S&P 500 failed to re-test or even fall below its low on March 23," analysts at Bank of America Global Research said last week, according to Reuters. Meanwhile, Nomura's analysts called the recent equity market bounce as "an unenthusiastic, inorganic bear market rally" in the same report.
Bitcoin has largely moved in tandem with the S&P 500 over the last six weeks or so. The cryptocurrency fell by 24 percent in March, as the S&P 500 declined by over 12 percent. Bitcoin is now reporting a month-to-date gain of 4 percent, while Wall Street's benchmark index has added nearly 8 percent to its value so far this month.
The trend looks to be continuing, as bitcoin's $300 slide seen during the Asian trading hours on Monday was accompanied by a 2 percent slide in futures tied to the S&P 500.
Bearish signals
Bitcoin fell by over 5 percent on Friday, confirming a rising wedge breakdown on the daily chart. The bearish reversal pattern often ends up reversing the previous move, meaning the doors have been opened for a re-test of the March low of $3,867.
Macro trader Henrik Zeberg is calling a move as low as $1,000. While that target looks far-fetched, a move to levels below $6,000 due to the wedge breakdown could be seen.
Another analyst, Josh Rager, suggests the pullback from last week's high above $7,300 to $6,600 could be the start of a bearish lower-highs and lower-lows set up.
The four-hour chart shows that bitcoin has already established a lower high at $7,200. It's also confirmed a head-and-shoulders breakdown with a drop below the neckline support of $6,790. That's created room for a slide to $6,100 (target as per the measured move method).
The bearish case would weaken if prices print a UTC close above the 50-day average at $7,145. That hurdle proved a tough nut to crack last week.
A bullish close above the 50-hour average, if confirmed, would likely pave the way for a test of the psychological resistance of $8,000. Some analysts expect the upcoming mining reward halving to keep the cryptocurrency better bid in the short term.
Disclosure: The author currently holds no cryptocurrencies.
Source: www.coindesk.com
Author: Omkar Godbole
'Serial Killer' Bitcoin to Explode This Year – Pantera's Morehead
Bitcoin (BTC) is a "serial killer" correlated with traditional risk assets only "when the world freaks out," and the crypto markets are about to "explode higher," according to one of the most prominent investors in the crypto space.
The remarks were made by Dan Morehead, CEO and Co-founder of investment firm Pantera Capital, who spoke on Peter McCormack's What Bitcoin Did podcast, published last Friday.
Morehead revealed his overall view of bitcoin as a new technology and a disruptor of old systems, calling it "a serial killer" that will disrupt not only one, but "dozens of different industries."
"Some people call it digital gold, and yes, it's awesome, it is digital gold, but you can keep registries of all kinds of other, non-financial assets on a blockchain. You can do so many different things with bitcoin and a blockchain, and that's why I think it's gonna rip through dozens of different markets," the CEO said.
"The Internet changed everything, except for finance," he said, adding that "What bitcoin is going to do is to bring the Internet to finance."
Morehead reiterated his earlier forecast made in a conference call with investors on April 7 that he believes that the crypto markets "will really explode about 3 to 9 months from now."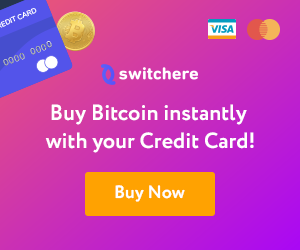 Investors will most likely start to focus on new opportunities a couple of months from now, as the focus moves away from the initial market panic, he explained.
"From all the cycles I've seen over 35 years, I have a very strong intuition that bitcoin will hit a record price within the next 12 months, and maybe, like, way higher than that," the CEO said.
Meanwhile, speaking about the company's current investment strategy, he admitted that the fund "took the risk down" temporarily when the scale of the COVID-19-related shutdowns became apparent, but claimed that they are now back at "full limit long" on cryptoassets, expecting higher prices in the months to come.
On the much-debated issue of whether bitcoin is correlated with the stock market, Morehead's view is thus a bit less straightforward than some others who have made their voices heard in the past.
According to him, BTC correlates with the S&P 500 during panics, but the correlation is just temporary. On the contrary, bitcoin has "very low correlation over long periods of time," the crypto investor explained, adding that "when the world freaks out, it is correlated."
"There have been five big downdrafts in the S&P 500 since bitcoin was liquid to trade, and in each of those, bitcoin did become positively correlated with the S&P, and did drop with the S&P. However, that correlation breaks down after about eight weeks, and it then goes back to essentially zero correlation," the CEO said.
As of January 31, Pantera managed USD 540 million in capital in seven funds in three product groups – passive, hedge, and venture. Their funds are open to accredited investors seeking to invest at least USD 100,000. The company has invested in crypto startups such as Abra, Bakkt, Bitstamp, Brave, Circle, Ripple, and others.
Source: cryptonews.com
Author: By Fredrik Vold
Bitcoin Price Forecast: BTC/USD eyes $6,000 after breaking this pennant pattern support
Bitcoin price hits a wall slightly above $7,500 and dives under $7,000 amid a broad-based crypto selloff.
Further downward action is expected in the near term as observed using the RSI and the MACD.
Bitcoin is trading in the negative on Easter Monday following a weekend full of action. The price stepped above $7,500 but the lost steam before approaching the resistance at $7,600. Buyers and other investors were looking forward to pulling above $8,000. Instead, bears wasted no time enacting a revenge mission as BTC/USD dropped below several support areas including $7,200, $7,000 and $6,800.
At the time of writing, Bitcoin is trading at $6,713 after losing almost 3% of its value on the day. The prevailing picture is bearish amid high volatility. The RSI, for instance, has sharply retreated under the average (50). Further movement downwards could encourage sellers to increase their entries further pulling Bitcoin towards $6,000.
The same downward trend is emphasized by the MACD currently struggling to stay above the mean line. A bearish divergence puts the sellers in control. Besides, BTC/USD is trading below the moving average whereby the 100 SMA is hindering movement at $6,773 and the 50 SMA at $7,057.
A bearish weekend action saw Bitcoin price drop under a pennant pattern's support. Continued reaction to this bearish pattern is deemed too detrimental for Bitcoin because the ongoing selling action could retest support at $6,000.
Source: www.fxstreet.com
Bitcoin Price Could Drop Below $3000: Silk Road Founder
Ross Ulbricht is predicting that Bitcoin's price will move downward in the short term, drawing a parallel to a previous years-long cycle that led the flagship cryptocurrency through several waves of volatility. He notes, however, that the flagship cryptocurrency will eventually recover and achieve a vastly higher value.
Looking at market data stretching back to 2011, Ulbricht asserts that Bitcoin has moved through two key cycles. The first stretched from 2011 to the end of 2017, and had several different waves, ending when Bitcoin reached its all-time high of USD $20,000. Bitcoin is now in its second cycle, and presently mirrors 2014, when Bitcoin fell sharply and remained bearish for roughly two years.
He has posted this chart outlining his analysis: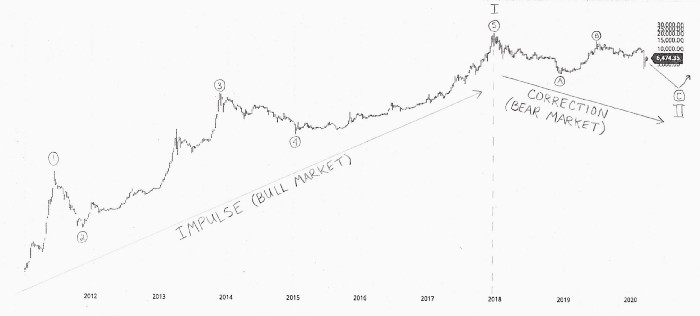 The Silk Road founder claims that the flagship cryptocurrency may remain in a bearish trend until next year. Also, the price could go much lower, possibly falling below $3,000 before it recovers. Not surprisingly, he predicts tremendous angst among Bitcoin advocates during this phase, yet insists that it will be an excellent opportunity to buy, as was the case during earlier low points.
Ulbricht remains optimistic for the long-term future of Bitcoin, noting that once this cycle ends the rebound will all but certainly result in much higher prices. In referring to his forecast of lower prices, he states:
It will take fortitude to buy in such an environment, but the rewards as wave III takes prices to new highs will be well worth it.
There is no shortage of technical analysis that seeks to predict Bitcoin's next market move. Whereas Ulbricht's contribution to this pool is noteworthy, it is also narrowly focused. The cryptocurrency market represents a new asset class that tends to defy many standard predictive formulas.
Most notably, unlike established commodities markets, substantial new investment moves into the crypto space on a daily basis. This growth is due to the fact that Bitcoin and other cryptocurrencies are still in their nascent stages. Once mass adoption begins to gain traction, the level of investment from both individuals and institutions will be enormous, and will no doubt shatter any current value estimates.
The upcoming block reward halving could be the catalyst that triggers the long-awaited investment boost that is sure to move into the crypto market. Even Ulbricht's chart shows that the price began to move up after the last halving in 2016. If this pattern holds true, then the idea that Bitcoin could fall much lower is pure fantasy.
Do you think that Bitcoin's price will drop below the $3000 mark? Let us know what you think in the comments below.
Images via Bitcoinist Media Library, Ross Ulbricht
Source: bitcoinist.com
Bitcoin Turned 'Sell' After A Key Technical Rejection Above $7K
Bitcoin was rejected above the $7,000 level and it declined heavily against the US Dollar. BTC price is currently trading in a bearish zone and it could continue to slide towards $6,400.
Bitcoin is showing a lot of bearish signs below the $7,000 pivot level against the US Dollar.
There was a key technical rejection near the $7,200 area and the 100 hourly SMA.
There is a crucial bearish trend line forming with resistance near $7,150 on the hourly chart of the BTC/USD pair (data feed from Kraken).
The pair is likely to continue lower as long as it is below the $7,200 level.
After forming a support base above the $6,700 level, bitcoin price started a fresh increase against the US Dollar. BTC price climbed above the $6,900 and $7,000 levels, but it failed to gain bullish momentum.
It seems like the price was rejected above the $7,000 level and the 100 hourly simple moving average. More importantly, there is a crucial bearish trend line forming with resistance near $7,150 on the hourly chart of the BTC/USD pair.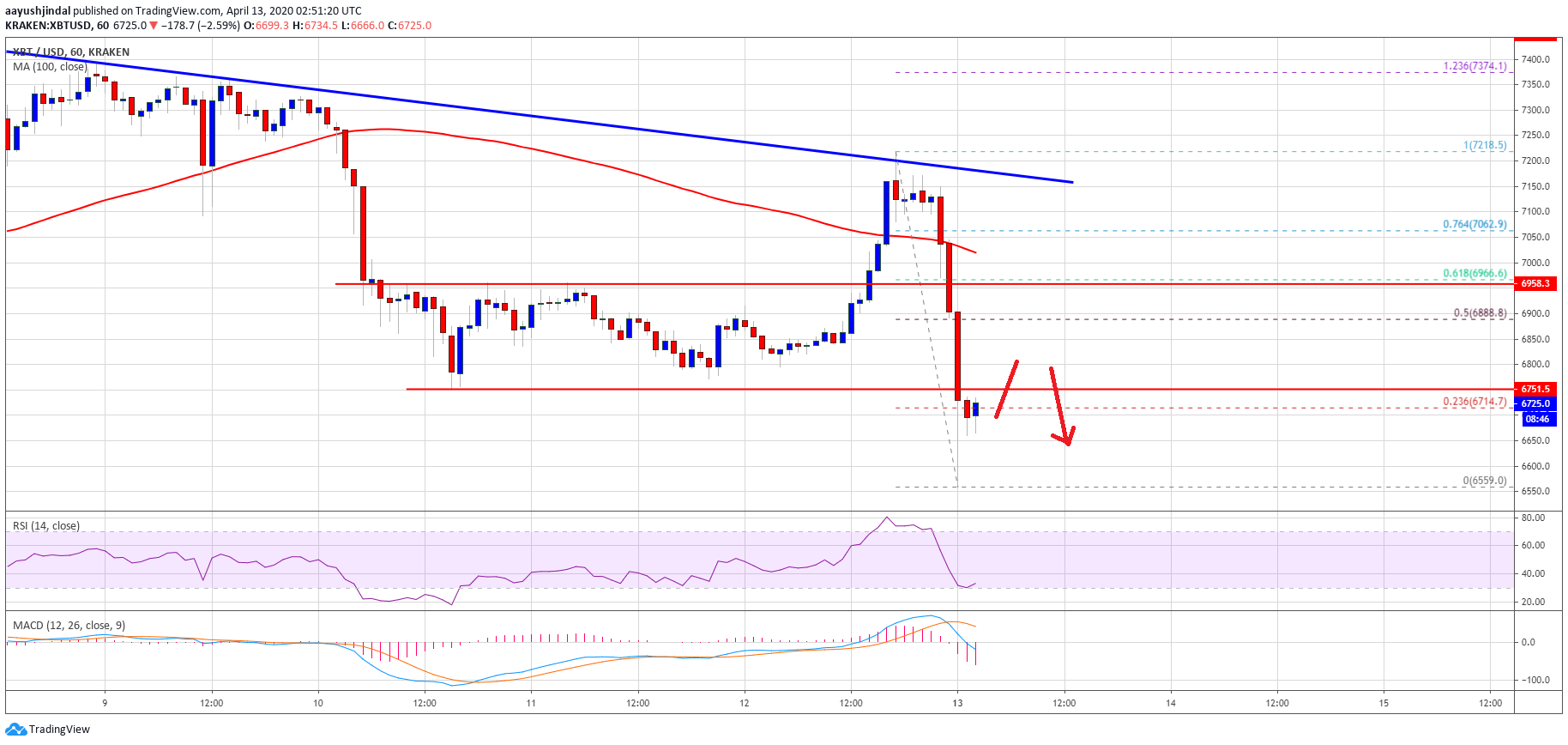 The pair formed a high near the $7,218 and declined heavily. It trimmed all its gains and even broke the $6,700 support area. A new weekly low is formed near the $6,559 level and the price is currently correcting higher.
It is trading near the 23.6% Fib retracement level of the recent decline from the $7,218 high to $6,559 low. An immediate resistance on the upside is near the $6,750 level (the recent breakdown zone).
If there are more gains above $6,750, bitcoin price might correct higher towards the $6,880 and $6,900 levels. The 50% Fib retracement level of the recent decline from the $7,218 high to $6,559 low is also near the $6,888 level to act as a resistance.
The main hurdle is now near the $7,150 and $7,200 levels, above which the price is likely to gain bullish momentum in the near term.
If bitcoin fails to recover above $6,750 or $6,900, there are chances of more downsides. An initial support is near the $6,600 level, below which the price might even decline below $6,500.
The next key support is near the $6,400 level, followed by $6,200 where the bulls are likely to take a stand.
Technical indicators:
Hourly MACD – The MACD is currently showing a lot of bearish signs.
Hourly RSI (Relative Strength Index) – The RSI for BTC/USD is now well below the 40 level.
Major Support Levels – $6,500 followed by $6,200.
Major Resistance Levels – $6,880, $7,000 and $7,150.
Source: www.newsbtc.com
Author: Aayush Jindal
Previous
Next