Bitcoin (BTC) Latest: BTC/USD at Record High, Takes Aim at 30,000
The Bitcoin price reached its highest ever level in early European trade Thursday, topping $29,000 and well positioned to hit $30,000.
Reports suggest that hedge funds, institutions and even blue-chip US corporates are investing in the cryptocurrency, adding to the demand from retail investors.
The price of Bitcoin rose again in early European business Thursday, hitting a record high at $29,302 and in a good position to reach the $30,000 level, perhaps after some profit-taking. As the chart below shows, BTC/USD remains in a strong upward-sloping channel but is currently overbought, with the 14-day relative strength index above 80. An RSI above 70 points to an overbought asset.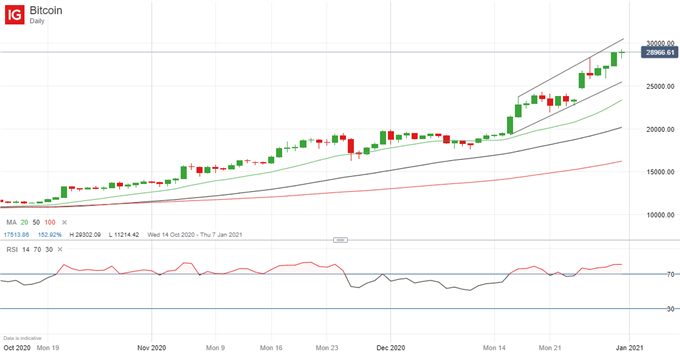 Source: IG (You can click on it for a larger image)
Recent reports have suggested that hedge funds, institutions and even blue-chip US corporates are now buying the cryptocurrency, adding to the demand from retail investors. A weak US Dollar has helped BTC/USD too, and institutional investors may have also been encouraged to buy Bitcoin by increased US surveillance of the market, clear from the US Securities and Exchange Commission's decision to file a lawsuit against Ripple Labs, alleging that it raised more than $1.3 billion through the sale and distribution of the digital assets of Ripple (XRP) without registering.
Bitcoin is also seen increasingly as an inflation hedge, an alternative to gold and as a more common mainstream payment method.
We look at currencies regularly in the DailyFX Trading Global Markets Decoded podcasts that you can find here on Apple or wherever you go for your podcasts
— Written by Martin Essex, Analyst
Feel free to contact me on Twitter @MartinSEssex
Source: www.dailyfx.com
Author: Martin Essex, MSTA
Close, but no cigar! Here are 2020's worst Bitcoin price predictions
Pundits and crypto analysts love to issue Bitcoin (BTC) price predictions regardless of how volatile the asset class is.
In 2017, there were calls for BTC's price to hit $35,000–$50,000, and of course, a few brave souls predicted that the price would top $1 million before correcting.
No one will forget how John McAfee infamously promised to chomp off his genitals if BTC's price didn't hit $1 million by 2020.
While some of these lofty estimates are based on fundamentals, others are entirely baseless. Regardless of the analyst's rationale, a handful of them are so far removed from reality that they have become memes.
Let's review the most outrageous Bitcoin price predictions of 2020.
Guessing the future price of cryptocurrencies is so embedded in the community that many analysts don't even consider evaluating their effectiveness. Keeping up with the endless flow of predictions issued on blogs, podcasts, Twitter and YouTube is almost impossible. Imagine the difficulty and energy it would take for a person to follow up with all these random guesses.
To further complicate matters, some of these predictions come from well-known Bitcoin bashers, such as renowned gold bug Peter Schiff, and New York University Stern School of Business professor Nouriel Roubini. Thus, in some cases, personal credentials sometimes matter less than working analytical models.
A month before the March 12 crash, which saw Bitcoin's price plummet 50% to $3,750, PlanB, the creator of the stock-to-flow model stated that Bitcoin would not return below $8,200. At the time, no one expected the Dow Jones equities index to face its most significant drop since 1987, neither the WTI oil future contract dropping to negative $40.
Despite the outlandish claim, PlanB won't be nominated to 2020's worse predictions because hardly anyone expected the coronavirus pandemic to impact the markets in a way that would cause absolute havoc. Furthermore, famous chartist Peter Brandt also made the same error when he said that BTC would never revisit the sub-$6,000 level in January.
On June 2, 2020, Twitter analyst CryptoWhale revealed a new "quantum" model that would predict Bitcoin's price. According to CryptoWhale, the model had "effectively predicted every major move since 2018."
Things could not have gotten worse as the model predicted both a $2,000 bottom in 2020 and a "proper bull run to $24,000" only in mid-2022. Somehow, the quantum particles, molecules and atoms that were supposed to make it more accurate were, in fact, pure blasphemy.
Two lessons that can be taken away from the "quantum model" are: (1) Having a ton of social network followers doesn't necessarily translate to better price estimates, and (2) complex models are prone to the same errors as humans. Evaluating a new asset class during a period of desperate central bank monetary easing is far from easy.
In April, Ross Ulbricht, the founder of the now-defunct Silk Road darknet market, wrote that Bitcoin's volatility — particularly the March 12 bloodbath — would most likely lead to a bear market, which could last for three to nine months. At that time, Bitcoin had been hovering around $7,000 and was clearly still affected by the recent 50% intraday correction.
Precisely 17 days after that blog post, BTC soared over 30% to $9,000, thus completely invalidating Ulbricht's analysis. To further show how far off that analysis was, Ulbricht added that a $14,000 bull run was "very unlikely."
During Ulbricht's so-called bear market period, Bitcoin's price rallied more than 300% from December 2018 to June 2019. Furthermore, calling for such a lengthy correction doesn't align with Bitcoin's historical data because even during the darkest period of December 2019, Bitcoin's price remained more than 100% above the previous year's lows.
During a July 27 interview with Forbes, Panxora CEO Gavin Smith said that he expected a $7,000 Bitcoin price by the end of the year. Gavin further added that "a short term washout this year before the true rally takes hold."
Panxora's CEO explained that despite the appreciating tendency caused by inflation hedge, the broader impact of demand shock on the economy would potentially drive BTC lower.
This estimate happened after 80 days of Bitcoin's price consolidating around $9,500. At the time, despite rising 100% from mid-March lows, there was still some doubt about BTC's ability to break the $10,000 resistance.
On Jan. 3, 2020, Nexo co-founder Antoni Trenchev stated that BTC could easily reach $50,000 in 2020.
Besides an overly optimistic estimate, the rationale behind it doesn't seem to fit. According to Trenchev, Bitcoin had become "the new gold," and he pointed to the lack of correlation to traditional markets as a potential catalyst.
As shown above, gold traded in tandem with traditional markets for the larger part of 2020, but it should be noted that these asset classes have different volatility. Thus, oscillations in equities tend to be much stronger. Nevertheless, the overall direction of both markets until November has been very much alike.
This price movement creates the impossible task where BTC is expected to act as "the new gold" while simultaneously presenting a lack of correlation. This estimate went doubly wrong for missing its year-end target by a wide margin and also failing to correctly estimate gold's correlation to traditional markets.
Now that Bitcoin's price is a mere 7.4% away from $30,000, it will be even more interesting to see what type of extravagant bullish and bearish price estimates are issued for 2021.
The views and opinions expressed here are solely those of the author and do not necessarily reflect the views of Cointelegraph. Every investment and trading move involves risk. You should conduct your own research when making a decision.
Source: news.iobanker.com
Author: ByioBanker
Bitcoin Price Prediction: BTC/USD Slumps After Rejection From $29,200 High
Bitcoin (BTC) Price Prediction – December 31, 2020
Buyers have broken above the $29,000 resistance but fail to sustain the upside momentum. The reason may not be farfetched. The daily stochastic and the RSI have all indicated that the coin is trading in the overbought region of the market. The RSI is deep in the overbought region as it indicates a possible correction.
Resistance Levels: $28,000, $29,000, $30,000
Support Levels: $18,000, $19,000, $20,000
Since December 30, Buyers have already broken the $29,000 price level but the bears are resisting a further upward move. Because of that, the market is consolidating in the lower time frame. Yesterday, the BTC/USD price has been fluctuating between $28,550 and $29,200. The upward move is being resisted at the $29,200 high. The bears are attempting to push the price downward but the candlesticks are showing a long tail above the current support. The candlestick's long tails typify that there is strong buying pressure at lower a lower price level. The upward move is likely to continue. Usually, after three days of correction, the market will resume upward. The target price of $30,000 will be achieved if the price breaks the $29,200 resistance.
NFL Player, Russell Okung Isn't Getting Paid in Bitcoin.
National Football League player Russell Okung is a strong supporter of Bitcoin. Okung's $13 million salaries were not paid in BTC. His employer, the Carolina Panthers, isn't paying him in virtual currency. However, there were reports that he was converting a portion of his salary into BTC. Okung may have contributed to these contradictory reports when in May 2019, he first expressed his desire to be paid in BTC in a tweet. Meanwhile, a spokesperson from the Carolina Panthers has established that Okung and of his teammates are paid in dollars only.
Nonetheless, Bitcoin has fallen after rejection at the $29,200 high. Meanwhile, the Fibonacci tool analysis still remains the same. on December 27 uptrend; a retraced candle body has tested the 61.8% Fibonacci retracement level. The retracement indicates that Bitcoin will rise and reach level 1.618 Fibonacci extensions or the high $30,803.80 high.
Remember, all trading carries risk. Past performance is no guarantee of future results.
Source: insidebitcoins.com
Author: FOLLOW ON
Total Tokenization, Taproot, Bitcoin ETF + More News
Get your daily, bite-sized digest of cryptoasset and blockchain-related news – investigating the stories flying under the radar of today's crypto news.
The vice president of the Russian metals giant Norilsk Nickel has spoken out about his company's ambitious tokenization plans, saying new platforms now make it possible to "tokenize anything." The firm has recently unveiled its first offerings on its metals token platform, which was green-lighted by the Russian Central Bank earlier in the year. And in an interview with Indicator, VP and sales chief Anton Berlin said his company is following a business model that "assumes [Russian] regulation" on crypto and tokenization-related issues "will gradually change," becoming more business-friendly in 2021 and beyond.
With the agreement by Binance Pool, the mining pool run by major crypto exchange Binance, all the major pools are now prepared to support Taproot, one of the most anticipated Bitcoin (BTC) upgrades, and its largest alteration since 2017. According to crypto mining pool Poolin VP Alejandro De La Torre, Binance Pool finally said 'yes' to the upgrade support, after being the only one with over 10% of the network that hadn't done so. "Mining pools in favor of the taproot upgrade now at 91.05%!!," said De La Torre.
Major US asset manager VanEck has once again submitted an application to the US Securities and Exchange Commission (SEC) for an exchange-traded fund (ETF) based on bitcoin (BTC), the "VanEck Bitcoin Trust." The document was filed on December 30, saying the ETF would trade on the Cboe BZX Exchange.
The Serbian government will permit the issuance and trading of digital assets and related services under the Digital Asset Law, which officially went into effect on December 29, eight days after it had been published in the official gazette, thus reversing the country's previous policy. It will be applied six months from now. Per the law, digital asset service providers in Serbia can operate after "obtaining permission from the supervisory authority," while the Securities Commission and the National Bank of Serbia are tasked with the supervision and applying the law.
Bitcoin custodian firm BitGo agreed to pay USD 93,830 in a settlement pact with the US Treasury for 183 "apparent violations" of multiple sanctions programs related to digital currency transactions, said the announcement. As a result of deficiencies related to BitGo's sanctions compliance procedures, it said, BitGo failed to prevent persons in the Crimea, Cuba, Iran, Sudan, and Syria from using its non-custodial wallet service. The statutory maximum civil monetary penalty applicable in this matter is USD 53m, the department said.
The US Treasury Department's proposed rules per which users would be required to comply with Know-Your-Customer (KYC) measures if they want to send their crypto to a private wallet may be ineffective, found blockchain analytics firm Elliptic. The firm said in their open letter that the rules could "adversely impact" the effectiveness of existing Anti-Money Laundering and Countering the Financing of Terrorism (AML/CFT) regulations, that the rules overstate the risks proposed by unhosted wallets as transactions can already be traced, that the Treasury's 15-day comment period for this rule is "unjustifiably short," and that rules "would impose an unjustified tax" on financial innovation.
The Russian gas provider Gazprom, one of the nation's most affluent companies, has invited third-party crypto mining operators to set up shop in a Siberia-based plant operated by its oil arm, Gazprom Neft. Per a report from Forklog, the subsidiary will convert gas from an oilfield in the Khanty-Mansi Autonomous Okrug into electrical power that it will then provide to miners, who are keen to make use of cheap electricity and set up shop in Siberia, famous for its bitterly cold winters. Cold weather bases are ideal for crypto miners, whose rigs can otherwise overheat, unless cooled at great expense.
WeMade Tree, the South Korean gaming giant WeMade's blockchain arm, has released an Android version of its first flagship blockchain gaming title. Per CEOScoreDaily, the firm has finally released the game, named Bird Tornado, on its Wemix platform, making it available for download on the Google Play Store. The firm has also developed an exchange platform that lets players swap in-game currencies for other digital assets, and said that an iOS version is in the pipelines.
Source
Source: e-bitco.in
Author: adminhttps://e-bitco.in
Bitcoin and Altcoins Target Fresh Highs In New Year
There were positive moves in bitcoin price above the USD 28,800 pivot level and USD 29,000. BTC traded to a new all-time high close to USD 29,500 and it is currently (04:00 UTC) trading in a positive zone. It seems like the price might continue to rise towards USD 29,800 and USD 30,000 in the near term.
Similarly, most major altcoins are trading in a positive zone. ETH/USD is trading above USD 740, but it must gain pace above USD 750 for a sustained move higher. XRP/USD is trading well above USD 0.225 and it might test the USD 0.250 resistance.
Total market capitalization
In the past two sessions, bitcoin price remained well bid above the USD 28,500 and USD 28,000 levels. BTC is trading above USD 29,000, with an immediate resistance near USD 29,500. The first key resistance is near the USD 29,880 level, above which the price might surpass the USD 30,000 resistance.
If there is a downside correction, the price might find buyers near the USD 28,800 level. The next key support is near the USD 28,500 level, below which it could revisit USD 28,000.
Ethereum price is stuck in a key range above the USD 735 and USD 740 levels. ETH must settle above USD 750 to start a fresh increase. In this case, it might accelerate higher towards the USD 765 and USD 780 levels in the coming sessions.
On the downside, the USD 740 level is a short-term support. The main support is now forming near the USD 728 and USD 730 levels.
Bitcoin cash price is consolidating near the USD 350 level. It is facing hurdles near the USD 358 and USD 360 levels. A convincing close above the USD 360 level may possibly clear the path for a push towards the USD 388 level. On the downside, a break below the USD 340 support might call for a test of USD 330 or USD 322.
Litecoin (LTC) is trading above the USD 130 level and it seems to be setting up for a larger increase. The first key resistance is near the USD 138 and USD 140 levels. A close above the USD 140 level could set the pace for a sustained upward move towards USD 150 and USD 155.
XRP price is showing positive signs and it is now trading above the USD 0.220 level. It is also trading near the USD 0.232 resistance. If the bulls remain in action, there are chances of a steady rise towards the USD 0.250 resistance level. On the downside, the USD 0.212 level is a major support.
In the past few hours, many altcoins gained over 8%, including DOT, UST, ZEN, KSM, FIL, RSR, AAVE, OKB, REN, ALGO, AVAX, YFI, DOGE, and NXM Out of these, DOT rallied further above the USD 8.50 and USD 9.00 resistance levels.
Overall, bitcoin price is showing positive signs above the USD 28,800 pivot level. If BTC climbs above USD 29,500, it could further clear the path for a test of USD 30,000.
_____
Source
Source: e-bitco.in
Author: adminhttps://e-bitco.in
Previous
Next