Bitcoin Breaking This Single Level Will Spark a Pre-Halving Rally
Bitcoin is showing bullish signs above the $7,700 level against the US Dollar. BTC could start a strong pre-halving rally if it breaks the $8,000 resistance and the 100-day simple moving average.
Bitcoin is following a positive path above the $7,500 pivot level against the US Dollar.
The price is now facing a major hurdle near $8,000 and the 100-day simple moving average.
There is a key bullish trend line forming with support at $7,200 on the daily chart of the BTC/USD pair (data feed from Kraken).
The pair could either surge above the $8,000 resistance or retest the bullish trend line.
After forming a major swing low, bitcoin started a steady rise above the $6,500 and $7,500 resistance levels against the US Dollar. BTC price even settled above the $7,500 pivot zone to move into a bullish zone.
During the rise, it surpassed the 50% Fib retracement level of the main drop from the $10,497 high to $3,930 swing low. The current price action is positive above $7,500, but the bulls are clearly facing a major hurdle near the $8,000 level.
The 100-day simple moving average is positioned near the $8,000 level to prevent an upside break. The 61.8% Fib retracement level of the main drop from the $10,497 high to $3,930 swing low is also close to $7,980 level.
More importantly, there is a connecting resistance trend line forming at $8,000 on the daily chart of the BTC/USD pair. Therefore, a successful break above the $8,000 level and the 100-day simple moving average could open the doors for a pre-halving rally in the coming days.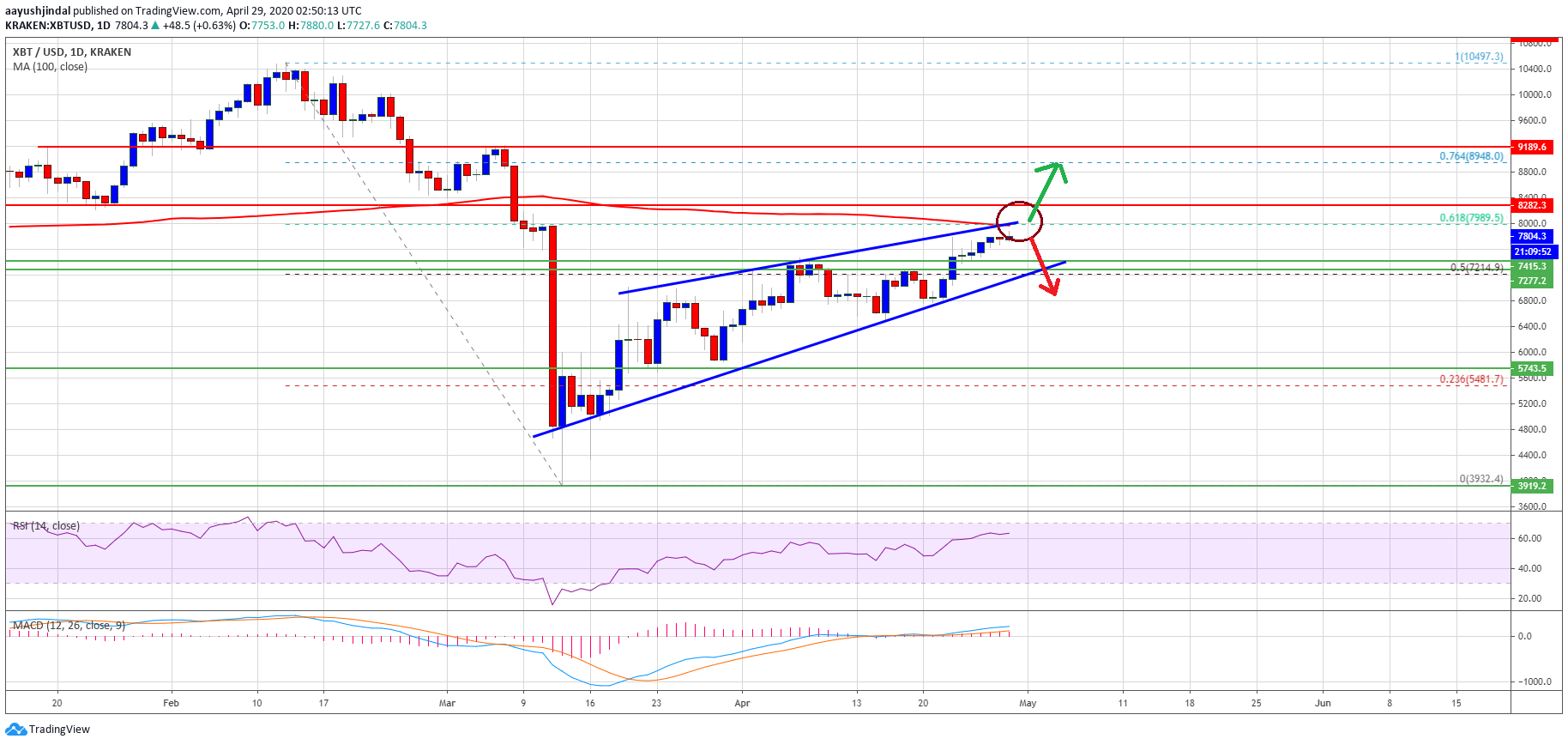 The next key resistance is near the $8,280 level, above which bitcoin bulls are likely to aim a test of the $9,000 and $9,200 levels in the medium term.
If bitcoin price fails to surpass the $8,000 resistance and the 100-day SMA, there might be a bearish reaction. An initial support is near the $7,500 level.
The main support is near the $7,200 level and a key bullish trend line forming with support at $7,200 on the same chart. A bearish break below the $7,200 level could spark a fresh bearish wave. In the mentioned bearish case, the price could dive towards the $6,000 level.
Technical indicators:
Daily MACD – The MACD is currently gaining momentum in the bullish zone.
Daily RSI (Relative Strength Index) – The RSI for BTC/USD is now well above the 55 level.
Major Support Levels – $7,500 followed by $7,200.
Major Resistance Levels – $8,000, $8,280 and $9,000.
Source: www.newsbtc.com
Author: Aayush Jindal
Bitcoin's Halving Is Irrelevant For Some Large Traders
Apr 28, 2020 at 15:55 UTC
Bitcoin's third halving is less than two weeks away. Google searches indicate an all-time high level of interest in this event, the third in the life of the world's oldest cryptocurrency.
But some traders say the halving won't be the bullish catalyst many expect: They say it doesn't matter. Rather, they are focused on other macroeconomic catalysts, including unprecedented central bank monetary policies, that may drive bitcoin's price in the coming months and years.
Bitcoin halving events occur every four years when block rewards paid to bitcoin miners are cut by 50 percent. The current block reward of 12.5 BTC will fall to 6.25 BTC in May.
"The supply shock of the halving is negligible compared to the regular trading volumes of exchanges," said Francis Pouliot, CEO of Canadian over-the-counter bitcoin exchange Bull Bitcoin. In the long term, however, a "loss of confidence in other assets" makes him "insanely bullish" on bitcoin, said Pouliot.
The "marketing impact" of the Federal Reserve's quantitative easing efforts is "incomparably higher than the very predictable, thus boring, halving," Pouliot said.
Queries about the May halving have already eclipsed searches for "bitcoin halving" that took place ahead of bitcoin's second halving in 2016. Search interest is expected to acutely increase over the coming weeks, according to Google's data.
Bitcoin options markets reflect a similar hesitation to view the halving as a bullish event. The put-call open interest ratio has climbed steadily through the month of April, according to data from Skew, which suggests the market is more focused on hedging against bitcoin's downside risk as the halving approaches.
"There's usually an unexpected pullback after the halving," said Zoran Scekic, managing partner at Zorax Capital.
Call options give the holder the right, though not the obligation, to buy the underlying asset at a set price on or before a specific date. Put options give the right to sell.
"Most fundamental-based bull cases on the having have little merit, but the halving is a good marketing event," said Ryan Watkins, bitcoin analyst at Messari. "I'm not confident bitcoin will be able to decouple from other asset classes while macro uncertainty overhangs, at least in the short term and around the halving," said Watkins.
Other recent halving events can help set expectations for bitcoin's third halving, according to some investors. Litecoin and bitcoin cash already experienced similar halving events in August 2019 and April 2020, respectively.
"Bitcoin cash now trades lower against bitcoin, having gone down from 0.35 pre-halving to about 0.32 today," said Max Boonen, founder of B2C2, a prominent over-the-counter liquidity provider. "To argue that bitcoin will rally where its cousin bitcoin cash didn't is similar to saying that the bitcoin market is less efficient. That seems hard to me," said Boonen.
Bitcoin closed its sixth consecutive weekly gain on Sunday, according to Bitstamp. Bitcoin has not closed more than two consecutive weekly gains since May 2019 when the price rallied from $5,000 to $9,000.
Source: www.coindesk.com
Author: Christine Kim
Crypto Analyst Tone Vays Says $100,000 Bitcoin Predictions in Play If BTC Breaks These Pivotal Lines of Resistance
Veteran analyst Tone Vays says an epic Bitcoin rally is in store if the king of crypto can overcome key areas of resistance.
In a new episode of Trading Bitcoin, Vays says the TD Sequential indicator, which traces a series of price points to identify potential breakouts, suggests Bitcoin may break out to $9,000 in the short term.
But despite the bullish indicator, Vays says he's not betting on this coming to fruition due to a strong line of resistance at $8,000.
"Can we make it to [$9,000]? Anything is possible… The biggest reason why that's a little too optimistic is this behemoth of triple resistance of the 128-day moving average, the 200-day moving average and a fibonacci 62% line [at $8,000]. That is a monster."
If Bitcoin can make it to $9,000, Vays says the last line of resistance is a descending triangle that currently stands at $9,500.
If that happens, Vays says the highly discussed stock-to-flow model from the anonymous analyst PlanB – which forecasts that BTC will hit anywhere from $100,000 to $288,000 by 2024 – will suddenly be on the table. Vays also points to John McAfee's infamous bet that BTC will hit $500,000 this year.
"The moment we break above this red line [at $9,000] PlanB is going to be right. And PlanB has some very optimistic targets.
What cryptocurrency will become the main one in a year?
For all we know, John McAfee could be right with his $500,000 target. This is the ultimate resistance and it's not that further off. This is at $9,500 right now. What do I think is going to happen? What I think is going to happen is we're going to get rejected by this monster [at $8,000]." [ok I see now where he says it's a no-go. So I think you just have to finesse the top a bit otherwise it looks like you've misinterpreted him.]
Vays says he's expecting BTC's current rally will continue until it hits that barrier at $8,000. After that, he predicts BTC will correct to $7,450 or $7,200.
Source: dailyhodl.com
Tether prints $1 billion in a month: Bitcoin price up 20%
The Tether treasury has minted just shy of $1 billion in USDT stablecoins this month, pushing its market cap to over $7.5 billion for the first time. Stablecoins are cryptocurrencies that have their values pegged to fiat currencies, such as the US dollar, and are typically backed by reserves of the same amount of money.
According to Whale Alert on Twitter, a tracker that monitors several blockchains for large transfers, Tether minted $999 million in new USDT in April alone, making it one of the most prolific months on record for the cryptocurrency. A large influx of new stablecoins onto the market is often seen as a bullish sign since stablecoins are one of the easiest ways to on-ramp from fiat to cryptocurrencies.
Throughout this month, the price of Bitcoin has also performed well. After starting the month at $6,400, Bitcoin's price has risen 20% to its current value of $7,750. Although there have been reports that Tether's influence has pushed up Bitcoin's price in the past, a recent report casts doubt on those claims.
So far this year, Tether has printed $2.7 billion USDT in total, with $120 million in February and $1.4 billion in March. At the same time, other stablecoins have seen much less activity. There has only been $250 million new USD Coin (USDC) , $20 million new Paxos Standard (PAX) and $180 million Binance USD (BUSD).
It is unclear why so much money is being funneled into the Tether stablecoin, which is only 74% backed according to filings released in the New York Attorney General's investigation into Tether's $850 million lost funds and has never completed an audit, compared to other stablecoins, some of which perform regular audits.
Much of the newly minted Tether this year was produced in batches of 120 million USDT, which Tether CTO Paolo Ardoino notes are "inventory replenishes."
"Note this is a authorized but not issued transaction, meaning that this amount will be used as inventory for next period issuance requests," said on Ardoino on several of the Whale Alert posts. This means that this USDT is on-hand so that fiat deposits can be fulfilled quicker—they will only enter circulation when they are issued, which will only take place when Tether receives the equivalent amount in fiat from customers. However, since then, many of the amounts may have been authorized.
Tether is currently available on several blockchains, including the Omni layer, Ethereum (as an ERC20 token), and Tron (as a TRC20 token). Although Omni was previously the most popular chain for USDT, it has since been overtaken by Ethereum—which now hosts around 75% of the Tether supply. On the other hand, Tron now hosts $814 million USDT, which is equivalent to almost 11% of the Tether supply.
With a market capitalization of $7.5 billion, Tether is edging closer to becoming the third-largest cryptocurrency. This slot is currently occupied by XRP, with a market cap of $8.75 billion. But when it comes to trading volumes, Tether leads the way.
Have a news tip or inside information on a crypto, blockchain, or Web3 project? Email us at: tips@decrypt.co.
Source: decrypt.co
Author: Decrypt / Daniel Phillips
Indicator Shows Bitcoin is on the Brink of a Historic Bull Rally
Bitcoin has seen some lackluster price action throughout the past few days, generally finding itself caught within a bout of sideways trading within the mid-$7,000 region as bulls struggle to surmount the heavy resistance that has been laced throughout the upper-$7,000 region.
It now appears that bulls are close to turning the tides firmly back into their favor, as one technical indicator suggests that the crypto is currently on the cusp of entering a bull run of historic proportions.
Investors are taking notice, as data signals that addresses with non-zero balances have been rocketing higher in recent times.
Bitcoin's uptrend in the time following its capitulatory decline to lows of $3,800 has been quite intense, and the crypto has shown signs of strength even in the face of multiple firm rejections at the level right above where it is currently trading at.
This strong uptrend may be a sign that its recent lows are a long-term bottom and that bears significantly overextended themselves during the latest decline.
One interesting factor that has closely coincided with this uptrend is a batch of new investors flocking to the benchmark cryptocurrency.
This trend is clearly elucidated while looking towards the growth in new wallet addresses with a non-zero balance, a phenomenon that is elucidated by data from research platform Glassnode.
The above chart shows that the influx of new investors into the nascent markets has gone parabolic in recent times.
BTC's upcoming mining rewards halving could be one factor that is playing a huge role in ushering new investors into the digital asset. The event shines a bright spotlight on the crypto's deflationary nature as it trades against a backdrop of unprecedented inflation and loose global monetary policy.
The culmination of Bitcoin's strong uptrend and influx of new retail investors into the market has brought the crypto to the edge of being in a full-fledged bull trend – according to another indicator from Glassnode.
"A key moment to watch: Bitcoin Short Term Holder NUPL has entered the hope zone. Staying above this zone has previously indicated the start of bull markets. With the halving approaching, can BTC maintain this momentum?"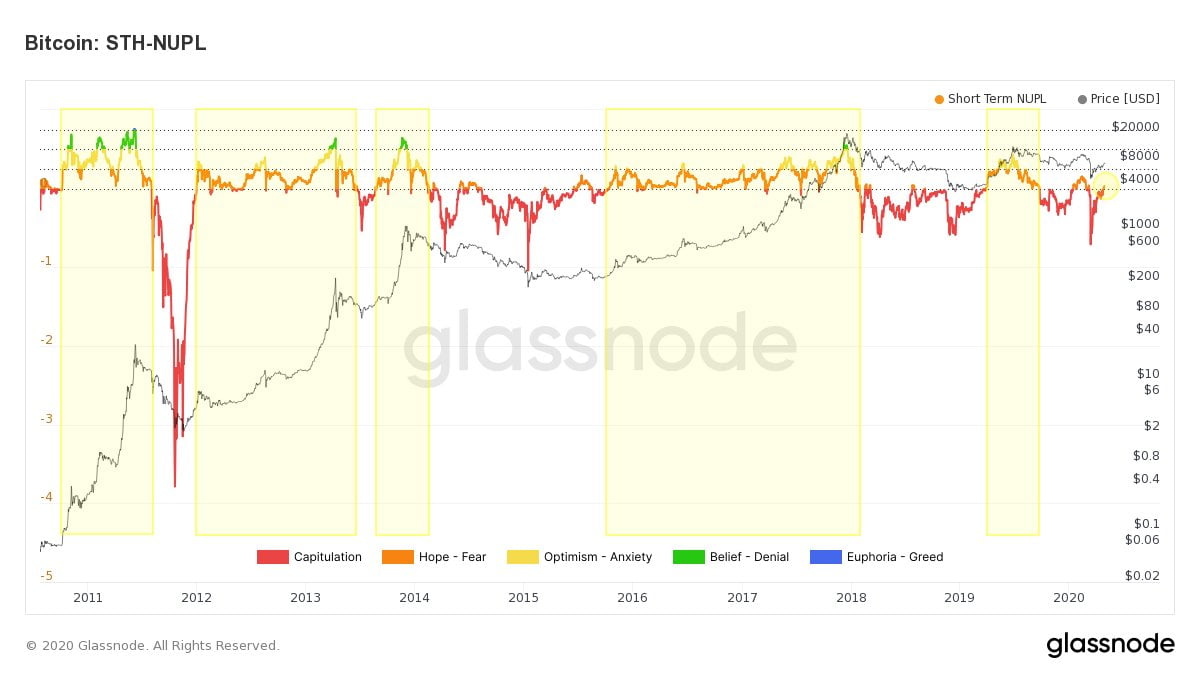 The indicator seen in the above chart does seem to suggest that if Bitcoin pushes higher before or after the halving occurs, it could be enough to tip the scales into bull's favor and help the digital asset enter its next parabolic phase.
Featured image from Unplash.
Source: www.newsbtc.com
Author: Cole Petersen
Previous
Next