Bitcoin and Crypto Margin Trading Exchanges (UPDATED 2020)
What if you could leverage your long and short positions on Bitcoin by 2X, 10X or even 100X, without having actually to hold the capital required to open such positions?
Welcome to our margin trading guide. In this guide, you will learn what margin trading in Bitcoin and crypto is, how does it work, what exchanges allow margin trading, and more.
Quick Navigation:
Bitcoin Margin Exchanges | How to short Bitcoin? | Margin trading tips | Costs and risks
Bitcoin margin trading, in simple words, allows opening a trading position with leverage, by borrowing funds from the exchange.
For example, if we opened a Bitcoin margin position with a 2X leverage and Bitcoin had increased by 10%, then our position would have yielded 20% because of the 2X leverage. With no leverage, it would have been only a 10% ROI.
Margin leverage can also be 25X and even higher, despite the risk, the same position as described above would have yielded 250% (instead of 10% with no leverage).
In most cases, the exchange provides loans to the traders so they can enlarge their capital to be used for margin trading. This way, traders can open positions with high leverage. The exchange doesn't have many risks since every position has its liquidation price, which is based on the level of leverage.
97
Full review
Max Margin: 125x | Type: Perpetuals | Deposit Method: Crypto | Fees: 0.04% (taker) + funding fee
97
Full review
Max Margin: 100x | Type: Futures & Perpetuals | Deposit Method: Crypto | Fees: 0.075% (taker) + funding fee
96
Full review
Max Margin: 100x | Type: Perpetuals | Deposit Method: Crypto | Fees: 0.075% (taker) + funding fee
86.4
Full review
Max Margin: 100x | Type: Perpetuals + Futures | Deposit Method: Crypto | Fees: 0.060% (taker) + settlement fee
85
Full review
Max Margin: 100x | Type: Futures + Perpetuals | Deposit Method: Crypto | Fees: 0.075% (Taker) + Funding fee
84.6
Full review
Max Margin: 100x | Type: Futures & Perpetuals | Deposit Method: Crypto | Fees: 0.05% + financing fee
84
Full review
Max Margin: 30x | Type: CFDs | Deposit Method: FIAT | Fees: 0.75% | Regulated Brokerage | Disclaimer: 75% of retail CFD accounts lose money
83.4
Full review
Max Margin: 100x | Type: Futures + Perpetuals | Deposit Method: Crypto | Fees: 0.075% (Taker) + Funding fee
83
Full review
Max Margin: 2.5x | Type: Derivatives | Deposit Method: FIAT & Crypto | Fees: 0.15-0.25% + loan interest
82
Full review
Max Margin: 30x | Type: CFDs | Deposit Method: FIAT | Fees: Overnight Funding, Inactivity Fee | Regulated Brokerage | Disclaimer: 76.4% of retail CFD accounts lose money
81
Full review
Max Margin: 20x | Type: Derivatives | Deposit Method: FIAT & Crypto | Fees: 0.2%
79
Full review
Max Margin: 200x | Type: Perpetuals | Deposit Method: Crypto | Fees: 0.075% (taker) + settlement fee
77
Full review
Max Margin: 3.3x | Type: Derivatives | Deposit Method: FIAT & Crypto | Fees: 15% (of funding contracts)
73
Full review
Max Margin: 5x, 50x (futures) | Type: Derivatives & Futures| Deposit Method: FIAT & Crypto | Fees: 0.01-0.02% + 4-hr fee
71.2
Full review
Max Margin: 100x | Type: Perpetuals | Deposit Method: Crypto | Fees: 0.075% (taker) + funding fee
Want to make gains while Bitcoin price is decreasing? It's possible. A short position on Bitcoin basically means that we believe in a coming-up drop in the price of Bitcoin. Technically, short positions work by selling the base asset first, in this case, Bitcoin, and then later buying it. You don't have to worry; the exchanges do this process automatically for us.
The second role for shorting Bitcoin is the option to hedge a cryptocurrency portfolio. For example, if the crypto portfolio consists of 5 Bitcoin and we want to hedge against the risk of a possible Bitcoin's decline, a 10X leveraged short position could be opened, and it would be equivalent to 40% of that Bitcoin portfolio.
To open the position, the amount required is only a tenth of it (10 times leverage). That means that we need to hold only 0.2 Bitcoin on the margin exchange in order to hedge 40% of a portfolio valued 5 Bitcoins. Another advantage is the fact that only a small amount is stored on the exchange itself. As you might notice, from security reasons, it's better to store the least amount possible on crypto exchanges.
Since margin trading is risky, hence, it's not recommended for beginners in crypto trading, we had gathered some must-read trading tips:
Always start trading with small amounts: First-day margin trading? then always start small. Get the necessary confidence you need before jumping into the deep raging water of the leveraged trading.
Don't go all-in at once: Unless you're sure about your trading skills, it's better to divide your position into portions, and create a ladder of prices. This way, you can reduce the risk while averaging down the entry price of the position. The same is true for taking profit. You can set-up a ladder of take-profit levels.
Understand fees and liquidations: Always know how much you are paying for fees and what type of fees you are paying. Trading on margin carries ongoing fees, make sure they don't eat up your profit. The same is true for the liquidation price; you should know that number in case the position is reaching there.
Risk Management: When trading on margin, set clear rules of risk management, beware of excessive greed. Take into account the amount you are willing to risk, keeping in mind that it can be lost entirely. Set levels for closing positions, taking profit levels, and the most important – set up stop-loss levels.
Price manipulations and short/long squeeze: In an unregulated market like Bitcoin, it's not rare to see occasional short and long squeezes. When the number of short or long positions is high, it means that a market mover can make easy money when creating an opposing price move, forcing those positions to liquidate (and push the price even more in that direction). The following image describes a classic event of a long squeeze followed by a short squeeze. a classic manipulation of the Bitcoin price.
Short-term trading: Cryptocurrencies are considered to be very volatile assets. Margin trading of cryptocurrencies doubles the risk, and even more. Therefore, try to make short-term trading leveraged positions. Moreover, although the daily fees or margin position is negligible, in the long term, the fees can amount to a significant sum.
Pay attention to fundamentals: Major events surrounding the crypto space, like Bitcoin ETF decisions, SEC regulations and so on, can have a significant effect on the price of Bitcoin. Even though many traders rely only on technical analysis, keep in mind that those events might have a critical impact on the crypto market.
Extreme volatility – don't leave the screen: Crypto trading sometimes has extreme fluctuations that occur in both directions, creating candle wicks. The risk, in this case, is that the deep will touch our liquidation value. It could happen where the leverage is relatively high, so the liquidation value is relatively close.
In fact, you can take advantage of these deeps and try to set closing target positions, hoping the deep will run over them, leaving you with a decent profit and then going back to the previous price.
As mentioned above, the cost of the margin position includes paying the ongoing interest for the borrowed coins, and fees for opening a position with the exchange. As the chance to earn more increases, so does the risk of losing more.
The maximum we can lose is the amount we invested in opening the position. This level is called the liquidation price. The liquidation price is the price where the exchange automatically closes our position, so we don't lose any of the money we were loaned and only lose our own money.
Example: if we are talking about standard trading, leverage 1:1, the liquidation price is when the position reaches a value of zero. As the leverage increases, the liquidation value will get closer to our buying price. For example, If the Bitcoin value is $1,000, and we bought one Bitcoin (long) with leverage of 2:1. The cost of our position is $1,000. Besides, we have also borrowed a further $1,000.
The liquidation price of our position will be a little over 500 USD – because, at that level, we lose exactly our initial $1,000, plus interest and fees. Margin trading can also be against the market, so we can also have a short position with leverage.
High leverage risk: The higher the leverage, the closer the liquidation price is. The rule here is dividing 100 by the leverage level will grant you the percentage until you reach the liquidation price. Example: a positive with 1:25 leverage needs only a 4% move (100 divided by 25) to get liquidated. 4% can be achieved quickly in the volatile crypto markets.
It is now possible to trade margin on most exchanges. The advantages of leveraged trading are very clear, and another significant benefit comes from the security aspect. Crypto traders should strive to minimize the number of coins they hold on exchanges. Exchanges are considered hot targets for hackers, and in recent years there have been several hackings of exchanges, including hacks of the major exchanges too.
Trading on margin allows us to open leveraged positions with no need to provide the Bitcoin required; that way, we can hold fewer coins on the exchange account.
BitMEX – Established in 2014, BitMEX has gained its reputation as the leading exchange in the field of margin trading of Bitcoin by means of the trading volume. All the recent years' Bitcoin moves had started on BitMEX. The exchange offers up to 100X leverage for long and short positions. With our link, you can receive a 10% discount for the first six months on the trading fees upon registration. Click here for the BitMEX trading video tutorial.
Additional tips for trading Bitcoin and Altcoins – can be read here and here.
Binance Futures 50 USDT FREE Voucher: Use this link to register & get 10% off fees and 50 USDT when trading 500 USDT (limited – first 200 sign-ups & exclusive to CryptoPotato).
Click here to start trading on BitMEX and receive 10% discount on fees for 6 months.
Source: cryptopotato.com
Kraken Review 2020 [UPDATED] All You Need to Know Before Starting
Way back when Bitcoin was the only crypto that was openly traded, there was Kraken. It is considered one of the first cryptocurrency exchanges in 2013, and up till today, it still presents itself as a Bitcoin exchange.
See Our Best Pick for 2020
Despite having more cryptocurrencies and crypto-fiat exchange pairs under its belt, it still offers special attention to Bitcoin. Kraken supposedly has never once had any problems with security or hacking. That prompted us to research ourselves.
Kraken is a US-based cryptocurrency exchange that was created in 2011. This offers cryptocurrency to fiat currency trading. It also offers price information to the computer system of Bloomberg LP Bloomberg Terminal.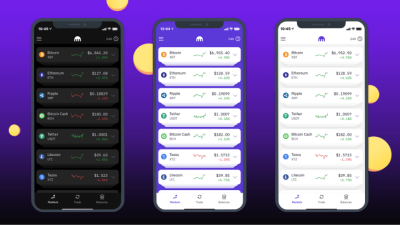 Cryptocurrency trading can be very confusing, especially to beginners, and Kraken provides tools and accurate data to users to start trading confidently. Kraken has a streamlined exchange for Bitcoin specially designed for first-timers and may even prove worthwhile for experts.
Regulated Platform
Variety of Coins
Available via App
Visit Site
Kraken was created in 2011 by founder Jesse Powell, but it was officially launched in 2013 after two years of development and testing. It started as an exchange that only offered Bitcoin, Litecoin, and EUR trading. It was only later that other currencies and margin trading were added.
Over many years, Kraken has acquired several companies and exchanges such as Coinsetter from the US and Cavirtex from Canada, CleverCoin from the Netherlands, Glidera from the US, CryptoWatch and Bit Trade from Australia. It is unsure if Kraken's cryptocurrency exchange model, which is de-regulated, has proven that it is better and safer than a regulated one.
Kraken guarantees users' safety while using their platform. One of the best guarantees is their years in the business with a history of security breach whatsoever. Kraken prides in the use of the best, high-quality security systems to protect their customers and their investments.
Their experts have created sophisticated systems to prevent financial theft and personal and banking information. Kraken assures users and future customers of security in many aspects.
They have secure coin storage with more than 90 percent of their deposits kept inside an offline, geographically-distributed secure cold storage. Information security is provided by encrypting all sensitive information from the system and in the data level with access strictly controlled.
The trading platform is secure and strictly controlled, and testing is done continuously to detect bugs and other threats to their systems. With all these advancements and features, Kraken is indeed a safe cryptocurrency exchange to consider.
User Guide
Kraken's sign-up starts by clicking the Create Account button found at the upper-right hand corner of the screen. Enter your email address, a designated user name, and a strong and secure password on the sign-up page. Take note that you should think wisely about what username you want to use because this cannot be changed.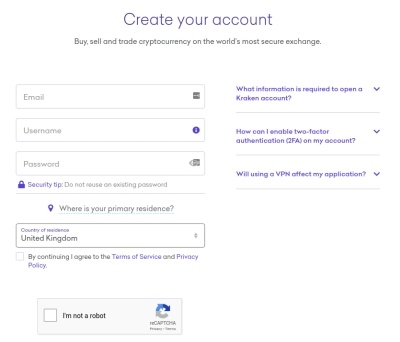 Step 2: Account Verification
There are three different types of accounts in Kraken (Starter, Intermediate, and Pro), and each one has a specific deposit limit, withdrawal limit, and verification requirements.
The three different account types will be discussed later. Requirements for the Starter account are simple. You only need to provide your full name, email address, primary address, and phone number to become verified.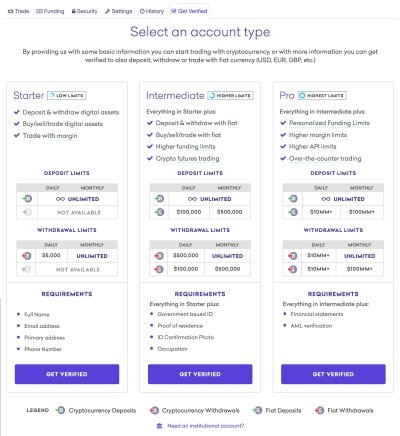 For the Intermediate account, you need a government-issued ID, proof of residence, occupation information, and ID confirmation photo to get verified. At the Pro account, you must submit financial statements and AML verification before you can enjoy all the account's features.
Take note that before you can trade fiat currency, you must upgrade to level 2 and submit ID verification.
Step 3: Account Deposit
To start trading on Kraken, you must make a deposit to your account. You can select from bank transfer or crypto deposits instead.
For bank transfers, you will add the information of the bank that you wish to get funds from. For Bitcoin or other cryptocurrency deposits, send your crypto to a deposit address.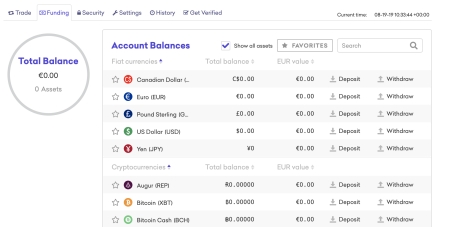 If you don't see a deposit address on the Bitcoin Deposit page, click the "Generate New Address." You need to copy-paste the address to place in your Bitcoin wallet. You may also use QR code to start scanning your wallet.
It will take you 6 confirmations before your crypto funds are transferred and are available for use. If you want immediate confirmation, use BitGo Instant.
Step 4: Buying Cryptocurrencies
To buy currencies, select the currency pair that you're interested in. You can choose from a drop-down menu that's found at the upper left corner of the Trade tab. After selecting the pair, go to New Order and choose the Simple form.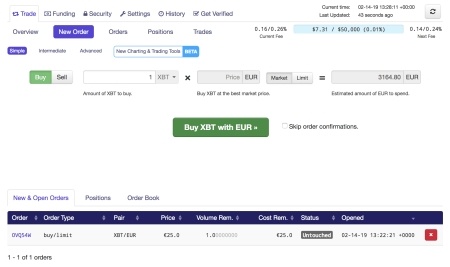 There is an option to use a market or a limit order. Market orders are orders that require immediate execution and come with a high fee or taker fee.
Limit orders are orders set at a price or when the market reaches the limit price. Limit orders may also have maker or taker fees depending on when it's executed.
When all the fields are complete, submit, and check the order details. If you're satisfied, click the Submit Order button and wait for the order to be executed.
Step 5: Selling Cryptocurrencies
The same procedure for buying cryptocurrencies is observed when it comes to selling cryptocurrencies. As always, review your orders; don't forget this step, so you can avoid serious mistakes in trading cryptocurrencies.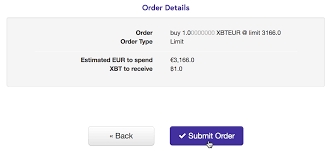 Market orders happen instantaneously. You can see this happen as your balance on the screen will change. You can immediately use the funds available for any trading and view your activity on the Orders page.
For limit orders, these won't be filled ASAP, and you can always view the status of your order in the Orders tab.
Kraken has fees for buyers or makers and for sellers or takers. The amount declines and is based on a trading volume.
Deposits in all cryptocurrencies are free. For US wire transfers, a $5 fee is asked. Meanwhile, withdrawal fees vary depending on the cryptocurrency.
Currencies available for deposits are USD, EUR, JPY, and GBP. You must follow deposit instructions, which will be provided to you upon verification of your account. It does not accept cash, credit cards, debit cards, PayPal, and other methods.
For withdrawals, US customers may use FedWire (Etana Custody) that can take 1 to 5 business days or sometimes instantaneously. US users can also depend on FedWire (High Limit) that only takes less than 1 business day with a 3 pm EST cutoff.
For international customers, SWIFT (Etana Custody and High Limit) may be used. This can take anywhere from 2 to 5 business days to transfer to your account.
Account Types
There are three verification levels and account types in Kraken:
Starter (Low Limits)
In this account type, you can enjoy the deposit and withdrawal of digital assets, trading/buying/selling of digital assets, and trade with margin. You will have unlimited cryptocurrency withdrawal and deposit limits, but fiat currency deposits and withdrawals are not available.
Intermediate (Higher Limits)
You will enjoy all the features of the Starter level and with deposit and withdrawals with fiat currency, buying/selling/trading with fiat currency, higher funding limits, and cryptocurrency futures trading. You can deposit and withdraw unlimited cryptocurrencies. Fiat deposits are from $100,000 to $500,000 while withdrawals are from $100,000 to $500,000.
Pro (Highest Limits)
The Pro has all the features of the Intermediate level plus higher margin limits, higher API limits, personalized funding limits, and over-the-counter trading. Cryptocurrency deposits and withdrawals are unlimited. Fiat currency deposits are from $10MM to $100MM, and withdrawals are from $10MM to $100MM.
Trading Platforms
You can trade through Kraken's official website using your PC or laptop. You may also access your account and perform trading through your smartphone. In October 2019, Kraken launched Kraken Pro and Kraken Futures on mobile.
Available Markets & Trading Instruments
Kraken offers crypto to crypto and crypto to fiat pairs. It offers global access and uses, but it does not provide service to some countries like Afghanistan, Cuba, Iran, Iraq, Japan, North Korea, and Tajikistan. It is not available to residents of Washington State and New York.
Education Center & Tools
Kraken also provides support and tools for first-time users and also for beginner cryptocurrency traders. It also comes with podcasts to help you with all topics related to cryptocurrency trading.
Customer Service
There are many ways to contact Kraken for any inquiries about your account. First, no matter where you go, you will have a chat function. This will help you access a virtual assistant named Coral.
She will help you with basic inquiries. But if you need specialized help, submit a request from the Support page.
Time-Tested – Kraken has been active for a very long time and has enjoyed a wide customer base.
Very Secure – According to feedback, Kraken hasn't had major security problems or breaches that have threatened the safety of users' capital.
Versatility – Users can deal with both fiat money and cryptocurrencies, whereas many other exchanges offer either only cryptocurrency trading or Bitcoin-only trades.
Use-Friendly – The exchange is easy to use and comes with a mobile app to offer traders more opportunities and mobility.
Customer Service – Customers can rely on responsive and professional assistance for anything that might be on their minds.
Kraken is different from other exchanges in such a way that it has successfully evaded any security threats. This could only mean that their security efforts are working and are better at protecting their users and their assets. Kraken also has a unique three verification levels, and this may have contributed to their safety as well.
Pros
Cons
Kraken is a cryptocurrency exchange platform with amazing security features. It has three verification levels or accounts that have different restrictions and limits according to level verification.
It is a good platform for new traders with their support, podcasts, and tools, plus their customer support is efficient and is always available. It is a platform recommended for beginners and experts to enjoy and profit from crypto-fiat trading.
Regulated Platform
Variety of Coins
Available via App
Visit Site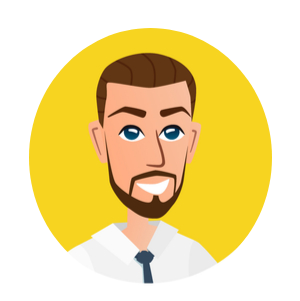 Source: www.moveyourmoney.org.uk
Author: Author
Picking the Best Cryptocurrency Exchange Site (2019)
It doesn't matter whether you are completely new to crypto or have been trading crypto since 2010. It is equally important for all of you to choose the best cryptocurrency exchange site for your individual needs. We won't lie to you. There is no "one size fits all"-solution, no single answer that is correct in all conceivable circumstances. None of the top 10 Bitcoin exchanges may be good for you, even if you just want to trade Bitcoins. Different people should trade at different exchanges. The absolutely easiest way to find the best cryptocurrency exchange site for you is to use the Exchange Finder. It's a free tool that matches you with the best cryptocurrency exchange site for you based on your answers to a few questions.
However, if you feel that you have a lot of time to waste and you don't want to use the exchange finder and you want to pick the right exchange all by yourself, this is a 7-Step Guide that will help you with doing just that.
The first step to check is what cryptos that you can trade at the relevant exchange. If you're just looking to buy some Bitcoin, then you're in luck – almost all exchanges offer that possibility. If you're looking for a bit more exotic coin, or don't even know what cryptocurrency to invest in, then you must ensure that your exotic coin is at all traded at the relevant exchange or that the exchange has a wide range of available cryptocurrencies. Many exchanges offer only one trading pair (BTC against USD or similar), whereas some exchanges have several hundred different trading pairs.
Compare which exchanges have which coins in our Cryptocurrency Exchange List or use our Exchange Finder.
Step 2 is to check if you are at all eligible to trade at the relevant exchange. The best crypto trading platform for you might not even be available to you. Most exchanges have an on-boarding process where you need to state which country you are from. Then, if you state that you are from a country whose citizens/residents are not eligible to trade at the exchange, the exchange will stop you from becoming a customer. The most common jurisdiction to exclude is the USA and we have compiled which exchanges support US-investors in our Cryptocurrency Exchange List and – of course – in our Exchange Finder. If you are from another jurisdiction and want to know if your eligible, check the relevant exchange's FAQ. Normally you can find the answer to which countries the exchange supports there.
Next step: Check. The. Fees. Check it twice, check it three times. A small fee might seem insignificant at first but remember that due to the phenomenon of compound return it can add up to great losses/winnings in the long-term. The trading fees usually consist of the maker fees and the taker fees. To summarize, a trade gets the ​taker​ fee if the trade order is matched immediately against an order already on the order book. The effect of such a trade is removal of liquidity​ from the order book. A trade gets the ​maker​ fee if the trade order is not matched immediately against an order already on the order book. The effect of such a trade is addition of liquidity​ to the order book. When a fee is flat it is equally high or low irrespective of whether you are a taker or a maker.
The industry average can be argued to be 0.25% for takers and slightly less for makers. This means that if you are a taker in an order worth USD 10,000 the exchange takes USD 25 as its fee for executing the trade. But there are also exchanges offering substantially higher or lower fees. Some exchanges charge a whopping 2.00% (for the USD 10,000 order that would correspond to USD 200) and others offer -0.10% (meaning that you get paid to trade, for the USD 10 000 order that would correspond to receiving USD 10).
Compare the trading fees of all top crypto exchanges at our Cryptocurrency Exchange List using the sorting tools.
What cryptocurrency will become the main one in a year?
Step 4: So you've checked the trading fees in detail and think you have a good grip on the fees. Well, you're not out of the woods yet. There is one remaining but very important fee to consider – the withdrawal fee. The withdrawal fee is charged when you want to take out your balance from the account you have at the exchange. Some exchanges offer competitively low trading fees, but then hits you on your way out with their withdrawal fees. The industry average, for BTC-withdrawals, is 0.000812 BTC per withdrawal. However, there are also exchanges charging as much as 2.0% of the entire withdrawn balance.
Compare the withdrawal fees of all top crypto exchanges at our Cryptocurrency Exchange List using the sorting tools.
Step 5: The exchange has the cryptos you want to trade, you are eligible to trade, and the fees are competitive. Now the only thing remaining is to start trading, right? Wrong. You also need to check whether the exchange supports the deposit method that you want to use. A lot of exchanges do not accept any deposit with "fiat currencies". This means that you have to be a previous owner of cryptocurrency to be eligible to trade at the exchange. Some only accept deposits through specific payment service providers, such as Perfect Money (if you want to purchase Bitcoin via Perfect Money, one choice is Exchange.blue). Others don't accept credit card deposits. If you need to pay by credit card, you will have to choose another exchange.
Compare which deposit methods that are supported at each of the top crypto exchanges at our Cryptocurrency Exchange List using the sorting tools.
Step 6: Different people have different preferences when it comes to the trading platform (i.e., how they want price movements of different cryptocurrencies to display, how the order books should look etc.). If you are into technical analysis, you might have a strong preference on what information that shall be easily obtained through the charts etc. And even if you're not into technical analysis you might have a strong preferences. There are numerous different opinions here on what the "right setup" is. We strongly suggest you do your own research based on your very own preferences.
The last step is a more general one which we would like to call "check for red flags". Many things can be red flags but – generally speaking – the absence of info is the biggest one. Is there no info on trading fees? No info on withdrawal fees? No info on the home country of the exchange? Then we would recommend you to go with another exchange. No info equals risks and you should always avoid unnecessary risks.
We hope that you have a had a pleasant and educating read and that you are now in a better position to choose the best cryptocurrency exchange site for you. But remember, the easiest and best way to choose the best cryptocurrency exchange site for you is our Exchange Finder. The second easiest and second best way is to use our Cryptocurrency Exchange List. We promise.
If you thought this guide was helpful, please also read our guides on How to Get Started with Cryptocurrency, How to Invest in ICOs and How to Stay Safe in Cryptocurrency.
Source: www.cryptowisser.com
Crypto Exchange Platform CoinDCX Raises 2 5 Mn In Funding Round
This fund-raise move has come two months after the Mumbai-based cryptocurrency startup had raised $3 million as a part of its Series A funding round.
Cryptocurrency exchange platform CoinDCX has raised $2.5 million (around 18.92 crore) in a strategic investment led by Polychain Capital. The funding round also saw the participation of Coinbase Ventures, the investment arm of San Francisco-based cryptocurrency exchange Coinbase, who is a new investor. This also marks Coinbase's first investment in an Indian blockchain company.
This fund-raise move has come two months after the Mumbai-based cryptocurrency startup had raised $3 million as a part of its Series A funding round, also led by Polychain Capital, in which Bain Capital Ventures and HDR Group had participated in March. This is the CoinDCX's second fundraise since the beginning of the lockdown.
This new strategic investment into CoinDCX is a shot of confidence in our roadmap toward bringing the crypto asset class to a largely untapped Indian market," said co-founder and chief executive officer Sumit Gupta, in a statement.
Founded in 2018 by Gupta and Neeraj Khandelwal, the platform provides instant fiat to crypto conversions with zero fees. Its liquidity aggregation model, integrated with top global exchanges including Binance, Huobi, and OKEx, provides users with access to liquidity from global crypto exchanges.
The Supreme Court had in early March, quashed a ban imposed by the Reserve Bank of India (RBI) on the trading of virtual currencies.
The RBI, in 2018, had barred banks and registered financial institutions from providing services in relation to cryptocurrencies and bitcoins as a part of its circular titled 'Prohibition on dealing in Virtual Currencies (VCs)'.
In the past few months, the cryptocurrency industry in India is on the rise after the SC lifted the ban and cleared the air on its legality. Following the lifting of the industry-wide trading ban in February 2020, CoinDCX said it witnessed 47 per cent growth in trading volumes and 150 per cent growth in daily active users in March alone.
It also claims it was the first cryptocurrency exchange in India to integrate bank account transfers on its exchange.
The company is targeting at bringing the total number of crypto users in India to 50 million.
"We have worked closely with CoinDCX from an early stage, and have continued to be impressed by the team and vision. Their thoughtful insights into the Indian market, as well as their long-term product roadmap, have strengthened our belief in the potential of the business," said Olaf Carlson-Wee, founder of Polychain Capital.
The company also said that it has a Rs 10-crore dedicated initiative focused on education, organising meetup events, community engagements and consumer campaigns.
Source: bwdisrupt.businessworld.in
Author: Bhumika Manghnani
RBI Confirms No Ban on Cryptocurrency Exchanges, Businesses or Traders in India
India's central bank, the Reserve Bank of India (RBI), has confirmed that there is no longer any banking ban on crypto exchanges, companies, or traders. This follows the supreme court decision to quash the RBI circular prohibiting banks from providing services to any customers dealing in cryptocurrencies. The ban lasted for almost two years.
The Reserve Bank of India has confirmed in response to a Right to Information (RTI) request that there is currently no banking ban on the crypto industry.
The RTI query was filed on April 25 by B.V. Harish, co-founder of Unocoin, a major Indian cryptocurrency exchange. He asked whether the RBI has "prohibited any banks from providing the bank accounts for crypto exchanges, companies or crypto traders." The RBI replied on May 22:
As on date, no such prohibition exists.
After several hearings, the Supreme Court of India quashed the RBI circular which banned banks from providing services to anyone or any businesses dealing in cryptocurrencies in March. The circular was issued in April 2018. Soon after the court's verdict, cryptocurrency exchanges began bringing back INR support after about two years without it.
Nonetheless, some banks are reportedly still refusing to open accounts for crypto exchanges, claiming that they are waiting for further instructions from the RBI regarding cryptocurrency. "Bankers have been saying that they need new RBI circulars mentioning that there are no more restrictions for them to provide bank accounts for crypto businesses," Harish was quoted by the Economic Times as saying. "Now, we have received a positive response from the RBI." However, the central bank is not obligated to inform commercial banks of the supreme court's ruling. The RBI also previously confirmed that cryptocurrencies, such as bitcoin, are legal in India.
After the banking restriction was lifted, several cryptocurrency exchanges began seeing 10X trading volumes and a substantial increase in new users. While economists have predicted the worst recession ever for India, the crypto industry is booming despite the extended nationwide lockdown. Peer-to-peer (P2P) marketplaces for bitcoin are growing in India, new crypto exchanges are launching and new investments are flowing in.
Meanwhile, the Indian government is still discussing whether to regulate cryptocurrency; the process has been delayed due to the coronavirus crisis and the nationwide lockdown. In March, it was reported that the Indian government was discussing ways to regulate cryptocurrencies with the central bank.
Do you think India will soon regulate cryptocurrency? Let us know in the comments section below.
The post RBI Confirms No Ban on Cryptocurrency Exchanges, Businesses or Traders in India appeared first on Bitcoin News.
Source: www.bitcoininsider.org
Author: Author: Kevin Helms
Previous
Next