Another DeFi hack: $25 million in Bitcoin and Ethereum stolen from dForce
The DeFi platform dForce has lost 100% of its assets in Ethereum and Bitcoin following an exploit on Saturday, April 18, 2020.
Data from DeFi Pulse shows that the Ethereum-based protocol, dForce, fell victim to an attack. dForce is an ecosystem of protocols that includes Lendf.ME and USDx. Data from DeFi Pulse reveals that, in the last 24 hours, dForce has lost 100% of its assets that were estimated at $25 million in Ethereum and Bitcoin, as can be seen in the graph below.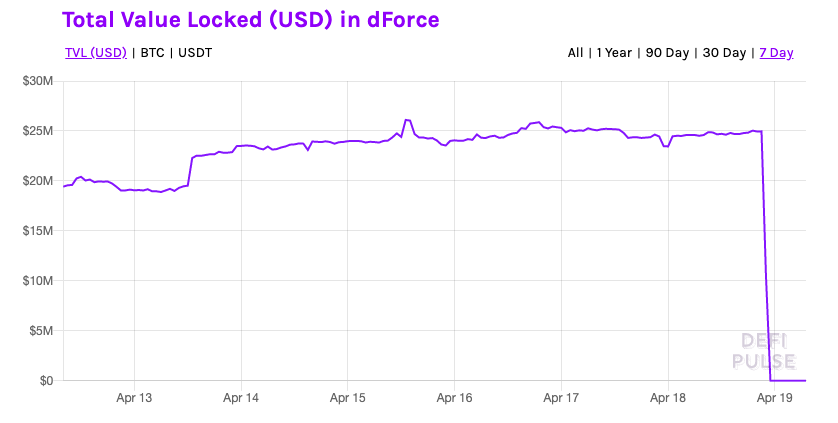 Via their Telegram channel, dForce CEO Mindao Yang commented that his team is still investigating the incident. Furthermore, the DeFi lending agreement Lendf.Me confirmed an attack at 8:45 BST, block height: 9.899.681. After investigating the problem, the technical team advised users to stop the depositing assets.
Initial reports from the investigation indicate that the attack was initiated with the imBTC token, an Ethereum token whose value is pegged to Bitcoin (BTC) at 1:1 parity. While not all information is known yet, it currently appears that the attackers took advantage of the fact that the imBTC uses the ERC 777 standard, which allowed the hacker to continuously access Uniswap's smart contract to withdraw funds before the external balance could be updated.
Community members expressed their discontent. A similar vulnerability with imBTCs was apparently exploited earlier this year and, according to users, Lendf.Me didn't make the appropriate corrections. In addition, Uniswap has suffered a similar attack in the past. One user claimed that this vulnerability allowed the hacker to obtain unlimited collateral, which then enabled him to empty the pool by borrowing the money. dForce's CEO commented on this:
There was no overriding over the past, even during Black Thursday, lendf liquidated over 1m loans and it was the best performing lending facility.
If you look at our portfolio, the majorly of the non-stablecoin-collateral borrowing, are sitting at above 160% collateral cover, so it will take 40% drastic drop to undercollateralize meaningful positions.
As reported by CNF, the DeFi sector has taken several hits in recent months. The MakerDAO platform experienced significant losses after the flash crash in the prices of the major cryptocurrencies on March 12. The event, now known as "Black Thursday", caused a system failure of the platform that led to the losses. The sudden drop meant that numerous borrowers saw their secured debt positions (CDP) liquidated to 100% of their value. After the attack, community members questioned the reliability of the DeFi sector. This new attack will be another argument from DeFi's detractors and could increase the loss of confidence it had suffered in March.
Follow us on Facebook and Twitter and don't miss any hot news anymore! Do you like our price indices?
Last Updated on 19 April, 2020
Source: www.crypto-news-flash.com
Author: Reynaldo
Simple Textbook Pattern: Ethereum on Verge of Upward Continuation
Ethereum has been on a remarkable recovery over the past few weeks.
In fact, just yesterday, the cryptocurrency shot to $190, which meant that it had retracted effectively 100 percent of the brutal "Black Thursday" crash, which saw ETH fall from $194 to a low of $90 in the span of 24 hours. This drop, which took place on Mar. 12, marked the asset's second-worst daily performance ever.
Despite the already impressive performance, analysts expect Ethereum to head even higher in the coming weeks, citing a growing confluence of technical and fundamental factors.
The recent price action that has transpired since the June 2019 top has allowed Ethereum to print an extended broadening descending wedge on its weekly chart, a noted crypto analyst recently pointed out.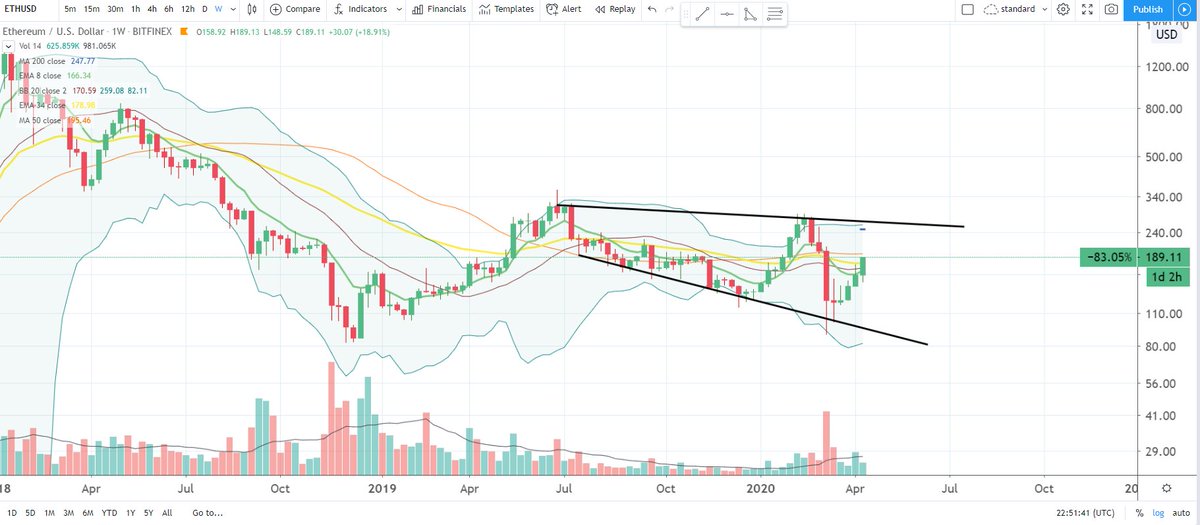 This is important to the bull case as broadening descending wedges are textbook bullish, as they more often than not end in a rally above the upper bound of the wedge. In the case of Ethereum, a break above the wedge is likely to lead to a rally to $290 at the very least.
It's far from only that.
Popular crypto trader Hsaka remarked that the recent price action has allowed ETH to "break its pivotal $175-180 zone," adding that historical moves around this price have always seen "substantial follow through."
Indeed, when ETH finally broke past this region in January of this year, it quickly rallied towards $290, and once the zone was lost as support in November of last year, a rapid drop to $120 followed suit.
This was echoed by another trader, who suggested that he thinks Ethereum is in the midst of a "full retrace" of the bear trend that originated on Mar. 12, which would suggest ETH will return to the 2020 highs of $290 in the coming months.
Importantly, the recent price action hasn't convinced 100% of traders that more upside is imminent.
Per previous reports from NewsBTC, analyst Calmly remarked that he thinks a weekly close above $190 "would make [him] feel confident that this is bullish price action and not just a bear market re-test," but that he isn't convinced just yet.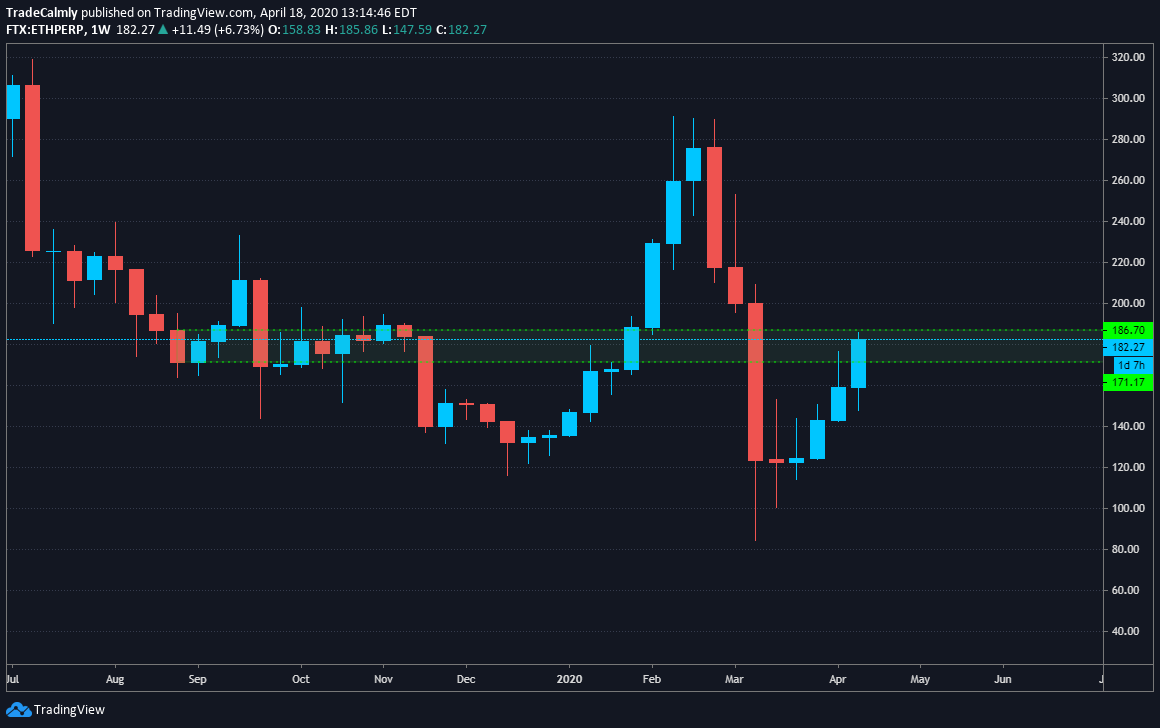 The chart specifies that historically, $180-$190 has been a crucial zone for Ethereum, with it acting as a launchpad for rallies. Furthermore, the cryptocurrency has often tested the zone as resistance on multiple occasions.
Photo by Clarisse Meyer on Unsplash
Source: www.newsbtc.com
Author: Nick Chong
Crypto Analyst Says Clear Competitor to Ethereum Emerging As Binance Reveals Plan to Launch Smart Contract Platform
Binance is launching a smart contract blockchain to expand its ecosystem.
Binance Smart Chain is designed to work in parallel with the existing Binance Chain, which is already up and running, powering Binance's decentralized exchange.
The new standalone blockchain will have self-contained technical and business functions so that it can continue to run even if the Binance Chain stops working for a short period.
According to the newly released white paper, the Binance Smart Chain blockchain is compatible with Ethereum, expanding the blockchain ecosystem and allowing it to work with most decentralized applications with zero or minimal charges.
"To take advantage of the relatively mature applications and community, BSC [Binance Smart Chain] chooses to be compatible with the existing Ethereum mainnet…
The implementation should leave room for BSC to catch up with further Ethereum upgrades."
The smart contract layer from Binance will combine the EOS delegated proof-of-stake and proof-of-authority systems to power a faster network performance and increased scalability. According to the development team, it will offer several key features: smart contracts, Binance Coin (BNB) staking, an open source platform, Ethereum compatibility, fast block times and low transaction costs.
Messari researcher Wilson Withiam says the latest move by the crypto giant is a direct challenge to Ethereum.
"Make no mistake; BSC is a clear competitor to Ethereum and, like EOS, one with seemingly endless financial support.
But money can't always override network effects, so in the near term, BSC is a more credible threat to other emerging ETH Killers."
By allowing staking, the new chain is intended to boost functionality for Binance's native token BNB, which just completed its 11th and largest coin burn on Friday, shrinking the total supply by 3,373,988 units or 1.69% valued at $52.4 million.
Binance CEO Changpeng Zhao confirms the company is on track to make over $1 billion in profit in 2020 due to record-high trading volumes across its crypto offerings.
Source: dailyhodl.com
Previous
Next