Ethereum Price & Technical Analysis
The Ethereum has been correcting for two days already, but for now, this has little significance: the market remains unmistakably positive. On Thursday, February 11th, the ETH is trading at $1,726 USD.
By Dmitriy Gurkovskiy, Chief Analyst at RoboForex.
Tech analysis of ETH/USD.
The ETH renewed its all-time highs alongside the BTC.
The CME started trading ETH futures.
On D1, the pair renewed its highs again. The MACD histogram remains above zero, giving another signal for growth. Meanwhile, the signal lines of the indicator keep growing, confirming further growth again. Judging by previous occasions, it is possible that before breaking through 0.00% Fibo, the quotations might correct to $1,600 USD. The next aim of the uptrend is $1,860 USD.
Photo: RoboForex / TradingView
On H4, the picture is similar: the quotations are correcting inside an ascending channel. Upon forming another pullback, the coin has all the chances for further development of the uptrend. The Stochastic is in the overbought area, where it has formed a Black Cross, additionally supporting the correction. The aim of further growth is the same as on the larger timeframe – $1,860 USD.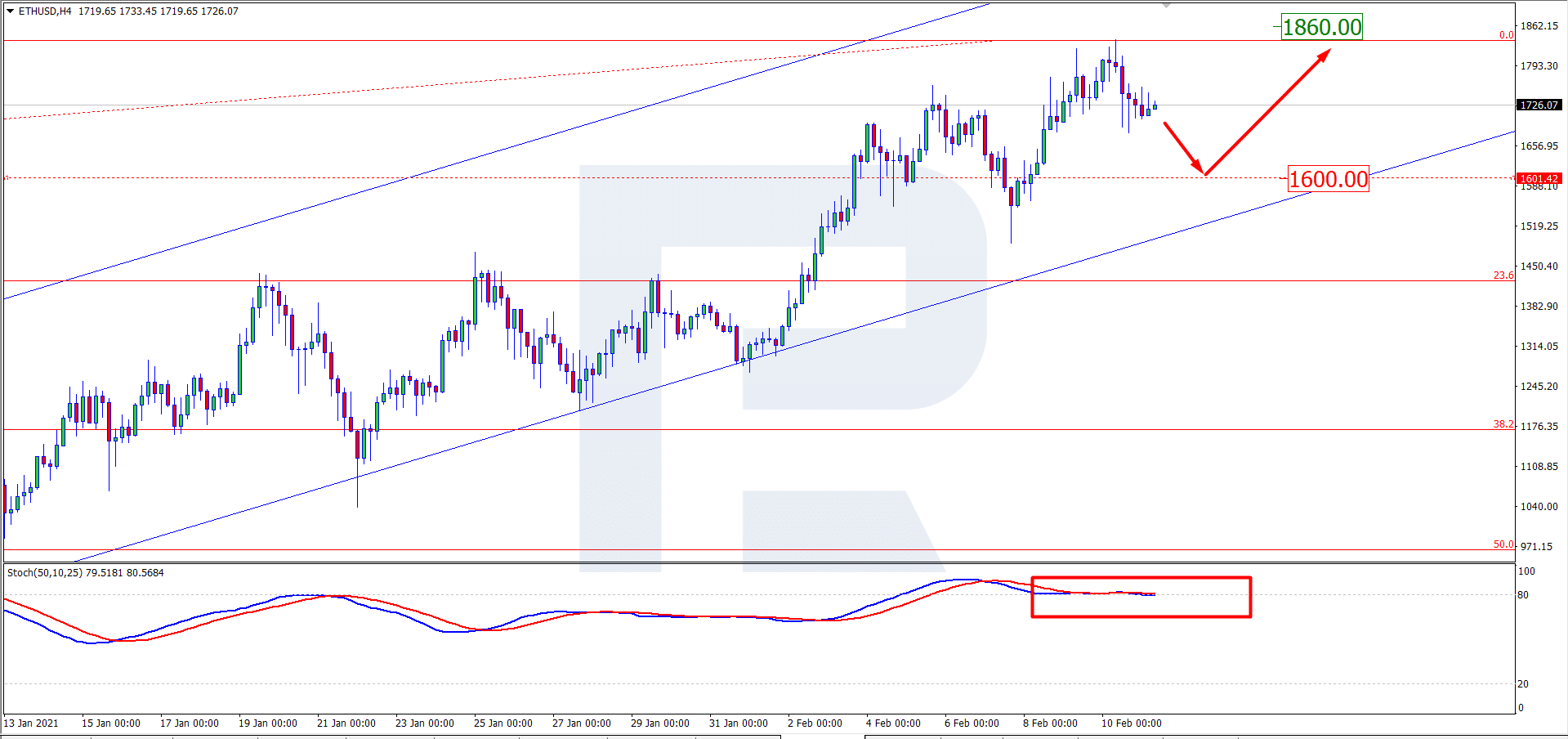 Photo: RoboForex / TradingView
This week, the ETH feels so good, following the trend set by the BTC. Monday through Wednesday, it grew by 24%, which does not look like its limit. The market capitalization of Ethereum has reached 208 billion USD, while trade volumes have risen to 43 billion USD. The rally in the crypto sector started when Tesla reported buying a large amount of the BTC. This news pushed the whole sector of cryptocurrencies forward.
Meanwhile, some traders kept losing money while cryptocurrencies kept growing. The reason was that a huge number of marginal positions (some 130 thousand in volume, for about 1.5 billion USD total) were exterminated. Not everyone got in time to act, and the volatile market did its job. The maximum loss per trade was witnessed in the BitMEX exchange, where an investor lost 10 million USD. Note that the largest losses happened in trades with cross-rates of the ETH and USD.
This week, the CME started trading ETH futures. The market had been anticipating this, but the ETH rate hardly reacted to this – there was a wave of growth in the market, supported by other catalysts. At least, we did not see the negative scenario as with BTC futures in 2017 when the cryptocurrency was growing well but reversed after the contracts started trading.
For this article, we've used ETHUSD charts by TradingView.
next
Disclaimer: Any predictions contained herein are based on the authors' particular opinion. This analysis shall not be treated as trading advice. RoboForex shall not be held liable for the results of the trades arising from relying upon trading recommendations and reviews contained herein.
Altcoin News, Cryptocurrency news, Ethereum News, Guest Posts, News
Dmitriy Gurkovskiy is a senior analyst at RoboForex, an award-winning European online foreign exchange forex broker.
Source: cryptonewscloud.com
Author: CNC
See author's posts
Top 8 DeFi Altcoins READY to EXPLODE! MASSIVE OPPORTUNITY Cryptocurrency Investors | Ethereum News | Coin Crypto News
8 coins…. what other coins should be on the list?
Hit Like, Share, and Subscribe for more daily cryptocurrency news!
Altcoin Daily, the best cryptocurrency news media online!
**Note: My overall opinion is that the name of the game is to accumulate as much Bitcoin as possible. Alts are interesting but a lot more speculative. I use them to accumulate more Bitcoin.
***********************************************************************
***NOT FINANCIAL, LEGAL, OR TAX ADVICE! JUST OPINION! I AM NOT AN EXPERT! I DO NOT GUARANTEE A PARTICULAR OUTCOME I HAVE NO INSIDE KNOWLEDGE! YOU NEED TO DO YOUR OWN RESEARCH AND MAKE YOUR OWN DECISIONS! THIS IS JUST EDUCATION & ENTERTAINMENT! USE ALTCOIN DAILY AS A STARTING OFF POINT!
This is NOT an offer to buy or sell securities.
Investing and trading in cryptocurrencies is very risky, as anything can happen at any time.
This information is what was found publicly on the internet. This information could've been doctored or misrepresented by the internet. All information is meant for public awareness and is public domain. This information is not intended to slander harm or defame any of the actors involved but to show what was said through their social media accounts. Please take this information and do your own research.
Most of my crypto portfolio is Bitcoin, then Ethereum, but I hold many cryptocurrencies, possibly ones discussed in this video.
Source: coincryptonews.com
Author: Post Author: CoinCryptoNews
TA: Ethereum Holding Gains above $1,700, Why ETH Remains In Strong Uptrend
Ethereum traded to a new all-time high at $1,840 before correcting lower against the US Dollar. ETH price is holding the $1,700 level and it is likely to start a fresh increase.
Ethereum started a downside correction after trading to a new all-time high near $1,840.
The price is now trading nicely above $1,700 and the 100 hourly simple moving average.
There is a key contracting triangle forming with resistance near $1,760 on the hourly chart of ETH/USD (data feed via Kraken).
The pair is likely to start a fresh increase as long as it is above the $1,700 support zone.
What future awaits cryptocurrencies?
There were slow and steady moves in Ethereum above the $1,750 pivot level (unlike bitcoin). ETH even traded to a new all-time high near $1,840 before there was a downside correction.
The price traded below the $1,780 and $1,760 support levels. Ether price even spiked below the $1,700 level, but downsides were limited. It is now trading nicely above $1,700 and the 100 hourly simple moving average.
There was a recovery above the $1,730 level. The price cleared the 23.6% Fib retracement level of the recent decline from the $1,840 high to $1,681 low. On the upside, the first key resistance is near the $1,760 level. There is also a key contracting triangle forming with resistance near $1,760 on the hourly chart of ETH/USD.
The triangle resistance is near the 50% Fib retracement level of the recent decline from the $1,840 high to $1,681 low. A proper break above $1,760 might start a steady increase above $1,800. The next major resistance is near the $1,825 level. A close above the $1,825 level could pump the price towards the $1,900 and $1,920 levels in the short-term.
If Ethereum fails to clear the $1,760 and $1,800 resistance levels, it could correct lower. On the downside, the first major support is near the $1,715 level and the triangle lower trend line.
The main support is near the $1,700 zone and the 100 hourly simple moving average. A close below the 100 hourly SMA may possibly start a major downside correction towards $1,600 or even $1,550.
Technical Indicators
Hourly MACD – The MACD for ETH/USD is slowly gaining momentum in the bullish zone.
Hourly RSI – The RSI for ETH/USD is now close to the 50 level.
Major Support Level – $1,700
Major Resistance Level – $1,760
This post was originally published on www.newsbtc.com
Source: www.cryptoalphanews.com
Author: cm_team
Ethereum, Litecoin & Polkadot – American Wrap: 2/10/2021
TipRanks
Investors have been fixated on growth companies over the past year, and one segment which has been on the rise is the fledgling cannabis industry. The sector offers a unique proposition and the prospect of further growth, as there is still a major catalyst on the horizon which will completely alter the industry. As expected, a Democrat led senate has been good news for those banking on marijuana reform at the federal level; And it looks like the anticipated changes could happen faster than initially expected. Backed by Senate majority leader Chuck Schumer, Democratic Senators have stated that they will push for federal-level legalization of marijuana, promising "a unified discussion draft on comprehensive [cannabis] reform" in the first half of this year. The statement feeds expectations that the Democratic Congressional majority will pass – and that President Biden will sign – a bill to legalize marijuana. Investors are also looking at further state-level legalization moves; one key state in this regard is New York. So, the cannabis industry is looking up. There is an expanding network of state legalization regimes, and expectations of a change in federal policy; both are putting upward pressure on cannabis shares. Against this backdrop, we used TipRanks' database to find two cannabis stocks that have been earmarked as 'Strong Buys' by the analyst consensus. Both have posted impressive year-to-date performances, and stand to rise even more in the year ahead. Village Farms International (VFF) We will start with Village Farms International, a company that has long been involved in the niche agricultural business. The company started out as a farmer, producing high-quality greenhouse vegetables year-round for sale in the North American market. That background fit the company well for a transition to the cannabis industry – Village Farms has experience in greenhouse production and industrial-scale growing. Village Farms' shares are showing a tremendous growth profile, up 327% in the past 12 months – with a strong spike in recent days. Two important pieces of news precipitated the surge since the end of January. First, the company has fully repaid – ahead of schedule – the $15 million debt it incurred during its November acquisition of the cannabis growing company Pure Sunfarms. And second, Village Farms increased its investment in the Asian cannabinoid company Altum by 50%, to hold a 10% stake in the company. The move increases the international reach of Village Farms, and its ability to increase Altum holdings in the future. The company was able to fund these moves because it had a successful equity sale in January, putting an additional 10.8 million shares on the market, and raising US$135 million in new capital. In addition to its strong capital and expansion positions, Village Farms has been reporting solid financial results. The company saw US$43 million in revenue for 3Q20, a gain of 12.5% year-over-year. EPS came in at 1 cent per share, a turnaround from the US$0.10 loss in the year-ago quarter. Covering Village Farms for Craig-Hallum, 5-star analyst Eric Des Lauriers writes: "Village Farms has clearly established itself as the leading cannabis producer in Canada with #1 brand share and industry-leading profitability. Canadian cannabis sales in 2020 through October (latest available) were up 128% y/y, and dispensary counts are set to accelerate through 2021, providing a tailwind to VFF revenues." Turning to the US markets, and VFF's position in Canada's larger neighbor, the analyst goes on to add, "With 5.7M SF of greenhouses in TX, the company also has real US optionality, which is finally being appreciated by investors after the GA election. VFF has historically been undervalued compared to less profitable peers, but we expect shares to continue working higher … as the prospect for US reform increases throughout the year." To this end, Des Lauriers rates VFF a Buy, and his $25 price target suggests the stock has room for ~26% upside in the coming year. (To watch Des Lauriers' track record, click here) Overall, there are 3 recent reviews on VFF shares, and all are Buys, giving the stock a Strong Buy analyst consensus rating and showing a general agreement on Wall Street about the company's strengths. Shares are priced at $19.90, and the $24.33 average price target implies an upside of ~23% for the year ahead. (See VFF stock analysis on TipRanks) TerrAscend Corporation (TRSSF) The next cannabis stock we're looking at, TerrAscend, is another major cannabis producer in both the US, Canada, and Europe. The company is involved in both the medical and recreational sides of the market, and both grows and produces cannabis and markets a range of products through numerous brand names. TerrAscend's US operations are located in California, Pennsylvania, New Jersey, and Utah, and the company looks to expand as more states legalize cannabis. In a strong sign of the cannabis industry's strength, TRSSF shares are up a sky-high 624% over the past 12 months. Growth has been fueled by expansion of the cultivation operations in California and Pennsylvania, and by the move into the adult-use recreational market in New Jersey. Last month, TerrAscend closed a non-brokered private placement stock sale, putting more than 18 million common shares on the market. The sale price was C$12.35 (US$9.72), and the offering grossed C$224 million (US$176.3 million). The bulk of the proceeds – some 80% of the total – was put up by four large US-based institutional investors. The funds raised will be used to continue expansion of the company's cultivation operations (TRSSF has plans to expand growing and manufacturing ops in New Jersey), as well as to pursue merger & acquisition activities. TerrAscend's rapid growth and strong future prospects have attracted attention from top-rated analysts, including 5-star analyst Eric Des Lauriers of Craig-Hallum (stated above). "TerrAscend is a leading multi-state operator (MSO) in the US cannabis market with top-tier management, assets, and access to deal flow. We have been bullish on the company since initiating coverage last year and are happy to say the TRSSF team has exceeded our expectations, generating rapid increases in margins and operating leverage that have earned them a place solidly in the Top Tier of MSOs," Des Lauriers noted. The analyst summed up, "[With] US$280M+ raised since the elections and federal reform moving quicker than expected, we think TRSSF does deserve a premium to peers." In line with his bullish comments, Des Lauriers rates TRSSF shares a Buy, and has a $20 price target that implies a ~31% upside potential for the next 12 months. Once again, we're looking at a stock with broad agreement from Wall Street's analysts – the Strong Buy consensus rating is unanimous, based on 7 recent reviews. Shares are selling for $15.30, and their recent appreciation has pushed that price almost up to the $15.43 average price target. (See TRSSF stock analysis on TipRanks) To find good ideas for cannabis stocks trading at attractive valuations, visit TipRanks' Best Stocks to Buy, a newly launched tool that unites all of TipRanks' equity insights. Disclaimer: The opinions expressed in this article are solely those of the featured analysts. The content is intended to be used for informational purposes only. It is very important to do your own analysis before making any investment.
Source: cryptonews.page
Ethereum killers and layer-2 tokens rally despite 5% Bitcoin price drop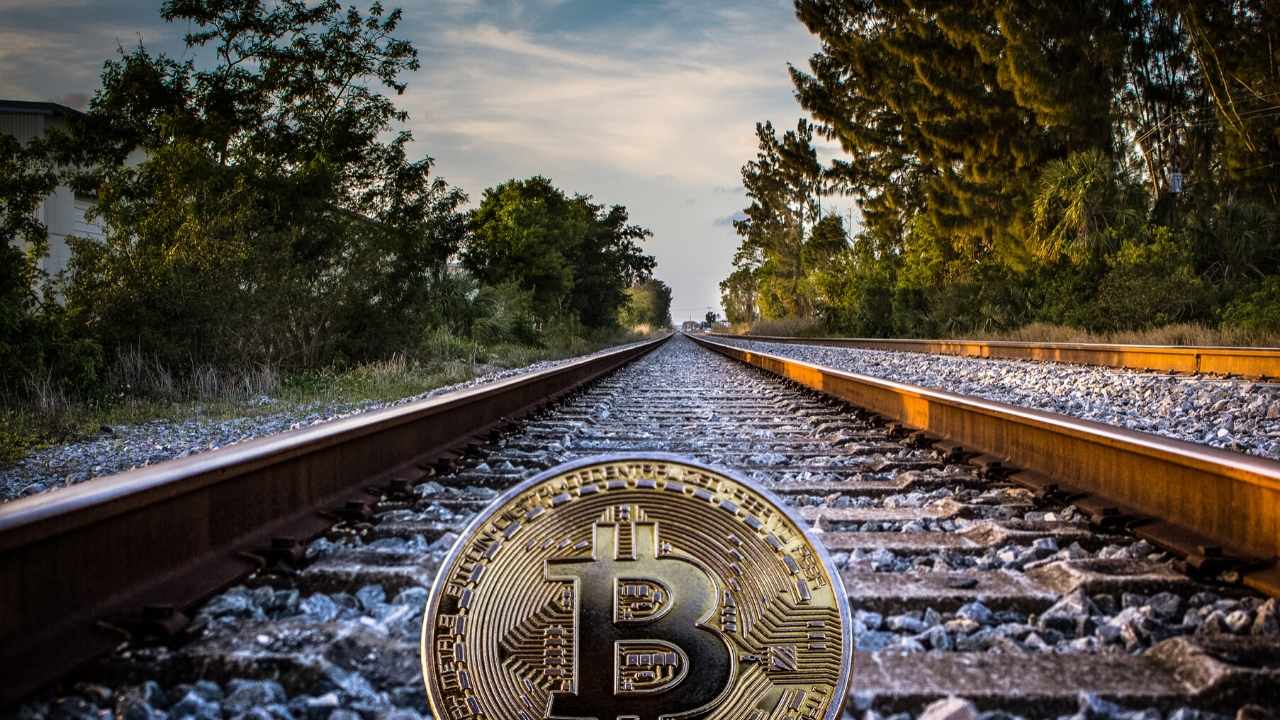 On Feb. 10, Bitcoin (BTC) price pulled back 5% from its newly established $48,220 high and a number of altcoins also underwent slight corrections.
Data from Cointelegraph Markets and TradingView shows Bitcoin has declined 4.96% since yesterday's highs and currently trades at $44,900.
The pullback to the $45,000 level could simply be the result of traders taking recent profits from Bitcoin and altcoins as the rally appeared to be losing momentum around the $48,000 level.
A recent announcement from JPMorgan analysts saying that they don't expect to see any large firms follow Tesla's recent $1.5 billion Bitcoin purchase could have caused jitters among some investors but data from Grayscale Investments shows most institutional investors are keen to learn more about investing in BTC.

BTC/USDT 4-hour chart. Source: TradingView
A bit of positive news came from Twitter CEO Jack Dorsey, who doubled down on his support for the crypto sector by donating $1 million to Coin Center, a Washington D.C.-based advocacy group. Dorsey also revealed that Twitter is exploring the option of how it could pay employees in BTC.
Congestion and high transaction fees on the Ethereum network have put a spotlight on layer-2 and Ethereum Virtual Machine (EVM) compatible protocols as projects and traders alike flood to Matic (MATIC) and Avalanche (AVAX).
This steady inflow of funds to each project resulted in price rallies of more than than 200% over the past week.

AVAX/USDT vs. BNB/USDT vs Matic/USDT price growth 4-hour chart. Source: TradingView
Binance Coin (BNB) has also seen significant price appreciation in recent days, reaching a new high at $148 on Feb.10. The move to a new all-time high comes as the Binance Smart Chain (BSC) grows in prominence and competes with Ethereum and DeFi platforms.
The three major stock market indices established new record-highs in today's early trading hours before falling under pressure to close the day mixed.
The S&P 500 and NASDAQ spent most of the day in the red and despite a late surge closed down 0.03% and 0.25% respectively while the Dow was able to hold bears off and finish up 0.20%.
While there was no specific news prompting market pressure, all three indices have seen surging prices during the first week of February, so a modest pullback is expected in a normal market cycle.
A new wave of selling hit the crypto market just as traditional markets closed and the top-25 altcoins fell under pressure.
Notable exceptions to the bearish downturn include Cardano (ADA), which is currently up 28.11% and trading at a price of $0.892, and AVAX which is up 85.39%and trading for $58.26.

Daily cryptocurrency market performance. Source: Coin360
Celo (CELO) is also put on a strong showing, up 40% to trade at $5.00 while The Graph (GRT) has seen its price spike 26% to a new all-time high of $1.26.
The overall cryptocurrency market cap now stands at $1.37 trillion and Bitcoin's dominance rate is 61.3%.
Title: Ethereum killers and layer-2 tokens rally despite 5% Bitcoin price drop
Sourced From: cointelegraph.com/news/ethereum-killers-and-layer-2-tokens-rally-despite-5-bitcoin-price-drop
Published Date: Wed, 10 Feb 2021 22:48:52 +0000
2021's Most Anticipated Growth & Wealth-Building Opportunity
Join Thousands of Early Adopters Just Like You Who Want to Grow Capital and Truly Understand Cryptocurrency Together
Source: newsgrowing.com
Author: Jeannine Cruz
Previous
Next