KuCoin hackers keep moving stolen tokens to the largest DeFi exchange
After a major hack at KuCoin cryptocurrency exchange, cybercriminals continue to move stolen crypto to decentralized exchanges, or DEXes.
According to data from crypto transaction tracking service Whale Alert, KuCoin hackers keep sending thousands of dollars worth of Synthetix Network Token (SNX) to Uniswap — the largest decentralized finance (DeFi) protocol by total value locked.
On Sept. 28, the hacker completed another batch of transactions moving stolen funds from KuCoin and to major DEX Uniswap. According to data from Whale Alert, the hackers sent at least $1.2 million worth of stolen SNX tokens to the DEX in a series of four transactions today.
Alongside using Uniswap to send stolen SNX tokens, KuCoin hackers also moved $5 million in Chainlink (LINK) and SNX to unknown wallets today, according to Whale Alert data.
Following the KuCoin hack on Sept. 26, a number of centralized exchanges have taken urgent measures to prevent hackers from withdrawing the stolen funds, freezing up to $129,000 million out of the estimated $200 million lost.
Dovey Wan, founding partner at blockchain-based investment company Primitive Ventures, believes that the KuCoin hackers were apparently "DeFi noobs" because they first tried to sell the stolen tokens on the world's largest centralized exchange, Binance. "The hacker who hacked Kucoin apparently is a Defi noob, tried to sell on Binance and didn't swap the tainted USDT on Curve," Wan said.
Wan said that DeFi could be a handy tool for hackers because DeFi infrastructure is actually composed of natural cryptocurrency mixers — services that allow users to "mix" their coins with other users in order to preserve their privacy:
"All Defi infra are natural mixers with ultra low slippage […] Hackers with normal IQ will soon figure out, this is not some alpha leak and Defi infra is designed to serve all purposes […] If a hacker can hack a CEX, no point he/she has no idea how to successfully liquidate via DEX."
Source: www.bit-cointalk.com
Grayscale Investments Scooped Up Over 17,000 BTC in the Last Seven Days
During the last seven days, Grayscale Investments purchased 17,100 BTC or $182 million worth of bitcoin using today's exchange rates. The company's bitcoin position is now close to 450,000 BTC worth roughly $4.7 billion.
The Grayscale Bitcoin Trust (GBTC) is a very popular investment vehicle and in 2020 the trust has obtained a massive amount of BTC. Today, GBTC has $4.7 billion assets under management (AUM), according to data provided by bybt.com. Grayscale's bitcoin position is also displayed on the company website as well for transparency purposes.
Since the Grayscale Bitcoin Trust inception date on September 25, 2013, there are 471,022,700 shares outstanding and each share is worth 0.00095519 BTC per share. This week, digital currency proponents noticed that Grayscale scooped up around 17,100 BTC or $182 million using today's exchange rates.
Bybt.com's data shows the trust obtained the bitcoin stash during the last seven days and GBTC's aggregate bitcoin position is now 449,900 BTC.
Bitcoin (BTC) markets have done well in recent days and dominance is nearing 60% again. The cryptocurrency's percentage change versus USD during the last year is up 29% and during the last 90-days, BTC has gained over 16%.
With 449,900 BTC held, Grayscale's Bitcoin Trust has 2.14% of the entire 21 million BTC supply. As far as coins in circulation, BTC just passed the milestone of 18,500,000 in circulation. This means GBTC's purse represents 2.43% out of the BTC currently in circulation.
No one knows exactly how Grayscale acquired the 17,100 BTC, but Microstrategy's CEO Michael Saylor explained the efforts his company took to purchase the 16k BTC Microstrategy recently purchased.
"To acquire 16,796 BTC, we traded continuously 74 hours, executing 88,617 trades ~0.19 BTC each [three] seconds," Saylor said. "~$39,414 in BTC per minute, but at all times we were ready to purchase $30-50 million in a few seconds if we got lucky with a 1-2% downward spike," Saylor added.
A number of BTC proponents also believe that companies like Microstrategy and Grayscale's Bitcoin Trust snatching up vast amounts of BTC is bullish for investors. CEO of UK bitcoin exchange Coincorner, Danny Scott, tweeted on Sunday that BTC's "foundations are getting stronger by the day."
"62 days of Bitcoin ending above $10,000," Scott tweeted. "Previous was 61 from 1st Dec 2017."
What do you think about Grayscale scooping up 17,100 BTC in the last seven days? Let us know in the comments section below.
17100 BTC, 2.14%, assets under management, AUM, Bitcoin, bitcoin holdings, BTC, bybt.com, CoinCorner, Danny Scott, GBTC, grayscale, Grayscale Investment Trust, Grayscale Trust, michael saylor, microstrategy, transparency page
Disclaimer: This article is for informational purposes only. It is not a direct offer or solicitation of an offer to buy or sell, or a recommendation or endorsement of any products, services, or companies. Bitcoin.com does not provide investment, tax, legal, or accounting advice. Neither the company nor the author is responsible, directly or indirectly, for any damage or loss caused or alleged to be caused by or in connection with the use of or reliance on any content, goods or services mentioned in this article.
Source: news.bitcoin.com
Author: News by Jamie Redman
The Inevitable Marriage of Yield Farming and NFTs, Explained
Why is the marriage of non-fungible tokens (NFTs) and decentralized finance (DeFi) happening now? It's debatable but you can make an argument that it comes back to DeFi's favorite robo-advisor for yield: Yearn.Finance.
Lately, everything in DeFi seems to link back to Yearn.Finance in some way.
The excitement in DeFi has shifted to the NFT market, with something like a Weird DeFi moment getting ever weirder, as groups form up to mint rare digital artifacts to be attained in unique ways and financialize their ownership, thanks in part to picks-and-shovels work undertaken by the yeomen of online collectibles.
The plethora of strange new experiments has been led in particular by the token MEME, inspired by a tweet from ConsenSys staffer Jordan Lyall. To explain MEME, though, a lot of other developments need to be visited first.
Reminder: NFTs are one-of-a-kind tokens made possible by Ethereum's ERC-721 standard. An idea pioneered by CryptoPunks, then standardized and popularized by CryptoKitties. They started much like trading cards (trading cards that could make babies, at least in CryptoKitties' case), but they were always envisioned to have more potential than baseball cards.
Ever since Napster, ownership and rights of digitally distributed intellectual property has been a problem.
What future awaits cryptocurrencies?
Desai's been talking to NFT pioneers lately as she helps to put together a new decentralized autonomous organization (DAO) called Flamingo whose investors are focused on NFTs.
NFTs have not captivated investor attention until quite recently, because lending, borrowing and risk management – what we now call DeFi – has taken up all Ethereum's oxygen in 2020. So Ethereans largely lost interest in NFTs there for a while – and who could blame them? You could buy them and sell them, and sometimes games would come together, but they seldom held players' attention for very long. There were more dynamic markets to game; art's fine but money is money.
Even when there had been buzz, some projects would rise up only to fade away, revealing a weakness in the NFT specification. CryptoStrikers, for example, a sports memorabilia project launched during the World Cup is long gone (soccer-focused Sorare has emerged in its wake).
Also gone: Panda Earth and CryptoJingles and more, and with them the various artworks that made NFTs more than just a weird string of numbers in an Ethereum wallet (these days, teams are using perpetual data storage solution Arweave to address the issue of NFT impermanence).
There has been years of fertilizer but somehow the excitement engendered this summer by yield farming has come to NFTs this fall, and so the harvest is ready.
And here's how Yearn could have helped: When the DeFi gateway created Y.Insure, a way to do KYC-free insurance on any crypto asset, it used NFTs to represent the policy with insurers.
So, once reminded of ERC-721's existence by DeFi's top Chad, the industry ran with it.
Was it exactly a causal relationship? Who knows. The larger point of NFT and DeFi coming together is more about a growing mood than a clear chain of events. Weird DeFi showed how open finance could become more elfin; elves need toys; NFTs were right there.
Blockade Games is a company looking for every way it can to push the properties of tokenized game assets to their limit.
"Crypto communities have always been trying to be games," she said.
A lot of people in crypto are rich and that makes all the best stuff too expensive for the cryptoletariat.
As much as people like owning expensive stuff in crypto, they like owning stuff they can sell whenever they want even more (call it a liquidity fetish). NFTs had managed to be expensive but they had not managed to be liquid, not until DeFi-thinking intervened.
"The general trend is, 'OK, NFTs are cool but it's a relatively illiquid asset class compared to tokens,'" said CoinFund's Jake Brukhman.
Brukhman has always been bullish on NFTs, never losing that focus even as other investors fully turned their attention elsewhere.
"NFTs are actually a financial asset class and they need financial infrastructure," Brukhman said.
The stranger products are emergent phenomena of that financialization. Brukhman gave the example of Ark Gallery, which is a DAO for CryptoPunks. The punks were made pre-ERC-721 and have become quite valuable as early, cool and rare (there are only 10,000 such punks, each completely distinct). Ark allows people to crowdfund a punk (owning a fraction of the token) and then voting on whether or not to sell it if there's an offer.
If there is a successful offer, everyone gets a proportionate share of the payment, based on how much they own. This has made CryptoPunks trade at ever-higher prices, allowing more people to feel like they had a piece of one. It's clear that the spikes in volume have gone much higher this year when viewed on NFT data site NonFungible.com.
NIFTEX has taken that even further. Launched early this year with funding from Digital Currency Group (CoinDesk's parent company), NIFTEX started off creating indices for NFTs, such as digital real estate or digital cards. But the real innovation kicked off when the firm fractionalized expensive NFTs into what it calls shards (really, just ERC-20 tokens – fungible slivers of previously singular digital assets).
The shard system works somewhat like what Ark Gallery does, except only someone who holds one of the ERC-20 tokens that represents partial ownership of an item can make an offer. The offer automatically succeeds if it fails to receive enough objections in two weeks, with a clever strategy built in to punish low-ball bids.
NIFTEX did its first fractionalization in May and, like Ark, the firm is seeing a lot more liquidity. Shard holders own a fractionalized, extremely rare Axie Infinity card called Almace that saw over 1,000 ETH transacted in its first week after sharding. Joel Hubert, one of the two co-founders, estimated its liquidity all year would have been more like 300 or 400 ETH in a few trades, without sharding.
On NonFungible, Axie Infinity shows appreciably more dollars getting transacted even if the volumes are only bumped up slightly.
"I like where we're at because Ethereum is all about experimentation," Hubert said.
The larger point to all of this is that content is finding a path to fair remuneration on the internet.
Added Flamingo's Desai, "When you start talking about how content creators are paid, that's where DeFi comes in; and when you start talking about property of creators, that's all NFTs."
For her personal NFT, deCourcelle used NIFTEX to sell off a portion of her shards, into tokens called COIN. She said she wants people to see it as "play money."
"First thing we're doing is the most basic sort of farm," she said, driving home the intended playfulness. COIN holders who add to the Uniswap pool can stake their liquidity provider (LP) tokens and earn another token, CRED, which will offer advantages in Blockade's games, as well as additional COIN.
Rewarding liquidity with a fresh new token is a particular kind of yield farming: liquidity mining.
Of course, that's not the only or first mining in the digital property space, and mining is what this whole story is about: DeFi and NFTs merging to create weird new forms of yield that get the imaginations of investors and BUIDLers firing.
The pioneer in the NFT mining industry was arguably Rarible, a marketplace and minter. It growth-hacked its user base by airdropping RARI tokens to anyone that had transacted in a respectable amount of NFTs. It was a governance token that it used to turn its marketplace into a DAO.
Rarible further rewarded users for transactions on the platform, which has generated a substantial amount of questionable volume, but also has helped persuade creators that the additional benefit to transacting there makes it an advantageous place to list work, Brukhman said.
So now NFT fans have fractional ownership, auctions, sales platforms: all the things that seem like normal, natural pieces of the puzzle for setting up a dynamic market.
But the buzz stems from the fact that stranger things are getting built.
First off, there's Aavegotchi, a small startup with funding from the money market Aave, among others. Aavegotchi has a clever variable rarity structure described well in a recent report by Delphi Digital.
In short, Aavegotchis are little playable avatars that can be used in the game world the company is building, both as protocol governance and to play actual games. There's a lot of ways they can change and be upgraded (called "rarity farming"), but if too many players "improve" their character in the same way, it can effectively lose rarity.
Like in the DeFi game Based.Money, it's all about guessing how other players will move.
What's really interesting about Aavegotchi, however, is this: Every character represents a real stake on Aave. The owner can liquidate the stake at any time, but their Aavegotchi will disappear. So it's a test to see what happens to playability when characters have real value above and beyond their gaming value.
For Blockade CEO deCourcelle, this linkage makes complete sense; DeFi will always look like a shell game until it's financing things of real value, stuff someone would just buy because they want it.
Are people going to do that with their houses or will they do it maybe with fun digital stuff first?
"All these DeFi projects are looking for the core economic leap for all of these microeconomies," she argued. "As a game developer, you have already designed an economic loop that's valuable."
But the real experiment is MEME.
As noted, MEME started with a jest from Lyall. One of MEME's insiders (a so-called "Citadel" member) is Jackson (who sticks to one name and is also on the team making the payments platform Flexa).
"The project is on a roll where the whole NFT/DEFI narrative is kind of tied to MEME and kind of leading the pack."
Folks in Lyall's cohort got interested in his humorous nudge, a Telegram group formed and a stranger spun up the code to make the MEME token.
"It was like: What can we build?" Jackson said.
He describes himself as someone who typically sticks to projects that make sense to him, where the business case is easy to see. MEME has felt completely different, he said. It's been more like a vibe and a crew first, with purpose coming later.
This is much like what DeFi Pulse's Scott Lewis argued about the vegetable tokens of distant early September, saying that the future may be defined by groups first galvanized by an image, only to decide what to do together later.
"I, daily, deeply contemplate what I'm learning from this," Jackson said of MEME.
If people like the images locked onto MEME's NFTs, they might want to figure out how to own them. "Relative to the other hot projects in DeFi, we're a lot more accessible," Jackson said.
That's something everyone we spoke with pointed out: People get content, whether it's stuff for video games, art, music or literature. People have made NFTs of a lot of weird stuff.
"This is the media art bent to what's happening in DeFi," Desai said.
MEME is doing something that has yet to be seen in the crypto space: testing a product first, then sorting out the business plan later if they see traction. It's an old script in Silicon Valley, but in crypto, everything credible has largely needed to make sense as a business upfront, the only question being whether people would come.
And MEME won't be the last. A different cohort of crypto luminaries tried to imitate MEME with FEW but that ended in a shillacious disaster. ROPE still lingers out there, and it's not clear what that is, besides leaning more on a 4chan aesthetic.
And, off in the background, there is SHROOM, which has been perhaps the least explicative. Its sole blog post mentions a decentralized exchange or DEX, though, which could be a hint. A market with puzzles wired in could be the trick, and that could be what NFTs meeting DeFi unlocks.
"NFTs, just as art? The value proposition is a little. But once you have a game? The value is inherent to the game," deCourcelle said.
Source: www.bit-cointalk.com
Bitcoin Represents Future Of Online Security: Twitter CEO
Tech entrepreneur Jack Dorsey, in a recent interview, claimed that Bitcoin and blockchain give hope for a possible future of pseudonymity
Jack Dorsey, Twitter's CEO, talked about the wave of crypto-related Twitter attacks witnessed recently in the interview for The Oslo Freedom Forum: "I appreciate the difference between pseudonymity and anonymity. Anonymity feels a lot more random, whereas pseudonymity is built identity…that is what we want to value and that is what we want to protect ultimately," he explained.
In the crypto context, pseudonymity generally refers to the state where crypto traders are identified (semi-known) by their wallet addresses. The wallet-owners, on the other hand, remain unknown and untraceable.
He went on to draw comparisons between the nature of Twitter and Bitcoin. He revealed, "We are building the right secure systems in our platforms so that we can have trust in an untrusted environment. There's a lot of newer technologies that provide for this. The whole spirit of Bitcoin, for instance, is to provide a trusted system in a distrusted environment, which is the internet. And those technologies will provide us with new capabilities."
In the wake of recent crypto-related Twitter attacks, the executive argued that security wasn't an element that can be perfected. In his opinion, security is more of "a constant push to be 10 steps ahead of your attackers".
Dorsey used Bitcoin as a representation that the ownership aspect is very important. He further added that users should have central capabilities to their accounts in a similar way to that of Bitcoin. Bitcoin users typically have exclusive access to their tokens with private keys and wallets.
The Twitter executive was also keen to applaud blockchain, specifically its nature i.e. transparent and permanent. "Blockchain and Bitcoin point to a future and point to a world, where content exists forever, where it's permanent, where it doesn't go away, where it exists forever on every single node that's connected to it" emphasised Dorsey.
Source: www.bit-cointalk.com
Bitcoin is Gaining Momentum, But This Resistance Presents A Major Challenge
Bitcoin price is rising steadily above the $10,800 resistance against the US Dollar. However, BTC might face a strong resistance near the $11,000 and $11,100 levels in the near term.
Bitcoin started a decent recovery wave above the $10,550 and $10,650 resistance levels.
The price is now trading above the $10,800 resistance and the 100 hourly simple moving average.
There was a break above a declining channel with resistance near $10,750 on the hourly chart of the BTC/USD pair (data feed from Kraken).
The pair is likely to face a strong resistance near the $11,000 region.
After a close above the $10,550 resistance, bitcoin price started following a positive path against the US Dollar. BTC even cleared the $10,650 and $10,700 levels to continue higher.
The price gained pace and cleared the $10,800 resistance. During the recent increase, there was a break above a declining channel with resistance near $10,750 on the hourly chart of the BTC/USD pair. It traded to a new weekly high at $10,945 and settled well above the 100 hourly simple moving average.
Bitcoin price is currently correcting lower and trading near $10,900. An initial support is near the $10,860 level or the 23.6% Fib retracement level of the recent rise from the $10,608 low to $10,945 high.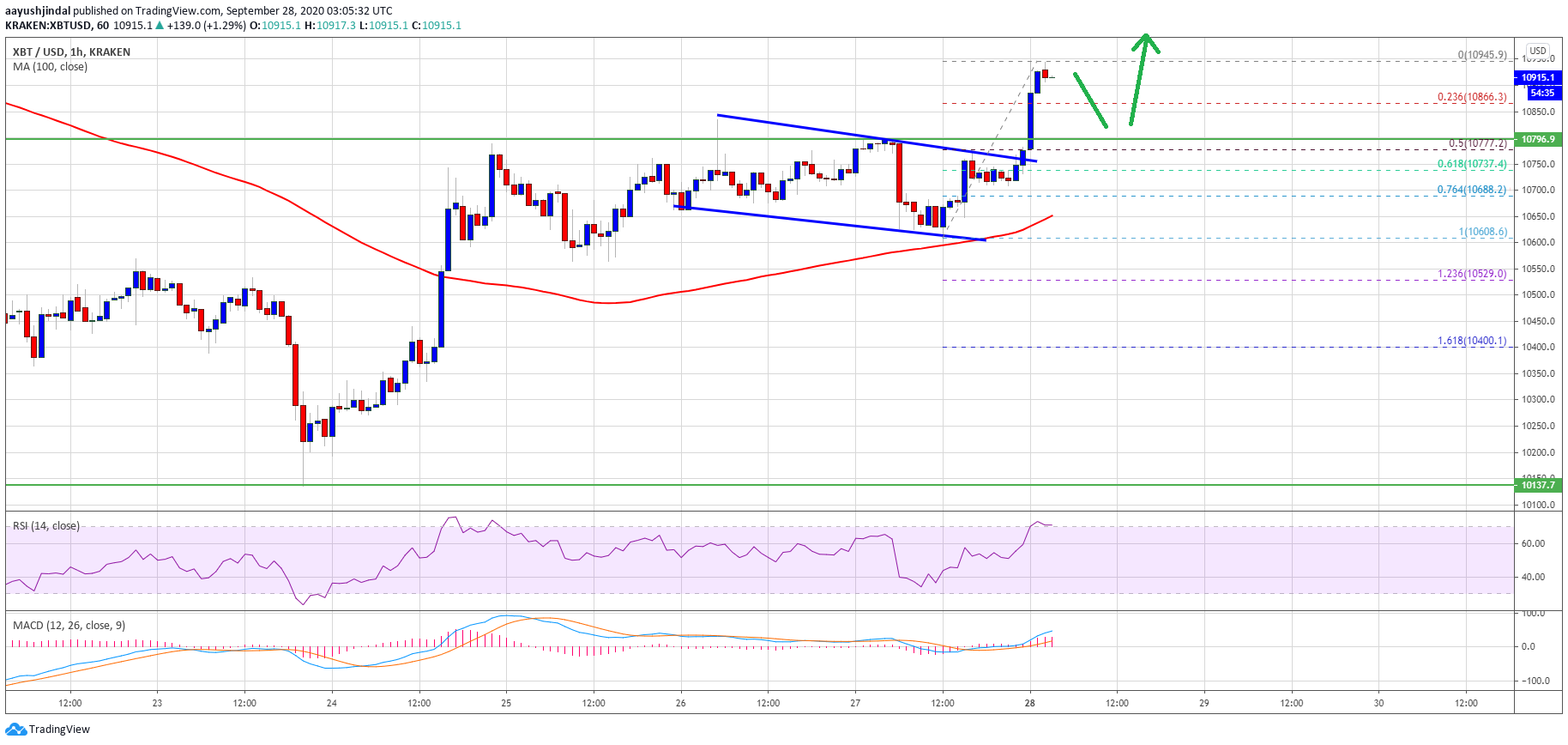 Bitcoin price surpasses $10,800. Source: TradingView.com
The first major support is near the $10,800 and $10,775 levels (the recent breakout zone and previous resistance). It is close to the 50% Fib retracement level of the recent rise from the $10,608 low to $10,945 high.
On the upside, the first major hurdle for the bulls is near the $11,000. A successful close above the $11,000 barrier could lead the price towards the next breakout zone at $11,200.
If bitcoin fails to continue higher above $10,950 and $11,000, it could start a downside correction. The first major support is seen near the $10,800 level.
The main support is now forming near the $10,650 level and the 100 hourly SMA, below which there is a risk of more downsides towards the $10,200 support in the near term.
Technical indicators:
Hourly MACD – The MACD is now gaining pace in the bullish zone.
Hourly RSI (Relative Strength Index) – The RSI for BTC/USD is correcting lower and it is above the 60 level.
Major Support Levels – $10,800, followed by $10,650.
Major Resistance Levels – $10,950, $11,000 and $11,200.
Source: www.newsbtc.com
Author: Aayush Jindal
Previous
Next