LexinFintech Holdings Ltd. to Provide Business Update on September 16, 2020
/EIN News/ — SHENZHEN, China, Sept. 14, 2020 (GLOBE NEWSWIRE) — LexinFintech Holdings Ltd. ("Lexin" or the "Company") (NASDAQ: LX), a leading online consumption and consumer finance platform for new generation consumers in China, today announced that it will host a business update call at 5:00 AM U.S. Eastern time on September 16, 2020 (5:00 PM Beijing/Hong Kong time on September 16, 2020).
Participants who wish to join the conference call should register online at:
http://apac.directeventreg.com/registration/event/3777794
Please note the Conference ID number of 3777794.
Once registration is completed, participants will receive the dial-in information for the conference call, an event passcode, and a unique registrant ID number.
Participants joining the conference call should dial-in at least 10 minutes before the scheduled start time.
Additionally, a live and archived webcast of the conference call will be available on the Company's investor relations website at http://ir.lexin.com.
A replay of the conference call will be accessible approximately two hours after the conclusion of the live call until September 23, 2020, by dialing the following telephone numbers:
About LexinFintech Holdings Ltd.
LexinFintech Holdings Ltd. is a leading online consumption and consumer finance platform for new generation consumers in China. The Company provides a range of services including financial technology services, membership benefits, and a point redemption system through its ecommerce platform Fenqile and membership platform Le Card. The Company works with financial institutions and brands both online and offline to provide a comprehensive consumption ecosystem catering to the needs of young professionals in China. Lexin utilizes advanced technologies such as big data, cloud computing and artificial intelligence throughout the Company's services and operations, which include risk management, loan facilitation, and the near-instantaneous matching of users' funding requests with offers from the Company's many funding partners.
For more information, please visit http://ir.lexin.com
To follow us on Twitter, please go to: https://twitter.com/LexinFintech.
For investor and media inquiries, please contact:
LexinFintech Holdings Ltd.
IR inquiries:
Tony Hung
Tel: +86 (755) 3637-8888 ext. 6258
E-mail: IR@lexin.com
Media inquiries:
Limin Chen
Tel: +86 (755) 3637-8888 ext. 6993
E-mail: liminchen@lexin.com
SOURCE LexinFintech Holdings Ltd.

Source: bitcoin.einnews.com
Author: EIN News
MicroStrategy Stock Jumps 9% Following Bitcoin Investment; Red Flags Ahead?
The stock price of MicroStrategy (NASDAQ: MSTR) surged by a little over 9 percent following its acquisition of hundreds of millions of dollars worth of Bitcoin on Tuesday.
The public-traded firm closed the New York session higher at 155.75, up by 9.21 percent. Its gains came as a part of an all-round bullish session for the Nasdaq Composite. The tech-savvy index added 133.67 points, or 1.21 percent, to close the session at 11,190.32.
MicroStrategy increased its exposure in Bitcoin, an unconventional financial asset that aims to play hedge in times of global economic crisis. The firm's co-founder, Michael Saylor, confirmed the purchase of $ 175 million worth of BTC units for their capital reserves.
That marked Microstrategy's second-largest investment into the cryptocurrency since August 2020. Back then, the firm had reallocated $ 250 million worth of cash reserves to Bitcoin. It feared that the Federal Reserve's unprecedented monetary policies would weaken the US dollar.
"This investment reflects our belief that Bitcoin, as the world's most widely-adopted cryptocurrency, is a dependable store of value and an attractive investment asset with more long-term appreciation potential than holding cash," Mr. Saylor had said.
A report published by Yahoo Finance earlier in September showcased MicroStrategy as an underperforming software company based on the industry's average Returns on Capital Employed (ROCE). It is a measure of a firm's yearly pre-tax profit against the capital employed in the business.
Return on Capital Employed = Earnings Before Interest and Tax (EBIT) ÷ (Total Assets - Current Liabilities)
The ROCE of MicroStrategy stood just 3.5 percent. In comparison, the average ROCE of the Software industry average was 8.6 percent. It now stands down by 25 percent on a five-year timeframe. Moreover, the company has been employing additional capital despite showing any credible improvement in sales last year.
Data provided by SimpleWall.st further showed that Microstrategy's earnings have declined by 34.6 percent in the last five years.
The data aggregator portal raised more red flags about MicroStrategy by calling its stock "overvalued" and highlighting its return on equity as low. Nevertheless, it noted that the firm's Price to Book ratio is better than the industry's.
"MSTR is good value based on its PB Ratio (3x) compared to the US Software industry average (6.8x), SimplyWall.st wrote.
MicroStrategy's dramatic shift to an emerging Bitcoin market signaled its likelihood to use the cryptocurrency as a hedge against its weaker financial health.
While the move validated the cryptocurrency a store-of-value asset among the big firms, it also increased the possibility of major bearish activities should MicroStrategy decide to sell it to offset its losses elsewhere.
The risks increase as the US stock market bubble grows with the monetary support from the Federal Reserve. As it bursts later, it would first impact the stocks of overvalued firms. That poses a severe challenge to MicroStrategy of keeping its bullish bias afloat.
Overall, Bitcoin should have enough demand on the other side should the $ 425 million BTC whale decide to dump a portion of its holdings. Else, a significant downside correction should ensue.
Bitcoinist.com
Source: crypto.uk.com
Author: Posted by admin on 16th September 2020
Bitcoin Reaches Crucial Juncture: Here's What Could Trigger A Sharp Decline
Bitcoin price extended its rise above the $10,800 resistance against the US Dollar. However, BTC is struggling to clear the all-important $11,000 barrier and it could decline sharply.
Bitcoin traded above the $10,700 and $10,800 resistance levels.
The price is still trading well below the $11,000 barrier, but above the 100 hourly simple moving average.
There is a crucial contracting triangle forming with resistance near $10,800 on the hourly chart of the BTC/USD pair (data feed from Kraken).
The pair could either break the $11,000 barrier or decline sharply below the $10,650 support region.
There was an upside extension in bitcoin price above the $10,700 resistance against the US Dollar. BTC even broke the $10,800 resistance level and settled nicely above the 100 hourly simple moving average.
The price traded as high as $10,935 and it seems like the $11,000 barrier is already in play. Bitcoin is down more than $200 from the recent high and it tested the $10,650 support. A low is formed near $10,671 and the price is currently consolidating losses.
What future awaits cryptocurrencies?
It is testing the 23.6% Fib retracement level of the recent decline from the $10,935 high to $10,671 low. It seems like there is a crucial contracting triangle forming with resistance near $10,800 on the hourly chart of the BTC/USD pair.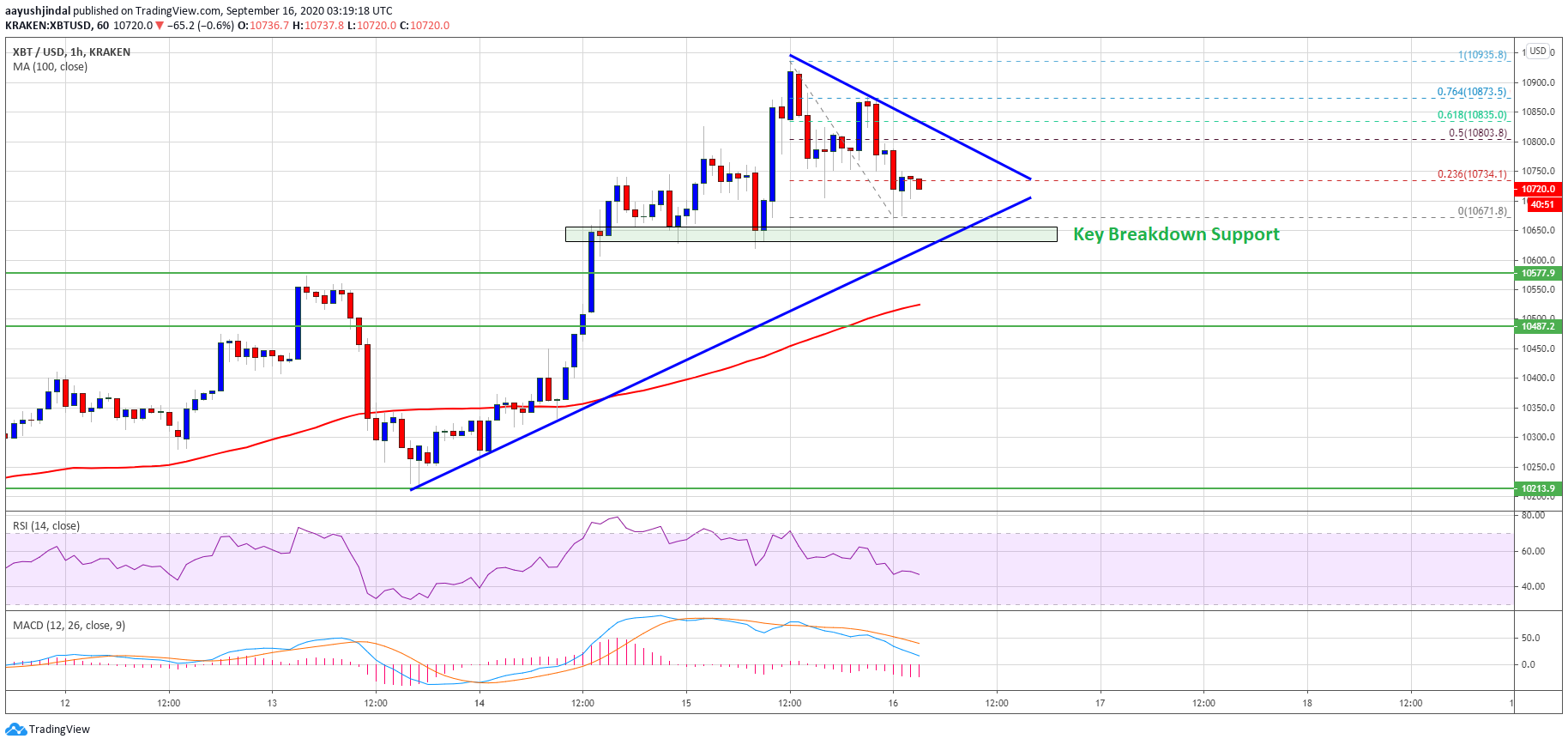 Bitcoin price trades above $10,800. Source: TradingView.com
If there is an upside break above the $10,800 resistance, the price could break the $10,935 high and continue higher. On the upside, there is a major hurdle waiting for the bulls near the $11,000 level (as discussed in the weekly analysis). A successful close above the $11,000 resistance is must to start a strong increase.
If bitcoin fails to clear the $10,800 resistance or struggles to test $11,000 hurdle, there is a risk of a sharp decline. An initial support on the downside is near the triangle trend line and $10,650.
A clear break below the $10,650 support zone could lead the price towards the $10,500 support. Any further losses may perhaps start a sustained downward move and the price could dive towards the $10,000 support or even $9,880.
Technical indicators:
Hourly MACD – The MACD is currently gaining pace in the bearish zone.
Hourly RSI (Relative Strength Index) – The RSI for BTC/USD is currently just below the 50 level.
Major Support Levels – $10,650, followed by $10,500.
Major Resistance Levels – $10,800, $10,850 and $11,000.
Source: www.newsbtc.com
Author: Aayush Jindal
Bitcoin Holds $10.7K as Altcoin Market Bleeds; Two Reasons Why
Bitcoin held steady on Wednesday even as a majority of top alternative cryptocurrencies, or altcoins, plunged considerably.
BTC/USD was up 0.3 percent to $ 10,816 per piece by 0423 GMT on a 24-hour adjusted timeframe. In comparison, Ethereum, the second-in-rank to Bitcoin, fell 4.09 percent. Other tokens, including XRP, Polkadot, Bitcoin Cash, BNB, and Chainlink, also dropped by 3-10 percent.
The polar-opposite sentiment appeared as Bitcoin Dominance–a barometer to measure the benchmark cryptocurrency's market cap against the rest of the crypto market–crawled further back to higher levels. As observers noted, the BTC.D chart was looking for a breakout of its own, despite not being a tradable instrument.
The latest green candles in the chart above displayed a capital influx into the Bitcoin market from the neighboring altcoins. That is despite the cryptocurrency's massive downside correction from its $ 12,486 yearly top established earlier in mid-August. Two catalysts explain how Bitcoin managed to hold steady above $ 10,700 even as rival tokens fell.
As Bitcoinist reported earlier, Bitcoin was anticipating bullish moves ahead of the closure of the Federal Open Market Committee's two-day monetary policy meeting on Wednesday. Traders awaited more details of the Federal Reserve's plans to balance interest rates against its 2 percent inflation target.
The US central bank's decision will come at 1800 GMT, followed by a news conference by its chair Jerome Powell.
Observers expect the Fed to keep its benchmark rates lower for a more extended period to keep aiding the US economy through the COVID-19 pandemic. Lower interest rates keep downside pressure on the US dollar and bond yields. They, thus, increase the appeal of comparatively riskier assets, such as gold, stocks, and even Bitcoin.
The US Dollar Index plunged 0.03 percent ahead of the FOMC meeting Wednesday.
At the same time, if the Fed remains elusive about its long-term plans, then the uncertainty alone could cause a minor correction in the Bitcoin market. Nomura's Lewis Alexander explained that a recent uptick in manufacturing and jobs data might keep the central bank from sharing overly dovish tones.
"Recent comments from FOMC participants suggest a consensus for stronger, outcome-based forward guidance or significant changes to asset purchases remains some ways off," he said in a note published earlier this week.
The short-term risks have not deviated big investors from injecting fresh capital into the Bitcoin market.
MicroStrategy, a public-traded US firm, announced on Tuesday that it has bought another $ 175 million worth of BTC units for its reserves. That marked the company's second-biggest investment in the crypto space. It had reallocated $ 250 million into Bitcoin last month.
On September 14, 2020, MicroStrategy completed its acquisition of 16,796 additional bitcoins at an aggregate purchase price of $ 175 million. To date, we have purchased a total of 38,250 bitcoins at an aggregate purchase price of $ 425 million, inclusive of fees and expenses.
— Michael Saylor (@michael_saylor) September 15, 2020
Michael Saylor, the co-founder of MicroStrategy, had earlier stated that they decided to invest in Bitcoin to protect their reserves against the dollar devaluation. That said, the cryptocurrency's hedging narrative against the FOMC meeting helped it sustain the $ 10.7K-support.
Bitcoinist.com
Source: crypto.uk.com
Author: Posted by admin on 16th September 2020
Bitcoin daily chart alert – Bulls gaining momentum – Sep. 15
(Kitco News) – Bitcoin-U.S. dollar prices are firmer again early Tuesday and hit a two-week high. Bulls have stabilized prices, have negated a bear flag pattern and are now stepping up and showing power–improving the near-term technical posture of the market.
By Jim Wyckoff
Follow @jimwyckoff
Source: www.kitco.com
Author: http://www.facebook.com/kitconews
Previous
Next