Dr Seuss Crypto Collectibles to Feature Cat in the Hat, Lorax, Horton, the Grinch
Renters Threaten US Real Estate Market, 20 Million Americans Face Eviction
Crypto Facilities Gets FCA Nod to Set up Crypto Futures Venue
About 90% of Bitcoin Investors Worried About Fate of Their Assets After Death: Study
Venezuela Seizes 315 Bitcoin Mining Rigs: Miners Discuss Illegal Confiscation, Police Extortion
Shariah Council Permits Cryptocurrency Investing and Trading
$424 Million and Numismatic Value: There's Only 20,000 Casascius Physical Bitcoins Left Unspent
Bitcoin Prize For Winners Of South Africa Mountain Bike Race
Bitcoin Script and Onchain Contracts: Two High-Level Programming Languages for Bitcoin Cash
Tether Freezes Millions of Dollars USDT in 40 Addresses Amid Regulatory Pressure
Deposition of Craig Wright's Wife Shows Little Understanding of Bitcoin Private Keys
Bitcoin Difficulty Touches All-Time High, 120 Exahash of Hashpower Remains Strong
Abra Crypto App Charged by SEC for Transactions Affecting Thousands of US Stock and ETF Purchases
US Army Requests Information on Tools to Track Cryptocurrency Transactions
A Panel of Experts See Bitcoin Averaging $12,948 by Year End
Aggregate ERC20 Market Cap Outpaces Valuation of ETH in Circulation by $2 Billion
Covid-19 Stimulus: Banks Will Gain $18 Billion in Fees for Processing PPP Relief Loans
Survey: 60% of Bitcoin Investors Will Die With Their BTC If Price Stays Below $10,000
South Africa Proposes New Rules to Regulate Cryptocurrencies, Seeks Alignment With FATF Standards
Investor Charged in US After Obtaining Covid-19 Relief Loan to Trade Cryptocurrency
Paypal Developing Cryptocurrency Capabilities, Letter to European Commission Confirms
Popular NASCAR Driver Bubba Wallace Will Sport the Bitcoin Logo While Racing
Fidelity Digital Assets to Hold Bitcoin Private Keys for Kingdom Trust Clients
European Digital Bank Revolut Expands Bitcoin Trading Services to 49 US States
Study: Exchanges Accepted $1.3 Billion in Bitcoin Stemming from 'High-Risk Addresses'
South African Bitcoin Investment Company Pushes Back Against Texas Scam Allegations
Grayscale Crypto Investments Add Nearly $1 Billion in Q2 — Bitcoin Trust Posts Record Quarter
Iran Licenses 14 Bitcoin Mining Farms, Cuts Electricity Tariff up to 47% for Miners
FreeBitcoins.com is Open Again With Three Helpful Tools for New and Old Cryptocurrency Users
Market Outlook: Crypto Economy Sheds $10B Overnight, Exchange Inflow and Sell Pressure Rises
Bitcoin Investor Sues IRS for Unlawful Seizure of Financial Records at 3 Crypto Exchanges
The Twitter Hack Fiasco: Compromised Internal Tool, Paid Insiders, Direct Message Fears
Bitcoin Investors Unfazed By Great Twitter Hack, as Volatility Remains Stable
Miner Hoards: Q2 Bitcoin Mining Supply Outflow Touches 12-Month Low
Report Shows Bitcoin's Covid-19 Recovery Stronger Than Other Markets With Zero Intervention
'Wonder Woman' Illustrator and British Artist Terry Flaxton to Sell Ethereum-Backed Art
Report Cuts China's Bitcoin Mining Capacity to 50% of World Total, Raises US' to 14%
Former Finance Secretary Subhash Chandra Garg Proposes Regulating Crypto as Commodity in India
Venezuela Bans Bitcoin Mining Operations in the Country's Public Housing Sector
Canadian Regulator Accuses Coinsquare of Market Manipulation With Wash Trades Worth 590K BTC
News.Bitcoin.com Lead Writer Jamie Redman Named One of the Best Crypto Bloggers
$6M Worth of Tether on the Bitcoin Cash Chain Highlights the Benefits of SLP Tokens
Google, Facebook, Twitter Face Class-Action Lawsuit for Banning Crypto Ads
Bitcoin Security 101: How to Create a 2 of 2 Multi-Signature BCH Wallet
Crypto Social Network 'Minds' Sees Users Flock From Twitter and Facebook Over Privacy Concerns
German Court Rules to Limit Authorities' Access to People's Data
142 Million Guests: Hackers Attempt to Sell MGM Grand Data Dump for Cryptocurrency
Wirex Approved to Issue Mastercard-Backed Bitcoin Debit Cards
Analysts Claim Bitcoin's 76 Day Stability 'Bullish': Hash Ribbons Cross and 2016 Patterns
Russia Shelves Plans to Criminalize Bitcoin Transactions – For Now
Telecom Argentina S.A Hit by Major Ransomware Attack, Criminals Demand $7.5M Worth of Monero
Y Curve Interest Rates Reach 2,000%, Assets Under Management Grows Tenfold After Token Launch
Source: bitcoinrecent.com
Author: by admin
Ripple Funding Research Into Crypto Anonymity, Including Private Transactions on XRP Ledger
Ripple says it is funding research on blockchain anonymity through its University Blockchain Research Initiative (UBRI). The program provides financial and technical resources to top universities worldwide to support research and development in crypto assets and digital payments.
The payments startup says blockchain technology faces a number of privacy and security threats despite its decentralized nature. The San Francisco-based firm notes that businesses settling invoices through the public blockchain may unintentionally reveal sensitive data about their products and services to competitors.
Delft University of Technology assistant professor for distributed systems Stefanie Roos says that while private blockchain appears to be the logical solution to maintain anonymity, there are benefits in using a public blockchain with the right privacy features.
"Think of systems where anonymity is temporal. You get privacy for the time that you need it. If you want to have transparency later on, you can reveal the relevant cryptographic keys to demonstrate that you complied with regulatory requirements, show off your high-quality suppliers or to prove a patent case."
Delft University of Technology students are focusing their research on crypto anonymity on the XRP Ledger, the backbone of Ripple's native token XRP. Ross says it's not just businesses that need confidentiality features. She believes ordinary consumers using public blockchains will eventually demand privacy in their transactions.
"People won't want others seeing what they buy or sell. That has huge potential for blockchain bullying. Imagine teenagers knowing each other's transaction history, being able to see who has the most expensive clothes or shoes. Some people may not want others to know that they get government benefits. We have to make sure that these systems preserve our privacy."
Source: dailyhodl.com
DeFi Crypto BAND Explodes 384% QTD on Booming Adoption
BAND, the native token of the Band Protocol, rose by as much as 384 percent in the third quarter.
The supersonic price rally appeared amid the ongoing DeFi craze – and also following Band's growth-oriented partnerships.
Nevertheless, the BAND/USD pair stands overbought, which points to an imminent downside correction ahead.
An explosive buying spree in the DeFi sector has sent one of its tokens up by 384 percent on a quarter-to-date (QTD) timeframe.
Dubbed as BAND, the cryptocurrency is a native asset of Band Protocol, a decentralized oracle that serves as a layer-2 protocol on public blockchains. On July 20, the BAND price established an all-time high at $5.25. At the start of this month, it was trading for $1.05.
BAND price logs up to 2,287 percent gains YTD. Source: TradingView.com
BAND also jumped higher against Bitcoin, the top cryptocurrency by market cap. As of Wednesday, the BAND/BTC pair was trading 341 percent higher QTD at 51,200 sats.
What future awaits cryptocurrencies?
A calm and composed Bitcoin, coupled with an ongoing craze for decentralized finance tokens, appears to have helped BAND logging a supersonic price rally.
Prediction market and oracle cryptocurrencies came into trend during the second quarter. BAND's closest rival, Chainlink, for instance, emerged as the market leader after rallying by 305 percent in 2020. A large portion of those gains came during Q2.
Backing the oracle rallies were project upgrades and partnerships. Chainlink usage in the DeFi space grew as more and more projects sought it for its data feed services. The market cap of these DeFi projects itself grew by two-fourfold, contributing to an increase in demand for the Chainlink's LINK tokens.
DeFi sector performance in Q2/2020. Source: Messari
The Band Protocol showed a similar growth-oriented trend. The last two months saw the project providing oracle solutions to a plethora of DeFi projects. Its latest announcement came on Wednesday, stating that ICON, a blockchain network, will integrate BAND-powered data solutions onto its platform.
Earlier in July, the Band Protocol entered partnerships with Waves, Neutrino, BetProtocol, Wanchain, and other blockchain-enabled projects. Each deal signaled a higher growth rate for BAND, which, in turn, translated into a price rally.
The DeFi rally appears attractive but, at the same time, risks becoming an overblown move. Most of the tokens that rose by 100-400 percent in Q2/2020 now stands technically overbought. It has increased their likelihood of correcting lower.
While #BNB is going strong, some of our portfolio projects are also doing well. M&A: $SXP, LaunchPad: $BAND & $KAVA, and investment: $LUNA. All top 24hr gainers.
What season comes after winter? al____ pic.twitter.com/RN5l7hdgik
— CZ Binance (@cz_binance) July 20, 2020
BAND faces the same risks. The cryptocurrency's Relative Strength Index readings currently stand at 86. That puts BAND in the overpriced category, which may lead to a massive bearish move.
The coin earlier pulled back from its all-time high by 30 percent. Nevertheless, sustained upside momentum in the DeFi market helped its recover back. It continues to trade under its record peak.
Source: www.newsbtc.com
Author: Yashu Gola
What the DOGE Is Going on? TikTok Creates New Crypto Trading Paradigm
Less than two weeks after the price and trade volume of Dogecoin (DOGE) exploded following a get-rich-quick TikTok challenge that went viral, the meme coin has been making headlines again. This time, Elon Musk's humorous tweet briefly reversed the downward trend that the asset had entered since the TikTok boost began to wear off.
While the latest development might bolster the impression that Dogecoin only thrives on fleeting, whimsical cycles of the internet's attention, it should not obscure the potentially bigger lessons of its earlier user-powered surge.
TikTok, the video-sharing app hailed as the fastest-growing social networking service in history, provides a perfect environment for creating and spreading audiovisual memes. TikTok challenges represent a particularly viral form of communication where information travels at lightning speed, potentially multiplying user engagement by orders of magnitude in a matter of days.
Video app user jamezg97 began posting videos calling fellow TikTokers to invest in Dogecoin sometime in late June, but it was the user's July 2 post that appears to have triggered the subsequent buying surge. As of press time, the video has recorded more than 1.1 million views.
From the start of the steep upward movement around July 6 to the July 9 peak, the coin's price has more than doubled, from $0.0023 to $0.0049, while the daily trade volume jumped tenfold from around $110 million to $1.1 billion, according to CoinMarketCap data. Google trends data showed a corresponding surge in Dogecoin-related search terms around the same time. From there, the short-lived effect of the TikTok campaign began to wane.
As a tongue-in-cheek currency inspired by a meme and designed back in 2013 to appeal to a broader audience less tech-savvy than the hardcore Bitcoin faithful, Dogecoin was well-suited to resonate with the entertainment-seeking TikTok base. Another selling point has been the minuscule price of a single coin, which has likely obscured the fact that driving it to $1 as proposed would require a percentage increase of tens of thousands.
Regardless of the motivations that have triggered the influx of new users, it didn't take long for some market participants to roll out the infrastructure necessary to accommodate them. On July 9, cryptocurrency exchange platform OKEx announced the launch of leveraged spot trading, perpetual swap contracts and saving features in Dogecoin, while Binance opened perpetual future contracts.
OKEx CEO Jay Hao explained the decision to expand Dogecoin offerings to the effect that, despite the reputation of a meme asset, the currency is not a joke, as it is fully functional as a method of payments and has a robust community. Another major trading platform to promptly list Dogecoin was Bitfinex, whose chief technology officer, Paolo Ardoino, referenced the style of Doge's internal dialogue in a tweet: "Such wow! MegaDOGE on @bitfinex ! Release the gud boi!!!!!!!!!" Ardoino sounded more reserved when talking to Cointelegraph, saying that the decision to list the asset was made in response to consumer demand:
"We always listen to our user base and seek to offer the tokens that they want to trade. I can't comment on the sentiment of one token or another. As an exchange, we're token agnostic. We simply provide a platform on which people can trade. […] As an exchange, Bitfinex supports financial inclusion, so we see this as a largely positive trend but investors always need to carefully consider the risks."
One internet influencers to comment on the Doge rush was Dave Portnoy, the founder of the sports and pop culture blog Barstool Sports. Portnoy took to stock trading during the sports dry season due to the pandemic and achieved impressive clout among retail traders with his entertaining if boisterous livestreamed sessions. In a recent video, he took a moment to describe the Dogecoin rally as a "pump and dump."
Curiously, Portnoy's own concept of how equity markets work could be more aligned with the forces behind the coin's brief surge than his casual "bubbly rosé" dismissal would suggest. A huge part of his entertainment appeal comes from his lighthearted approach to trading. From openly admitting that he has "zero clue" what he is doing to repeatedly uttering that "stocks only go up," Portnoy embodies the idea that equity valuations have little to do with any tangible economic reality, rendering day trading little different from sports betting.
While Portnoy does not explicitly promote the idea that retail investors' mass behavior can drive asset valuations, there is evidence that it, in fact, does. Some Wall Street observers credit the influx of small traders for soaring stock prices despite the struggling economy. The boom appears to be fueled by sports bettors looking for action; people bored at home who view their stimulus checks as free money to play around with; and it is greatly assisted by gamified trading apps like Robinhood.
A community that formed around the Reddit forum r/WallStreetBets has gained much notoriety over the past few months. There, participants wage coordinated options trading campaigns in an attempt to drive target assets up — an aggressive strategy that looks like a distributed pump-and-dump. The underlying idea is that there are structural vulnerabilities in the stock market that can be exploited through collective action.
If even traditional equity markets have become the arena for small investors' betting on stocks and social media-powered, mass-scale manipulation, it's hardly shocking for the cryptocurrency space — traditionally user-driven and responsive to popular sentiment — to generate an event such as the Dogecoin TikTok pump. Crypto market analyst Mati Greenspan commented to Cointelegraph:
"It's not just DogeCoin either. Valuations of Tesla, Hertz, and Nikola are prime examples of how social media sentiment can drive prices. Figuratively speaking. In the cryptoasset space, this sentiment plays an even greater role as a large part of token value is derived from the network effect."
It is hard to tell whether it's demography or ideology that is the primary active ingredient contributing to the increasingly prevalent perception of trading — both in traditional stocks and digital assets — as a brand of cybersport. It is possible that Generation Zers beginning to pour into the ranks of retail investors are bringing bits of their playful online-first culture to the financial domain.
It is also possible that the glaring detachment of financial markets from the real economy, combined with the pandemic-era corporate bailouts and rampant money printing, is finally driving home the notion that there is something less "fundamental" about assets' market value than there is arbitrary and contingent.
Bitfinex's Ardoino opined that in the case of crypto markets, maturation of the asset class could eventually lead to diminished reliance on the social media mood swings: "The digital asset space will mature over time. As the industry matures, it may be the case that the sentiment that some analysts see driving markets will give way to fundamental analysis." However, as the retail trading boom engulfs even more "mature" markets, it is reasonable to suspect that the new brand of social-driven trading could be here to stay, both in equity and cryptocurrency realms.
As opposed to singular events like extravagant billionaires' humorous endorsements, mass support from scores of online users can be mustered systematically. Compared to bulkier traditional asset classes with their inertia-prone trading infrastructures, the cryptocurrency space is more flexible when it comes to capturing short-term bursts of online attention, as the prompt response to Dogecoin surge illustrates.
Investing in creative branding, online community building and usable interfaces could be the way for the cryptocurrency industry to capitalize on the demise of dead seriousness in retail trading and lure in both adrenaline- and fun-seekers who are becoming convinced that assets' worth is a function of what the internet thinks it is.
Source: cryptobrain.net
Author: by admin
CoinLoan Facilitates P2P Crypto-Backed Loans that Allow Digital Asset Holders to Keep Funds while Lenders Earn Returns
In a Nutshell: While stocks have been used as collateral in the fiat world for decades, it was only recently that a parallel infrastructure existed in the crypto world. CoinLoan is a platform offering these crypto-backed loans that allow digital asset holders to unlock the value of their tokens without having to sell them. Lenders also earn money through interest earned from borrowers. And CoinLoan's interest account offers up to a 10.3% APY with no minimums, no limits, and no fees.
Bitcoin blazed the path back in 2010 for today's vast cryptocurrency ecosystem.
The original concept was simple — using blockchain technology's immutable ledger, in theory, any person in the world could digitally transfer funds to another person outside the traditional financial structure.

Then came Ethereum. And Litecoin. And a host of other digital currencies. Next, those currencies began to increase in value, with Bitcoin notably leading the way.
All of a sudden, it became more appealing to many consumers to hold on to those increasingly valuable crypto coins rather than use them to pay for goods or services. People began buying up cryptos like stocks and hoped to see them continue to increase in value.
In the traditional finance world, investors have been able to borrow against their stocks for decades — often as a strategy to buy more stocks. But the method has also been used as a way to gain fast access to cash without having to let go of those money-growing stocks.
It took a few years for the crypto world to catch up, but thanks to companies like CoinLoan, crypto investors can now borrow against their digital assets as well. And as a P2P lending platform, investors can put up funds and look to gain returns as a source of supplemental income.
We recently spoke with Mike Rozhko, Chief Business Development Officer for CoinLoan, about how the platform works and the advantages it offers both borrowers and lenders.
CoinLoan was founded in 2017 by Alex Faliushin and Max Sapelov, Rozhko said. A major driver behind the company's development was Faliushin's personal experience selling 100 bitcoins, then seeing the bitcoin value skyrocket after the fact. The partners looked for a way to unlock the value of crypto without having to liquidate it, and CoinLoan was born.
"At some point in our lives, we will all need to meet digital assets face to face," according to CoinLoan. "We believe it's inevitable. What should not be inevitable is feeling frustrated by the complexity of the crypto-puzzle."
The company seeks to make its corner of the crypto world as easy to navigate as possible. For those looking to borrow against their digital currencies, the process is simple — and fast too.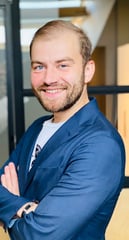 "CoinLoan was started as a more straightforward peer-to-peer business," Rozhko said. "But we realized that sometimes it's difficult to find the ideal pairing for the lender and borrower because we're all unique and have diverse needs."
The company saw how it wasn't always efficient for borrowers and lenders to connect on their own. So CoinLoan adjusted its platform so the lenders essentially deposit their funds into CoinLoan, and CoinLoan connects the funds with borrowers making for a fast and easy loan process.
"For many of our customers, what was most important was they were interested in getting an instant loan — they don't want to wait — so we made the instant loan service," Rozhko said.
Another hurdle for fiat borrowers can be credit checks, but not with CoinLoan.
"Because each loan is asset-backed, there is no need to run a credit check. You can pay off your loan whenever you want, or you can continue to pay on a monthly basis," according to the company. "Secure, simple, and available."
Rozhko said the company also offers some of the best interest rates in the business. That's because the company recently changed the way it calculates its interest rates and borrowers reap the benefits.
"The lower is the LTV you choose, the better is the interest rate," according to the company. "The cheapest rate for cryptocurrencies is 4.5%; for fiat and stablecoins it accounts for 4.95%."
The CoinLoan platform comes with a bevy of appealing benefits for lenders as well.
For one, there are no obstacles standing between the lender and the borrower as CoinLoan facilitates the process.
"CoinLoan matches lenders and borrowers, acting as a custodian by delivering a safe and clear lending experience," according to CoinLoan.
And the platform offers worldwide coverage with borderless lending opportunities available for lenders from anywhere in the world.
Lenders can also feel secure knowing the platform is safe and reliable.
But putting money up is not the only way people can earn on the CoinLoan platform. Rozhko said the company's recent interest account offering is gaining popularity fast.
"Interest Account aims to give you high-yield returns as fast and as easy as possible. That's why our new product is one of the most intuitive and accessible in our portfolio," according to CoinLoan.
Users can fund their interest account with crypto or fiat funds and earn up to 10.3% APY. The minimum deposit term is one day and the maximum term is unlimited.
"Once you deposit the funds into the account, they start to generate profit. Interest is accrued daily and deposited directly into your wallet on the first day of the month," according to the CoinLoan website.
Users are free to withdraw their funds at any time with a single click.
"CoinLoan is the first P2P lending platform for crypto asset-backed loans," according to the company. "Borrowers get money without selling crypto assets. Lenders offer loans and earn competitive returns. Overcollateralization ensures full repayment on time."
Newcomers — and even seasoned crypto enthusiasts — may be wondering just how the process works.
"Deposit fiat funds or stablecoins if you want to lend. Deposit crypto assets to secure a loan if you want to borrow," according to the CoinLoan website.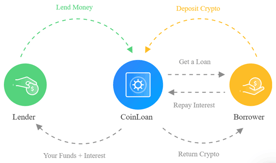 In the lending market, lenders simply find the most suitable offer to issue a loan instantly or create a custom one. In the meantime, borrowers commit to paying interest on time. The cryptocurrency collateral also ensures timely payments.
"Once the loan is paid off, the lender gets funds and earned interests. Сryptoassets return to the borrower," according to CoinLoan.
All this takes place via CoinLoan's easy-to-use and secure digital interface.
"Slow and restricted traditional banking is outdated and doesn't correspond to the modern globalized world," according to the company. "CoinLoan turns things around. Forget about any delays or hidden fees. Borrow, earn interests, exchange your fiat, crypto, or stablecoins from any part of the globe — all in one place."
CoinLoan is also continually looking for ways to improve the lending and borrowing process for users, Rozhko said. Adding Ripple to the platform is one the company's exciting recent developments.
"On the first of June Ripple (XRP) became officially listed on the CoinLoan platform," according to the CoinLoan blog. "Within a week of the listing, users deposited more than 14 million XRP tokens on the platform, making CoinLoan the leading cryptocurrency lending service that uses Ripple."
With its potential to deliver significant earnings to lenders and interest account holders, as well as its no-credit-check crypto backed loans for borrowers, CoinLoan makes notable headway in bringing the utility of the crypto world one step closer to that of the fiat world.
Source: www.badcredit.org
Author: By: Matt Walker
Posted: July 21, 2020
DigiFinex CXO Kiana: In COVID-19's Wake, the New Normal Creates Crypto Opportunities
This article is originally published on Cointelegraph.
In a global economic recession, individuals and institutions have been turning away from traditional assets and seeking opportunities in cryptocurrency.
The COVID-19 pandemic has been a challenge for everyone, but it has created many opportunities for us in the blockchain industry. In most industries, sales vectors are declining, as bankruptcies and layoffs rule the day. But companies in the crypto and blockchain space have been expanding, hiring and applying for new licenses.
The pandemic has caused suffering in this industry, as in others, but the fundamentals of crypto are better than those of traditional financial markets. We will experience some reshuffling, but the crypto and blockchain industry will become stronger through this crisis. Newmarket participants are looking for derivative and margin products, and they're increasingly looking to trade on their phones and mobile applications.
The next wave of COVID-19 would eviscerate new, underdeveloped companies. That's why sustainability is very important. Soon, there will be a crash test not just for crypto players but for everyone. Those efficient companies will persist, however, and the industry may become stronger for it.
Traditional investors fear whether a second wave will again plunge the traditional market into turmoil. In March, Bitcoin's (BTC) price fell to approximately $3,000 and promptly rebounded to over $9,000, even briefly hitting $10,000. By regaining its pre-pandemic level, we see how Bitcoin bounced back a lot faster than other financial investments. I anticipate crypto prices to collapse and quickly rebound in the event of a second wave of COVID-19.
Crypto will continue to grow strong despite a global economic recession though many still suffer from COVID-19 and the effects of lockdown. In a global economic recession, individuals and institutions have been turning away from traditional assets and have been seeking opportunities in cryptocurrency.
Therefore, traditional investors will continue to turn toward crypto assets, especially family offices and asset management companies. The market will only mature, particularly initial exchange offerings, decentralized finance and traditional financial markets. We see traditional investors becoming more aggressive when investing in this space, as well as building incubators for blockchain projects.
Multinational companies and even banks have set up new investment arms for blockchain technology and cryptocurrency, looking to diversify into these alternative assets. According to a recent Fidelity survey, 80% of institutional investors found digital assets appealing, while 60% of them have been proactively looking at Bitcoin as part of their usual portfolio investment.
In the survey, 74% of United States institutional investors and 82% of European investors saw cryptocurrency as appealing. Meanwhile, 36% of institutional respondents were attracted to cryptocurrency because it is "uncorrelated to other asset classes," and 34% were attracted by the innovative nature of the technology. And 33% liked the high upside potential.
Commenting on the survey, Tom Jessop, the president of Fidelity Digital Assets, said: "These results confirm a trend we are seeing in the market towards greater interest in and acceptance of digital assets as a new investable asset class." He also added:
"This is evident in the evolving composition of our client pipeline, which spans from crypto native funds to pensions."
The shift of offline business and physical activities to an online setting to crypto and blockchain startups. From here on out, we will see discussions and debates over cryptocurrency investment from billionaires and traditional investors. Whether they support it or not, they will keep a closer eye on crypto and blockchain technology.
In the "new normal," blockchain technology can be applied to the Internet of Things, medical systems, supply chains, and can be used for transparency in financial markets, charity and nongovernmental organizations. In Asian countries, for instance, little is known about how NGOs spend their money, and how many middlemen take a cut.
Related: The Future of Philanthropy Lies in Blockchain Technology
Sometimes, only 10% of a donation reaches those who truly need it. If this process is put on a blockchain, then everything is on-chain and transparent. There is no black box, and we can track donations to ensure that they are going where they were initially intended to go. After companies adopt blockchain technology for these purposes, only then will they begin to discuss tokenization.
For now, to be certain, most of the attention remains on Bitcoin. In a post-COVID-19 world, diversifying portfolios will become increasingly important, especially for asset management companies and banks. COVID-19, therefore, is an opportunity for crypto to penetrate new markets, to work with big banks and to attract mainstream investors.
Kiana Shek is the CXO of DigiFinex. Having served in top management positions for several public listed companies, Kiana has extensive experience in Big Data, AI, finance and international business development. DigiFinex is a global cryptocurrency exchange leader based in Hong Kong with seven offices worldwide, serving 4 million global users.
Source: Cointelegraph
Who Are We?
DigiFinex is committed to fostering an open and flexible environment of opportunity and learning, we believe that our employees are our greatest assets and yes, we offer attractive remuneration as well as staff benefits!
Subscribe!
Subscribe today to get updated on the latest news on bitcoin, cryptocurrencies and blockchain.
Source: blog.digifinex.com
Author: DigiFinex
Previous
Next