2 Cryptocurrency regulatory organizations certified by Japanese financial watchdog
Recently, two cryptocurrency regulatory organizations have just been accredited as financial instruments and exchange associations by Japan's economic watchdog.
The Japan virtual currency exchange business association (JVCEA) and The Japan STO association, according to a report released on the 30th of April 2020 have been recognized by the financial services agency of Japan. They are being known as self – regulatory groups for derivative transactions and offerings of token and security for crypto assets. As from the 1st of May 2020, the JVCEA will be renamed, the "Japan Crypto Asset Trading Business Association."
JVCEA is the official self-regulatory body for the cryptocurrency industry in Japan approved to establish rules and policies for cryptocurrency exchanges in Japan. One of their major function is to accredit and approve cryptocurrency regulatory organizations.
The Japan Crypto Asset Trading Business Association was reached out to by Cointelegraph for feedback. However, as of during press time, there was no feedback.
There are 21 authorized and approved exchanges in Japan, and three additional firms are listed as second-class participants; this according to the recent crypto developments in Japan as of March 2020. These are big American crypto exchanges, including digital asset markets, Coinbase, and Tokyo hash.
The leverage cap for cryptocurrency margin trading in January of 2020 was proposed to be officially cut by the financial service agency. The Financial Service Agency allegedly intended to bring the regulation into effect in April after the amended edition of the Financial Instruments and Trade Act comes into force.
It is important to note that some cryptocurrency exchanges in the country reduced their rates after the Japan Crypto Asset Trading Business Association enacted a leverage cap of four times in 2019.
In other jurisdictions such as the European Union, some local economic experts suggested that the rate should be further lowered to two times. In light of these events, it is expected that more cryptocurrency regulatory organizations will be set up and approved by the FSA.
Ifeanyi Egede is an experienced and versatile freelance writer and researcher on the blockchain space and related matters with published works online and in the print media. He has close to a decade of writing experience. When he is not writing, he spends time with his lovely wife and kids.
Source: www.cryptopolitan.com
Author: Ifeanyi Egede
Binance Review: Crypto, Trading & Fees
Binance is one of the best, if not the best crypto trading exchange in the world. The platform is super beginner-friendly, easy to use and offers a massive range of crypto pairs, innovative products, features, competitive fees and responsive customer support.
The exchange has attracted millions of users in multiple countries across the world and is often applauded in exchange reviews and social media. It is often regarded as the world's leading cryptocurrency exchange for providing an online platform that bridges the gap between traditional fiat money and crypto through an innovative feature-rich service.
In this Binance review, we will assess the platform's key features and provide an overview of its services so you make an informed decision before you decide to create an account.
While we aim to provide you with accurate and the latest information on its features, user interface and trading fees and more, we strongly suggest that you visit their site to keep updated with any changes that may occur afterward.
Binance is the largest cryptocurrency exchange by trade volume and one of the fastest trading services providers for blockchain ecosystem. The company was founded in July 2017 and has seen an astronomical rise in popularity to become the premium crypto trading platform.
The founder and CEO of Binance is Changpeng Zhao, often referred to as 'CZ', started the exchange from nothing and has become a self made billionaire within 1 year.
To create an account with Binance, the process is very straight forward and only takes a few minutes. To start, follow these steps:
Visit the website Binance.com
Click on the 'Register' button at the top right-hand corner
Enter in your email and set a strong password
Verify your email address by entering in the verification code
Login to Binance using your credentials
Binance uses a level based verification system which determines the maximum withdrawal limits. New users are not required to verify their account immediately to start trading altcoins. However, will be limited to the basic verification level which restricts the maximum withdrawal amount.
Level 1 verification allows withdrawals up to 2 BTC within a 24 hour period. This is the basic verification level when you first create an account. For beginner traders, this might be suitable so therefore will not need to complete identity verification to trade with Binance.
Level 2 verification increases the withdrawal amount to 100 BTC. Users are required to submit basic personnel information to Binance such as:
Full name
Date of birth
Residential address
You will also need to upload an identity document that shows a photograph and the personnel details provided. This can take a few hours to complete, so if you intend to trade larger volumes make sure to complete this process first.
Users that have registered with Binance to buy cryptocurrency with a credit or debit card will also need to complete identified verification. This is to comply with local regulations and is a one-off process for the account.
There are several methods to fund your new Binance account, however for beginners, it's recommended to start easy and transfer Bitcoin or Ethereum. Depending on the cryptocurrency, it can take between a few seconds, minutes or even hours for the blockchain to confirm the transaction and deposit the funds into your Binance wallet.
To deposit funds into Binance, follow these steps:
Login to your Binance account
Navigate to 'wallet' at the top menu and click on 'Spot Wallet'
Using the left menu, select 'Deposit'
Select the crypto you want to deposit (e.g. Bitcoin)
Copy the unique wallet address for the selected coin
Transfer crypto to the wallet address
If you prefer to fund the account with fiat currency, Binance supports deposits in EUR and GBP which can be transferred to the exchange using the following payment methods:
Bankcard (Mastercard / VISA)
AdvCash
Payeer Wallet
SEPA
Epay Wallet
To trade cryptocurrency with Binance exchange, follow these simple steps:
Login to your Binance account
Navigate to 'spot' and select a chart interface (e.g. basic or advanced)
Use the right menu to select crypto pair to trade
Enter the price you want to buy or sell the crypto asset (e.g. USDT)
Select the amount to buy or sell (e.g. BTC)
Review the order to ensure the details are correct
Click on the green 'Buy' or red 'Sell' button to place the trade
Now that your account is funded, you can start trading crypto currencies. The easiest way is to use the 'Basic' spot exchange. It's a simple widget (as shown above) that allows the exchange or swap of one crypto asset to another instantly. Just select the crypto you want to convert and the crypto you want in return.
However, for traders that want to view historical and live price charts, Binance provides a classic and advanced mode that both use Tradingview charts. We will be using the classic version.
On the right, all of the crypto pairs are listed to trade. It's very easy to switch between Bitcoin, altcoin and fiat currency pairs using the top menu. You can also add pairs to favorites for quick access.
If you look to the left, you can see all of the prices that people are willing to buy and sell the selected cryptocurrency. The numbers in the middle show the last sale price. You can also see the volume or amount traded at each price level which can be useful.
To place an order, use the window at the bottom center which is referred to as the order box. You will see on the left is the 'Buy' orders and the right for 'Sell orders'. Here, you can manually place trades using the spot exchange.
There are options to switch to margin and futures trading which we will cover later.
Using the order window, you can select a variety of order types including limit, market, stop-limit and One-Cancel-Other (OCO). When you want to enter an order, you can simply click the recent trades window which will automatically enter the price of the cryptocurrency. Entering a price in manually can lead to errors.
Binance has made it easy for beginners to fill in an amount using percentages (e.g. 25%). By clicking on these buttons, it will determine the amount based on your current account balance for the particular cryptocurrency. Once you have selected an amount, simply click on the green 'Buy' button to execute an order.
Each order placed will be shown below the order box below. Here, you can also your 24 hour order history.
Binance allows its users to purchase cryptocurrencies such as Bitcoin, Ethereum and Litecoin using the following methods:
Buy crypto with a bank transfer
Trade crypto using the exchange
Buy crypto with a credit card
Crypto that is purchased on Binance can be immediately used to trade against the other 150+ cryptocurrencies offered on 450+ trading pairs or withdrawn to a personal hardware wallet for safe-keeping.
Binance allows users to buy stablecoins such as BUSD and USDT with a bank transfer by sending money from your account to the providers of these coins. This is essentially a peer-to-peer market place with buyers and sellers that can be filtered to your local fiat currency, Purchased stablecoins can then be used to buy cryptocurrency on Binance exchange.
A popular way to buy crypto is using the Binance spot trading exchange which features more than 150 crypto coins.
Here, you can exchange stable coins or swap altcoins for other cryptocurrencies on the open market using the basic, classic or advanced charting platform (pictured below). You will require basic knowledge of how to place orders (e.g. market, limit and stop) however the user-interface is quite beginner-friendly and you will pick it up very quickly.
You can purchase Bitcoin directly and other cryptocurrencies on the Binance platform using credit / debit card (Mastercard or Visa). To buy crypto with a credit card, follow these steps:
Login to your Binance account
Navigate to the top menu and select 'Buy Crypto'
Choose a method of payment (e.g. Credit/debit card, Bank transfer, 3rd party payment)
Select the cryptocurrency that you want to purchase
Enter in the amount of fiat currency to spend
Review the order details and click on 'Buy Crypto'
Purchased crypto will appear in your Binance wallet
Binance supports an impressive list of cryptocurrency assets that can be purchased, traded and sold using the exchange. There are well over 150 crypto coins that can be traded against the following pairs:
Binance Coin
Bitcoin
Ethereum
Tron
Ripple
Fiat currencies (e.g. USD, EUR, GBP)
Stablecoins (e.g. USDT, BUSD, TUSD)
Binance also supports numerous tokens that are part of an Initial Coin Offering (ICO) or Initial Exchange Offering (IEO) which allow traders to speculate on a newly listed crypto asset. To view a full list of crypto markets available to trade, we suggest you visit the Binance site.
Binance uses level based trading fee structure that is based your trading volume. The trading fee for new accounts is a flat 0.1%. However, you can receive a further reduction in trading fees by:
Increasing your 30 day trading volume (up to 20% fee discount)
Storing Binance Coins (BNB) on the platform (25% fee discount)
Kickback through the Binance referral program (20% fee discount)
To be one of the world's leading cryptocurrency exchanges, the platform must provide a plethora of contact options, communities, blogs and support channels to service the massive customer base. This is no exception with Binance that provides several channels to get in touch with the support team.
If you can't find a solution to your problem in the FAQ section or Support Center, Binance has a ticket system that allows you to submit a request. There are a number of categories to filter the question to make it easy. We have tried the ticket system ourselves and received a response 6 hours later. This is fairly average and could be improved.
Given the huge customer base, there is also going to be users with frustration and problem, so it is not surprising to see mixed reviews on Trust Pilot. However, we doubt that Binance would be in the position it is now if the customer support was terrible.
Binance has proven itself to be a safe and trustworthy exchange that allows users from all over the world to buy, trade and sell cryptocurrencies. It is regulated in a number of jurisdictions and complies with KYC requirements. To date, there have been no serious breaches of its security or hacks.
Coinbase is a reputable crypto exchange that was established before Binance. It's primary service offering is to allow users around the world to convert their local fiat currency into digital assets such as Bitcoin and Ethereum. Whereas Binance is tailored to active traders that speculate on the crypto market and involved in buying and selling to make a profit. Both platforms are leading crypto exchanges in their own rights.
Yes, Binance is available to users in Australia that want to trade cryptocurrencies. The exchange has also expanded to offer AUD deposits to buy Bitcoin using cash transfer. It's subsidiary Binance Lite Australia was established in 2018 to provide a fast and easy way to purchase crypto with Australian Dollars.
No, Binance has restricted US customers from trading on the main exchange due to regulatory policies. Users from the US are permitted to buy crypto with Binance US however cannot perform active trading.
If you're looking for the best place to trade cryptocurrency, then Binance will deliver on all of your expectations. It's leading the way to provide its customers with a beginner-friendly, modern, advanced and innovative platform to profit in digital assets.
We hope that you found this Binance review useful and encourage you to create an account with Binance to experience its innovative features and market-leading crypto assets to trade. You will not be disappointed.
Like this post? Don't forget to share it!
If there are other cryptocurrency exchanges that you want us to review, leave a comment.
It's important to use a global and trustworthy crypto exchange to buy, trade and sell Bitcoin and other cryptocurrencies. There are several exchanges that have been hacked or had client funds stolen. The following cryptocurrency trading exchanges – in addition to the above exchange – are well known and trusted to provide a safe and secure way for beginners and professional crypto traders to deposit fiat currency and purchase digital assets.
CEX.io
Coinmama
Changelly
Plus500
Coinbase
Bitit
OKex
ChangeNOW
WazirX
Huobi
Source: www.hedgewithcrypto.com
Author: Kevin
Binance widget now available to all Brave desktop browser users, enabling seamless cryptocurrency trading and management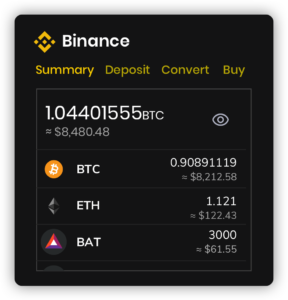 Today's Brave desktop browser update (version 1.8) features the Binance widget, the first exchange-browser integration of its kind. Brave and Binance announced their integration on March 24, and until today a preview version of the widget was featured in Brave's Nightly and Beta versions for testing. Brave's browser currently has over 13.5 million monthly active users, and Binance is the world's largest cryptocurrency exchange by trading volume and users; this integration enables millions of users across the globe to seamlessly trade and manage cryptocurrency, all without leaving the browser.
The Binance widget is easily accessible from the New Tab page in the Brave desktop browser. The integration offers several functions for managing, buying, and trading cryptocurrency:
Summary: Viewing Binance account asset balances
Deposit: Listing supported assets in the account, searching for specific assets, and viewing fiat value (Selecting an asset from this list will also reveal the deposit address in text and QRCode form)
Convert: Converting from one asset to another (A conversion quote is displayed for 30 seconds; the Binance widget reflects the new balance in the "summary" tab soon after the conversion has completed)
Buy: Buying and selling crypto assets (Purchases are reflected in the Binance widget shortly after they have concluded)
In order to interact with their Binance account, a user must first connect the Binance widget to Binance, which is done by clicking the "Connect" button on the widget itself. Once this button has been clicked, a window appears, and the user is prompted to authenticate with Binance. Once successfully authenticated, the Binance widget is fully operable. Any assets held by Binance are enumerated at this time. Because the Binance widget is built into the Brave desktop browser and is not a loaded iframe (remotely embedded document), it is designed to preserve the user's privacy. API calls will only be made into Binance if the user authenticates via OAuth and interacts with the widget.
Users can access the Binance.com or Binance.US (for US-based users, which currently offers the disconnected buy view but will soon feature an API) sites, and can trade cryptocurrencies such as Bitcoin, Ethereum, BNB, Ripple, Litecoin, and many others supported by Binance.
What cryptocurrency will become the main one in a year?
Users can easily disconnect their Binance widget by clicking "disconnect" from the dropdown menu in the widget. Disconnecting the Binance widget does not impact the user's Binance account, and the Brave browser is not able to interact with a user's account again until the user reconnects the widget. The Binance widget is enabled by default on the New Tab page, but users can hide it by clicking the menu at the top right corner of the widget, and choosing "hide Binance" from that menu.
The Binance widget will be available on Brave's mobile platforms later this year.
###
About Brave Software
Brave Software's fast, privacy-oriented browser, combined with its blockchain-based digital advertising platform, is reinventing the web for users, publishers, and advertisers. Users get a private, speedier Web experience with much longer battery life, publishers increase their revenue share, and advertisers achieve better conversion. Users can opt into privacy-respecting ads that reward them with Basic Attention Tokens they can redeem or use to tip or contribute to publishers and other content creators. The Brave solution is a win-win for everyone who has a stake in the open Web and who is weary of giving up privacy and revenue to the ad-tech intermediaries. Brave currently has over 13.5 million monthly active users and over 600,000 Verified Publishers. Brave Software was co-founded by Brendan Eich, creator of JavaScript and co-founder of Mozilla, and Brian Bondy, formerly of Khan Academy and Mozilla.
About Binance
Binance is the global blockchain company behind the world's largest digital asset exchange by trading volume and users, serving a greater mission to accelerate cryptocurrency adoption with 25+ products, projects, and initiatives including:
Binance Exchange (Binance.com): Binance Futures, Spot & Margin trading, Binance Lending, and Binance Staking
Binance Academy: non-profit blockchain and crypto educational portal
Binance Charity: non-profit organization and first blockchain-powered donation platform dedicated to advancing transparent philanthropy
Binance DEX: community-driven decentralized exchange developed on top of the Binance Chain blockchain for issuing and exchanging digital assets in a decentralized manner
Binance Fiat Gateways: buy-and-sell crypto platform, covering 170+ countries and regions through local payments partners and P2P platforms.
Fiat-to-Crypto Platforms: joint ventures with global partners to buy, sell and trade crypto: Binance US, Binance Jersey, Binance Korea, Binance Singapore, Binance Uganda, Binance Lite Australia
Binance Labs: venture arm and incubator, investing in and supporting early-stage blockchain startups and infrastructure projects
Binance Launchpad: exclusive token launch platform for supporting transformative blockchain startups and entrepreneurs
Binance Research: institutional-grade, data-driven insights and analysis for crypto investors
Binance X: a developer-focused initiative to foster innovation of blockchain developers and cultivate industry growth and meaningful use cases
Other initiatives include: Binance Cloud (end-to-end enterprise solution for launching exchanges), Binance Info (market news and insights), Trust Wallet (mobile wallet and dApp browser)
For more information, visit: https://www.binance.com
Media Contacts
Brave: press@brave.com
Binance: pr@binance.com
Source: brave.com
Author: Brave
Bitcoin Pumps Hard, Coinbase Drops Service (Again)
Many in the community decry the company's woeful lack of preparedness for heightened traffic whereas others suspect malpractice.
Bitcoin initially crossed the $8,000 mark at around 11:00 GMT last night and continued pumping to hit a local high of $9,470 before pulling back slightly.
Following such a dramatic rally, Coinbase, one of the most popular trading venues for digital assets, suddenly announced unexpected downtime. Along with a link to the site's service status updates page, the exchange wrote via Twitter:
We are currently experiencing intermittent downtime on coinbase.com. We've identified the issue and are working on a fix. We'll let you know when we're back up!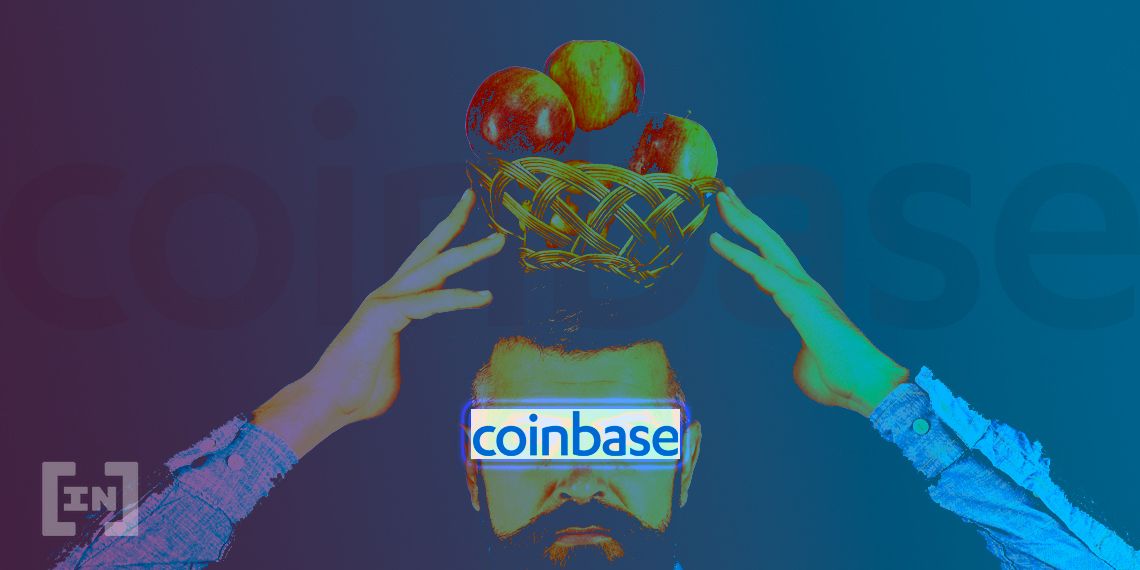 The service status page details that around 18:40 GMT, the team started investigating the issue. Around ten minutes later, the exchange claimed that a fix to the problem had been implemented.
However, at around 19:30 GMT, the exchange's status changed back to 'investigating.' Another 15 minutes later, it claimed once again to have identified the issue and was working on a second fix.
BeInCrypto has reported on multiple occasions of exchanges dropping service during periods of heightened volatility. Just last week, Poloniex was facing similar issues.
Traders facing outages during such volatility are often quick to cry malpractice. Some more suspicious market observers contend that exchanges deliberately freeze systems to try to control dramatic moves.
Sure enough, there were some that replied to the Coinbase Support tweet with similar sentiments. One respondent wrote:
"… everytime there is a spike and big profits @coinbase always had an issue where people cant get their profits. I watch everytime and always the same thing, watch for other exchanges soon too."
Although quite a popular theory, the malpractice line doesn't make a great deal of sense during pumps like what we saw yesterday. Whereas shutting down trading might slow a Bitcoin crash, exchanges have a vested interest in a high Bitcoin price.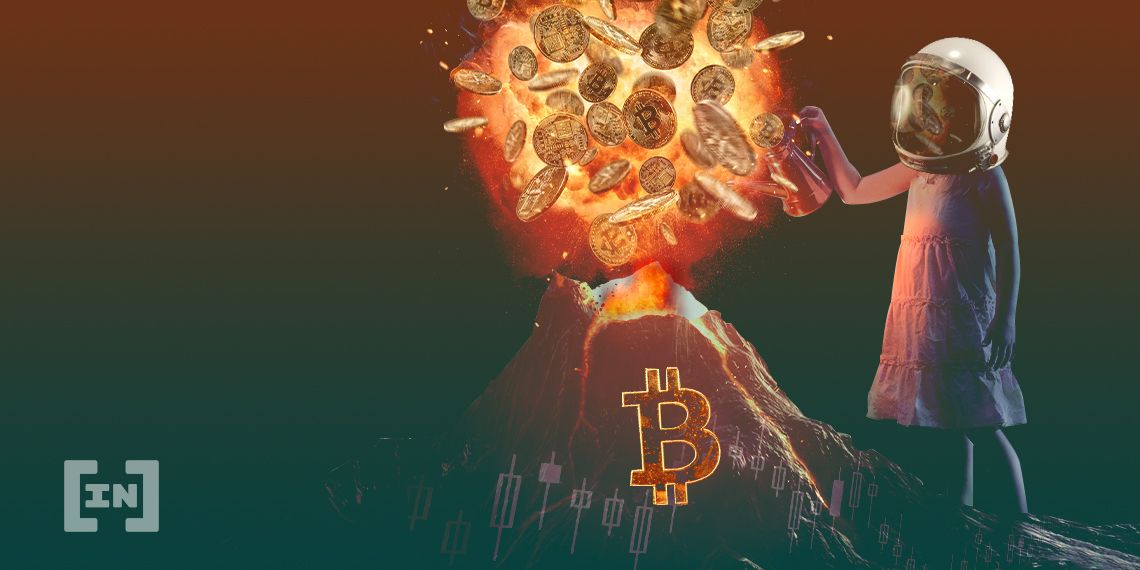 Much more likely is that Coinbase and other exchanges aren't built for the kind of traffic that comes with growing market volatility. Although it's a much less sinister explanation, it is no less damaging.
Some of those responding to the above tweet argued that it was not a good look for the emerging industry. One called it 'embarrassing.'
Some jumped at the chance to inform Coinbase of the damage such downtime can do to traders:
"Whenever there is a Bitcoin pump there is a problem. This is not the first time. The lack of timely access to your system affects our investments. You have to produce a solution for this."
BeInCrypto has reached out to Coinbase for an explanation for the downtime or response to those critical of the platform. Although we are yet to receive a reply, the exchange did tell users via Twitter that the issue had been resolved last night. However, Coinbase failed to explain exactly what was behind the drop in service.
Source: beincrypto.com
Author: Illustrations by A. Gnetova and G. Phan
Changelly Exchange Review: Low Fees with No Registration?
Changelly is an extremely useful cryptocurrency exchange service that offers extremely low fees and makes for easy crypto asset trading with no registration required. Changelly is more of an exchange service than a classic exchange, as they hold no funds or assets for you, they simply act as a middleman. Changelly's trading algorithm is integrated into the largest cryptocurrency exchange platforms, including Binance, Poloniex, Bittrex, etc.
Extremely low fees
No sign-up required for non-credit card transactions
Over 150 cryptocurrencies offered including BTC, ETH, LTC
Sends crypto directly to your wallet instead of holding it
No verification or registration required for exchanges
Fast crypto exchanges with low fees
150+ cryptocurrencies on tap
High limits
Easy to use website and mobile app
High fees for credit and debit card crypto purchases
Identity verification required for credit card purchases
In order to use Changelly's exchange service there is no sign-up required. However if you would like to keep track of your transaction history you can create an account:
Click Sign-Up on changelly.com homepage
Enter email address
Confirm email address through email they send you
Done!
If you are planning to use a credit card to purchase cryptocurrency through Changelly it is a more difficult process that requires identity verification:
Select a default currency which can be USD, GBP, or EUR from the widget menu.
Set the fiat amount and choose the crypto you want to buy. Transaction limits are set depending on the chosen crypto purchase provider. Detailed information on limits and fees for each provider are shown on the page.
Carefully check the rate and the amount you are going to receive.
Specify your cryptocurrency wallet address and proceed to purchase cryptocurrency.
In some cases, you will need to verify your email address by entering a 4-digit verification code you get in your email inbox.
Enter your billing and residential addresses to proceed.
Provide your bank card data.
If it is your first crypto purchase on Changelly proof of identity will be required. To verify yourself you will need to upload the front and back of one of these documents: International passport, National ID card, driving license.
In most cases, you will also need to upload a selfie. Sometimes, your identity can be verified in 2 minutes, but bear in mind that it can also take up to 30 minutes.
Within 5-30 minutes your transaction will be complete. You will receive cryptocurrency to your wallet and transaction details to the provided email address.
Changelly supports the crypto exchange of over 150 cryptocurrency tokens and assets including but not limited to:
Bitcoin
Ethereum
Litecoin
Cardano
Tezos
Monero
Ripple
Bitcoin Cash
EOS
Tether USD
For a full list of Changelly's supported cryptocurrencies click here.
Changelly is extremely safe. For performing crypto exchanges it is extremely safe because they do not hold your cryptocurrency in a wallet, they simply take your deposited funds/assets, exchange them for your desired crypto, and then deposit them in your own wallet. This is not something that can be hacked like a traditional exchange. So as long as you are using a secure software or hardware wallet to which you hold the keys, the only risk is user error (entering the wrong deposit address for example).
Click here for our recommended crypto wallets.
Changelly has an easy to use desktop website as well as an iOS and Android mobile app.
Changelly is a non-custodial exchange service meaning they do not hold your funds in a wallet, they simply take the funds you send them and perform your desired transaction, depositing the funds at your wallet address. The process begins and ends at wallets that you control.
Changelly has one of the most reasonable rates for fees at a flat rate of 0.25% for crypto exchanges and is highly recommended for this purpose. However the fees charged for purchasing crypto using your credit card total over 5% and there are many other sites that offer better rates for purchasing crypto directly with fiat. Click here for our recommendations.
Source: www.cryptovantage.com
Author: Learn More
Japan Implements Significant Changes to Cryptocurrency Regulation Today | Regulation Bitcoin News
Major changes are happening in the cryptocurrency space in Japan as new cryptocurrency regulation enters into force today. Among notable changes are the regulation of crypto custody service providers and crypto derivatives businesses. Japan has 23 regulated crypto exchanges; unregulated platforms have modified their terms of service affecting Japanese residents.
The amendments to the Payment Services Act (PSA) and the Financial Instruments and Exchange Act (FIEA) that revise the regulatory framework for cryptocurrency in Japan go into effect on May 1. They were proposed by the country's top financial regulator, the Financial Services Agency (FSA), and adopted by the Diet on May 31 last year. The finalized rules were published on April 3 along with the FSA's answers to public comments. International law firm Morrison & Foerster described:
The regulations coming into effect as of May 1, 2020, represent a significant change in the way the FSA will regulate cryptocurrency-related business activities of operators in Japan going forward.
Among the major changes are the regulation of cryptocurrency custody service providers that do not sell, purchase, or intermediate the sale and purchase of cryptocurrencies and cryptocurrency derivatives businesses. The former now falls under the PSA while the latter must register under the FIEA. A crypto derivatives business that also provides crypto custody service may need to register as a cryptocurrency exchange. In addition, the FSA previously explained to news.Bitcoin.com the implication of the new law on the possibility of a bitcoin exchange-traded fund (ETF) being approved in Japan.
The amendments "are quite extensive and many issues regarding the scope, applicability, and relevance of the regulations remain open to interpretation," the law firm opined. The regulatory changes are summarized here.
Japan currently has 23 FSA-approved cryptocurrency exchanges. As the new regulation takes effect, unlicensed crypto trading platforms modify their terms of service to exclude Japanese users in compliance with the new law.
Global cryptocurrency exchange Bitmex, for example, announced that it would stop providing services to Japanese residents starting from 11 p.m. JST on April 30 for first-time registered users and 12 a.m. on May 1 for existing registered users. "We are restricting access to users who are Japan residents," the exchange confirmed on Tuesday, adding:
The restrictions are in response to the amendments to the Japan Financial Instruments and Exchange Act and Japan Payment Services Act effective as of 1 May 2020.
"We will continue to work with the Japanese regulatory authorities to support their aims for the Japan market and will keep our Japan users updated," Bitmex wrote.
Furthermore, the FSA announced on April 30 that it has approved two self-regulatory organizations (SROs) in the crypto sector: the Japan STO Association and the Japan Virtual and Crypto Assets Exchange Association (JVCEA). These organizations work closely with the FSA to enforce strict standards on the country's crypto sector.
What do you think about Japan's new cryptocurrency regulation? Let us know in the comments section below.
Purchase Bitcoin without visiting a cryptocurrency exchange. Buy BTC and BCH here.
Disclaimer: This article is for informational purposes only. It is not a direct offer or solicitation of an offer to buy or sell, or a recommendation or endorsement of any products, services, or companies. Bitcoin.com does not provide investment, tax, legal, or accounting advice. Neither the company nor the author is responsible, directly or indirectly, for any damage or loss caused or alleged to be caused by or in connection with the use of or reliance on any content, goods or services mentioned in this article.
Read disclaimer
Source: news.bitcoin.com
Author: Regulation by Kevin Helms
Previous
Next