MoneyLine Podcast: What to Know as the S&P 500, Bitcoin Hit All-Time Highs
Take a look back at today's trading.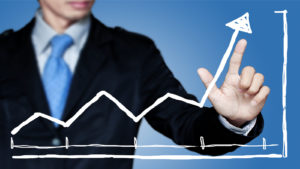 The S&P 500 trended lower a good chunk of the day. Bitcoin ended the general market day just about flat.
And yet if you just focused on just those numbers, you'd be unaware of the historical feats that those figures masked.
The S&P 500 climbed to a new all-time high, hitting 3,950 and putting the index within striking distance of the psychologically important 4K milestone. And bitcoin rallied above $50,000 for the first time in history — just two months after breaking through its years' long high near $20K.
On today's new episode of MoneyLine, I'll explain how to play this market and why I believe a broad pullback is likely in the near term. But even more important than the possibility of a pullback is knowing how to play such weakness. Don't worry, I've got you covered.
I made a prediction on Friday's podcast that bitcoin would hit $50K over the long weekend — and it did! It reminds me of a bet I made (and won) not all that long ago. Remember the Race to $40K? I bet my friend and colleague Louis Navellier that bitcoin would reach $40,000 before the Dow. It hit that milestone faster than I expected … and it's kept on climbing since.
The world's largest cryptocurrency dipped back to around $48,500 after hitting its new record amid some high volatility. But this is far from the end of its climb. Longtime MoneyWire readers know that I'm a long-term believer in bitcoin, and in the podcast I'll explain why I'm confident that Bitcoin $50K is just the latest stop in a journey toward much higher prices.
After that, we'll focus on one of my favorite hypergrowth themes in 5G — the latest generation of wireless technology that is just starting to hit the mainstream. There has been talk about 5G for years, but 2021 will be the first in which the new technology becomes available to a large portion of potential customers. And based on the trends as past wireless technologies were introduced, I also believe this will be the year that 5G-related stocks really start to climb.
Finally, we'll wrap up with an "Ask Matt" segment. I took your questions live from Twitter … so tune in now if you want to see if your stock was called out today!
On the date of publication, Matthew McCall did not have (either directly or indirectly) any positions in the securities mentioned in this article.
Matthew McCall left Wall Street to actually help investors — by getting them into the world's biggest, most revolutionary trends BEFORE anyone else. Click here to see what Matt has up his sleeve now.
Source: investorplace.com
Author: By
Matt McCall, Editor, MoneyWire
El Español Says Spanish Authorities Joint Statement Is a Warning to Companies in the Wake of Tesla's BTC Buy – News Bitcoin News
The Spanish financial markets watchdog and the country's central bank criticized — again — cryptocurrencies as an investment asset. The entities issued a joint statement warning about the high risks the cryptocurrency market poses.
Per the paper, the Bank of Spain and the National Securities Market Commission (CNMV) reaffirmed their stance against considering bitcoin (BTC) as a means of payment. After dismissing cryptos as secure investment assets, they also pointed out the lack of regulation in the European Union.
However, they recognized that the European bloc is holding talks on establishing a legal framework to regulate the crypto environment.
The document elaborates on the "liquidity" factor;
Many of these cryptocurrencies can find themselves lacking the necessary liquidity to be able to undo an investment without suffering significant losses, especially since their circulation among investors, both retail and professional, is minimal.
As a means of payment, both CNMV and the Bank of Spain believe that it is "still limited" compared to other digital payment solutions. They added:
It is necessary to remember that there is no obligation to accept bitcoin or any other crypto asset as a means of payment of debts or other obligations. The future MiCA Regulations do not foresee that this will change. Furthermore, given their high volatility, cryptocurrencies do not adequately fulfill the functions of a unit of account and store of value.
In the document, there was a mention of a speculative factor:
These are complex instruments, which may not be suitable for small savers, and whose price entails a high speculative component that can even lead to the total loss of the investment.
The statement got local media outlets like El Español to speculate on its timing. In fact, El Español believes the bodies issued that document as a "forceful alert" in the wake of Tesla's bitcoin-related announcement. Quoting local experts, the media outlet says the warning is clearly a "wake-up call for institutions and companies."
Three years ago, the Spanish central bank and Spain's financial markets regulator published a similar document, where they raised concerns on cryptocurrencies and initial coin offerings (ICOs). However, both entities put particular emphasis across the paper on the lack of regulation in Spain, targeting retail investors.
What do you think about the new document issued by the Bank of Spain and the CNMV on cryptos? Let us know in the comments section below.
Spot-markets for Bitcoin, Bitcoin Cash, Ripple, Litecoin and more. Start your trading here.
Source: news.bitcoin.com
Author: News
by
Felipe Erazo
Bitcoin News Roundup for Feb. 16, 2021
Adam B. Levine
Host
Lyllah Ledesma
Host
Add Markets Daily to your Alexa Flash Briefing here.
This episode is sponsored by Nexo.io.
Today's stories:
What future awaits cryptocurrencies?
First Mover: Bitcoin Tops $50K and Crypto's Nouveau Riche Move In
Break of psychological threshold pushes largest cryptocurrency's year-to-date return to 70%, as a new breed of upstart tokens pushes industry market cap past $1.5T.
SEC Signals a More Aggressive Stance Toward Wall Street (WSJ)
Bitcoin News Roundup for Feb. 12, 2021
Feb 12, 2021
Bitcoin News Roundup for Feb. 11, 2021
Feb 11, 2021
Bitcoin News Roundup for Feb. 10, 2021
Feb 10, 2021
Bitcoin News Roundup for Feb. 9, 2021
Feb 9, 2021
Bitcoin News Roundup for Feb. 8, 2021
Feb 8, 2021
Source: www.coindesk.com
Author: Colin Harper
Crypto Financial Services Firm Blockfi Launches Competitive Bitcoin Trust – Bitcoin News
The cryptocurrency financial services firm Blockfi has launched a bitcoin-based trust that offers custody from Fidelity Digital Asset Services. Blockfi's investment vehicle aims to give investors exposure to the leading crypto asset as bitcoin assets under management (AUM) was over $29 million on February 8, 2021.
On Tuesday, the lender and financial services company Blockfi launched its bitcoin trust as it is managed by Blockfi Management LLC, a wholly-owned subsidiary of Blockfi.
The trust will charge a sponsor fee of 1.75% and the company leverages custodial services from Fidelity's crypto arm. According to the announcement, the company will use Coin Metrics' index services and pricing data. The company Grant Thornton LLP will be the Blockfi Bitcoin Trust's financial auditor.
Blockfi's trust will compete with Grayscale's Bitcoin Trust (GBTC) and it offers an annual fee that is .25% lower than GBTC's fee rating. There are approximately 685,500 shares outstanding and each share represents 43.64 BTC according to Feb. 8 2021 data.
"Given the level of institutional activity in recent months and demand for new, professional-grade investment vehicles, the timing of Blockfi Bitcoin Trust is ideal," Zac Prince, the founder and CEO of Blockfi said during the announcement.
Prince added:
As we work to broaden the availability of this vehicle to retail brokerages, we expect this product will facilitate greater investments in digital assets – at the core of Blockfi's mission in bridging crypto with traditional finance.
The recent Blockfi news follows the company's Visa credit card launch that offers BTC rewards. Furthermore, a few days prior in December 2020, Blockfi launched a cryptocurrency trading platform. As far as Blockfi's trust is concerned, Fidelity Digital Assets looks forward to its partnership with the crypto financial services firm.
"The digital asset ecosystem has grown significantly in recent years, creating an even more robust marketplace for investors and accelerating demand among institutions," the head of sales and marketing for Fidelity Digital Assets, Christine Sandler said.
Sandler continued:
An increasingly wide range of investors seeking access to bitcoin has emphasized the need for a more diversified set of products offering exposure to the asset. Like Blockfi, we believe pairing innovative products with institutional-grade solutions that provide high caliber security will help enable broader adoption of digital assets.
Blockfi is not the only competitor trying to compete with Grayscale's bitcoin trust product, as the crypto asset manager Bitwise recently filed to publicly trade its bitcoin fund. On February 2, 2021, Bitwise Asset Management, announced it had filed a Form 211 with the U.S. Financial Industry Regulatory Authority (FINRA) for the Bitwise Bitcoin Fund (BBF).
What do you think about Blockfi launching a bitcoin trust? Let us know what you think about this subject in the comments section below.
BBF, Bitcoin, Bitcoin (BTC), bitcoin trust, Bitwise, Blockfi Bitcoin Trust, Blockfi Trading Platform, Blockfi Trust, Blockfi Visa, Bockfi, BTC, Christine Sandler, Cryptocurrency, Fidelity Digital Assets, GBTC, grayscale, grayscale bitcoin trust, trust, zac prince
Disclaimer: This article is for informational purposes only. It is not a direct offer or solicitation of an offer to buy or sell, or a recommendation or endorsement of any products, services, or companies. Bitcoin.com does not provide investment, tax, legal, or accounting advice. Neither the company nor the author is responsible, directly or indirectly, for any damage or loss caused or alleged to be caused by or in connection with the use of or reliance on any content, goods or services mentioned in this article.
Source: news.bitcoin.com
Author: News
by
Jamie Redman
Previous
Next