Is Grayscale Bitcoin Trust the Best Way to Own the Cryptocurrency?
Bitcoin (CCC:BTC) lost 11% of its value during the week of Jan. 18-22. In the same period, Grayscale Bitcoin Trust (OTCMKTS:GBTC), the $22-billion investment fund that allows investors to own the cryptocurrency without holding it directly, fell 15%.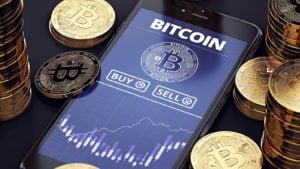 Regardless of whether you think bitcoin is expensive, cheap, or fairly valued, as more investment vehicles such as Greyscale pop up, regular retail investors will work to figure out the best way for them to own a piece of the cryptocurrency in much the same way those with the gold bug balance the convenience of the iShares Gold Trust (NYSEARCA:IAU) with storing the precious metal in your own safety deposit box or some other more direct form of ownership.
We all have to do what's best in our particular situation.
With GBTC falling at a greater pace than the cryptocurrency itself, the question on my mind is whether it makes sense to own the fund at this point.
Let's weigh the pros and cons.
Given the amount of bitcoin owned by the fund, you can be sure that institutional investors have gotten on board the cryptocurrency.
InvestorPlace contributor Michelle Jones recently pointed out that "Guggenheim Partners reserved the right for its Macro Opportunities Fund to invest up to 10% of its assets or $530 million into the Grayscale Bitcoin Trust…"
My colleague also pointed out that 28 companies hold at least $1 million in bitcoin, including Square (NYSE:SQ), one of my favorite fintechs. In October 2020, Square invested $50 million in bitcoin to communicate to its customers using Cash App to buy and sell the cryptocurrency that it was serious about its commitment.
As I stated in my most recent article about bitcoin in late December, institutional investors will put the cryptocurrency on a path to higher prices.
"Take the millennials and institutional investors and put them all into bitcoin and it's hard not to see these two key demographics driving its future price," I wrote on Dec. 21, 2020.
"A $1 million price tag? It's not out of the realm of possibility."
The million-dollar price tag references InvestorPlace's Matt McCall's argument why bitcoin could hit $1 million in the future. He wasn't saying it would, merely that the institutional players piling in would likely influence others jumping on the bandwagon.
For the average retail investor, owning Grayscale stock is a simple way to benefit from bitcoin's rise to prominence without worrying about details such as how you store it, etc.
In December, Coinbase filed confidentially with the Securities and Exchange Commission and is expected to go public early in 2021. Coinbase is the largest cryptocurrency exchange in the U.S. It allows you to buy and sell more than 40 cryptocurrencies including bitcoin.
So, if you buy $100 of bitcoin through Coinbase, the fee would be $2.99 according to its fee schedule, along with a 0.5% spread (it can be higher or lower depending on market fluctuations), for a total of $3.49 or 3.5%.
However, if you buy more than $200 and pay using a U.S. bank account, the fee is a flat-rate of 1.49%. So, if you buy $1,000 of bitcoin, the flat-rate fee is $14.90, the spread charge based on 0.5%, is $5, for a total of $19.90 or 1.99%, 43% less.
By comparison, Grayscale generally has traded at a large premium because accredited investors who buy shares have a 6-month lock-up period, something Fortune recently discussed.
"Grayscale offers one solution to the problem by selling big-time investors—institutional and accredited ones—shares of a Bitcoin-backed 'trust' it established in 2013. Retail investors can buy shares in the so-called Grayscale Bitcoin Trust, or GBTC, after the earlier owners have offloaded their holdings on secondary markets, through brokerages like Vanguard, Charles Schwab, and Robinhood," wrote Fortune contributor Robert Hackett on Jan. 21.
"Because of the inefficiencies of workarounds such as Grayscale's, share prices tend to be out of whack with the price of the underlying Bitcoin. Rayne Steinberg, chief executive and cofounder of Arca, a digital asset investment startup, says that premium is 'a huge tax on an unsophisticated investor.' Until regulators sign off on a Bitcoin exchange-traded fund, that tax is something retail investors will have to live with.
As recently as December, GBTC shares traded at a 40% premium to Grayscale's net asset value. After the January correction, it's down to 2.8%.
So I'm going to suggest that an average Joe buys $1,000 worth of GBTC stock. Let's put the premium halfway between 2.8% and 40%. Based on a 21% premium, the investor's getting bitcoin worth approximately $826. Grayscale charges a 2% management fee, which works out to $16.52.
In this example, an investor's paying $1,000 to get $809.48 in bitcoin. That's a big price to pay, in my opinion.
If you asked me this question in December when trading at a 40% premium, I'd have said no. However, now that it's trading close to net asset value, it seems like investors are getting a much better deal from a risk-to-reward perspective.
Still early days, in the cryptocurrency wars, if you must own bitcoin, I would seek to do so through Coinbase or one of the other legitimate cryptocurrency exchanges.
Until a bitcoin ETF surfaces and forces Grayscale's fees lower, I'd be more inclined to go direct.
On the date of publication, Will Ashworth did not have (either directly or indirectly) any positions in the securities mentioned in this article.
Will Ashworth has written about investments full-time since 2008. Publications where he's appeared include InvestorPlace, The Motley Fool Canada, Investopedia, Kiplinger, and several others in both the U.S. and Canada. He particularly enjoys creating model portfolios that stand the test of time. He lives in Halifax, Nova Scotia. At the time of this writing Will Ashworth did not hold a position in any of the aforementioned securities.
Source: investorplace.com
Author: By
Will Ashworth, InvestorPlace Contributor
Jenet Yellen Is Officially The New Treasury Secretary: US Senate Confirms
January 26, 2021
Jenet Yellen is officially the new Treasury Secretary as the US Senate Confirmed, and she vowed to implement a decent regulatory framework for digital assets despite not being a fan of bitcoin. Let's read some more in our cryptocurrency news today.
The US Senate confirmed that Joe Biden's nominee Janet Yellen has been chosen as the new Treasury Secretary with 84-15 vote. Yellen helmed the Federal Reserve from 2014 to 2018 and described herself as not being a fan of Bitcoin, referring to it as a highly speculative asset. More recently, while the confirmation process was ongoing, Yellen expressed her opinion on cryptocurrencies saying that they can benefit the financial system. In the oral testimony before the Senate Finance Committee, she answered a few questions on cryptocurrencies being used to finance terrorism and said that regulators and policymakers will have to examine ways in which they can curtail their use. Her written testimony noted:
"I think it important we consider the benefits of cryptocurrencies and other digital assets, and the potential they have to improve the efficiency of the financial system."
Just out: Here's Janet Yellen answering a question about Bitcoin in her written testimony for the record in her nomination hearing. Much more nuanced than what she said in oral testimony. https://t.co/iijuEbUbB1 pic.twitter.com/FHuzEHlovz
— Jerry Brito (@jerrybrito) January 21, 2021
Cryptocurrencies can be used for terrorism and money laundering as she said and continued:
"I think we need to look closely at how to encourage their use for legitimate activities while curtailing their use for malign and illegal activities."
What's even more important is that she vowed to work closely with the Federal Reserve Board and the other federal banking and securities regulators on how to implement a framework for digital assets and other fintech innovations. This has been missing for quite some time now and she thinks that it's going to happen under her command. Jenet Yellen and Chairman Jerome Powell have been serving together for six years on the central bank but now, she will be in charge of several agencies that deal with crypto like the Financial Crimes Enforcement Network and the Office of the Comptroller of the Currency. The OCC is also getting a new head as the former Brian Brooks stepped down a few months ago.
The FinCEN is there to protect against terrorism funding and money laundering while the latter which operates as an independent bureau, regulates the national banks and credit unions like the first cryptocurrency institution that got national charter-Anchorage.
DC Forecasts is a leader in many crypto news categories, striving for the highest journalistic standards and abiding by a strict set of editorial policies. If you are interested to offer your expertise or contribute to our news website, feel free to contact us at [email protected]
Source: bitcoin-core-news.com
Author: by admin
Bitcoin (BTC) Continues to Struggle While Ethereum (ETH) Comes Off a Fresh All-Time High
Bitcoin chart throwing up a 'gravestone doji'.
Ethereum (ETH/USD) may continue to move even higher.
The recent cryptocurrency rally is on pause for now with Bitcoin and a majority of alt-coins fading off their recent all-time highs. A period of consolidation can be seen as a positive for the market after recent breath-taking moves and once the market re-balances, fresh highs look the path of least resistance for now. In the short-term however, Bitcoin is looking slightly negative with the daily chart showing a 'gravestone doji' formed on Monday. This may continue the recent sell-off, especially with the market capped by the 20-day simple moving average, although a zone of support between $28,000 and $28,800 is likely to hold and stem further losses. The CCI indicator is also showing the market as oversold for the first time since early-September.
Candlestick Patterns for Traders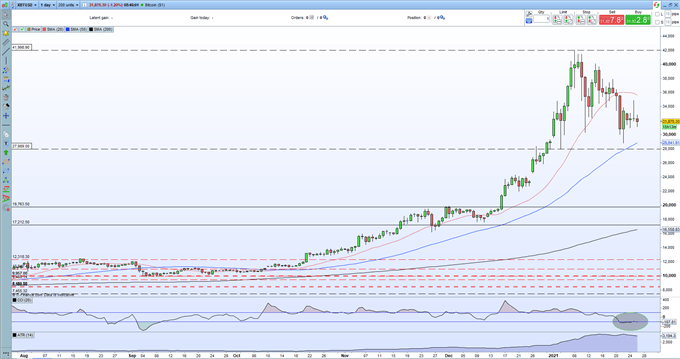 Retail trader data show82.53% of Bitcoin traders are net-long with the ratio of traders long to short at 4.73 to 1. We typically take a contrarian view to crowd sentiment, and the fact traders are net-long suggests Bitcoin prices may continue to fall.Traders are further net-long than yesterday and last week, and the combination of current sentiment and recent changes gives us a stronger Bitcoin-bearish contrarian trading bias.
Ethereum continues to out-perform Bitcoin and the second-largest coin by market capitalization retains a neutral to positive bias outlook. A recent cluster of higher highs and higher lows remains in place with the alt-coin finding support from the 20-day simple moving average recently and printing a fresh all-time yesterday. Trend support also remains in place. Initial support between $1,235 and $1,295.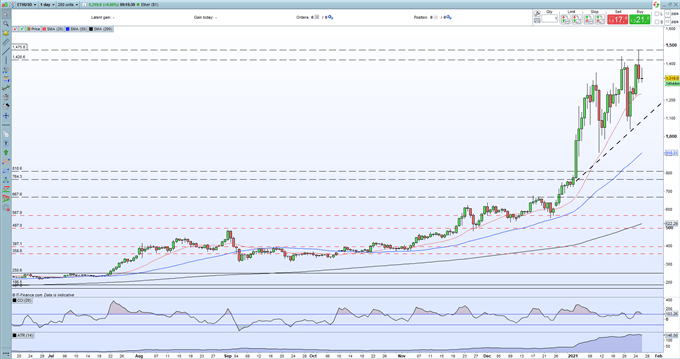 Traders of all levels and abilities will find something to help them make more informed decisions in the new and improved DailyFX Trading Education Centre
What are your views on Bitcoin (BTC) and Ethereum (ETH) – bullish or bearish?? You can let us know via the form at the end of this piece or you can contact the author via Twitter @nickcawley1.
DailyFX provides forex news and technical analysis on the trends that influence the global currency markets.
What cryptocurrency will become the main one in a year?
Source: www.dailyfx.com
Author: Nick Cawley
Yanhao "Max" Wei: Bubbles Are Good for Bitcoin
Over the last few weeks, the price of bitcoin has hit a record high of more than $41,000, blowing past the 2017 bubble high point of $19,783. The price has since declined relatively rapidly, and questions have arisen about what's next for this latest bubble. This presents an opportune moment to analyze why these bubbles form and what they mean for the future of bitcoin.
Price volatility causes market uncertainty and is often viewed as detrimental. However, for bitcoin, the price volatility – such as this recent bubble and past ones of varying sizes in 2017 and 2019 – can be ultimately beneficial for the future of cryptocurrencies, because it promotes wider adoption of this up and coming technology.
Yanhao "Max" Wei is an assistant professor of marketing at USC Marshall School of Business.
In some sense, bubbles, which we are defining as a price surge that experiences a decline afterward and then stabilizes at a lower level, essentially becomes free advertising for bitcoin. Headlines splash across major mainstream media outlets about the rising price. Social media buzz begins to build. Soon, people start wondering about bitcoin and whether they should get in on the action.
This phenomenon was borne out in research I conducted with my USC Marshall colleague Anthony Dukes, blending standard models of product diffusion with macro-financial economics to identify a new view of currency speculation.
The models showed us that price bubbles and user adoption can reinforce each other in a cryptocurrency market. In fact, Google searches for bitcoin peaked at the same time that bubbles were peaking in November 2013 and December 2017. The largest jump happened in 2017, around the time of the largest price bubble in bitcoin history prior to this most recent one. During this current bubble, we're already seeing the start of a surge in Google trends for searches of the terms "bitcoin" and "blockchain."
People's interest – reflected in the volume of the Google search – surged as the bitcoin price surged. Our research notes that these surges in attention are connected to events that alter people's ability to use bitcoin, such as the introduction of the Shared Coin service in November of 2013, which offered anonymity in transactions.
Further, if we look at the historical number of bitcoin wallet accounts, we see there was much steeper growth in the number of accounts around December 2017, which matches the peak in the Google trend. This peak in attention corresponds in time with decisions by Japan, Russia and Norway to recognize bitcoin as a legitimate currency.
This accelerated interest and adoption has a big impact on the price of bitcoin. To more users, bitcoin better serves as a medium of exchange, which in turn attracts even more people to use bitcoin. The expectation of growth attracts investors to bitcoin and drives up its price.
It becomes a reinforcing loop where price bubbles accelerate the growth of the bitcoin user base, the expectation of which then fuels the price bubble. The question of why bitcoin price has been so volatile should be answered with this reinforcement in mind.
Essentially, the spotlight on bitcoin bubbles is beneficial because the influx of investors helps make the currency more liquid – more widely accepted as payment and easier to be quickly exchanged. The lack of liquidity is one of the biggest obstacles for a new currency to be adopted.
The novelty of a price surge is likely important. As the price newly started to rise, more people heard about bitcoin and were interested enough to create a wallet account. If the price increase wasn't a novelty, it wouldn't have attracted the same level of excitement and attention. Compare this to when a brand introduces limited edition shoes, and the hype surrounding the "drop" gets attention in and of itself.
Aside from bitcoin itself, the attention on the big price bubbles very likely has sped up the diffusion of the promising technology that powers bitcoin, namely the blockchain, which holds promise for many applications beyond cryptocurrencies. Essentially a technology to secure any type of data or records, blockchain is being applied in supply chain, real estate, health care and many more sectors.
Scholars have tended to look at the price bubbles and the user adoption as two separate issues – as either a finance or a marketing issue. Our research raises the importance of the two interacting with each other. The infamous price volatility and bubbles may very well be embraced by bitcoin advocates, as these help expand the universe of bitcoin users and where the currency can be used.
Source: news.lazyhackers.in
Bitcoin.com Exchange Announces Public Sale of the IDEA Token on January 26, 2021 – Press release Bitcoin News
PRESS RELEASE. January 12, 2021 – Bitcoin.com Exchange, one of the leading authorities in cryptocurrency exchanges announces the details of the upcoming public sale of the Ideaology Token (IDEA).
Ideaology consists of a freelance platform which will accommodate most of the personnel needed to develop projects. The platform's mission is to provide a host of freelancers and entrepreneurs with job options, a digital marketplace allowing platform users to sell or buy digital assets and services, as well as:
Share materials and experiences.
An Idea launchpad.
A collection of innovative and inventive individuals, to establish a creative colony for introducing and launching revolutionary ideas.
A funding base of individuals and enterprises interested in supporting new projects, whether through direct partnerships, or through crowdfunding options available on the platform.
Ideaology is creating a unique collaborative digital community and a fertile environment for the future of business development.
Prospective purchasers of the Ideaology Token can already register and proceed with KYC/AML procedures, using the registration page set up on the Bitcoin.com Exchange IEO platform here.
Token Name: Ideaology Token (IDEA)
Token Type: ERC-20
Public Sale Date: January 26, 2021
Offered Price for 1 IDEA: $0.09
Hard Cap: $1,000,000 (1M)
Circulating Supply before the public sale: 15,388,888
Valuation of the Circulating Supply before the public sale, based on the Offered Price for 1 IDEA: $1,384,999
For more information, please visit the Bitcoin.com IEO platform here.
With the upcoming IEO, Ideaology and Bitcoin.com Exchange will coordinate educational and mass awareness campaigns via AMAs, direct interviews, guides, media casts and all other applicable means or direct, and indirect marketing.
"Our IEO partnership with Bitcoin.com Exchange is a stepping stone for us to attain greater achievements" said, Khaled Alkalbani, CEO and Co-founder at Ideaology. "We are keen to reach a more diverse community of crypto traders, and that is what Bitcoin.com Exchange provides Ideaology. The IDEA coin will be the catalyst for crypto investors to support the next big startup. IDEA will not only be another crypto asset, but will also fuel a synergistic ecosystem to bring online freelancers and startup founders through our Active IDEA platform." Alkalbani emphasized.
"The upcoming launch of Ideaology Token's public sale has got the team and I ecstatic" said Danish Chaudhry, CEO of Bitcoin.com Exchange. "With the launch of the IEO platform, our team will supply interested parties the ability to push marketing efforts further, giving them the edge over other traders who would want to purchase the IDEA token right when the public sale begins by passing KYC before the launch date." Chaudhry continues on by saying, "Our platform provides all the necessary details and information needed for our, and Ideaology's community to understand more about the IDEA token."
Bitcoin.com Exchange has initiated the process by opening a portal where users will be able to go through KYC/AML verification before the token sale to take place at the end of January. Kindly click the link below to start your journey with Ideaology's public sale, and pass through all the necessary requirements to get your account ready for the IEO.
In brief, an Initial Exchange Offering, commonly referred to as an IEO, is a fundraising event that is administered by an exchange. In contrast to an Initial Coin Offering (ICO) where the project team themselves conduct the fundraising, an Initial Exchange Offering means that the fundraising will be conducted on a well-known exchange's fundraising platform.
The mission of Bitcoin.com Exchange is to empower people from all over the world to trade cryptocurrencies with ease and confidence, from first-time traders to advanced trading professionals. With high liquidity, 24/7 multilingual support and dozens of trading pairs, complemented with a high level of security, we offer an attractive platform for trading any cryptocurrency. Within one year since launch, on average, our exchange has been visited by more than 500K active traders per month, and this number continues to grow as you read this sentence.
Ideaology is a Dubai-based blockchain-oriented company building a digital ecosystem – Active IDEA – which will harbor a community of professionals and enterprises collaborating, investing, and growing together. The Active IDEA platform connects all the likely associates of a successful business endeavor, including innovators, freelance professionals, advisors, and investors. The ecosystem is built on blockchain technology enabling it to conduct an efficient and decentralized economy based on the Ideaology (IDEA) token.
Bitcoin.com Exchange
Contact Name: Antonio Bileci
Contact Email: [email protected]
Ideaology
Contact Name: Mac Ocampo
Contact Email: [email protected]
This is a press release. Readers should do their own due diligence before taking any actions related to the promoted company or any of its affiliates or services. Bitcoin.com is not responsible, directly or indirectly, for any damage or loss caused or alleged to be caused by or in connection with the use of or reliance on any content, goods or services mentioned in the press release.
Spot-markets for Bitcoin, Bitcoin Cash, Ripple, Litecoin and more. Start your trading here.
Source: news.bitcoin.com
Author: Press release
Previous
Next