$100 Swaps: Ethereum Dex Volumes Saw $39 Billion Last Month Despite 'Insane' Trading Fees – Bitcoin News
During the last 12 months, Ethereum-based decentralized finance (defi) solutions and decentralized exchange (dex) platforms have been very popular. Dex applications, in particular, have seen massive demand and during the last 30 days, dex trade volumes have reached $39 billion in swaps. However, one of the biggest issues confronting dex users continues to be the enormous fees associated with interacting with platforms like Uniswap and other dex platforms.
Dex applications like Uniswap, 1inch, Sushiswap, 0x, Matcha, Kyber, and others have been very popular platforms during the last year. The defi market aggregator defipulse.com shows that there's over $22 billion in value locked into defi platforms today. A considerable amount of this locked ether value is also represented by dex applications and the growing user base. On January 14, 2021, stats from Dune Analytics shows that during the last month, dex trade volumes gathered $39.86 billion. Dex applications have seen $12 billion in swaps during the last seven days, and the top dex application in terms of volume is Uniswap.
Uniswap's trade volume is followed by Sushiswap, Curve, 0x, and Balancer respectively. Every week, Uniswap and Sushiswap are seeing billions in global trade volume and Uniswap is the fourth largest defi application, according to current stats with around $2.77 billion total value locked (TVL). However, even though decentralized exchanges have seen large TVL balances and significant trade volume, the crypto community has been flabbergasted by the fees associated with Ethereum-based dex applications.
For instance, the popular Bitcoin researcher and author, Hasu, recently said that some "defi projects produce nearly as much cash flows from fees as the entire Bitcoin network does." During the last two weeks, a great number of crypto proponents have been complaining about the massively sized fees associated with dex platforms like Uniswap and Sushiswap.
Moreover, in some cases, people have had to eat the associated onchain trading fee, but the swap ultimately fails. On January 7, 2021, the bitcoin pundit Brad Mills tweeted about paying a $120 dex trading fee.
"Just a casual $120 fee to use Uniswap on Ethereum," Mills said. "Defi is the future of finance for the unbanked," he added sarcastically. A few hours ago, one individual wrote: "I'm gonna go cry now over the Uniswap fees I just paid."
In another tweet on Friday, one user explained that the "fees on Uniswap are insane— They need to figure out a way to curb this or Uniswap will plateau as a decentralized exchange," he added while sharing a picture of the Uniswap fees on Friday.
The screenshot shows that the slowest transaction will cost $40 in ether fees, and that transaction should settle in 12 minutes. A medium-speed transaction that will settle in a single minute, costs over $58 dollars to interact with Uniswap. Moreover, the fastest confirmation time of under 30 seconds will set a trader back $100 just for the fee. "Oh my god these Uniswap fees are insane…," another person tweeted on Friday afternoon. Another person complained and said they wanted to trade but dex fees are too high.
"I wanna start trading on Uniswap, but I'm not rich yet so….fees. Any alternatives?" the person asked.
Of course, throughout all the discussions about the high dex fees, a great number of crypto community members shilled their own favorite blockchain with claims of lower fees. Despite Ethereum's colossal lead in the decentralized finance (defi) space, many people believe the network will falter if fees are not improved in the near future. One person even compared the Ethereum network to BTC's fee and transaction congestion issues and referred to both network's as antiquated tech.
"ETH is the Bitcoin of Defi," explained the Twitter account dubbed 'Green Eggs-n-Sam.' "Old tech, failed to scale >10 yrs., fees [are a] fu**ing joke, flawed incentives, running on fumes of first-mover advantage, practically unusable w/o a centralized layer 2, all the while, superior solutions, and off-ramps are appearing left and right." The crypto proponent's harsh criticism actually was a fairly popular tweet with 165 likes at the time of publication.
What do you think about the recent dex trade volumes and the massive fees associated with dex application swaps? Let us know what you think about this subject in the comments section below.
0x, 1inch, Brad Mills, decentralized exchanges, decentralized finance, DeFi, dex fees, dex trade volumes, ETH fees, Ethereum (ETH), Ethereum fees, Gas, Hasu, Kyber, Matcha, Sushiswap fees, swaps, Trades, Uniswap fees
Spot-markets for Bitcoin, Bitcoin Cash, Ripple, Litecoin and more. Start your trading here.
Disclaimer: This article is for informational purposes only. It is not a direct offer or solicitation of an offer to buy or sell, or a recommendation or endorsement of any products, services, or companies. Bitcoin.com does not provide investment, tax, legal, or accounting advice. Neither the company nor the author is responsible, directly or indirectly, for any damage or loss caused or alleged to be caused by or in connection with the use of or reliance on any content, goods or services mentioned in this article.
Source: news.bitcoin.com
Author: News
by
Jamie Redman
Bitcoin and Ethereum: 3 Lessons From the Tech Boom
What's worse than missing out on bitcoin? Answer: hearing your friends talk about how much more money they made on it than you did. With bitcoin (CCC:BTC) and ethereum (CCC:ETH) once again pushing record highs, many people are revisiting the same old question, "Should I buy BTC?" (Or ETH, for that matter.)
The answer is complicated, as I've noted before. BTC, ETH and their peers are historically "risk-on" assets that go up when times are good and fall on bad news. That means cryptocurrencies will go up in 2021 if economic revival and the stock market run continues, but they'll crash hard if the U.S. and world economies hit an unexpected snag.
So, where does that leave us? The 1990s tech boom/bust (and its eventual recovery) teaches us three key lessons for what will come next for BTC and ETH both.
Summary:
Winners will keep winning.
Marginal players will lose out.
Investors need to commit to the long run.
Cryptocurrencies are much like the glamor tech stocks of the late 1990s: They're built on dreams of the future. And that makes their price a popularity contest — there are no earnings to report nor dividends to use in valuation. People don't even judge cryptocurrencies on their underlying technology; bitcoin's architecture is a decade old. Instead, cryptocurrency value lies in its user base. The more people buy a currency, the higher its price goes, and so on.
And that means winners will keep winning, much like tech stocks during the 1999 bubble. In the case of tech stocks, high stock prices feed a virtuous cycle: Amazon (NASDAQ:AMZN) used its high stock price in 2000 to secure cheap funding, tide it through the tech crash and gain millions of customers along the way. Its successes eventually pushed share prices even higher, leading to the Amazon we know today.
The same truth holds with bitcoin and ethereum, the #1 and #2 largest cryptocurrencies. Gone are the days of coding your wallet or forking over money to little-known cryptocurrency exchanges. Today, bitcoin is available to institutional investors via the Chicago Mercantile Exchange (NASDAQ:CME) and to mom-and-pop investors through apps like PayPal (NASDAQ:PYPL) and Square (NYSE:SQ).
Ethereum isn't far behind. Smaller altcoins, on the other hand, often struggle for name recognition and availability. Bitcoin gold saw its value plummet 97% after it separated from bitcoin in 2017. Even dogecoin (CCC:DOGE), a popular meme coin, struggled for years to gain attention before breaking out.
A 2015 University of Pennsylvania survey counted over 1,100 e-commerce companies in 1999. By 2010, only 25 remained. Cryptocurrency will go through a similar shakeout. Of the 5,000 coins available today, only the most popular (if any at all) will reward investors in the long run.
With bitcoin and ethereum trading at four-digit or five-digit prices, it's tempting to try speculating on lower-priced coins. That's a mistake — as tech stocks have taught, it's easy to lose everything to failing momentum.
In 2000, Pets.com made its stock market debut with a highly anticipated IPO. Shares initially rose from $11 to $14. Its luck, however, started to fade as the tech bubble burst. Buyers trying to "catch the bottom" would have lost everything, because Pets.com's sagging stock price meant the company couldn't raise more money. Even if you bought shares for just $1, your investment would have still ended up at zero.
Cryptocurrencies usually follow the same path. Last year, altcoin CryptalDash (CCC:CRD) climbed from 2 cents to $1.10, earning investors 5,400% returns. But those who loaded up would have faced ruin. By the second week of January 2021, its price had fallen back to 2 cents.
Unlike companies, cryptocurrencies can languish near zero without ever dying. And many like dogecoin can catch a second wind. But these cases are rare. More often, these marginal players fade into obscurity and get replaced by more technologically advanced players.
That still leaves the door open for up-and-coming coins. Altcoins from Cardano (CCC:ADA) to Stellar (CCC:XLM) all hold promise. Just don't go fishing for those that have floundered.
The value of tech companies comes from buying for the long term. Sometimes short-termism does work; early investors in Amazon would have celebrated selling out before the tech bubble burst in 2000. But that would have meant missing out on the 40,000% gains to come. Similarly, trying to time BTC and ETH is a fool's game. And how much sense does it make to buy bitcoin at $10, sell at $11, buy again at $18,000 and sell at $19,000? Buy-and-hold would have outperformed by a mile.
Instead, investing in crypto needs long-term commitment, and a strong belief that people will one day view cryptocurrencies as an immutable store of value. Like collectible stamps and fine Bordeaux wines, cryptocurrency value must eventually come from scarcity relative to demand. (In other words, you can't have new coins coming out every day.)
There are plenty of obstacles to navigate. The Chinese Communist Party has already started experimenting with bitcoin alternatives — the U.S. government doing the same could demolish both BTC and ETH. And improvements in quantum computing could make crypto mining a thing of the past.
But if you believe in cryptocurrencies' long-term potential, BTC and ETH are a great place to start. The future of this massive digital popularity contest is still getting written, and tech stocks tell us one thing: When it comes to a beauty contest, buy the prettiest of the bunch.
On the date of publication, Tom Yeung did not have (either directly or indirectly) any positions in the securities mentioned in this article.
Tom Yeung, CFA, is a registered investment advisor on a mission to bring simplicity to the world of investing.
Source: investorplace.com
Author: By
Thomas Yeung, CFA, InvestorPlace Markets Analyst
TA: Ethereum Smashes Key Resistance: Why ETH Could Rally To New ATH
Ethereum is up over 10% and it broke the $1,250 resistance against the US Dollar. ETH price is trading above $1,300 and it is likely to accelerate further higher in the near term.
Ethereum is gaining momentum above the $1,250 and $1,280 resistance levels.
The price is showing positive signs above $1,300 and the 100 hourly simple moving average.
There was a break above a major contracting triangle with resistance near $1,245 on the hourly chart of ETH/USD (data feed via Kraken).
The pair could dip a few points, but the overall structure suggests more gains above $1,350.
What future awaits cryptocurrencies?
In the past 2-3 sessions, Ethereum started a strong increase above the $1,200 zone, and it outperformed bitcoin. ETH price broke many important barriers near $1,245 and $1,250 to move further into a bullish zone.
The bulls gained strength, resulting in a rally above the $1,280 resistance. To start the rally, there was a break above a major contracting triangle with resistance near $1,245 on the hourly chart of ETH/USD. Ether price is now up over 10% and it is trading well above the 100 hourly simple moving average.
A high is formed near $1,346 and the price is currently consolidating gains. An initial support on the downside is near the $1,315 level. It is close to the 23.6% Fib retracement level of the recent wave from the $1,215 swing low to $1,346 high.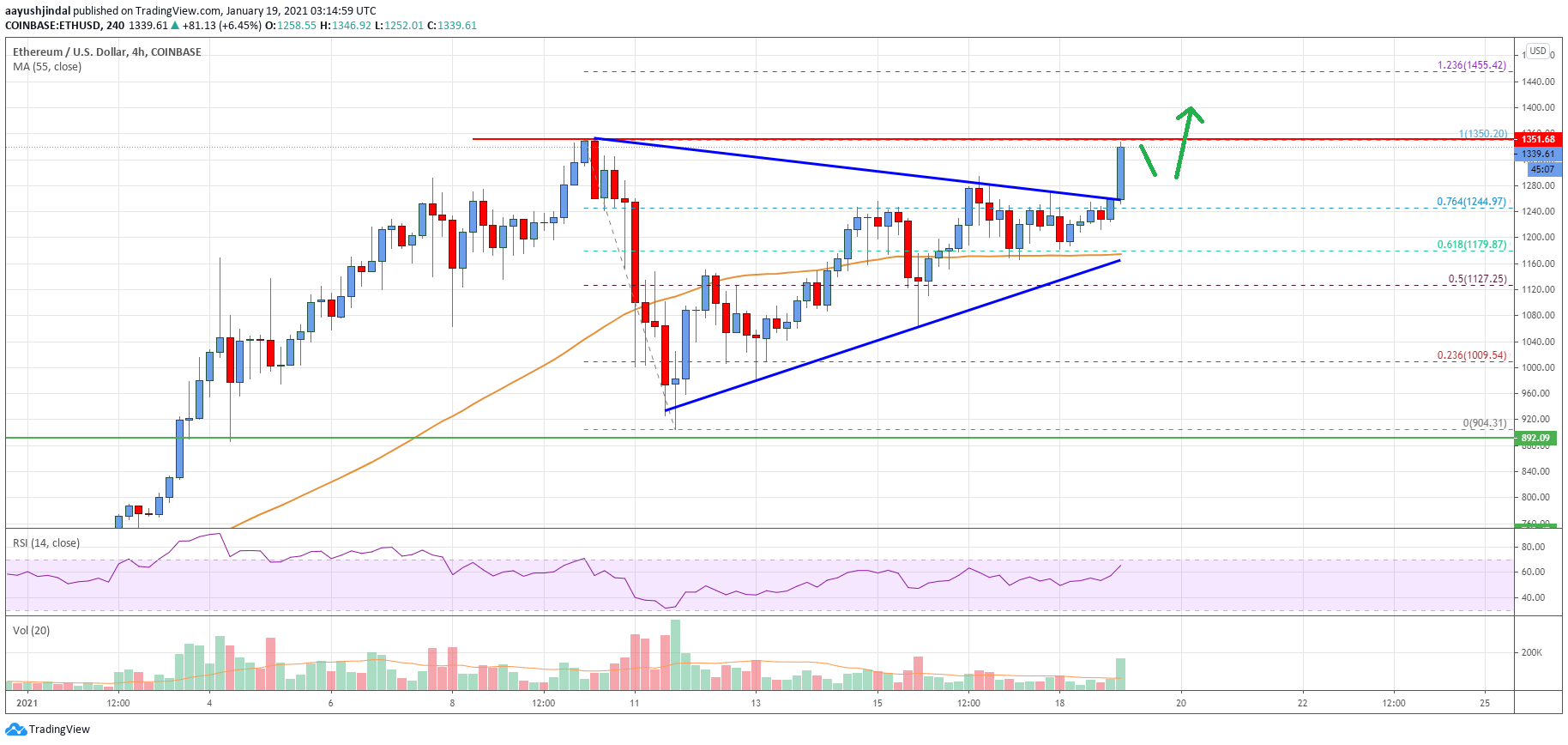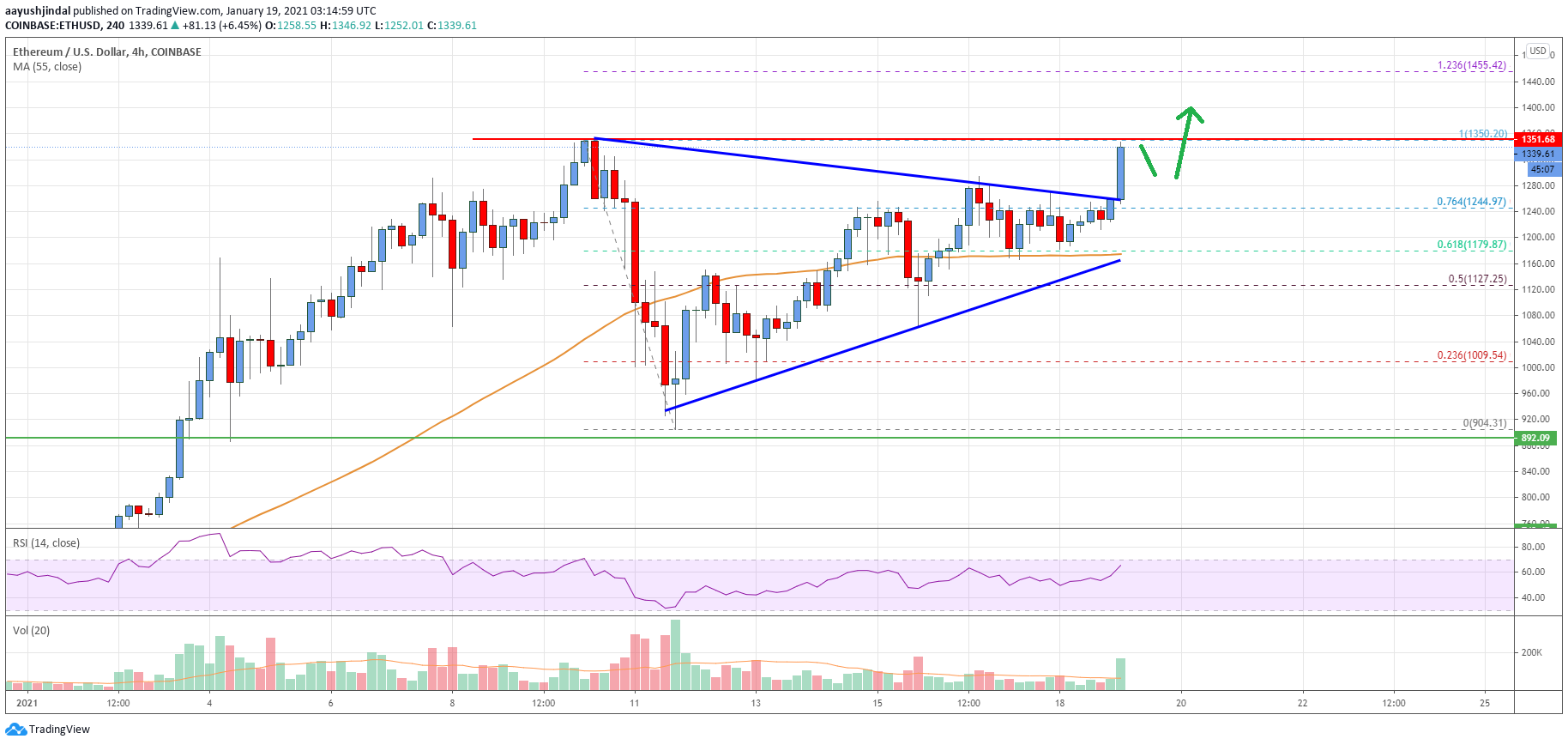 On the upside, the $1,345 and $1,350 levels are initial hurdles. A clear break above the $1,350 level could open the doors for a sharp increase. In the stated case, ether price will most likely surpass the $1,400 and $1,420 levels in the near term. The next major resistance is near the $1,500 level.
If ethereum corrects lower below the $1,315 and $1,300 levels, it could find a strong support near the $1,280 level (a decent bid zone).
The 50% Fib retracement level of the recent wave from the $1,215 swing low to $1,346 high is also near the $1,280 level to provide support. Any more losses could lead the price towards the $1,250 zone (resistance turned support).
Technical Indicators
Hourly MACD – The MACD for ETH/USD is now gaining pace in the bullish zone.
Hourly RSI – The RSI for ETH/USD is well above the 50 level.
Major Support Level – $1,280
Major Resistance Level – $1,350
This post was originally published on www.newsbtc.com
Source: www.cryptoalphanews.com
Author: cm_team
Previous
Next