10 of Best Universities for Blockchain Courses
As blockchain skills continue to be desired in today's job market, several universities will implement and teach these skills to incoming students, and make them job-ready, when it comes to blockchain technology and other cryptocurrencies.
There's no doubt that blockchain is revolutionizing almost every industry when it comes to today's economy. Now, universities worldwide are taking up the notion that blockchain is destined to be the next generation of how we run the economy at a grander scale.
According to the Accounting Degree Review, blockchain is transforming technology as we know it, as more tech publications are drawing more attention to it, and more investors are looking more towards that direction. As a result, some of the most prestigious universities are adapting blockchain courses into their curriculum, so that more students can learn about this sought-after knowledge.
So, when it comes to learning blockchain, here are 10 universities to consider.
This popular university in Cyprus offers an online Master of Science degree course in Digital Currency. The good news is if you want to learn about the fundamental principles of cryptocurrency, the first-course "Introduction to Digital Currencies" is free, and it includes 12 live online sessions.
Next, what's blockchain without the crypto part of it? This university in the UK offers a free online course that talks about how cryptocurrency is driving the future. As a result, students will explore the reasons why crypto is hailed as a valued monetary asset.
This school offers courses in blockchain for up-and-coming tech executives, analysts, and so on. Even the most experienced tech stakeholders can learn something new about blockchain and cryptocurrency, as well as other related technical and social frameworks.
In Denmark, IT University of Copenhagen has a summer school dedicated to Blockchain, as a means to help students develop effective solutions within three industries: economics, organization, and computer science. They'll also learn about the implications of existing business models, and how blockchain takes the guesswork out of said industries.
Located in North Carolina, Duke University offers its "Innovation, Disruption and Crypto Ventures" course. This special course covers how disruptive technology has shaped in many industries. While it doesn't solely look into Bitcoin transactions, students will still learn the implications that may affect various businesses moving forward.
New York University now offers courses in blockchain, including one entitled "The Law and Business of Bitcoin and Other Cryptocurrencies." This course teaches Bitcoin and other alternative payments mechanisms like it. There is also another course called "Digital Currency: Revolution in Money and Payments?" which will introduce the concept of future mobile payment systems that may transform how people do their finances.
Located in New Jersey, Princeton University offers courses in blockchain, including its famed course called "Bitcoin and Cryptocurrency Technologies." This unique course addresses important questions about Bitcoin that many newcomers to the topic might have – the very definition of Bitcoin, how its different from other currencies, the idea of regulating it, etc.
No matter your inquiry, Princeton has you covered!
Stanford University is another university to consider when looking to learn about blockchain. This school offers a course in "Bitcoin Engineering," which aims to focus on how Bitcoin-enabled apps are produced and received. Along with a beginner's guide to Bitcoin, students will also learn about computing with Bitcoin.
This university prides itself in not only offering an undergraduate cryptocurrency course that's open-source, but it also allows students to collaborate with each other to run crypto meetups, workshops, etc. to research more developments in blockchain and other crypto technologies. It's a school built on principles and collaborations, especially when it comes to blockchain.
Finally, Blockchain University teaches students how the blockchain ecosystem works. In addition, the school offers interactive training, while encouraging students to utilize design thinking that forms effective solutions. With hands-on learning and feedback from influential minds, students will be sure to learn about blockchain and its constituents.
As blockchain skills continue to be desired in today's job market, several universities will implement and teach these skills to incoming students, and make them job-ready, when it comes to blockchain technology and other cryptocurrencies.
next Blockchain News, News
Katherine is a writer and editor at Top essay writing services and Assignment writing services reviews. She is also a proofreader at Boomessays review. As a professional writer, she specializes in education, blockchain, and career advice.
Source: cryptonewscloud.com
Author: CNC
See author's posts
Huobi Global Connects to European Banking System via UK's BCB Group
Regulated crypto payment services firm BCB Group has partnered with Huobi Global to help the Seychelles-based exchange giant connect its trading desks to the banking system in the U.K. and Europe.
Announced Tuesday, customers of Huobi's over-the-counter (OTC) platform will be able to settle transactions instantly in euros and pounds (GBP) via BCB's BLINC network.
Cryptocurrency exchanges have struggled in recent years to secure banking relationships and establish an interface with the fiat currency world, with some large exchanges having massive daily volume in closed systems of crypto-to-crypto trading. Prior to partnering with BCB, Huobi did not have a European fiat gateway, said Oliver von Landsberg-Sadie, founder and CEO of BCB Group.
"We're here to provide that robust infrastructure so that these guys can just get on with trading and know that trades are happening in a way that's properly monitored, that's regulatory-friendly," Landsberg-Sadie said in an interview.
The bar is high and Huobi had to jump through a few significant hoops; the whole process took some time to complete, he added.
"We understand the importance of both a compliant and streamlined service," Ciara Sun, Huobi's head of global business, said in a statement. "Partnering with BCB allows us to offer a European fiat on- and off-ramping service that we know is in line with the laws of that area, but it also allows our customers in Europe to experience a smooth and hassle-free user experience."
BCB, which started out as an OTC desk, partnered with U.K.-based Clearbank, as well as some other European banks, to facilitate crypto-to-fiat on/off ramps. The BLINC real-time settlement system, which is a bit like SWIFT for crypto in that users are legally identifiable entities, is supported by R3's Corda platform and the Digital Asset Shared Ledger (DASL).
Huobi joins Bitstamp, the other large exchange taking advantage of BCB's BLINC payment network. BCB also works with Coinbase and Kraken, but those exchanges are not part of BLINC.
Huobi is the latest large, reputable exchange that BCB has managed to bank, with a few more "kind of in-flight" to be announced soon, said BCB Group partner Ben Sebley.
Source: cryptonewscloud.com
Author: CNC
See author's posts
PayPal Will Ride the Crypto Wave to Higher Gains
With the world still in the throes of the coronavirus pandemic, digital payment apps like PayPal (NASDAQ:PYPL) continue to remain a key trend this year. As physical stores shuttered across the globe in March 2020, people increasingly turned to digital apps as a means to pay for goods and services. This resulted in some impressive gains for PayPal stock, with its shares up 116% in 2020.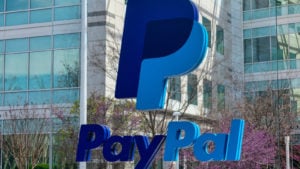 As we look ahead, there are several catalysts that hint at greater upside for the company in the coming years. Here's a look at what these trends are how they will help PayPal stock deliver some spectacular returns in the future.
PayPal started 2020 on a modest note but changes in the digital payments ecosystem as a result of the pandemic pushed the stock to new highs. When looking at PayPal's growth potential, it's also worth considering its ongoing efforts in achieving this.
The 7 Best Growth Stocks to Snap Up for 2021
The company acquired Honey for $4 billion at the start of 2020. This online tool helps customers save money when they check out. Adding to this is the payment app's push to get into the in-store payments market. PayPal introduced its contactless QR technology that allows customers to pay with the QR code on the app.
PayPal's winning card (apart from its core business), is its payment platform Venmo. The app acts as a digital wallet and lets users transfer or receive cash from friends and family. As of September, Venmo has a user base of $52 million and a revenue target of $900 million by 2021. During the government stimulus rollout, Venmo introduced its Cash a Check feature, which allows users to cash paper checks on the app.
Looking towards more recent growth catalysts, PayPal became the first company to gain full control of GoPay, a digital payments app in China. Prior to this the company controlled 70% of its operations. According to PayPal's CEO, Dan Schulman, this will help them "be a stronger partner to Chinese financial institutions."
A second catalyst is PayPal's buy now pay later (BNPL) service that will help the company disrupt the e-commerce market. With the BNPL market expected to hit $166 billion by 2023, this will serve as a major tailwind for PayPal stock.
What cryptocurrency will become the main one in a year?
In recent years, crypto has become more of a mainstream currency with its increasing adoption among retailers, merchants and governments. This is great news for PayPal that has several features integrated with the digital currency.
For one, merchants that accept PayPal as a means of payment will now accept crypto as well. This gives customers a greater incentive to initiate transactions with this currency. Adding to this, PayPal states it will convert the cryptocurrency to fiat which can then be used to pay for transactions. This takes away the element of volatility associated with cryptocurrency.
PayPal's big push into crypto is a big positive for two reasons. One, PayPal has the opportunity to earn more fees earned from crypto transactions as more consumers start to use it. Second, the payment platform will also gain from the increase in the value of cryptocurrency. Earlier this month crypto volume on the app hit a record $242 million.
With that said, crypto is still in its nascent stages as far as digital payment apps. But once this currency goes mainstream, PayPal is well poised to dominate this space.
I'm bullish on PayPal stock given its strong growth potential in 2021 and beyond. The company's entry into the Chinese fintech market will result in some meaningful relationships with companies in the region that could translate to greater gains. This growth will be bolstered by PayPal's integration with cryptocurrency. As a high-growth digital currency, this partnership with PayPal will incentivize more customers to hop on the crypto bandwagon.
Finally, it's also worth considering the increasingly important role of digital payments since the start of the pandemic. With contactless payments becoming a major (in some cases only) means of payment in 2020, there is a good chance this trend will continue post-pandemic as well.
So, adding to its solid tailwinds and internal plans for expansion, I think the positive investing sentiment towards digital payments is reason enough to place your bets on PayPal stock.
On the date of publication, Divya Premkumar did not have (either directly or indirectly) any positions in any of the securities mentioned in this article.
Divya Premkumar has a finance degree from the University of Houston, Texas. She is a financial writer and analyst who has written stories on various financial topics from investing to personal finance. Divya has been writing for InvestorPlace since 2020.
Source: investorplace.com
Author: By
Divya Premkumar, InvestorPlace Contributor
Top Crypto Analyst Pivots to Altcoins, Names Top Picks, Declares Historic Bull Run Imminent
A popular trader who's building a reputation for his bullish Bitcoin calls says he's now pivoting to altcoins in anticipation of a big rally.
In a new tweet, the trader known in the industry as Capo tells his 39,100 followers that altcoins now make up 90% of his crypto portfolio.
My portfolio is 90% alts.
— il Capo Of Crypto (@CryptoCapo_) January 16, 2021
Capo is keeping a close watch on the price action of Ethereum against Bitcoin which he says is key to igniting an altseason. The trader predicts that ETH/BTC will rise by over 194% en route to 0.10 from its current level of 0.034.
"Inevitable."
Capo is also tracking the performance of Cardano (ADA/USD). As the smart contract platform is currently consolidating above $0.39, the trader expects it to rise above $0.97 for gains of nearly 150%.
"ADA."
Another coin that's on Capo's radar is Syntropy (NOIA) which he previously said was in a strong uptrend. The trader now believes that the NOIA/USD and NOIA/BTC pairs will never trade below key levels.
"Fourth bold call of the year: NOIA never again below $0.20 or below 500 sats."
Looking at Polkadot (DOT), the trader expects it to cool off and pullback after the coin more than doubled its value against Bitcoin (BTC) in a matter of days. Capo predicts DOT/BTC will retest support of 0.00033 and build a higher low before taking out resistance of 0.00055 and resuming its uptrend.
"DOT/BTC."
While a huge percentage of Capo's portfolio is in altcoins, he remains extremely bullish on Bitcoin. He believes the leading crypto asset will never go down below a key level.
"Bears really want to see it below $30,000. Reality is that it won't go below $33,000."
Although Bitcoin is currently in sideways consolidation, Capo says the bull market is not yet over.
"This is a higher low. All the heatmaps are bullish. Funding reset. Why so bearish?"
Once the correction is over, Capo predicts that BTC can potentially rise to as high as $59,000, representing gains of nearly 70% from its current price of around $35,000.
"Market is giving you another chance to buy under $36k and you're panicking."
Don't Miss a Beat – Subscribe to get crypto email alerts delivered directly to your inbox
Source: dailyhodl.com
*URGENT * omisego can 5x SOON!! | Omisego Technical Analysis| omisego price prediction #OMG | Coin Crypto News
*URGENT * omisego can 5x NEXT MONTH?! | Omisego Technical Analysis| omisego price prediction #OMG
~All investing and trading in the securities market involves risk. Any decisions to place trades in the financial markets, including trading in stock or options or other financial instruments, is a personal decision that should only be made after thorough research, including a personal risk and financial assessment, and the engagement of professional assistance to the extend you believe necessary.
#crypto #forex #stocks #cryptotrader #daytrader #finance # Dash #Chainlink #altcoin #bitcoin #altcointrading #swingtrader# cryptobullmarket #cryptobullrun #trader #vechain #money #ethuerum #zil #link #xtz #tezos #tezosbreakout #xtzusd#tezospriceprediction #altcoinpicks #chainlink #whatistezos, maker , comp , Difi , bull run , cryptocurrency , altcoin, marketdump ,market crash, vechain ,vefam ,vetusd, VET ,#cardano #cardano #ada #shelly #cardano news #bullrun # crypto #cryptocurrency #vechain #bitcoin #altcoin news #altcoin #cryptocurrency news #vechain news #defi #like #subscribe #xrp #xrpnews #xrplive #xrpbreakout #altcoin #crypto #trading #trader # vechain #bitcoin #bitcoinlive #daytrader #like #comment #bullrun #vechain #zilliqa #defi #omisego #OMG news # omisego live # omisego breakout
Source: coincryptonews.com
Author: Post Author: CoinCryptoNews
Blockchain Bites: Goldman Sachs Investigates Crypto Custody, Solving the Blockchain 'Trilemma'
Happy Martin Luther King Jr. Day to our U.S. readers! A former Canadian prime minister said bitcoin could become a global reserve currency, Goldman Sachs is reportedly looking to get into the crypto custody business and MetLife is bullish on CBDCs.
Updating the base
Coinbase, a bellwether for bull runs because the exchange is likely to go down during periods of heavy volatility, is updating its infrastructure to prevent outages. It will also bring on more customer support. Coinbase has sent smoke signals about going public this year, though it has not yet filed.
Digital "belt and road"
China's Blockchain-based Service Network (BSN) – a permissioned blockchain network for building decentralized applications and tokens – will test a central bank digital currency (CBDC) as early as the second half of 2021, according to a Jan. 15 blog post. Moreover, the network looks to become a blockchain of blockchains with a total of 30 public blockchain integrations slated for this year.
NFTs & DEFI: Cointelegraph's Andrew Thurman speaks to with Aavegotchi's Jesse Johnson. (Cointelegraph)
BITCOIN BUBBLE? Nope! (CoinDesk opinion)
RESERVE CURRENCY: Former Canadian prime minister lists bitcoin as possible reserve currency. (CoinDesk)
VOLATILITY FEARS: Bloomberg reports bitcoin price swings are keeping CFOs from the market. (CoinDesk)
WHAT'S MONEY? Not CBDCs, IMF survey respondents seem to think. (Decrypt)
BITCOIN RESURGENCE: Nic Carter explains. (New York)
Trilemma dilemma?
MetLife is the latest legacy financial institution to take a hard look at crypto. In a primer titled "The Blockchain Blockbuster," MetLife Investment Management (MIM), the life insurance giant's investment wing, examined the nature of money from "Yapese stones to central bank digital currencies."
My colleague Will Foxley reported that MIM thinks CBDCs are anything but "a passing fad," (MIM's words) and represent the "logical progression of money and technology" (Foxley's words). "[J]ust as the dreams of cryptocurrency developers tend to be rather lofty, so are those of various CBDC initiatives," the document states.
The 18-page report, published Jan. 8, honestly didn't say much more than that. It argued that interest in CBDC development was spurred by the explosion of digital assets unleashed after Bitcoin came on the scene. And concluded by saying "western countries" could potentially look towards China's digital yuan experiment as a guide. Neither points are really debatable, but debate we must!
There is one smaller point worth examining. While Alexander Villacampa and Jun Jiang, the paper's authors, appear to think CBDCs and cryptocurrencies can (and will) exist side-by-side, there was a moment of existential conflict. I quote:
"Bitcoin and its ilk are constantly battling to maintain a balance between three key concerns known as the 'Blockchain Trilemma.' The trilemma, often visualized as a triangle, consists of three issues related to sustainable public blockchain development: scalability, decentralization, and security. It is assumed in the trilemma that by strengthening any one of the triangle's vertices, at least one of the others must weaken."
The "scalability trilemma," attributed to Ethereum co-founder Vitalik Buterin, is a (often constructive) criticism of blockchain networks. Although it's fallen out of "the discourse" in recent years – a quick Google search showed that the problem was often used as a marketing tool for blockchains that supposedly solved the issue in 2018 – plenty of smart people are still thinking about it.
Called the trilemma, the concept can actually be reduced even further to a sliding scale of decentralization and centralization, with pros and cons of moving between the two. It posits developers can't have everything when it comes to efficiency and security. Optimizing for decentralization naturally makes the network slower, though more secure. Centralization reduces security, by introducing a single entity that can be attacked, but improves transaction throughput. Simple enough!
But is it right? In 2018, in the heyday of the trilemma, most people cited Bitcoin and Ethereum's proof-of-work consensus algorithm (the networks' security design) as prime examples of how decentralization reduces transaction throughput. Thousands of miners create a secure, but slow, network.
Bitcoin developers are looking at layer 2 solutions, like Lightning, to create a usable payments system out of a secure base, while Ethereum developers are exploring layer 2s and a network overhaul. In many of these instances the solution is moving and processing some transactions off-chain, limiting how much a decentralized blockchain can get in the way.
While it's clear that the contours of the trilemma are real and should be addressed, the real solution is probably to ignore the framing. The tradeoff between scalability and security is a problem that exists across the payments universe. Bitcoin is cumbersome though accessible to anyone, and Visa is lightning-fast but entirely prone to "financial censorship."
This isn't to take the Bitcoin Maximalist view that bitcoin is a store of value and doesn't need to be a payments system, but it is an admission that there's room in the world for multiple types of systems that all optimize for different things.
Circling back to CBDCs, as Villacampa and Jiang note, the "expansion of electronic payment systems via blockchain technology that has captured the interest of central banks who believe they are uniquely capable of providing not only a better alternative but also able to lay the foundation for an officially-sanctioned global electronic payments regime." If that includes researchers that think they've solved the "scalability trilemma," more power to them.
Source: www.bit-cointalk.com
Previous
Next