$3 Billion ETH Now Staked as bETH Starts Trading
Ethereum 2.0 deposits have surpassed $3 billion eth for the first time ever, accounting for about 2% of ethereum's total supply.
Nearly 2.5 million eth has now been deposited to ethereum 2.0, the new Proof of Stake blockchain that plans to fully replace miners with ethereum validating holders.
Some 60,000 validators are now securing the ethereum 2.0 network with more than 15,000 awaiting to join.
Making this the biggest Proof of Stake network which has been running for two months without any problems.
Kraken is rising as one of the main platform for staking with the exchange taking care of all aspects for 15% of the staking profits.
You can further exchange the staked eth, dubbed bETH or ETH2.S on Kraken, for actual eth.
On OKex for example bETH sells for 0.93 eth. On Kraken it's more like ◊0.97.
Kraken says you can't transfer this ETH2.S through the ethereum network, making this effectively a futures contract with the eth delivery perhaps sometime next year.
As the staked eth is locked for probably two years, you can't arbitrage neither between beth and eth nor between Kraken's and OKex's beths.
Thus we're getting different markets depending on just how much demand there is to stake or unstake on the platform, but you could potentially speculatively 'arbitrage' as in some ways you're buying 'dividend' giving eth at a discount of if you plan to stake instead of plain eth you can buy discount beth.
Coinbase has not yet began ethereum staking. They promised last year they would roll it out sometime this month, but the exchange is now very busy with scaling their trading engine.
There's plenty of choice for prospective stakers however. You can always solo stake by running your own eth and eth 2 nodes with guidance from the launchpad, or you can one click stake through Kraken, Bitcoin Suisse, Huobi, OKEx and Binance.
The yearly interest rate in eth is now 10% with this expected to fall because until eth1 is merged into eth2, the total staking supply can only increase or remain unchanged. It can't decrease because you can't unstake until the merger, but you can futures contracts exchange.
These stakers therefore are being forced to hold, after willingly making the decision to stake, so removing the temptation to sell on dips.
That should affect ethereum's price to some extent, with it again seemingly heading towards perhaps trying to take that all time high after support held following three tests of $898 or so.
Source: www.trustnodes.com
Why Dips Could Be Limited – Crypto Money Daily
Ethereum started a decent increase above $1,080, but it failed again near $1,150 against the US Dollar. ETH price is consolidating and it could make another attempt to clear $1,150.
Ethereum is still struggling to clear the main $1,150 resistance zone.
The price is now trading near the $1,100 zone and the 100 hourly simple moving average.
There is a key ascending channel forming with support near $1,100 on the hourly chart of ETH/USD (data feed via Kraken).
The pair could soon make another attempt to clear the $1,150 resistance level in the near term.
There was a decent recovery wave in bitcoin, ethereum, ripple and other altcoins. ETH price formed a support base above the $1,000 level and recovered above the $1,050 level.
There was also a break above a key bearish trend line with resistance near $1,060 on the hourly chart of ETH/USD. It opened the doors for more gains above the $1,100 level and the 100 hourly simple moving average. Ether spiked above the $1,120 resistance, but it struggled to clear the $1,150 resistance once again.
A high is formed near the $1,147 level and the price is current correcting lower. It broke the $1,120 level and tested the 23.6% Fib retracement level of the recent wave from the $983 swing low to $1,147 high.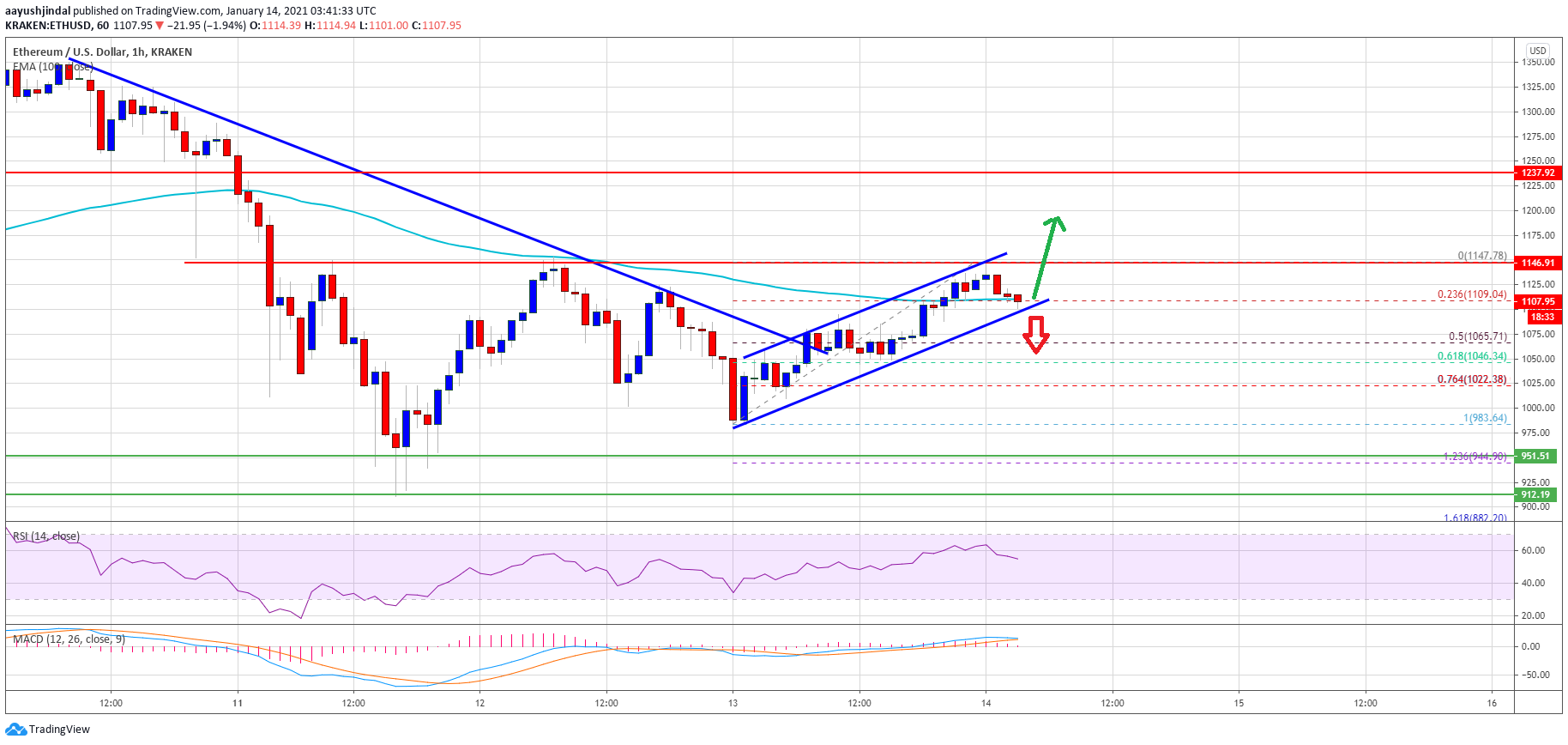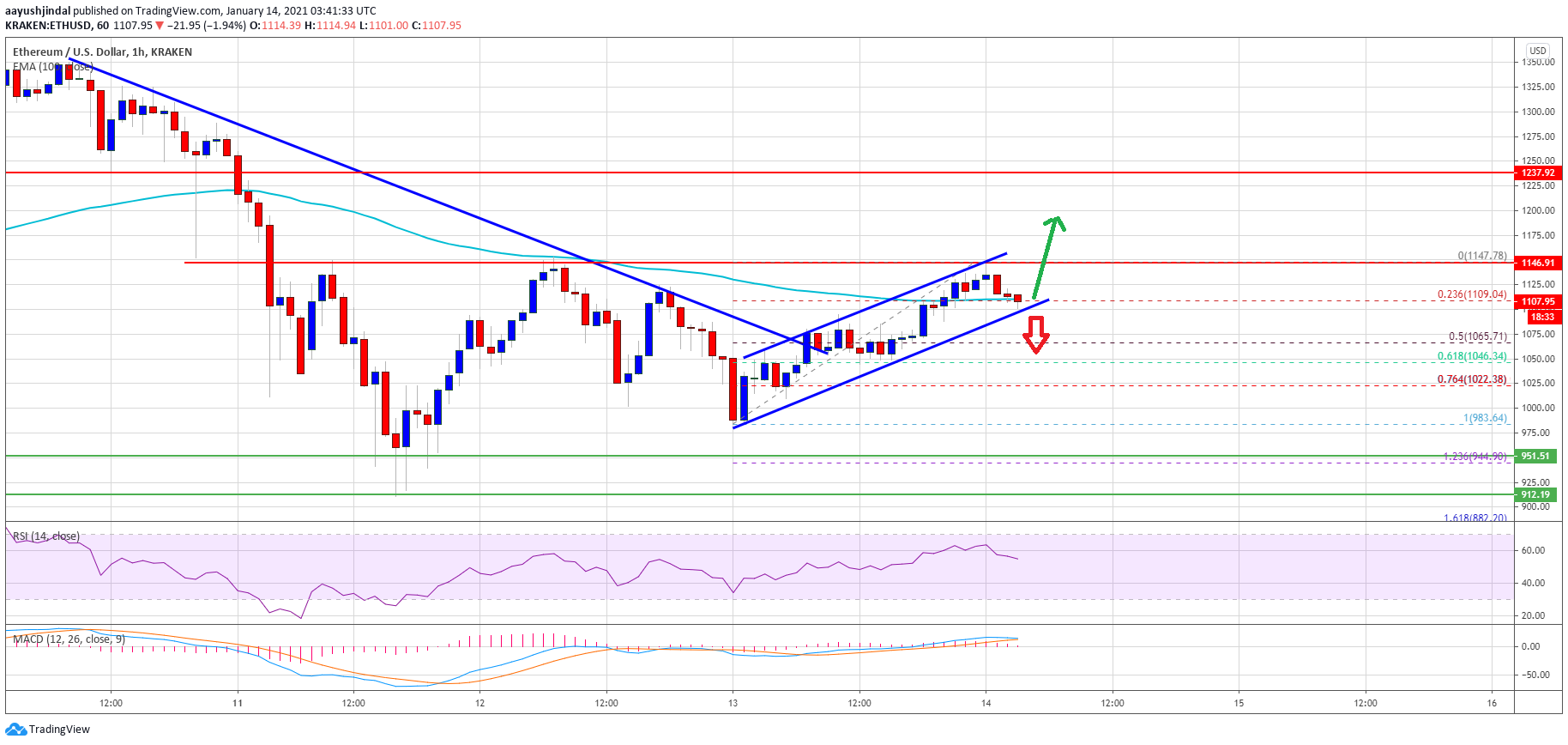 Source: ETHUSD on TradingView.com
It is now trading near the $1,100 zone and the 100 hourly simple moving average. There is also a key ascending channel forming with support near $1,100 on the same chart. If there is a downside break below the channel support, the price could decline towards the $1,065 support zone.
The 50% Fib retracement level of the recent wave from the $983 swing low to $1,147 high is also near $1,065. The next major support is near the $1,045 level, below which the price could revisit $1,000.
If ethereum stays above the channel support, it could climb above $1,120. In the stated case, it could make another attempt to clear the $1,150 resistance level.
A close above the $1,150 level, with a proper follow through could start a strong increase. The next hurdle for the bulls above the $1,150 zone is near the $1,240 level.
Technical Indicators
Hourly MACD – The MACD for ETH/USD is struggling to gain pace in the bullish zone.
Hourly RSI – The RSI for ETH/USD is moving lower towards the 50 level.
Major Support Level – $1,065
Major Resistance Level – $1,150
Source: cryptomoneydaily.com
Ethereum eyes new all-time high after bears unable to sink ETH below $900 – BITCOININNEWS.COM
Bitcoin's (BTC) price saw a significant 28% correction during the week from $41,000 to $30,000. At the same time, Ether (ETH) also saw a drop of 32%. The recent high for ETH/USD was $1,350 — or about $70 shy of the all-time high — while the recent low was seen at $910.
January has seen heavy volatility in the crypto markets. The sentiment has been flipping from euphoria to depression and back again. However, the market is still in a bull market even if another correction occurs.
In that regard, it's just a matter of time until a new all-time high is made for Ether, following Bitcoin's footsteps.
Ether corrected to the first level of interest at the 0.35–0.382 Fibonacci level. Traders often use this Fibonacci level to anticipate corrections.
Frequently, corrections only occur at the 0.35–0.382 Fibonacci level or the 0.5 Fibonacci level.
This happened in ETH's case, as the $850 to $925 area is confluent with a previous resistance point. This resistance point is found in 2018 during the multimonth rally from $350 to $900. This slight run-up became the final bounce before the market reversed south.
But now, the $900 region has flipped support, which means that more upside likely. As often stated, if an asset drops by 30% in an uptrend, it may be worth looking into.
If the correction has ended, continuation is likely to occur with a new impulse wave. In that regard, ETH/USD would be looking at new highs, which can also be determined using the Fibonacci extension tool.
Critical for continuation would be a breakout above the recent high at $1,350. Personally, I'd expect to see some more consolidation before continuation, but a new impulse wave is definitely on the table.
If such a continuation of the impulse wave occurs, the next targets are found at the recent all-time high of 2017 (around $1,420), but also at $1,600 to $1,650 and $2,050 to $2,100. The latter targets are constructed using the Fibonacci extension tool.
What future awaits cryptocurrencies?
Source: www.bitcoininnews.com
Previous
Next