Former Fed Governor Kevin Warsh Flips on Crypto, Says He's Now Bullish on Bitcoin
Former Federal Reserve governor and one-time Bitcoin skeptic Kevin Warsh says the top cryptocurrency is now a sensible investment.
In a new interview with CNBC Squawk Box host Andrew Ross Sorkin, Warsh, who in 2018 made the argument that Bitcoin was too volatile to be useful, says that he is now bullish on the flagship cryptocurrency.
Warsh tells Sorkin that investing in Bitcoin simply makes sense in the current economic climate.
"I think that Bitcoin does make sense as part of a portfolio in this environment where you have the most fundamental shift in monetary policy since Paul Volcker (former Federal Reserve Chair). This is a big shift that we're seeing under the Powell Fed, rightly or wrongly."
Warsh attributes the strong Bitcoin boom, to the weakness of the dollar.
He also says that Bitcoin is eating into gold's market share as millennial stake their place in the market.
"So I'm not surprised in a period of dollar weakness that Bitcoin is doing what it's doing. I'd also suggest that part of the move in Bitcoin is taking some of the bid from gold. I think if Bitcoin never existed, gold would be rallying more right now, but I guess if you're under 40, Bitcoin is your new gold.
I think of Bitcoin as a lot of things, but it's certainly with every passing day, getting new life as an alternative currency. When you see the strength of the Euro, the strength of the Pound, the strength of the RMB, the Korean won, the strength of the Mexican peso, I guess we shouldn't be surprised at the strength of Bitcoin as well."
Warsh's comments arrive as Bitcoin has remained above $20,000 for a record 21 days.
Don't Miss a Beat – Subscribe to get crypto email alerts delivered directly to your inbox
Source: dailyhodl.com
Global Crypto ATM Market Outlook to 2027: Market is Set to Reach a Value of $542.52 Million
Dublin, Jan. 07, 2021 (GLOBE NEWSWIRE) — The "Crypto ATM – Global Market Outlook (2019-2027)" report has been added to ResearchAndMarkets.com's offering.
Global Crypto ATM Market accounted for $18.35 million in 2019 and is expected to reach $542.52 million by 2027, growing at a CAGR of 52.7% during the forecast period.
Some of the key factors propelling the growth of the market are fluctuations in monetary regulations, increasing fund transfers in developing economies, and rise in the number of installations of crypto ATMs. However, stringent government regulations that prohibit the usage of cryptocurrency in various countries are the restraining factor for the growth of the market.
Cryptocurrency is the digital or virtual money in the form of tokens or coins. An Internet-connected kiosk allows customers to purchase bitcoins with deposited cash. A crypto ATM is not the same as an ATM backed by a traditional financial institution or bank. Cryptocurrencies are designed to get free from government control and manipulation.
By type, the two-way segment is expected to grow at a significant market share during the forecast period owing to its provision of both, buying and selling functions with additional security and user-friendliness. Based on geography, North America is anticipated to hold considerable market share during the forecast period which is attributed to the lesser legal barriers and the presence of software & hardware providers and integrators.
Some of the key players in Crypto ATM Market include General bytes S.R.O., Covault, Mainstreet Automaten GmbH (Orderbob), bitaccess Inc., Genesis Coin, Coinme, RusBit Ltd., bitxatm, Coinsource, and Lamassu.
What the report offers:
Market share assessments for the regional and country-level segments
Strategic recommendations for the new entrants
Covers Market data for the years 2018, 2019, 2020, 2024 and 2027
Market Trends (Drivers, Constraints, Opportunities, Threats, Challenges, Investment Opportunities, and Recommendations)
Strategic analysis: Drivers and Constraints, Product/Technology Analysis, Porter's five forces analysis, SWOT analysis, etc.
Strategic recommendations in key business segments based on the market estimations
Competitive landscaping mapping the key common trends
Company profiling with detailed strategies, financials, and recent developments
Supply chain trends mapping the latest technological advancements
Key Topics Covered:
1 Executive Summary
2 Preface
2.1 Abstract
2.2 Stake Holders
2.3 Research Scope
2.4 Research Methodology
2.5 Research Sources
3 Market Trend Analysis
3.1 Introduction
3.2 Drivers
3.3 Restraints
3.4 Opportunities
3.5 Threats
3.6 Application Analysis
3.7 Emerging Markets
3.8 Impact of COVID-19
4 Porters Five Forces Analysis
4.1 Bargaining Power of Suppliers
4.2 Bargaining Power of Buyers
4.3 Threat of Substitutes
4.4 Threat of New Entrants
4.5 Competitive Rivalry
5 Global Crypto ATM Market, By Component
5.1 Introduction
5.2 Hardware
5.2.1 Automated Teller Machine (ATM) Printer
5.2.2 Display
5.2.3 Quick Response (QR) Code Scanner
5.3 Services
5.4 Software
6 Global Crypto ATM Market, By Type
6.1 Introduction
6.2 Two-Way
6.3 One-Way
7 Global Crypto ATM Market, By Coin
7.1 Introduction
7.2 Bitcoin
7.3 Dog Coin
7.4 Litecoin
7.5 Z-Cash
7.6 Dash
7.7 Monexo
7.8 Ethereum
8 Global Crypto ATM Market, By Application
8.1 Introduction
8.2 Retail
8.3 Banking
9 Global Crypto ATM Market, By Geography
9.1 Introduction
9.2 North America
9.2.1 US
9.2.2 Canada
9.2.3 Mexico
9.3 Europe
9.3.1 Germany
9.3.2 UK
9.3.3 Italy
9.3.4 France
9.3.5 Spain
9.3.6 Rest of Europe
9.4 Asia-Pacific
9.4.1 Japan
9.4.2 China
9.4.3 India
9.4.4 Australia
9.4.5 New Zealand
9.4.6 South Korea
9.4.7 Rest of Asia-Pacific
9.5 South America
9.5.1 Argentina
9.5.2 Brazil
9.5.3 Chile
9.5.4 Rest of South America
9.6 Middle East & Africa
9.6.1 Saudi Arabia
9.6.2 UAE
9.6.3 Qatar
9.6.4 South Africa
9.6.5 Rest of Middle East & Africa
10 Key Developments
10.1 Agreements, Partnerships, Collaborations and Joint Ventures
10.2 Acquisitions & Mergers
10.3 New Product Launches
10.4 Expansions
10.5 Other Key Strategies
11 Company Profiling
11.1 General Bytes S.R.O.
11.2 Covault
11.3 Mainstreet Automaten GmbH (Orderbob)
11.4 Bitaccess Inc.
11.5 Genesis Coin
11.6 Coinme
11.7 RusBit Ltd.
11.8 Bitxatm
11.9 Coinsource
11.10 Lamassu
For more information about this report visit https://www.researchandmarkets.com/r/nm2d40
Research and Markets also offers Custom Research services providing focused, comprehensive and tailored research.
Formats available:
Source: www.globenewswire.com
Author: Research and Markets
Bullish crypto events of 2020 that will drive historic adoption
The year gone by had many ups and even more downs, mainly due to the global outbreak of a devastating virus that has crippled nations and killed millions. But for those in the crypto and blockchain community, 2020 finally showcased the true potential of the technology.
There were, arguably, more developments last year that will have long-lasting positive effects on the industry than during the entire history of distributed ledger technology and Bitcoin (BTC). So, here are the top five developments of last year in the decentralized tech sector that will leave a lasting memory and a strong legacy for years to come.
Bitcoin price did a lot more than just break the $20,000 price mark that was originally set during the 2017–2018 bull run. First, the $20,000 mark fell. Soon after, so did $30,000. And now, even the $35,000 mark has been taken over.
Those seemingly wild predictions of a $45,000 Bitcoin price by the end of 2021 may not be so distant after all. What's more is that the infamous stock-to-flow model developed by crypto trader PlanB, which predicts a $100,000 price for Bitcoin, is playing out as suggested.
So, yes, prices go up, but they can also go down. This has happened before and may happen again, right? In theory, however, many things have changed, not least the general perception of Bitcoin. This has been evidenced by the shift in demand from retail investors to institutional ones.
Bitcoin welcomed numerous high-profile companies that joined the industry for their own various needs, from firms choosing to hold BTC as a reserve, like Microstrategy, to the rise of crypto investment funds like Bitwise and Grayscale — and who knows which individuals are investing through those. All that is known is that they are willing to put billions into crypto. And then in late October, the real big news arrived…
PayPal, a company that was originally founded with similar fundamental beliefs to Bitcoin itself, not only announced its foray into but actually entered the crypto space in 2020, at least in the United States. Additionally, it has been reported that PayPal is now one of the biggest buyers of Bitcoin as the company builds up reserves to satisfy customer demand.
The single word that sums up this development is "adoption." Some 28 million merchants and over 361 million users all around the world will now be exposed to the "baby" version of owning and using crypto. According to the company, it is the custodian and is essentially just selling shares in its BTC holding. In doing so, it's not following the traditional way of how people own crypto, and that's fine.
To the average user, crypto is way too difficult to comprehend — all the cold and hot wallets, the passcodes, the 12-word recovery phrases, etc. PayPal is offering an easy-to-use way to get into the ecosystem, and once that happens, some may actually go the full way to discover more about how this technology should be utilized.
The Bitcoin halving was touted to be the big make-or-break moment for the crypto industry. It took place, yet not much actually happened. Various commentators expected BTC's price to pump then crash, while others foresaw a drop-off in the network hash rate. Although those things did happen to a certain extent, it was nowhere near as dramatic as expected, and that was a very good thing.
What cryptocurrency will become the main one in a year?
The Bitcoin mining reward halving is an event that happens roughly every four years and cuts in half the amount of BTC that miners earn for discovering a block. This is a hard rule coded into the blockchain that limits the supply to just 21 million BTC and, in doing so, mimics gold's finite supply.
Ultimately, the fact that Bitcoin's price and fundamentals remained almost unaffected has led some to believe that the industry has reached a certain level of maturity. Perhaps this resilience was what ultimately led some of the biggest corporations, economists and investors to reconsider their stance on cryptocurrencies in general. The fact that the supply of Bitcoin is running out became even more apparent as the year went on.
It's now in fashion for companies to go public, so it's great to see that some crypto-native companies such as Coinbase are also joining in on the fun. It was half expected that such a move would come soon due to the overall regulation-open approach employed by the company, which was clearly set to appease U.S. regulators when the time was right.
What the move means, in essence, is that traditional investors will be able to sink millions into Coinbase equity — as much as $28 billion, in fact, according to Messari. The draft of the listing was also carefully timed with the jump in the price of top cryptocurrencies, and this will hopefully play into the exchange's hands as it will no doubt face intense scrutiny from the Securities and Exchange Commission.
Ultimately, Coinbase can shine light into a dark alleyway leading up to mass adoption by investors and users alike. Other so-called "unicorns" may follow its example in 2021, so in a way, Coinbase is sticking its neck out. But it may pay off if they are granted the initial public offering and become the first truly major crypto company to do so.
Bitcoin has investors, and Ethereum has its users, and the latter certainly stepped up in 2020 to make the decentralized finance boom a reality, finding use cases for all those decentralized applications that had been touted to change the game for some time.
All was calm before the month of July when it was announced that a highly anticipated project by the name of Compound launched its own token, COMP. It proved to be an instant hit, securing numerous listings on high-profile exchanges and establishing a new trend in DeFi.
The basic methodology behind Compound is simple: The platform acts as a decentralized lending protocol that pays interest to users that add their crypto to the pool. However, once funds are added to the pool, the platform issues an equivalent amount of cTokens that can be used as collateral on a loan, meaning that one token of any kind can be used twice.
As COMP's price started to pump, it wasn't long before other projects caught on to this new trend and began to unveil competing protocols or projects that supported the ecosystem. Just over one month later, Yearn.finance was launched and took the yield farming phenomenon to a whole new level.
Then came the decentralized exchange Uniswap, which also joined in on the action by opening up its own pools, and with its open listing policy, countless DeFi projects flocked in to list their tokens on the exchange. However, it also made an impact through its use of automated market makers, an idea developed in 2017 by Bancor. 2020 was really the year that AMAs took off through driving users to make transactions in tokens that are built upon the Ethereum blockchain. This ultimately brought thousands of active users onto the Ethereum network.
What's more is that the Ethereum 2.0 upgrade was finally initiated after several lengthy delays. The combination of Eth2, the recently renewed interest in altcoins and the DeFi boom has certainly brought back interest in Ethereum and the Ether (ETH) token itself, propelling it to well over $1,200, a level not seen in almost two years, and close to its all-time high of around $1,450. Now, just seven days into the new year, some are certain that $2,000 will be coming fairly soon.
Source: cryptonewshubb.com
Author: by admin
Quidax And Paxful: Crypto Review
QUIDAX VS PAXFUL
With the advent and acceptance of cryptocurrency, comes the need to trade with a trusted crypto exchange that makes it easy for you to "relax and be taken care of."
There are a lot of crypto exchanges established to satisfy the needs of crypto users.
This review will sample Quidax and Paxful and give recommendations based on their services. At the end, I hope it'd help prospective crypto traders make a choice.
ABOUT QUIDAX
Quidax is an African-based crypto exchange established with a dream to facilitate remittances and help users across Africa tend to their cryptocurrency needs.
With a mobile app and a user friendly website that helps newbies in the crypto trading game and even oldies, Quidax is known as a reputable crypto exchange.
Its instant buy/sell feature allows for trading of cryptocurrency on the go and the order book exchange which permits trading with other people by matching orders is commendable.
Quidax is rated highly for its user friendly website, responsive support, detailed FAQs and easy withdrawal/deposit methods.
ABOUT PAXFUL
Paxful is a peer to peer crypto exchange that allows for the buying and selling of Bitcoin through its website and virtual kiosk link. Paxful also has a wide coverage and can be operated from any part of the world except in 14 countries.
Paxful acts as the middle man between the buyers and sellers but the transaction relies solely on both parties. To ensure security, trading is done via escrow and live chat.
Paxful is noted for its easy site navigation, customer support and array of payment methods.
PROS AND CONS
Quidax and Paxful both come highly recommended for those intending to trade cryptocurrency however, both crypto exchanges are not without their strengths and weaknesses.
Paxful has more coverage and can be traded from anywhere in the world except in 14 countries. All these countries' fiat are acceptable on the website. Quidax on the other is an African focused crypto exchange, though trades in 6 African countries but it supports only the Nigerian fiat currency, Naira.
Paxful provides over 300 payment options and customers have a wide range of options to make payments. Quidax has 4 simple ways to make deposits but Paxful seems to have leverage with its various payment options. It cannot be said that Paxful payments are swift but Quidax's deposits are instant.
Quidax is better than Paxful in the area of supporting more cryptocurrencies. Paxful only supports Bitcoin while Quidax supports other cryptocurrencies including Ethereum, Dash, Tron, Litecoin, USDT, and Ripple.
Paxful's peer to peer platform only brings buyers and sellers together but the transaction deals are left to be decided by both parties. Hence, sellers have great influence on the charges and it's possible exchange rate could double. Relatively low and no hidden charges is what Quidax is popular for. See transaction fees here.
In areas of customer support, both platforms have responsive customer support. Paxful has a live chat service but according to recent reviews, it isn't as responsive as it should be.
Paxful and Quidax are both safe and secure crypto exchanges to trade with. Quidax takes identity verification at different levels and 2FA very seriously.
While I consider Paxful safe for trading, I cannot strongly recommend the peer to peer exchange because of the loopholes stated above, yet to be addressed. Quidax on the other hand, has had more good reviews though not completely without hitches but it comes highly recommended.
Source: africancryptonews.com
Author: Adimu Kamau
Market Wrap: Bitcoin Reaches $40.3K While DeFi Value Locked Inflates to Over $22B
Large trading volumes in the bitcoin spot market are helping push prices upward to a fresh record high. Ethereum-based DeFi value locked is also setting records, with rising crypto values playing a part.
Bitcoin (BTC) trading around $39,143 as of 21:00 UTC (4 p.m. ET). Gaining 8.4% over the previous 24 hours.
Bitcoin's 24-hour range: $36,382-$40,324 (CoinDesk 20)
BTC above its 10-hour and 50-hour moving average on the hourly chart, a bullish signal for market technicians.
The price of bitcoin continues to make incredible gains Thursday, an upward trajectory that helped the world's oldest cryptocurrency hit a record $40,324. Prices north of the new, big figure were short-lived, however. A sell-off quickly saw nearly $3,000 shaved off the price in a matter of 30 minutes, though it has since rebounded to $39,143 as of press time.
"Bitcoin's move upwards is fueled by institutions and institutional analysis pointing to price targets called for by firms including $146,000 by JPMorgan and $400,000 by Guggenheim," said Guy Hirsch, managing director for U.S. at multi-asset brokerage eToro.
"There is likely to be some profit-taking, causing intermediate dips in price, but all signs point to a continued move higher in the short to medium term," he added.
"It's been a wild first week of the year for bitcoin, already up and down 15%-20% moves a few times during this period," said Cindy Leow, investment manager at multi-strategy trading firm 256 Capital.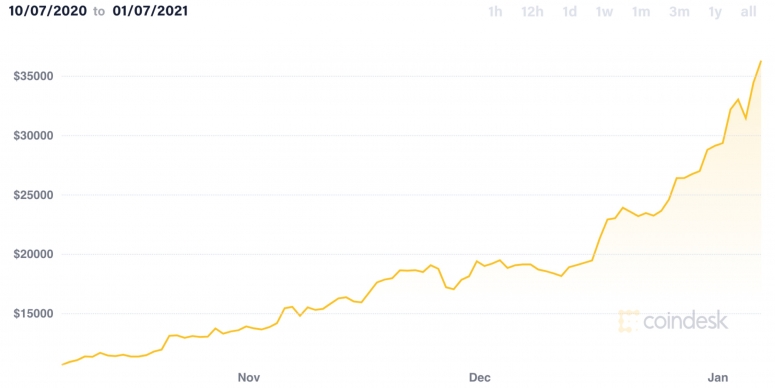 "This move is a hybrid of 2013 and 2017 post-halving price action, where 2013 saw a practically vertical move built up over many months while the late 2016 rally saw many more regular corrections that panned out over months," Leow added. "The overall market sentiment seems to be a mix between disbelief and euphoria, which leads us to think that the retail peak is not in yet and there may still be room to go for this trend to develop."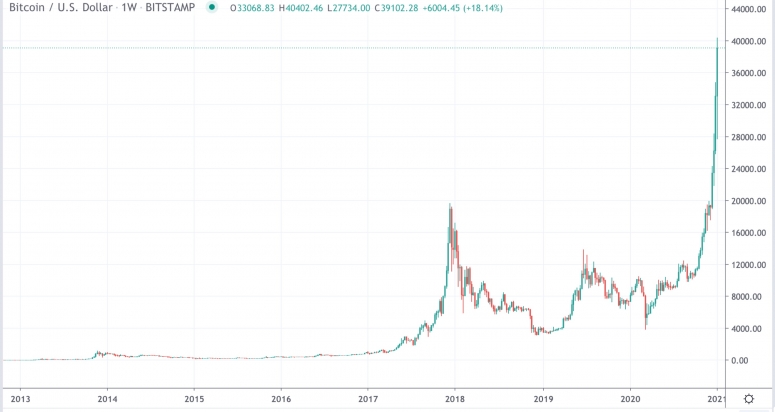 "We remain cautiously bullish, noting that funding rates across most crypto-assets are now persistently high, as are futures premiums and call volume," Leow concluded.
Funding premiums on major derivatives venues remain high, signaling traders are willing to pay quite a bit for leveraged positions.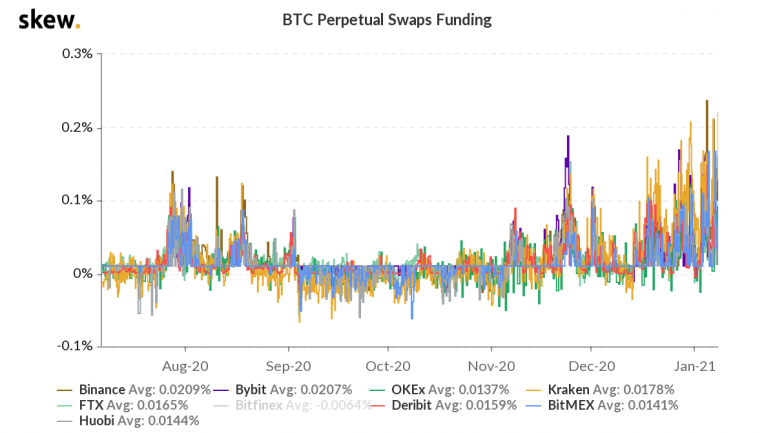 "From here I have an initial target of $50,000 in mind and would love to say that we hit it in three to six months, but I think the power behind the market just now means we have a chance of hitting it in a few weeks," said Chris Thomas, head of digital asset at Swissquote Bank.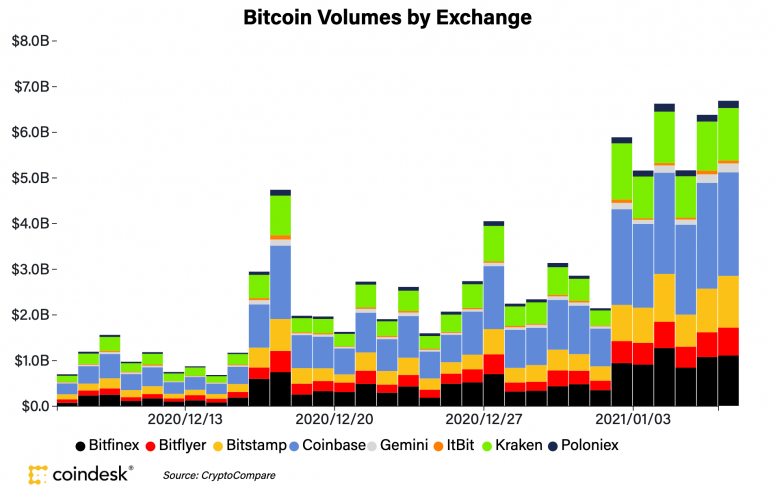 "After $50,000, I think there will be some very realistic institutional sellers who have to take profits as they will likely have doubled their money at that point," Thomas said. "It would be prudent to do so and a crash to sub-$20,000, which is not out of the question, could result in difficult discussions with their bosses."
Nevertheless, 2021 is off to a good start for the cryptocurrency market. "It is early January and bitcoin has broken through $40,000," noted Denis Vinokourov, head of research at crypto brokerage Bequant.
Ether (ETH), the second-largest cryptocurrency by market capitalization, was up Thursday, trading around $1,245 and climbing 3.8% in 24 hours as of 21:00 UTC (4:00 p.m. ET).
The total value locked in decentralized finance, or DeFi, crossed the $22 billion mark for the first time Thursday. Crypto investors "lock" assets in DeFi smart contracts to gain a "yield" or percentage return in exchange for providing the liquidity.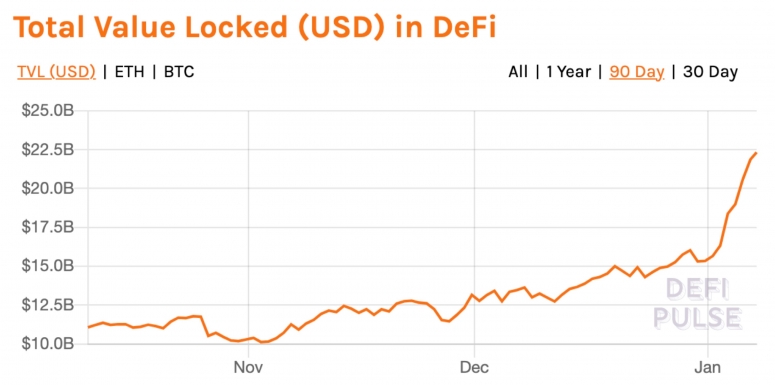 However, the amount of ether locked in DeFi is dipping, to below 6.8 million ETH as of press time.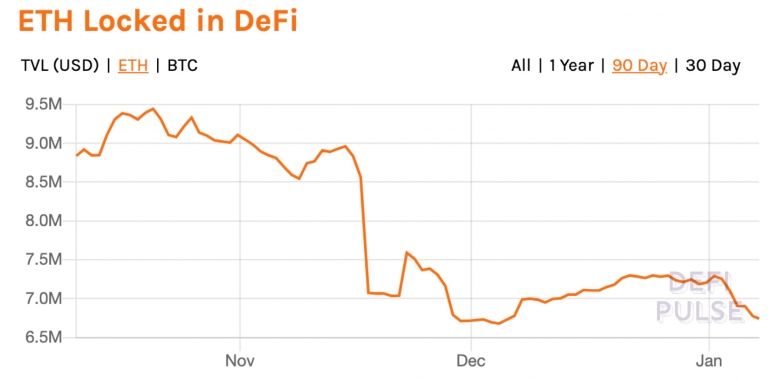 In addition, the amount of bitcoin locked has fallen precipitously, down to 30,456, representing a 53% drop from the all-time high of 64,993 BTC locked in October.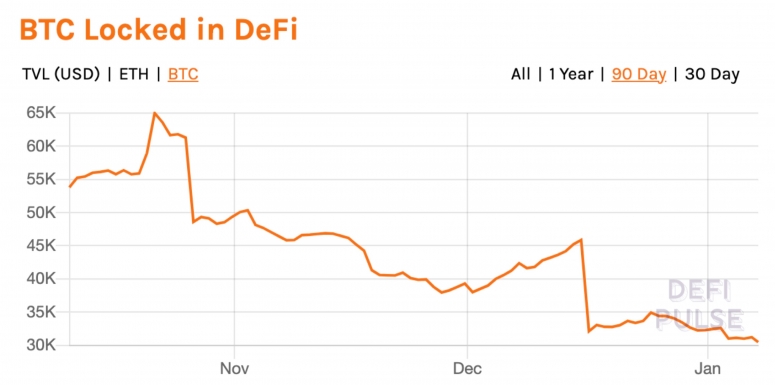 Where investors are moving all this crypto to from the DeFi sphere is anyone's guess, but some degree of profit-taking is likely happening in what has been a red-hot market.
"The charts serve as a good leading indicator of price movement," said Misha Alefirenko, founder of crypto market maker VelvetFormula. "This means people are redeeming back their BTC and ETH and that looks very bearish."
Oil was up 0.85%. Price per barrel of West Texas Intermediate crude: $50.94.
Gold was in the red 0.21% and at $1,913 as of press time.
The 10-year U.S. Treasury bond yield climbedThursday jumping to 1.076 and in the green 3.4%.

Source: onecryptonews.com
Author: By OneCryptoNews
Previous
Next