TA: Ethereum Struggles Near $1,100, Why Dips Could Be Limited Below $950
Ethereum corrected lower sharply from a new all-time high at $1,166 against the US Dollar. ETH price remained well bid near $900 and it is currently showing signs of a fresh increase.
Ethereum rallied significantly and traded to a new all-time high at $1,160 before correcting lower.
The price is now consolidating above $900 and it is well above the 100 hourly simple moving average.
There is a key bullish trend line forming with support near $980 on the hourly chart of ETH/USD (data feed via Kraken).
The pair is likely to resume higher as long as there is no close below $975 and $950.
There was a strong surge in Ethereum above the $900 and $1,000 levels. ETH price broke the $1,100 level and settled well above the 100 hourly simple moving average. A new multi-month high was formed near $1,160 before the price corrected lower sharply.
There was a 20% decline in the price below $1,100. Ether price even spiked below the $1,000 and $900 levels. A low was formed near $889 before the price started a fresh increase.
The price climbed higher above the $1,000 and $1,100 levels. However, the bulls struggled to gain momentum above $1,120 and $1,130 levels. A high is formed near $1,135 and the price is again declining. It broke the $1,050 support level.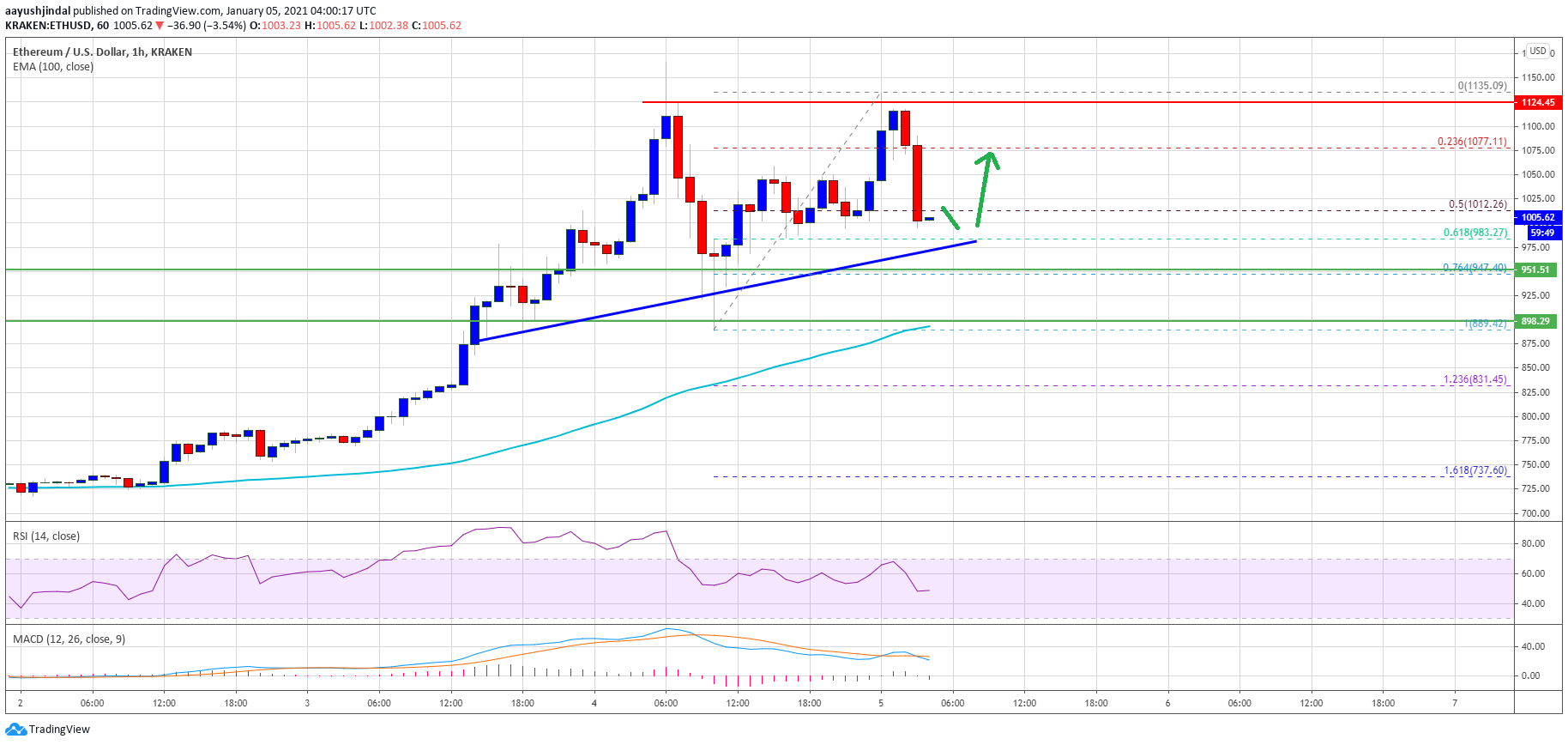 There was a break below the 50% Fib retracement level of the recent wave from the $889 swing low to $1,135 high. On the downside, there is a strong support forming near the $980 and $950 levels. There is also a key bullish trend line forming with support near $980 on the hourly chart of ETH/USD.
The trend line is close to the 61.8% Fib retracement level of the recent wave from the $889 swing low to $1,135 high. On the upside, the price is facing hurdles near $1,050 and $1,080. The main resistance is now forming near $1,120, above which ether price might rally significantly.
If ethereum fails to clear the $1,080 and $1,120 resistance levels, it could correct lower. An initial support on the downside is near the trend line at $980.
A downside break below the trend line support might lead ether price towards the $950 support zone. Any more losses may possibly call for a push towards the $900 level and the 100 hourly SMA in the near term.
Technical Indicators
Hourly MACD – The MACD for ETH/USD is showing a few bearish signs.
Hourly RSI – The RSI for ETH/USD is currently close to the 50 level.
Major Support Level – $980
Major Resistance Level – $1,120
This post was originally published on www.newsbtc.com
Source: www.cryptoalphanews.com
Author: cm_team
Bitcoin, Ethereum, Chainlink Price Prediction, Technical Analysis, News, Targets
●▬▬▬▬▬▬▬▬▬▬▬▬▬▬●
Follow me on TWITTER: https://twitter.com/NewtCrypto
Free Telegram Group (Premium Discord Above) – https://t.me/CryptoNewtonVIP
#bitcoin #bitcoinnews #bitcoinprice
Source: cryptolearningvideos.com
Author: by admin
Ethereum Trading Up 38% This Week (ETH)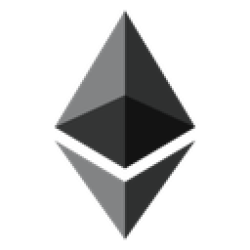 Ethereum (CURRENCY:ETH) traded up 11.6% against the U.S. dollar during the 24 hour period ending at 11:00 AM ET on January 4th. During the last week, Ethereum has traded up 38% against the U.S. dollar. One Ethereum coin can now be purchased for $1,014.01 or 0.03225841 BTC on major exchanges. Ethereum has a total market cap of $115.71 billion and $61.70 billion worth of Ethereum was traded on exchanges in the last day.
Here is how other cryptocurrencies have performed during the last day:
Ethereum Classic (ETC) traded up 7.9% against the dollar and now trades at $6.85 or 0.00021805 BTC.
Super Zero Protocol (SERO) traded down 1% against the dollar and now trades at $0.10 or 0.00000323 BTC.
Callisto Network (CLO) traded 5.8% lower against the dollar and now trades at $0.0019 or 0.00000006 BTC.
Ellaism (ELLA) traded 6% lower against the dollar and now trades at $0.0101 or 0.00000032 BTC.
Musicoin (MUSIC) traded flat against the dollar and now trades at $0.0002 or 0.00000002 BTC.
Bowhead (AHT) traded flat against the dollar and now trades at $0.0244 or 0.00000377 BTC.
What future awaits cryptocurrencies?
Ether Zero (ETZ) traded 5% higher against the dollar and now trades at $0.0011 or 0.00000003 BTC.
DaxxCoin (DAXX) traded flat against the dollar and now trades at $0.0001 or 0.00000003 BTC.
Elementrem (ELE) traded 1.4% higher against the dollar and now trades at $0.0010 or 0.00000006 BTC.
Akroma (AKA) traded 6% lower against the dollar and now trades at $0.0009 or 0.00000003 BTC.
Ethereum Coin Profile
Ethereum is a proof-of-work (PoW) coin that uses the Ethash hashing algorithm. Its launch date was July 30th, 2015. Ethereum's total supply is 114,114,759 coins. The official message board for Ethereum is forum.ethereum.org. Ethereum's official Twitter account is @ethereumproject and its Facebook page is accessible here. The Reddit community for Ethereum is /r/ethereum and the currency's Github account can be viewed here. The official website for Ethereum is www.ethereum.org.
According to CryptoCompare, "Sandwich complexity model: the bottom level architecture of Ethereum should be as simple as possible, and the interfaces to Ethereum (including high level programming languages for developers and the user interface for users) should be as easy to understand as possible. Where complexity is inevitable, it should be pushed into the "middle layers" of the protocol, that are not part of the core consensus but are also not seen by end users – high-level-language compilers, argument serialization and deserialization scripts, storage data structure models, the leveldb storage interface and the wire protocol, etc. However, this preference is not absolute. Freedom: users should not be restricted in what they use the Ethereum protocol for, and we should not attempt to preferentially favor or disfavor certain kinds of Ethereum contracts or transactions based on the nature of their purpose. This is similar to the guiding principle behind the concept of "net neutrality". One example of this principle not being followed is the situation in the Bitcoin transaction protocol where use of the blockchain for "off-label" purposes (eg. data storage, meta-protocols) is discouraged, and in some cases explicit quasi-protocol changes (eg. OP_RETURN restriction to 40 bytes) are made to attempt to attack applications using the blockchain in "unauthorized" ways. In Ethereum, we instead strongly favor the approach of setting up transaction fees in such a way as to be roughly incentive-compatible, such that users that use the blockchain in bloat-producing ways internalize the cost of their activities (ie. Pigovian taxation). Generalization: protocol features and opcodes in Ethereum should embody maximally low-level concepts, so that they can be combined in arbitrary ways including ways that may not seem useful today but which may become useful later, and so that a bundle of low-level concepts can be made more efficient by stripping out some of its functionality when it is not necessary. An example of this principle being followed is our choice of a LOG opcode as a way of feeding information to (particularly light client) dapps, as opposed to simply logging all transactions and messages as was internally suggested earlier – the concept of "message" is really the agglomeration of multiple concepts, including "function call" and "event interesting to outside watchers", and it is worth separating the two. Have No Features: as a corollary to generalization, the dev team often refuses to build in even very common high-level use cases as intrinsic parts of the protocol, with the understanding that if people really want to do it they can always create a sub-protocol (eg. ether-backed subcurrency, bitcoin/litecoin/dogecoin sidechain, etc) inside of a contract. An example of this is the lack of a Bitcoin-like "locktime" feature in Ethereum, as such a feature can be simulated via a protocol where users send "signed data packets" and those data packets can be fed into a specialized contract that processes them and performs some corresponding function if the data packet is in some contract-specific sense valid. Non-risk-aversion: the dev team is okay with higher degrees of risk if a risk-increasing change provides very substantial benefits (eg. generalized state transitions, 50x faster block times, consensus efficiency, etc) "
Ethereum Coin Trading
Ethereum can be traded on these cryptocurrency exchanges: . Investors seeking to trade Ethereum using US dollars directly can do so using Gemini, Coinbase or Changelly.
Receive News & Updates for Ethereum Daily – Enter your email address below to receive a concise daily summary of the latest news and updates for Ethereum and related cryptocurrencies with MarketBeat.com's FREE CryptoBeat newsletter.
Source: www.themarketsdaily.com
Author: Mitch Edgeman
As Ethereum Gas Fees Break Records, Optimistic Primes Layer-2 Solution Trial
Ethereum Layer-2 scaling solution Optimistic PBC has announced a firm date for when it will launch its mainnet trial with Synthetix.
Optimism PBC announced a trial run of its highly-anticipated Layer-2 Ethereum scaling solution, Optimistic Network, on Jan. 15. The tech firm will partner with popular DeFi protocol Synthetix to execute the trial.
The two teams will port Synthetix contracts to the Optimistic Virtual Machine (OVM) for initial deployment and analysis. The OVM is compatible with the Ethereum Virtual Machine (EVM), allowing developers to port Ethereum-based smart contracts.
Optimism claims the mainnet may help DeFi teams cut gas costs on the number two network and improve user experience. During Ethereum's bullish run up past $1,000, gas fees reached an all-time high, costing users and DeFi platforms alike both money and usability.
Besides Synthetix, other leading DeFi projects such as Chainlink and Uniswap have also expressed interest in integrating with the Optimistic Network.
The upcoming trial run is expected to run for two months, after which Optimism will release a community version of the mainnet in March 2021.
The information on or accessed through this website is obtained from independent sources we believe to be accurate and reliable, but Decentral Media, Inc. makes no representation or warranty as to the timeliness, completeness, or accuracy of any information on or accessed through this website. Decentral Media, Inc. is not an investment advisor. We do not give personalized investment advice or other financial advice. The information on this website is subject to change without notice. Some or all of the information on this website may become outdated, or it may be or become incomplete or inaccurate. We may, but are not obligated to, update any outdated, incomplete, or inaccurate information.
You should never make an investment decision on an ICO, IEO, or other investment based on the information on this website, and you should never interpret or otherwise rely on any of the information on this website as investment advice. We strongly recommend that you consult a licensed investment advisor or other qualified financial professional if you are seeking investment advice on an ICO, IEO, or other investment. We do not accept compensation in any form for analyzing or reporting on any ICO, IEO, cryptocurrency, currency, tokenized sales, securities, or commodities.
See full terms and conditions.
Source: cryptobriefing.com
Author: by
Vishal Chawla
Ethereum Wobbles Around $1K in Volatile Trading; What's Ahead?
Ethereum dropped heavily during the thinly-traded early European session Monday, breaking below $1,000 from its three-month high of $1,168.99.
The second-largest cryptocurrency briefly tumbled to $886 due to profit-taking among daytraders. Meanwhile, its downside correction caused long liquidations worth nearly $330 million across all the crypto derivatives exchanges. That may have prompted overleveraged traders to sell their existing ETH holdings to cover their margin calls, creating further downside pressure on its value.
Ethereum logs an extreme wick on each side, reflecting an intraday bias conflict. Source: ETHUSD on TradingView.com
But the price managed to stay in positive territory ahead of the US session. Ethereum's correction to below $900 followed a sharp upside retracement towards $1,000, reflecting moderate buying sentiment near the lower levels.
The $1,000-level later assumed the role of a pivot. That said, if ETH/USD stays above the price floor, then it shows an intraday bullish bias, but if the pair plunges below it, then it reflects a bearish bias on the same short-term timeframe.
Ethereum eyes further upside as long as it holds the red support area, per Rekt Capital. Source: ETHUSD on TradingView.com
Technically, Ethereum could pull back to its 20-day moving average (the green wave near $730) and still retain its bullish bias. That is due to the cryptocurrency's performance during the year-end holiday trade—from $551 on December 23 to as high as $1,168.99 on January 4—which gives it ample room to locate a short-term bottom and re-attract buyers.
"The old resistance is a new support," stated a pseudonymous analyst on Monday, pointing to the area between $750 and $915. He noted that the range could become an ideal "dip-buying territory."
The core question remains that what prompts traders to purchase Ethereum in the first place. The answer lies in the classic supply-demand economic model.
CryptoQuant CEO Ki-Young Ju noted that people are actively withdrawing their ETH holdings from crypto exchanges all across the board. That means that a majority of them have other interests than trading their Ethereum for other assets.
They might include staking, which involves providing crypto tokens to ensure liquidity on decentralized finance protocols in return for yields. Meanwhile, traders may also be holding ETH for the long-term, thereby decreasing its active supply against an increasing demand.
"It seems the sell-side liquidity crunch started to hit ETH just like the BTC market," said Mr. Ju. "For BTC, all exchanges' reserves decreased by 31% compared to Feb 2020. For ETH, all exchanges' reserves decreased by 20% compared to May 2020."
Meanwhile, a higher funding rate in the short-term offsets Ethereum's long-term bullish outlook. Data provided by Glassnode shows that the Ethereum futures' funding rate is around 0.2 percent across all the derivatives exchanges. The average threshold is 0.01 percent.
#Ethereum funding rates are at a record high, breaking an average of 0.2% across major exchanges.#BitMEX is leading the pack with a funding rate above 0.4%
Chart 👉 https://t.co/Rh5p064hqF pic.twitter.com/Ra94iGxniL
— glassnode (@glassnode) January 4, 2021
That increases the possibilities of more long liquidations, given the derivatives market remains overwhelmingly bullish despite near-term corrections risks in the spot one.
Source: bitcoin-core-news.com
Author: by admin
Previous
Next