Kraken Launches Ethereum 2.0 Staking
One of the biggest crypto exchange has launched the option to stake on ethereum 2.0 today.
"ETH staking launches Friday, December 4 at approximately 13:30 UTC," they say with "variable staking rewards of approximately 5% to 17% yearly, based on the network rate."
Rewards are received weekly and anyone can stake small amounts on the crypto exchange and now chartered bank.
In addition next week they will launch the ability to "trade staked ETH for unstaked ETH (market will not be available for clients in the US and Canada)."
Unlike Binance and OKEx which talk about some beth token, Kraken seems to suggest they will launch a 'simple' market where people can sell their staked eth.
Presumably this market would be Kraken specific because you can't arbitrage it to other exchanges as there wouldn't be a way to transfer the beth.
It could have potentially been done at the deposit contract level by somehow wrapping the staking eth to then give ownership to it to the beth token, but that wasn't done so it isn't clear how a beth token can be launched in a workable way when so many exchanges would need minting rights.
All suggesting transfers may be limited to within exchanges, which could potentially cause different prices on different exchanges. Kraken says:
"Two important caveats about the market to exchange staked ETH for unstaked ETH:
The market will NOT be available for users located in or residents or citizens of the US and Canada (these clients can stake ETH, but not trade their staked ETH for unstaked ETH).
We offer no guarantees of any kind about the continued availability or liquidity of this market – price slippage in market orders should be expected and it may be difficult to exchange staked ETH for unstaked ETH in large amounts or at all, and this market may not be available for the duration of the Ethereum 2.0 transition."
US users are presumably excluded due to concerns this may somehow be classified as a security. That shouldn't be a concern for Coinbase because they bought a company with the relevant security licenses, so they can platform securities.
Coinbase has announced something similar to Kraken as well, but it isn't clear when their staking service goes live.
What is clear however is that eth staking is becoming a lot more liquid with these centralized services in addition having an advantage during the transition as they can facilitate a market for staked eth.
Source: www.trustnodes.com
Ethereum Price Prediction: ETH/USD May Push the Market Price above $650 as Bulls Set Target at $700
ETH Price Prediction – December 3
ETH/USD is still struggling to stay above $650 as the entire market takes a brief pause.
Key Levels:
Resistance levels: $650, $670, $690
Support levels: $550, $530, $510
ETH/USD is currently recovering above $600 and it is likely to climb back above $630 soon. Ethereum has remained relatively flat for the past four days as the bulls and bears are fighting for the $600 level. The yearly-high remains at $636 with the nearest support level located at $575 in the short-term.
If Ethereum price breaks above the upper boundary of the channel, it could test the potential resistance at $640. However, a successful break above the channel and $640 could open the doors for a fresh increase above the $645 level. In the mentioned case, the price is likely to rise towards the $650, $670, and $690 resistance levels in the coming sessions.
Moreover, as the technical indicator RSI (14) moves around the 65-level, which means that the market remains at the upside but breaking below this level, may cause the coin to hit the nearest support at the $570 level. If there is a bearish break below the 9-day moving average, ETH/USD could test the $560 support. The next major support is near the $550 level, where the bulls are likely to take a strong stand. Any further losses could lead the price towards the $530 and $510 support levels.
Against Bitcoin, the Ethereum price remains above the 9-day and 21-day moving averages as the market keeps moving sideways; approaching the 0.0320 BTC resistance level. Meanwhile, the 4-hours RSI (14) is revealed moving above 55-level, a slight bullish confirmation.
However, if the price breaks the important 0.032 BTC level, the bulls might push the market back to the 00.033 BTC towards the upper channel. If a breakout occurs above the upper boundary of the channel, traders may expect an immediate resistance at 0.034 BTC and above. Below the channel, the key supports lie at 0.0280 BTC and below.
Source: insidebitcoins.com
Author: FOLLOW ON
CRYPTO NEWS: Latest BITCOIN News, ETHEREUM News, COINBASE News
Source: cryptolearningvideos.com
Author: by admin
Coinbase, Binance and OKEx Announce Ethereum 2.0 BETH
Three of the biggest crypto exchanges have announced that ethereans staking with them will receive what some are calling an eth bond where one eth is one beth.
"Till ETH2.0 launches transfer feature, you will be able to redeem any staked ETH for BETH in a 1:1 ratio. Redemption will be determined based only on the amount of BETH you have available at the time, and is unrelated to the amount that you initially staked or exchanged," Binance said in announcing ethereum 2.0 staking services.
The statement above suggests you receive normal eth instead of staking eth for your beth, with it unclear who exactly keeps the staking eth.
Presumably it would be Binance itself, the exchange, in which case where are they getting this eth they're giving for beth as the staking eth is locked.
They could well buy it on the market, so taking liability risks, but OKEx interestingly has announced they are to launch a beth trading pair.
"OKEx will open BETH trading once it has finished an evaluation of the staking system," they say.
While Coinbase announced prior to eth2 going live that there will be a market for eth/eth2 trading, stating:
"While staked ETH2 tokens remain locked on the beacon chain, Coinbase will also enable trading between ETH2, ETH, and all other supported currencies providing liquidity for our customers."
Coinbase gives almost no detail but Binance and OKEx refer to what OKEx calls "a token that is anchored to the on-chain staked asset," but neither explains how exactly it is anchored or what is the address of this token or how Binance and OKEx agree on just which one is the beth token.
Both however say the 5% to 20% staking yield will be given, presumably after they take the fees, but since this Binance and OKEx beth can freely exchange hands, it's not clear how OKEx or Binance will know just which is their beth to give the yield.
OKEx for its part suggests the reward will be in USDt, while Binance says it will be in beth:
"Yield will be calculated based on the number of staked tokens on-chain and lock up times, and will be issued in BETH," Binance says.
All of it suggesting the rewards will be issued only to the beth held on their own exchange, as otherwise it's not clear how they'd know which on-chain beth is theirs and which some other exchange's.
However, if they spruce up the details in a workable manner all this suggests anyone can enter and leave ethereum staking at will with these services to launch later this month.
In addition the speculative element of beth/eth seems to be cancelled by the fact they can be redeemed at one to one. If one way, then there wouldn't be any easy way to arbitrage, while a two way conversion should keep the two assets at the same value with the exchanges suggesting the latter.
It would be at roughly the same value however as one would have to account for slashing and the like, making this eth bond a very complex matter.
But one can stake for as low as 0.1 eth in these services, and since you get beth you can leave at any time, removing one of the biggest concern of prospective stakers in regards to the unknown lock up time.
Meaning ethereum staking will soon become a lot more liquid and if these exchanges show a proper execution of these eth bonded beth, we may well start to see arbitraging and yield farming between defi and staking which should change the game considerably.
Source: www.trustnodes.com
Stablecoins Get Another Headache In US, Ethereum Camp Feels Attacked Too
Source: Adobe/Krakenimages.com
The stablecoin regulation act proposed in the US Congress has once again stressed an important difference between centralized and decentralized projects in terms of regulation. (Updated at 13:22 UTC: updates in bold.)
There is much discussion currently in the Cryptoverse over the recent announcement of an act that seeks to regulate stablecoins within the US. A major one is that the act proves once more that decentralized options need to be developed more, as anything that is remotely centralized will be supressed by heavy regulation. "This is why it's imperative to focus on *truly* decentralized and permissionless finance down the entire stack," argued Eric Conner, a product researcher at blockchain startup Gnosis. "Any centralized points of failure will be stifled by regulation written by those who do not understand what we are building."
Bitcoin educator Andreas M. Antonopoulos also argued that the act won't be enacted, but what's interesting about it is that "it can only apply, by definition, to centralized fiat-backed stablecoins, therefore making decentralized alternatives even more attractive."
2/ I don't like having fewer options for my money, but OTOH there is a reason why OGs push for things like denominating value in sats instead of USD….ultimately, peggedcoins are another form of slavery to fiat & tech companies, are centralized & are thus fair game for regs…
— _gabrielShapir0 (@lex_node) December 3, 2020
This week, US Congresswoman Rashida Tlaib, with Congressmen Jesús "Chuy" García and Chairman of Task Force on Financial Technology Rep. Stephen Lynch, introduced the so-called 'Stablecoin Tethering and Bank Licensing Enforcement (STABLE) Act,' aka the 'Stablecoin Classification and Regulation Act of 2020.'
The announcement said that this act would "protect consumers from the risks posed by emerging digital payment instruments, such as Facebook's Libra and other stablecoins currently offered in the market, by regulating their issuance and related commercial activities," which they find particularly necessary during the COVID-19 pandemic.
However, significantly for all the current and future issuers of stablecoins wanting to do business in the US, they would have to obtain a banking charter; get an approval from the Federal Reserve, Federal Deposit Insurance Corporation (FDIC) and appropriate Federal banking agency; provide conduct an ongoing analysis of any potential systemic risk; and obtain FDIC insurance or otherwise maintain reserves at the Federal Reserve to ensure that all stablecoins can be readily converted into United States dollars, on demand.
But many, such as Meltem Demirors, CoinShares' Chief Strategy Officer, argued that the act would have the opposite effect of what the trio stated they want to accomplish.
this has the OPPOSITE effect
cryptocurrencies LOWER the cost of servicing populations that have historically been excluded from the banking sector. raising costs and compliance obligations forces companies to cut access for unprofitable clientele.
please, no more clowning 🤡 https://t.co/IbjqXJpT4F
— Meltem Demirors (@Melt_Dem) December 2, 2020
The 116th Congress will end on January 3, which is the final deadline for this regulation to pass.
My understanding is it'll be reintroduced, but given how fast things are moving w OCC & Diem, getting this out asap was a priority. We'll see w/r/t chances/where support ends up by end of session. Things change fast, esp if Diem's Jan 2021 timeline is real.
— Rohan Grey (@rohangrey) December 3, 2020
"Diem," or the Diem Association, is the new name of the Facebook-backed Libra Association, responsible for developing the Libra stablecoin project. As reported last week, Libra is rumored to launch as a single coin backed 1:1 to USD reserves as early as January, 2021.
"We are reading the Stablecoin Classification and Regulation Act of 2020. At this time, we have no comment on its provisions or its prospects for passage in the current session of the US Congress. As more governments debate public policy around stablecoins, Tether will be ready to respond and offer the benefit of its success and experience in the space to interested and appropriate parties," Stuart Hoegner, General Counsel at Tether, the issuer of the most popular stablecoin, USDT, told Cryptonews.com.
This initiative has prompted numerous other debates within the Cryptoverse on highly complex matters, raising quite a few unanswered questions. Among these, there is a subnarrative forming that this regulation might be relevant for Ethereum (ETH) too, while Bitcoin (BTC) might be off the hook.
The basis of this very complex and unresolved argument are nodes, who runs them, what's there done by choice, what they're processing, and would the act make running nodes illegal – among various other layered questions. "Someone could attack Ethereum by spamming it with millions of complex transactions that result in stablecoin deposits," said Uniswap founder Hayden Adams. "Ethereum would grind to a halt." But Rohan Grey, a third-year J.S.D. (Doctor of Juridical Science) Candidate at Cornell Law School, replied to those arguing this and similar positions, stating "You're taking the Ethereum network as a fixed variable and saying that it's impossible for node validators on it to know what transactions they are verifying. I'm saying running Ethereum itself is a *choice* and if that's an issue then change the code or run a diff network."
Nothing is being regulated out of existence. The bill requires actors that issue stablecoins, ie deposits, to get a deposit license.
— Rohan Grey (@rohangrey) December 3, 2020
At the same time, Grey agreed that BTC's properties would keep it unaffected by this regulation.
Indeed. This is a crucial distinction and note that while I have no particular love for bitcoin, this bill in no way tries to regulate it out of existence or anything else precisely b/c it isn't a systemic risk to monetary system in the same way as stablecoins.
— Rohan Grey (@rohangrey) December 3, 2020
The long discussion between Grey, OpenLaw CEO Aaron Wright and others was stopped for the lack of agreement, with Wright warning that US might be put at a competitive disadvantage.
We'll have to agree to disagree. I think it's increasingly hard to argue that public blockchains aren't the future financial infrastructure.
Trying to stop that will just put the US at a competitive disadvantage and likely do more harm than good in the long run.
— Aaron Wright (@awrigh01) December 3, 2020
But while Grey argued that it's not uncommon that "new entrants into the financial space believed themselves uniquely worthy of exemptions from regulatory scrutiny and public accountability," there are opinions that centralized stablecoins are not innovative, and possibly need to be regulated, as some find their issuers are slowly turning into traditional institutions anyway – but it still leaves the matter of decentralized stablecoins like DAI.
"The draft bill is extremely broad, applying to "any person" who issues any type of stablecoin or "otherwise engage[s] in any stablecoin-related commercial activity[.]'," said Jake Chervinsky, General Counsel at Compound Finance. "So technically, it would require a banking charter for anyone who wants to mint DAI as well."
It's a joke and it represents a power-mad authoritarianism of US universal jurisdiction.
Precisely why decentralized systems are needed and precisely what they're up against.
— Andreas ☮ 🌈 ⚛ ⚖ 🌐 📡 📖 📹 🔑 🛩 (@aantonop) December 3, 2020
Other discussions include questions over what ambiguous projects could be defined as stablecoins, could the act eventually lead to banning crypto, and whether the perceived harms the authorities are trying to regulate are actually "inherent in the existing financial system that cryptocurrencies are designed to replace."
____
So-called "stablecoins" are not cryptocurrencies.
They're just competitors of PayPal.
Existing regulations should apply already…?
Cryptocurrencies don't have providers.
Sincerely, the longest active cryptocurrency developer in the world.
— Luke Dashjr aka @[email protected] (@LukeDashjr) December 3, 2020
__
The guy trying to regulate our stablecoins also wanted to print a trillion dollar coin (two of them, actually).
Imagine being worried about deposit risk but then also being ok with the government bailing themselves out with a trillion dollar coin. https://t.co/YSXyPzAdz5
— cyrus.ismoney.eth (@cyounessi1) December 3, 2020
__
And force them to seek regulatory arbitrage overseas with the exception of the select few projects who are financed by VC funds with deep pockets & ex-regulators as partners.
See how the Reg D exemptions & cost was mostly used by USV portfolio companies who could afford it
— Ma/ya Zehavi (@mayazi) December 3, 2020
__
The looming issue in the Stable Bill is the impact on DeFi/crypto protocols that facilitate stablecoin adjacent trades/instruments. If every new DeFi product needs approval the US is essentially handing out all crypto innovation to the select few financed by first-tier SV VCs https://t.co/26CubUT934
— Ma/ya Zehavi (@mayazi) December 3, 2020
__
Crypto regulation in BASIC
10. Banks suck
20. Crypto works better
30. Banks fear competition, appeal to Govt regulators
40. Regulators freak out
50. Govts regulate the parts of crypto that look like banks
60. Crypto evolves to look less like banks
70. GOTO 10
— Andreas ☮ 🌈 ⚛ ⚖ 🌐 📡 📖 📹 🔑 🛩 (@aantonop) December 3, 2020
Source: coinbazz.com
Author: Posted by George Harrison
All Posts
TA: Ethereum Consolidates Above $600, A Strengthening Case for Upside – Accu-rate
Ethereum cleared the $600 resistance level and tested the $625 zone against the US Dollar. ETH price is consolidating above $600 and likely setting up for the next move.
Ethereum settled above the key $600 resistance level and climbed towards $625.
The price is currently consolidating near the $600 support and the 100 hourly simple moving average.
There is a major contracting triangle forming with resistance near $620 on the hourly chart of ETH/USD (data feed via Kraken).
The pair could start a fresh increase above $620 as long as it is above the 100 hourly SMA.
There was a steady increase in Ethereum after it broke the $600 resistance. ETH price even broke the $610 level and settled above the 100 hourly simple moving average.
It traded close to the $625 resistance before starting a downside correction. A high was formed near $624 and the price corrected lower below $615. There was a break below the 50% Fib retracement level of the upward move from the $587 swing low to $624 high.
Ether is currently approaching the $600 support zone and trading above the 100 hourly simple moving average. There is also a major contracting triangle forming with resistance near $620 on the hourly chart of ETH/USD.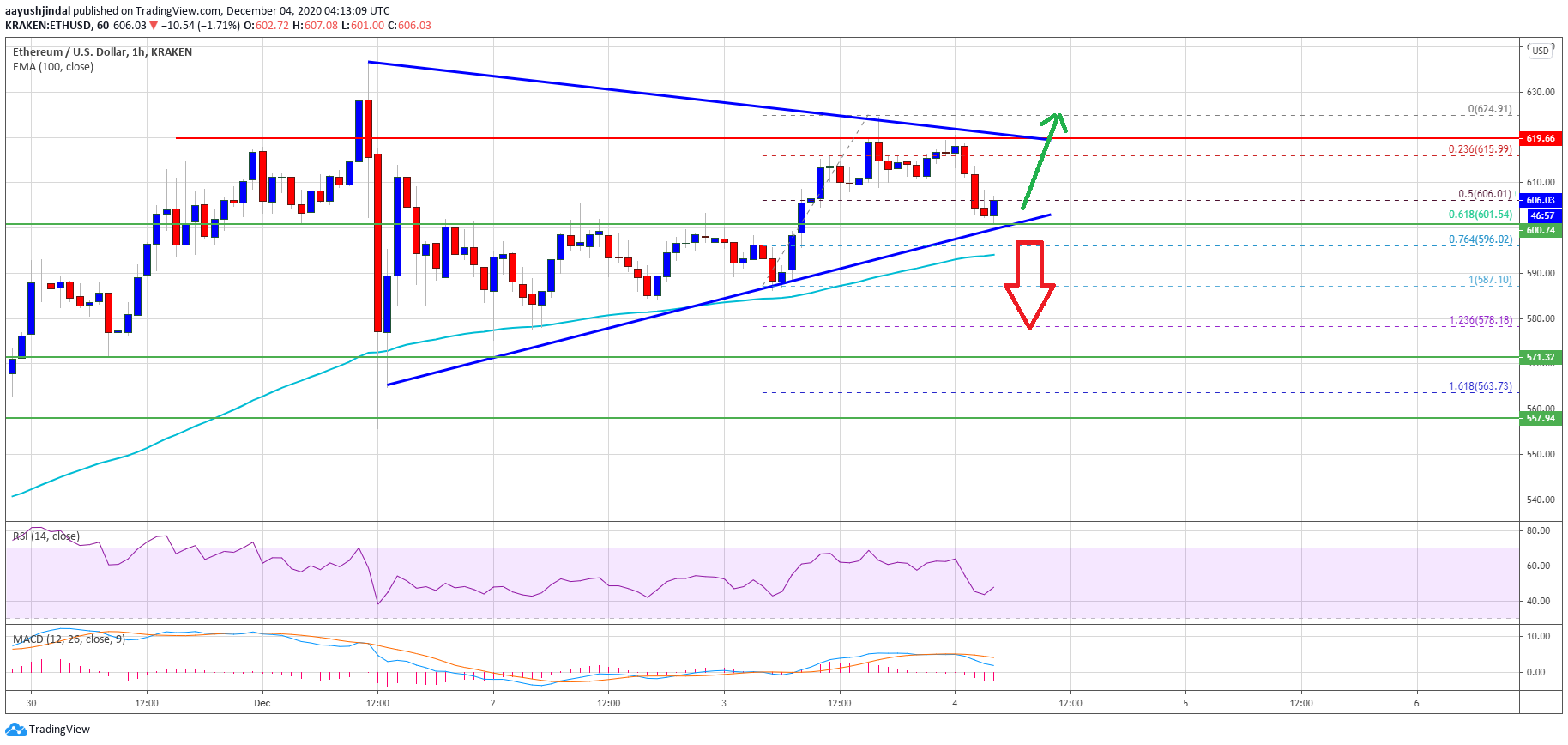 Source: ETHUSD on TradingView.com
The triangle support is close to the 61.8% Fib retracement level of the upward move from the $587 swing low to $624 high. As long as the price is above the $600 support and the 100 hourly simple moving average, it could start a fresh increase.
An initial resistance is near the $615 level. The main resistance is near the $620 level, above which ether price is likely to accelerate higher above $625 and $630.
If ethereum fails to clear the $615 resistance and the triangle upper trend line, there is a risk of a downside break. The first key support is near the $600 level and the 100 hourly simple moving average.
A downside break below the $600 support and the 100 hourly SMA could spark a sharp decline. The next major support is near the $570 level, where the bulls are likely to take a stand.
Technical Indicators
Hourly MACD – The MACD for ETH/USD is slowly losing momentum in the bearish zone.
Hourly RSI – The RSI for ETH/USD is currently rising and approaching the 50 level.
Major Support Level – $600
Major Resistance Level – $620
Source: news.accurateft.com
Previous
Next