A Bullish Pattern Is Formed Despite Bitcoin's Recent $ 3,000 Correction-$ 16200 Is Important Support Level
Bitcoin has performed a strong correction from its high of around $ 19,500. The leading cryptocurrency is currently trading at USD 16700 to 17200 range, although it has recently dropped to $ 16,200.
This means that Bitcoin fell by more than $ 3,000 from its local highs.
This correction was not well received by many as a few days ago, majority expected Bitcoin to move to new all-time highs. The market was extremely bullish so some analyst expected a drop.
This downward rally has formed a bullish pattern. BTC actually bounced back at an extremely important macro level.
Bitcoin Forms Bullish Candle Despite Falling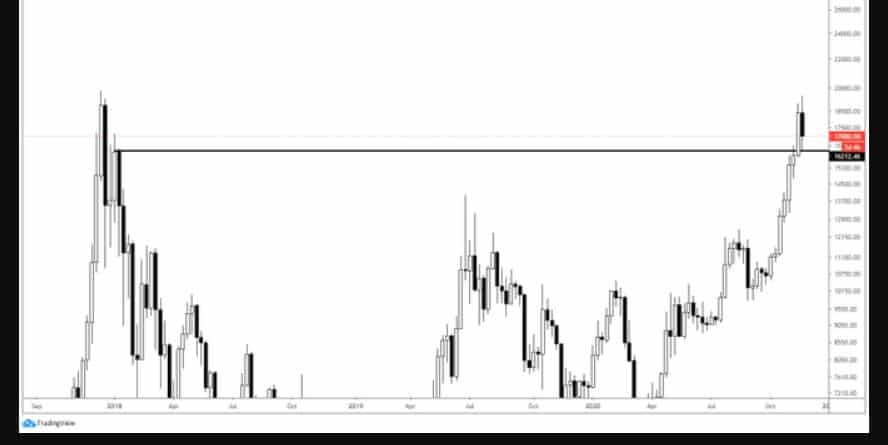 Bitcoin Weekly Chart
Bitcoin's strong $ 3,000 correction found a strong support on very important level of $ 16,200.
Many traders shared the chart and have a common view that Bitcoin's weekly candle bounced at an extremely important level.
The importance of this level extends to the 2017/2018 highs. The chart shows that Bitcoin actually touched $ 16,200 and then corrected 40% before achieving all time high in 2017. This resistance of 16200 USD in 2017 is now becoming a support in 2020, and is extremely important and if BTC is able to remain on the top of this support, there are solid chances that new all time highs will be achieved.
Bitcoin, finding support here on this weekly chart, could confirm that the uptrend remains intact.
It is important that BTC actually trades above $ 16,200 over the next two days in order to confirm this level as technical support.
However, Bitcoin could face another leg lower. Key Young Joo, CEO of crypto data analytics firm CryptoQuant, recently noted that whales have deposited more BTC than usual on exchanges.
"BTC whales make deposits on exchanges. I expect dumping in the short term. On all exchanges, the average inflow was more than normal. To me we are still in a danger zone. The price may go sideways or even go more down when the whales are active on the exchanges. Investors can sell their coins, which could lead to further sell-off".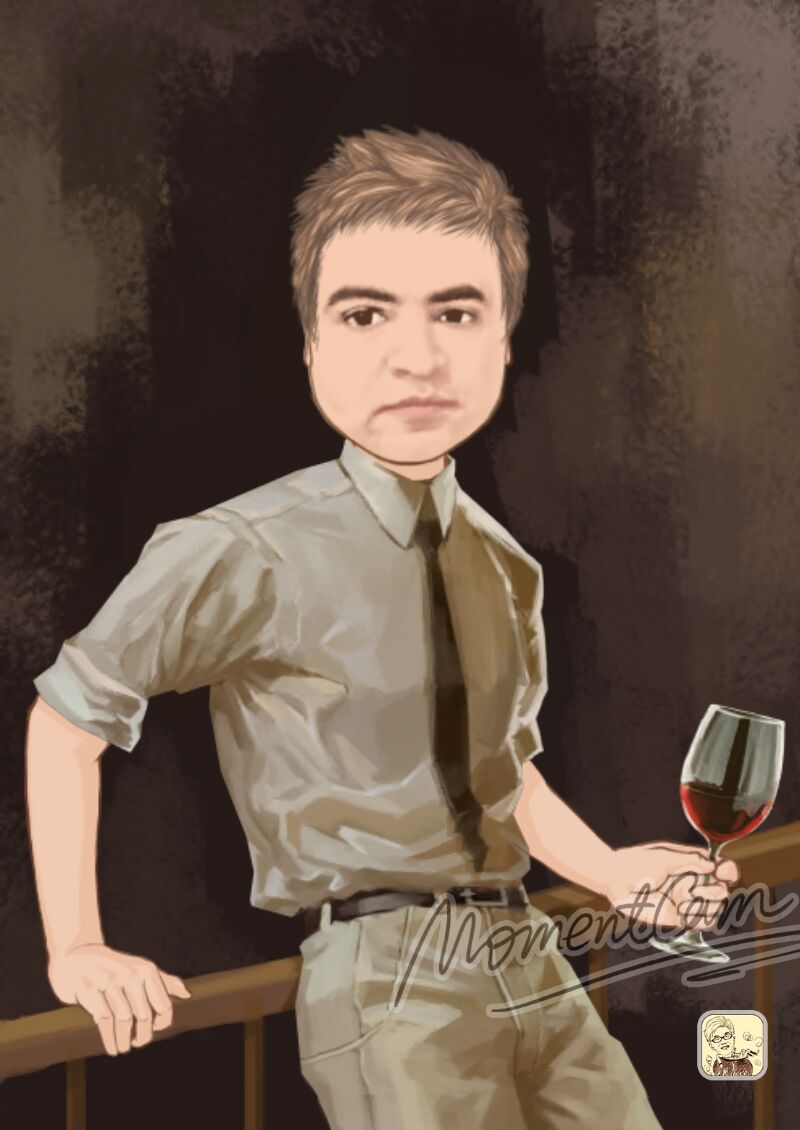 Involved in cryptocurrencies for more than five years, Love to trade, and write on cryptocurrencies. My basic aim is to provide genuine information to cryptocurrencies readers because crypto is filled with frauds and scams. True information is very rare to get. So I will be providing accurate information about cryptocurrencies topics, that users can trust.
Source: thecryptobasic.com
Author: Jakkk
What happens to your Bitcoin when you die?
As cryptocurrency investment becomes more and more popular, long-term investors are increasingly concerned with the uncomfortable question: what happens to your Bitcoin (BTC) when you die?
According to a 2020 study by the Cremation Institute, nearly 90% of crypto owners are worried about what happens to their crypto after they pass away. Furthermore, despite a high level of concern, crypto holders are reportedly four times less likely to use wills for inheritances than non-crypto investors.
As explained in its white paper, Bitcoin is a purely peer-to-peer version of electronic cash allowing online payments to be sent directly from one party to another without going through a financial institution.
As a distributed network, Bitcoin has no central authority to control user funds, so no one but the owners themselves can control their assets.
Consequently, millions of dollars in crypto are being lost each year through the deaths of the owners. Crypto insurance firm Coincover estimates that nearly 4 million Bitcoin, or $68 billion at publishing time, are out of circulation after access was lost, with a large portion likely caused by death.
But this doesn't mean that cryptocurrencies like Bitcoin can't be bequeathed and will inevitably be buried forever with th deceased owner.
In fact, there are a number of ways for investors to bequeath their crypto to the next generation, but each method requires some decision making and planning, as well as some general knowledge about how crypto works
Sharing keys with trusted family members is probably one of the most straightforward methods to passing on your crypto. Some of the most prominent people in the crypto industry have publicly claimed to use this method to ensure their crypto fortune gets passed on.
Hal Finney, an early supporter of Bitcoin and recipient of the first Bitcoin transaction from BTC creator Satoshi Nakamoto, willed his crypto holdings to his children by simply providing his keys. About a year before his death in 2014, Finney wrote:
"Those discussions about inheriting your bitcoins are of more than academic interest. My bitcoins are stored in our safe deposit box, and my son and daughter are tech savvy. I think they're safe enough. I'm comfortable with my legacy."
This crypto inheritance practice is straightforward but may not be suitable for everyone in the crypto community. This way of bequeathing Bitcoin could be also considered risky as shared keys come with the responsibility of keeping those assets secure. If you choose this method, be sure that your heirs are aware of the plan and some best practices for crypto security.
Despite the Bitcoin network itself not caring about things like inheritance, some crypto services can allow family members of a deceased client to access their crypto assets. Major United States-based cryptocurrency exchange and wallet service Coinbase, for example, allows the bereaved to gain access to a family members' assets after providing a number of documents including a death certificate and a last will.
Coinbase users can also name a beneficiary on their Coinbase account. However, the procedure is not supported directly through Coinbase but rather using the services of an estate planning attorney.
A spokesperson for Binance — the world's largest crypto exchange — told Cointelegraph that the company has similar policies for providing access to crypto beneficiaries, but did not elaborate on the process. "The beneficiary should contact customer support directly where one of our agents can guide them through the process," the representative said.
There are also some projects that are dedicated to ensuring the inheritance of digital assets. For example, companies like Safe Haven, Casa and TrustVerse are working on their own solutions that allow people to bequeath their crypto assets using blockchain technology and cryptography.
Officially launched in September 2020, Safe Haven's digital inheritance platform Inheriti allows users to bequeath access not only to cryptos like Bitcoin but also to social media profiles like Facebook and Google+. Logino says that neither Safe Haven nor Inheriti will ever store any digital assets themselves but rather provide a service to store encrypted information to the assets in question. "It is 100% your decision who gets a Safe Key since Safe Haven or the platform Inheriti has no idea what you are encrypting," said Safe Haven CEO Dujardin Logino.
Logino told Cointelegraph that Inheriti has been gaining more traction amid the ongoing COVID-19 pandemic:
"In the last few weeks we have seen our platform grow to more than 1,000 unique users in the space. With the COVID-19 situation we are experiencing a huge demand from crypto and non-crypto people for our solution."
While specialized services may offer a tailor-made solution to the crypto inheritance problem, they are generally in their early stages of development and also charge a fee. According to Logino, each back-up share by Safe Haven costs about $20 to $40 in the firm's native token SHA. A standard edition solution also charges a $5 monthly subscription.
Source: crytonow.com
Author: adminhttps://crytonow.com
Exchanges outdo auctions for governments cashing in criminal crypto, says exec
Earlier this week, Lithuania's tax service, the Lithuanian State Tax Inspectorate, added $7.6 million dollars to the state budget through the sale of cryptocurrencies seized in criminal investigations.
The occasion marked the first time that the Lithuanian government liquidated confiscated cryptocurrencies. In doing so, the country joined the growing number of jurisdictions worldwide that have auctioned off or sold cryptos obtained by the long arm of the law.
However, unlike the United States Federal Marshals, which netted $37 million at auction from confiscated crypto last February, the STI opted to sell the crypto through an exchange. According to Linas Rajackas, CEO of Vilnius-based crypto startup Kaiserex, this seemed to work out in the regulator's favor:
"We managed to sell Bitcoin above average that day's price, no auction would have achieved that. STI spent less than 0.2% from the total received amount (6.4 million euro) on exchange fees, legal contracts and crypto transaction services. So it was as efficient as it can possibly get."
The STI chose Kaiserex as a technology partner for selling the cryptocurrency via a public tender. STI head Edita Janušienė told Cointelegraph:
"The goal of the STI was to convert the cryptocurrency into euros as soon as possible. Therefore, first of all, a decision was made to announce a public tender in search of a national supplier. Four Lithuanian companies participated in the tender, which was won by Kaiserex."
According to Janušienė, the crypto sale started on Nov. 18 and took nearly 24 hours to complete, with the STI eventually adding more than 6.4 million euro to the state budget. The rypto was initially confiscated by a local court. While Janušienė confirmed the partnership Kaiserex, she did not elaborate as to why the regulator shied away from the auction model.
Rajackas speculated that "[the STI] have consulted with professionals in the field and it was obvious that selling at large OTC desks would be much more profitable than doing it in an auction. Auction in comparison is a very bad choice, because you can not know in advance a good day to sell, set the price or back off."
Kaiserex completed the sale through an over-the-counter desk at a major cryptocurrency exchange. Rajackas said, "I can not tell the OTC desk that we used, what I can tell is that it is in the top five crypto exchanges worldwide." At publishing time, the top five crypto exchanges on CoinMarketCap are Binance, Huobi Global, Coinbase Pro, Kraken and Bithumb.
What cryptocurrency will become the main one in a year?
The sale involved about 337 Bitcoin (BTC), 360 Ether (ETH) and nearly 12,000 Monero (XMR). Each cryptocurrency was sold at a market price on the day of the trade, with one BTC priced at 15,100 euros ($17,900), one ETH at 400 euros ($480), and one XMR at 99.6 euro ($119).
The bull market, in which Bitcoin briefly broke the $19,000 threshold, was one reason the sale was so profitable, according to Rajackas. "This made it possible to sell the available cryptocurrency at record prices and extract the maximum amount of euros," Rajackas said, adding:
"My opinion would be that if a government wants to have exposure in crypto it should be done by our finance ministry, which plans and takes care of government's assets. STI deals with taxes and realizing confiscated assets, they have no business in speculation or holding something as an investment."
Kaiserex is a cryptocurrency exchange acting as a broker connected to more than 40 crypto exchanges and multiple OTC desks. Rajackas, who owns 100% of the company shares, says that Kaiserex is not listed on major crypto websites like CMC because it does not have internal order books and relies on other exchanges for liquidity.
The company reportedly plans to continue working with the Lithuanian institutions on similar cryptocurrency deals and support the Lithuanian central bank in its digital currency efforts.
Source: crytonow.com
New York Times Pans Coinbase's Race Policies
The New York Times published a critical piece on Coinbase's handling of Black employees.
It alleges that Black employees were discriminated against and excluded by the exchange company.
Coinbase contested those allegations in an internal notice, which it also released to the public.
The New York Times published a piece today denouncing Coinbase's handling of Black workers today, reigniting a controversy that has been underway since September.
The New York Times reports that 23 of Coinbase's Black employees have reported discrimination over the past several years. It says that 15 of those employees left the company or were fired over issues dating back to 2018 and earlier.
Furthermore, a tipping point occurred when Coinbase attempted to position itself as an apolitical company this year. In June, discussions around the killing of George Floyd and Black Lives Matter protests became heated. By September, Coinbase decided to restrict political activity in the workplace. That decision led 60 Coinbase employees to quit and accept severance packages.
The New York Times also suggests that Coinbase employs too few minority workers. It says that the firm has half as many Black employees as the average tech company does. However, this appears to be a complaint advanced by a third party expert rather than Coinbase's employees themselves.
Coinbase preempted the New York Times' comments on Wednesday by publishing a blog post that contests the accuracy of the article.
Most notably, Coinbase insists that only three complaints were made while the relevant employees were employed. By contrast, the New York Times says that 11 employees contacted Coinbase's HR and management. Coinbase also says that internal investigations found those complaints to be "unsubstantiated."
Oddly, Coinbase did not release a public statement on the matter. Rather, it composed a private notice and circulated it between employees, then chose to share that notice with the public.
Coinbase states in the notice that it "[doesn't] care what The New York Times thinks" and that its employees are its first priority—statements that are probably not reassuring to its public userbase.
Amidst the controversy, Coinbase is preparing for regulations that could impose harsher KYC regulations on customers in the near future. If Coinbase's expectations are correct, the firm could be forced to run KYC identity checks on users' self-owned cryptocurrency addresses in addition to their online accounts.
Coinbase has been criticized for several other reasons over the past several months, including for its decision to provide user data to law enforcement agencies, and for frequent service outages during periods of high demand.
However, Coinbase's critics may be a vocal minority. The firm remains one of the most-used crypto exchanges, as it currently boasts a trading volume of $1.5 billion per day.
The information on or accessed through this website is obtained from independent sources we believe to be accurate and reliable, but Decentral Media, Inc. makes no representation or warranty as to the timeliness, completeness, or accuracy of any information on or accessed through this website. Decentral Media, Inc. is not an investment advisor. We do not give personalized investment advice or other financial advice. The information on this website is subject to change without notice. Some or all of the information on this website may become outdated, or it may be or become incomplete or inaccurate. We may, but are not obligated to, update any outdated, incomplete, or inaccurate information.
You should never make an investment decision on an ICO, IEO, or other investment based on the information on this website, and you should never interpret or otherwise rely on any of the information on this website as investment advice. We strongly recommend that you consult a licensed investment advisor or other qualified financial professional if you are seeking investment advice on an ICO, IEO, or other investment. We do not accept compensation in any form for analyzing or reporting on any ICO, IEO, cryptocurrency, currency, tokenized sales, securities, or commodities.
See full terms and conditions.
Source: cryptobriefing.com
Author: by
Mike Dalton
Previous
Next