'No debate' that Bitcoin will increase 20X says gold industry insider
Gold Bullion International co-founder Dan Tapiero believes that it's only a matter of time before Bitcoin's price surges into the six-figure threshold.
Speaking to Anthony Pompliano on the Pomp Podcast, Tapiero asserted that in terms of price appreciation Bitcoin is the king, even though he believes investors should own both gold and Bitcoin:
"In the next five years, I can see gold at $4,000, so that's double. But if gold is at $4,000, Bitcoin is probably somewhere between $300,000 and $500,000, so that's a 20, 30x."
He went on to add, "I don't really think that anyone in the gold world […] they are not going to debate that."
Tapiero believes that institutional investors and finance whales are likely to invest between five to 15 percent of their portfolios in Bitcoin and noted that sector was currently worth $100 trillion:
"That's a huge chunk. I mean, 15% of $100 trillion is $15 trillion."
Bitcoin is a hedge for the fiat system, he explained, and once its market cap is in the trillions of dollars, it will become easier to handle for larger investors, similar to gold.
But gold is a store of value, and that is only one aspect of what Bitcoin is. Bitcoin is an entire network, and that's why he believes it will be much bigger than gold:
"There is no question that Bitcoin is going to outperform gold."
Other analysts are similarly bullish about Bitcoin, with Off the Chain Capital chief investment officer Brian Estes telling Reuters today that it "is not a stretch" for BTC to surpass $100,000 in one year, and predicted that it could go as high as $288,000 by the end of 2021.
CNBC host Jim Cramer also believes in the future of Bitcoin, as revealed on another podcast with Pompliano. Cramer, who was a Bitcoin skeptic during the 2017 bull market, recently stated that he had since realized that Bitcoin is a good hedge against inflation and also one that his kids can understand,:
"I think that my kids, when they get my inheritance, won't feel comfortable with gold, and will feel comfortable with crypto."
Source: www.bit-cointalk.com
Bitcoin price has now only been higher one day in history
Bitcoin (BTC) is currently having its second-highest trading day ever as BTC/USD hitting a new multi-year high of $19,330.
Data from Cointelegraph Markets and TradingView provided a cause for celebration on Nov. 24 after Bitcoin suddenly tackled $19,000 resistance.
Against a backdrop of rapid gains and the temptation of breaking all-time highs around $20,000, the achievement has not gone unnoticed on Bitcoin figures.
Ryan Selkis, founder of data resource Messari, noted that only one day in its existence has Bitcoin traded above even $19,000.
By contrast, the largest cryptocurrency has now spent 283 days above $10,000 — including its longest ever stint in 2020.
"Will we see $20K today?" Selkis pondered.
Meanwhile, Bitcoin has gained more in U.S. dollar terms than any month in its history, data shows. In a tweet on Nov. 24, quant analyst PlanB highlighted that the past three and a half weeks have been unlike any other period in Bitcoin's lifetime.
The largest cryptocurrency continued to climb on Tuesday after retesting $18,000, adding over $1,300 to its USD price in under 24 hours.
For PlanB, the performance indicated that Bitcoin was not only beating records, but would deliver even bigger gains in the near future. This was down to its relative strength index (RSI), which had begun to enter the zone which signals a protracted Bitcoin price uptrend.
"Slowly but surely this is beginning to look like (the start of) a bull market," PlanB commented.
"Best ever #bitcoin month in $ terms (+$5400) and RSI crawling towards bull market levels."
As Cointelegraph reported, PlanB noted that RSI was strong at the beginning of November, not signalling that Bitcoin was overbought despite its price growth.
Source: www.bit-cointalk.com
TA: Bitcoin Stuck In Range, Why BTC Remains At Risk of A Sharp Correction
Bitcoin price failed again to clear the $18,800 resistance against the US Dollar. BTC is trading in a range and it could correct lower sharply if there is a break below $18,200.
Bitcoin is still trading well below the key resistance area near the $18,700 and $18,800 levels.
The price is now below $18,500 and the 100 hourly simple moving average.
There is a key contracting triangle forming with resistance near $18,480 on the hourly chart of the BTC/USD pair (data feed from Kraken).
The pair could decline sharply if there is a clear break below $18,200 and $18,050.
There was another attempt by bitcoin price to clear the $18,700 and $18,800 resistance levels. However, BTC bulls failed to gain strength, resulting in a fresh decline below the $18,600 level.
The price even broke the $18,500 level and settled below the 100 hourly simple moving average. Conversely, there were strong bullish moves in Ethereum and ripple, breaking the $600 and $0.60 resistance respectively.
Bitcoin price traded as low as $18,160 and it is currently consolidating in a range. There was a break above the $18,250 level. It even traded above the 23.6% Fib retracement level of the recent drop from the $18,782 high to $18,160 low.
What future awaits cryptocurrencies?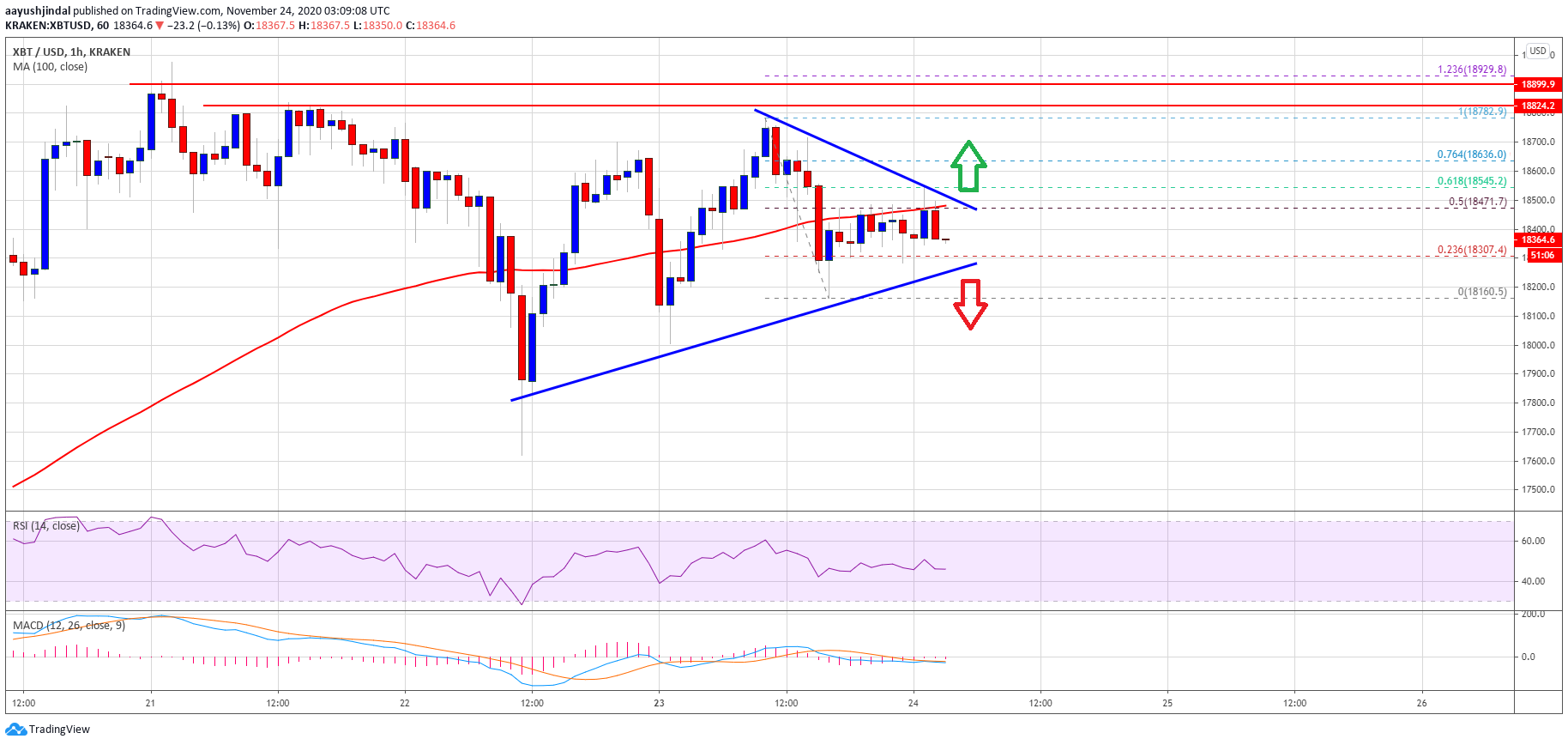 The price is now facing a strong resistance near the $18,450 level and the 100 hourly simple moving average. There is also a key contracting triangle forming with resistance near $18,480 on the hourly chart of the BTC/USD pair.
The triangle resistance is close to the 50% Fib retracement level of the recent drop from the $18,782 high to $18,160 low. If there is an upside break above $18,500, the price could make another attempt to clear the $18,700 and $18,800 resistance levels.
If bitcoin fails to clear the $18,500 resistance, there is a risk of a downside break. An initial support is near the triangle lower trend line at $18,280.
A clear break below the triangle support might lead the price towards the $18,160 swing low. In the stated case, there is even a risk of more losses below the $18,000 support level in the coming sessions.
Technical indicators:
Hourly MACD – The MACD is slowly losing momentum in the bearish zone.
Hourly RSI (Relative Strength Index) – The RSI for BTC/USD is currently just below the 50 level.
Major Support Levels – $18,280, followed by $18,160.
Major Resistance Levels – $18,500, $18,700 and $18,800.
This post was originally published on www.newsbtc.com
Source: www.cryptoalphanews.com
Author: cm_team
How Financial Planners Think About Bitcoin
Independent investment adviser Tyrone Ross speaks with Certified Financial Planners (CFP) Justin Castelli and Douglas Boneparth about how they're looking at bitcoin and what they're hearing from clients.
"My biggest concern is that things move too slowly," said Douglas Boneparth, "The horse is out of the barn. You now have advisers getting flak from their clients on 'why am I not here? You've been telling me you mined bitcoin in 2014 and you … are generally positive about it. You've also been telling me you can't advise about it. … And I don't want to hear about the SEC and regulations or other things. You're my adviser, should I have been advised on it?' There's a tolerance here that other clients are going to have. If you tell them 'no' too many times, they're going to tell you 'no' by firing you. Right now that seems a little extreme, but if you pan out five or 10 years, you have time on your side to see something like bitcoin or crypto rise…"
"I don't have a lot of inbound demand," said financial planner Justin Castelli, "But I have a weekly email that I've refined and sent to clients. I'm going to start putting some information in there because I don't know how many of my clients realize i've spent a lot of time researching it, that I know about it, that I personally do some investing in it on my own. I want them to feel comfortable coming to me, knowing that I know about it."
"But Interestingly enough," he continued, "Yesterday I was doing a review with a 58- and 59-year-old couple. They have a lot of cash, wondering, 'what can we do?', and they saw my StockTwits bitcoin, litecoin, ripple on [the wall of my office], and the wife said she'd heard about bitcoin and asked [me] about it. She was actually very interested in learning more because they have more than enough in equities. They're at a point now where they could afford to do this if they understand it. She's like, 'I really like the sound of this, I want to learn more.' Whether or not she actually does it, I don't know, but it was very interesting because you'd think it'd be my younger clients who get more excited about it but yesterday it was a retiree, a former teacher at that, who was interested in it."
The goal of Bitcoin for Advisors is to equip investment advisors with tools to better understand bitcoin, talk to their clients about bitcoin and to work bitcoin into their businesses. We're working closely with professional advisors to build out a program that is timely, valuable and actionable for the financial advisor community, and presented in a manner that is targeted and relevant to their interests.
Through a series of keynotes, panels and interactive roundtable sessions, we will discuss investment theses for bitcoin, why younger demographics are turning to this asset and how it fits into the current global macroeconomic picture. We will also walk through the practicalities: how to answer client questions about bitcoin, how to talk to your compliance department about bitcoin and how bitcoin can help grow your book. Advisors will walk away from this virtual event with a grasp of how bitcoin fits into the world and their businesses.
Source: www.bit-cointalk.com
Previous
Next