Parabolic rally 'a real possibility' after Ethereum price surges to $547
The price of Ether (ETH), the native cryptocurrency of Ethereum, has surpassed $547. Following the breakout, traders are pinpointing several key resistance levels in the near term.
In the short term, traders generally foresee $600 as the major resistance area for Ether as it marked the beginning of a bearish trend starting in May 2018. As such, $600 could act as an area of interest for sellers.
But, traders also believe that if Ether surpasses $600, it would likely enter the $700 to $900 range. Above it, there is little resistance until the all-time high.
The Ethereum network has seen numerous catalysts come into play in recent months.
First, the Ethereum 2.0 network upgrade is progressing, as a large number of Ether continues to flow into the deposit contract address.
Ethereum 2.0 is a significant upgrade to move Ethereum from the proof-of-work (PoW) consensus algorithm to the proof-of-stake (PoS) algorithm. Essentially, it removes miners from the network to optimize the settlement of transactions.
Second, on-chain data show that whales are continuing to accumulate Ether. This trend coincides with a drop in Ether exchange reserves, particularly as more holders deposit the digital asset to the Eth2 deposit contract. Researchers at Santiment wrote when Ether initially broke out of $500:
"Following in $BTC's footsteps, $ETH has hit a 29-month high of $509. June 21, 2018 was the last time the price was this high for the #2 market cap asset. #Ethereum's top 10 holders rising, combined with coin supply on exchanges, have fueled this rally."
The strong fundamental catalysts for Ethereum and the favorable technical structure for Ether has traders optimistic about the near term price trend of Ether.
Michael van de Poppe, a full-time trader at the Amsterdam Stock Exchange, said a pullback at $600 is likely. But, above it, the trader said the road towards $900 to $1,000 is open.
A pseudonymous trader known as "Rookie" similarly said that ETH to $700 by the year's end is likely. ETH has seen a parabolic uptrend since July 2020, raising the probability of a prolonged rally bridging over to 2021.
During the 2017 rally, when Bitcoin neared $20,000 across major exchanges, altcoins were relatively stagnant. Ether and other major cryptocurrencies saw explosive price movements in January 2018, after BTC had peaked.
Ether seeing renewed momentum in 2021 would go in line with the trend it saw in the 2017 post-halving cycle. Although there is little historical data to suggest that Ether and altcoins will follow the same trend as three years ago, the narrative of a January 2021 altcoin rally remains strong.
For Ether to see a prolonged uptrend, it would first need to reclaim the $600 resistance level as many analysts view this level as the biggest near term threat.
Source: inula.org
Ethereum 2.0 Deposits Near 200,000 ETH
A flood of eth is making its way towards ethereum 2.0 as the countdown is now very much on with Vitalik Buterin, ethereum's co-founder, participating again by sending 3,200 eth, making it a total of ◊6,400 so far.
The stakers appear to be all sorts. There are those that are collecting their ◊1s and ◊5s from different addresses, those scalping the required ◊32 eth from defi platforms, dexes and cexes, the big whales machine gunning hundreds of transactions, and then you have those opening their cold storage of a few hundred eth untouched for years.
Some 180,000 eth has been sent so far at the time of writing, with the sum seemingly increasing with every refresh.
That makes it all closer to half way towards the finish line with still three days to go until Tuesday, the earliest by which this can meaningfully be met to launch on December 1st.
The slope is getting steeper as can be seen with 40,000 eth sent yesterday in total, more than many days combined.
Another ◊40,000 has been sent so far with it still just morning in Europe and daylight not even having yet started in America.
Meaning we might see a ◊100,000 day today or perhaps even more, with Bitcoin Suisse, which is to stake from get go, accepting deposits only until midnight UTC tomorrow, Sunday November 22nd, for genesis block participation.
This flood of deposits now suggests the minimum will be met maybe on Monday or earlier as the launch of ethereum 2.0 is now very much imminent.
Source: www.trustnodes.com
Smart contract standards: Making DeFi transactions on Ethereum more secure
Decentralized finance continues to make its impact on the crypto market, and with over $13 billion of total value of assets locked, DeFi projects are clearly resonating with eager crypto investors. Yet while the DeFi space has been progressing over the last year, a number of illegitimate projects have come to fruition, reminding some of the 2017 ICO boom and its subsequent bust.
For example, Harvest Finance, a major decentralized protocol, was recently hacked. The attacker made away with $24 million from Harvest Finance pools. Most recently, Value DeFi, the decentralized finance protocol, fell victim to a $6-million flash loan exploit. And of course, one of the biggest events of the year for DeFi involved SushiSwap, where the creator sold $13 million of dev funds, causing a market crash.
It's important to point out that the majority of DeFi projects are built on the Ethereum blockchain. According to the website DeFiPrime, there are currently over 200 DeFi projects on the Ethereum network. Yet while Ethereum appears to be the most suitable platform for DeFi projects, the network's vulnerabilities have played a large role in hacks and fraudulent activities.
Specifically speaking, the smart contracts that power Ethereum are known for being fraught with security issues, which, in turn, have greatly impacted DeFi projects. In addition, smart contracts being applied to DeFi projects worth billions of dollars are often not audited beforehand.
Tom Lindeman, a previous veteran researcher at Microsoft and the former managing director of the Ethereum Trust Alliance — a group of blockchain companies working on a security system for smart contracts — told Cointelegraph that there is currently no good ways to identify whether a smart contract is secure before initiating a transaction:
"The DeFi space is worth billions of dollars now, but so many of those smart contracts being used are never audited. As such, the DeFi sector continues to see a flurry of activity that has individuals and organizations approving token contracts, swapping tokens, and adding liquidity to pools in quick succession without being able to easily check contract security."
In an attempt to solve the security challenges related to smart contracts, Lindeman has joined the Enterprise Ethereum Alliance's newly formed "EthTrust Security Levels Working Group" as its co-chair. According to Lindeman, the working group's mission will be to continue the advances initially started by the Ethereum Trust Alliance, or ETA, which are aimed to set standards for secure, smart contract transactions conducted on the Ethereum blockchain.
What cryptocurrency will become the main one in a year?
Lindeman explained that the ETA has been working on its EthTrust project for close to a year, even before the DeFi space started to expose the vulnerabilities of Ethereum smart contracts. Coincidentally, the EthTrust project joined forces with the Enterprise Ethereum Alliance just as the DeFi space was gaining traction.
Daniel Burnett, executive director of the Enterprise Ethereum Alliance, told Cointelegraph that the timing for the new working group has been purely coincidental in regards to the rise of DeFi. According to Burnett, the new EthTrust project further demonstrates that the Ethereum network is maturing. "We want to help solve the problems many of our members have expressed in regards to Ethereum," he said.
Specifically, the new working group plans to address security vulnerabilities in smart contracts by creating a standard and registry system to help users gain greater awareness of how to differentiate which contracts have gone through rigorous security checks. While the project is still a work in progress, the goal is to define certain requirements that smart contracts must exhibit in order to be deemed secure.
For example, Pierre-Alain Mouy, an Enterprise Ethereum Alliance member, former ETA product owner and managing director at NVISO Security in Germany, told Cointelegraph that there are three levels of validation that a smart contract can achieve to help individuals understand its level of trust:
"We started the project by including three different levels of badges that smart contracts can earn to prove its level of trust. Level one consists of a smart contract undergoing work through automation. Levels two and three are manual audits by humans to ensure that contracts are safe and secure."
Mouy shared that in order for a smart contract to achieve a level one badge, an automated security scanning tool will be run against the contract. The AI-powered tool is designed to check for a specific set of requirements that the working group is currently defining.
If a smart contract continues to level two, individuals will perform a security audit. "There will be definitions for audit companies, explaining how long they need to dig into these smart contracts," said Mouy, adding further: "Eventually, an audit report will be created for the working group to manually review. We are not auditors, however. The working group serves as a router to verify that these steps are taken."
Finally, if a smart contract makes it to level three, additional specifications and test cases written to verify properties in the contract will be performed. According to Mouy, this is called the "formal verification process."
Once a smart contract has undergone this step-by-step verification process, the initiative's registry system will enable exchanges, for example, to request a specific rating level before new tokens are listed. This system could also be applied to a multi-member consortium that relies on smart contracts for business purposes.
According to Lindeman, the EthTrust project has already sparked interest from daily Ethereum users who want to see new things, such as yield farming. He further shared that Big Four firm PricewaterhouseCoopers has expressed interest in using this system to provide smart contract ratings for companies interested in the blockchain space.
The growing interest in secure smart contracts is especially important as the Ethereum infrastructure progresses and the promised benefits of Ethereum 2.0 come to fruition. Burnett believes the Ethereum ecosystem will see increased trust moving forward, which will be exhibited by new projects being used by businesses, such as the work being done by the Baseline Protocol.
While innovative, it's important to point out that the Enterprise Ethereum Alliance's new working group and the EthTrust project are not the first to tackle challenges related to the security of smart contracts. For example, blockchain security firm Quantstamp has been performing smart contract audits and security checks for blockchain companies since 2017. The firm's clients include major players in the space such as Binance and eToro. Quantstamp recently announced that it will audit a new DeFi project on the Polkadot blockchain.
In addition to security firms performing audits, companies are also finding ways to ensure secure smart contracts. For example, Vaiot, a blockchain company that uses artificial intelligence to create digital services for enterprises, leverages AI to provide software security and performance in smart contracts. Jakub Kobeldys, the lead developer at Vaiot, told Cointelegraph that while no amount of AI can fully protect against flaws in code, the technology can aid developers significantly:
"Unsupervised learning techniques could track down new flaws in an automated way, or at least narrow down the search area and give some hints for human experts. It could also lead to the more dynamic development of frameworks that help developers code in a secure manner."
Source: cryptonewest.com
Author: by admin
Ethereum (ETH) Surges to Year-to-Date High of $500+, but Eth 2.0 Upgrade Experiences Challenges: Report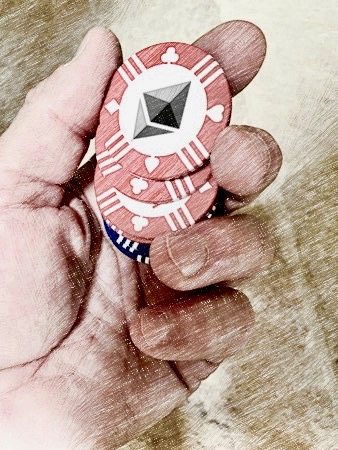 The Ethereum (ETH) price is up around 25% during the month of November 2020. ETH, the world's second-largest cryptocurrency by market cap and adoption, is trading at a little over $500 at the time of writing.
During this past week, Ethereum managed to reach a new year-to-date high at $495 (which it has again surpassed recently), benefiting from a significant rise in deposits made into the decentralized finance (DeFi) markets and the ETH2 deposit contract that's part of the upcoming Ethereum 2.0 upgrade (a major system-wide update that will involve a transition from proof of work to proof of stake based blockchain consensus, something that has never been done or attempted before on a DLT network as large as Ethereum).
As noted in a report from OKCoin:
"ETH has been steadily rising since September in anticipation of the upcoming Ethereum 2.0 Serenity upgrade. … Serenity would increase demand for Ethereum transactions on the network due to increased speeds, decreased costs, and more utility. Ether is required to send transactions, so demand for the crypto is expected to rise with transactions."
Vitalik Buterin, one of the main Ethereum founders, recently claimed during an AMA that Ethereum 2.0 would "most likely" be launched on December 1, 2020. The exact date, however, would depend on the platform being able to secure at least 524,288 ETH (over $260 million at current prices) and other technical requirements in order to successfully launch the Beacon Chain in a secure manner.
As of November 20, 2020, there's only 20% of the required amount of Ether that has been staked in the ETH2 deposit contract, OKCoin confirmed. Since there's not enough ETH locked into smart contracts, it might delay the planned ETH2 upgrade to early 2021 (or longer). If the ETH 2.0 upgrade deadline is missed, then the selling pressure on Ethereum might rise considerably. According to OKCoin's analysis, this may push the ETH price down below the $460 mark, while "panic selling" might push ETH down "below the critical $400 level," the exchange predicted.
As confirmed by the exchange, the Ethereum network hashrate has "increased 16% since September [2020] as more [ETH] miners have joined the network ahead of ETH2." OKCoin explained that as the hashrate (computing power securing the Ethereum network) increases, so does the security of the blockchain network.
Ethereum was supposed to function like a "world computer" but the developers of EOS, which aims to compete with Ethereum, claim that the smart contract platform has not delivered on its promises. Ethereum runs on a vast and geographically distributed network of computing nodes and established the foundation for the modern Internet, often referred to as Web 3.0.
While Ethereum's ongoing development has been criticized for being controlled (and therefore centralized) by a select few developers, it's still arguably the second-most decentralized cryptocurrency network available right now.
Second only to Bitcoin (BTC), Ethereum has a market cap of over $50 billion at the time of writing. Ethereum-based solutions have been widely adopted by large enterprises across the globe and the ERC-20 Ethereum token standard has been used to issue thousands of digital assets.
But Ethereum suffers from network congestion (because so many people are trying to use it), which has severely limited its ability to scale. However, the upcoming Ethereum 2.0, which will be a very gradual transition, should help address scalability and overall performance issues, but only if it is successful.
Source: otcpm24.com
Author: News Bureau
Ethereum Surges 10% Higher As DeFi Rally Continues, ETH2 Inches Closer
Ethereum has surged higher in the past 24 hours by nearly 10%, pushing as high as $520 for the first time since 2018. The leading cryptocurrency is currently outpacing Bitcoin on a daily basis, though is still underpacing BTC on a multi-week basis.
Analysts think the cryptocurrency will surge even higher in the weeks ahead as the trend still seems to be positive for the top coin.
Analysts think Ethereum explode higher in the weeks ahead as it passes key resistance levels in the high-$400s and enters the $500s. Referencing the chart seen below, which shows Ethereum breaking above long-term resistance levels, one analyst recently commented:
Ethereum is set to move toward the resistances in the $600 range, the trader said in reference to the chart. as the chart shows $600 is where the next weekly resistance on the macro chart lies.
Other analysts think that Ethereum is free to rally from current levels toward $800. Though at this point, it remains to be seen if this will play out as they expect.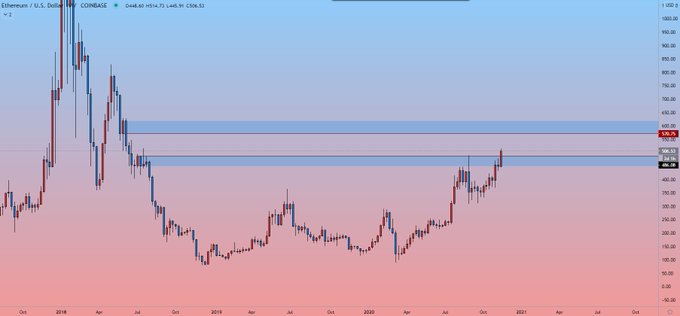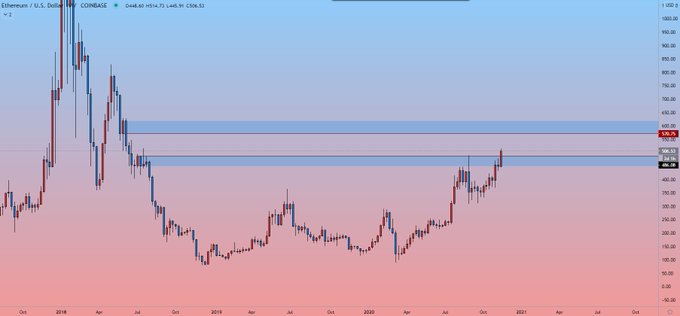 Ethereum Foundation developers have been giving updates about the upcoming upgrade, ETH2 or Serenity. The upgrade is expected to dramatically overhaul the blockchain and implementing new token-economics.
Ethereum founder Vitalik Buterin recently commented on the token-economics of ETH2:
Analysts think the upgrade will drive prices higher as investors seek to buy Ethereum to stake in mass quantity.
This post was originally published on www.newsbtc.com
Source: www.cryptoalphanews.com
Author: cm_team
Previous
Next