Monero, Ethereum Classic, Decred Price Analysis: 13 November
Bitcoin's performance over the past few days has had a significant impact on the rest of the crypto-market. While the collective market cap surged, individual tokens on the charts prospered as well. However, this wasn't the case universally as quite a few cryptocurrencies chose to move in the opposite direction. The cases of Monero, Ethereum Classic, and Decred highlighted such opposing behavior.
Monero [XMR]
Monero, the crypto-market's premier privacy coin, was one of the many alts to register positive movement in the month of September. However, late-October and November have been a different story, with XMR falling dramatically on the charts. In fact, while Bitcoin, a cryptocurrency Monero shares a high correlation with, surged on the charts, Monero fell, with the altcoin down by almost 8% on the charts over the week.
At the time of writing, XRM was trading well below its local top, with the privacy coin registering YTD returns of 142%, at press time.
The ensuing bearishness in the XMR market was evidenced by its technical indicators as while the Parabolic SAR's dotted markers were well above the price candles, the MACD line, on the wrong side of the Signal line, was heading below the histogram.
Monero made headlines a few days ago after it was revealed that it was the target of a "clumsy," Sybil attack.
Ethereum Classic [ETC]
Ethereum Classic, the 35th-ranked cryptocurrency on the charts, has fallen on the charts since the month of August, a month that saw the ETC network come under a series of 51% attacks. While ETC's price wasn't immediately affected, the market-wide depreciation towards the end of August fueled losses across the board for those owning Ethereum Classic bags.
While Bitcoin's recent movement did push ETC's value up by almost 10%, the bears in the market were quick to pull down the value of the crypto again, with ETC falling by over 5% soon enough.
As far as the indicators are concerned, both the Bollinger Bands and Awesome Oscillator implied that more movement to the downside may be in the works. While the fairly uniform bands were drooping downwards, the AO was in the negative.
The network was in the news a few weeks back after Chainsafe and ETC Labs announced the launch of an ETC-DAI Bridge.
Decred [DCR]
Decred had been trapped in an endless cycle of sideways movement in October. However, November brought new joy to the altcoin's market as DCR has surged over the past two weeks. In fact, in the previous week alone, DCR has climbed by over 30% on the charts. It should be noted, however, that at the time of writing, Decred was still trading well below its resistance level, a price point it last touched in mid-August.
Decred's positive price movement was supported by the findings of its indicators as while the Chaikin Money Flow was well above zero and highlighted the strength of capital inflows, the Relative Strength Index was hovering right near the overbought zone.
Source: cryptotimeless.com
Author: by admin
Bitcoin Fractal Suggests Ethereum Will Soon See Large Leg Higher – news.kuaidiantou.vip
Bitcoin has strongly outpaced Ethereum in the past month.
In the past 30 days, BTC has gained approximately 50% as ETH has only rallied by 20-30%.
Analysts think that this gap will be closed in the months ahead as Ethereum is boosted higher by technical and fundamental trends.
Bitcoin has strongly outpaced Ethereum in the past month. In the past 30 days, BTC has gained approximately 50% as ETH has only rallied by 20-30%. While that's far from anything to scoff at, it's clear that a divergence has formed between the performance of Bitcoin and the performance of altcoins.
Analysts think that this gap will be closed in the months ahead as Ethereum is boosted higher by technical and fundamental trends.
One crypto-asset analyst shared the image below, which shows Bitcoin's price action over the past few years in relation to Ethereum's price chart. There has been a divergence as the charts indicate, with ETH trading far below its all-time high relative to Bitcoin.
This analysis suggests that in the weeks and months ahead, ETH will rapidly move higher as it attempts to catch up to Bitcoin.
For context, BTC is around 20% from its all-time high. Ethereum reaching a similar level would mean it would need to recover to at least $1,000, which is over 100% the current price.
There are also signs indicating that Bitcoin dominance could soon fall, which would increase the chance an altcoin rally plays out. Analysts are optimistic that an altcoin rally would especially benefit ETH.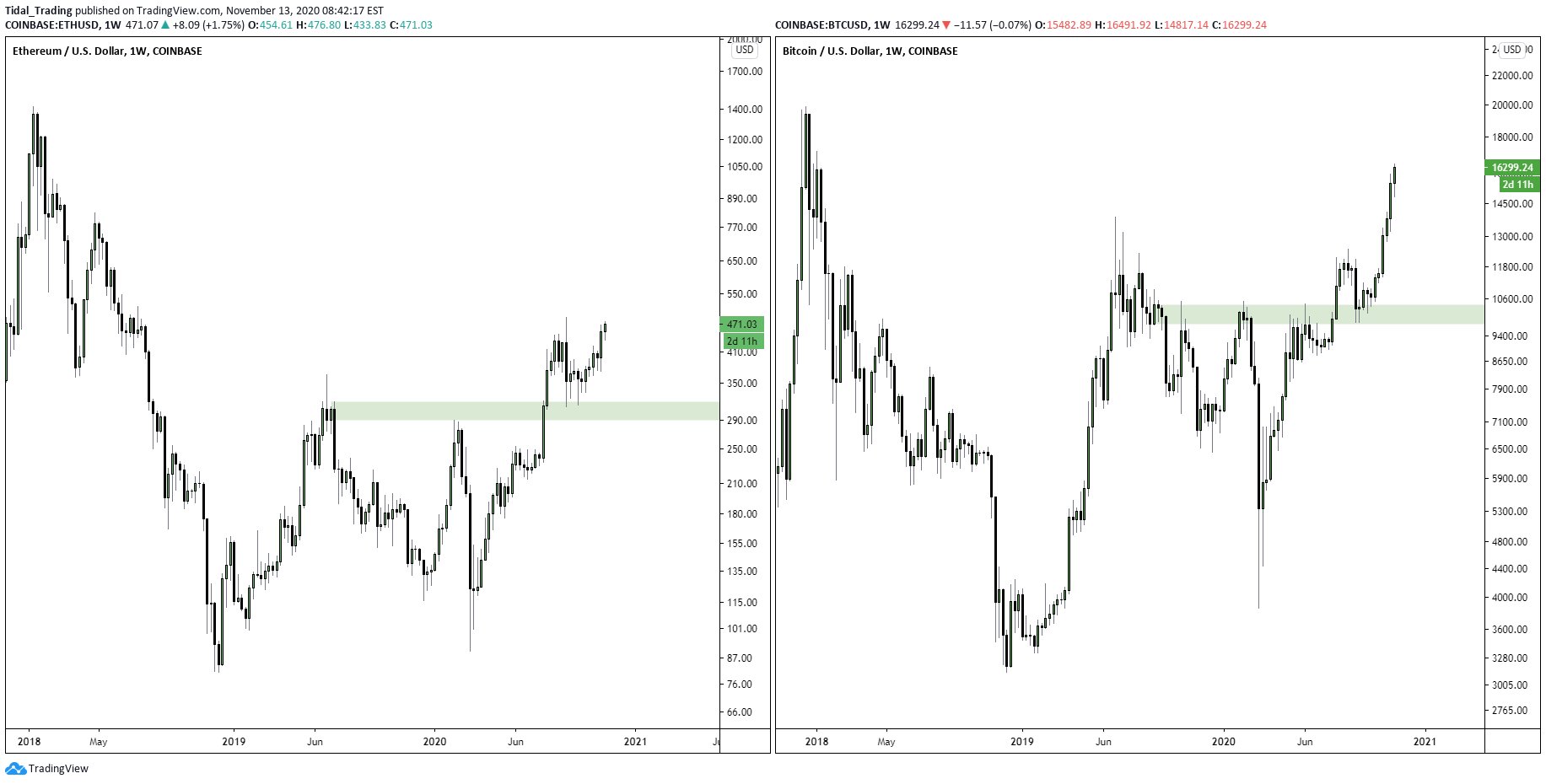 Data shows that there is a large amount of Ethereum accumulation that corroborates the bull case mentioned by analysts.
Grayscale reported a strong week for Ethereum institutional purchases earlier this month. The company also recently reported that it now has over $1 billion worth of ETH under management for its clients, which is a rapid uptick from the AUM (ETH) just months ago:
"MILESTONE: Grayscale #Ethereum Trust has just hit $1 billion AUM! As the first publicly-quoted $ETH investment product in the US and the second #digitalcurrency investment product to become an SEC reporting company, we're proud of the milestones so far."
Ethereum is set to continue higher as well due to the introduction of ETH2 staking, which incentivizes investors to take positions in the cryptocurrency. ETH2 users can earn a regular yield paid in ETH by running a validator node, which replaces miners on this new chain.
Source: news.staging.app.kuaidiantou.vip
Developers Debate Disclosure Protocols After 'Accidental' Ethereum Hard Fork
Ethereum developers are weighing changes to publicly disclosing critical bugs following the Nov. 11 "accidental hard fork."
Geth had fixed the bug in early October following a disclosure, but it still existed in prior versions of Geth. The bug temporarily caused 80% of the network that runs on Geth to go down a different path than other clients.
Now, developers are reordering the disclosure process for security vulnerabilities in the aftermath of what some developers have called the biggest threat against Ethereum since 2016's attack on The DAO.
Yet, blockchains, at their very core, are financial settlement mechanisms. The traditional methods of disclosing bugs in OSS can lead to undesirable outcomes for other players with money on the line.
In Friday's All Core Developers' call, Ethereum developer Micah Zoltu and Geth team leader Peter Szilágyi both disagreed with the issuance of a notification list for critical vulnerabilities. Zoltu claimed such a list would create an uneven playing field for projects, while Szilágyi said that every bug disclosure creates a weak point in Ethereum's infrastructure.
What future awaits cryptocurrencies?
For example, disclosing the bug early to service provider Infura – which most of decentralized finance (DeFi) uses to connect to the Ethereum blockchain – would be an unfair advantage against its competitors. Moreover, the consequences for the larger ecosystem could be severe if privileged information from the list leaked to adversarial parties.
Given the option again, Szilágyi said he would go about the recent disclosure in the same manner – meaning, keeping the consensus bug under wraps (although he said at one point during the call they should have let users know a past version of Geth held a vulnerability). Geth has done so for other consensus vulnerabilities, he said.
"Disclosure is a complex topic and user safety is paramount," Prestwich concluded.
Source: www.bit-cointalk.com
PayPal Opens Crypto Floodgates, Allows All Users in US to Buy Bitcoin, Ethereum, Bitcoin Cash and Litecoin
Online payments giant PayPal is now granting all US users access to its newly introduced cryptocurrency services.
PayPal is updating its late-October promise to offer cryptocurrency usage to all of its US customers. As of Thursday, all US-based PayPal users can buy, sell, and hold Bitcoin (BTC), Ethereum (ETH), Bitcoin Cash (BCH) and Litecoin (LTC). Up until now, the service was only accessible to 10% of PayPal's client base.
The platform has received two or three times higher than expected demand for access to its crypto services, and has increased its daily crypto purchases limit to $15,000 and its weekly crypto purchases limit to $20,000 since its original announcement.
The company has plans to expand its crypto services even further in early 2021. According to PayPal's press release, the online payments platform will allow its user base to pay with their cryptocurrency holdings at its 26 million merchants around the globe beginning in early 2021.
Coming in the first half of 2021, PayPal will extend its crypto services access to Venmo and some international users. The feature is made possible through PayPal's partnership with fintech firm Paxos Trust Company.
PayPal's expanding cryptocurrency rollout pushes it further down the path toward meeting its goal to "increase consumer understanding and adoption of cryptocurrency."
Source: dailyhodl.com
Binance Pool Offers Free Ethereum Mining for 1st Month
Crypto exchange Binance has launched a new Ethereum mining pool with just 0.5% pool fees for miners.
Sparkpool, the largest ETH mining pool by hashrate, charges 1% fees, as does the Ethermine ranked at #2.
Binance Pool users can mine ETH with no fees for the first month. The pool uses the full pay-per share method for reward payouts, distributing both block rewards and transaction fees to pool members.
The launch comes seven months after Binance rolled out its Bitcoin mining pool. Binance pool now controls 11.3% of the Bitcoin hashrate, making it the fourth-largest BTC mining pool.
The expansion of a major exchange into crypto mining raises questions around the centralization of the Bitcoin and Ethereum hashrates, as mining pools dictate which updates and transactions are approved on Proof-of-Work (PoW) blockchain networks.
While Ethereum is poised to transition to Proof-of-Stake (PoS) as part of the ETH 2.0 network update, this is likely at least a year away.
The information on or accessed through this website is obtained from independent sources we believe to be accurate and reliable, but Decentral Media, Inc. makes no representation or warranty as to the timeliness, completeness, or accuracy of any information on or accessed through this website. Decentral Media, Inc. is not an investment advisor. We do not give personalized investment advice or other financial advice. The information on this website is subject to change without notice. Some or all of the information on this website may become outdated, or it may be or become incomplete or inaccurate. We may, but are not obligated to, update any outdated, incomplete, or inaccurate information.
You should never make an investment decision on an ICO, IEO, or other investment based on the information on this website, and you should never interpret or otherwise rely on any of the information on this website as investment advice. We strongly recommend that you consult a licensed investment advisor or other qualified financial professional if you are seeking investment advice on an ICO, IEO, or other investment. We do not accept compensation in any form for analyzing or reporting on any ICO, IEO, cryptocurrency, currency, tokenized sales, securities, or commodities.
See full terms and conditions.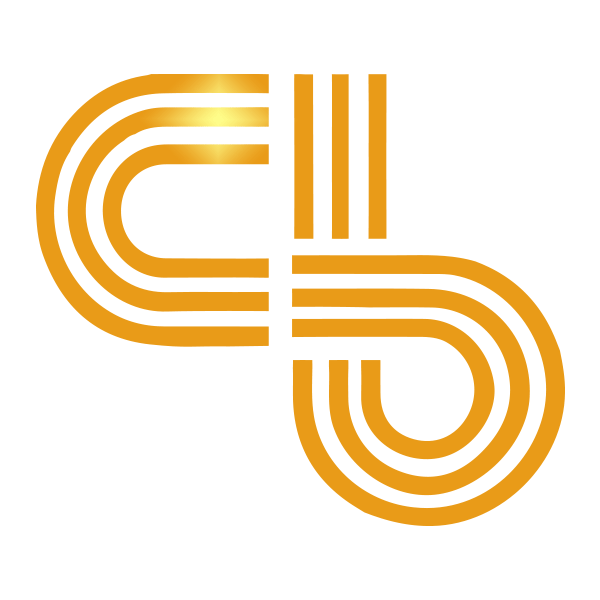 Source: cryptobriefing.com
Author: by
Conor Maloney
Ethereum May Soon Help Altcoins to Rocket Higher; Here's How – Cripto News World
https://www.newsbtc.com/wp-content/uploads/2020/11/hello-i-m-nik-8yCmQODY2SY-unsplash-460×308.jpg
Ethereum and the aggregated cryptocurrency market have been consolidating for the past few days, with Bitcoin's recent swing past $16,000 helping to provide a base of support for ETH and other altcoins.
The crypto market's ongoing uptrend is driven almost entirely by Bitcoin, but ETH and most other major altcoins are still woefully underperforming the benchmark digital asset.
There have been some early signs of a capital rotation event away from BTC and into altcoins, with a few DeFi tokens, in particular, seeing immense momentum throughout the past several days.
Some of these tokens were able to post gains clocking in at 100% or more in a mere matter of hours, signaling that they had previously been oversold.
That being said, where they trend next – and whether they can mark their recent lows as a long-term bottom – will depend almost entirely on Ethereum.
While speaking about ETH, one trader explained that he believes it could soon help altcoins rocket higher. For this to happen, ETH/BTC will have to print some large green candles in the near-term, or else further downside could be imminent.
At the time of writing, Ethereum is trading up just under 2% at its current price of $470. Earlier this morning, its price plunged to lows of $466 in a sharp downwards movement, but buyers rapidly stepped up and reverted this decline.
$470 appears to be an important level for ETH, and a high time frame close above it could help open the gates for it to see further upside.
If it can post a weekly candle close above this level, it could soon see some major momentum that sends it past $500.
One trader explained in a recent tweet that altcoins could extend their recent momentum and further confirm their recent lows as a long-term bottom if ETH/BTC can rally.
He notes that Bitcoin seeing some slowing momentum while Ethereum rallies will provide an ideal backdrop for higher risk tokens to grow upon.
"The only explanation I have for alts pumping with BTC is that BTC will stall here and ETH / BTC is prepping another scam candle. In other words, number go up. All numbers go up."
Image Courtesy of Mac. Source: ETHBTC on TradingView.
It may all depend on where Ethereum's Bitcoin pair trends.
Source: criptonewsworld.com
Author: Editor's Choice
Previous
Next