TA: Ethereum Close Above $470 Could Spark Larger Rally To $500
Ethereum is showing positive signs above the $455 support against the US Dollar. ETH price is likely to surge towards $500 if there is a clear break above $500.
Ethereum is slowly gaining pace above the $450 and $460 levels.
The price is currently trading nicely above the $460 level the 100 hourly simple moving average.
There is a major bullish trend line forming with support near $455 on the hourly chart of ETH/USD (data feed via Kraken).
The pair could accelerate higher if there is a proper close above the $470 resistance.
Ethereum remained well bid above the $450 and $455 support levels. ETH price even broke the $460 resistance level and settled well above the 100 hourly simple moving average.
However, the price seems to be facing hurdles near the $468 and $470 levels. A swing high was formed near $468 and the price is currently consolidating gains. An initial support is near the $464 level. It is close to the 23.6% Fib retracement level of the recent increase from the $453 swing low to $468 high.
The first key support is near the $460 level or the 50% Fib retracement level of the recent increase from the $453 swing low to $468 high. More importantly, there is a major bullish trend line forming with support near $455 on the hourly chart of ETH/USD.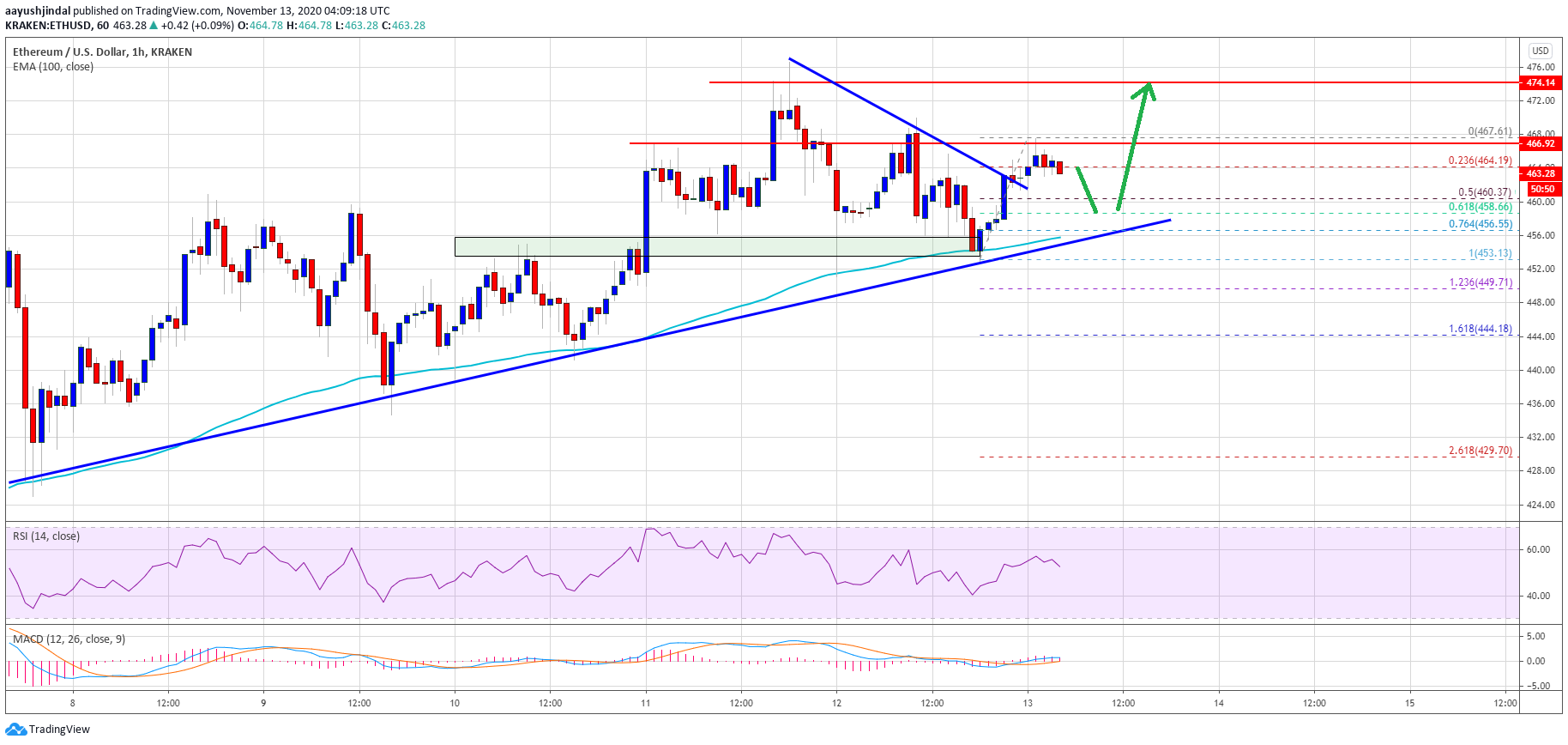 Source: ETHUSD on TradingView.com
On the upside, the $468 zone is a key breakout zone. A successful break above the $468 resistance and a follow up move above the $470 resistance might open the doors for a sharp increase. The next major resistance is near the $480 level, above which ether price is likely to test the $500 handle.
If there is no upside break above the $470 resistance level, Ethereum might started a corrective decrease. An initial support is near the $460 level.
The main support is now forming near the $455 and $454 levels. The 100 hourly simple moving average is also positioned near the trend line support and $454. Any more losses could trigger a larger decline towards the $435 and $432 support levels in the near term.
Technical Indicators
Hourly MACD – The MACD for ETH/USD is slowly gaining momentum in the bullish zone.
Hourly RSI – The RSI for ETH/USD is now well above the 50 level.
Major Support Level – $454
Major Resistance Level – $470
Source link
Yearn.finance's YFI token has been facing some intense selling pressure today as the focus shifts …
Source: icryptodesk.com
Author: admin
Bitcoin, Ethereum Extend Gains As PayPal's Crypto-Trading Service Goes Live In The US
It has been a month since PayPal announced it would begin allowing crypto-trading through its platform and today that service went live.
The big cryptos have rallied strongly since the announcement and are extending gains today…
<!–[if IE 9]><![endif]–>
<!–[if IE 9]><![endif]–>
Source: Bloomberg
As CoinTelegraph's Kollen Post reports, PayPal's crypto trading and payments went live for all eligible customers in the United States.
Per its updated announcement, PayPal ended its waitlist for customers looking to use cryptocurrency in the U.S. Trading features a limit of $20,000 per week, which is double the originally announced $10,000.
<!–[if IE 9]><![endif]–>
image courtesy of CoinTelegraph
PayPal ultimately plans to make crypto payments available at 26 million merchants globally.
A representative told Cointelegraph that PayPal will notify U.S. customers about the general availability of crypto services in the coming days.
Dan Schulman, CEO of PayPal, noted that the shift to supporting crypto was driven by what he sees as an "inevitable" drift toward virtual currencies.
"The shift to digital forms of currencies is inevitable, bringing with it clear advantages in terms of financial inclusion and access; efficiency, speed and resilience of the payments system; and the ability for governments to disburse funds to citizens quickly."
Much-anticipated global services are expected to launch at the beginning of 2021, alongside crypto payments on Venmo. PayPal initially announced its plans to integrate crypto three weeks ago. The announcement led to a boost in BTC price.
As part of its crypto services, PayPal received the first conditional Bitlicense from the New York Department of Financial Services, one of the most hawkish sub-national financial regulators in the U.S. Many noted that the terms of PayPal's crypto services would entail that coins bought on the platform would not be able to leave, likely as part of its compromise with regulators in bringing crypto services to such a wide user base.
Bitcoin, Ethereum Extend Gains As PayPal's Crypto-Trading Service Goes Live In The US
Source: dawsoncountyjournal.com
Author: admin
Gaming Trailblazer Atari Launches Ethereum Token
Game Trailblazer Atari Launches Ethereum Token
The all about or accessed through this website is gotten from independent resources we believe is accurate and trustworthy, but Decentral Media, Inc. makes no representation or guarantee as to the timeliness, completeness, or accuracy of every info on or accessed through this website. Decentral Media, Inc. is certainly not a good investment advisor. We cannot offer personalized financial investment guidance or other financial guidance. The information and knowledge about this internet site is at the mercy of change without notice. Some or all all about this amazing site could become obsolete, or it could be or become incomplete or incorrect. We may, but they are not obligated to, update any obsolete, incomplete, or incorrect information.
You shouldn't invest choice on an ICO, IEO, or any other financial investment on the basis of the home elevators this site, and you ought to never interpret or otherwise rely on any of the informative data on this website as financial investment guidance. We highly recommend you seek advice from a licensed investment advisor or any other competent financial professional if you should be looking for financial investment suggestions about an ICO, IEO, or other investment. We do not take payment in almost any form for examining or reporting on any ICO, IEO, cryptocurrency, money, tokenized sales, securities, or products.
See full stipulations.
Published at Fri, 13 Nov 2020 11:19:10 +0000
Source: binance-user.info
Author: by Alfred Camarro · 2020-11-13
Reversible Ethereum Transactions, Digital Oil Token + More News
Get your daily, bite-sized digest of cryptoasset and blockchain-related news – investigating the stories flying under the radar of today's crypto news.
Kirobo, the Tel Aviv-based startup that created an 'undo button' for previously irreversible Bitcoin (BTC) transactions, available to MetaMask and WalletConnect owners, has made the feature available on Ethereum (ETH), it said in a press release. Initially, the service will be available for ETH and later on all ERC-20 tokens, and it comes with protection against sending funds to smart contracts that don't support deposits.
Decentralized oracle platform Chainlink (LINK) and decentralized asset issuance protocol for synthetic assets Synthetix (SNX) have developed a new pricing mechanism to power a new synthetic derivatives product that gives users on-chain exposure to oil, they said in an announcement. This is a novel price feed for sOIL, a synthetic digital asset tied to a non-expiring Crude Oil Price Index.
Bitcoin (BTC) nonprofit BitGive has partnered with a sustainable food and farming nonprofit, Heifer International, to assist with aiding small scale American farmers in Arkansas, with the ultimate goal of raising funds for hunger relief efforts in the United States through cryptocurrency donations, said the emailed press release. BitGive and Heifer have worked to onboard a new project to GiveTrack, BitGive's donation tracking platform, which will allow Heifer to purchase farming equipment that can be loaned to small-scale farmers in Arkansas. All donations will be used in bitcoin, and Heifer has confirmed with the Farmers Friend and BCS equipment vendors to purchase all equipment directly in cryptocurrency, it said.
Chinese tech giant Baidu's Baidu Library arm has officially launched a blockchain-powered copyright service, reported China Email. Baidu is China's answer to Google, and its Library arm is a vast repository for document sharing, media archiving and university lecture note hosting. Baidu said that its new blockchain-based services will be applied to everything from monitoring to rights protection, and will help provide original authors and issuing institutions with improved copyright protection as well as a more powerful platform upon which to share their work.
API3, a decentralized API or Application Programming Interface (dAPI) network, has raised USD 3m in a private fundraising round lead by Placeholder and with participation by Pantera, Accomplice, CoinFund, Digital Currency Group, Hashed, and others. Per the press release, when it goes live, API3 will enable off-chain API data and service providers to connect their APIs to the blockchain without the use of any middlemen.
Axelar, a decentralized interoperability bridge developed by the founding team members of Algorand (ALGO), has announced seed funding of USD 3.75m with investments secured from the Binance Smart Chain Accelerator Fund called Binance X, an arm of major crypto exchange Binance, as well as venture capital firm DCVC (Data Collective) and Divergence Ventures. Per the emailed press release, the funding will be used towards building the tech, tools, and API solutions of the network, along with recruiting the engineers that will help design the underlying technology and protocols.
A group of six Democratic Party Congress members has hit out at the American banking regulator, the Office of the Comptroller of the Currency (OCC), for its "excessive focus on cryptoassets and crypto-related financial services." The group, per a press release, said its views were "shared by the American Bankers Association and other trade groups," which it claims "have expressed similar reservations" that recent moves to issue a fintech charter and allow banks to begin offering crypto custody and stablecoin services represent a "move too far away from the core business of banking." The group, in its own words, "questioned whether acting OCC chief Brian Brooks has his priorities straight during COVID-19's health and economic crises."
The buyer of the world's most expensive non-fungible token (NFT) has come forward. The NFT was redeemable for a digital racecar created for the Formula 1 tie-in blockchain game F1 Delta Time and sold at auction for USD 110,000 in May 2019. The buyer, stated F1 Delta Time maker Animoca Brands in a press release shared with Cryptonews.com, is named Metakovan. Metakovan was described as an "entrepreneur, coder, and angel investor in blockchain technology since 2013, Y-Combinator alumnus and a DeFi OG," with a "portfolio of premium NFTs" in a "crypto-exclusive fund."
Cryptocurrency mining pool ViaBTC has announced a partnership with BitRiver, a colocation services provider for cryptocurrency mining, to provide special terms to those who are customers of BitRiver's data center facilities, said the press release. ViaBTC aims to install a new server of its pool in BitRiver's datacenter in Bratsk before the start of 2021.
Source link
Source: otcpm24.com
Author: News Bureau
Previous
Next