Bitcoin Drops amid Pfizer's Vaccine Announcement
Just a few days after the US election is over, world pharmaceutics giant Pfizer announces that it's COVID-19 vaccine is 90% effective. The news spread rapidly through the media and sparked a surge of the US indices.
Thus, Dow Jones gained 4,56% reaching an all-time high at 29,616, S&P 500 is up 3.20% traded at 3,620.60 reaching an all-time high, and Nasdaq is up only 1.02% with its own all-time record at 12,005. This significant update from Pfizer gave hope for the sooner renewal of travels as New-Year and Christmas holidays approach, hence stock prices of major airline companies soared as well crude oil prices, as both WTI and Brent are up almost 10%.
Bitcoin is in a danger zone as it is currently traded below the MA100 on an hourly chart and is about to touch important dynamic and static support levels at $14,807.
Bitcoin price on Overbit
If the $14,807 support withholds, Bitcoin has all chances to retrace and test the resistance near $15,700 – $15,750, although a 4-hour chart demonstrates that BTC could plummet further.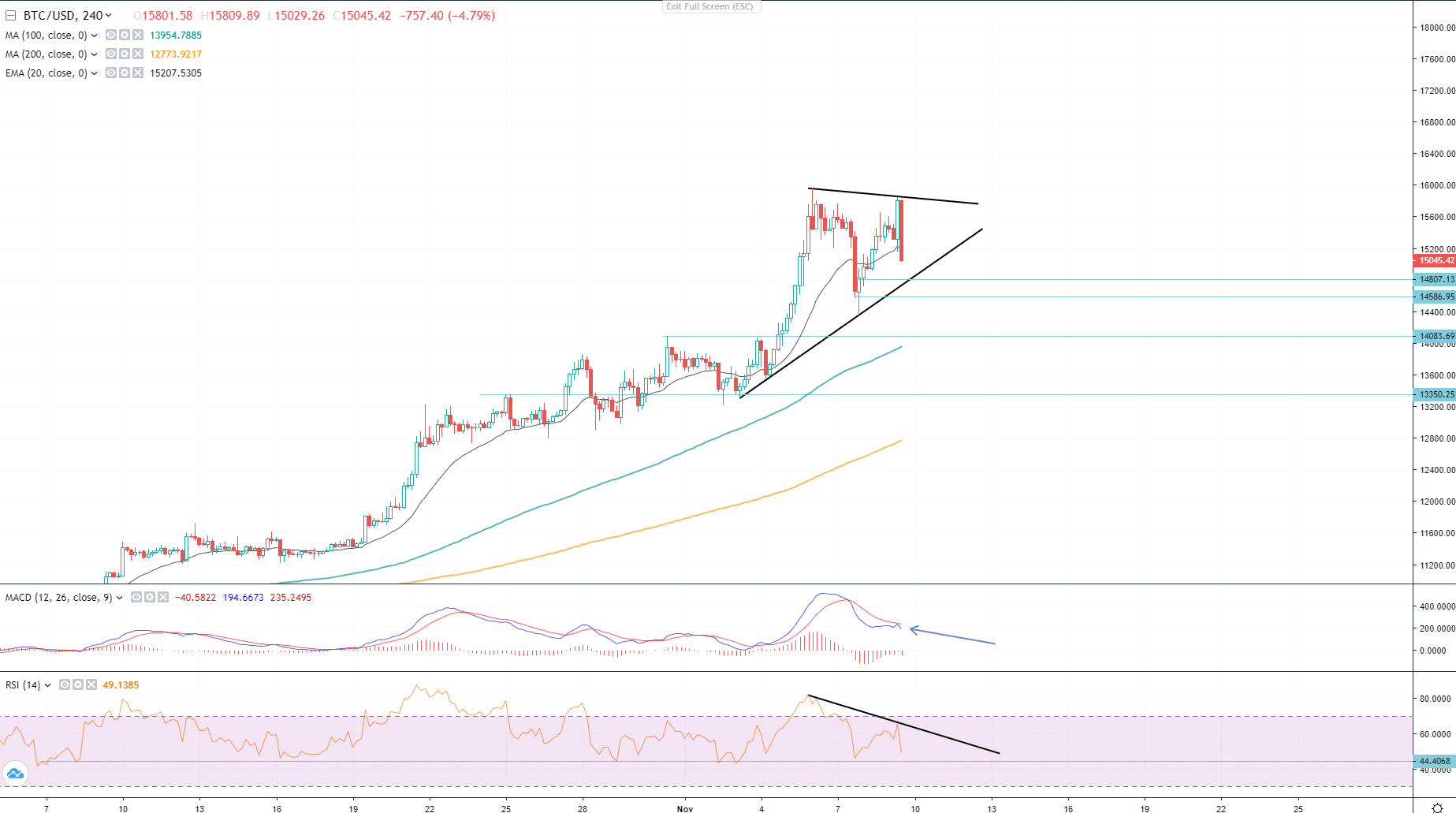 Bitcoin price on Overbit
MACD indicator already signalled the divergence of the digital Gold traded against the US Dollar, RSI indicator also shows a heavy divergence, however for the past month BTC never was oversold and created its own mid-chart support level on RSI. As seen on the chart above BTC/USD will drop to $14,083 if it closes below the dynamic resistance, where it will also touch the MA100.
For safe-haven assets, such as Gold, Silver and the digital-Gold – Bitcoin (BTC) the news does not sound positive and all three dropped by near 5%. The plummet of Gold and Bitcoin can be explained by other major events that will take place this and next month. As the Sale seasons, Christmas and New Year approach there will be a huge demand for cash, though it might not be as high as during the previous year due to lockdowns, many will consider converting their assets to cash to purchase belongings and gifts.
next Bitcoin News, Cryptocurrency news, Guest Posts, News
Source: cryptonewscloud.com
Author: CNC
See author's posts
Will the US Push to Ban Bitcoin? BTC Bull Anthony Pompliano Outlines Risks Facing Leading Cryptocurrency
Anthony Pompliano, co-founder of Morgan Creek Digital and outspoken Bitcoin bull, is addressing the possibility of the US government cracking down on Bitcoin and how exactly it could play out.
In an interview with Dave Lee, Pompliano says that if all governments digitize their currencies, it would in turn accelerate the adoption and normalization of digital wallets and put digital currencies on the same playing field as cryptocurrencies.
Pompliano says that after everyone becomes comfortable with digital wallets, they will likely move towards Bitcoin (BTC) and the idea of "hard money," tempting governments to ban Bitcoin.
"When that occurs, I think that governments are going to go through an exercise. They have two options: they can either do nothing and basically not try to ban it or they could try to embrace it, or they could try to ban it. The countries that choose to clamp down are the ones that are going to suffer the most because the one thing that Bitcoin has at its core is the advantage that it's fully decentralized."
However, Pompliano says that because of the geopolitical chessboard, the US will see that banning Bitcoin won't come with many benefits.
"So let's say the US literally said 'We're going to ban ownership… and if you own Bitcoin then we're going to put you in jail…'
I think what you would see immediately is other global superpowers immediately embrace and adopt Bitcoin because it is their opportunity to get off the dollar standard. They want off the dollar, right? Russia and Putin have talked about this. China has talked about this. Many countries think it's expensive. It is dangerous. You can be sanctioned.
All the things that the US uses as an advantage by weaponizing the dollar globally, that's been great because they control the dollar and they've got a really big military, the most powerful military in the world. When we get into a world where all of a sudden, the US openly states, 'We are going to ban ownership of something.' And these other countries have full accessibility to it, I think there's this game of they're going to go [and] try to do it. And for that reason, I actually think the US will never ban it. I think the US is not naive."
I
Source: dailyhodl.com
5 Things to watch in Bitcoin this week
Bitcoin (BTC) is starting what will be likely a hectic week for markets as the United States begins its two-month presidential transition.
After Joe Biden was declared the projected winner of the U.S. presidential elections during the weekend, Bitcoin fell, but managed to avoid major losses — what's next?
Cointelegraph takes a look at the factors set to influence BTC price action over the coming week.
Attention remains firmly fixed on Washington as the aftermath of a highly contentious election begins to play out.
Experts had warned that market volatility was all but guaranteed once the result was in. Since this occurred over the weekend, Monday's Wall St. open will be a source of interest for market participants.
At press time, Japan was leading the gains, with its stock market hitting a 29-year high on what the press is calling the "Biden bounce."
Bitcoin, on the other hand, has stopped short of continuing last week's gains and at one point hit $14,400 — $1,590 off its recent peak. Since then, BTC/USD has rebounded considerably, circling $15,250 at press time Monday.
Incumbent president Donald Trump has vowed to challenge vote counts and could yet cause further issues for Biden, leading to confusion over policy, which could yet rattle sentiment.
Zooming out, however, analysts frequently argue that in the long run, Bitcoin and gold as safe havens will ultimately win from the election, regardless of which candidate leads the U.S. going forward. The reason, among other things, is inflation.
What cryptocurrency will become the main one in a year?
As Cointelegraph reported, a speech last week by Jerome Powell, chair of the Federal Reserve, saw demands for further financial stimulus to enter the U.S. economy, raising debt and debasing the dollar.
"Bitcoin is the dominant crypto network – engineered to host the ideal safe haven asset & preserve monetary energy over long periods of time without power loss," Michael Saylor, CEO of MicroStrategy, summarized in a tweet on Monday.
"That makes #BTC the solution to every investor's store of value problem. Few understand this."
Accompanying the election fallout is the continued turmoil over nation states' handling of the Coronavirus.
Europe and the U.S. have recently diverged in this respect, with the former succumbing to a wave of new lockdown measures that have met with considerable pushback from the population.
After showing off buoyant recovery statistics for Q3, many governments will soon be drawing another altogether less savory picture of their economies for Q4 as economic activity dives for a second time in 2020.
This opens up the possibility of history repeating itself for Bitcoiners. After March's cross-asset crash and first lockdowns, Bitcoin bounced back from $3,600 to circle five figures in under two months.
As governments themselves repeated the controversial responses to the virus, analysts were already forecasting a strong year for Bitcoin in 2021. Among them, as Cointelegraph reported, Real Vision CEO Raoul Pal and Gemini exchange co-founder Tyler Winklevoss both predicted a new all-time high for BTC by Q1 next year.
In terms of current investor sentiment, however, warning bells are sounding as Bitcoin stays above $15,000.
According to the Crypto Fear & Greed Index, which measures market sentiment using a basket of factors, a correction is more than overdue.
Source: www.bit-cointalk.com
Previous
Next