Should Ethereum no longer be classified as an altcoin?
For all its maturity over the last few years, the crypto-market, on many levels, continues to be divided along very primitive and tribal levels. Statements like "Bitcoin is the best" and "Ethereum is the future" all reek of how many see the market not as a collective whole, but as a sum of its parts. Yet another one of these petty debates was at the fore recently after Ethereum's Vitalik Buterin tweeted,
In plain language everyone can hopefully understand:
In 2020, continuing to refer to ethereum as an "alt" is as outdated as referring to a lambo as a "horseless carriage". https://t.co/CMmP6MEXlU
— vitalik.eth (@VitalikButerin) October 21, 2020
As expected, most of the responses the tweet received weren't very kind. In fact, any proper discourse associated with the tweet soon spilled over to become a cussing match between Bitcoin maximalists, Ethereans, and everybody else. Now, while the level of discourse might have petered out, it should be noted that Buterin raised an interesting point there. Should Ethereum no longer be classified as an alt?
Now, both of these camps often have a long list of points to shout out when such a question is posed. We shall not go there. Instead, let's keep the focus on Ethereum and its newfound and to-be-expected functionality.
Emergence as a Crypto-capital Asset
Ethereum is many things to many people, and one can argue that all of these descriptions are well-contended among many. However, one feature that doesn't get a lot of limelight is Ether's emergence as a crypto-capital asset. While this may be because Ether isn't one yet, the fact of the matter is that it can, and that's worth considering.
Think about it – What is a crypto-capital asset? Well, they are tokenized assets that represent both (1) economic rights and (2) governance rights over a network or protocol. Sounds neat enough, right? Well, juxtapose that definition against our case study and everything is a little hazier.
As highlighted by Bankless's Q3 Token Report, the much-anticipated ETH2 upgrade is key to Ether's emergence as a crypto-capital asset since it will guarantee future rights to cash flows on Ethereum as holders will be able to earn transaction fees by becoming a validator and staking on the ETH network. That's not all as under EIP1559, ETH holders will earn some margin of the revenue via fee burns whenever the network usage is high.
Now, on the face of it, the aforementioned paragraph would satisfy the "economic rights" aspect of a crypto-capital asset. However, it doesn't truly satisfy the "governance rights" aspect of the same definition. This is the reason why this section was prefaced by something along the lines of "Ether is getting there…"
As highlighted by the aforementioned report, the fact of the matter is that even with ETH2, validators will only have "soft-fork governance rights," and not actual governance rights like the ones enjoyed by MKR's token holders.
So yes, Ether may not be a crypto-capital asset yet. But, it has the potential to get there. And, recognition of that fact, recognition of its potential and multi-functionality, is crucial to understanding how an asset should be classified. Ergo, it's not hard to see why Buterin feels Ethereum is more than just an "ordinary alt." His sentiments were shared by Ryan Sean Adams too, who tweeted,
If you continue see the crypto world through the lens of "Bitcoin" and the "Alts" you're going to get left behind.
It's 2020, not 2015.
Today there are:
– Crypto capital assets
– Crypto commodities
– Crypto monies
The same asset superclasses as old finance.
— Ryan Sean Adams – rsa.eth 🏴 (@RyanSAdams) October 21, 2020
In fact, Buterin found an unexpected supporter in his corner a few days ago after CFTC Chair Heath Tabert commented,
"If Bitcoin is email, a one-trick pony…but obviously revolutionary, Ethereum goes far beyond that, it's more like the Internet."
Much ado about nothing?
"No word is absolutely wrong or dirty or insulting. It all depends upon context and intention" – Janet Jackson
While highlighting an asset's utility is well and good, doing so is often at the expense of providing an incomplete picture. What also matters, ergo, is perspective and context. Think about it – How many times have our words and thoughts been misinterpreted because of a lack of perspective and context?
Buterin, it can be argued, is right in objecting to Ethereum's classification as just an alt. On the other hand, it can also be contended that he isn't getting the connotations attached to the term "alt/altcoin," when used in association with Ethereum.
Think about it – in the most literal sense, Alt stands for Alternatives. What kind of alternatives? Well, alternative cryptocurrencies that emerged post-genesis aka post-Bitcoin. As simple as that. Contrary to what Buterin might think, most (excluding a small subset) use the terms "alt" and "altcoins" in this sense alone. There is nothing derogatory or nefarious here, and neither is the use of these terms a dig at Ethereum.
Simply put, this debate may just have been a case of much ado about nothing. Even so, perhaps, there is a lot Ethereum can cheer for, especially in light of its growing institutional adoption. Now, if only ETH 2.0 can get going sometime soon…
Source: cryptotimeless.com
Author: by admin
Two Strong Ethereum On-Chain Trends Suggest the Trend Is Bullish
Two Strong Ethereum On-Chain Trends Suggest the Trend Is Bullish
Ethereum has undergone a strong rally over the past few days amid a Bitcoin push higher. In the past seven days, ETH has gained around 10%, pushing from the $370 region to $410 as of this article's writing. ETH is expected to push higher as there are fundamental and on-chain trends that favor bull trends.
Ethereum is expected to move higher in the days and weeks ahead as on-chain trends remain bullish. Santiment, a blockchain analytics firm, recently shared the chart seen below, showing that the number of active ETH addresses has increased while miners aren't selling:
"There is good news and bad news for #Ethereum's quest to again surpass the $420 price barrier. The good news is that miners aren't selling, and there is a big increase in new $ETH addresses being created, and pre-existing addresses have shown an increase in activity. The bad news is that social sentiment is bordering on euphoric territory, and daily active deposits have jumped in a big way."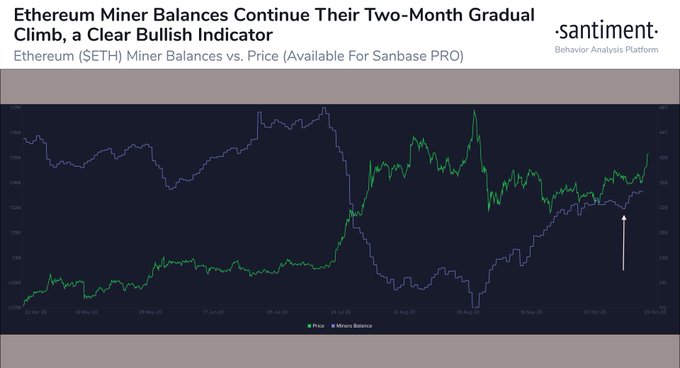 Chart of ETH's price action over the past few months with an overlay of miner balances. Chart from Santiment
The technicals for the leading cryptocurrency are also in a positive state. One crypto-asset swing and day trader recently shared that with the push above $395, a move towards $490 is becoming increasingly likely:
"Nice break above the $395 flat top on $ETH. ETH doesn't always give throwbacks, so a $395 throwback is certainly possible before higher, but I wouldn't be on it. Otherwise, this looks good for a run back near the $490 highs."
Others echoed this sentiment.
Ethereum crossing above the pivotal resistance levels in the $390-400 range is pivotal for the bull case. ETH holding above that region should result in further gains in the weeks ahead.
Source: inula.org
Author: About The Author
admin
Ethereum Trading Above the Major Resistance of $395 Stands at the Level of $414 – Cryptocurrency News
ETH trading at the level of $414.1 gaining 4.75% over the last 24-hours and rose by 11.40% in the last seven days
The coin broke above the major resistance of $395 on Thursday`s trading session
The volume of the crypto asset is recorded by $18,633,398,896 whereas the market capitalization stands at $46,950,349,986
The monthly chart of Ethereum gave a breakout from the major resistance level of $395 on Thursday's trading session with the positive momentum prevailing in the crypto market.
It is trading at the level of $414 near the minor resistance level of $425 followed by major resistance of $445 for the coming trading sessions.
The coin is in bullish momentum after making the low of $334 on the monthly chart and after testing the same level twice, it shows the bullish movement to the level of $420 trading near the level of $414 and facing the minor resistance of $425 in the upper zone. It also consolidated in the range of $365 and $395 for a few days and gave a positive breakout.
Relative Strength Index (RSI) is trading at the level of 75 indicating the bullish momentum in the coin as after clearing the resistance of $395 making the double bottom over the daily chart and giving the positive breakout.
Commodity Channel Index (CCI) supports the bullish nature as it gives the reversal signal after touching the support and bounced back from the bearish zone trading at the level of 97.00.
Moving Average Conversion Divergence (MACD) makes the double top over the chart and gives the breakdown but after taking the support it gave a sharp positive crossover indicating the bullish nature of the coin.
Support level: $400 and $379
Resistance level: $425 and $445.
Source: themarketperiodical.com
Author: Pratik Chadhokar
Ethereum Could Break Dramatically Higher Once It Holds $500
Ethereum has undergone a strong surge over recent days that has brought it from the $360 range to highs of $420. Analysts say that it will undergo a macro move higher once it manages to flip $500 into support.
The cryptocurrency is currently positioning to move higher as it holds the $390-400 region.
As reported by Bitcoinist previously, analysts say that if the coin manages to flip $420 into support, it is likely to move to $500. One crypto-asset analyst commented on the matter:
"Nice break above the $395 flat top on $ETH. ETH doesn't always give throwbacks, so a $395 throwback is certainly possible before higher, but I wouldn't be on it. Otherwise, this looks good for a run back near the $490 highs."
Should ETH flip $500 into support, analysts say it will be cleared to explode higher.
The chart below was shared on October 23rd. It suggests that should Ethereum manage to flip $500 into support, it will begin a rally to four digits on a macro basis. $500 is important because it is just shy of where the market topped during August's rally. Above $500, there is also little historical price action, indicating that the coin could enter "price discovery."
Commenting on the significance of the chart, the trader who made the chart wrote:
"Happy playing this relatively large range until I'm ready for a full swing. I'd want to see the mid point of this pivot zone acting as support to take it."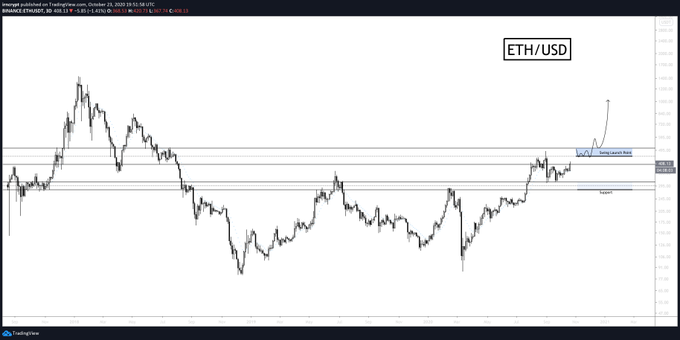 Ethereum is facing a setback though as reports indicate that the ETH2 upgrade may be pushed back.
"This library is critical to creating keys, signing messages. Critical, in early phases, [means] that if you use this library, they need to be secure; if you use it to generate your wallets, it needs to have good randomness; and if you are signing your deposits which have a signature associated, it needs to be correct," Ryan said. "Given that how critical this library is, and given that, if there is a fundamental error in this library we could f*ck some sh*t up in terms of genesis deposits, that is the blocker."
This audit could result in a delay until November, Ryan suggested.
Another Ethereum developer working on the upgrade said that once the deposit contract is released, there will likely be a 6-8 week gap between the release and ETH2 deployment.
Source: polishmedia.eu
Previous
Next