Uniswap biggest DeFi Crypto Exchange
In today's world, it's no longer news to say cryptos are now the game changers in today'ss financial system.
There are now ATMs for transacting in cryptos globally, including one in Nigeria showing its importance in today's society.
At the time of writing this, the crypto market is worth over $365 billion and has a trading volume of about $49 billion. These metrics reveal how much capital global investors are pumping into a market less than two decades old.
That said, it is important to note that crypto carries certain risks, like other financial assets. Hence, it's advisable for readers to understand such risks before venturing into the world's arguably most interesting financial asset.
What you should know
A good number of exchanges have been hacked and large amounts of money lost due to crypto-related hacking incidents. In 2020, over $1.4billion has been stolen so far. Recently, the Kucoin exchange was hacked and over $150m worth of tokens were taken.
Note that when exchanges are hacked, traders and investors' assets are safe. Although, not a good remark for the new industry.
What they are saying
Elelu-Bashir Mohammed, Nigeria Community Manager at Crypto.com in a note to Nairametrics, spoke on key risks prevalent in the crypto market.
"Investing in the high volatile cryptocurrency market is a risky undertaking and one needs to learn about proper risk management before venturing in.
"New traders/investors who want to venture into cryptocurrency today need to understand what cryptocurrency and the technology behind it is all about.
"Some of the problems facing cryptocurrencies today are; cyber theft, high volatility, as well as a lack of clear regulation/government interference. New traders need to be less greedy and knowledgeable about the use of various technical analysis tools.
"Lastly, every new trader needs to invest only what they can afford to lose as there is no guarantee of minimum profitability or break-even on investments.
"Trading in cryptos has a high volatility rate and not perfect for traders because it generates high levels of uncertainty, coupled with the bias that it gives crypto traders less time to react."
Ekene Ojieh, Head of Public Relations and Corporate Strategy at Buffalo Chase, a Crypto analytic firm, in a note to Nairametrics, spoke on some key dangers associated with trading crypto. She said, "Current market data are the most reliable sources of making smart trading decisions and identifying market trends."
Tony Emeka, CEO, CryptoTvplus, in a phone chat interview with Nairametrics, spoke on a prevailing risk associated with trading cryptos,
"Another risk is market manipulation. With the small size of some cryptocurrencies, traders with large trading capital could influence the market to gain undue advantage, crypto exchanges are also suspected of market manipulations.
"The unregulated crypto market is also is a risk factor. Traders are not protected like traditional markets. I'll add that despite the risks, crypto trading is highly rewarding, but traders should be careful."
It's important to understand that trading in crypto, in spite of its impressive returns over the years, comes with underlying risks. That said, it's important for an inexperienced trader or investor to invest only the amounts he or she is willing to lose.
Source: otcpm24.com
Author: News Bureau
Bitcoin Whales Slow Down Following Months of Accumulations: What About BTC Price?
A recent report indicated that the number of Bitcoin whales has started to decrease following months of increased accumulation. Contrary to most expectations, history shows that retail investors are typically taking advantage of similar conditions, which could signify the beginning of a new run-up.
Bitcoin whales are considered addresses that own at least 1,000 BTC. As CryptoPotato reported previously, the number of such entities has been continuously expanding in the past several months. Even after the completion of the third halving, whales kept on accumulating, using most price dips as an opportunity to buy at lower levels.
However, the situation could be reversing as of September. According to data from the popular analytics company Glassnode, "the number of whales has actually started decreasing." This is the first decline registered in about a year.
The general sentiment among the cryptocurrency community suggests that once whales seize purchasing more of an asset, they are expecting a price drop. However, Glassnode argued that the current developments could work in precisely the opposite manner.
"Historically, the start of a decline in the number of BTC whales has often signified increased interest from retail investors and the beginning of a run-up to a market top."
The company admitted that the decline is slow and perhaps in its early stages, but it could prompt severe volatility for Bitcoin in the upcoming weeks and months.
Usually, when Bitcoin experiences a sharp price increase, many investors are cashing out profits by sending their coins to exchanges to sell them. In the past week, the primary cryptocurrency gained about $1,000, which raised concerns that a similar scenario is about to occur again.
Ki Young Ju, the CEO of another crypto analytics resource CryptoQuant, claimed that this is not the case this time. A company metric dubbed 'mean exchange inflow' measures how many bitcoins are transferred to exchanges for trading or selling.
Ju explained that the danger zone is around and above 2 BTC. He reassured that "we are still in the safe zone," despite the latest price increases.
However, it's worth noting that the metric has registered a serious increase in the past hours from well below 1 to nearly 1.5. If this trend continues, it could imply upcoming price drops for Bitcoin.
Binance Futures 50 USDT FREE Voucher: Use this link to register & get 10% off fees and 50 USDT when trading 500 USDT (limited offer).
Source: cryptopotato.com
Bullish Weekend: Crypto Market Cap Gains $4 Billion, Bitcoin Awaiting Next Move
Bitcoin has overcome the recent price dip beneath $11,300 and currently hovers around $11,400. Most alternative coins have displayed relatively strong performances and the total market cap increased over the weekend.
Bitcoin traded around $11,350 yesterday after a calm 24-hour period despite potentially impactful news coming from the popular cryptocurrency exchange OKEx. As CryptoPotato summarized, the platform suspended withdrawals after its founder was reportedly taken by the police and hadn't returned to work yet.
Similar events generally drive serious volatility for the market. However, apart from a brief $350 price dip, BTC showed stability on Saturday.
Some of the volatility returned in the past 24 hours as Bitcoin painted a sharp price pump from beneath $11,300 to above $11,400. Since then, the asset fluctuated a bit back to the initial level before reclaiming some ground to its current level – just above $11,400.
If the first and second support lines at $11,300 and $11,150 couldn't keep BTC in case of another price drop, the cryptocurrency might head even lower to fill the CME gap at $11,100.
Should Bitcoin rise in value again, the resistance levels in its way would be at $11,500 and $11,800.
What future awaits cryptocurrencies?
The past 24 hours have been relatively uneventful price-wise for most altcoins as the increases were rather small, though most them are trading in the green. Ethereum managed to push higher and is now trading around $372. Ripple hasn't moved in either direction either, and XRP sits just above $0.24.
Polkadot has gained the most from the top 10 cryptocurrencies. DOT's 4% increase has driven the asset above $4.1. Binance Coin and Chainlink have jumped by about 1% since yesterday.
In contrast, Bitcoin Cash has lost slightly over 1% of value and trades below $250.
Somewhat expectedly, more volatility is evident from lower-cap altcoins. Ampleforth leads with a 34% price jump to $1.25. Reserve Rights has surged by 15% to $0.011. Arweave (8%), Aave (6%), and Ren (5.8%) are also in the green.
Contrary, Filecoin has continued its recent free-fall. After the recent hype and listings on several prominent exchanges, FIL has dumped in value to below $40. On a 24-hour scale, FIL is down by 16%.
Another token that has seen better days is OKEx's native cryptocurrency. Following the news mentioned above, OKB started plummeting. The situation has worsened since yesterday, and a 15% price dump has taken OKB to $4.3. Just a few days ago, the asset traded above $6.
Binance Futures 50 USDT FREE Voucher: Use this link to register & get 10% off fees and 50 USDT when trading 500 USDT (limited offer).
Source: cryptopotato.com
What is the exchange rate of USD (US Dollar) / KRW (South Korean Won) on Sunday October 18, 2020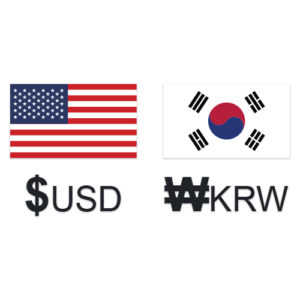 Get the current mid-market rate for USD (US Dollar) / KRW (South Korean Won) for Sunday October 18, 2020 right here.
The latest rates for USD (US Dollar) / KRW (South Korean Won) are available below. As a leading finance news site the team at Born2Invest collates and analyses the latest forex market data to bring you live information to help you make the best forex trading decisions every day.
Sunday October 18, 2020 1 USD (US Dollar) is 1142.210384 of KRW (South Korean Won) .
Remember to always trade using a reputable broker. It's also possible to apply many forex concepts to cryptocurrency trading.
Forex trading is risky and complicated. There are countless pairs to choose from and it's easy for a novice trader to become overwhelmed. Information is power and Born2Invest has curated some beginners forex trading tips to help you get started.
Currency pairs are the foundation of forex trading. Whenever you purchase one currency you sell another. Every pair has a base currency, in this example USD (US Dollar) and a quote currency, or KRW (South Korean Won).
A currency pair represents how much quote currency, or KRW (South Korean Won), that needs to be spent in order to purchase one unit of USD (US Dollar), the base currency. In the current example you would need to spend 1142.210384 of KRW (South Korean Won) in order to purchase 1 USD (US Dollar).
Forex pairs can be grouped into three main categories; the majors, the commodity currencies, and the cross currencies:
Major currencies are the most commonly traded currencies on the market. Different publications will use different criteria but pretty much every list will include EUR/USD, USD/JPY, GBP/USD, and USD/CHF
ll Commodity currencies are currency pairs that are closely linked to commodities such as oil, iron ore, and coal. Common examples include AUD/USD and USD/CAD
Cross currencies include all currency pairs that don't include USD. Examples include EUR/GBP and EUR/JPY.
Cryptocurrencies share many aspects with forex trading, namely the concept of currency pairs and high volatility but there are some key differences. Cryptocurrencies aren't currencies persae, and are usually traded against Bitcoin, which takes the role of USD on many exchanges.
It is also difficult to trade cryptocurrency outside of exchanges and there is more security risk than trading with a registered broker. One way around this is to use a CFD broker which enable traders to purchase contractors for specific amounts of crypto, without directly owning it.
Source: born2invest.com
Previous
Next