Blockchain marketing, more power in the hands of consumers, Marketing & Advertising News, ET BrandEquity Blockchain marketing envisions an entirely new environment, where consumers are able to own and sell their data directly to marketers and advertisers. This will put more power in the hands of the customer and will usher in the era of democracy in marketing.
Shedding light on this concept, moderator S Swaminathan, co-founder and chief executive officer, Hansa Cequity, and panelists Sonia Notani, chief marketing office, India First Life Insurance; Ishan Bose, CMO, Kreditbee; Dipu KV, president, head operations, communities and customer service, Bajaj Alianz explored ways in which marketers need to re-evaluate their current processes in order to leverage the advantages of Blockchain.
The discussion started off by Swaminathan asking the reasons for introducing Blockchain and its important components. The panel reached an answer that sums up the benefits of Blockchain into three words that are transparent, immutability and decentralisation.
MarTech Asia 2020: S.A.V.E is the mantra to understanding consumer expectations, says Rishad Tobaccowala
Panel also discussed the gaps in digital marketing. Bose mentioned that there are multiple stakeholders to the digital marketing industry. As a marketeer, he mentioned that the biggest issue he faces is how to manage and control attribution and digital fraud detection, which is more subjective than objective. Talking about these challenges affecting brands moving to tier 2 and tier 3 terms, Notani pointed out that if there is no technology supporting the marketplace structure, there will be replication of work, and that the opportunity lies in the removal of the middlemen.
The panel finally engineered a five star process to implement this concept which typically says start with the customer, scrutinise current inventory of process and systems, reengineer them keeping the customer in mind and then deploy the solution.
(This is an executive summary of the session, and the longer version will be uploaded in the coming days)
Source: otcpm24.com
Author: News Bureau
Bitcoin Price Is Stagnant Despite Recent News: The Calm Before The Storm? (Market Watch)
Following yesterday's $350 price lost for Bitcoin, the asset has remained relatively calm around $11,350. Most larger-cap altcoins have also seized the free-falls with Ethereum trading near $370 and Ripple above $0.24.
News broke out yesterday that police officers had taken away the founder of the popular cryptocurrency exchange OKEx. Although the company reassured users that funds are safe on the platform, the negative news had an immediate adverse effect on prices.
Bitcoin was trading north of $11,550. In just a few hourly candles, though, BTC plummeted to an intraday low of just above $11,200.
The bulls intercepted the steep price decline and drove the asset to about $11,350 in the following hours. Since then, Bitcoin has primarily stayed in a range between $11,280 and $11,400.
From a technical perspective, the first support line in case of another break down sits at $11,300. Further below are positioned $11,150, $11,000, and $10,800.
Should Bitcoin heads north, it would have to fight off the resistance lines at $11,500 and $11,800.
Most alternative coins followed Bitcoin's rapid drop yesterday. Something similar is occurring today as the larger-cap altcoins have also stopped losing significant chunks of value.
Ethereum, Ripple, Polkadot, Binance Coin, and Litecoin sit at approximately the same level as yesterday. ETH trades at nearly $370, XRP – $0.241, DOT is close to $4, BNB is above $30, and LTC – $47.5
Chainlink (2.5%) and Cardano (2.2%) have even marked some gains on a 24-hour scale.
Even the double-digit price increase club has a few representatives. Decred leads the way with a 19% surge. Waves (17%), Stellar (12.5%), and Uniswap (10%) follow.
However, it's worth noting that quite a few coins have continued dumping in value. Filecoin has continued tanking after the recent hype with another 27% drop.
TRON's Justin Sun actually suggested that Filecoin founders could have pulled an exit scam by selling 1.5 FIL for $200 (worth $300 million) without an announcement. FIL's price has plummeted since then to $45.
Aave (-25%), NEAR Protocol (-18%), and Quant (-10%) have also declined significantly since yesterday.
Binance Futures 50 USDT FREE Voucher: Use this link to register & get 10% off fees and 50 USDT when trading 500 USDT (limited offer).
Source: cryptopotato.com
TA: Ethereum At Risk of A Sharp Decline If It Breaks $365 Support
Home / Ethereum / TA: Ethereum At Risk of A Sharp Decline If It Breaks $365 Support
Ethereum faced a strong rejection above $380 against the US Dollar. ETH price is now at a risk of a sharp decline if it breaks the key $365 support in the near term.
Ethereum struggled to gain momentum above the $380 and $382 levels.
The price declined sharply below the 100 hourly simple moving average, and retested $365.
There is a key bearish trend line forming with resistance near $378 on the hourly chart of ETH/USD (data feed via Kraken).
The pair could decline heavily if there is a clear break below the $365 support level.
Ethereum started a steady decline from well above the $385 level. ETH price faced a strong resistance near the $380 and $382 levels, resulting in a drop below the $375 support.
What cryptocurrency will become the main one in a year?
Ether price even broke the $370 support and settled well below the 100 hourly simple moving average. It retested the key $365 support level and it is currently consolidating losses. An initial resistance is near the $372 level.
The first major resistance is near the $374 level or the 50% Fib retracement level of the recent decline from the $382 high to $365 low. More importantly, there is a key bearish trend line forming with resistance near $378 on the hourly chart of ETH/USD.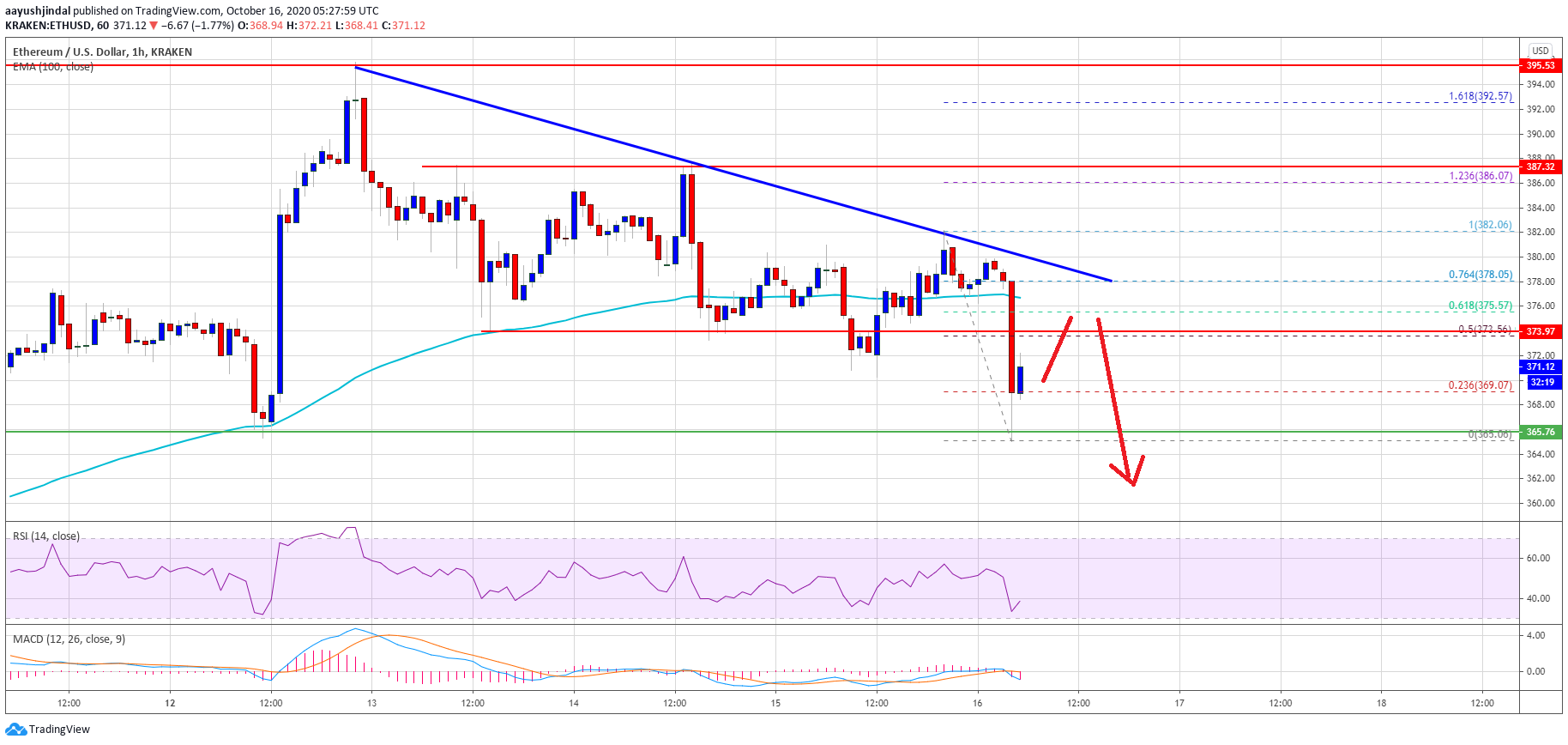 Source: ETHUSD on TradingView.com
The trend line is close to the 100 hourly simple moving average and the 76.4% Fib retracement level of the recent decline from the $382 high to $365 low. If there is no recovery above $374 and $378, there is a risk of a downside break below the $365 support.
A proper close below the $365 support may perhaps open the doors for a larger decline. The next major support is near the $355 level.
If Ethereum stays above the $365 support, it could start a fresh increase. The first key resistance is near the $374 level, but the main hurdle is now forming near $378.
A clear break above the trend line resistance, $378, and the 100 hourly simple moving average could open the doors for a steady rise towards the $388 and $392 levels in the coming sessions.
Technical Indicators
Hourly MACD – The MACD for ETH/USD is now gaining pace in the bearish zone.
Hourly RSI – The RSI for ETH/USD is now well below the 50 level.
Major Support Level – $365
Major Resistance Level – $374
Source link
Bitcoin has recently been picking up steam, stealing some of the capital and thunder from …
Source: icryptodesk.com
Author: admin
HIVE Blockchain Reports First Quarter F2021 Financial Results
News and research before you hear about it on CNBC and others. Claim your 1-week free trial to StreetInsider Premium here.
VANCOUVER, BC / ACCESSWIRE / October 15, 2020 / HIVE Blockchain Technologies Ltd. (TSXV:HIVE)(OTCQX:HVBTF)(FSE:HBF) (the "Company" or "HIVE") announces its results for the first quarter ended June 30, 2020 (all amounts in US dollars, unless otherwise indicated). The Company's Management will host a webcast on Friday, October 16, 2020 at 10:00 am Eastern Time to discuss the Company's financial results. Click here to register for the webcast.
"The first quarter marked an important period of transition for HIVE as we completed the assumption of direct control of our data centre operations from our former strategic partner and diversified our operations through the acquisition of our data centre facility in Canada to complement our Ethereum mining data centres in Europe, all of which are powered by green energy, which produce coins such as Ethereum and Bitcoin continuously in the cloud" said Frank Holmes, Interim Executive Chairman of HIVE.
"Our gross mining margins from Ethereum mining increased during the quarter due to the combination of an increase in our mining output of Ethereum and our lower cost to mine Ethereum, which has been driven by a significant reduction in energy costs in Sweden and lower operating cost structure in Iceland achieved through our assumption of direct control of these operations.
"As the largest public miner of Ethereum, this improvement in operational efficiency proved beneficial as Ethereum prices have risen through the year, and the explosion of DeFi applications usage on the Ethereum network drove a significant increase in the fees paid to miners over the summer and resulted in a record amount of Ethereum mined for HIVE during the most recent quarter ending September 30.
"We have been utilizing the resulting positive cash flows from our Ethereum mining to support our Bitcoin mining operations as it continues to scale up with next generation mining equipment post the halving of Bitcoin rewards in May.
"We have also undertaken a program to upgrade and expand our GPU equipment to maintain our Ethereum mining industry footprint. We are hopeful to complete this project by the end of 2020 though the negative impact on the global supply chain related to the COVID-19 pandemic does present challenges including increased shipping costs, obtaining equipment from China on a timely basis, and preventing the movement of technical teams across our locations in Europe. We will keep shareholders updated on our progress in our next quarterly update, anticipated near the end of November."
Q1 F2021 Highlights
Generated income from digital currency mining of $6.6 million
Generated gross mining margin1 of $2.6 million, or 39% of income from digital currencies
25,572 Ethereum
154 Bitcoin
Generated Adjusted EBITDA1 of $2.6 million
Generated net income of $1.8 million for the period
Net cash less loans payables of $(1.4) million plus digital currencies assets of $6.5 million, as at June 30, 2020
Working capital was $10.7 million as at June 30, 2020, with a $1.0 million sequential decrease due to cash used for the acquisition of the Bitcoin mining operation in Quebec and data centre equipment
Q1 F2021 Financial Review
For the three months ended June 30, 2020, income from digital currency mining was $6.6 million, a decrease of approximately 28% from the prior year. The decrease was primarily due to a decline in the production of Bitcoin due to the suspension of the Company's cloud mining agreements with its former strategic partner after they became unprofitable in the third quarter of fiscal 2020, partially offset by an increase in the production of Ethereum.
Gross mining margin1 during the quarter was $2.6 million, or 39% of income from digital currency mining, compared to $3.6 million, or 39% of income from digital currency mining, in the same period in the prior year. The decrease in gross mining margin of $1.0 million was primarily due to a decline in gross mining margin from the production of Bitcoin partially offset by an increase in gross mining margin from the production of Ethereum. The Company's gross mining margin from digital currency mining is also partially dependent on various external network factors including mining difficulty, the amount of digital currency rewards and fees it receives for mining, and the market price of the digital currencies at the time of mining.
Net income during the quarter was $1.8 million, or $0.00 per share, compared to $5.6 million, or $0.02 per share, in the prior year period. The decrease was primarily due to gains recorded on investments and digital currencies in the prior year period.
US$ except where noted
Income from digital currency mining
Operating and maintenance costs of digital currency mining
Gross Mining Margin1
Gross Mining Margin %1
Depreciation
Gross gain (loss)
Revaluation of digital currencies2
Gain on sale of digital currencies
General and administrative expenses
Foreign Exchange
Share-based compensation
Unrealized gain on investments
Finance expense
Net income (loss) from continuing operations
EBITDA1
Adjusted EBITDA1
Diluted income (loss) per share
Net cash inflows (outflows) from operating activities
Net cash inflows (outflows) from investing activities
Net cash inflows (outflows) from financing activities
As at
Total assets
Total non-current liabilities
Non-IFRS measure. A reconciliation to its nearest IFRS measures is provided under "Reconciliations of Non-IFRS Financial Performance Measures" in the Company's MD&A.
Revaluation is calculated as the change in value (gain or loss) on the coin inventory. When coins are sold, the net difference between the proceeds and the carrying value of the digital currency (including the revaluation), is recorded as a gain (loss) on the sale of digital currencies
Financial Statements and MD&A
The Company's Condensed Interim Consolidated Financial Statements and Management's Discussion and Analysis (MD&A) thereon for the three months ended June 30, 2020 will be accessible on SEDAR at www.sedar.com under HIVE's profile and on the Company's website at www.HIVEblockchain.com.
Webcast Details
Management will host a webcast on Friday, October 16, 2020 at 10:00 am Eastern Time to discuss the Company's financial results. Presenting on the webcast will be Frank Holmes, Interim Executive Chairman and Darcy Daubaras, Chief Financial Officer. IMPORTANT – Click here to register for the webcast. The direct link is https://register.gotowebinar.com/register/5243002915594122766.
About HIVE Blockchain Technologies Ltd.
HIVE Blockchain Technologies Ltd. is a growth oriented, TSX.V-listed company building a bridge from the blockchain sector to traditional capital markets. HIVE owns state-of-the-art green energy-powered data centre facilities in Canada, Sweden, and Iceland which produce newly minted digital currencies like Bitcoin and Ethereum continuously on the cloud. Our deployments provide shareholders with exposure to the operating margins of digital currency mining as well as a portfolio of crypto-coins.
For more information and to register to HIVE's mailing list, please visit www.HIVEblockchain.com. Follow @HIVEblockchain on Twitter and subscribe to HIVE's YouTube channel.
On Behalf of HIVE Blockchain Technologies Ltd.
"Frank Holmes"
Interim Executive Chairman
For further information please contact:
Frank Holmes
Tel: (604) 664-1078
Neither the TSX Venture Exchange nor its Regulation Services Provider (as that term is defined in policies of the TSX Venture Exchange) accepts responsibility for the adequacy or accuracy of this news release.
Forward-Looking Information
Except for the statements of historical fact, this news release contains "forward-looking information" within the meaning of the applicable Canadian securities legislation that is based on expectations, estimates and projections as at the date of this news release. "Forward-looking information" in this news release includes information about the upgrade and expansion of the Company's Ethereum mining equipment and support of Bitcoin mining operations as it continues to scale up with next generation mining equipment; the Company's program to updrade and expand GPU equipment, including the timing of completion of such program; the potential for the Company's long term growth; the business goals and objectives of the Company, and other forward-looking information includes but is not limited to information concerning the intentions, plans and future actions of the parties to the transactions described herein and the terms thereon.
Factors that could cause actual results to differ materially from those described in such forward-looking information, and potentially lead to material adverse effects on the Company's operations and results include, but are not limited to, further improvements to the Company's profitability and efficiency may not be realized as currently anticipated, or at all; favourable factors (such as reduction in energy costs and increasing Ethereum prices and DeFi applications) may not continue; the Company may not complete its upgrade and expansion of GPU equipment in the timeframe or as currently anticipated; the effects of COVID-19 on global supply chains, including increased shipping costs and delays in obtaining equipment from China; the digital currency market; the Company's ability to successfully mine digital currency; the Company may not be able to profitably liquidate its current digital currency inventory, or at all; a decline in digital currency prices may have a significant negative impact on the Company's operations; the volatility of digital currency prices; and other related risks as more fully set out in the Filing Statement of the Company dated and other documents disclosed under the Company's filings at www.sedar.com.
This news release also contains "financial outlook" in the form of gross mining margins, which is intended to provide additional information only and may not be an appropriate or accurate prediction of future performance, and should not be used as such. The gross mining margins disclosed in this news release are based on the assumptions disclosed in this news release and the Company's Management Discussion and Analysis for the quarter ended June 30, 2020, which assumptions are based upon management's best estimates but are inherently speculative and there is no guarantee that such assumptions and estimates will prove to be correct.
The forward-looking information in this news release reflects the current expectations, assumptions and/or beliefs of the Company based on information currently available to the Company. In connection with the forward-looking information contained in this news release, the Company has made assumptions about the Company's ability to realize operational efficiencies going forward into profitability; profitable use of the Company's assets going forward; the Company's ability to profitably liquidate its digital currency inventory as required; historical prices of digital currencies and the ability of the Company to mine digital currencies will be consistent with historical prices; and there will be no regulation or law that will prevent the Company from operating its business. The Company has also assumed that no significant events occur outside of the Company's normal course of business. Although the Company believes that the assumptions inherent in the forward-looking information are reasonable, forward-looking information is not a guarantee of future performance and accordingly undue reliance should not be put on such information due to the inherent uncertainty therein.
1 Non-IFRS measure. A reconciliation to its nearest IFRS measures is provided under "Reconciliations of Non-IFRS Financial Performance Measures" in the Company's MD&A.
SOURCE: Hive Blockchain Technologies Ltd.
View source version on accesswire.com:
https://www.accesswire.com/610778/HIVE-Blockchain-Reports-First-Quarter-F2021-Financial-Results
Source: otcpm24.com
Author: News Bureau
TD Buy Trigger Could Cause XRP To Rip Against Bitcoin
Bitcoin has recently been picking up steam, stealing some of the capital and thunder from the DeFi trend and Ethereum. XRP, however, continues to lag behind both top crypto assets and linger sideways.
According to the Bitcoin trading pair, however, Ripple could soon rip against the leading cryptocurrency by market cap and catch up against Ethereum after long trailing behind.
Believe it or not, there was once a time when XRP had unseated Ethereum as the number two cryptocurrency by market cap. Now, even stablecoin Tether has printed enough market cap to put it ahead of Ripple, making now the fourth-ranked cryptocurrency.
At the height of Chainlink's parabolic run this summer, it had also beaten XRP moving it further down the top ten cryptocurrencies by market cap. If XRP doesn't catch up soon, investors could lose hope and capitulation could set in.
TD 9 Buy Setup Triggered On TD Sequential Daily | Source: XRPBTC on TradingView.com
But the return of Ripple could soon finally be here, according to the XRPBTC trading pair and a buy setup triggered by the TD Sequential technical indicator. The signal, is widely used across the crypto space and known for its undeniable accuracy.
However, it's not the only sign that things could soon turn around.
Daily Bollinger Bands Doji Reversal Potential | Source: XRPBTC on TradingView.com
Coinciding with the TD 9 buy setup triggering on daily timeframes, XRPBTC is forming a doji at the bottom of a short- and medium-term downtrend, just as it closed outside of the bottom Bollinger Band.
Past doji closes back into the Bollinger Bands have resulted in at least some upside following. Many instances resulted in strong reversals.
Retest of Downtrend Resistance Turned Support | Source: XRPBTC on TradingView.com
Zooming out, XRPBTC also seems to be retesting a breakout of its long-term downtrend resistance line as support. If Ripple can hold against Bitcoin here, the recovery could finally follow.
XRP has been trading around the $0.25 range for almost all of 2020, potentially building up pressure for a massive move both against dollar and the top cryptocurrency by market cap. If it does as it has in the past, Ripple moves fast and furious, and it could reclaim any of the top spots above it in a flash, except for perhaps Bitcoin.
Featured image from Deposit Photos, Charts from TradingView.com
Source: www.captaingeek.net
Ethereum 2.0's 'Lock Up' Will Drive DeFi Innovation
With thousands of Ethereum 2.0 validators expected to stash more than 500,000 ether in a restrictive multi-year lockup, there will be significant demand for a creative solution that unlocks the value of those funds without undermining the upgrade mission. DeFi innovators will be happy to oblige.
It's a process of demand and supply that's similar to how Wall Street's "engineers" respond with new financial instruments when rules imposed on traditional markets put constraints on investors. It matters not that the behavior-constraining rules are imposed by a government regulator or, in the Ethereum 2.0 case, by a protocol. Constraints create an incentive for financial creativity.
Also, as with many Wall Street inventions, this one will create an interesting byproduct. As markets arise in the new instruments, their price signals will indicate how people think this massive Ethereum protocol change is performing.
The key point is that the locked ETH cannot be sent back to the original Ethereum blockchain and cannot be accessed until the two systems are merged and the duplicate ETH on the legacy chain destroyed.
The current timeline for the lockup is 18 months, but given how long it has taken for this first phase of Ethereum 2.0 to start, it could well take much longer. This transition is going to be difficult, not just technically but also economically, with its biggest challenge being how to manage incentives so everyone else moves their ether out of the legacy proof-of-work chain into the new one.
Those decisions can be affected by a host of unknown variables. It's one reason why it's hard to argue with Radix CEO Piers Ridyard, who talked during one panel discussion Wednesday, of "Ethereum 2.0's epic complexity."
So, there's much at stake (quite literally) for the validators involved in Beacon. And while the total amount locked, worth $198 million based on current ether prices, is less than half of a percent of Ethereum's total $42 billion market capitalization, these particular funds matter.
By definition, these are high-energy funds. They are held by true believers in the Ethereum mission, who are actively interested in how it evolves, not by casual ETH investors. They are precisely the kinds of people who'll be open to innovative solutions on how to unlock their value.
Given what we know about how DeFi innovators use oracles and smart contracts to create new assets like "wrapped" (or tokenized) bitcoin, taking value created in one chain and use it as collateral in another, it's a solid bet that new tokenizing contracts will be used to bring liquidity to all that otherwise locked ether. They'll be bought and sold as tokens but also used as collateral in DeFi lending markets.
The locked ether presents a contract that promises a set of contingent future cash flows, with properties akin to certain types of bonds. In fact, that is what DeFi-ers will create: tokenized ETH 2.0 bonds.
By transferring a token created by a fully collateralized smart contract to a creditor, validators can receive funds in unlocked original ether and, in return, promise that when the blockchain merger happens and the lockup ends, the creditor will automatically receive the original 32 ETH plus the accumulated staking rewards.
Based on staking reward projections built into the system's monetary supply, these "bonds" would earn a 20% yield on an annualized basis and then fall according to a sliding scale, as the total amount of staked grows.
What's not known is the precise date at which the funds will be unlocked or the value of the ether in dollar terms at that time. Both are somewhat dependent on how well and how efficiently Ethereum developers progress toward the goal of a full integrated Ethereum 2.0 transition. But they are also dependent on whether, all things considered, the broader Ethereum community thinks the migration to the new proof-of-stake system is worth it.
What we could see, then, is the market prices for tokenized locked ETH bonds becoming, in effect, an assessment of how well these pieces are coming together. Whether this creates a positive feedback loop that gives developers a real-time sentiment signal to help them gauge whether the market thinks they are on target to achieve their goals, or whether it creates misaligned incentives to rush through upgrades that aren't yet ready, remains to be seen.
What we could see, then, is the market prices for tokenized locked ETH bonds becoming, in effect, an assessment of how well these pieces are coming together.
For the rest of us, this live market in "Ethereum 2.0 futures" will provide a great talking point and measuring stick.
It's not unlike products such as the CME Group's "Federal Funds Futures," which (before interest rates became anchored at near zero) functioned as a gauge of market expectations for the Federal Reserve's monetary policy decisions.
Another is the TIPS breakeven-even inflation rate, whose correlations with bitcoin we discussed two weeks ago.That metric takes the differential between yields on regular Treasury bonds and those on Treasury Inflation-Protected Securities (TIPS), whose payments are tied to the consumer price index, as a market-based measure of people's expectations for inflation.
In both cases, the financial engineering behind the product was initially meant to give investors protection against an event that's contingent on a policy constraint, but the product evolved into a valuable economic indicator in its own right.
This Ethereum 2.0 process is going to be fascinating.
We talk a lot about the case for bitcoin as an uncorrelated hedge against a future political meltdown in the global economic system. That story is enhanced by concerns that next month's high-stakes U.S. presidential election could be fraught with tension. With long delays expected in a vote count skewed by mail-in ballots, and with President Trump continuing to suggest that he might contest the result, many are questioning whether democracy itself is on the ballot this year.
And yet, for now at least, perhaps until there is an actual break in the prevailing system, it seems bitcoin won't likely trade directly against election results, but rather track the election-driven performance of equities, with which it has been correlated over recent months.
If you want to look at how investors are betting on the prospect of turmoil, look instead to the options market, where derivatives can pay out in the event markets become more volatile to the upside, downside or both. And there, as The Wall Street Journal reported last Friday, we are seeing "bets go beyond the Wall Street hedging that typically precedes an election."
One classic indicator found in the chart provided in that article, shows how futures contracts on the CBOE Volatility Index, or VIX – whose payout to investors is based on the extent of future swings in the S&P 500 index – are priced in terms of the month in which those contracts expire. What's notable is not just the predictable spike in the November VIX contract's price, but also how it takes some time for later-dated contracts to ease in price. Bumpy times lie ahead.
NERVOUS GERMANS. Speaking of election expectations, YouGov's recent survey of European opinion is worth reflecting on. The world's confidence in the U.S. has ramifications for the dollar's sustainability as the world's reserve currency, among other issues. And it produced some striking – nay, alarming – results.
In a survey covering Germany, France, Britain, Sweden, Denmark, Italy and Spain, the percentage of respondents who said they believed U.S. elections would be "completely free and fair" ranged from 2% to 11%, while those who believed they would be "mostly free and fair" were spread in a 27%-37% range. No country, it seems, had more than 50% of respondents expressing confidence the election would respect the norms of democracy. In Germany, whose history naturally creates a wariness of power abuse, a meager 25% believed U.S. elections would be either completely or mostly free and fair.
It's well known that Europeans tend to hold an especially negative view of President Trump, which could skew the data away from a more dispassionate understanding of the workings of American democracy and whether to trust it. Even so, these numbers are a wake-up call, especially for people like us who are interested in the future of money.
American currency hegemony is founded on the international faith in its leadership of the global capitalist system, which is founded in principles of market democracy. Within that, there is a basic understanding the U.S. political system will continue to enable a peaceful, trusted transfer of power as it has generally achieved throughout the 76 years in which the dollar has been the world's reserve currency.
Anytime I warn of the end of the dollar's reign, I inevitably attract naysayers who point out there is no likely successor and, by extension, argue the current system will keep muddling along, regardless of whether the rest of the world trusts America or not. That might be true, but it assumes the only way forward is for the current monolithic system to be replaced by another monolithic system, as happened when the dollar replaced the British pound as the world's reserve currency.
But that need not be the case. A multi-currency world is quite possible, especially when you take into account how blockchain and digital asset technology is fostering a proliferation of new alternatives, whether issued by central banks (China's digital yuan), companies (libra) or decentralized communities (bitcoin.) The more those alternatives mature, the more significant a breakdown in international trust in the U.S. matters as a potential catalyst for change.
CANADA IN A HURRY. Reports from a Canadian virtual event on Thursday suggest the Bank of Canada wants to speed up its adoption of a digital currency. BOC Deputy Governor Timothy Lane believes COVID-19 will accelerate the release of a central bank digital currency. A "shift in spending habits" triggered the pandemic, "coupled with the speed of technological developments, has narrowed the window to deliver a digital currency issued by the central bank," the CBC reported Lane as saying.
It's the latest in a palpable advance for central bank digital currencies (CBDCs), with many central bankers and government officials now weighing in on this topic. The European Central Bank has upped its rhetoric and last week the U.S. Treasury Department sounded more interested in the idea. It wasn't exactly a huge statement when Deputy Treasury Secretary Justin Muzinic told an Atlantic Council event last week a CBDC was "something we're studying." But it was a significant signal from a department that has been reluctant to show its hand on this issue.
Is COVID-19 really the catalyst? Might it be that China is marching ahead at a pace that no one expected? (See "Relevant Reads" below.") There's nothing like competition and geopolitical challenges to stir governments into action. Expect all this talk to get louder in Western countries. And then action.
Filecoin Launch Finally Brings $200M ICO to Fruition. The initial coin offering (ICO) boom is often derided for bringing worthless projects to market and enabling quick exits for scammy founders. But some of the ideas spawned were truly revolutionary. One of those is Filecoin, which is really just one piece of a far bigger project, the Interplanetary File System. IPFS, if it succeeds, will radically change the entire structure of the World Wide Web, shifting its file storage, website hosting and indexing system to a decentralized model without hosting services becoming single points of failure (or censorship targets.) Filecoins are its mechanism for incentivizing and governing storage providers across the network. Now, after a $200 million token offering in 2017, it has finally gone live (albeit with some constraints on token liquidity) amid fervent speculation on its value. Read Brady Dale and Sebastian Sinclair's breakdown of the launch and what it means.
Source: www.bit-cointalk.com
Previous
Next